Legazpi Sunday Market
Herrera Street corner Legazpi and Salcedo V.A. Rufino Street, Legazpi Village, Makati City
Contact: 0943-385-6642
Open from 7 a.m. to 2 p.m. (Sunday)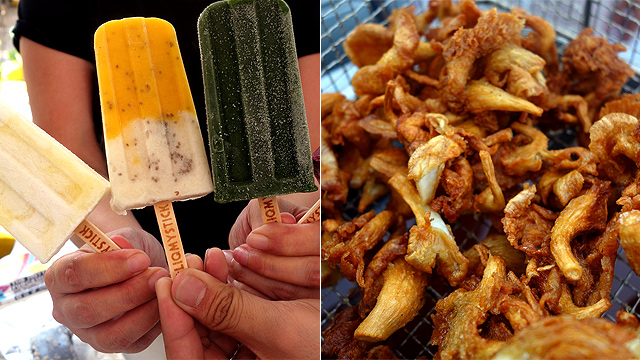 (SPOT.ph) Whether you want to satisfy yourself with something decadent or nourish your body with organic, fresh, and natural fare, you have lots of options at the Legazpi Sunday Market. With a number of stalls featuring tasty food finds, there is definitely a lot to see—and eat—at this fair of flavors. Sample a variety of gourmet dishes from the everyday to the exotic. Get full, have fun, and support local businesses! The choices at this weekend market are endless, but here are 10 treats you shouldn't miss.
ADVERTISEMENT - CONTINUE READING BELOW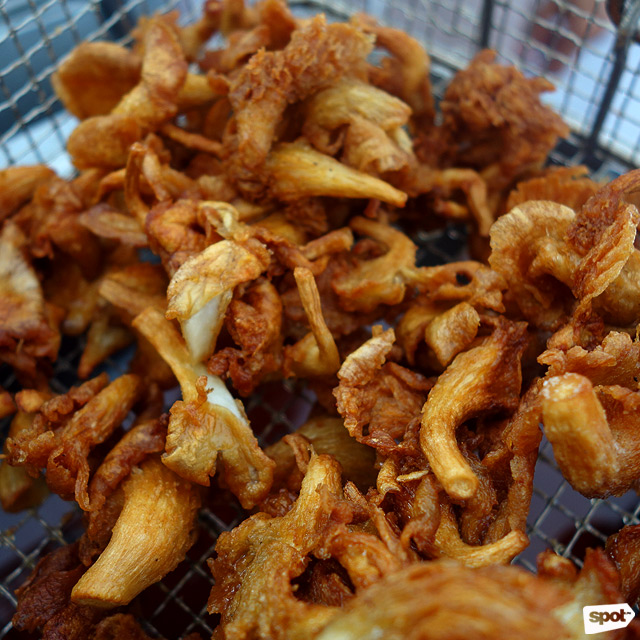 Mushroom Fries
Who said all the good stuff are bad for you? Thankfully, there's a healthier alternative to calorie-heavy French fries: Mushroom fries (P100/125 grams)! Ping Gu (which literally means "oyster mushrooms" in Chinese) uses the freshest mushrooms and coats them in a special batter. These mushroom fries are crispy, light, and flavorsome, so you won't even miss those greasy taters. To make these faux French fries even more delightful, choose from a variety of dips: marinara, gravy, barbecue, sweet chili, and their bestsellers, vinegar and garlic mayo.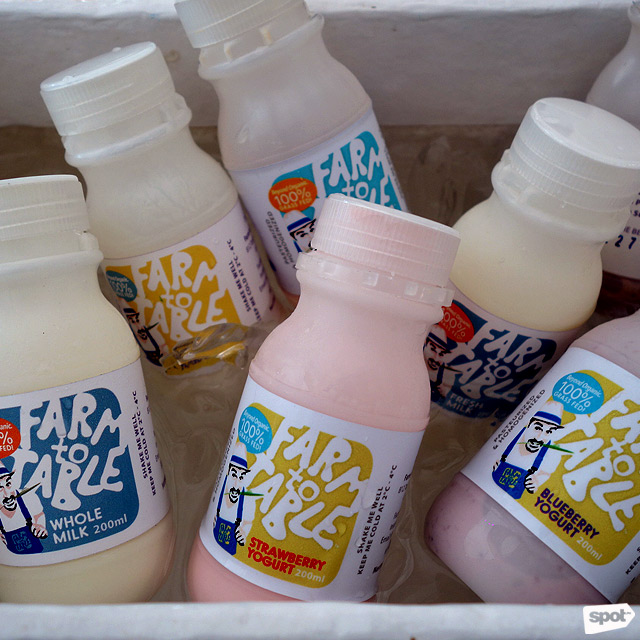 Organic Milk
Farm to Table goes "beyond organic" and makes sure that all their dairy products are from 100% grass-fed cows raised in Mindanao. Because of the cows' all-natural diet and lifestyle, this herd is in tip-top shape, which means their milk is more nutritious than average. In fact, the cows are made to listen to music, making them more relaxed to produce better quality milk! Try their Chocolate Milk or the Low Fat variant (P55/200ml). They also have whole and non-fat milk as well as Flavored Melon Milk (P180/one liter).
ADVERTISEMENT - CONTINUE READING BELOW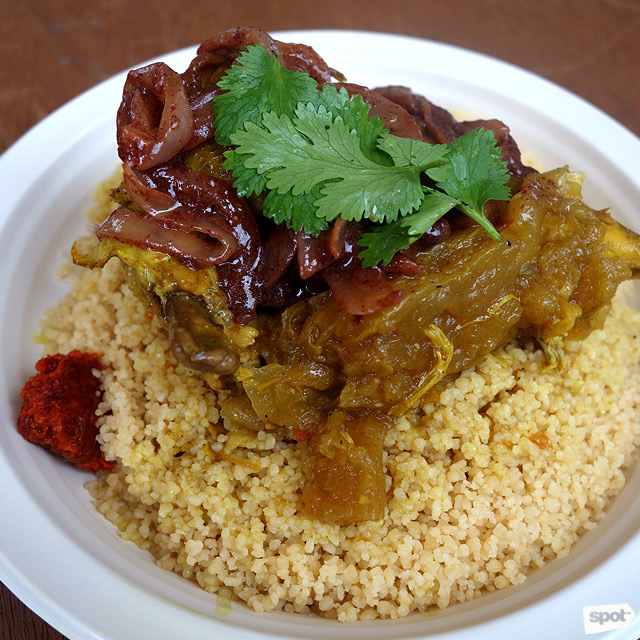 Casablanca Couscous
Visit Loubna Piega's food stall and she will give you a taste of typical Moroccan comfort food that you can only find in Moroccan homes. The Casablanca Couscous (P245) is a Northern African dish that is traditionally served during Fridays when families get together. The dish is made of couscous that's steamed for three hours and then cooked over a savory chicken stew until they garnish it with sweet caramelized onions. The couscous is light and fluffy, while the chicken is unbelievably tender, which falls right off the bone. Their servings are pretty generous, too, so make sure to go with a friend so you'll have someone to share with. Go early so you don't miss out on their other bestsellers like the Honey-Glazed Beef, or tender beef cuts spiced with saffron.
ADVERTISEMENT - CONTINUE READING BELOW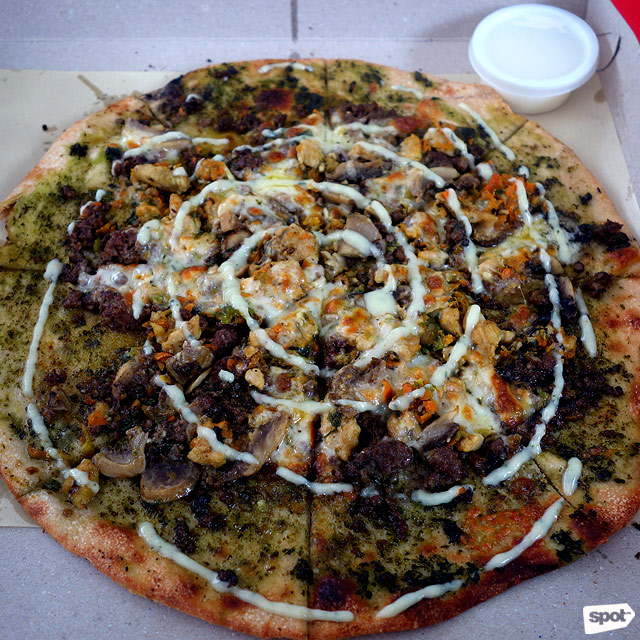 Lahmajun
Lahmajun is not just any pizza, it's Turkish pizza. Starting at P220, you can get a whole box of Bait Lehem's Lahmajun and choose from any of these toppings: beef, chicken, pesto, mushroom, spinach, eggplant, and mozzarella. The pizza dough doesn't contain any butter, eggs, or preservatives so consider this a treat. If you're not in the mood for pizza, sample their Falafel (P160), a Middle Eastern snack that's made of chick peas and various herbs. Since Bait Lehem translates to "house of bread," you can also check out their wide array of freshly made breads which include pita, Jerusalem bagels, and naan in garlic and cheese, sundried tomato, pesto, za'atar (Middle Eastern spice blend), and plain variants.
ADVERTISEMENT - CONTINUE READING BELOW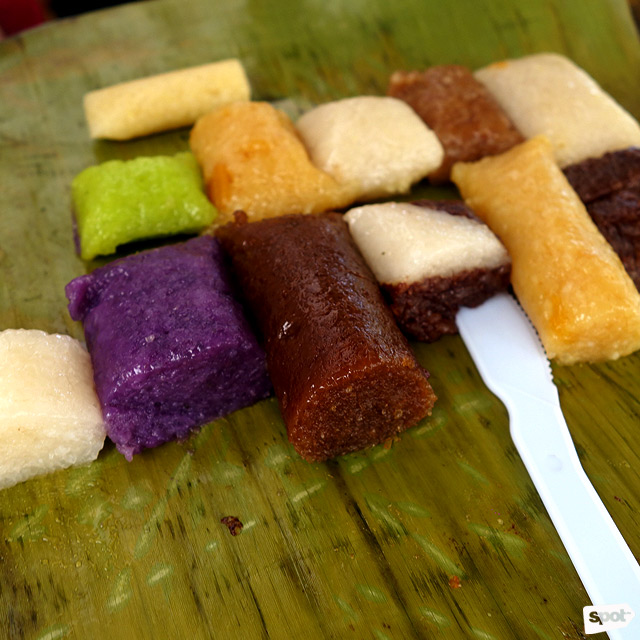 Gourmet Suman
Budbud Gourmet Suman's budbud kabog (or suman) stands out among the slew of Filipino delicacies at the weekend market. Made up of antioxidant-rich millet seeds from Negros Occidental, the famous Filipino sticky cake also uses sung-sung rice, which is a kind of grain normally used for champorado or congee. Infused with different fruits, flavorings, and coconut milk, the result is a creamier and tastier take on the classic suman. The stall offers 17 flavors, each worth trying out including the Budbud Mangga (suman with fresh mangoes), Budbud Tsokolate (suman with tablea), and Budbud Luya (suman with a touch of ginger). If you want something different, grab the Champorado with Tuyo (dried fish). The champorado's cacao is organic, while the tuyo comes from Bataan, where some of the best dried fish can be found.
ADVERTISEMENT - CONTINUE READING BELOW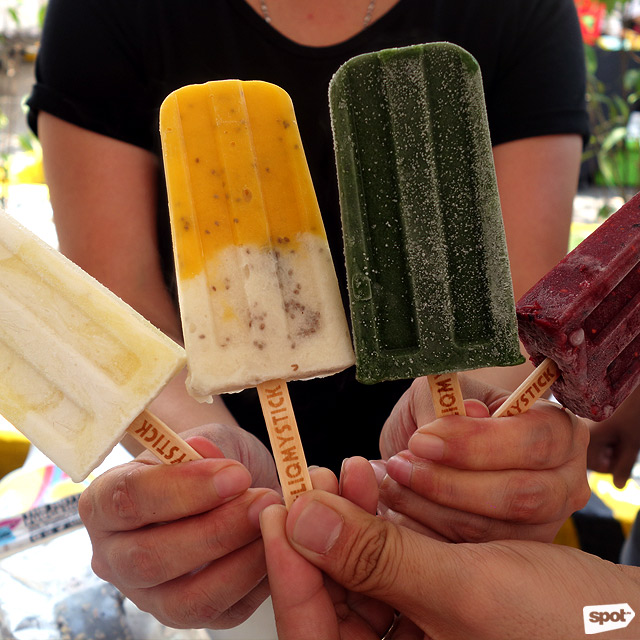 Organic Ice Popsicles
On hot days, nothing sounds more refreshing than a frozen ice pop. Liq My Stick's handcrafted and plant-based gourmet popsicles will not only keep you cool, but healthy, too. Made of organic local produce, they have funky flavors like Elvis' Pelvis (XXL banana, organic peanut butter, dark chocolate, coconut crème, and coconut sugar), Illemonati (freshly squeezed lemons and coconut crème), Jolly Green Detox (pineapple, cucumber, cold-pressed ginger, organic kale, and spirulina), and Wild Child Berries (blueberries, blackberries, strawberries, raspberries, and a touch of pineapple). All flavors are sold at P150 each.
ADVERTISEMENT - CONTINUE READING BELOW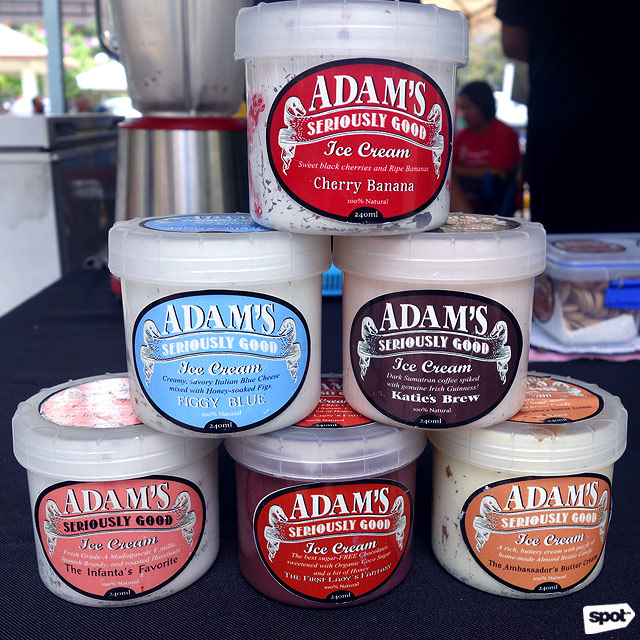 Vegan Ice Cream
Adam's Seriously Good Ice Cream is exactly that: Seriously good! Their vegan, dairy-free products do not contain fillers, artificial ingredients, soy, or gluten, so you can eat as much as you want without the guilt. All their ice cream flavors are coconut milk-based, so the result is an extra rich and velvety frozen concoction. Crowd-favorites are the Ambassador's Buttercream (rich, buttery cream with pieces of homemade almond brittle), Cherry Banana (late-season sweet black cherries and ripe bananas), Dark Chocolate Soufflé, and Black & White (fresh vanilla coconut with a dark chocolate swirl). Prices range from P300 to P350.
ADVERTISEMENT - CONTINUE READING BELOW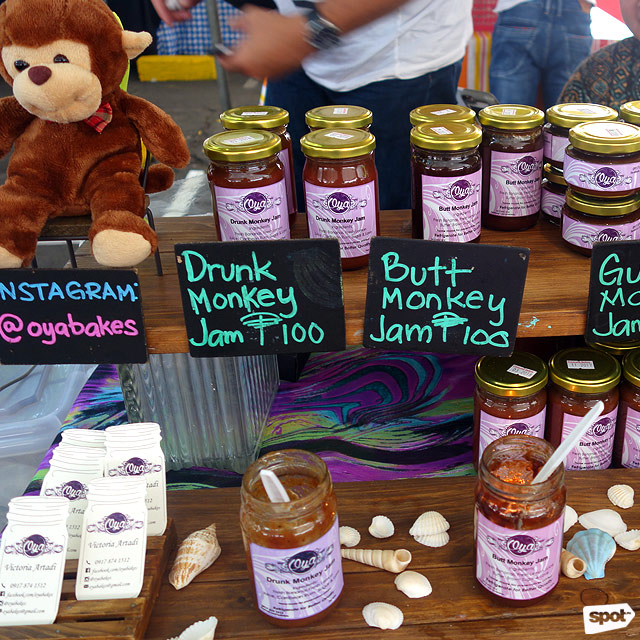 Gourmet Fruit Jams
Go bananas with these lip-smacking fruit-based jams (P100/piece) by Oya Bakes. You'll go crazy over their banana-based fruit preserves such as the Drunk Monkey (fresh lemon juice, Caribbean rum, and sugar), Butt Monkey (fresh lemon juice, butter, and brown sugar), and Guava Monkey (guavas, brown sugar, and lemon juice). They also have other must-try flavors like the Piña Colada (fresh pineapples with coconut rum and fresh lemon juice).
ADVERTISEMENT - CONTINUE READING BELOW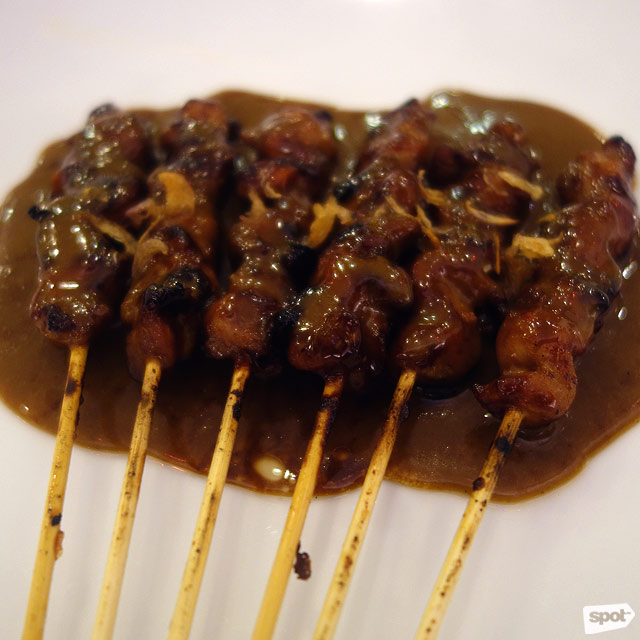 Sate Ayam
Stop by Warung's stall if want bold Southeast Asian flavors and sink your teeth into their traditional Indonesian dishes! A "warung" in Indonesia is a small family-owned restaurant that serves only local fare. Savor the distinct flavors of the Sate Ayam (P195/six sticks)—tasty chicken skewers grilled over coal. The barbecue is then soaked in a secret marinade and bathed in peanut sauce. A popular dish loved by both locals and tourists in Indonesia, this grilled delicacy is simple and appetizing! Eat this on its own or pair it with steaming hot rice. If you can't get enough, you can also visit their restaurant in Kapitolyo, Warung Warung.
ADVERTISEMENT - CONTINUE READING BELOW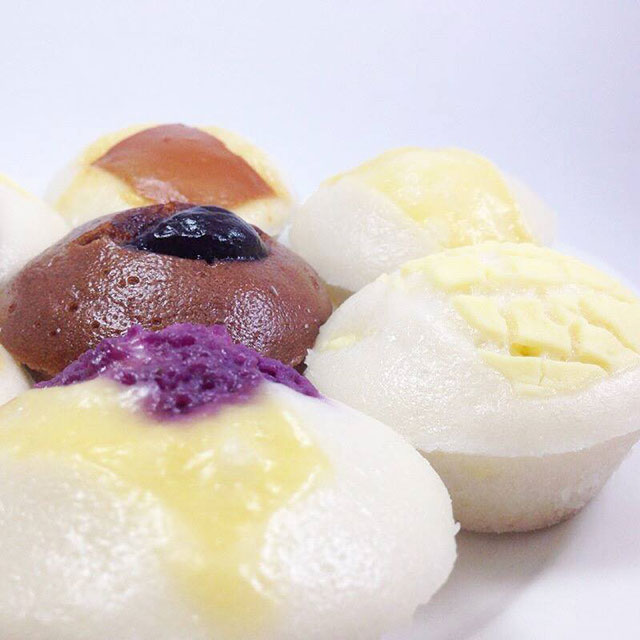 Salted Egg Puto
Puto Pao King will satisfy your cravings for unusual food combos. Sold at P25 per piece, their puto or steamed rice cakes are available in all sorts of unconventional flavors like salted egg (with asado), leche flan, peanut butter, blueberry cream cheese, and even cheesy tuna! Buy a box of six (P145) or 12 (P280) and bring it to your next party...or have them all to yourself! A different flavor every day? Why not?
ADVERTISEMENT - CONTINUE READING BELOW
Photos by Nadine Smith
Share this story with your friends!
---
Help us make Spot.ph better!
Take the short survey
More Videos You Can Watch
Load More Stories