10 Best Things We Ate in April
Noteworthy dishes in this food-filled month.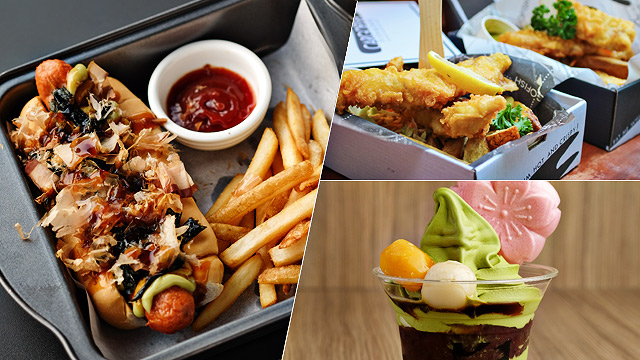 (SPOT.ph) If you didn't already know, here at SPOT.ph, we love food. You need it to live, but we find that there are some dishes that go well past the virtue of necessity. While others content themselves with a deep fryer and the usual salt and pepper, there are some who make—or at least try to make—an art out of it, with delicious displays and even yummier flavors. We believe those that go above and beyond their duty deserve necessary recognition. So here are our top picks among the dishes we ate throughout April.
ADVERTISEMENT - CONTINUE READING BELOW
CONTINUE READING BELOW
Recommended Videos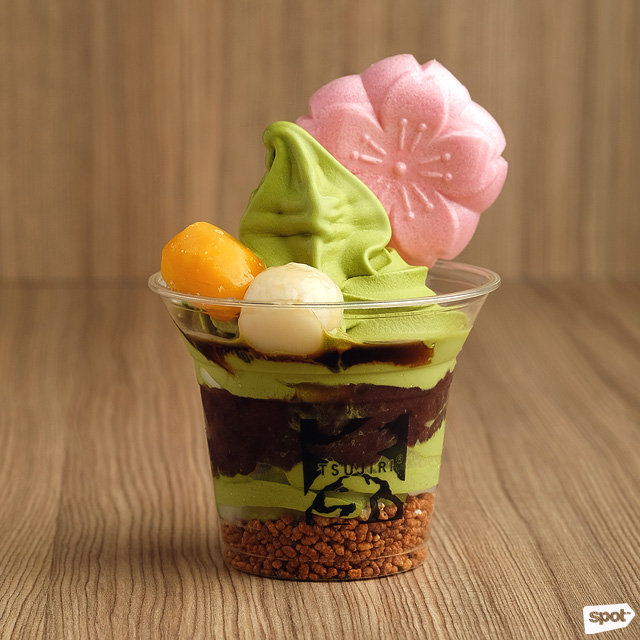 Tsujiri's Matcha Sundae
Can't take this horrendous summer heat? We've got a solution for that—the Tsujiri Sundae. This refreshing soft serve comes in two flavors, vanilla and the classic matcha. Served with a medley of colorful toppings like red bean, chestnuts, mochi, and genmai or toasted rice, this sweet treat will instantly brighten your day.
ADVERTISEMENT - CONTINUE READING BELOW
Tsujiri is at 2/F S Maison at the Conrad, SM Mall of Asia Complex, Pasay City.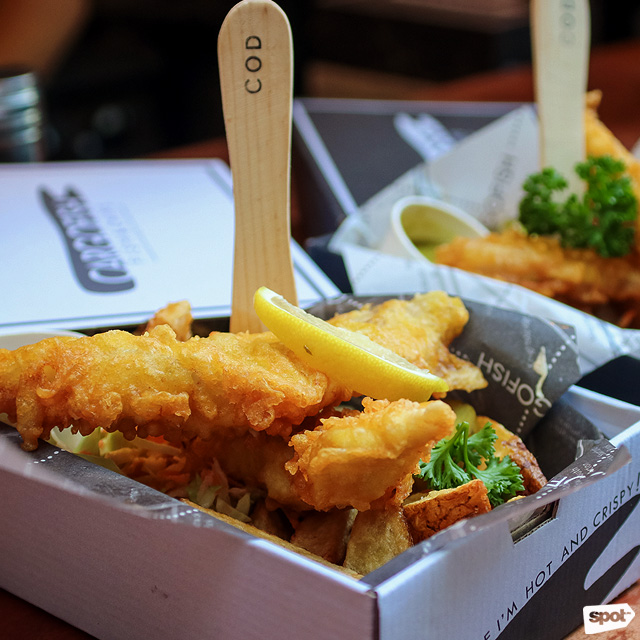 CargoFish's Fish and Chips
CargoFish is the latest concept by chefs Matthew Lim and Matthew Hornsby-Bates, who both wanted to introduce this traditional British street food snack to Filipinos. Their Fish and Chips are deep-fried in a light, crunchy batter that's made even more tastier when paired with malt vinegar and their signature dips. Besides choosing from six kinds of fish, customers also get to pick the sauce of their choice: tartar, lime chili cilantro, roasted garlic, honey jalapeño, seafood barbecue, mushy peas, and chip shop curry.
ADVERTISEMENT - CONTINUE READING BELOW
CargoFish is at 4/F Uptown Mall, Uptown Bonifacio.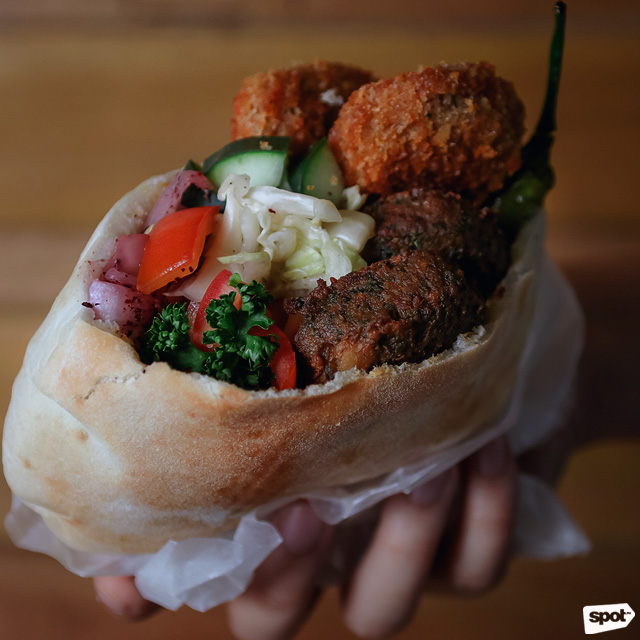 Falafel Yo's Falafel Sandwich
Falafel Yo is the brainchild of Israeli brothers Guy and Yuval Mann. Although this Middle Eastern vegetarian dish is not as popular as, say, the shawarma, they think it's about time the falafel gets its much-deserved spotlight in Manila. Their falafel is a mixture of chickpeas, garlic, and various herbs and spices like coriander and parsley. These veggie fritters are then browned to a crisp and served with pita bread and a side salad of your choice.
ADVERTISEMENT - CONTINUE READING BELOW
Falafel Yo is at 3/F Greenbelt 3, Ayala Center, Makati City.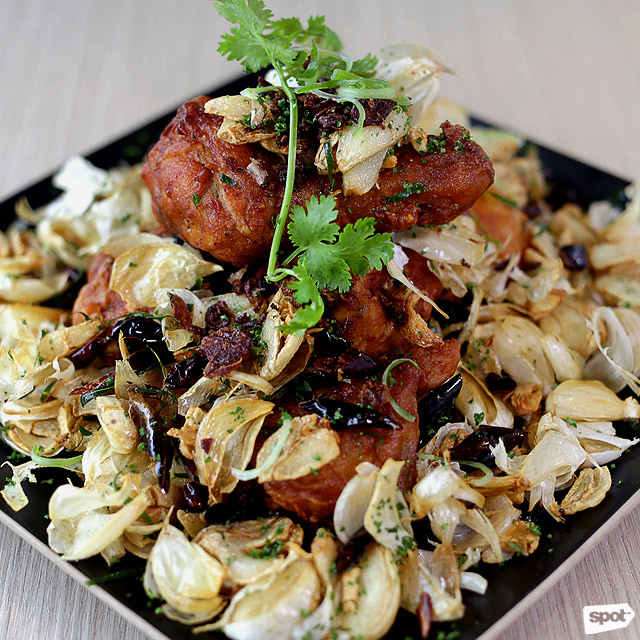 Poultry Stack's Garlic Overload Chicken
At Poultry Stack, chicken meals are the star. Take, for example, the Garlic Overload Chicken, which has become a bestseller since they launched the restaurant in January. Meanwhile, Chef Gino Gonzalez of Café Ysabel fame did not exaggerate when he named this particular dish. After marinating the chicken in various aromatics and spices, it is then deep-fried and stacked atop 500 grams of roasted garlic cloves. This is no ordinary fried chicken!
ADVERTISEMENT - CONTINUE READING BELOW
Poultry Stack is at 24-C Scout Tuazon Street, Tomas Morato, Quezon City.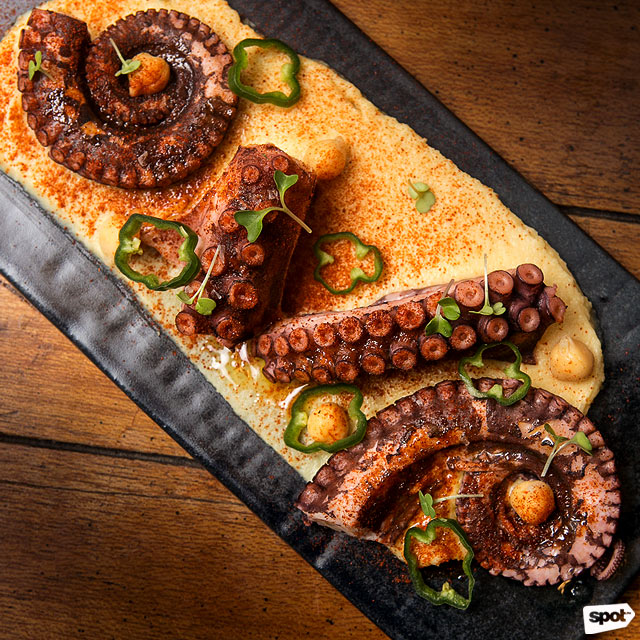 La Coctelera's Pulpo Hummus and Sweet Paprika
Not many may have heard of the new bar located on the second floor of Rambla in Rockwell called La Coctelera. Rambla's loyal patrons, however, would know that the Spanish restaurant serves some of the best tapas in town. Luckily, La Coctelera shares the same food menu with its sister establishment downstairs. Sample their Pulpo Hummus and Sweet Paprika, an elegant appetizer that's elevated by its sheer simplicity. Here, you get four slices of grilled octopus with a silky hummus spread and garnished with extra virgin olive oil and sweet paprika.
ADVERTISEMENT - CONTINUE READING BELOW
La Coctelera is at 2/F Rambla, Joya Building, Joya Drive, Rockwell, Makati City.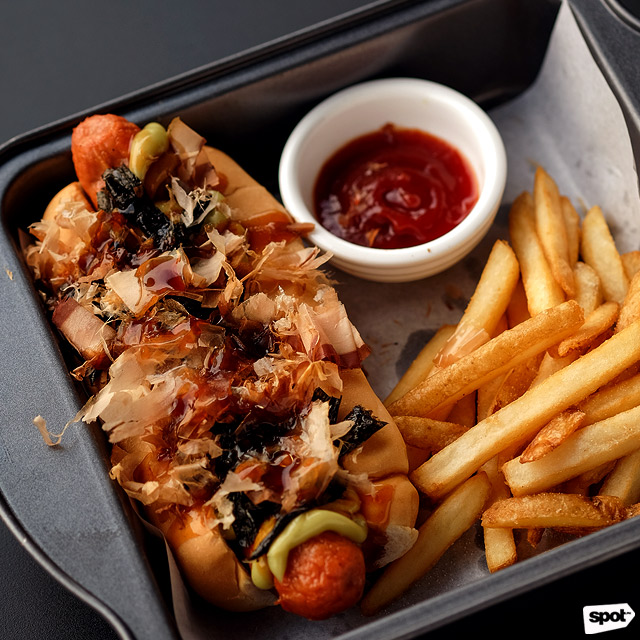 Wicked Dogs' Wasabi Dog
Tucked in the hipster neighborhood of Poblacion, Wicked Dogs offers some of the best hotdogs in town. In fact, one of them got a spot in our Top 10 Hotdogs list in 2015. But we're really here to talk about their Wasabi Dog, which is made of pure, umami goodness as every bite gives you scrumptious bits of their signature sausage and bun, bonito flakes, and seaweed chips.
ADVERTISEMENT - CONTINUE READING BELOW
Wicked Dogs has branches at 2/F Lokal Hostel, 5769 Ebro Street, Poblacion, Makati City; and 40 Aguirre Avenue, BF Homes, Parañaque City.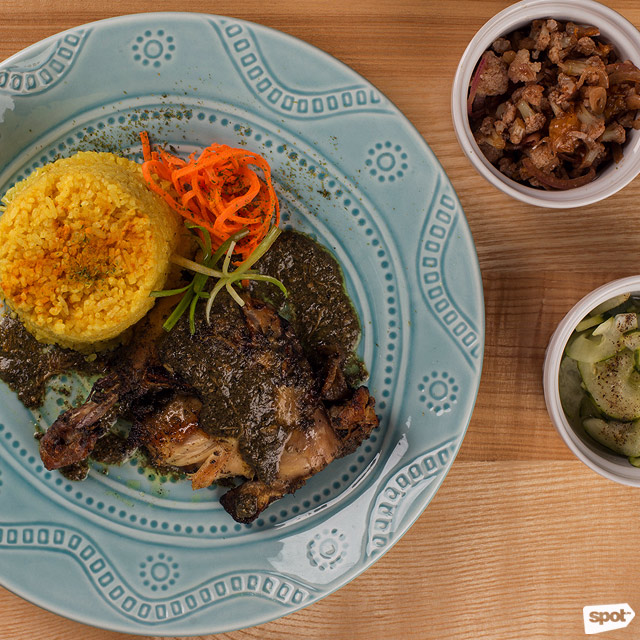 Palm Grill's Green Chicken
Don't miss out on Palm Grill's Green Chicken when you pass by Tomas Morato. This Malay-inspired dish is a generations-old family recipe from Mindanao. The secret behind its taste lies in the coconut milk and seven spices it was cooked in. The result is a creamy green chicken that boasts a robust curry flavor, which you must, must eat with their turmeric rice for balance.
ADVERTISEMENT - CONTINUE READING BELOW
Palm Grill is at 175 Tomas Morato Avenue corner Scout Castor Street, Diliman, Quezon City.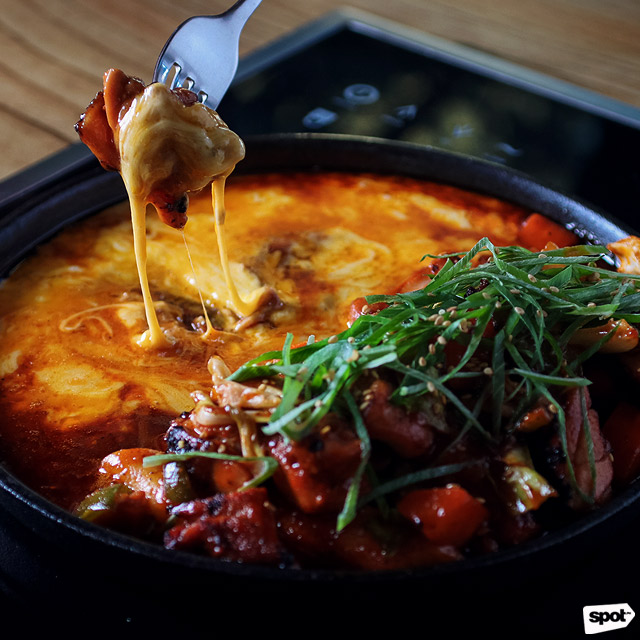 Nikuya's Dak Galbi
Dak Galbi is a popular and spicy stir-fried chicken dish in Korea. At Nikuya, it is typically eaten with bubbling hot cheese on a scorching cast iron plate. The mild cheese complements well with the sweet-spicy sauce that coats the chunky chicken bits. This is the ultimate dish for cheese lovers!
ADVERTISEMENT - CONTINUE READING BELOW
Nikuya is at G/F Estancia Mall, Capitol Commons, Pasig City.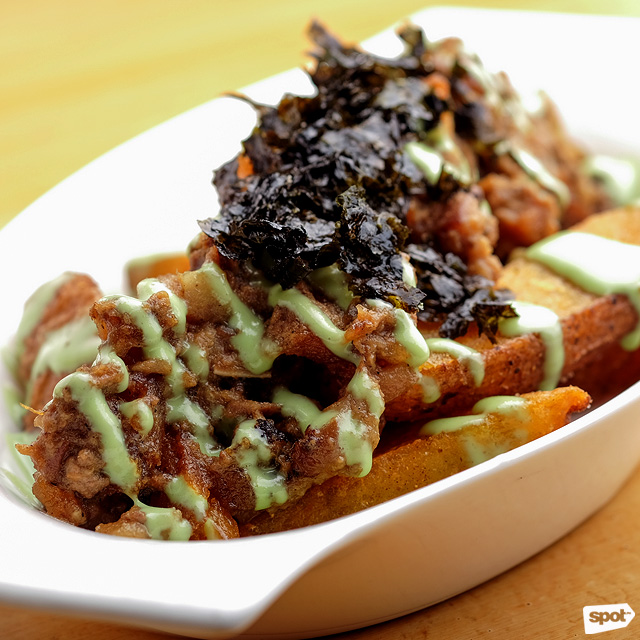 Bodega Kitchen & Bar's Sisig Fries
When you think about sisig, you automatically think of eating it with a plate of steaming white rice to match its strong and salty flavors. But the people behind Bodega Kitchen & Bar have found a new and interesting way to munch it down, which is to have it with French fries. To make it all the more decadent, thick-cut fries are finished with a generous scoop of sisig with little bits of ox brain, and spicy wasabi mayonnaise to add some kick.
ADVERTISEMENT - CONTINUE READING BELOW
Bodega Kitchen & Bar is at G/F Two Central, 109 Valero Street, Salcedo Village, Makati City.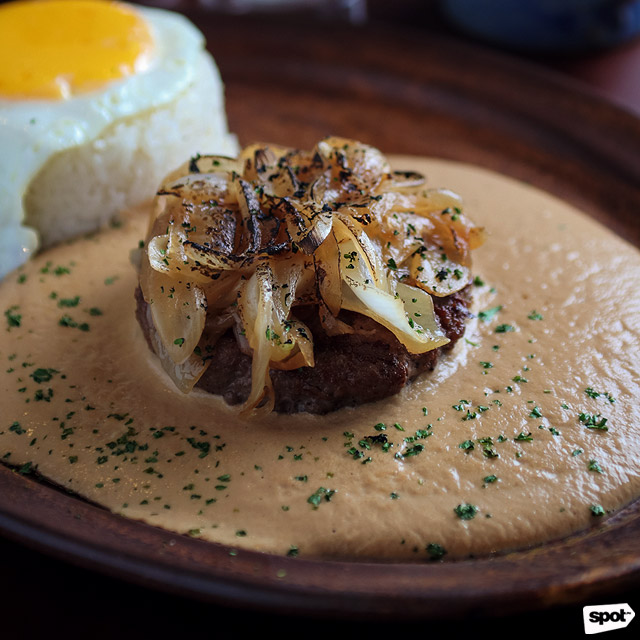 Bluesmith Coffee's Wagyu Beef Steak
It's never just about the coffee when you visit Bluesmith Coffee. Apart from their handcrafted espresso drinks and standout cocktails, their Wagyu Beef Steak is a must-try. Café owner Miguel Macaalay shares that this particular dish was inspired by a local fast-food chain's burger steak. The only difference, perhaps, is its gourmet taste improved by the use of quality ingredients like Wagyu beef. Served with a cup of rice, caramelized onions, and runny fried egg, the juicy burger patty swims in a pool of peppery gravy.
ADVERTISEMENT - CONTINUE READING BELOW
Bluesmith Coffee is at MJ Plaza, 2310 Chino Roces Avenue, Magallanes, Makati City; and 2/F Ayala Malls The 30th, Meralco Avenue, Ugong, Pasig City.
Are you sure you want to delete this list?

Load More Stories