The Broken Oven is for The Broken-Hearted and Broken-Dieted
Don't waste your cheat day!
The Broken Oven
Industrie Food Loft, City Golf Complex, Doña Julia Vargas Avenue, Pasig City
Contact: 0917-816-2726
Open daily from 4 p.m. to 2 a.m.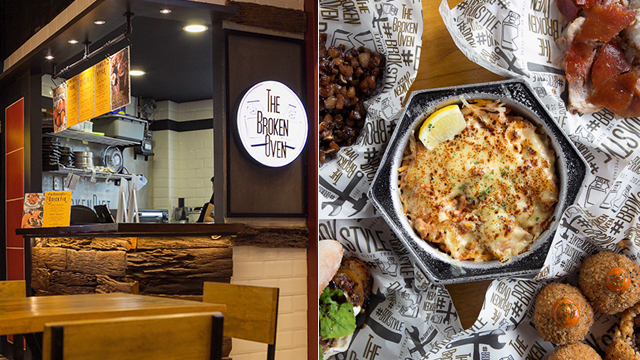 (SPOT.ph) Industrie Food Loft is alive, kicking, and out to make personal trainers everywhere very, very angry. After a cycle of varying restaurants, the management decided that the food park trend could be more than just a trend, and that Metro Manila just might be ready for something more permanent.
ADVERTISEMENT - CONTINUE READING BELOW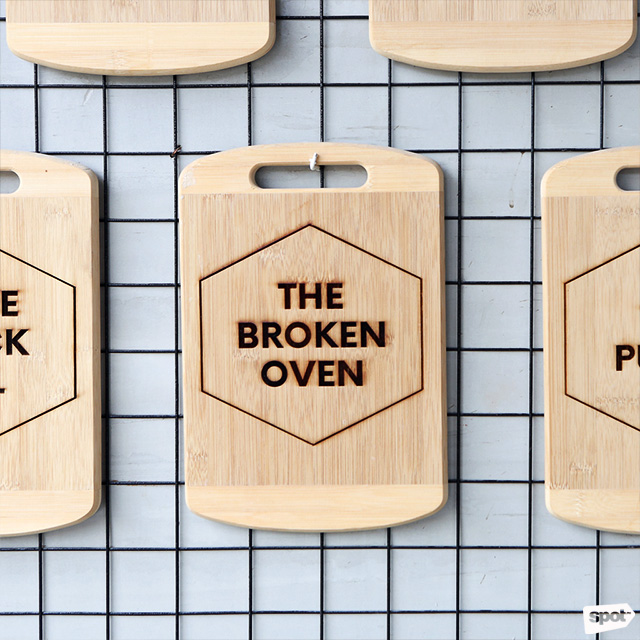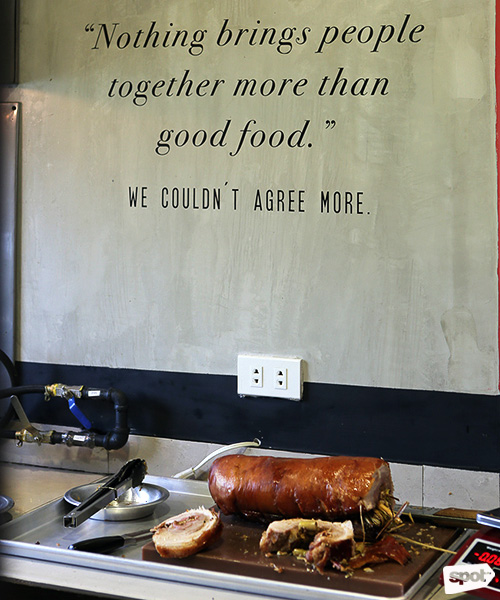 ADVERTISEMENT - CONTINUE READING BELOW
At least, that's what brother-sister duo Marco and Kyla Olives of The Broken Oven are hoping. "This is kind of my brother's baby," Kyla explains, "It's [in its] early days, so he's [really looking after it]." Ultimately, their goal was to serve and present food the way it is meant to be eaten: "Nothing fancy." But, may we say, still pretty spectacular.
Not a word of a lie—their chances at sticking around are high.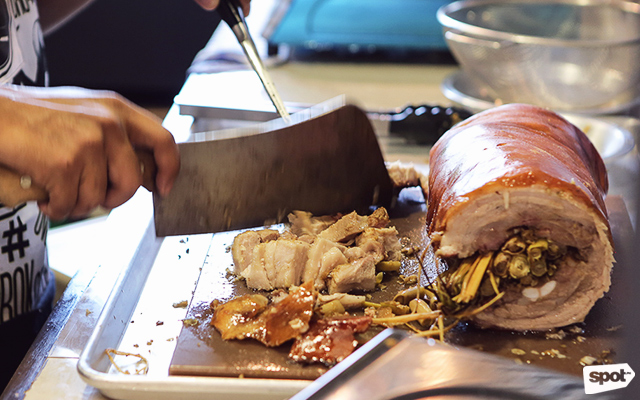 ADVERTISEMENT - CONTINUE READING BELOW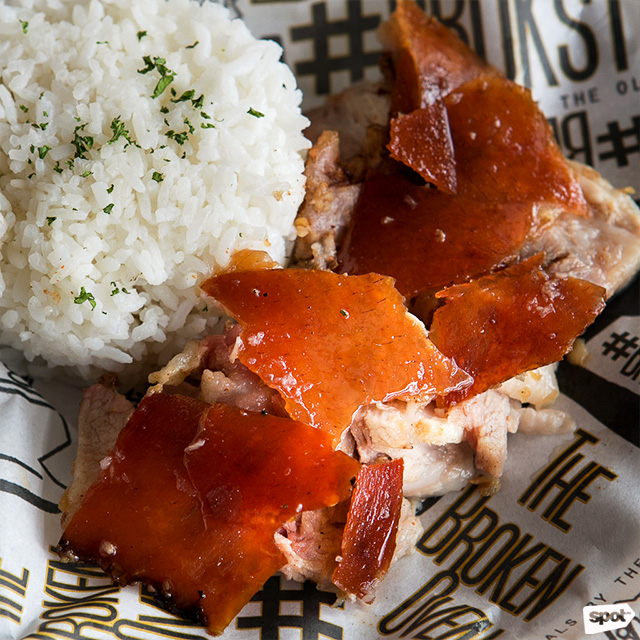 Slow Roasted Pork Belly with Rice
Let's begin with the basics, just because this Little Stall That Can deserves that kind of buildup. How on earth—unless you're vegetarian, in which case, what are you doing here?!—is a person expected to say no to their straightforward Slow Roasted Pork Belly with Rice (P160)? And where does one begin? This isn't even one of the owners' favorites and it is still ridiculously, probably-bad-for-you good. Like, you-don't-know-whether-you-should-tell-your-friends-about-this kind of good. Firstly, more for you if you don't. Secondly, do you really want to give them high blood pressure? Of course not. Be a good friend and have this all to yourself.
ADVERTISEMENT - CONTINUE READING BELOW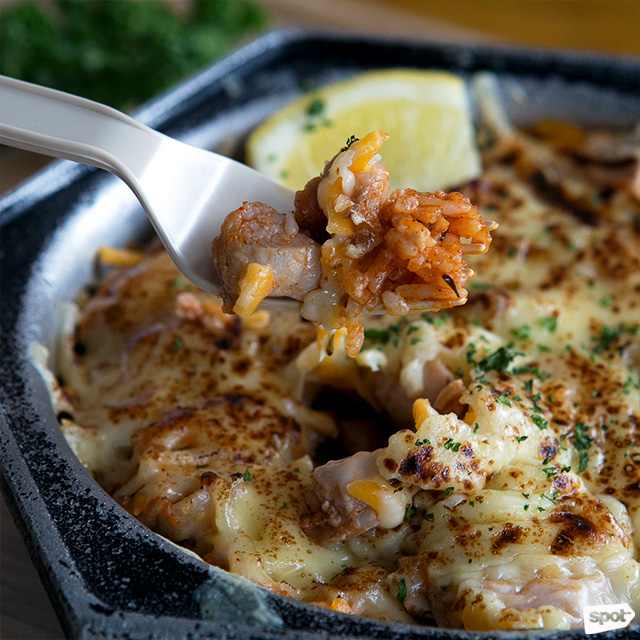 Chicken Iberico Melt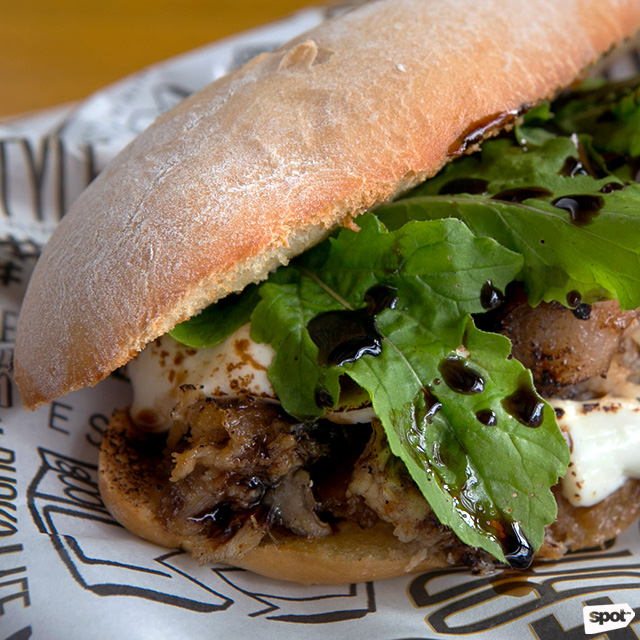 ADVERTISEMENT - CONTINUE READING BELOW
PB+C Sandwich
Is it a bird? Is it a plane? Is it lasagna? No? In mozzarella and cheddar over chorizo rice? They call it the Chicken Iberico Melt (P240) and you don't really need to know much else. If any item on this menu could be sent into a comfort food competition, it's this. It's about as salty, warm, gooey, and tender as you can imagine. And that competition needs to become a real thing.
The PB+C Sandwich (P220) can only be described as the thing you'd give your crush to make them fall in love with you. But the pre-requisite for that is you'd have to make it yourself, and it's already being sold here—too little, too late, guys. But you can't really feel bad in the face of (more) slow-roasted pork belly. Its mild vinaigrette and fresh greens are balanced against kesong puti, all on a not-quite ciabatta bun. They say money can't buy you love, but it can buy you this sandwich, and it's almost the same thing.
ADVERTISEMENT - CONTINUE READING BELOW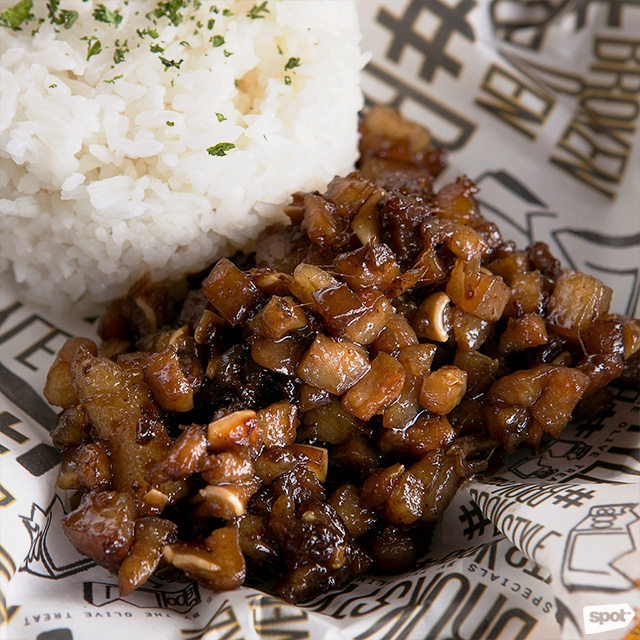 Sisig with Rice
ADVERTISEMENT - CONTINUE READING BELOW
Sisig Kaninballs
This is the point where things get a little difficult. A major point of contention may manifest here, so buckle up. You can get the Sisig (P180) and ask nicely for some Rice Please (P30)—the favorite of classicists, or it would be if they gathered up the good sense to come to this stall. That's fine. It's lovely, even. Too good to be bog-standard, but kind of traditional nonetheless. Or you can get the Sisig Kaninballs (P160/four pieces).
While clearly a child with an affinity for puns gave this its name, it doesn't take away from the fact that you should not underestimate these little spheres made entirely of Cheat Day Fantasies. The menu says they're just made of rice and sisig, deep-fried with an herbed crust, a foodie version of the normal sisig, but don't believe a word of it. That cannot be all there is to them. You have to go and find out for yourself. And this is where the battle truly begins—which one is the better-looking sister?
ADVERTISEMENT - CONTINUE READING BELOW
We know, objectively, it all sounds terribly simple. Even their specials on the weekends, affectionately referred to as Spaghetti Sundays, don't jump out at you in any bid to become the apple of your eye. But that's the beauty of The Broken Oven. It is terribly simple until you have some. Then you know, almost instinctively, that there's something different. It's not even as if there's a whole foreign flavor profile going on. It's just really damn good.
It's not where you should eat every day. You're going to want to, and it'd be really easy, considering where it is. But be kind to yourself, and limit your visits to every other day.
Photos by Ian Santos
Load More Stories