Could Nono's Homestyle Fried Chicken be the new holy grail of fried chicken?
It certainly is a strong contender.
Nono's
G/F UP Town Center, Diliman, Quezon City
Contact: 958-5713
Open daily from 10 a.m. to 10 p.m.
(SPOT.ph) There is no question that Filipinos love to eat—Manila's food scene wouldn't be this alive otherwise. It's more interesting to ask: Why do you love food? We fall in love with certain dishes not just because of how they look and taste, but also because of the memories they evoke: It's what makes the plate of tapsilog you ate with your college crush or the distinct style of adobo your mom whips up for Sunday lunch more special than even the most expensive, extravagant meal.
ADVERTISEMENT - CONTINUE READING BELOW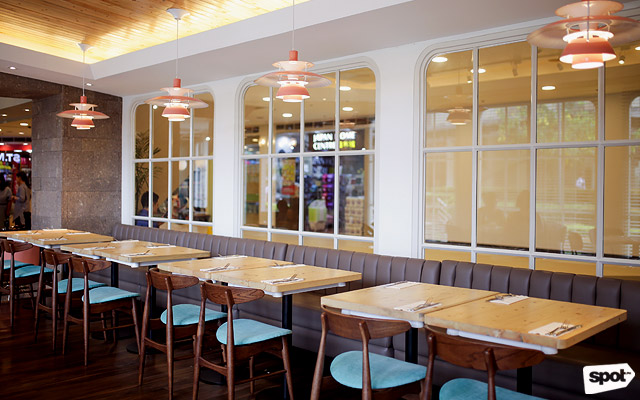 CONTINUE READING BELOW
Recommended Videos
This relationship between food and memory is what Chef Baba Ibazeta-Benedicto celebrates in her newest baby, Nono's at UP Town Center, Quezon City. The menu isn't just a list of comfort food; it's also a repository of stories from Chef Baba's childhood and even her stay in San Francisco. "When my team and I were developing the menu, when we were just throwing things around, I realized that I was going back to my childhood," says Chef Baba. "I feel like eating kasi is a celebration—someone's birthday, an anniversary. So I thought of the things that made me happy."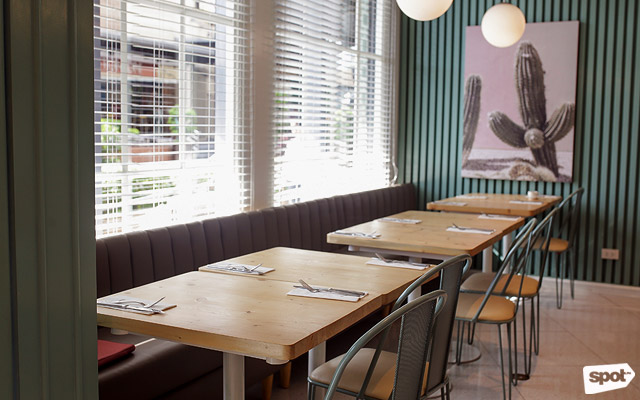 ADVERTISEMENT - CONTINUE READING BELOW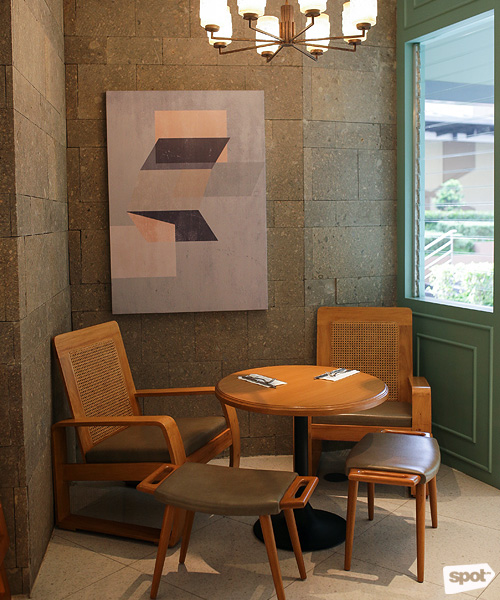 With a menu this tied to family and childhood memories, it was only fitting that stepping inside Nono's felt like entering an actual home. Chef Baba shares that she just pitched the concept of her restaurant to design group Space Encounters and let them take care of the rest. The result is, as she puts it, "a mid-century modern house in Palm Springs" with bright pastel colors, wicker chairs, and jalousie windows.
The vibe is comfortable but also elegant—you'll feel at home but you'll also be on your best Sunday dinner behavior. It's an impression that extends to the menu, which Chef Baba further describes as "elevated familiar food."
"That's the best way to describe it," says Chef Baba, "[Because] I think when you're a kid, you eat and fall in love with food, then you grow up and experience things and that elevates your taste."
ADVERTISEMENT - CONTINUE READING BELOW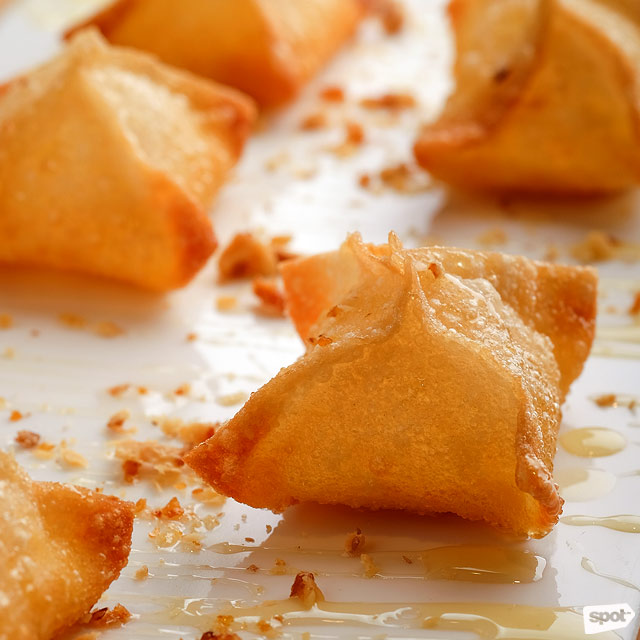 Fried Truffle Cheese Wontons
The best showcase of this is the Fried Truffle Cheese Wontons (P155). These wontons are elegantly arranged on a plate, drizzled generously with honey, truffle oil, and candied walnuts. Yet the first bite has a crunch that is startlingly similar to fried cheese sticks. It's cheesy and pleasantly sweet from the honey, with the distinct earthy richness of the truffle oil an afterthought. Favorite childhood snack, elevated.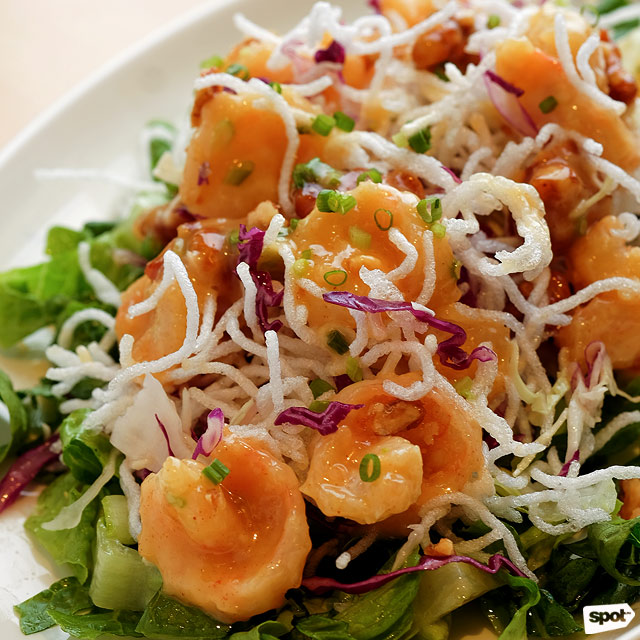 ADVERTISEMENT - CONTINUE READING BELOW
Oriental Shrimp Salad
The Oriental Shrimp Salad (P375) also has a story behind it. "When I was studying in San Francisco I would always order this prawn walnut salad," Chef Baba narrates, "so I took inspiration from it." Her version boasts of refined flavors and a beautiful contrast of textures. The battered shrimp is seasoned to be quite salty—a nod to the Chinese hot prawn salad—but it's balanced out by the sweet-and-tart honey lemon dressing. A touch of mayonnaise makes the dressing creamy but not cloying, serving as a foil to the crunchy red and green cabbage, romaine lettuce, and crispy noodles ("I like adding crunch to my dishes," confesses Chef Baba).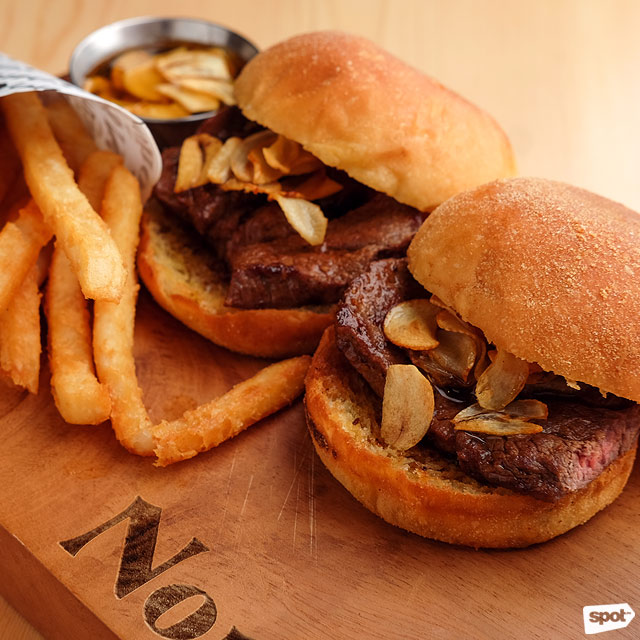 Pepito's Steak Sliders
If you're here for something else that's also relatively light—emphasis on relative as this dish can still be quite hefty—have Pepito's Steak Sliders (P325), named after Chef Baba's grandfather who used to sandwich steak between pandesal. Nono's makes their bread in-house, and their pandesal is crisp yet light, and also slightly buttery. These sliders are stuffed with USDA steak cooked medium-rare and crispy garlic for a flavor and texture profile reminiscent of salpicao.
ADVERTISEMENT - CONTINUE READING BELOW
Mac n' Cheese
"I first learned to cook by making Kraft Macaroni and Cheese by the box," says Chef Baba. Judging from her Mac n' Cheese (P295, add P125 for bacon), she has come a long way. She steers clear of "fancy" cheeses, sticking instead to gruyere, cheddar, and parmesan for a result that is incredibly homey. Using shell pasta is a touch of genius—the hollow shape catches the sauce so you get that burst of cheesiness with each spoonful.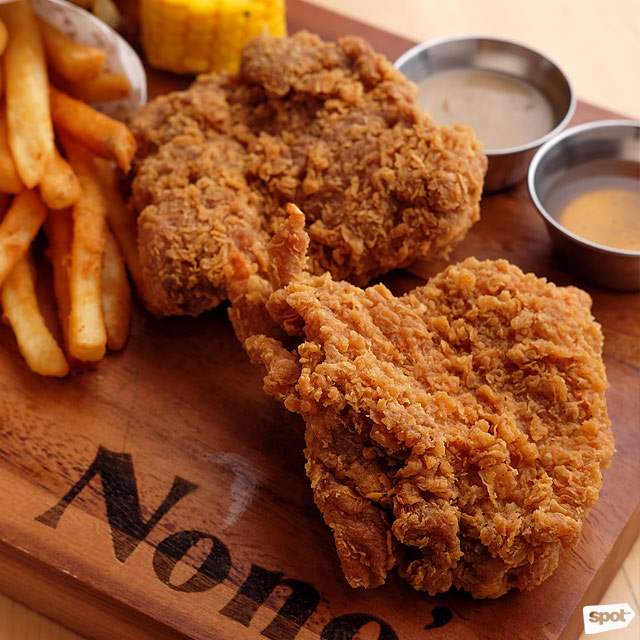 ADVERTISEMENT - CONTINUE READING BELOW
Nono's Homestyle Fried Chicken
While the Mac n' Cheese quickly stole our hearts, we fearlessly predict that Nono's Homestyle Fried Chicken (P565) could be the new holy grail when it comes to restaurant fried chicken. Just from the first bite, you immediately get that resounding crunch that tells you this is chicken, perfectly fried. Then you get to the juicy, flavorful meat—Nono's only uses the thigh part, deboned. Mix the honey and gravy served with this platter and use it as your dipping sauce—the strong sweetness of the honey complements the spiced chicken and herby gravy perfectly. "The secret to fried chicken is cooking temperature," says Chef Baba. Plus their top-secret blend of spices and the numerous tries it took to perfect their chicken recipe, of course. Never let it be said that fried chicken is a simple dish to make.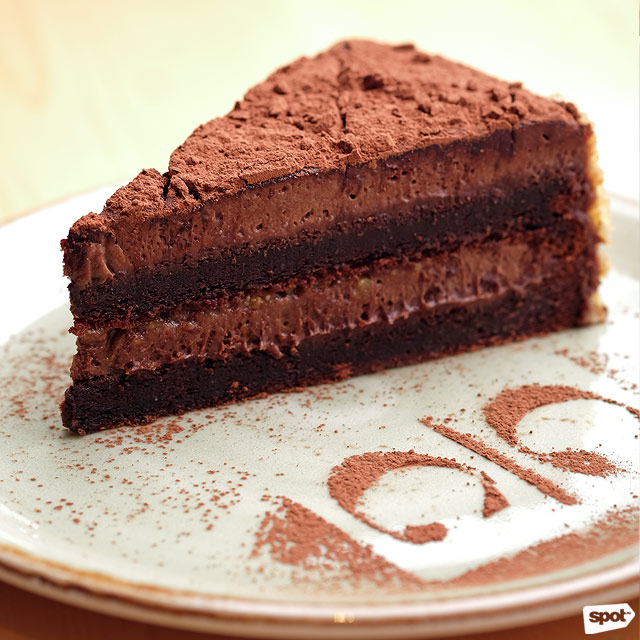 Nono's Chocolate Oblivion
Of course Nono's Chocolate Oblivion (P135/slice)—the shining star of Chef Baba's Classic Confections—is also here. It can be quite difficult but trust us when we say leave room for dessert. This chocolate cake is a cult favorite for good reason. Flourless, this cake is moist but not too dense; the chocolate cream filling has chopped candied walnuts that pleasantly catches you by surprise. Familiar yet sophisticated, it's the perfect way to cap a feast that's comforting yet also a little adventurous.
ADVERTISEMENT - CONTINUE READING BELOW
Photos by Majoy Siason
Share this story with your friends!
---
Help us make Spot.ph better!
Take the short survey
Load More Stories