Spice up your next Italian dinner with these summer-inspired dishes
La Spezia in Quezon City keeps it fresh all around.
La Spezia
90 Scout Dr. Lascano Street, Quezon City
Contact: 0917-317-8992
Open from 11 a.m. to 2 p.m., 5 p.m. to 10 p.m. (Tuesday to Friday), and 11 a.m. to 2 p.m., 6 p.m. to 11 p.m. (Saturday and Sunday)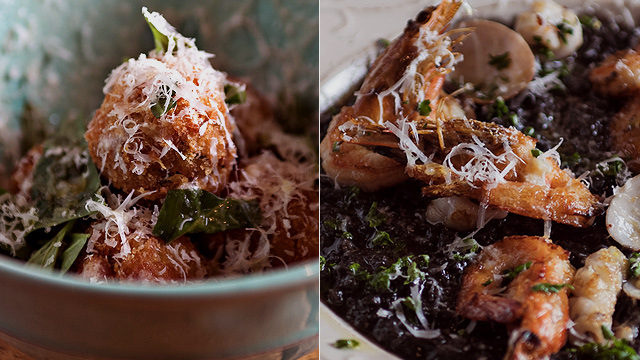 (SPOT.ph) While many restaurants add or remove items from their menu as they see fit, not many conduct an entire overhaul on a regular basis. One of these exceptions is Italian restaurant La Spezia, who changes their entire menu every three months, with owners Sean Yuquimpo and Aaron Shiu choosing to keep only one or two bestsellers or personal favorites per season. It may seem risky but for the duo it made perfect sense—after all, La Spezia is their culinary playground.
ADVERTISEMENT - CONTINUE READING BELOW
For their latest menu, the two were inspired by summer. "Summer in Italy [means] fresh produce, fresh vegetables" says Sean. "Everything [is] light, fresh. So this menu is geared towards produce and celebrating local ingredients. We wanted it to have that fresh feeling."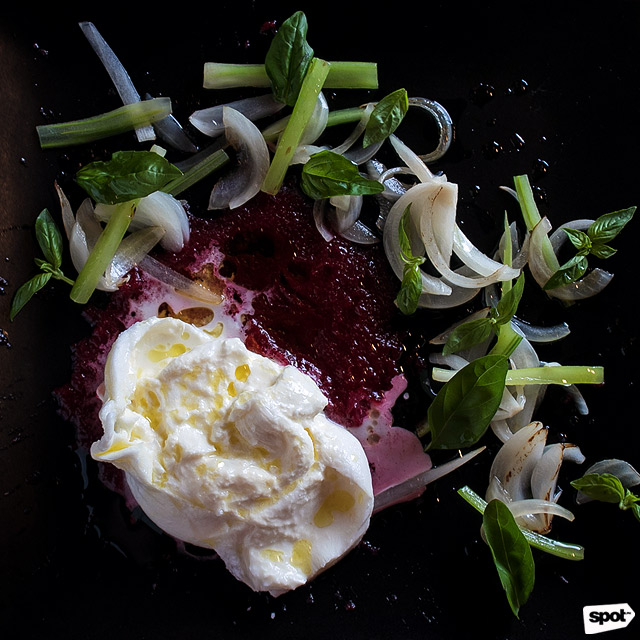 Burrata
La Spezia changes up their Burrata (P470) for their new menu, shifting the focus to the vegetables with the side of stir-fried celery, onions, and basil. A hint of citrus from lemon livens up the burrata, which is also drizzled generously with olive oil. The beetroot puree offers a punch of saltiness that completes this dish.
ADVERTISEMENT - CONTINUE READING BELOW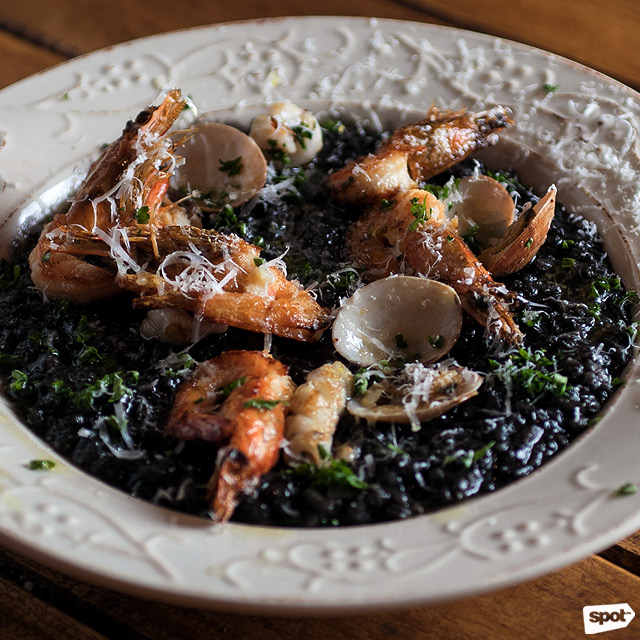 Risotto Al Nero Di Frutti Di Mare
Summer also means fresh catch, and La Spezia celebrates seafood with Risotto Al Nero Di Frutti Di Mare (P540). The cuttlefish ink risotto is velvety on the tongue and has a rich briny taste that complements the mildly seasoned shrimp, clam, shrimp, and arborio (a short-grain rice).
ADVERTISEMENT - CONTINUE READING BELOW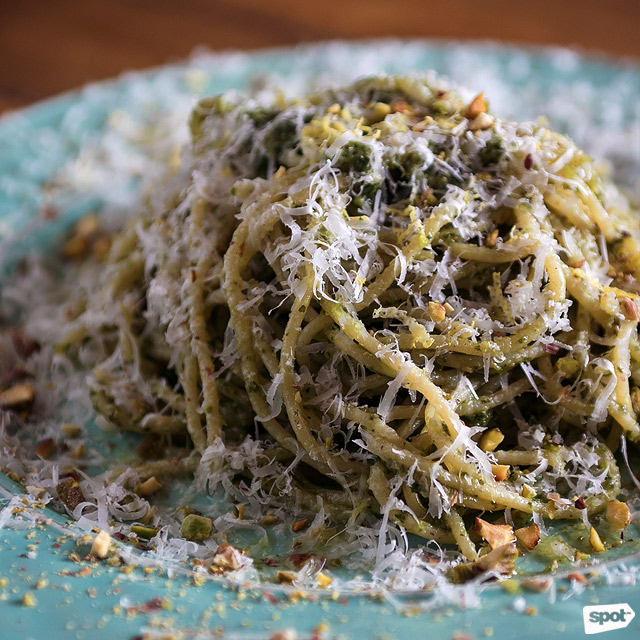 Pesto Alla Genovese
Of course, La Spezia still offers an excellent line of pasta. The Pesto Alla Genovese (P380) is a standout—Aaron and Sean chose to make theirs with cashew nuts instead of pine nuts. Not only does it highlight local produce, but cashew makes the sauce lighter and a little sweeter, and the addition of lemon zest makes it refreshing.
ADVERTISEMENT - CONTINUE READING BELOW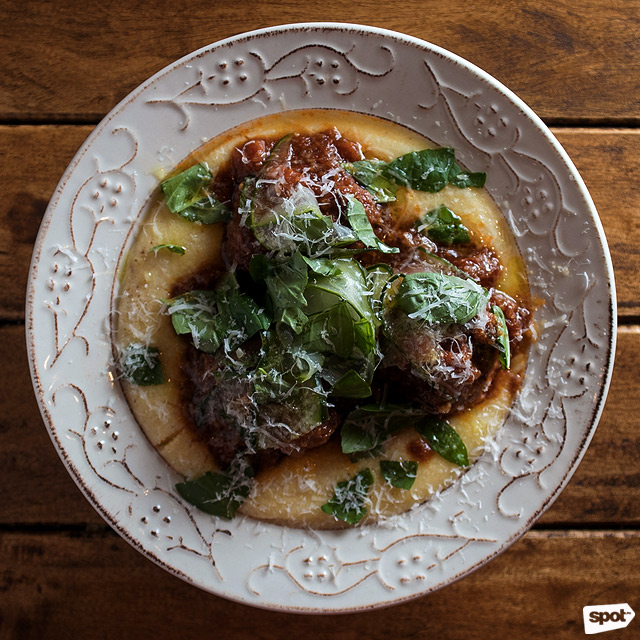 Polpette Di Manzo In Ragu Di Agnello
Eat like a true Italian and order a Secondi (or a main) after your starter and pasta. The Polpette Di Manzo In Ragu Di Agnello (P600) is huge enough to split, with beef meatballs on top of a thick and tasty lamb ragu (or Italian meat sauce) and polenta. Grated zucchini relish add notes of sweet-tart hints to balance out the heavy meaty flavors.
ADVERTISEMENT - CONTINUE READING BELOW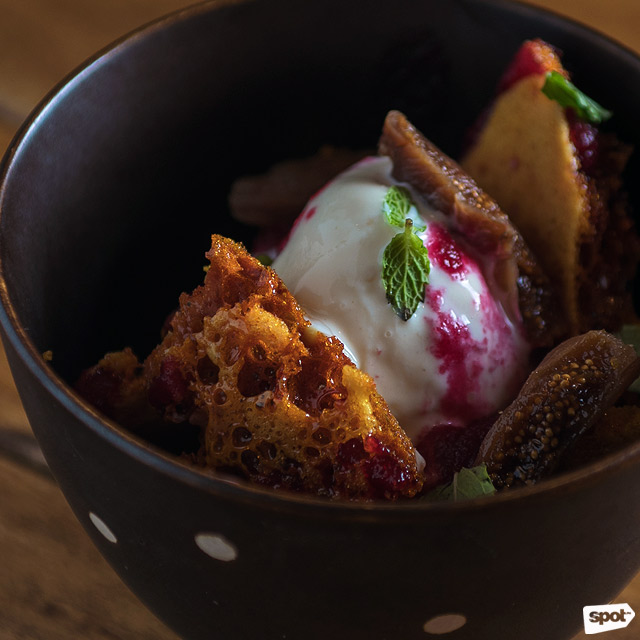 La Spezia Alveare
Finish your meal with the La Spezia Alveare (P325). Sean shares that in building La Spezia's menu, a lot of thought went into balancing flavors and there's no better showcase than this dessert. There's the creamy gelato that is sweetened by the crunchy honeycomb. Dried figs add a stronger spiced sweetness and some chewiness, but what really takes this dessert to the next level is the beetroot-ginger coulis—sweet and a little tart, then you get a whisper of heat at the end that'll keep you digging in until the last spoonful.
ADVERTISEMENT - CONTINUE READING BELOW
Photos by Jericho San Miguel
Recommended Videos
Load More Stories