New Restaurant Alert: Restoran Garuda at Legazpi Village, Makati
No passports needed to get the best of Indonesian fare.
Restoran Garuda
166 G/F Beneficial Life Building, Salcedo Street, Legazpi Village, Makati City
Contact: 824-3440
Open from 11 a.m. to 10 p.m. (Monday to Sunday)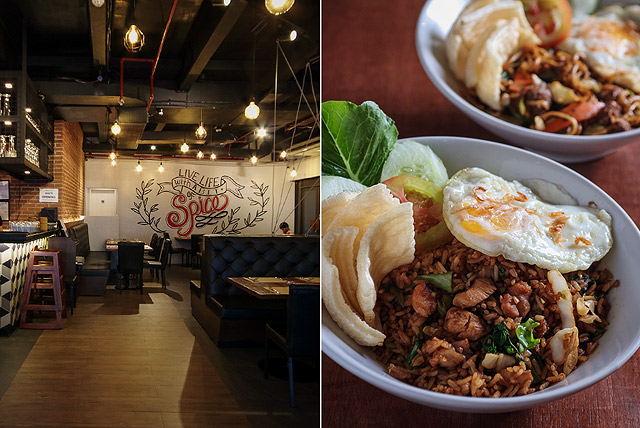 (SPOT.ph) When it comes to gastronomic gold mines in the Metro, Legazpi Village's offerings don't fall short. Restaurant mainstays and staples have found their home here, and the locale's hip scene have worked well in their favor. Restoran Garuda is the newest kid on the block and what it brings to the table is every bit as exciting.
ADVERTISEMENT - CONTINUE READING BELOW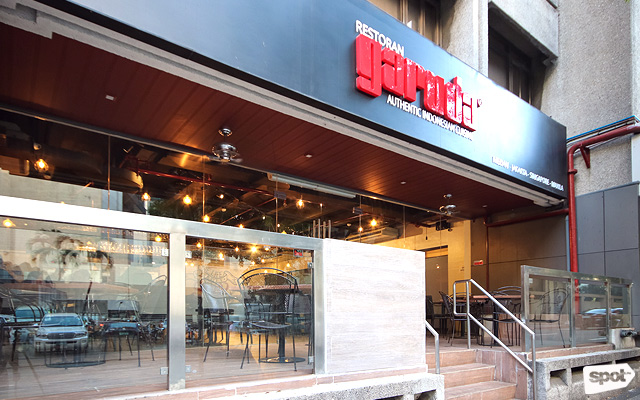 The diner's story starts with owners Ashwin and Kamlesh Budhrani's love for food. A visit to see family in Indonesia led them to Garuda, a fairly popular eatery. Their love for the cuisine and the noticeable lack thereof back here in the Philippines, the country they were born and raised in, sparked an idea in their heads. It was high time Filipinos got a taste of authentic Indonesian fare, which led them to bringing the first Indonesian franchise into the country.
ADVERTISEMENT - CONTINUE READING BELOW
"Southeast Asian food is not exposed that much. You always see Chinese, Japanese, Korean, but it's rare to see Indonesian types of food. So basically we wanted to bring it out, to introduce the culture through their food," Ashwin quips.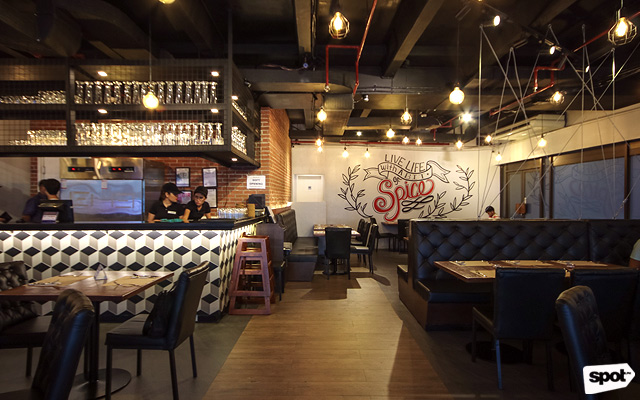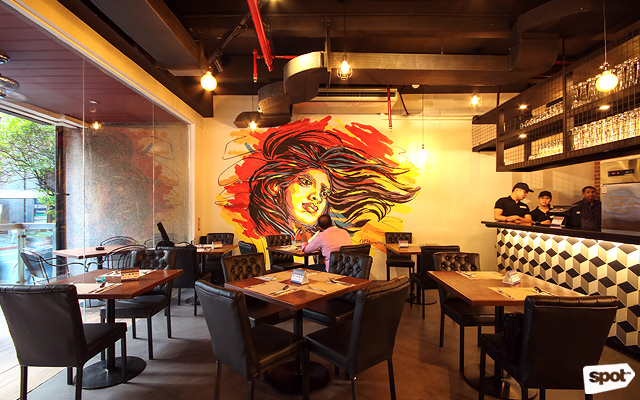 ADVERTISEMENT - CONTINUE READING BELOW
Conveniently located across the Indonesian embassy, their minimalist, casual space can seat about 80 people comfortably. Two large murals will capture your eye and make for IG-worthy photo opportunities, both reflecting the restaurant's philosophies. One is of a free-spirited woman with full-blown hair in a variety of colors, a nod to Garuda's name which means "eagle" or "free bird." The other bears the restaurant's motto: "Live life with a little bit of spice," which captures Garuda's grub in a nutshell—never bland, always flavorful.
The menu is well-curated with affordable price points to boot. Their dishes seek to honor the authenticity of their cuisine, and abide by every process and natural ingredient with no shortcuts. Another thing worth noting is they have a separate menu for vegetarians.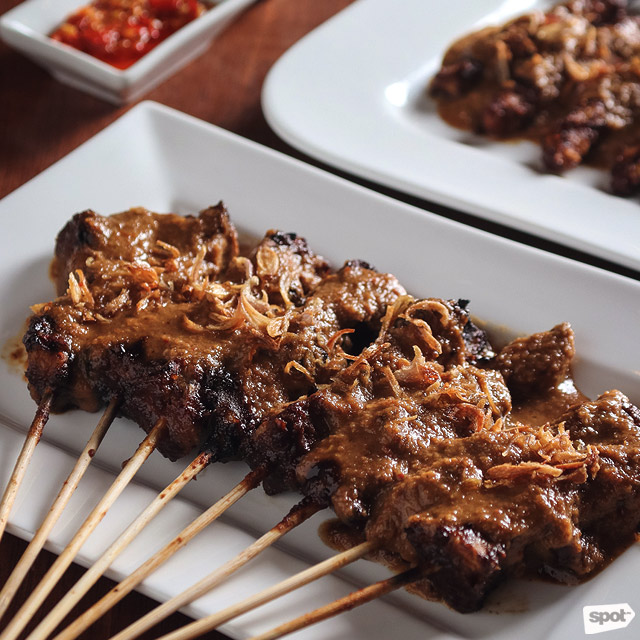 ADVERTISEMENT - CONTINUE READING BELOW
Ayam Sate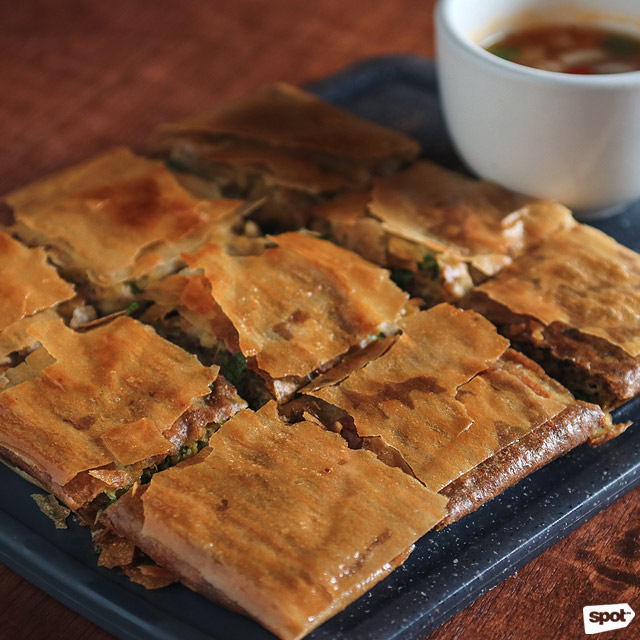 Martabak
Start things off with their best-selling skewers. The Ayam Sate (P290/meat, P280/vegetarian), in particular, knocks it out of the park. Grilled to a sublime char, the meat full-flavored as can be, and smothered in their signature peanut sauce, the result is worthy of applause. Their sate also has a vegetarian version, making good use of a certain kind of Indonesian soy meat. An à la carte serving of their sate dishes will bless you with eight sticks and lovely red and green sambal sauces on the side (make sure to save some for the other meals). Then on to some savory Martabak (P385) akin to a pancake, with some delightful surprises that await inside the puff pastry, pan-fried to a delicate crisp.
ADVERTISEMENT - CONTINUE READING BELOW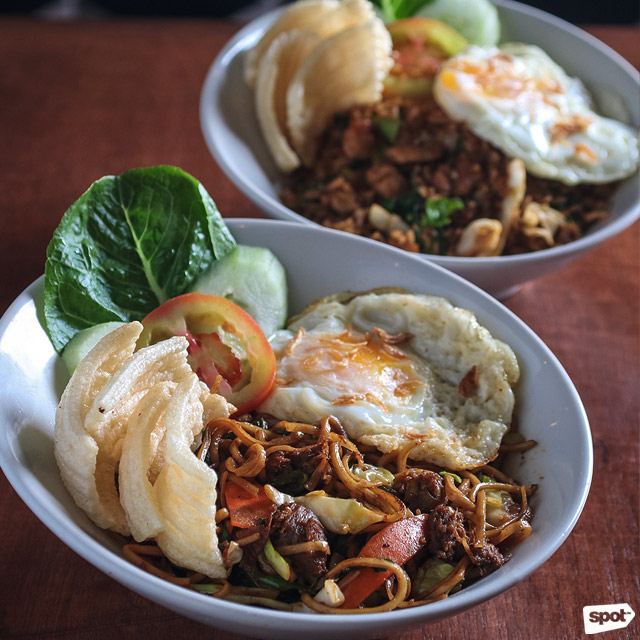 (Front to back) Mee Goreng, Nasi Goreng
Not to be forgotten are their Gorengs which all come in variants of mild, medium, and spicy, depending on your preferred intensity level. The hefty bowls have all the makings of comfort food and then some. Rice lovers will dig the Nasi Goreng (P280), while those who love pancit will find the Mee Goreng (P310) an apt choice.
ADVERTISEMENT - CONTINUE READING BELOW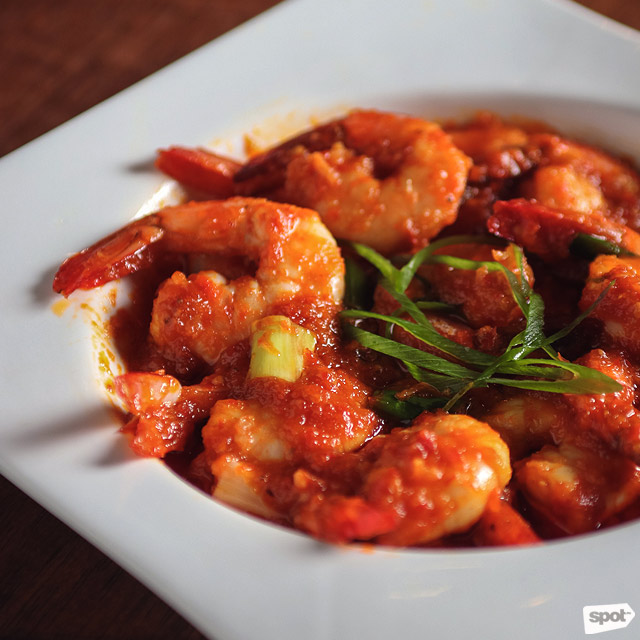 Udang Sambal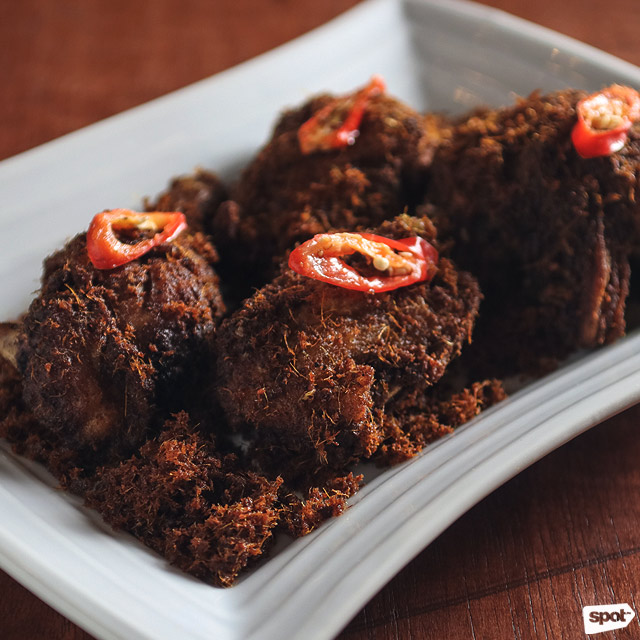 ADVERTISEMENT - CONTINUE READING BELOW
Ayam Goreng Garuda
The main courses don't scrimp on flavor. The Udang Sambal (P450) are succulent juicy shrimps swimming in Garuda's homemade chili sauce. The Ayam Goreng Garuda (P395), another unlikely surprise, is a delicious spin on the classic fried chicken. Before it gets to your plate, the chicken is boiled, cooked, and finally, fried, which makes the taste even bolder, but not too intimidating on the palate. Generously topped with desiccated coconut flakes and marinated in coconut and a handful of spices, we're told it's quickly garnering a solid following. And we can see—or taste, rather—why that is.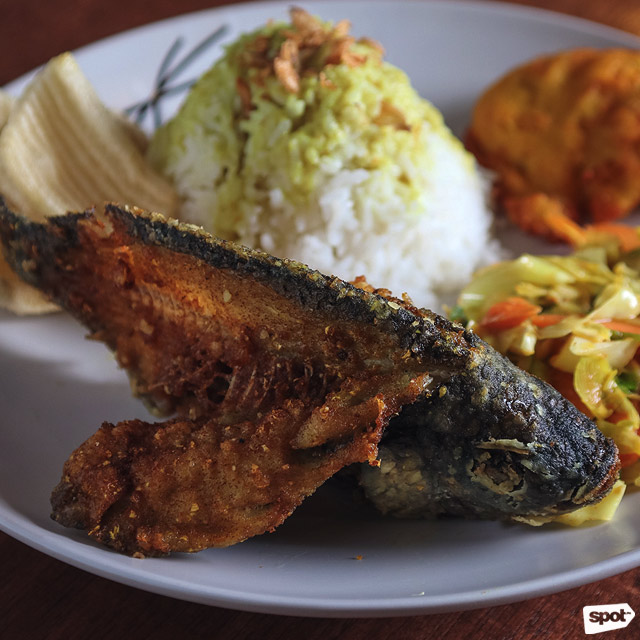 ADVERTISEMENT - CONTINUE READING BELOW
Ikan Packet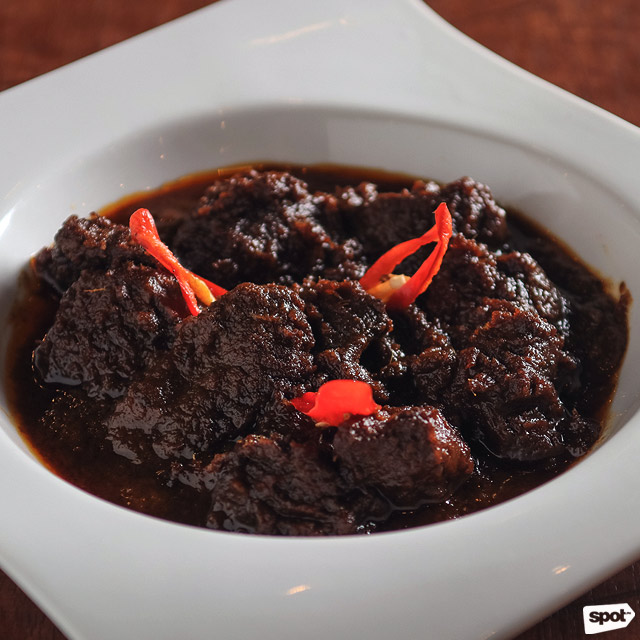 Beef Rendang
They also have packet meals called Ikan Packet (P295) on hand. Each variation contains a little bit of everything and is best consumed by a hungry party of one. The clear star, however, is their Beef Rendang (P435). Cooked for eight hours in fresh coconut milk, Garuda's signature dish is unapologetic in its piquancy. Each mouthful brings with it a feisty kick, made even richer with the lickings of traditional Indonesian spices that blend together to make a beautiful harmony. It's best served with a steaming bowl of white rice (we can already hear a resounding chorus of "Extra rice please!").
ADVERTISEMENT - CONTINUE READING BELOW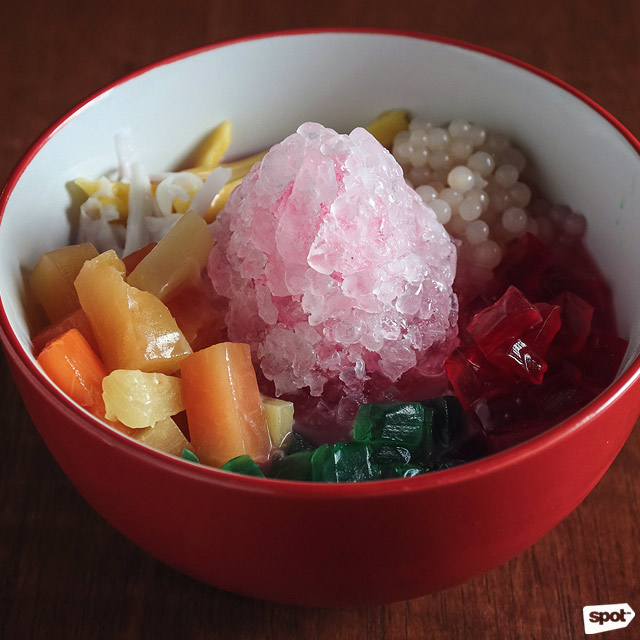 Es Campur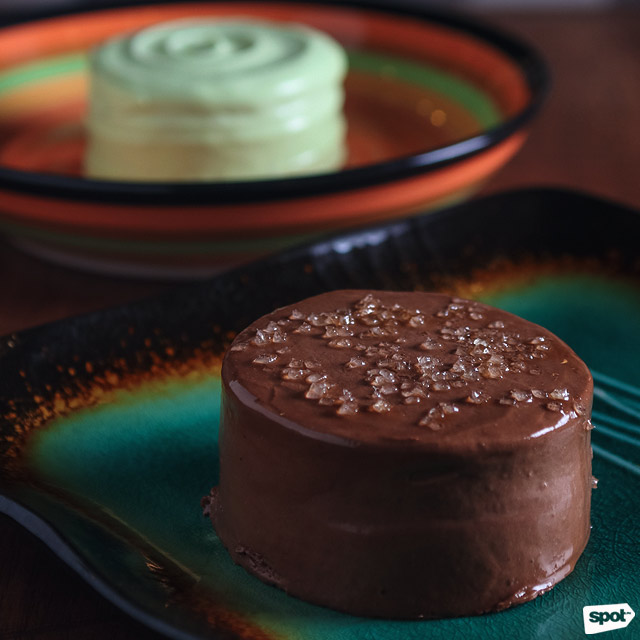 ADVERTISEMENT - CONTINUE READING BELOW
(Front to back) Salted Caramel Cake, Pandan Cake
After all that spice and everything nice, it's time to indulge in some well-deserved sugar. Cool down with the Es Campur (P220). The Indonesian version of our beloved halo-halo is just what you need to bring the heat a couple notches down. Their Salted Caramel Cake (P220) makes you fall in love at first bite with its moist consistency, layers of chocolatey goodness, hints of caramel fudge, and a fine measure of rock salt as its crowning glory. Before you leave, don't miss out on the Pandan Cake (P220), an ideal palate cleanser. Each bite of the soft and fluffy chiffon cake, infused with light refreshing pandan, packs an addictive one-two punch.
With Filipino tastes continuing to grow and evolve, we can't help but think that Restoran Garuda comes at the right time, in the right place.
Photos by Jericho San Miguel 
ADVERTISEMENT - CONTINUE READING BELOW
Load More Stories