Cheat Sheet: 10 Food-Park Picks Worth Trying
If you're going to go to all of them, might as well know what to go for.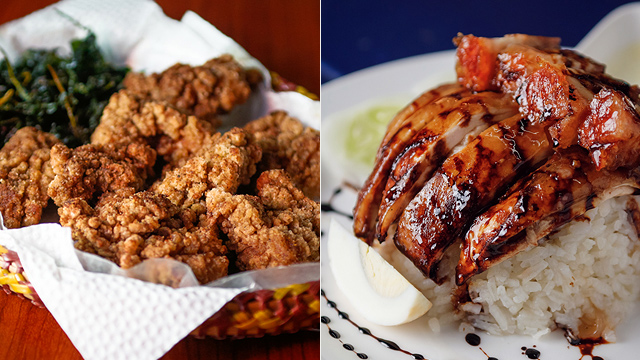 (SPOT.ph) With food parks still going strong, and more expected to crop up, it looks like this is one trend that isn't disappearing soon. It's easy to see why they're so popular; after all, where else can you get a enough variety to satisfy the different personalities in any group of friends? But with all the choices, choosing a place to eat can be quite a challenge. Read on as we round up some fantastic food finds from some of Metro Manila's busiest food parks.
ADVERTISEMENT - CONTINUE READING BELOW
The Broken Oven's Sisig Kaninballs at Industrie Food Loft
An easy standout from the newly opened Industrie Food Loft is The Broken Oven. Deep-fried sisig, anyone? Yes, you read that right. The Broken Oven's Sisig Kaninballs (P160/four pieces) has sisig integrated into little rice balls that are then breaded and fried. The result are golden-brown balls full of crackling pork goodness. It will make you want to pop several in your mouth (but please don't)!
The Broken Oven is at Industrie Food Loft, City Golf Complex, Doña Julia Vargas Avenue, Pasig City.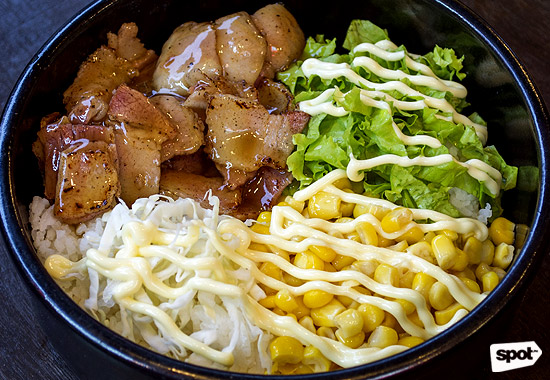 Black Plate's Bacon Burri Bowl at The Yard Xavierville
With over 30 food stalls to choose from at this multi-level food park (the first in the Metro), picking where to head first can get quite overwhelming. If you're into fusion cuisine, check out Black Plate, that combines Mexican and Japanese flavors to create exciting new dishes. A must-try is the Bacon Burri Bowl (P150), which mixes pork bits, corn, and greens over rice and is then finished off with Japanese mayonnaise.
ADVERTISEMENT - CONTINUE READING BELOW
Black Plate is at 83 Xavierville Avenue, Loyola Heights, Quezon City.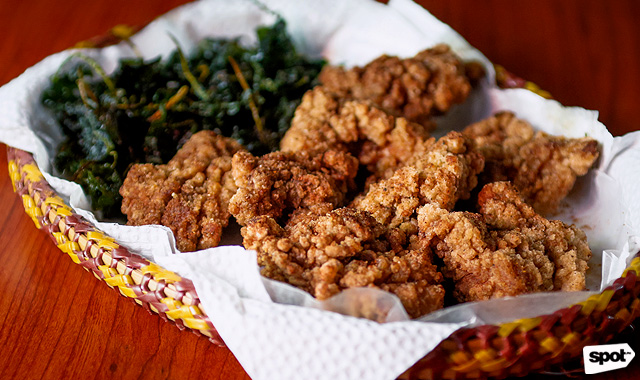 Lil Taipei's Chicken Chops at Crave Park
Taiwanese street food is a special blend of salty and spicy flavors, and Lil Taipei at Crave Park brings a taste of that to the Metro. Their Chicken Chops (P100) are a winner, with juicy chicken bites flavored with a secret blend of spices. The deep-fried chicken is tasty from skin to meat.
Lil Taipei is at Crave Park Block 3 Lot 22 and 24 Mayor Gil Fernando Street, Centro de Buenviaje, Barangay Sto. Nino, Marikina City.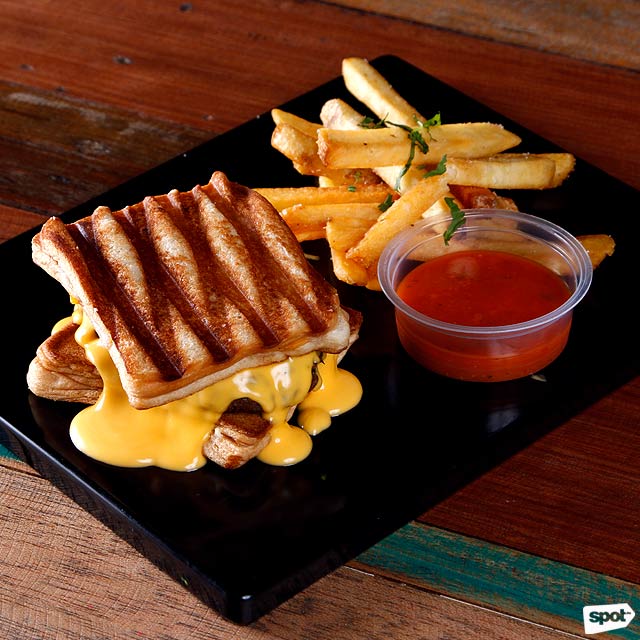 ADVERTISEMENT - CONTINUE READING BELOW
Brook's Grilled Cheese Sandwich Burger at Grub Hub
Brook's at Grub Hub offers American classics inspired by Brooklyn. Think burgers and grilled cheese sandwiches—but a dish that fuses the two together? Their Grilled Cheese Sandwich Burger (P200) is exactly that: A thick and juicy beef patty smothered in cheese sauce, then stuffed between two grilled cheese sandwiches. Over-the-top? Maybe, but we'll be the last ones to complain.
Brook's is at Grub Hub 47 Visayas Avenue corner Congressional Avenue Extension, Tandang Sora, Quezon City.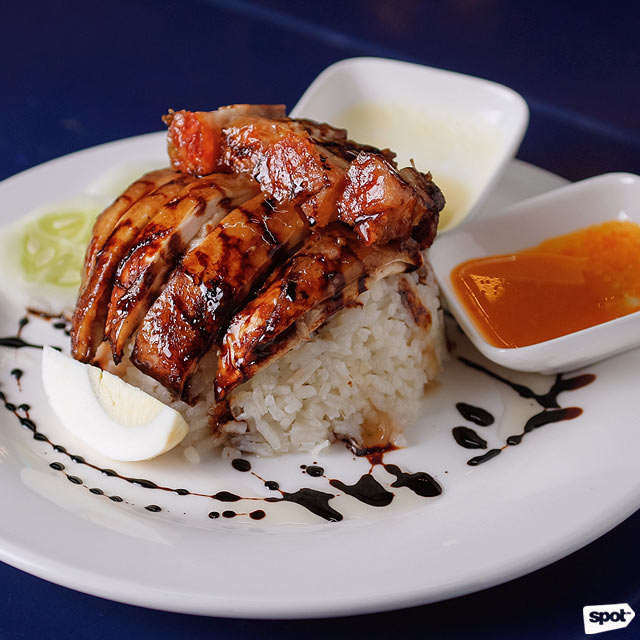 Gee Jay's Pork and Chicken Mix Hainanese Rice Set at The Vibe
Chef Gee Jay de Guzman's Pork and Chicken Hainanese Rice Set (P155) is worth braving the infamous North traffic for. This platter has lip-smacking crispy pork belly and juicy chicken with ginger sauce on the side to add freshness and a whisper of heat. The Hainanese Chicken Rice adds even more depth, with each spoonful bursting with rich chicken broth-flavored goodness—you could practically eat it on its own.
ADVERTISEMENT - CONTINUE READING BELOW
Gee Jay's is at The Vibe, 9 Mindanao Avenue, Tandang Sora, Quezon City.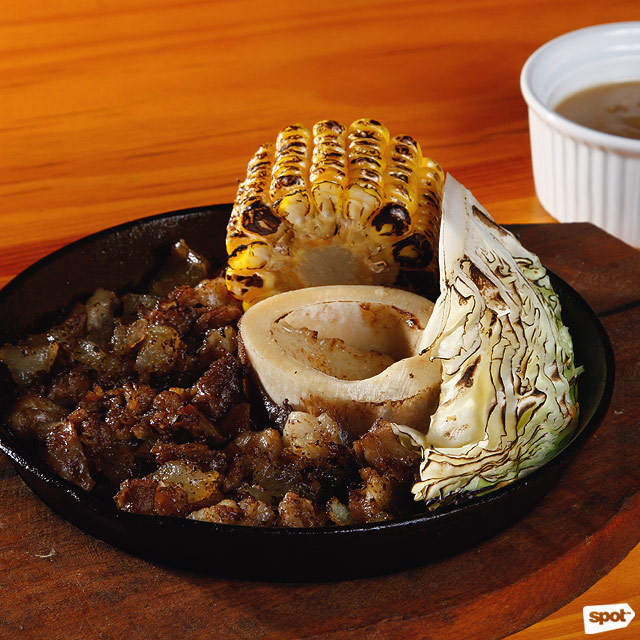 Blaze Flaming Sizzlers' Sizzling Bulalo Sisig at The Food Hive
We hope your arteries are ready because the Sizzling Bulalo Sisig (P220) from Blaze Flaming Sizzlers combines two deadly Pinoy favorites. Picture a crispy pork sisig topped with roasted bone marrow and covered with homemade gravy, all served atop a sizzling plate. It's also served with grilled corn on the cob if you're still trying to pretend you're eating healthy (corn is a vegetable, too, right?).
The Food Hive is at 80 Visayas Avenue, Barangay Vasra, Diliman, Quezon City.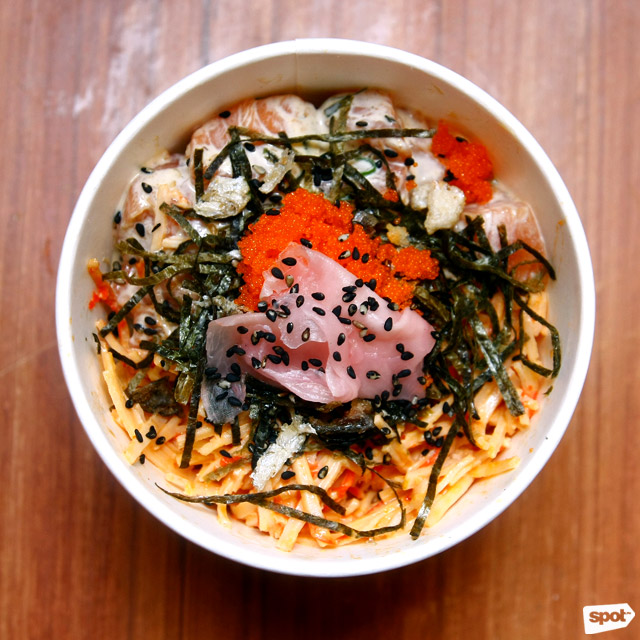 ADVERTISEMENT - CONTINUE READING BELOW
Ono's Shoyu Tuna Bowl at The Yard Underground
Whether you're a long-time poke bowl fan or new to this Hawaiian creation, you'll find an excellent version at Ono. There's no question that Ono uses only the freshest seafood and vegetables where the quality is apparent in every bite. While this food stall lets you customize your bowl, you can't go wrong with the Shoyu Tuna Bowl (P200/small, P320/large) that has a mildly sweet shoyu sauce and buttery-smooth sliced tuna.
The Yard Underground is at Christian Route, Hillcrest Circle, Oranbo, Pasig City.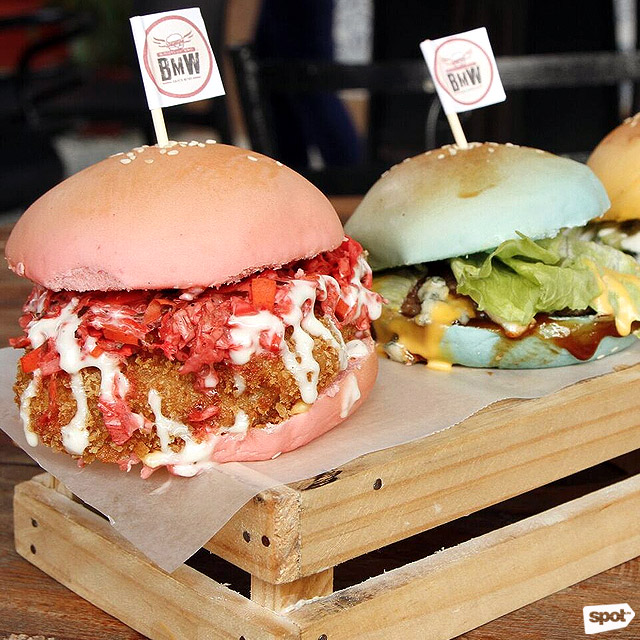 Burgers Meet Wings' Colorful Burgers at Buendia Food by the Court
In this social media-savvy world, food can't just be delicious—it has to be Instagram-worthy, too. You can get both with Burgers Meet Wings' Colorful Burgers (P150), with buns that come in four cute colors: Pink (with fish fillet, pink coleslaw, and relish), Blue (beef patty, blue cheese, caramelized onions, lettuce, and cheese sauce), Yellow (grilled chicken breast, honey mustard, onions, and relish) and Green (mushroom patty, garlic ranch sauce, shredded lettuce, and caramelized onions). You don't have to worry about artificial additives too—the burgers get their rich hue from natural ingredients like beets, blueberries, and malunggay leaves.
ADVERTISEMENT - CONTINUE READING BELOW
Burgers Meet Wings is at Buendia Food by the Court 24 Sen. G. Puyat Avenue corner Bautista Street, Barangay San Isidro, Makati City.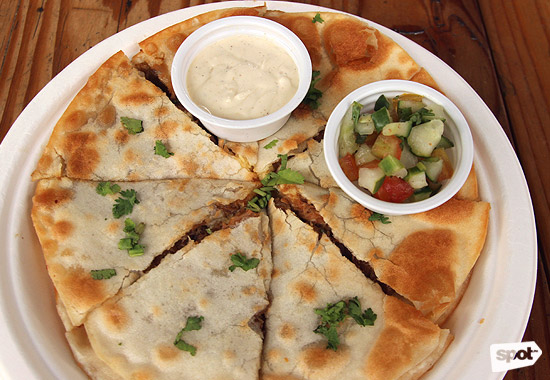 The Masala Bar's Beef Masala Quesadilla at Gastro Park Kapitolyo
For a twist on Mexican cuisine, head over to The Masala Bar at Gastro Park. This food stall adds an Indian twist to Mexican classics for food that explodes with spice and flavor. A crowd-favorite is the Beef Masala Quesadilla (P160), which has tortilla wraps filled with cheese and beef cooked with masala or an Indian spice blend. The result is familiar yet also new to the palate—perfect, especially for adventurous foodies.
The Masala Bar is at Gastro Park Kapitolyo, No. 12 1st Street, Kapitolyo, Pasig City.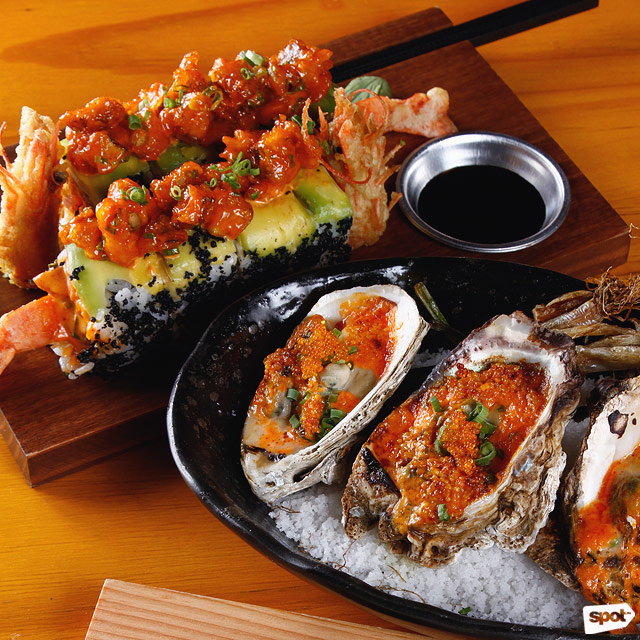 ADVERTISEMENT - CONTINUE READING BELOW
Hamaru Yakitori and Sushi's Oyster Motoyaki and Ryujin Roll at The Food Hive
If we're being really nitpicky, including Hamaru on this list could count as cheating—they're not exactly a food stall but rather a "secret" Japanese restaurant inside The Food Hive. But you'll forget all talk of technicalities at their spread of excellent Japanese fare. The Oyster Motoyaki (P195) is an easy standout, with oysters shipped fresh from Aklan, baked and topped with chili, garlic mayo, cauliflower puree, and tobiko or fish roe. While the Ryujin Roll (P480) is large enough to share, you'll be tempted to keep this dish to yourself, though finishing the hefty rolls of tiger prawn, salmon, tuna, and avocado is no easy feat.
The Food Hive is at 80 Visayas Avenue, Barangay Vasra, Diliman, Quezon City.
Load More Stories