New Restaurant Alert: K Bingsu Café at Greenhills, San Juan
Their take on this sweet snow treat explodes with generous toppings.
K Bingsu Café
G/F Promenade Mall, Greenhills, San Juan City
Contact: 0917-317-7921
Open from 11 a.m. to 10 p.m. (Monday to Friday) and 10 a.m. to 10 p.m. (Saturday to Sunday)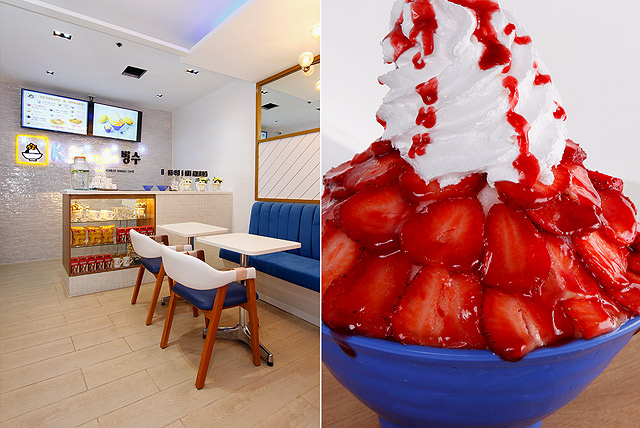 (SPOT.ph) Korea fever is at an all-time high, judging from how K-drama and K-pop have flooded everyone's newsfeeds. Korean food is quickly rising in popularity too, and after you're done stuffing yourself with some Korean barbecue, there's no better way than to cap off your meal than with a bowl of bingsu.
ADVERTISEMENT - CONTINUE READING BELOW
Bingsu is Korea's take on shaved ice desserts, comparable to our halo-halo. Popular in the East Asian country is the patbingsu or red bean shaved ice, but many bingsu cafés here in the Philippines have done their own take on the dessert, adding local fruits, chocolate, green tea, and more.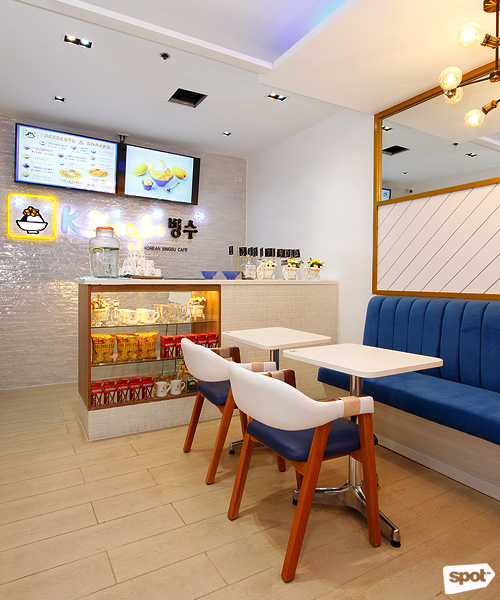 ADVERTISEMENT - CONTINUE READING BELOW
One of the newest places to join them is K Bingsu Café in Greenhills. Klayre Tan, who owns K Bingsu with her sister, shares that their venture is actually the first branch of a homegrown franchise, founded by Koreans and Chinese Filipinos.
"We knew we wanted to open a bingsu café," shares Klayre, "but we didn't know how to do it, kasi it's Korean. Familiar lang kami sa halo-halo." That is until they met the group behind K Bingsu through a mutual friend, who shared their own bingsu recipes to the sisters.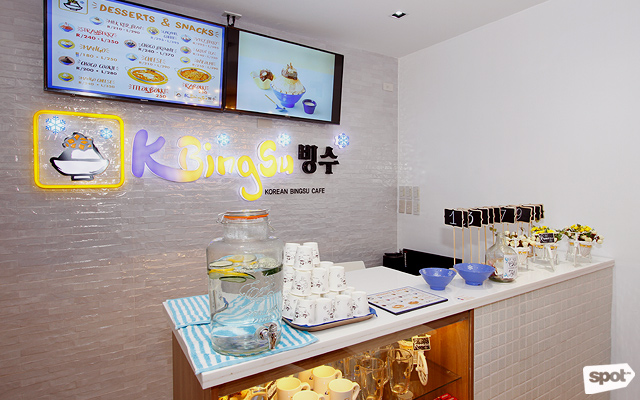 ADVERTISEMENT - CONTINUE READING BELOW
But the dainty look of the café is all thanks to Klayre, who is an interior designer. "I wanted [the interiors] to be simple and clean," she shares. "Like snow." Little details, like mini chalkboard table markers and flower pots give the place a touch of whimsy while the flat screen showing K-pop videos adds a fun vibe.
K Bingsu sticks to the classics with their menu, which includes classic Korean flavors like red bean and injeolmi (with soya powder) to more decadent flavors like chocolate and coffee. It's perhaps nothing new to frequent bingsu diners but here at K Bingsu, there is extra care given to quality and generous proportions. Fruits like mangoes, strawberries, and blueberries are added fresh or turned into syrup and purees, while other ingredients like green tea powder, soya powder, and red bean are imported from South Korea. Cheesecakes and brownies are made in house. "We want to be generous as much as possible," says Klayre, "What you see on our menu is what you'll get."
ADVERTISEMENT - CONTINUE READING BELOW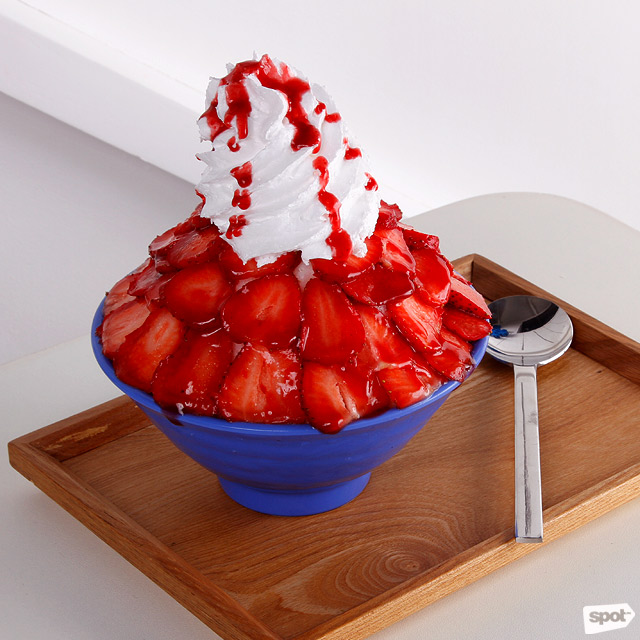 Strawberry
There's no question that K Bingsu doesn't hold back with their toppings, especially when the picture-perfect Strawberry (P240/regular, P350/large) arrives on your table. The Strawberry has fresh sliced strawberries stuck all around the snow-like ice, but the real surprise is the strawberry puree you'll find once you've dug your spoon through the center. With the ice melting like milk on the tongue, the result is similar to strawberries-and-cream.
ADVERTISEMENT - CONTINUE READING BELOW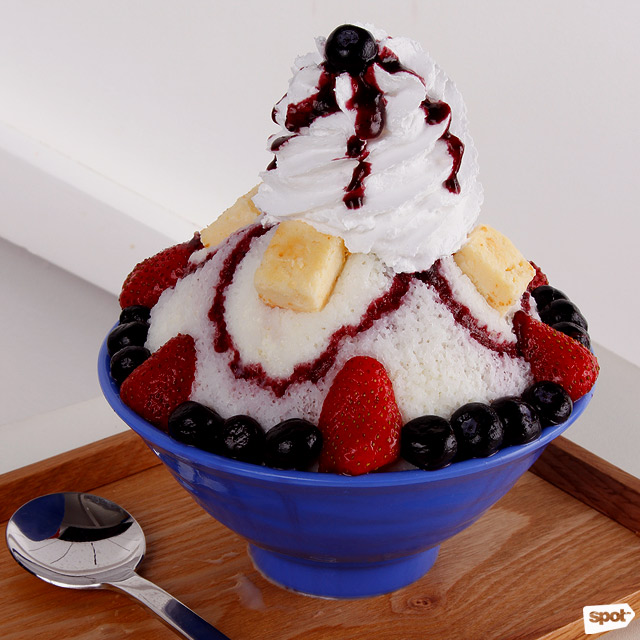 Very Berry
If you prefer your desserts with a little tartness, have the Very Berry (P295/regular, P395/large), which also looks incredibly pretty with the aesthetically-pleasing red-purple color scheme. This bingsu has fresh strawberries and blueberries, blueberry syrup, and a blueberry puree at the center. The sharp tang from the berries leave no question that they are as fresh as can be.
ADVERTISEMENT - CONTINUE READING BELOW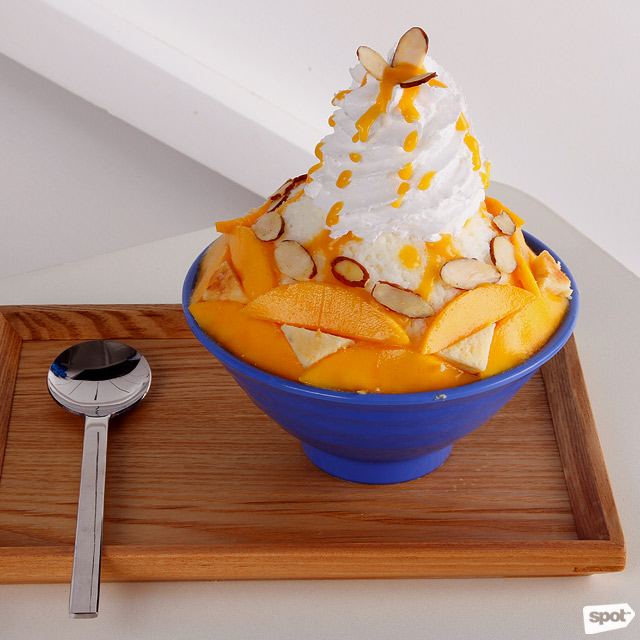 Mango Cheese
An easy crowd-favorite is the Mango Cheese (P240/regular, P350/large). Cheesecake bites and almonds add a layer of texture to the creamy snow and the mangoes burst with sweetness, with a mango puree center lending the ice some of its fruitiness. (We like to think this could have been a strong contender for our Top 10 Mango Bingsu list. Maybe, next year?)
ADVERTISEMENT - CONTINUE READING BELOW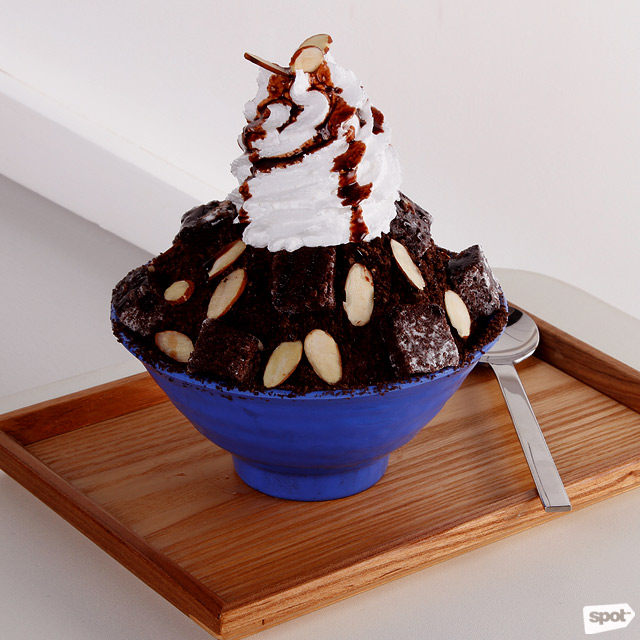 Choco Cookie
The Choco Cookie (P200/regular, P280/large) beckons to all chocoholics. This bingsu is covered in crushed Oreos and brownie bites, but the chocolate ice itself tastes like a favorite childhood chocolate milk drink. You won't mind slurping the melted ice from your bowl, but having the snow melt on your tongue is just as satisfying, too.
ADVERTISEMENT - CONTINUE READING BELOW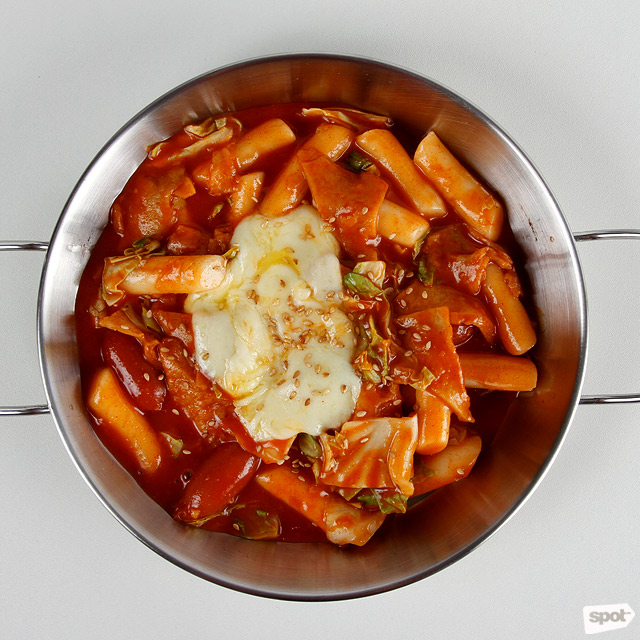 Tteokbokki
If you want to something warm to go with your bingsu, K Bingsu also offers Korean snacks. The Tteokbokki (P250) is easily filling, and can also be shared among friends, with rice cake, pork sausage, fish cake, and cabbage swimming in a spicy gochujang-based sauce. Mozzarella is also added on top to take this to next level of indulgence. You can also get it with ramen noodles as Rabokki (P250), and they let you adjust the spiciness to your liking.
ADVERTISEMENT - CONTINUE READING BELOW
K Bingsu is a franchise, so expect more branches to pop up in the future. As for their own branch, Klayre shares that they plan to release two new flavors in the following months: Mango Banana and Choco Green Tea. It's something to look forward to, but their generous portions and consistently delicious flavors are enough to guarantee you'll be spending a lot of sweet time here.
Photos by Vincent Coscolluela
Load More Stories