This hip hole-in-the-wall looks like Hanoi in Poblacion
The rice bowls will make you stop in your tracks.
WOKby 4900
4900 Durban Street, Poblacion, Makati City
Contact: 0917-675-9964
Open daily from 5 p.m. to 4 a.m.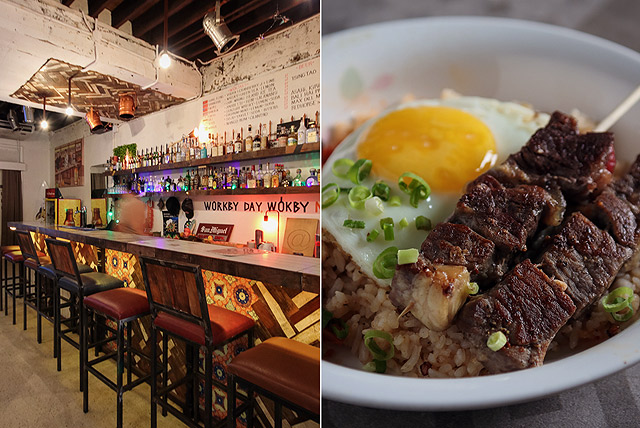 (SPOT.ph) For these restaurant owners, inspiration struck in a continent rarely associated with rice—Europe. "Three years ago, after getting married, we went on our honeymoon and then we found Wok to Walk (a European franchise based in the Netherlands)," shares Patricia Locsin-Cheung. "It's Asian rice bowls. Europeans, Asians, everyone who's out for food, they'll eat there. It's such a staple there: If you want rice, if you want noodles, they have it."
ADVERTISEMENT - CONTINUE READING BELOW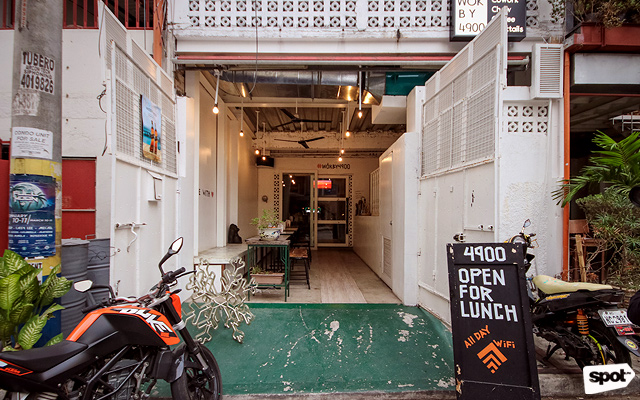 It was a concept Patricia, and her husband Jean Paul Cheung, felt was perfect for thriving food hub Poblacion. "Parang, where do you go to get a good rice bowl in Poblacion?" says Patricia. Amidst taquerias, pubs, and brunch places, this was still a gap waiting to be filled. So fill it they did: Together with friend Kian Kazemi (who owns neighboring Filipino tavern Lobo), Patricia and Jean Paul opened WOKby 4900 on 4900 Durban Street in February.
ADVERTISEMENT - CONTINUE READING BELOW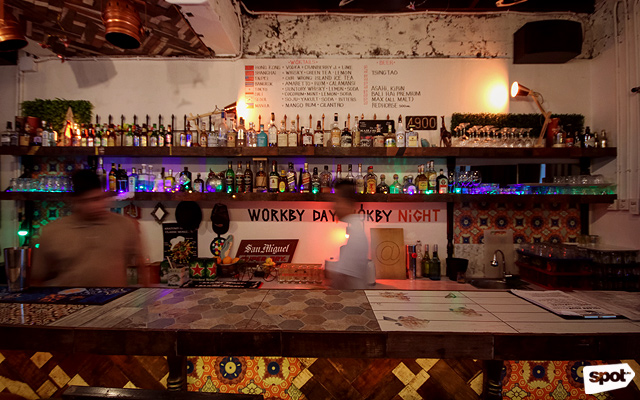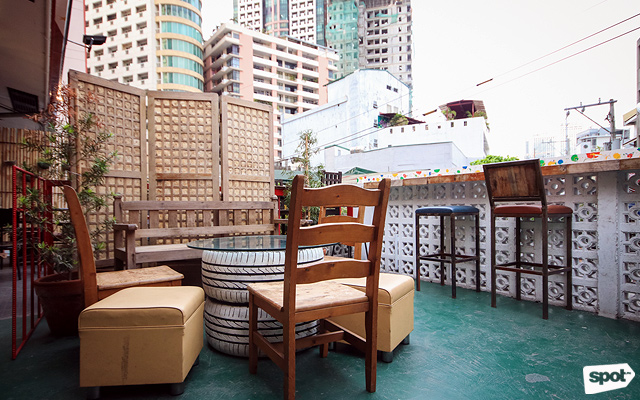 ADVERTISEMENT - CONTINUE READING BELOW
The space is a mishmash of elements that aren't exactly where they should be, giving it an eccentric vibe that's distinctly Poblacion. The wooden patterned walls, for example, is made up of tiles meant for flooring. A different kind of patterned tiles are used on the bar counter, with vintage florals clashing against a rustic beehive pattern. The second-floor roof-deck has a mix of wooden chairs and low cushions, as well as tires repurposed into tables. It's casual and laid-back—the perfect setting for enjoying rice bowls with a couple of beers.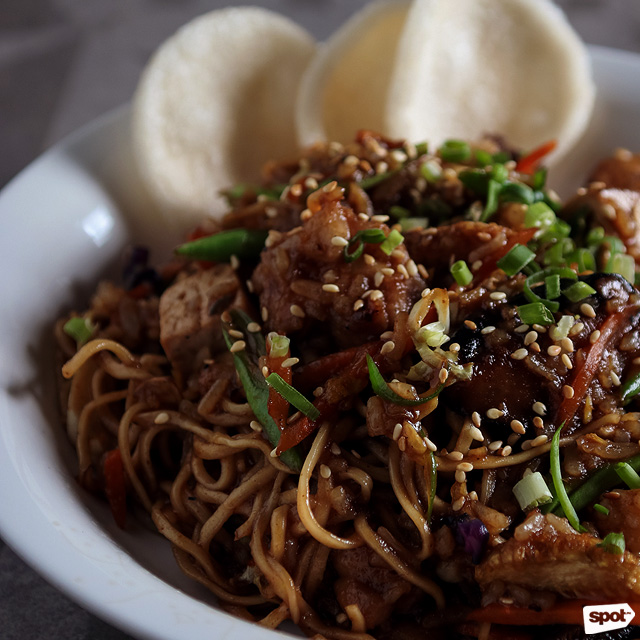 ADVERTISEMENT - CONTINUE READING BELOW
Classic Mongolian
But perhaps, calling WOKby 4900's menu of Asian bowls "rice bowls" is a misnomer, and an injustice to their equally excellent noodle bowls. If you want the best of both, get the Classic Mongolian (P160/half, P290/full) which has a layer of rice underneath the noodles. This is topped with a generous mix that includes bean sprouts, tofu, carrots, mushrooms, broccoli, and lots of other vegetables, plus chunks of beef and chicken. The intense sweet-savory peanut sauce is as classic Mongolian as it gets—Patricia shares it's exactly the way she remembers having it in her native Bacolod, where Mongolian rice bowl places are popular.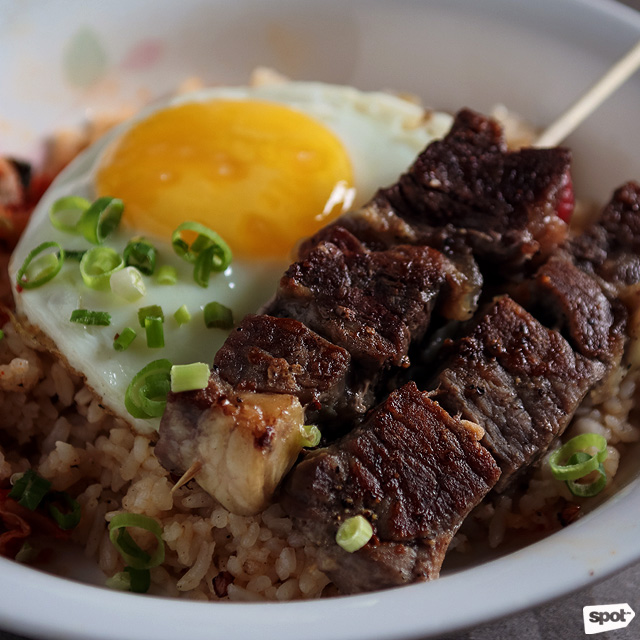 ADVERTISEMENT - CONTINUE READING BELOW
Rib-Eye Kimsilog
Not quite a classic but equally comforting is the Rib-Eye Kimsilog (P360)—which you can also get as Wagyu Kimsilog (P390). The rib-eye version has, of course, two rib-eye skewers cooked medium-rare, plus garlic rice and kimchi, which you should toss together to make kimchi fried rice. Mixed together with the runny sunny-side up egg, the resulting sour-spicy flavors are explosive and the entire bowl, filling.
While you come to WOKby 4900 for the rice bowls, it's almost impossible to not order any of the Asian-inspired chow, which channel the resto's eclectic vibe more than anything else. "The base is still Asian but we have to think of something different," says Jean Paul. "But also not too outside the box. Still familiar, familiar flavors."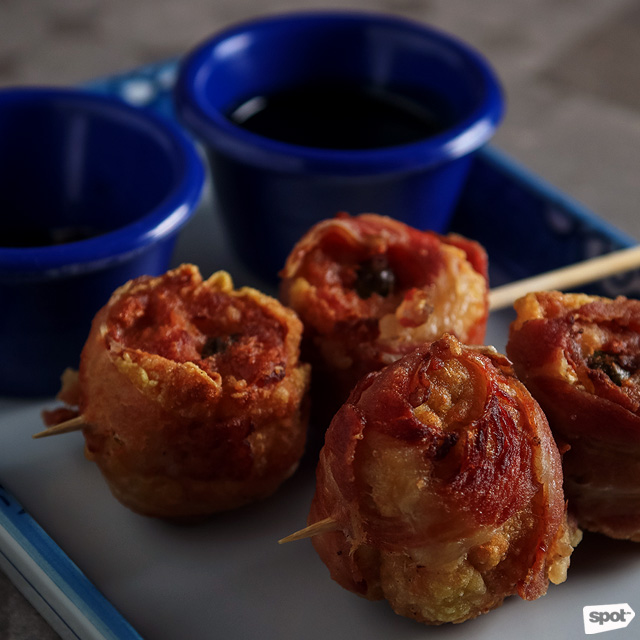 ADVERTISEMENT - CONTINUE READING BELOW
Bacon Wrapped Siomai
New but familiar is the best way to describe Bacon Wrapped Siomai (P150/four pieces). WOKby 4900 doesn't mess around much with the classic flavors of the Chinese dim sum, but the slightly-charred saltiness of the bacon wrapped around each siomai makes it exciting to the palate. And after all, when did bacon ever not make anything better?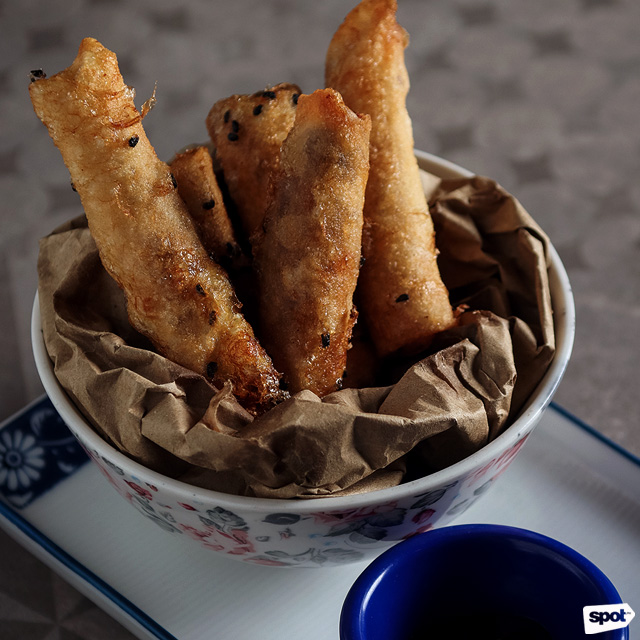 ADVERTISEMENT - CONTINUE READING BELOW
Cheeseburger Spring Rolls
Another fun take on an Asian classic is the Cheeseburger Spring Rolls (P220). "We tried it in my friend's place in Australia," shares Jean Paul, "so I had to put it here. But still, with a twist." The twist are sesame seeds, whose unmistakably Asian nuttiness elevates these addicting rolls, which taste like a cross between cheese sticks and lumpiang shanghai.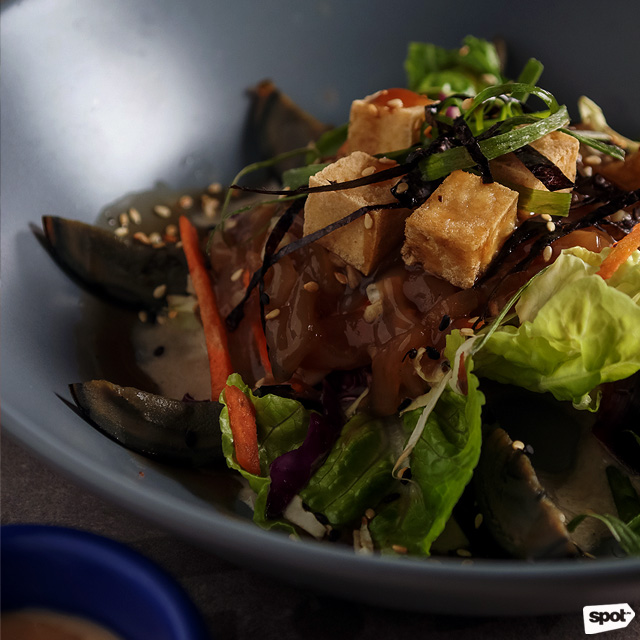 ADVERTISEMENT - CONTINUE READING BELOW
Century Egg Jelly Fish Salad
Aside from bar chow and appetizers, WOKby 4900 also offers salad bowls ("It's popular with the foreigners," Patricia shares). The Century Egg Jelly Fish Salad (P240) is miles away from your usual bowl of greens, but it's deliciously light and refreshing, the way any good salad should be, with the century egg and jelly fish adding texture and umami flavor.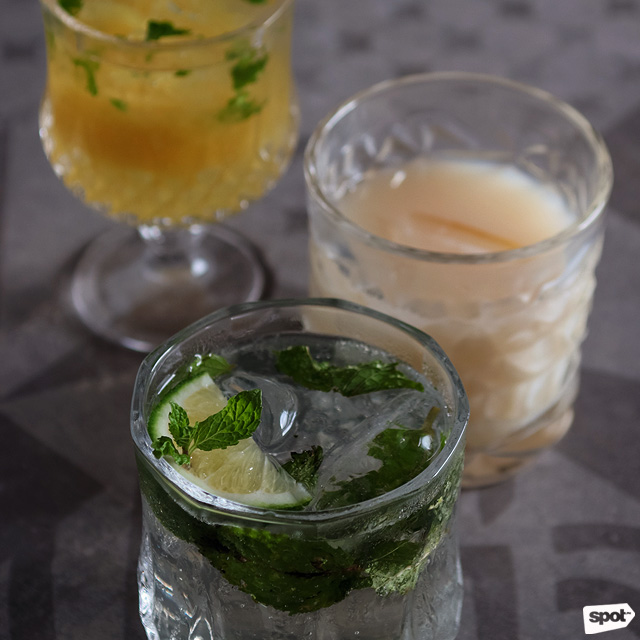 ADVERTISEMENT - CONTINUE READING BELOW
From front to back: Bali, Seoul, Manila
WOKby 4900 is open from sundown till around 4 a.m., making them the perfect spot for the after-drinks crowd (though they also serve excellent Asian-inspired cocktails that Jean Paul mixes himself). Patricia shares that they've also recently opened a co-working space for the office crowd, and they'll serve coffee soon, too. Just like how rice bowls are perfect any time of the day, WOKby 4900 is there for whatever fix you need.
Photos by Jericho San Miguel
Recommended Videos
Load More Stories