Sneak Peek: Raging Bull Burgers at Shangri-La at The Fort, Bonifacio Global City
The Raging Bull Chophouse and Bar's younger brother serves burgers with spunk.
Raging Bull Burgers
G/F Shangri-La at The Fort, 30th Street, Bonifacio Global City
Open from 11 a.m. to 11 p.m. (Monday to Thursday) and 11 a.m. to 2 a.m. (Friday to Sunday)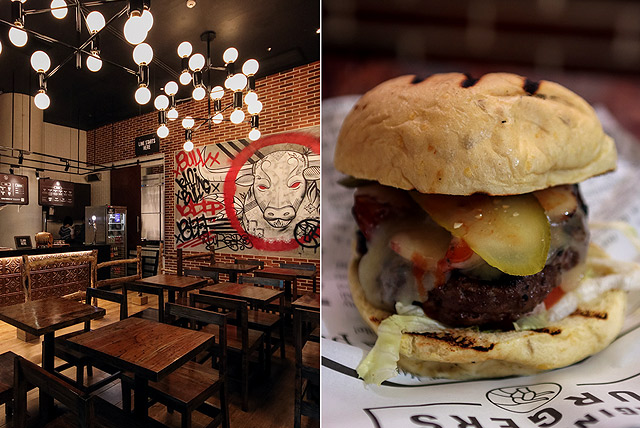 (SPOT.ph) If Raging Bull Chophouse and Bar is a refined gentleman, then Raging Bull Burgers is its edgier younger brother: sleek but also rugged around the edges, with a bad-boy charm.
ADVERTISEMENT - CONTINUE READING BELOW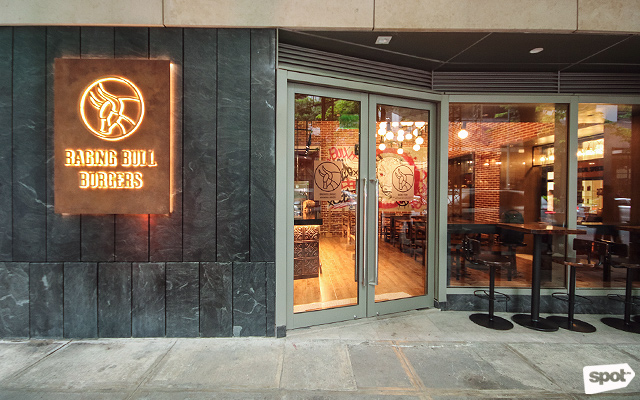 But there's no question that the two share the same blood. Behind the kitchen at Raging Bull Burgers is Chef Nathan Griffin—and anyone who's had his steak at the chophouse knows that this is one man who knows his beef. "We utilize the meat we use upstairs at the chophouse," says Chef Nathan. "We use a lot of exclusive beef from Australia, from the U.S., and we embraced the concept and brought it down here."
ADVERTISEMENT - CONTINUE READING BELOW
After all, not everyone has the time or the luxury to sit down and have some fine steak. But burgers? Everyone has time for a burger, especially an excellent one. "Burgers are quick, easygoing," adds Chef Nathan. "And everyone loves a good burger."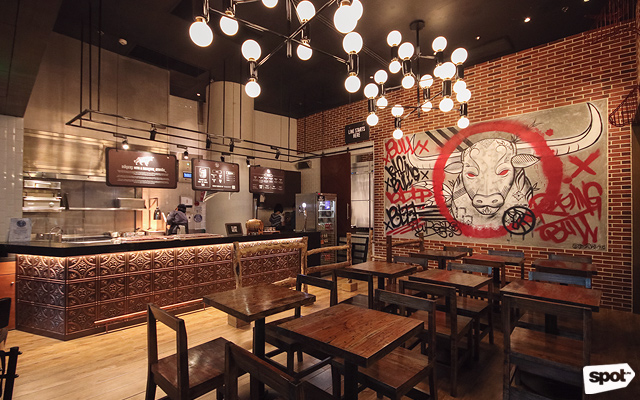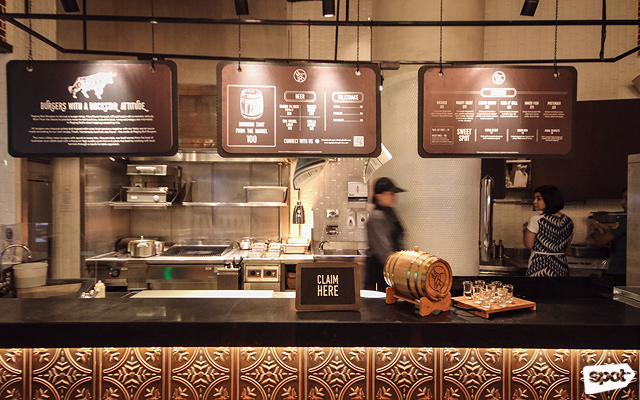 ADVERTISEMENT - CONTINUE READING BELOW
Plus, Raging Bull Burgers' grab-and-go setup leaves you no excuse not to indulge. While the space includes a small dining area, diners are encouraged to grab a drink from the fridge, order a burger at the counter, and then go their merry way. If you choose to stay and dine, everything is self-service, including clearing your own tray. But just because the vibe is laid-back doesn't mean Raging Bull lacks sophistication. The joint is elegant but with spunk, with copper light fixtures, wood-heavy furniture, and red brick walls. A graffiti mural by artist Dee Jae Pa'este adds rock-star attitude.
You can say the same about the burgers—casual, yes, but these aren't your regular run-of-the-mill fare. "Obviously with a good burger you start with the patty," says Chef Nathan. "But we also add the best ingredients: The best tomatoes in the Philippines, the best lettuces we can find, the crispiest bacon. Because it's not just the patty but also the ingredients you add to it."
ADVERTISEMENT - CONTINUE READING BELOW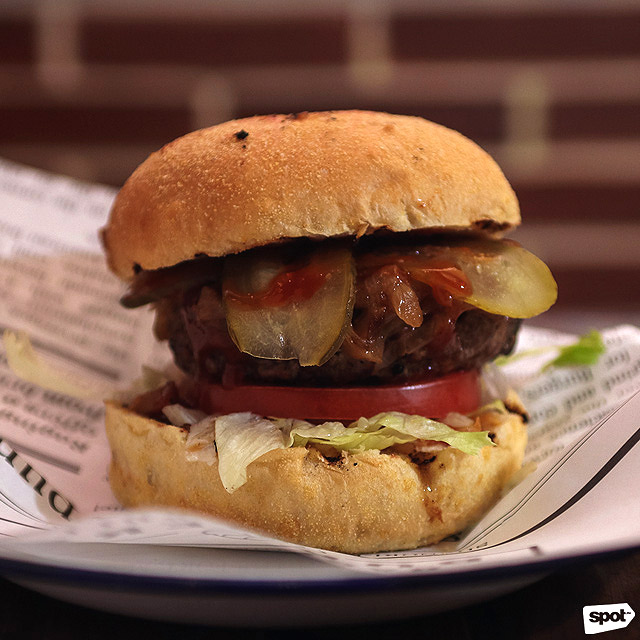 Raging Wagyu
Chef Nathan uses mostly U.S. grass-fed and Australian Angus beef for his patties, but one notable exception is the Raging Wagyu (P325), which has a 1/3 pound Wagyu beef patty that's undoubtedly the star of this show. Everything else disappears in the background as you take in that rich, juicy patty that has just the slightest char. Not to say that the braised onions, chili chutney, lettuce, tomatoes, and dill pickle that come with this burger aren't any good—the chili does hit you with a hint of spiciness at the end. But it's difficult for a beef patty this good to not take the spotlight. (For fans of the chophouse, Chef Nathan shares that the Wagyu trimmings used for this burger are the same as their signature Tomahawk.)
ADVERTISEMENT - CONTINUE READING BELOW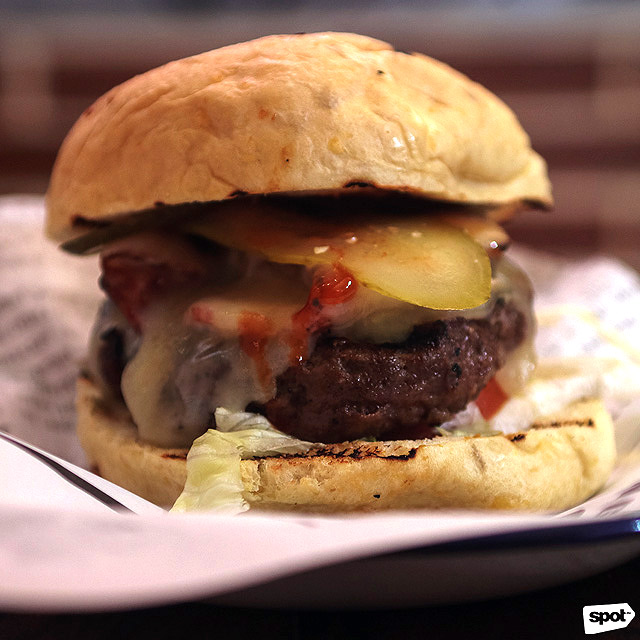 Mighty Beast
But, as Chef Nathan puts it, a burger isn't all about the patty—it's also about the interplay of flavors and textures, and an excellent showcase is the Mighty Beast (P275). This giant has a 1/3 Angus beef patty that breaks apart in your mouth in a burst of beefy goodness. But the toppings are just as good too: The griddle maple bacon in particular adds crispiness and smoky sweetness that elevates this burger, while the fresh lettuce and tomato help cleanse your palate so you're ready for your next bite.
ADVERTISEMENT - CONTINUE READING BELOW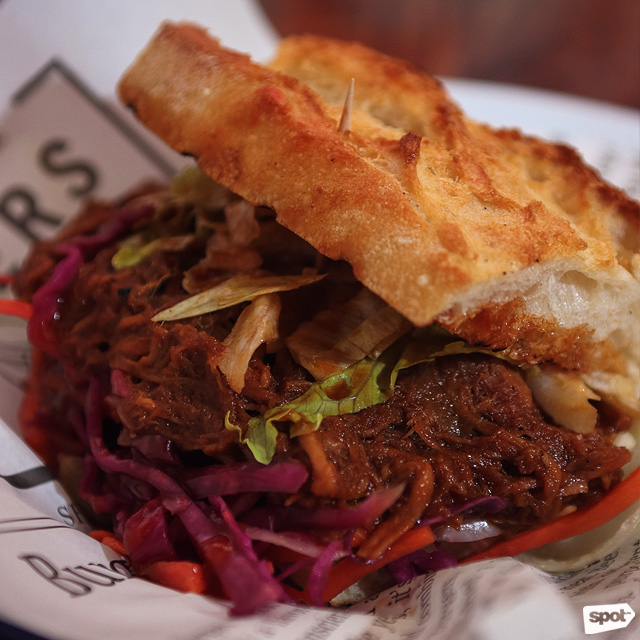 Pork n' Roll
Raging Bull Burgers also has something for non-beef eaters, and you don't have to worry about missing out on flavors. The Pork n' Roll (P225) has slow braised pulled pork with a smokiness so intense, it's like it came straight out of the smoker and on to the buns. It's deliciously rounded out by the strong spicy tang of the vegetable slaw mix and the Raging Bull BBQ Sauce, which is the same blend they use in the chophouse.
ADVERTISEMENT - CONTINUE READING BELOW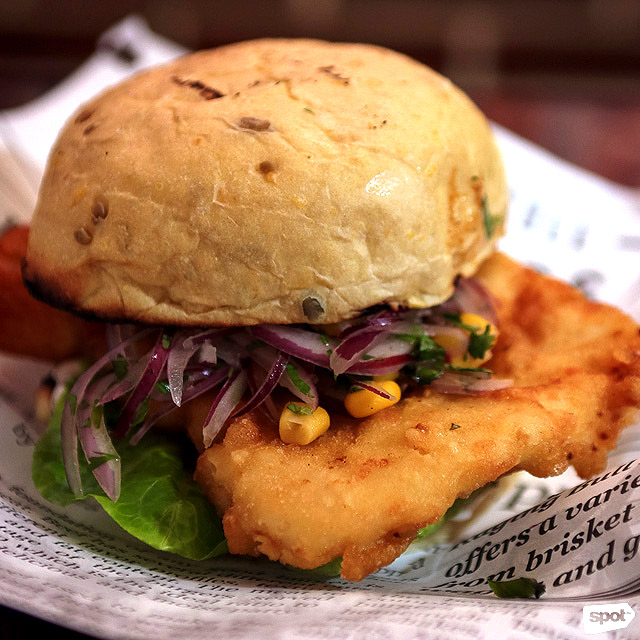 Naked Fish
Non-meat lovers won't be left out with Naked Fish (P275), with golden-fried fresh grouper fish, tartar sauce, salsa criolla, and corn kernels in between steamed buns. While not explosive in terms of taste, it's light and easy on the palate.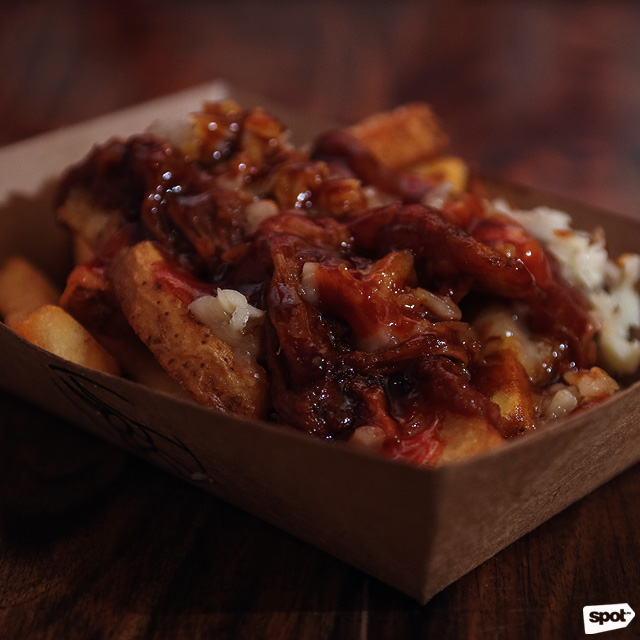 ADVERTISEMENT - CONTINUE READING BELOW
Messy Fries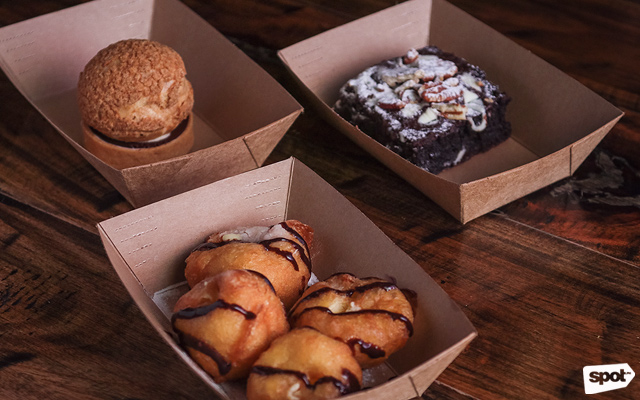 Clockwise from the front: Usual Suspects, Sugar High (P90 - salted caramel tart with coconut cream-filled choux), Triple Threat (P90 - triple chocolate brownie with mascarpone glaze)
Pair your burger with Thick Cut Fries (P75) or upgrade it to Messy Fries (P150), with pulled pork, cheddar cheese and Raging Bull BBQ Sauce. And if you're not quite full yet, the desserts are must-tries, too. The Usual Suspects (P90) are mini custard-filled doughnuts that are surprisingly light, similar to cream puffs—the perfect cap to a meal that's heavy on rich flavors.
ADVERTISEMENT - CONTINUE READING BELOW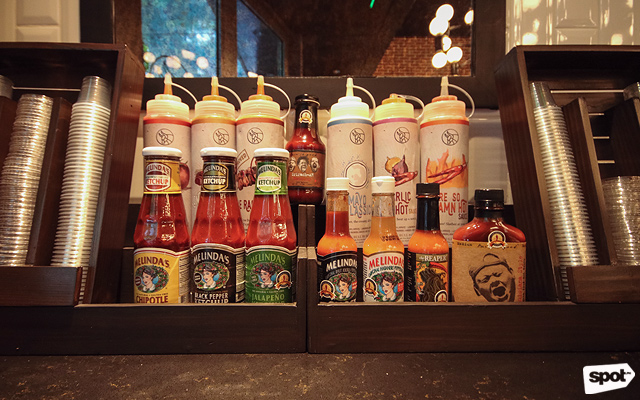 Pair your burgers with their line of house-made sauces...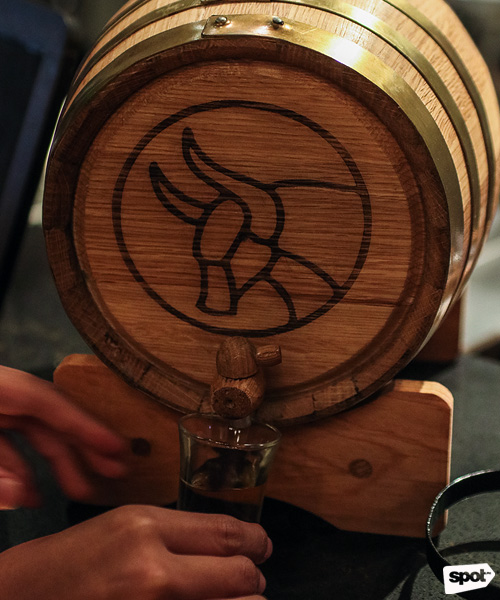 ADVERTISEMENT - CONTINUE READING BELOW
...or a bourbon shot
Located just beside the busy walkways of Bonifacio Global City, there's nothing stopping you from indulging in a great burger. And Raging Bull Burgers will make it worth your while.
Raging Bull Burgers opens on May 29, Monday, at 5 p.m.
Photos by Jericho San Miguel
Recommended Videos
Load More Stories