Cu Chi Bar has the most Instagrammable wall art in Poblacion
It's no-frills and chill at this Vietnamese joint.
Cu Chi Bar
5767 Ebro Street, Poblacion, Makati City
Contact: 0906-526-0256
Open from 5 p.m. to 2 a.m. (Tuesday to Sunday)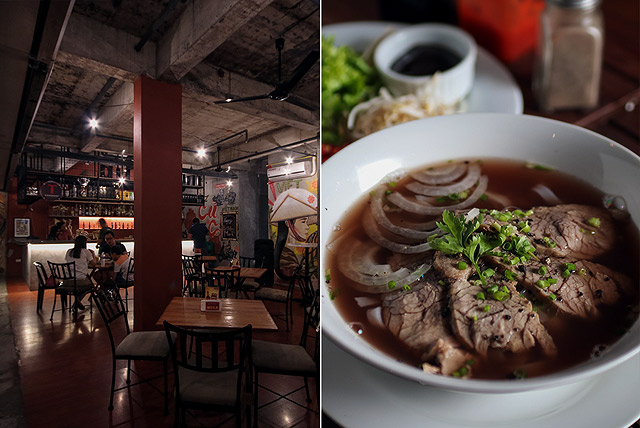 (SPOT.ph) Vietnam is an exciting place for food fanatics. With street-food stalls on every curb and corner offering a potpourri of traditional (not to mention budget-friendly) fare, it's almost impossible not to fall in love. Luckily, we don't have to venture far to sample real Vietnamese cuisine. Sometimes, it's just right under our noses—in Poblacion, Makati, to be exact.
ADVERTISEMENT - CONTINUE READING BELOW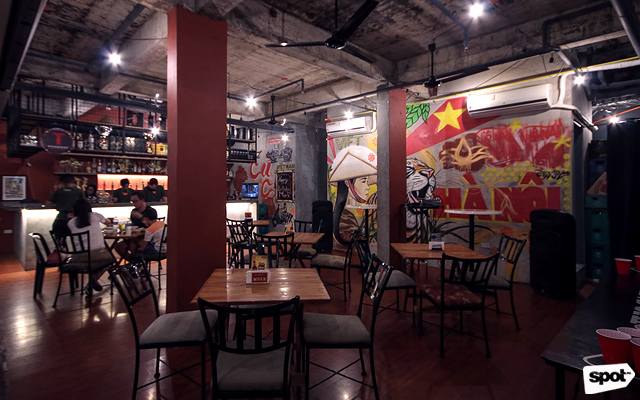 Cu Chi Bar is a no-frills Asian joint that offers mouthwatering Vietnamese classics prepared and formulated by Chef Tung "Ryan" Pham. The walls are dressed up in flamboyant murals featuring elements that celebrate the vibrant and culture-rich cities of Vietnam. The rustic, artsy, and slightly moody atmosphere attracts everyone hoping to have a fun night.
ADVERTISEMENT - CONTINUE READING BELOW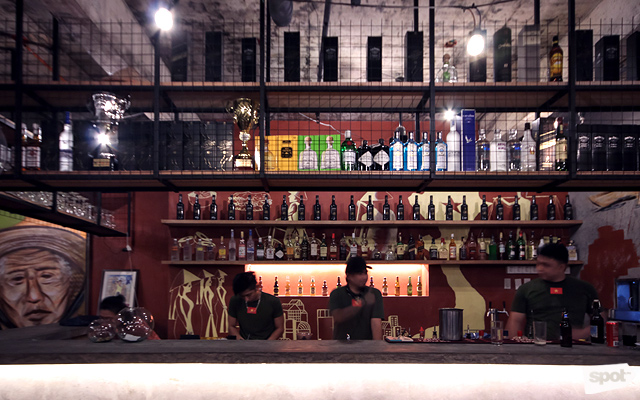 "My partners and I wanted to offer something healthy and cheap, and Vietnamese food is generally healthy but it doesn't break the bank at all. People love [to eat in Vietnam] and there are a lot of night markets—it's just chill, which is the vibe that we want to achieve here. That's also why we have beer pong because we want everyone to have a good time," said one of the owners, Mike M.
ADVERTISEMENT - CONTINUE READING BELOW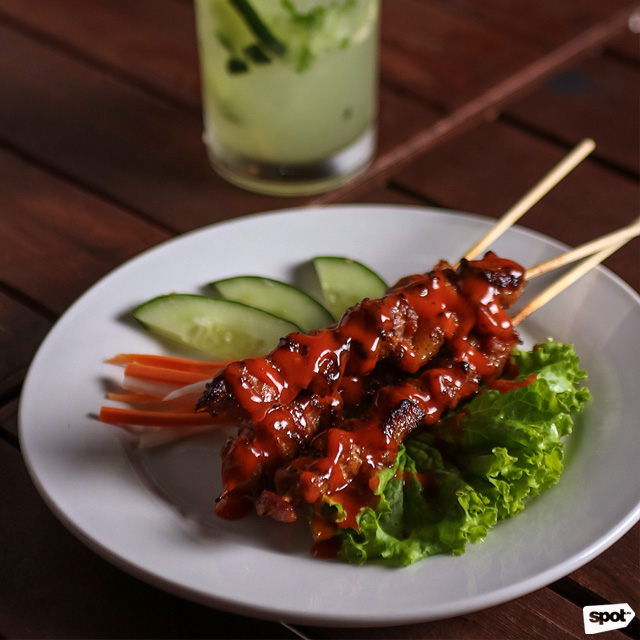 BBQ Skewers
The menu features traditional Vietnamese dishes; nothing pretentious, just a straightforward selection. They have BBQ Skewers (P180/pork, P170/chicken, P180/seafood), marinated in a simple, sweet dressing. You can eat it on its own or add their homemade spicy sauce that will instantly awaken your taste buds.
ADVERTISEMENT - CONTINUE READING BELOW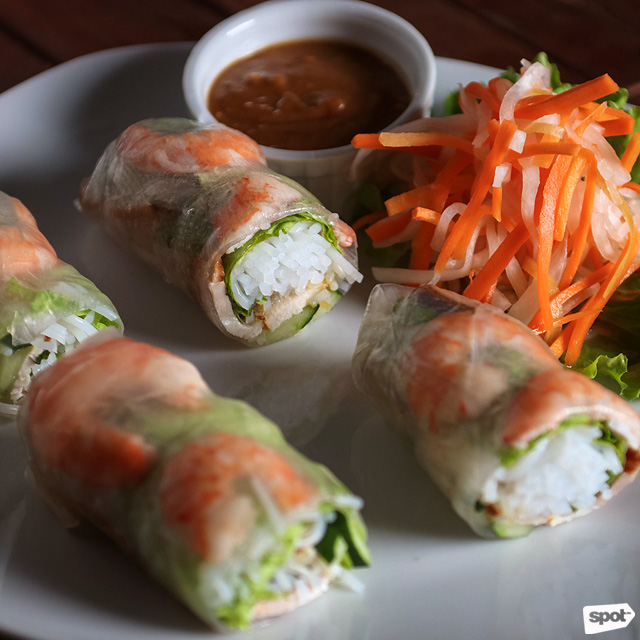 Fresh Spring Rolls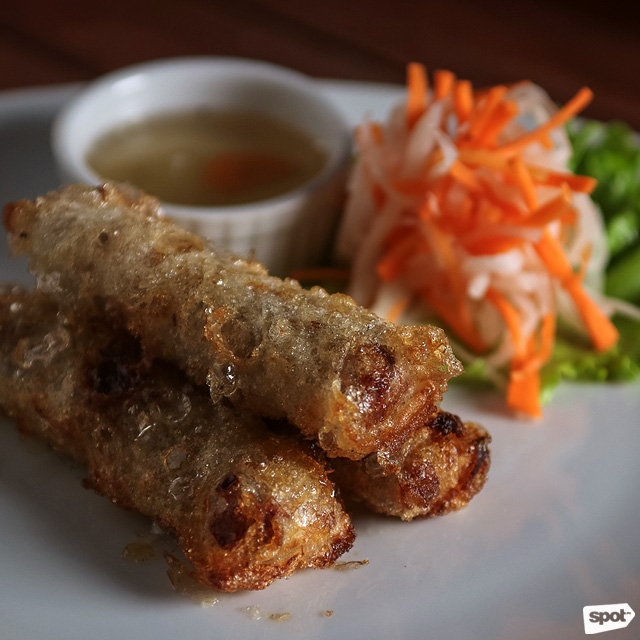 ADVERTISEMENT - CONTINUE READING BELOW
Fried Spring Rolls
There's also the Fresh Spring Rolls (P195) with shaved vegetables, heaps of fresh mint, light rice noodles, and shrimp paired with peanut butter sauce. It's healthy, light, and so refreshing to eat. Another option would be the Fried Spring Rolls (P170/chicken, P180/pork), which are deep-fried to crispy perfection.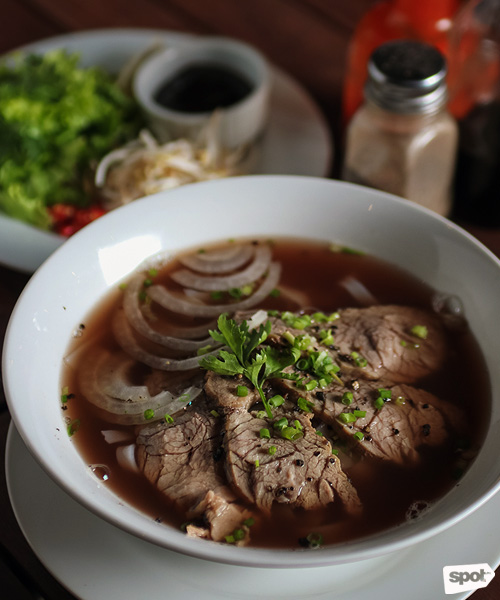 ADVERTISEMENT - CONTINUE READING BELOW
Pho
Another must-try is their bowl of piping-hot Pho (P200). The beef noodle soup has thinly sliced meat that's tender, while the broth is savory with a touch of sweetness—its medley of flavors and textures will leave you craving another bowl. If you want to devour your pho like the locals do, dump a few slices of fresh chili for a bit of kick and heat.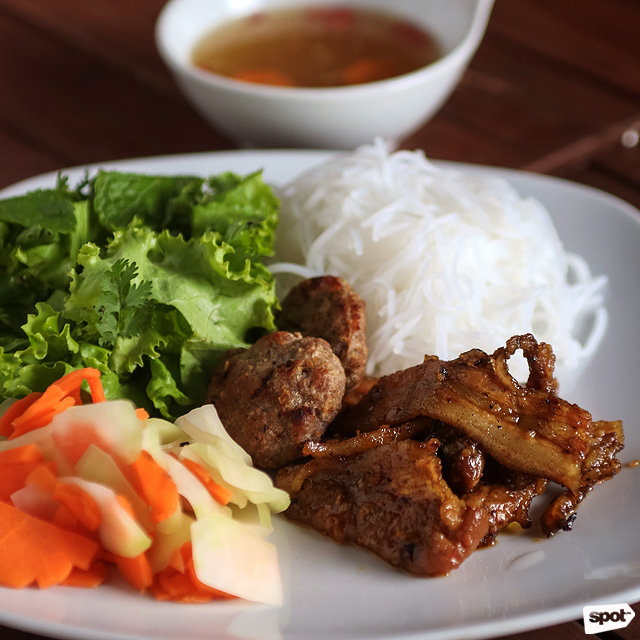 ADVERTISEMENT - CONTINUE READING BELOW
Bun Cha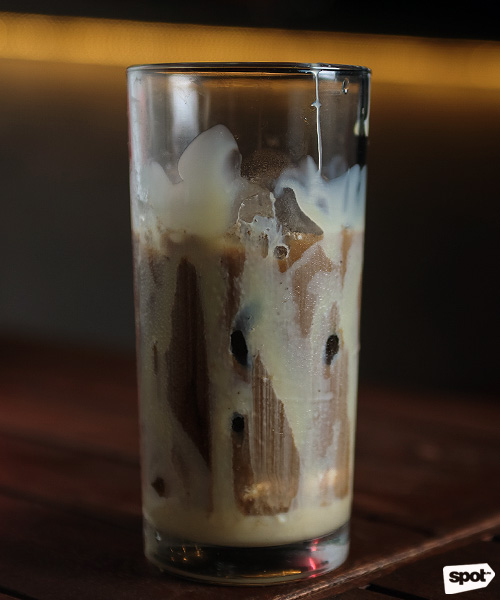 Vietnamese Iced Coffee
While pho hogs all the attention, the Bun Cha (P230) is definitely worth a try, too. After all, it is also one of Hanoi's signature dishes. It's basically grilled pork, fresh herbs, and cold rice noodles that you bundle and dunk in a watered-down version of sweet fish sauce. It's lip-smacking good as the greens balance the richness of grilled meat, adding a touch of freshness. Pair this with Cu Chi Bar's traditional Vietnamese Iced Coffee (P130), a cool drink ideal for hot summer days or an evening treat after enjoying a fiery bowl of exotic, oriental spices.
ADVERTISEMENT - CONTINUE READING BELOW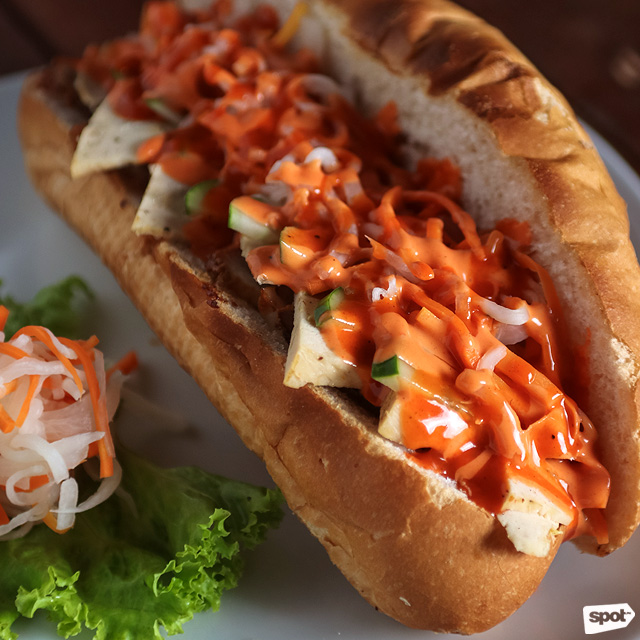 Banh Mi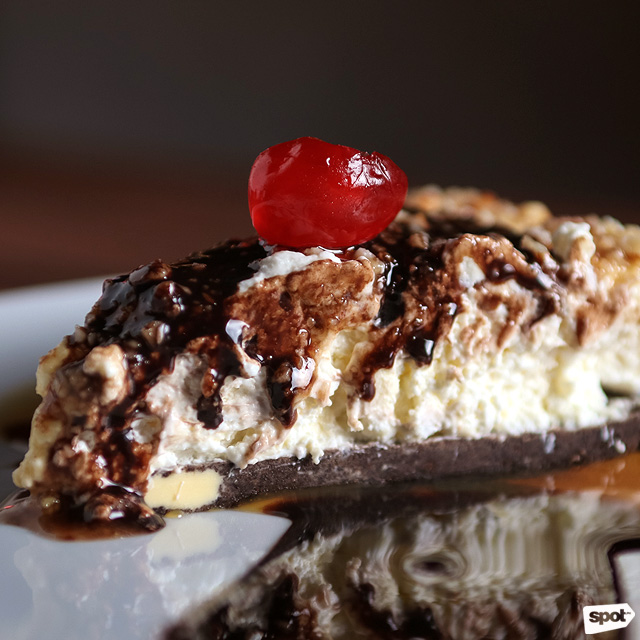 ADVERTISEMENT - CONTINUE READING BELOW
Chef Tung's Homemade Cheesecake
If you love a good sandwich, their Banh Mi (P160) is a strong contender. Its marriage of sweet, sour, and salty, paired with crisp bread and tart pickles will make you want to order another piece to bring home. Finish your meal with Chef Tung's Homemade Cheesecake (P150) to end your visit on a sweet note.
After enjoying the food, we guarantee you'll be tempted to stay and just chill. Occasionally, Cu Chi Bar features DJs to induce a private-party feel at night. It doesn't really replicate the experience of a wild night out in Hanoi, but it definitely captures a similar vibe.
Photos by Jericho San Miguel
Load More Stories