Spam has found its way into banh mi and it's insanely good
Ditch the traditional Vietnamese sandwich for this modern take.
O'Banh Mi
L/GF Ayala Malls the 30th, Meralco Avenue, Pasig City
Open daily from 11 a.m. to 9 p.m.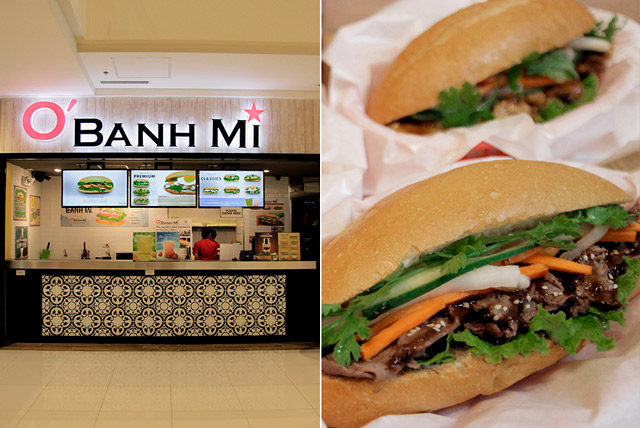 (SPOT.ph) While it literally means "bread" in Vietnamese, banh mi has become synonymous to the classic Vietnamese sandwich. Similar to a sub and overflowing with lots of different fillings from ham and egg to pickled vegetables and herbs, it's a hearty hand-held meal you can munch on while on the go. It's no wonder then that it's also gaining popularity among busy Metro Manila folks. One of the newer ones to join the fray is O'Banh Mi, who have recently opened their second branch at Ayala Malls the 30th.
ADVERTISEMENT - CONTINUE READING BELOW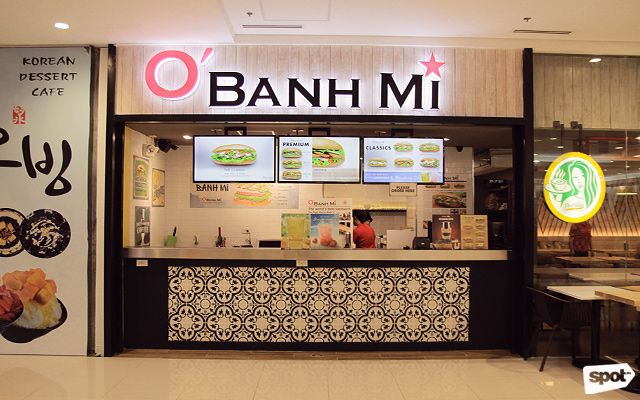 While this branch is O'Banh Mi's second, it's only been roughly three months since the concept first launched in Gateway Mall, Quezon City in February 2017. This pace may seem a little too fast for some, but owner John Tian Seng is no stranger to Vietnamese fare—after all, he is part of the team that operates Vietnamese favorite Pho Hoa here in the Philippines.
ADVERTISEMENT - CONTINUE READING BELOW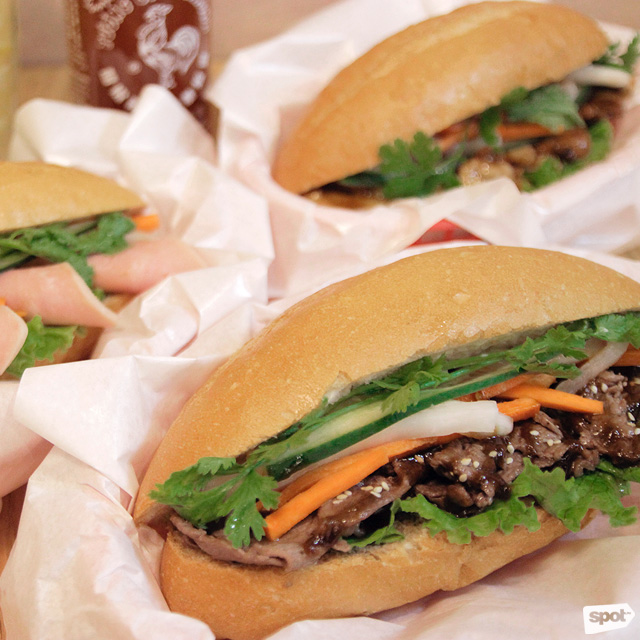 "It was last year when we saw the [banh mi] trend," says John. "We saw it in the States and here also in the Philippines. But most of the ones we saw, 'yong flavors nila is fusion. Sa amin we wanted traditional Vietnamese flavors. Modernized, yes, but still traditional."
ADVERTISEMENT - CONTINUE READING BELOW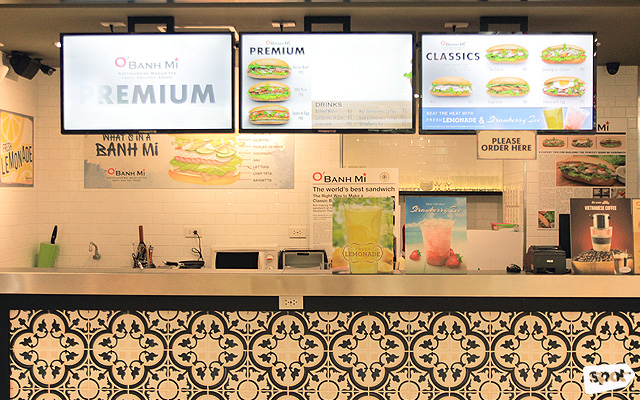 It's a theme that extends to their space, clean and bright with subway-inspired tiles and rustic patterns. Staying true to banh mi's grab-and-go concept, O'Banh Mi operates as a counter where customers can order their sandwich, pay and go. It's the perfect stopover after a full day of shopping or when you need a quick meal to start your day.
ADVERTISEMENT - CONTINUE READING BELOW
John shares that at O'Banh Mi, they make sure customers get what they pay for. This means a thick layer of liver pate (that they make in-house) that shines through even underneath the equally generous portions of meat, pickled vegetables, cream-based sauce, and more. All sandwiches are hefty and filling, just how a good banh mi should be.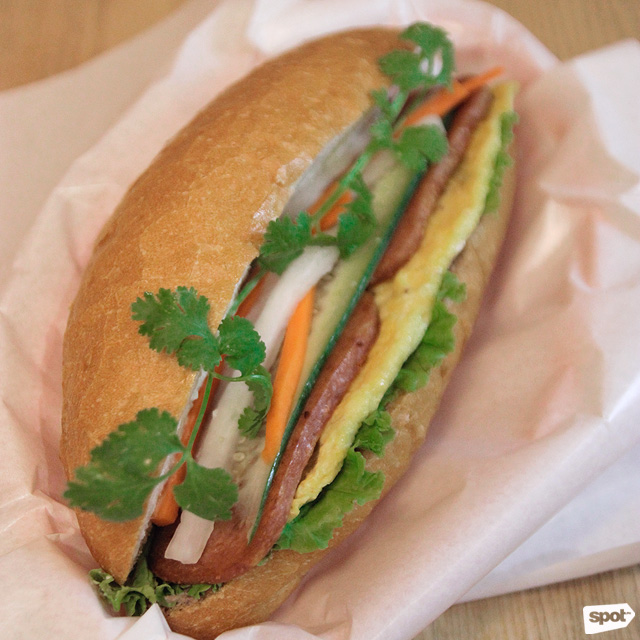 ADVERTISEMENT - CONTINUE READING BELOW
Spam and Egg
An easy crowd favorite is the Spam and Egg (P190)—perhaps not the most traditional but still holding classic Vietnamese flavors. The experience is similar to having a classic banh mi with ham, but Spam has a distinct saltiness that makes it a delight. It surprisingly pairs well with pickled vegetables, cilantro, creamy eggs, and a generous spread of liver pate. Spam really does make everything better.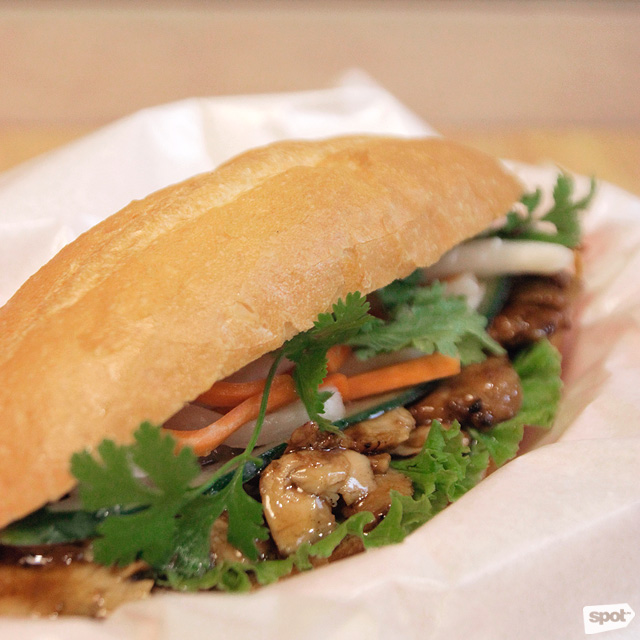 ADVERTISEMENT - CONTINUE READING BELOW
BBQ Pork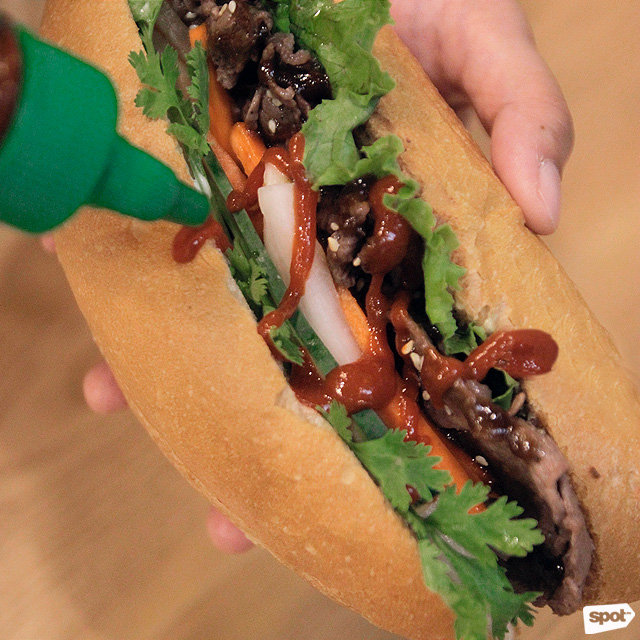 Hoisin Beef
The BBQ Pork (P190) is brimmed with smoky and tender pork chunks, pickled vegetables, lettuce, and cilantro. Meanwhile, a little on the sweeter side is the Hoisin Beef (P195), where the meat's flavors are an ideal match to the tart vegetables. (Pro-tip: This sandwich pairs well with Sriracha, too.)
ADVERTISEMENT - CONTINUE READING BELOW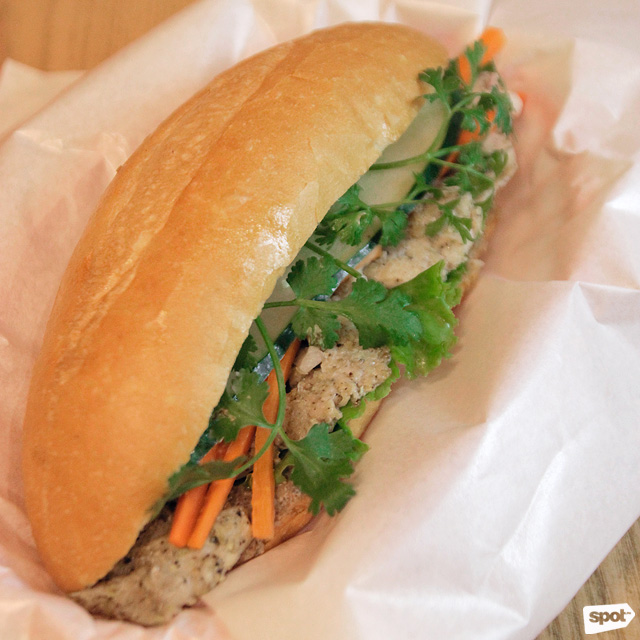 Lemongrass Chicken
For something relatively lighter, have the Lemongrass Chicken (P180), with chicken chunks coated with a distinct lemony herb rub. It's refreshing to the palate, especially with the rest of the traditional banh mi fillings.
John shares that in the next months, O'Banh Mi will be unrolling more banh mi flavors, and they'll be opening a branch in the newly-renovated Robinsons Galleria. There's no stopping this quickly-growing banh mi chain—after all, this Vietnamese sandwich was made for equally fast-paced lifestyles.
ADVERTISEMENT - CONTINUE READING BELOW
Photos by Criselda Carreon
Load More Stories