New Restaurant Alert: Salty at Tomas Morato, Quezon City
This place uplifts the soul with classic favorites.
Salty
54C Scout Gandia corner Scout Tobias, Tomas Morato, Quezon City
Contact: 0926-677-6416
Open from 12 p.m to 9 p.m. (Sunday to Thursday) and 12 p.m. to 10 p.m. (Friday to Saturday)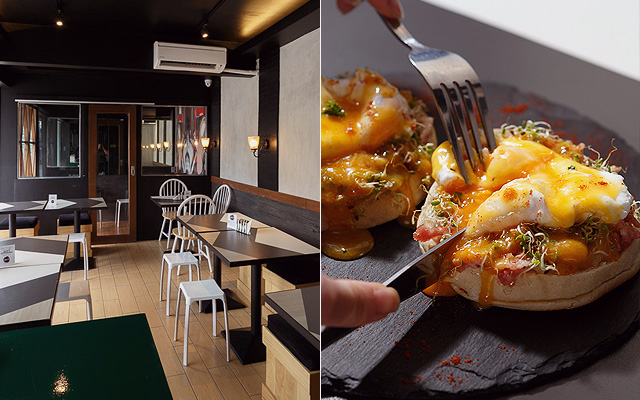 (SPOT.ph) When things aren't going your way, there's nothing like your good old favorites to boost your mood. And when you're craving a simple yet soul-satisfying meal, a visit to Salty in the Tomas Morato area is sure to lift your spirits.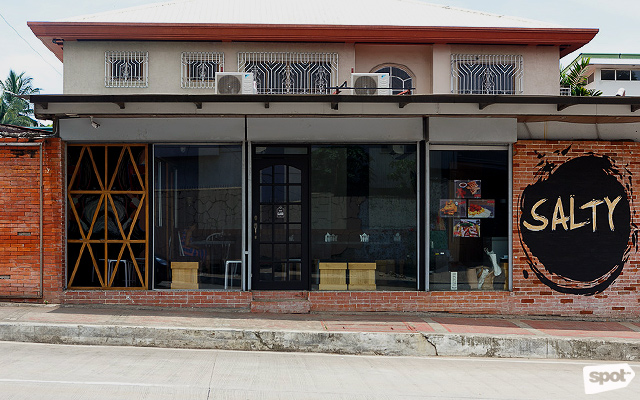 ADVERTISEMENT - CONTINUE READING BELOW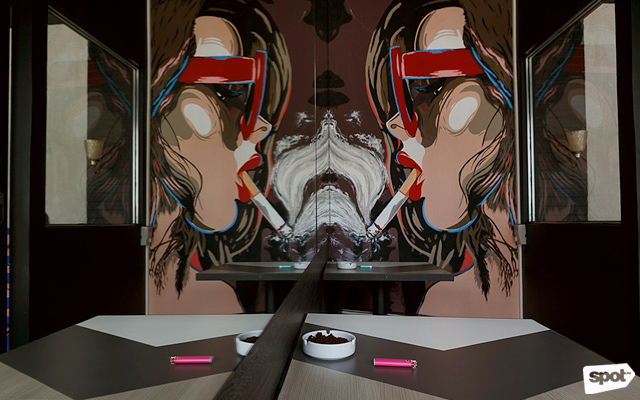 CONTINUE READING BELOW
Recommended Videos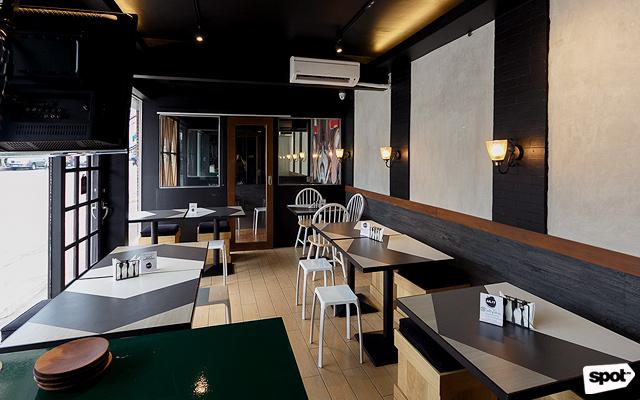 Owners Charmaine Domingo and Yelle Gadon keep things effortless, from the menu to the decor. Charmaine, an architect by profession, designed the place to make it as basic and unpretentious as possible. Salty moves toward a more pared-down aesthetic by having modest, neutral-colored furnishings and bare walls, with the only splash of color being a large contemporary mural in the al fresco area. The goal was to have an "unfinished" look because they want to keep the place flexible for future alterations.
ADVERTISEMENT - CONTINUE READING BELOW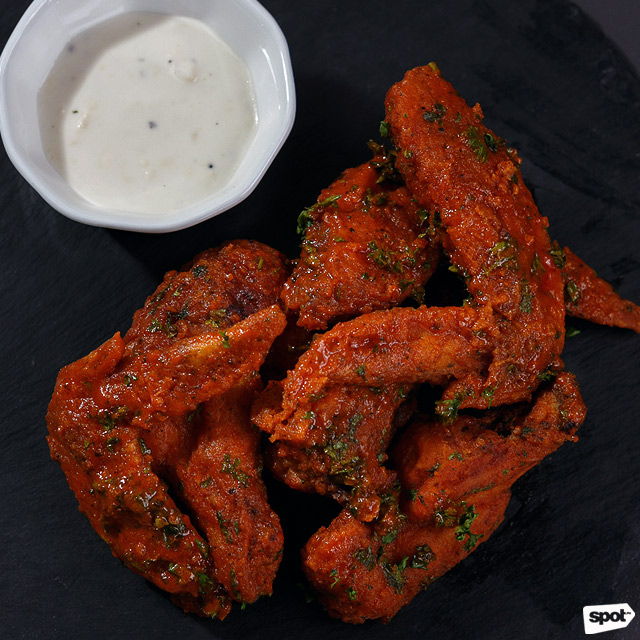 Buffalo Wings
As for the food, Charmaine and Yelle's goal is pretty straightforward: To serve affordable and satisying meals. Nothing more, nothing less. The small menu focuses on preparing delicious traditional homemade meals that bring back childhood memories or remind you of happy times. Salty takes the food that we have all learned to love and adds their own spin to them. For instance, their Buffalo Wings (P200) is bathed in three different kinds of hot sauce and seasoned with special herbs and spices. This fiery finger food is best paired with a tangy and tasty blue cheese dip with real blue cheese bits.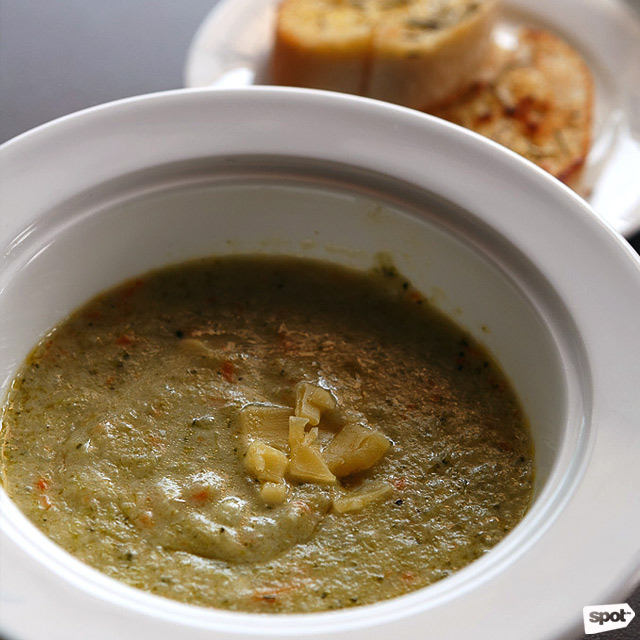 ADVERTISEMENT - CONTINUE READING BELOW
Broccoli and Cheddar Soup
For a healthy and hearty start, have a bowl of the Broccoli and Cheddar Soup (P125). It's made of puréed broccoli and carrots, creamy cheddar cheese, and topped with grated parmesan. Because it's filled with vegetables, the result is a much thicker and chunkier texture. Don't let the tiny bowl fool you—it's more filling than you think. It's also served with two pieces of toasted rosemary bread, which you can dunk in the soup.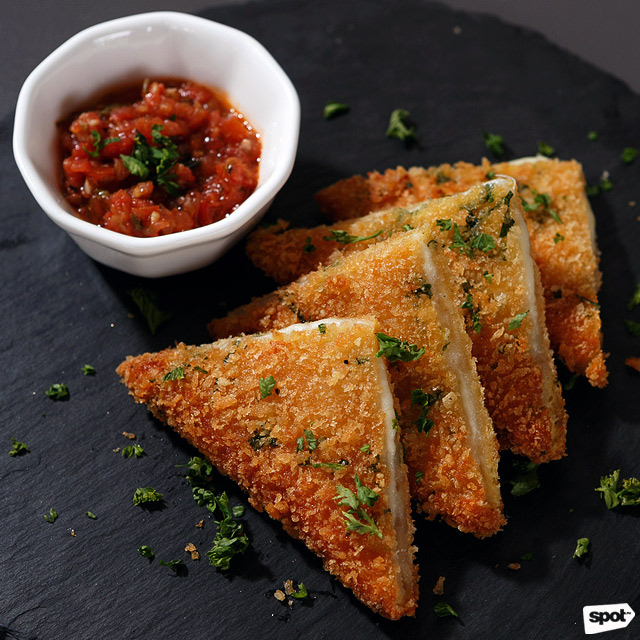 Mozzarella en Carozza
Most of the items in Salty's menu are food that both owners personally enjoy, such as the Mozzarella en Carozza (P180), a kind of Italian fried mozzarella cheese sandwich coated in breadcrumbs. Both Charmaine and Yelle are fond of cheese and sandwiches, and know that a warm cheese sandwich made with love is the ultimate soul-soother. Dip these crunchy bites in their homemade marinara sauce, and you have the recipe for instant happiness.
ADVERTISEMENT - CONTINUE READING BELOW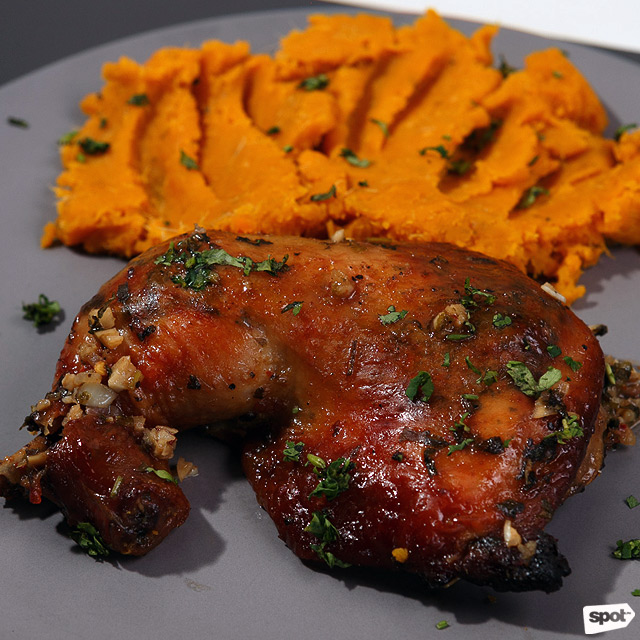 Cilantro Lime Chicken
If Mexican is your idea of a great dinner, you won't be able to resist Salty's Cilantro Lime Chicken (P230). This plate of tender quarter chicken thigh marinated in cilantro and a special blend of spices is bursts with bright and intense flavors. The generous serving of mashed sweet potatoes is the chicken's perfect partner, but if you can't live without rice, you can ask for that instead.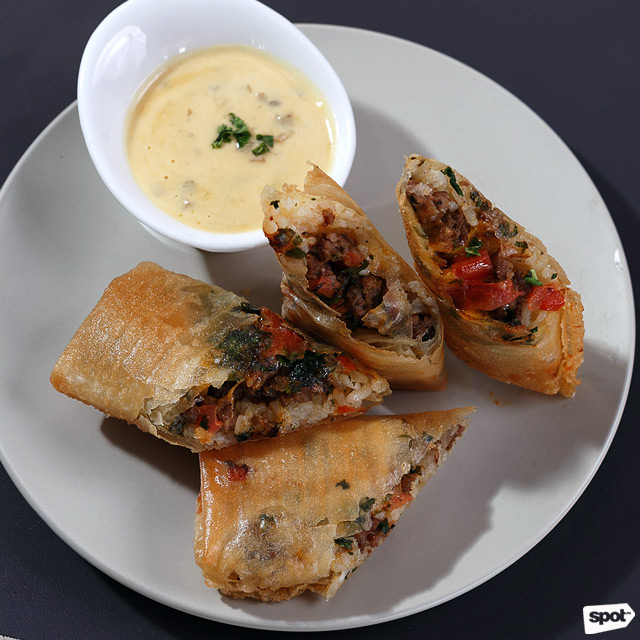 ADVERTISEMENT - CONTINUE READING BELOW
Salty Burrito
Another Mexican-inspired dish is the Salty Burrito (P220). These bite-sized deep-fried egg rolls filled with Mexican-style beef, cheese, tomatoes, and cilantro are a welcome treat for the taste buds. Watching your weight? Go ahead, have more, because the burritos are made with brown rice. While most burritos go with sour cream and salsa, this burrito comes with a creamy cilantro mushroom sauce.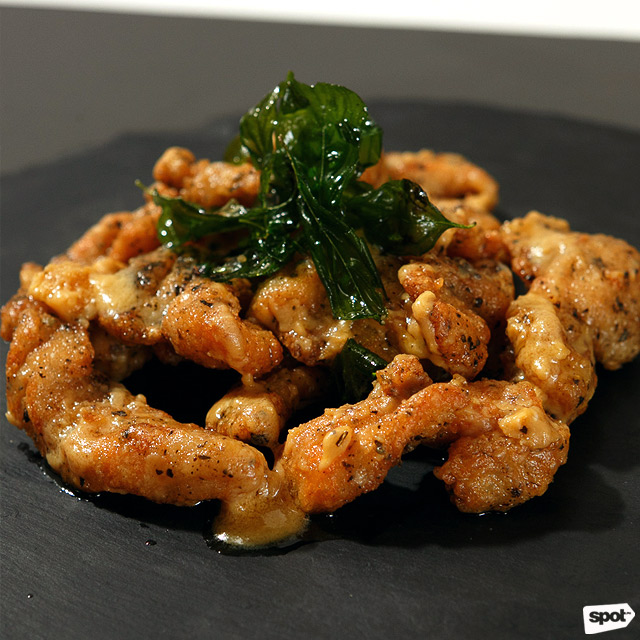 Herb & Salted Egg Chicken Fingers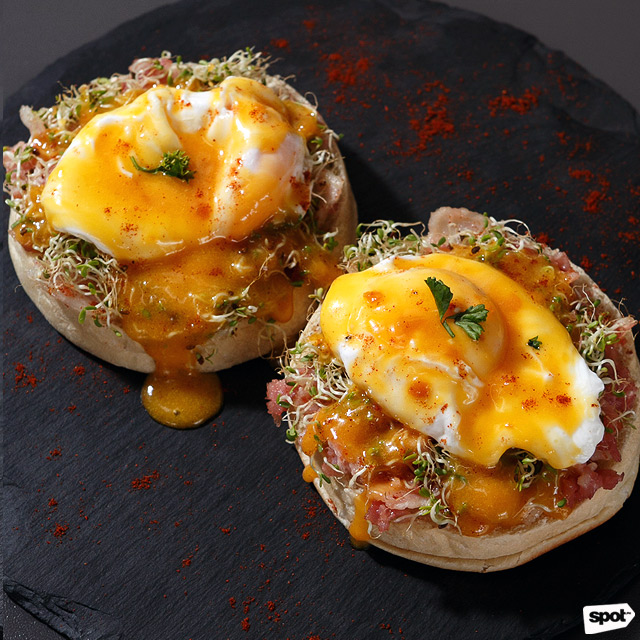 ADVERTISEMENT - CONTINUE READING BELOW
Eggs Benedict
If you're wondering why the owners chose the name "Salty," Charmaine and Yelle thought it would be a good idea to ride on the salted-egg craze by having a menu dedicated solely to salted egg-based recipes. However, they quickly realized that the trend could die down anytime, and instead, they opted for a more enduring concept. Still, being huge fans of anything salted egg-flavored, they decided to keep the name and offer a few salted-egg based dishes, such as their Herb & Salted Egg Chicken Fingers (P210) and the Eggs Benedict (P220).
Trend or no trend, the Herb & Salted Egg Chicken Fingers is worth a try. Coated in herbed breading, drenched in salted-egg sauce, and garnished with fried basil leaves, these chicken fingers are so scrumptious and addicting, you might find yourself reaching for more.
Salty's Eggs Benedict likewise makes for an exceptionally comforting meal any time of the day. A forkful of the decadent poached eggs drizzled with bacon, resting on warm English muffins can certainly make you feel good all over. The alfalfa sprouts brighten this popular breakfast food and gives it a nutritious boost. But the best part of this dish is the homemade hollandaise made with—what else?—deliciously savory salted egg.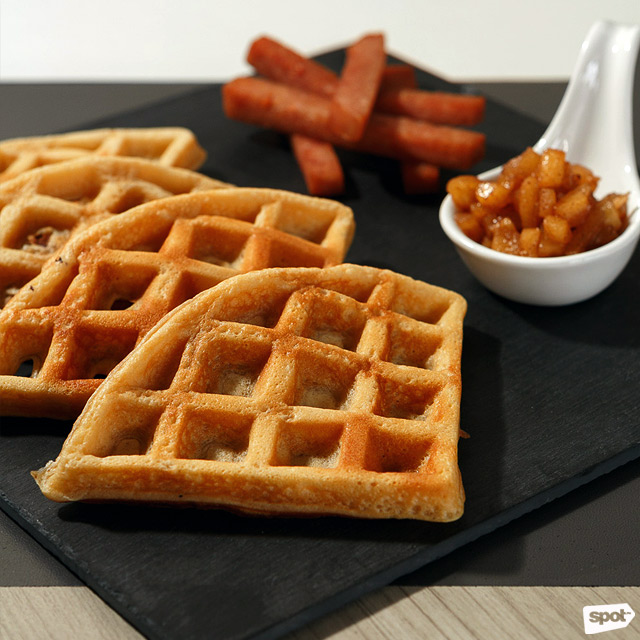 ADVERTISEMENT - CONTINUE READING BELOW
Waffles, Spam, and Apples
Salty's Waffles, Spam, and Apples (P165) are for those with a sweet tooth, as well as for those who like their food, well, salty! Yelle says that whenever she eats out for breakfast, she can't decide whether she wants something sweet or salty. If she does get both, it will be too much. Hence, she created a dish that will satisfy all senses, and satisfy it will. The fluffy and crispy waffles need no syrup. They're sweet enough on their own, and taste even better with the stewed apples mixed with honey, cinnamon, and brown sugar. You can even add vanilla ice cream for an extra P35. For a little break from all the sugar, a bite of the Spam strips is all you need to get the best of both worlds.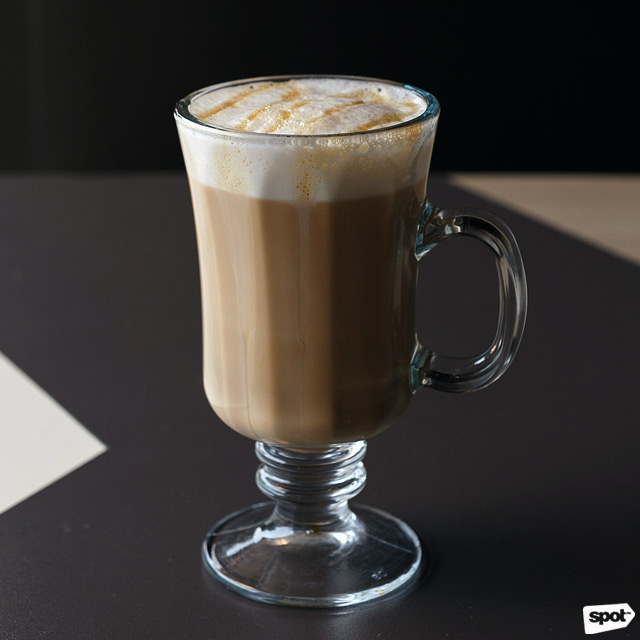 Hot Caramel Macchiato
Friends who love to chill over a cuppa, or students and professionals who need a little jolt to get their work done can likewise get their caffeine fix at Salty. If you're craving that milky, caramel taste, go ahead and order their Hot Caramel Macchiato (P145). Not a huge fan of coffee but still need energy? The Hot White Chocolate Espresso (P130) has the creamy, chocolatey goodness that you want and need. Like your coffee strong and smooth? Go for the Americano (P80), which also comes in a quirky little glass.
ADVERTISEMENT - CONTINUE READING BELOW
Charmaine and Yelle put up the restaurant with friends who dine in mind. "When you're with a group of friends, you want different things. Some would want Italian food, some would prefer Mexican food, and so on. With us, you have choices. There's variety. There's something for everyone."
Food trends may come and go, but classic, no-fail dishes are timeless. Salty gives diners a feeling of warmth and ease by offering dishes and drinks that are familiar, and turns them into something fascinating.
Photos by Ian Santos
Share this story with your friends!
---
Help us make Spot.ph better!
Take the short survey
Load More Stories