New Restaurant Alert: Mr. Roboto in Alabang, Muntinlupa
Be prepared to say "domo arigato!"
Mr. Roboto
G/F Alabang Town Center Corporate Center, Muntinlupa City
Contact: 817-5604
Open daily from 11 a.m. to 2 p.m. and 5 p.m. to 9 p.m.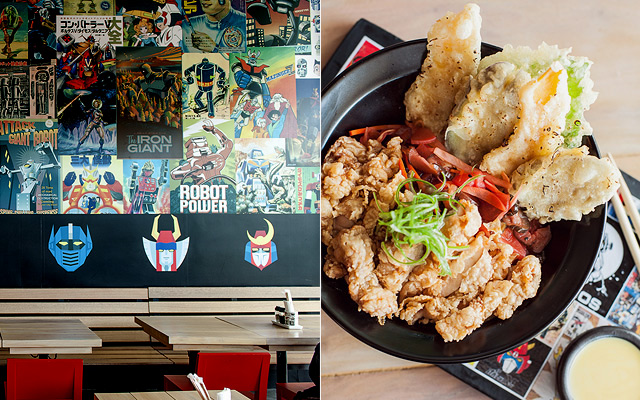 (SPOT.ph) It's hard to miss Mr. Roboto. The restaurant has huge glass windows that show off its mostly Japanese robot-themed interiors (we say mostly because Futurama's Bender is somewhere in there, too). The top portion of its main wall is covered in a collage of vintage cartoon robot posters, the white space below it studded at regular intervals with the masks of popular mechas. Painted wooden robot wireframes hang on the ceiling alongside light fixtures.

Patrons at Mr. Roboto dine to upbeat '80s music, unobtrusive enough so that you can have a conversation with friends using your indoor voices, but noticeable enough so none of you will be able to resist bobbing your heads happily while doing so. The whole thing is guaranteed to turn Martial Law babies into puddles of nostalgia.
ADVERTISEMENT - CONTINUE READING BELOW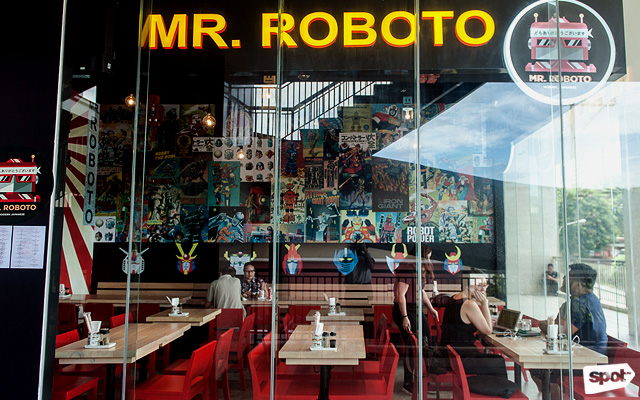 CONTINUE READING BELOW
Recommended Videos
Mr. Roboto is run by Danni Ramos and David Mendoza, millennials whose exposure to mechas came via their dads. "The name was based on the song 'Mr. Roboto' by Styx. We wanted to go with something thematic because our restaurant wasn't a traditional restaurant, so we didn't want to give it a traditional Japanese name," Mendoza, who manages the restaurant, says.
ADVERTISEMENT - CONTINUE READING BELOW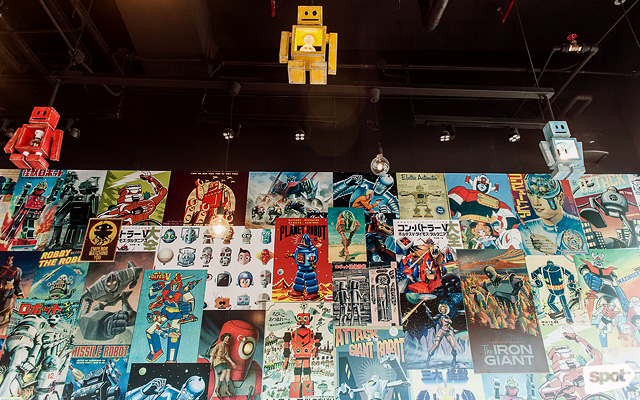 "The food is inspired by family, friends, trips to Japan, crazy thoughts...We really tried to break the mold and go in a different direction instead of going the Western way and having a lot of flavors mute the flavor of the main ingredients...We wanted to stay true to how they do things in Japan and never mask the flavors," Ramos, who trained in pastry at Le Cordon Bleu in San Francisco and is Head Chef, says. "It's really from a lot of testing and a lot of random thoughts. Some of the stuff made was probably because I was hungry. I don't have a background in Japanese cooking. My background is pastry but for me, as long as you're having fun, that's where the ideas come from."
ADVERTISEMENT - CONTINUE READING BELOW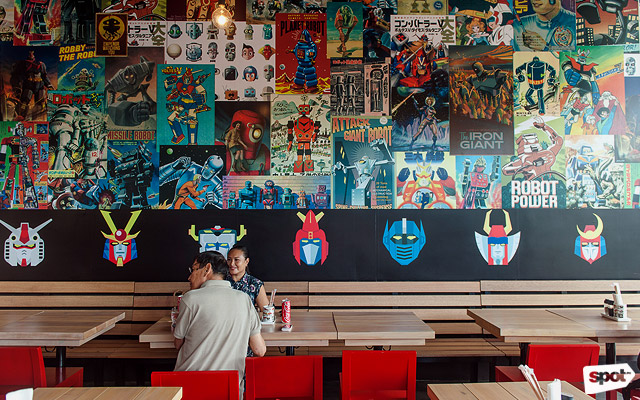 The duo's parents are business associates in Alabang culinary destination Neil's Kitchen, where Ramos' father is head chef and Mendoza's parents are managing partners, so they had a lot of support and experience behind them.
Mr. Roboto's cuisine is as dazzling as its interiors. Servings are sizable, Instagram-friendly, and addictive—the restaurant isn't even a month old and it already has regulars.
ADVERTISEMENT - CONTINUE READING BELOW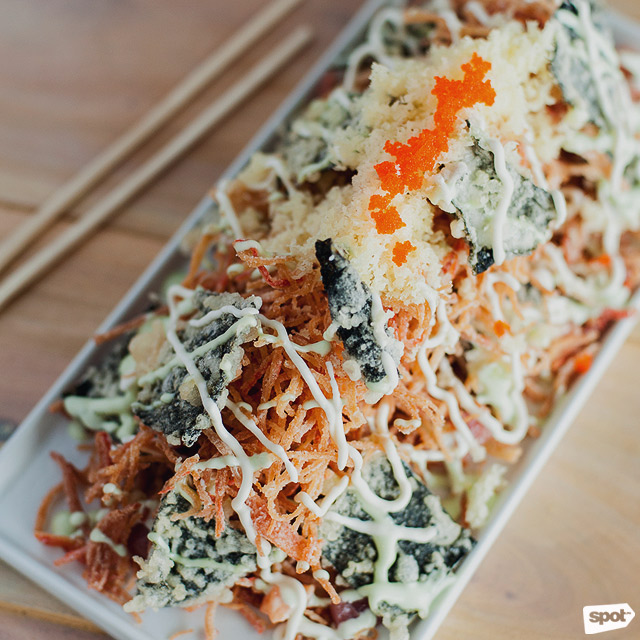 Nori Nachos
The Nori Nachos (P350) are made with nori chips, crispy kani, pickled tuna, and spicy salmon piled on top of each other, with cream cheese and wasabi mayo. "I'm a huge fan of nachos and I was [wondering] why nobody's done a Japanese version of nachos," Ramos says. "I cut up seaweed and fried it. We do a mix—spicy salmon, pickled tuna, nori chips, and fried kani. I threw some kani in the fryer and everyone couldn't stop eating it. We tied everything together in a Japanese sushi nacho kind of thing because we want to offer beer here and have people hang out here." 
ADVERTISEMENT - CONTINUE READING BELOW
The fried nori is cut into pieces that tease the palate—they're substantial enough for you to taste the crunchy, batter-coated seaweed, but tiny enough so that your tongue is left wanting more, making you reach for another piece. They are mixed with a haystack of shredded imitation crabsticks, their innate sweetness contrasting deliciously with their deep-fried crackle. Bits of tuna and salmon round out the base, and the sauces bring out the umami even more. "Try it with the cheese sauce. It works pretty well," Mendoza says. "We've tested about 50 sauces. I don't know how many sauces we have, but we have a lot."
So many customers have commented that it's the kind of snack they want to eat while watching a movie that Ramos is currently working on portable packaging to make this request a reality.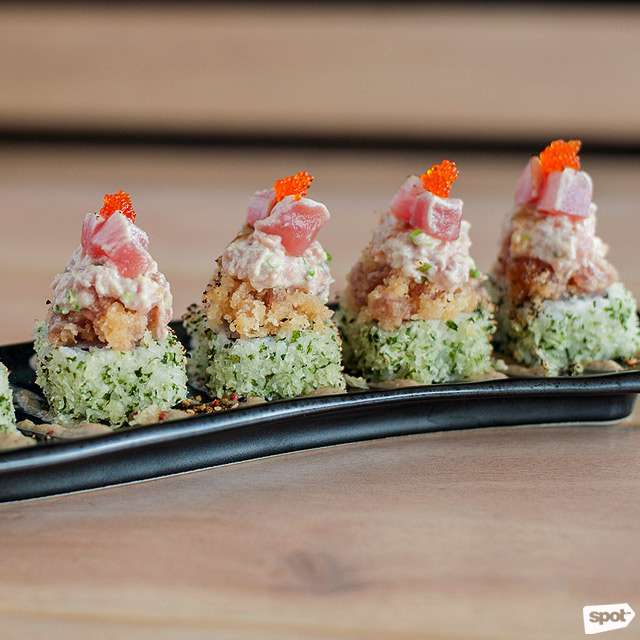 ADVERTISEMENT - CONTINUE READING BELOW
Mr. Roboto Maki
The best-selling Mr. Roboto Maki (P280) is tuna done three ways with a cucumber roll base. "We have spicy tuna, negi tuna, and aburi tuna on top. We offer it with a tuna sesame sauce—we grill tuna and roast sesame and we blend it all together to highlight the tuna—even the sauce itself has tuna. It's very flavorful," Ramos says. "For our rolls, we build up instead of cramming everything inside. We like to do base rolls and all the fish, you see how much you're getting, it's a good amount."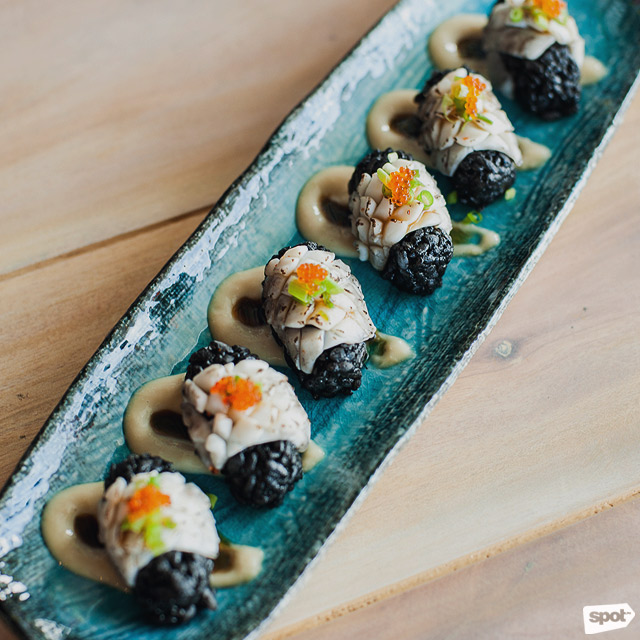 ADVERTISEMENT - CONTINUE READING BELOW
Ika Nigiri
A must-try, even if you don't like squid, is the Ika Nigiri (P220), squid ink sushi rice and torched (aburi) pickled squid topped with teriyaki sauce, negi (green onion), and ebiko. The squid is soft to the point of almost melting in your mouth. The black rice is umami-sweet, and the whole thing is touched with a hint of sour from the pickles. The sauces add another layer of richness. The pieces are small enough so that your senses don't get overwhelmed and you lose interest in eating; on the contrary, there's enough space in between bites (with one piece equaling one bite, as per the Japanese way) to make you want more.
"I really wanted to focus on modernizing the nigiri because everyone else does the rolls. Everyone focuses on the rolls and no one really minds the nigiri because it's always two pieces and people feel like they never get full off that, it's a side order," Ramos says. "In Japan, they don't even have rolls so let's do nigiri because that's their star...So our nigiri, we flavor the rice with whatever sauce we use to highlight the dish...Our nigiris are six pieces, just like the rolls."
ADVERTISEMENT - CONTINUE READING BELOW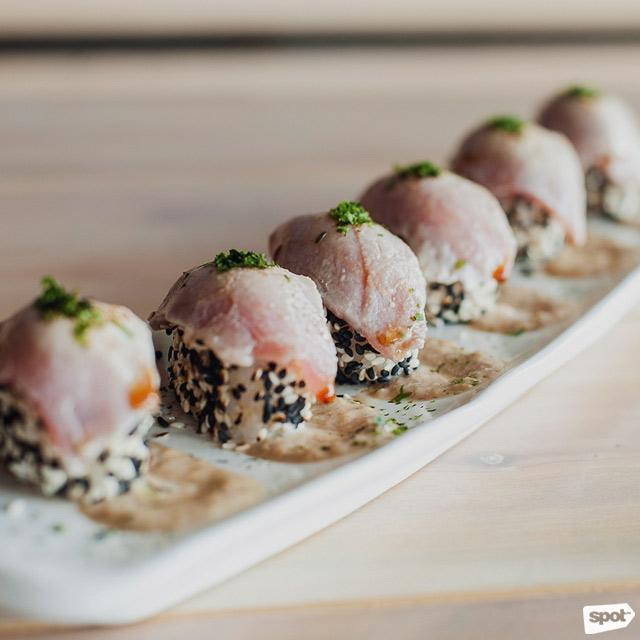 Maguro Nigiri
The Maguro Nigiri (P245) is composed of sushi rice flavored with tuna sesame sauce topped with two kinds of tuna—negi and aburi—and teriyaki sauce. "We also always try to use two sauces to complement each other to avoid the need for soy sauce and wasabi. Personally, I really don't eat my food with sauce [because] I like tasting how it is. We want to make it flavorful enough that you don't need soy sauce," Ramos says. "We also want to cater to people who have favorites. Say someone loves tuna, we want to have a roll where they can say, 'oh my gosh, it's my favorite' and it's not just tuna one way, it's tuna three ways. Even our chirashi, we offer salmon or tuna five different ways."
ADVERTISEMENT - CONTINUE READING BELOW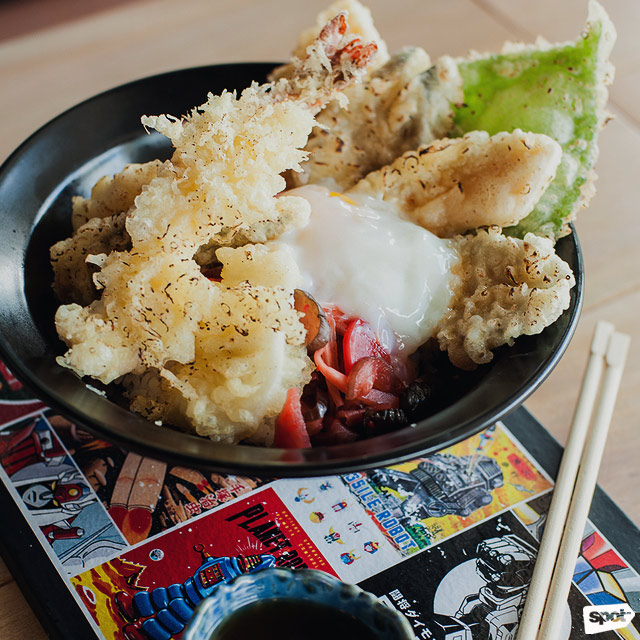 Ultimate Tempura
Mr. Roboto's rice bowls are all delicious to the eyes and mouth. The Ultimate Tempura (P450) is a rice bowl topped with torched ebi, squid, and vegetable tempura, plus a soft-boiled egg, slathered and served with robot tempura sauce, which is sweeter and thicker than regular tempura sauce. "Our donburi line is all grilled meat and we wanted to keep in theme. When we go to Japanese buffets, my parents grill their tempura to get that charred flavor, so that's what we did," Ramos says. "It's just an interesting way to eat tempura because it always adds extra flavor because there's a char. Even the veggie tempuras that come with our donburis, we put the sauce over it and we torch it."
ADVERTISEMENT - CONTINUE READING BELOW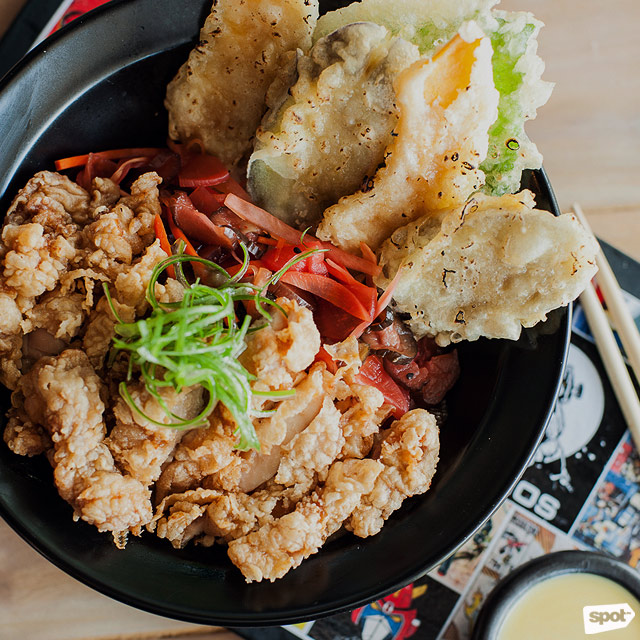 Chicken Katsu with Gravy
The Chicken Katsu with Gravy (P420) is rice topped with chicken teriyaki, vegetable tempura, aburi egg yolk, and robot donburi sauce. It comes in two house-made variants, gravy and curry, though Ramos recommends getting it with gravy. "We made a Japanese gravy. It's not your typical gravy; it has meat in it," she says. "We do grilled meat and fried veggie tempura so there's always a play on texture. If it's a katsu, the meat is fried and we offer grilled vegetables, so we always want to keep it balanced when it comes to flavor, texture, presentation—you eat with all your senses so we try to cover all the bases."
ADVERTISEMENT - CONTINUE READING BELOW
The Katsu is one of their more Instagram-friendly dishes—it's served on a tray decorated with robot posters that mirror the ones on their wall, and is also served with a side of cheese sauce (made in-house), something that more restaurants should adopt. "The cheese sauce is just for people that want to try something different. When you add cheese sauce to your curry, it's a completely different dish," Ramos says.
Mr. Roboto has plans to come up with a secret menu available only to their Instagram followers. "We will be slowly posting dishes on @mr.robotoph and if you follow us, feel free to order off it," Ramos says. "We didn't want to saturate our menu right now since we just opened. This is a way to keep people interested."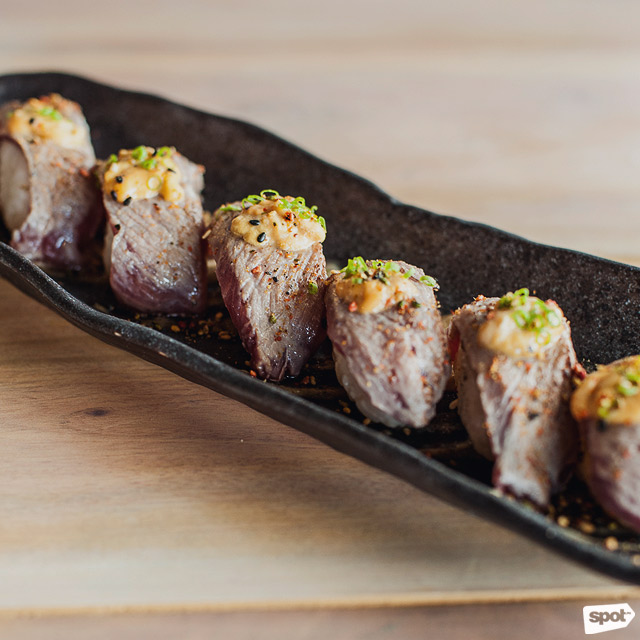 ADVERTISEMENT - CONTINUE READING BELOW
Steak and Uni Nigiri
One such item is the Steak and Uni Nigiri, which doesn't have a price and isn't out yet, but is up there with the must-tries.
A lightly torched steak topped with uni and flavored with leek and mushroom sauce, it's a Japanese take on Tournedos Rossini. "This is our more umami nigiri and we want to work with steak because everyone love steak and we wanted to offer something that meat lovers can enjoy as much as the other nigiri," Ramos says.
It's very rare that you come across a restaurant where everything you've ordered—during the soft opening, no less—is exceptional. Mr. Roboto's concept and cuisine are refreshing and well thought out. In a market saturated with restaurant concepts, it's always a treat to come across a dining place that marches to its own quirky, tasty beat.
ADVERTISEMENT - CONTINUE READING BELOW
Photos by Sandra Dans
Share this story with your friends!
---
Help us make Spot.ph better!
Take the short survey
Load More Stories