There's More to This Japanese Bakery Than Bread and Pastries
Pastries, sushi, and ramen are this café's bread and butter.
JiPan 
B110/B111 G/F UP Town Center, Katipunan Avenue, Quezon City
Contact: 950-8265
Open from 11 a.m. to 9 p.m. (Monday to Thursday) and 10 a.m. to 10 p.m. (Friday to Sunday)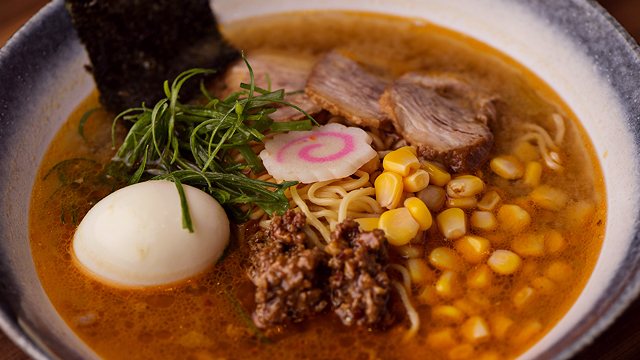 (SPOT.ph) When people think of Japanese food, first to come to mind are sushi, ramen, or tempura. But aside from the usual Japanese staples, the newly opened JiPan branch at UP Town Center in Katipunan offers customers a more complete and colorful dining experience, with an assortment of delectable baked goods as well as traditional and filling meals. Sashimi and pastries? Who knew you could enjoy both in one place?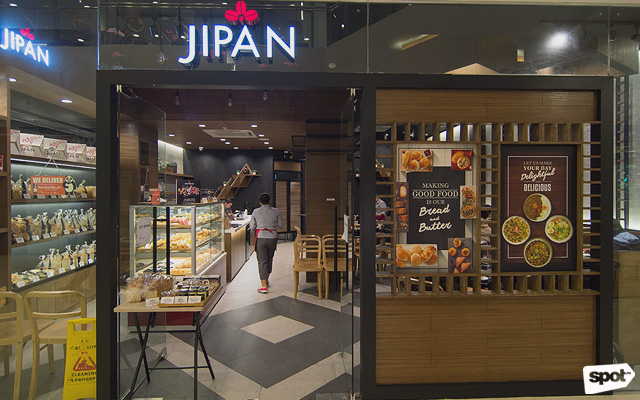 ADVERTISEMENT - CONTINUE READING BELOW
Jipan, which literally translates to "cute bread," was launched locally in 1992 by Hiroko Fujimura. Originally starting out as a bakery, JiPan has since provided customers with high-quality bread and pastries sans the chemicals and preservatives. When Hiroko decided to go back to Japan, she entrusted the shop to its new and current owner, Stephanie Brimo, a veteran in the food industry. A graduate of The Culinary Institute in New York, Stephanie later worked as part of the management at The Four Seasons Hotel in Toronto for three years. Realizing that the kitchen is where she really wants to be in, she moved to Paris where she studied Pastry and Boulangerie, and eventually worked at The Ritz Carlton.
CONTINUE READING BELOW
Recommended Videos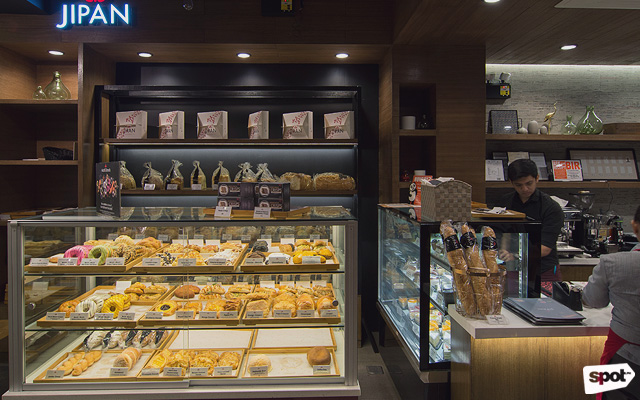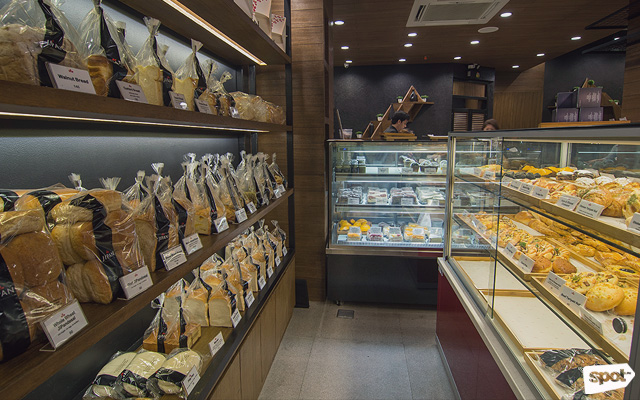 ADVERTISEMENT - CONTINUE READING BELOW
Here, she also had the opportunity to work in the dessert section of L'Espadon, a Michelin star restaurant, before finally coming back home to the Philippines to chase her dreams of opening her own restaurant. It was after she met Mrs. Fujimura that she decided to take over JiPan. After all, she and her family grew up on JiPan bread, and it only made sense to be a part of something she genuinely loves and believes in.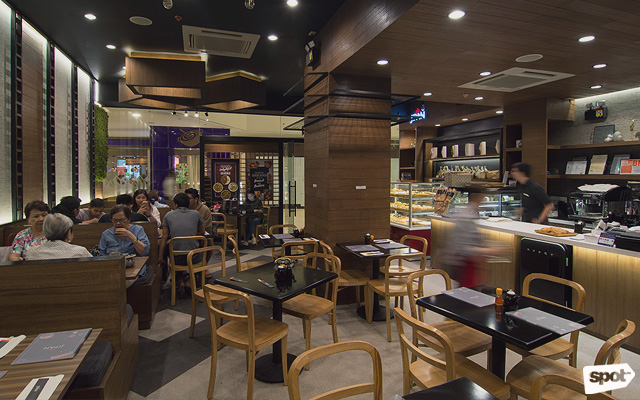 The restaurant's inviting ambience will make customers feel at ease. The Japanese touch is not lost as customers look up and see coffee bean-shaped petals resembling the sakura. But perhaps the most interesting feature of the café is their wallpaper, which is present in all of JiPan's branches, a fitting representation of what the restaurant is all about.
Stephanie shares, "The wallpaper is made of recycled newspaper. From afar, it looks like a Japanese tatami mat. But if you look at it closely, you'll see that it's actually Filipino newspapers weaved together. In essence, that's what JiPan is: Its roots are Japanese and we serve Japanese food, but it all started here, locally."
ADVERTISEMENT - CONTINUE READING BELOW
She mentions that she tweaked a lot of the dishes originally invented by Hiroko while still keeping them as close and honest as the original recipes. Now, with its medley of interesting and delicious fare, this café-and-restaurant-in-one is the kind of place you would want to visit in the morning and stay in for the rest of the day.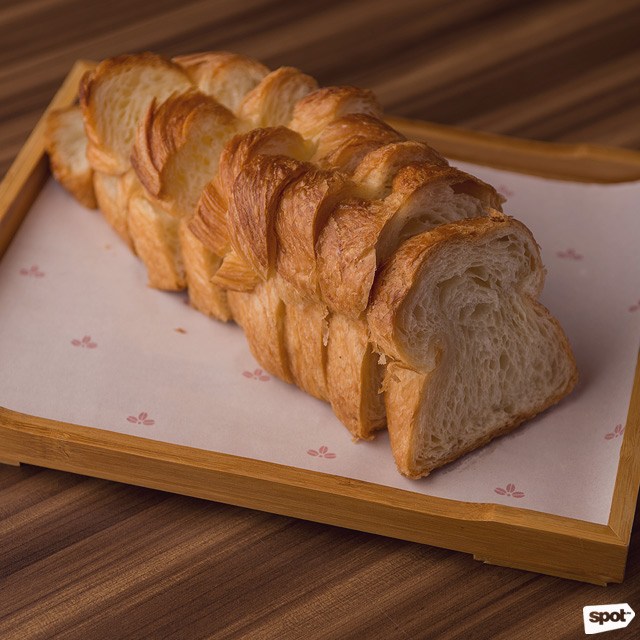 Monroe Bread
Don't know where to start? The Monroe Bread (P275), a JiPan original, is practically synonymous to the shop itself. It's JiPan's most popular and best-selling item, and for good reason too. Named after Marilyn Monroe's light and airy signature white skirt, the Monroe Bread is just as delicate, soft, and silky as the actress' dress. This bread-slash-croissant is interspersed with 100% whole butter and made with layers of soft, flaky dough. It's buttery and creamy enough on its own, so you can enjoy it even without slapping on some spreads.
ADVERTISEMENT - CONTINUE READING BELOW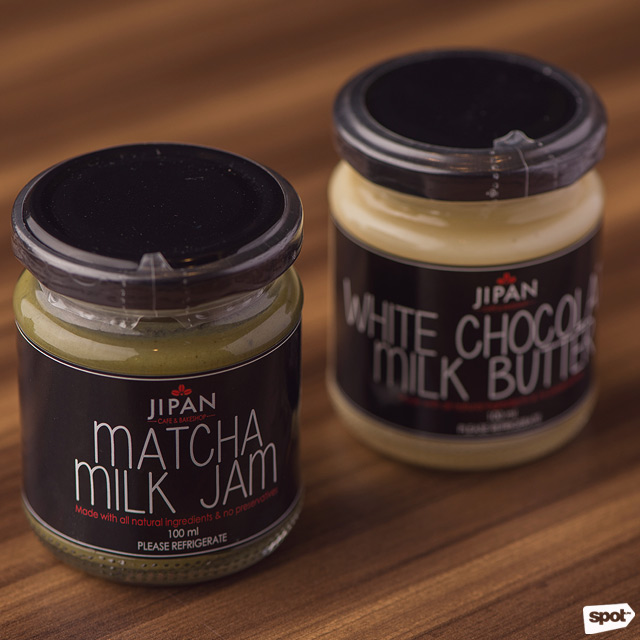 Matcha Milk Jam and White Chocolate Milk Butter
If you want the perfect partner for your Monroe Bread, snag a bottle of JiPan's Matcha Milk Jam (P255) and White Chocolate Milk Butter (P225). A dollop of these dainty spreads on your freshly baked bread will make you feel like you are enjoying a nice breakfast at a quaint Parisian patisserie. You can even put a spoonful on your fruits or crackers. The full-bodied yet light sweetness of the Matcha Milk Jam is reminiscent of green tea dulce de leche, while the White Chocolate Milk Butter has the sugar-coated flavor of condensed milk. They're so good, you might be tempted to finish the entire bottle in one sitting!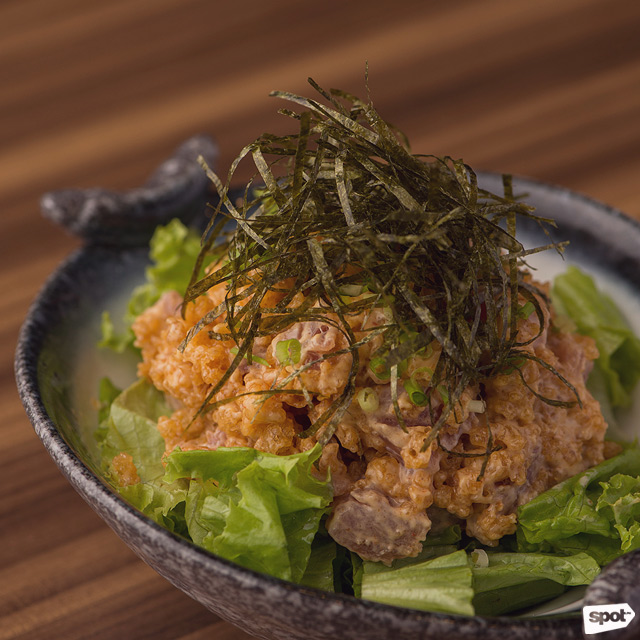 ADVERTISEMENT - CONTINUE READING BELOW
Spicy Tuna Salad
Who says that salad has to be blah? Eating healthy doesn't have to be boring, thanks to JiPan's Spicy Tuna Salad (P315). Bite-sized chunks of fresh tuna sashimi and crunchy tempura bits and nori strips sit on a bed of crispy lettuce leaves. The spicy Kewpie dressing gives this high-protein appetizer a zestful zip!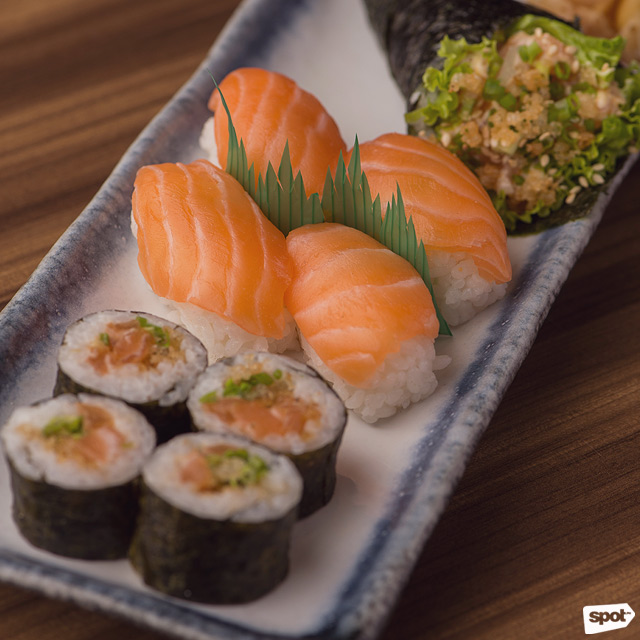 Salmon Set
JiPan also satisfies your salmon fixation with not just one, but three kinds of salmon sushi. With their Salmon Set (P495), you'll have different ways to eat the fresh seafood mixed with soft and tasty Japanese rice. The pretty platter of spicy salmon roll, salmon sushi, and spicy salmon temaki is a real triple treat.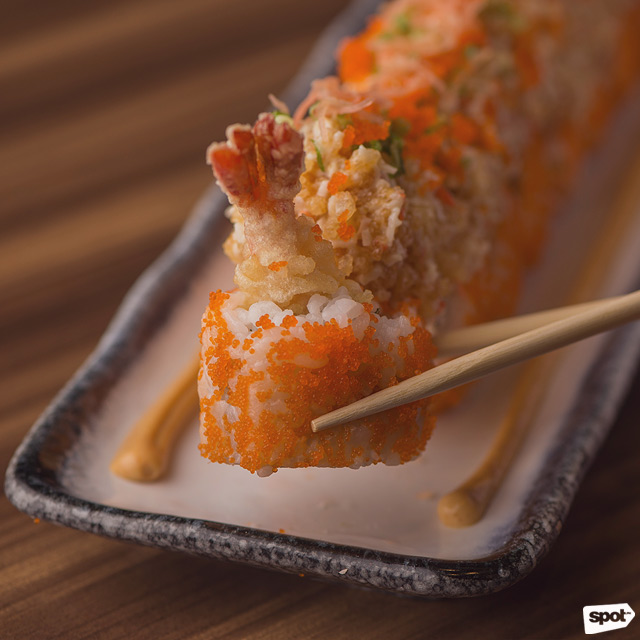 ADVERTISEMENT - CONTINUE READING BELOW
Dynamite Roll
On the other hand, the Dynamite Roll (P405) is a dish with a bang. Have a blast as you enjoy the explosion of flavors and texture of the ebi tempura, kani, tamago, cucumber, and crunchy tempura bits drizzled with a fiery Kewpie sauce. This mammoth of a meal isn't called "dynamite" for nothing—the rolls are thick and massive, so it's best for sharing.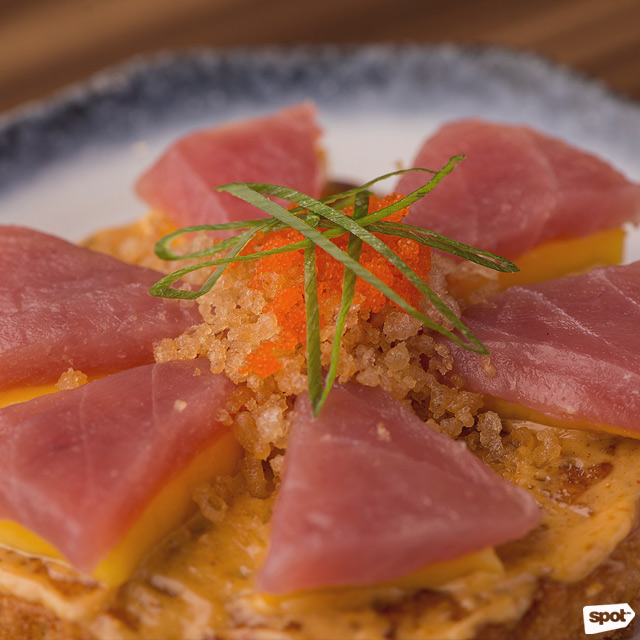 Tuna Sushi Pizza
Sushi and pizza? Sushi on pizza? Sushi as pizza? Here's where things get even more interesting. JiPan's Tuna Sushi Pizza (P312) was inspired by Stephanie's favorite dish from a sushi restaurant she frequented when she lived in Toronto. She brought this unique concept to the Philippines and it has become one of JiPan's most well-loved dishes. This sushi-pizza hybrid made of fatty slabs of tuna sashimi, mixed with avocado slices, crunchy tempura bits, and special sauce piled on top of soft and tasty fried breaded sushi rice patties is tremendously enjoyable to eat. You can choose between the regular and spicy version, or you can swap the tuna with salmon for only P330. If avocado isn't available, this will be replaced by mango.
ADVERTISEMENT - CONTINUE READING BELOW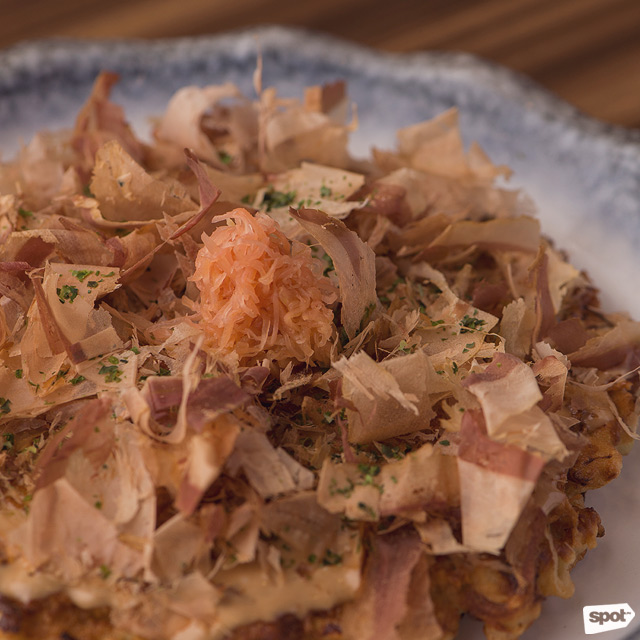 Okonomiyaki
JiPan also has a large serving of Okonomiyaki (P249)—savory Japanese pancake made with eggs and shredded cabbage, topped with tantalizing okonomiyaki sauce. JiPan's version of this colorful course is unique because it contains slices of calamari and bacon. The fluffy and delicious batter is spruced up with shaved bonito flakes, which makes this dish quite an eyeful, while the gingery and appetizing taste makes it a pleasant choice, whether for breakfast, lunch, or dinner.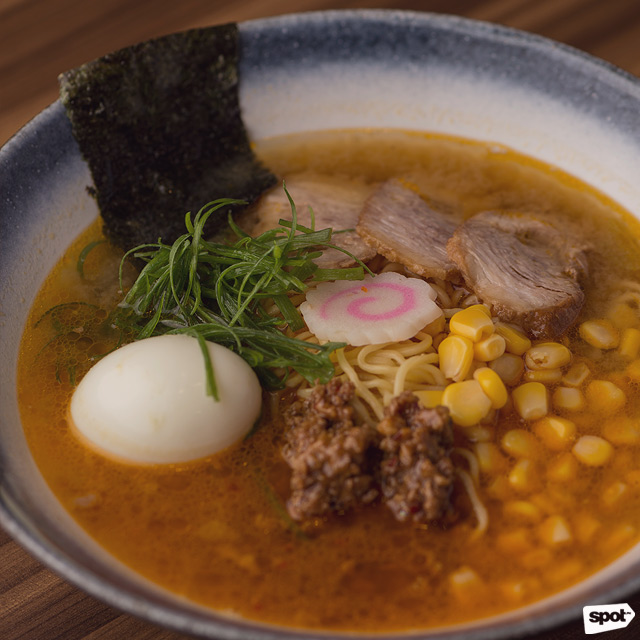 ADVERTISEMENT - CONTINUE READING BELOW
Chuukara Ramen
Take a break from the sushi and treat yourself to a huge bowl of Chuukara Ramen (P295), a cross between miso corn ramen and a tantanmen. The light and spicy broth, made with a rich beef-stock base, gives you satisfaction in every slurp, and the soft noodles are hard to resist. The Chuukara Ramen is a vibrant combination of spicy ground pork, slices of soft pork tenderloin, green onion, buttered corn, and a perfect soft-boiled egg.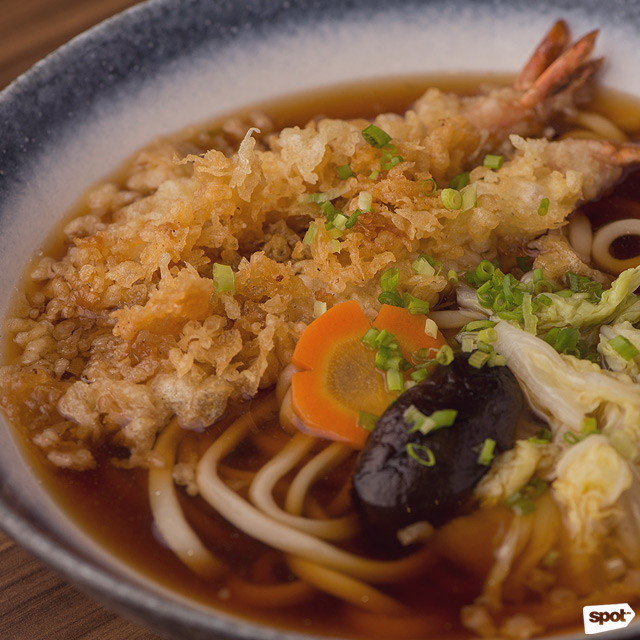 Ebi Tempura Udon
For those who like their noodles thicker, the Ebi Tempura Udon (P325) is an appetizing dish. Served hot, each bite of the fresh and thick wheat noodles and each sip of the savory-sweet broth provide comfort and pleasure. The shiitake mushrooms are a nice addition to the already overflowing bowl of goodness, and the soft and big pieces of ebi tempura make this dish even more gratifying.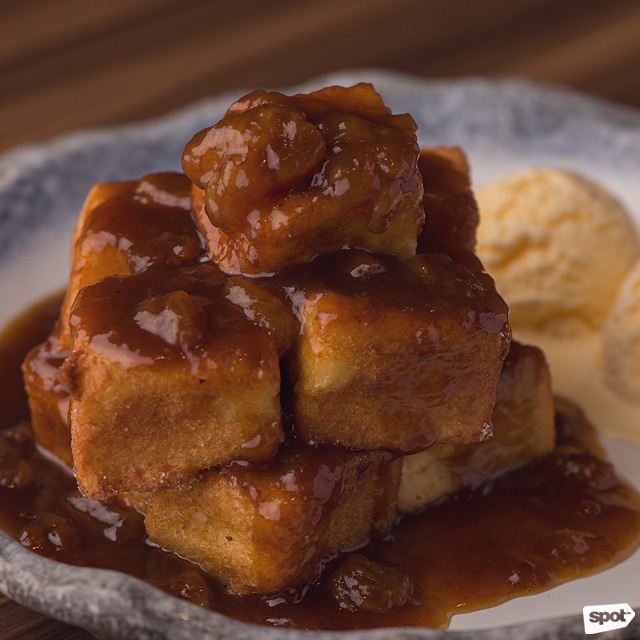 ADVERTISEMENT - CONTINUE READING BELOW
Banana Foster JiPan Perdu
If you like your bananas, then you will go bonkers for the Banana Foster JiPan Perdu (P215). Stephanie has been making this divine dessert for her family for a long time, and thankfully, she is sharing this mouthwatering masterpiece to JiPan's customers. JiPan's signature thick toast is cubed, fried, and soaked in a lip-smacking custard, and drenched in an enticing caramel banana sauce. You'll go bananas over the sauce alone, but the bread is just as heavenly.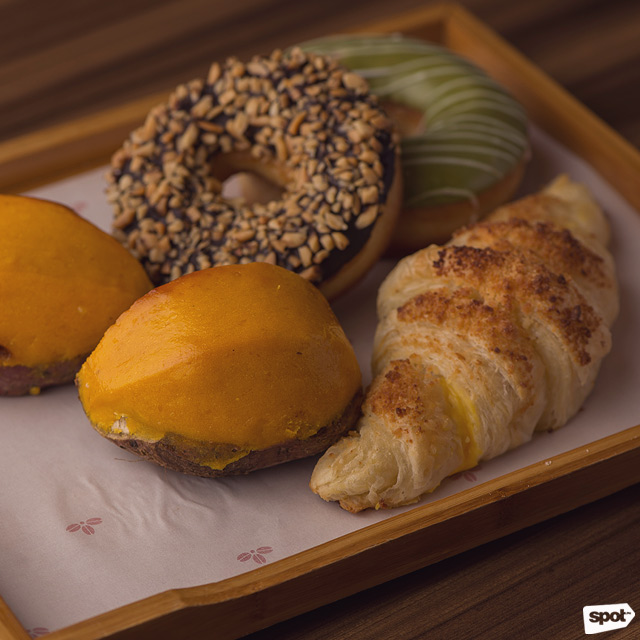 (Left to right) Sweet Potato Cake, Mochi Donuts, Salted Egg Lava Croissant
For dessert, sweet potato might not be the first thing that comes to mind, but JiPan's Sweet Potato Cake (P80) will make you do a double take. A classic JiPan creation, which Hiroko herself started back in the '90s, this nutritious snack is made of finely mashed sweet potato mixed with the delicious goodness of cream, butter, and sugar so it's turned into a rich and velvety delicacy. The Sweet Potato Cake, which is best served and eaten warm, is smooth and custard-like, which makes you feel like you're eating leche flan but healthier.
ADVERTISEMENT - CONTINUE READING BELOW
Don't miss JiPan's Mochi Donuts. These delightful desserts created by Hiroko are made of mochi flour so they're lighter, fluffier, and less oily. Choose from the many variants: Matcha Bavarian (P53), Strawberry (P32), Japanese Green Tea (P46), Choco Peanut (P36), White Choco (P32), Banana Caramel (P32), and the Jumbo Donut (P50).
As JiPan celebrates the opening of its newest branch in the UP Town Center, they are giving a 10% discount to all schools in the area. Whether you're a student or a school staff member, all you have to do is present your I.D. to take advantage of this exclusive perk. JiPan has also partnered with the Ateneo Alumni Association, so Ateneo card holders can get 10% off on bread, pastries, and more in all JiPan branches.
Stephanie says, "In Japan, when you open up a café, it's very owner-centered. Whatever the owner wants to put in the menu, he's going to put in. When I came in, I recognized the need to make it more focused. I made the menu more concise, adding dishes that would invoke more of that café feel."
Today, with Stephanie at the helm, JiPan's menu has greatly diversified, offering popular Japanese classics and more that will bring everyone a step closer to Japan without forgetting home.
Photos by Hans Fausto
Share this story with your friends!
---
Help us make Spot.ph better!
Take the short survey
Load More Stories