Persephone in Makati Gives Your Tusok-Tusok Fish Balls a Posh Twist
This colorful and creative restaurant always gives you something new from their ever-changing menu.
Persephone - A Seasonal Kitchen
120 Jupiter Street, Barangay Bel-Air, Makati City
Contact: 0917-554-3825
Open daily from 11 a.m. to 3 p.m. and 6 p.m. to 10:30 p.m.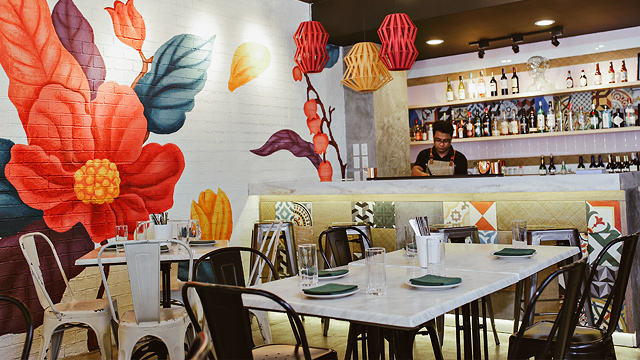 (SPOT.ph) If you know your Greek mythology, you might remember Persephone—the beautiful goddess of spring and harvest and the queen of the underworld. According to legend, her story is the reason for the shift in seasons.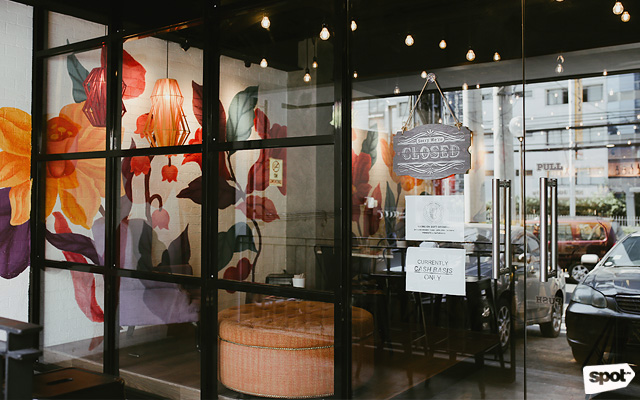 ADVERTISEMENT - CONTINUE READING BELOW
Persephone's story left such a huge impact on restaurateur Jessie Roasa that she decided to name her newest food venture after the goddess. After all, the restaurant, which is located along Jupiter Street in Makati, can be best described as a seasonal kitchen. Simply put, this means that diners can expect the menu to shift like seasons every now and then.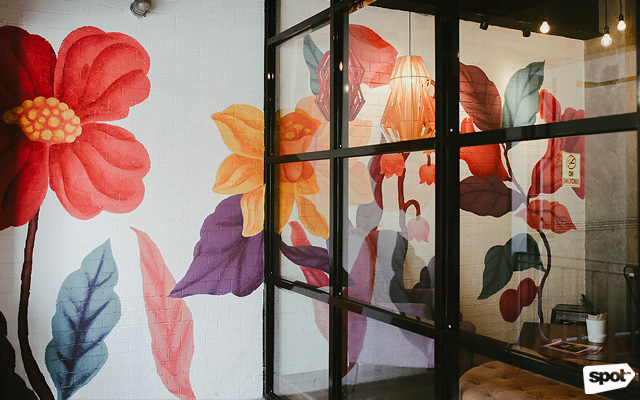 CONTINUE READING BELOW
Recommended Videos
Jessie explains, "A seasonal kitchen might sound new to a Filipino crowd, especially because we only have two seasons. But what I want to allude to is that Filipino taste changes so fast. The seasonality aspect does not only refer to the harvest or the products, but it's also dependent on the trend and what's in the market right now. It's very dependent on where everything gravitates towards, and I want to be able to glide with that. It gives me enough flexibility but also enough of a framework to be able to work with how everything's changing." With this promise of variety, visitors will always have something new and exciting to look forward to.
ADVERTISEMENT - CONTINUE READING BELOW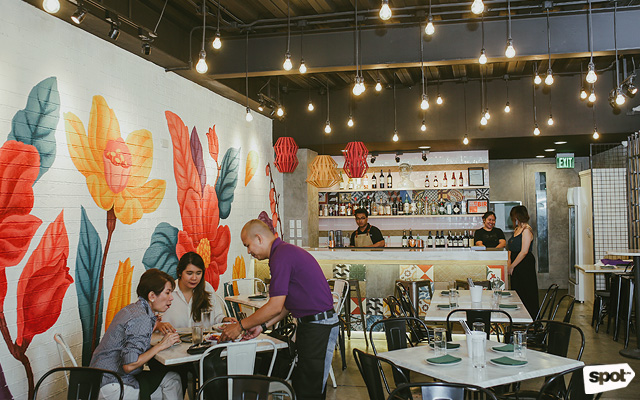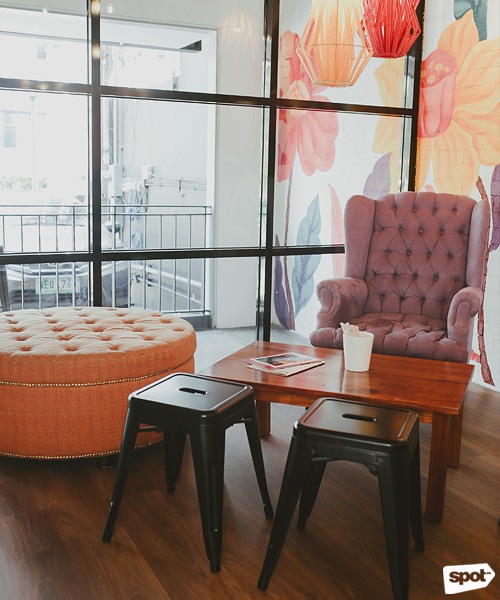 Upon entering Persephone - A Seasonal Kitchen, your first instinct would probably lead you to take a photo of the colorful floral mural, an embodiment of Persephone as the deity of spring time. This splashy wall is a precursor to what people can expect in their dining experience—one that is characterized by very vibrant and lively dishes and drinks. 
ADVERTISEMENT - CONTINUE READING BELOW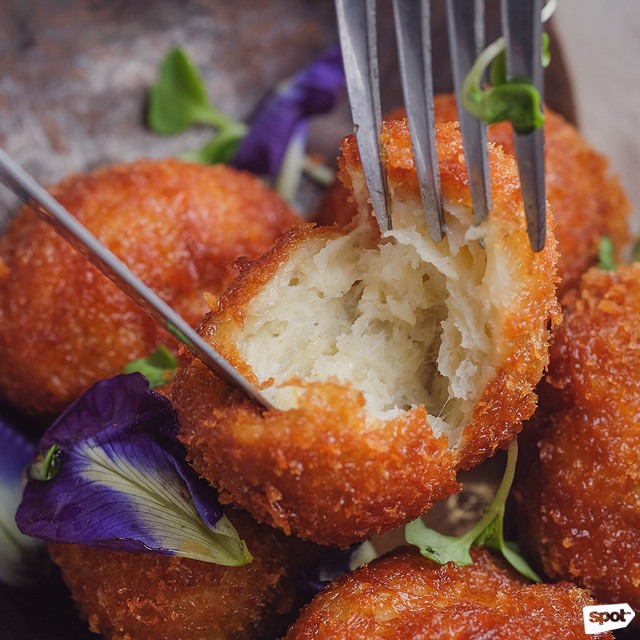 Fishballs
Their Fishballs (P185) might just be the prettiest (and most luxurious) version of the classic Filipino street food you'll ever see. These golden-brown balls are made of cream dory, squid, shrimp, and special secret herbs, and are garnished with vivid-blue, edible butterfly pea flowers. You can immediately tell its outer layer is going to be crispy just by looking at it, but it's a different world once you sink your teeth into it—each deep-fried piece is light, savory, and full of umami. Bathed in a special blend of vinegar and sweet-and-sour sauce, these aren't you ordinary, pre-packaged seafood balls. Like everything on their menu, the fish balls are fresh and made from scratch.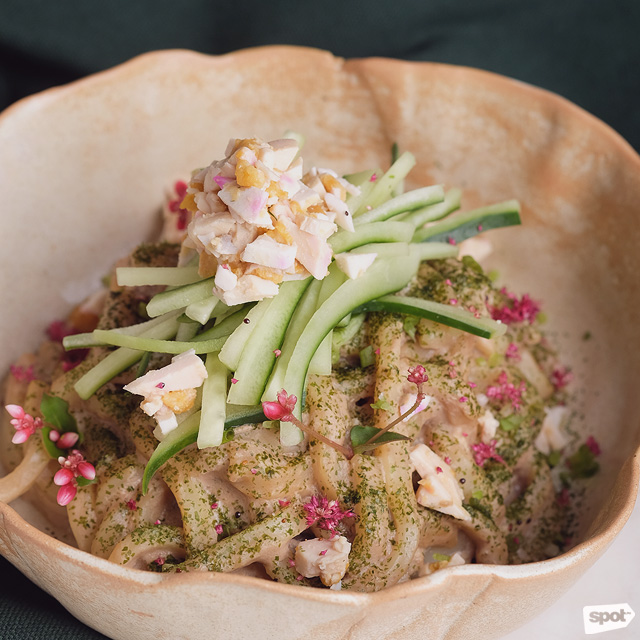 ADVERTISEMENT - CONTINUE READING BELOW
Inadobong Atay
Chances are, most people aren't big fans of liver. Jessie says she was never a big liver-eater herself, too, so when a friend suggested putting a liver dish on the menu, she was reluctant about it. Her friend, however, knew just what he was doing. He created a pasta sauce out of puréed chicken liver and added rice noodles and salted eggs, and Jessie was instantly converted. "I never used to like liver before, so how come I like it all of a sudden now?" she said, wildly astounded. True enough, even those who may dislike the taste of liver might find themselves craving it after a forkful of the Inadobong Atay (P255).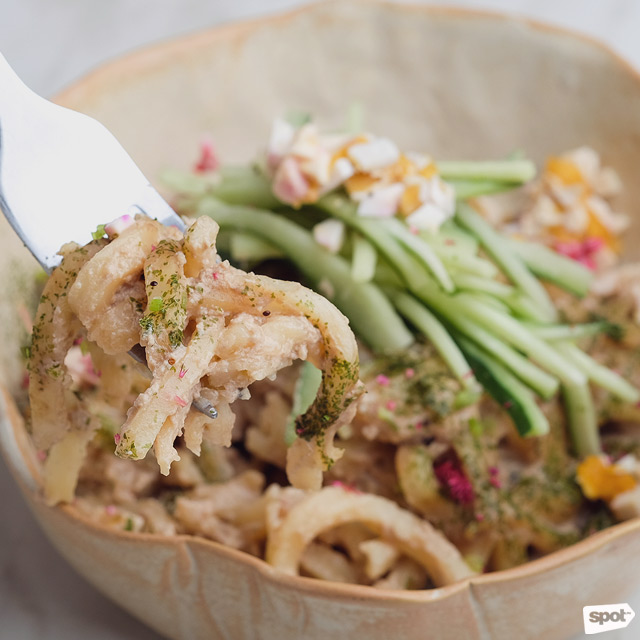 When eaten hot, the soft and thick udon swimming in a creamy, silky sea of liver sauce will turn your world upside down. The morsels of salted egg make for another nice surprise in this already surprisingly good dish, and they certainly go well with the sweet kyuri (Japanese cucumber), spring onions, and aonori (dried seaweed). The Inadobong Atay represents what the restaurant is trying to do: to make people try new things and appreciate underrated Filipino dishes and ingredients.
ADVERTISEMENT - CONTINUE READING BELOW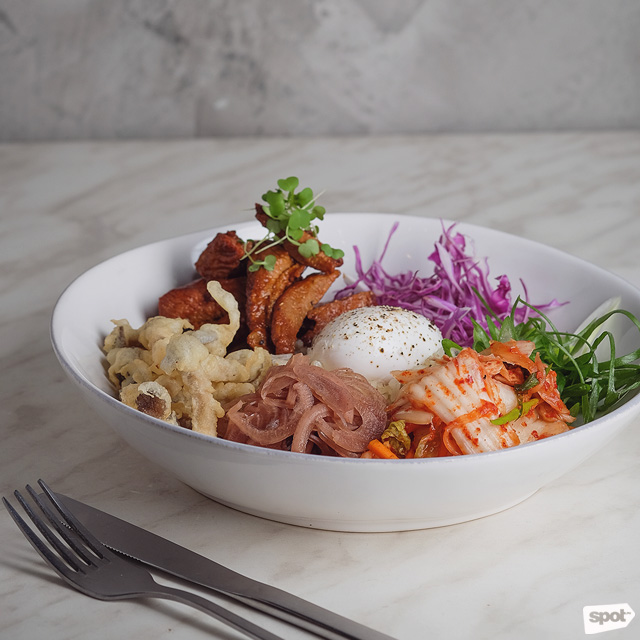 Tapsilog
Jessie loves her rice and knows many Filipinos can't live without it. We bet you haven't seen tapsilog as jazzy as this before—their Tapsilog (P310) looks a lot like Korean bibimbap, with splashes of different colors on each side, providing a beautiful contrast against its plain white bowl. If you think it looks interesting, wait until you taste the scramble of flavors in each bowl.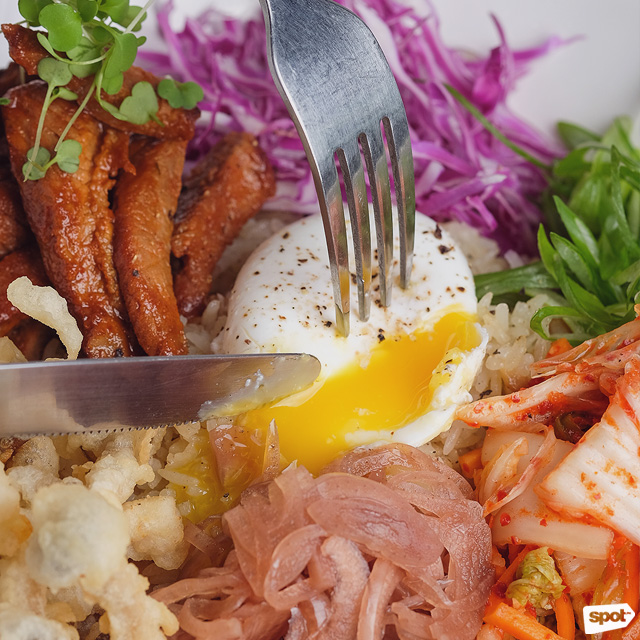 ADVERTISEMENT - CONTINUE READING BELOW
On top of the garlic-confit rice are strips of mildly spicy sirloin steak. The tender beef strips are seasoned well enough to bring out the true flavors of the meat. Meanwhile, the pickled onions lend a streak of satisfying sourness to the dish, while the crunchy kimchi gives it a touch of heat. The fresh red cabbage and leeks give this lively dish a wallop of flavor, color, and texture, too. And then there's the crisp deep-fried shimeji tempura—a balance between nutty and umami, which makes it a joy to eat. At the center of it all lies a perfectly poached egg, all the more making this dish one gooey, beautiful mess.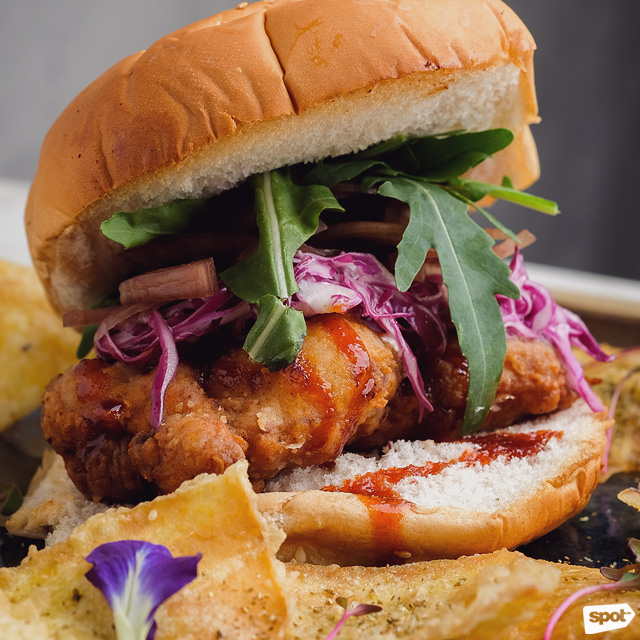 Red Burger
Like the tapsilog, the Red Burger (P285) also hits all the flavor marks. With the zing of the soft and tender fried chicken coated in sweet and spicy gochujang (Korean chili paste), the satisfying sourness of the pickled onions, the subtle sweetness of the red cabbage slaw, the peppery fresh arugula, the saltiness of the chips, and the umami-tang of the Japanese mayo, you get a tantalizing tumble of tastes in one bite. This is definitely a dish that you will never get bored with.
ADVERTISEMENT - CONTINUE READING BELOW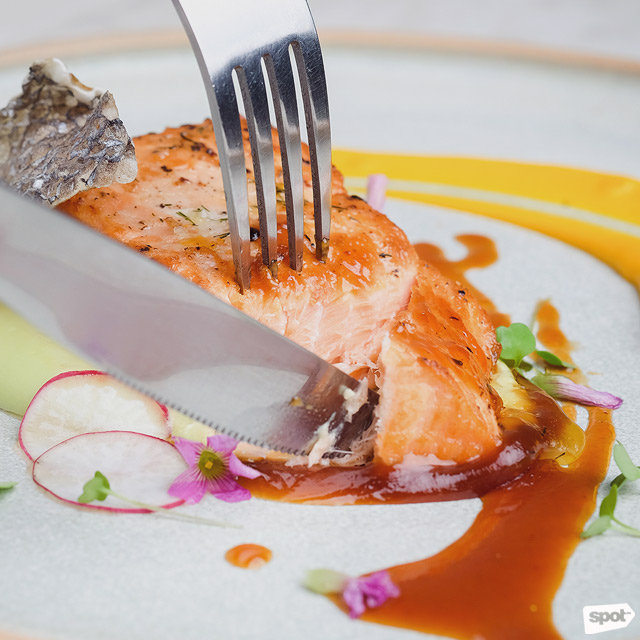 Miso Glazed Salmon
The artistically plated Miso Glazed Salmon (P420) will make you feel like you're having a fancy meal at a fine-dining restaurant. Yes, it's pretty to eat, but once you do dig in, you'll want to lick your plate clean. The fresh salmon is topped with an indulgent dill-butter dressing and is served with pickled red radish, plus a sauce made of sweet edamame and carrot purée, and miso glaze. These sauces, when eaten with the juicy, buttery salmon will excite the palate in more ways you can imagine.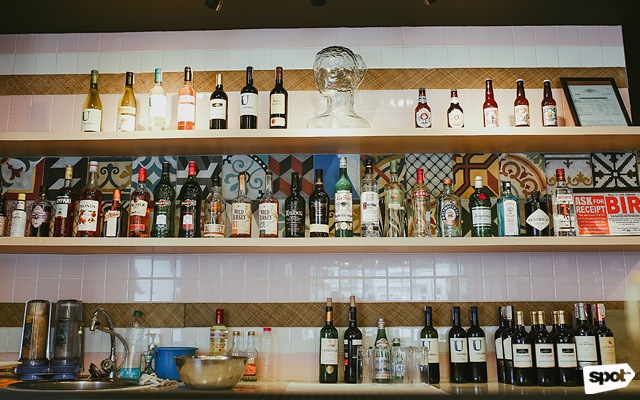 ADVERTISEMENT - CONTINUE READING BELOW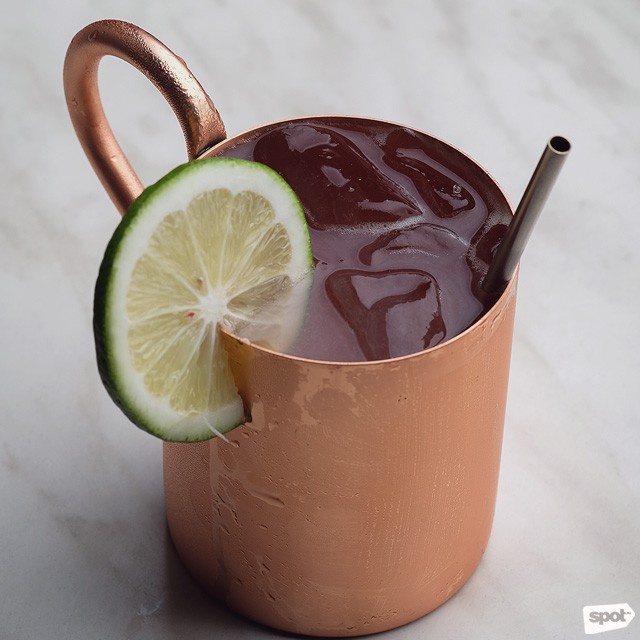 The Moscow Mule (P320), which is a mix of Smirnoff, Bickford & Sons Ginger Ale, and lime is the perfect drink to down, especially on a hot day. 
The drinks are just as spirited as the dishes. Jessie says, "Persephone is the goddess of seasons. And when it comes to her shifting from where she's living—the overworld and the underworld—that's what I like to present. We have comfort food, but we also serve drinks. But the drinks are given like introductory cocktails." She mentions that whenever she hangs out with friends, most of them turn down hard drinks. Thus, she gives their beverages a bit of a "Persephone flair" by making them sweeter to mask the strong flavors of the alcohol.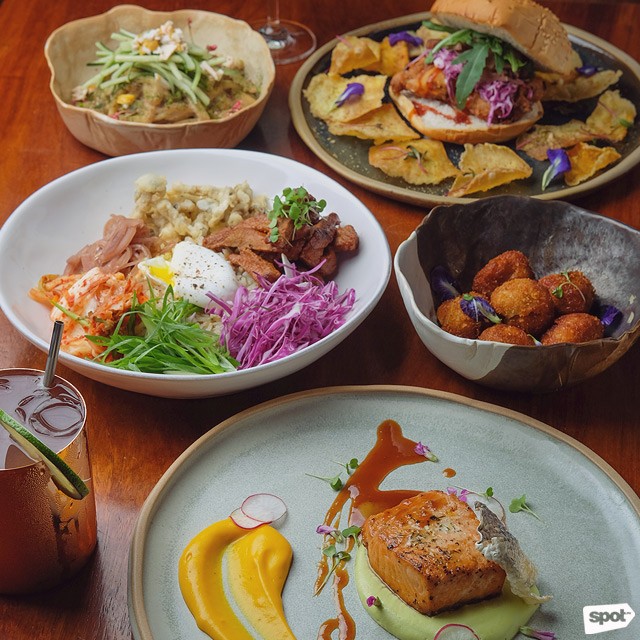 ADVERTISEMENT - CONTINUE READING BELOW
Persephone is not just a restaurant; it's a passion project. Jessie has dipped her feet in all aspects of the food industry. She has worked in various restaurants and food publications, has done restaurant marketing, and has even tried her hand at food styling and food photography. But her first love is cooking. Even as a little girl, she was always into cooking. During her junior term in Munich, she found herself cooking Filipino food for all her German friends. "I like seeing the look on people's faces when I present them with something new. I like how warm it makes people feel whenever I give them something from the heart," she says. "The menu was really made from my heart. It's very personal."
It's that commitment to dynamism that Jessie hopes would set them apart from other restaurants in the area. "There are a lot of ways that I'm very similar to other restaurants. But for me, I'm forcing myself to be dynamic. Other restaurants can take their time. For me, I want myself and also the staff to be constantly challenged. If I don't change my menu in a few months' time, then why did I open a restaurant to begin with?" Of course, what also makes Persephone stand out is its carefree and effervescent spirit. "I'm not afraid to be a little eccentric," Jessie admits. "As you can see, I'm not afraid of pink at all! Usually, most restaurants would go for more neutral or darker tones. Here, people can expect to have a colorful time!"
ADVERTISEMENT - CONTINUE READING BELOW
Whatever time of day, Persephone guarantees that you will have a ball. Just as the goddess Persephone is associated with the switching of seasons, the ambience at the restaurant also transforms from day to night. In the daytime, the bright and happy colors give the place a chill vibe, making it an ideal place for lunches with good friends. After dark, the venue looks star-lit, reminiscent of an underworld feel. It's an excellent joint to cap the day off with a cocktail or have your fill of good food before heading out to the club. With a menu that's colorful and constantly changing, Persephone will keep you marveling, wondering, and constantly guessing—which isn't a bad thing at all.
Photos by Majoy Siason
Share this story with your friends!
---
Help us make Spot.ph better!
Take the short survey
Load More Stories