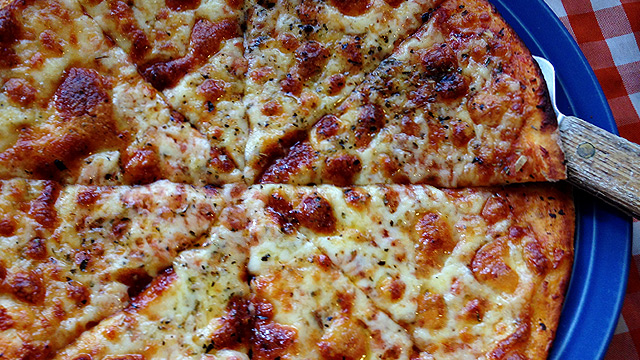 (SPOT.ph) You can get almost anything now on a pizza—from the divisive pineapple to more out-of-the-box toppings like sisig, crab sticks, and even blueberries. Still, nothing beats the good ol' classic cheese pizza. Just because it's simple and straightforward doesn't mean it isn't wonderful—especially when you get all the qualities down pat.
For this list, we dig in the gooiest, cheesiest pizzas in the Metro that use a blend of three kinds of cheese or more. These pizzas were ranked based on the quality of their crust, the cheese-to-crust ratio, and their overall flavor.
All SPOT.ph Top 10 lists are researched, paid for, tested, and selected by the writers and editors. They are discreetly conducted without any notice made to the restaurant owners.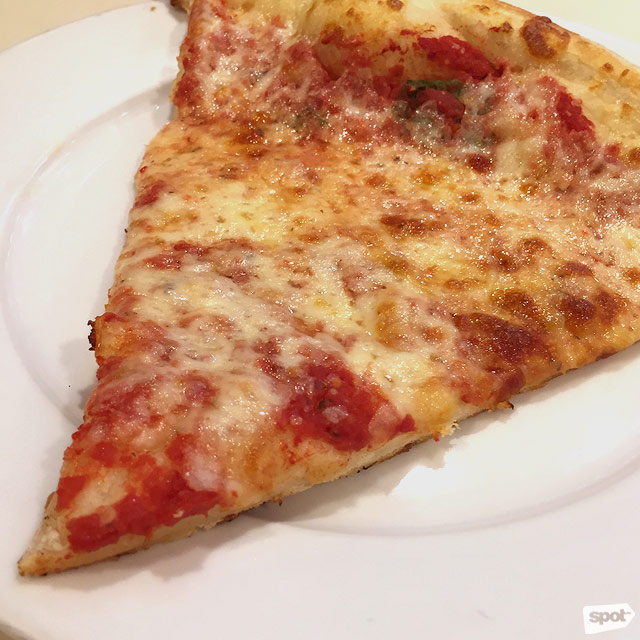 ADVERTISEMENT - CONTINUE READING BELOW
10. Sbarro's New York Style Cheese (P79/slice, P395/whole)
For a quick and affordable fix, Sbarro's New York Style Cheese satisfies. The crust may lean towards bread-like, and it might not be the cheesiest of the bunch, but there is enough cheese to make a slice gooey and comforting. It also helps that the tang of the tomato sauce shines through, which adds a nice contrast to the cheese's milky flavor.
See a list of Sbarro branches.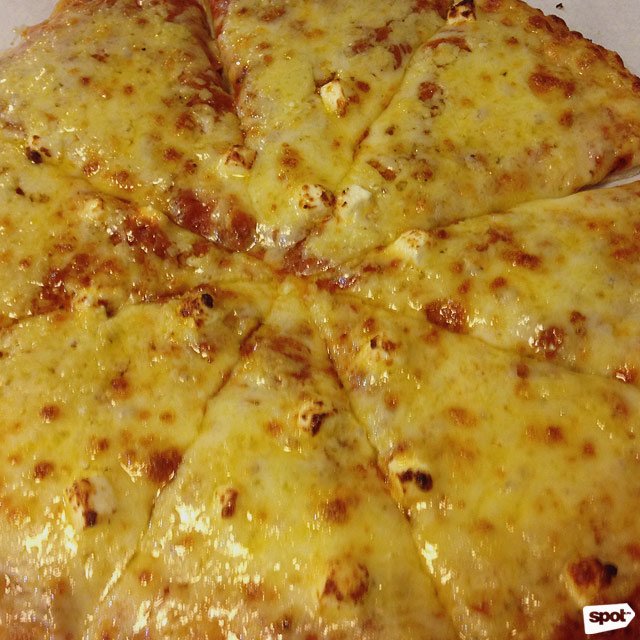 9. Yellow Cab's #4 Cheese (P335/regular, P535/large, P795/XL)
Whether you're throwing a house party or just hit by intense midnight cravings for cheese pizza, Yellow Cab is there for you. Their #4 Cheese needs no introduction. Who hasn't had a taste of that thin crust, charred in all the right places, plus a perfect blend of zesty tomato sauce and creamy mozzarella, cheddar, and romano, with crumbly, mild feta to top it all off?
ADVERTISEMENT - CONTINUE READING BELOW
Recommended Videos
See a list of Yellow Cab branches.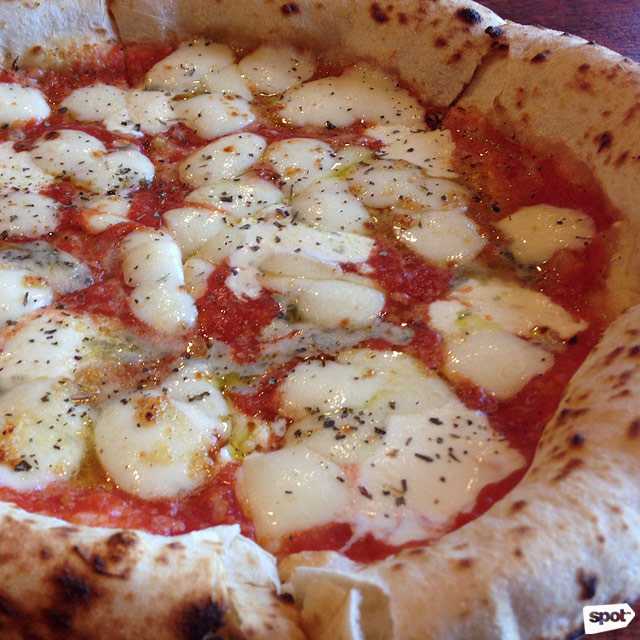 8. Four Cheese at Gino's Brick Oven Pizza (P375)
Gino's Four Cheese uses a blend of mozzarella, parmesan, blue cheese, and ricotta—in short, lots of cheese that packs intense flavors. The taste could get a bit too sharp if you're used to milder types of cheese, but there is enough tang from the tomato sauce and smokiness from the thin brick oven-baked crust to keep things from getting too overwhelming for your palate.
See a list of Gino's Brick Oven Pizza branches.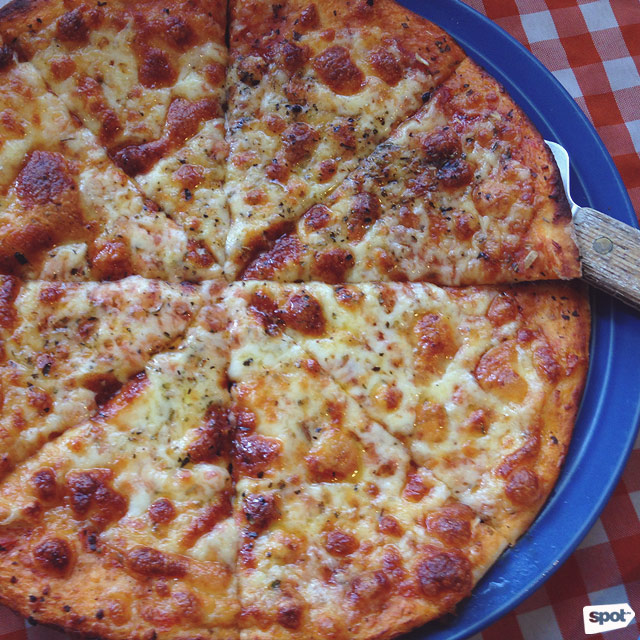 ADVERTISEMENT - CONTINUE READING BELOW
7. Friuli Trattoria's Tre Formaggi (P200)
This small pizza and pasta parlor in Teachers Village has since branched out to UP Town Center, and one reason for their success is their best-selling Tre Formaggi. Be sure to have this fresh and warm from the oven so you can appreciate the bubbles of melted mozzarella and cheddar on a crisp thin crust. Friuli uses blue cheese with restraint so you won't have any problems with umay, but you'll still get that sharp flavor you can't help but chase after with each bite. 
Friuli Trattoria is at 79-A Maginhawa Street, Teachers Village, Quezon City; and 2/F UP Town Center, Katipunan Avenue, Quezon City.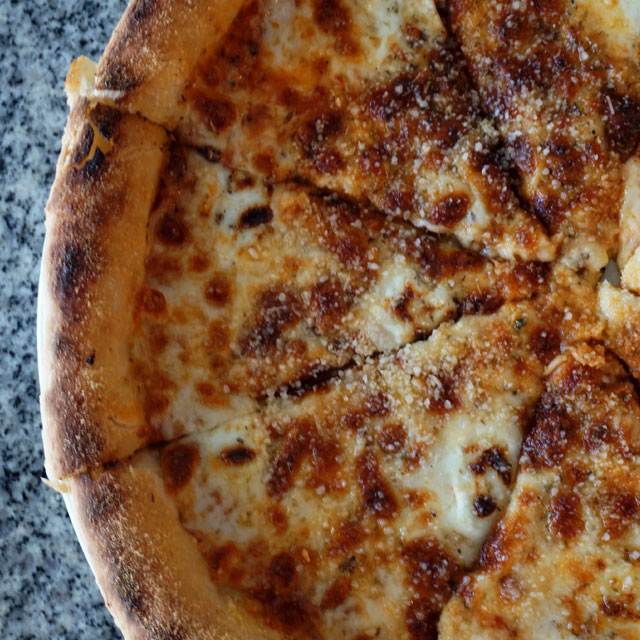 6. Joey Pepperoni Pizzeria's Four Cheese (P180/eight inches, P370/12 inches)
When it comes to New York-style cheese pizza, it looks like Joey Pepperoni has mastered the formula: A blend of mozzarella, white cheese, parmesan, and cheddar work together to create a beautiful cheesy mess that brings comfort to every bite. Their thin crust has the right chewy texture and a hint of char, too. A thin layer of tomato sauce complements rather than distracts from the cheesiness, adding just the right amount of sweet-sour flavor to keep the rich flavors from getting too overpowering.
ADVERTISEMENT - CONTINUE READING BELOW
See a list of Joey Pepperoni Pizzeria branches.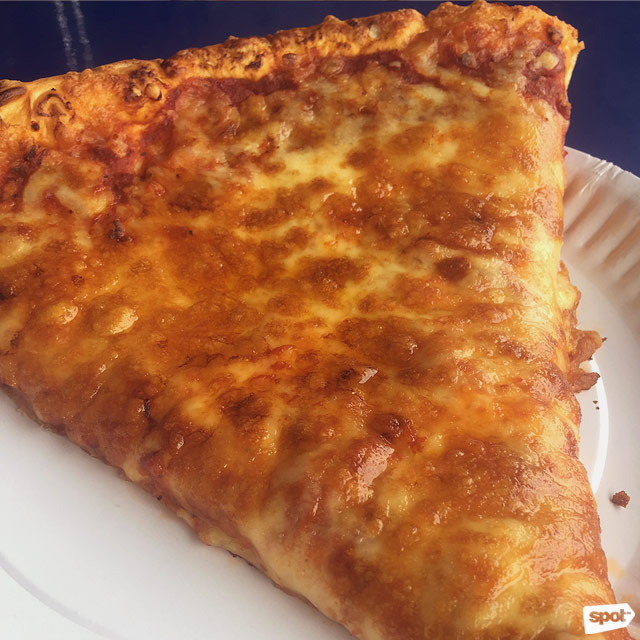 5. S&R Membership Shopping's Cheese (P99/slice, P569/whole)
There's a reason why this cheese pizza drives many to apply for a membership card at S&R, pushing the grocery to open several standalone pizza parlors in the Metro. The crust is perfectly chewy and holds against the thick layer of melted cheese, with just the right balance of acidity from the tomato sauce. Yes we know, "comfort food" is a term that's overused now, but there really is no better way to describe this pizza as the ultimate comfort food—the pizza that'll bring a smile to your face because it's simple but oh so good. Plus, their slices are huge—easily shareable between two.
See a list of S&R Membership Shopping branches.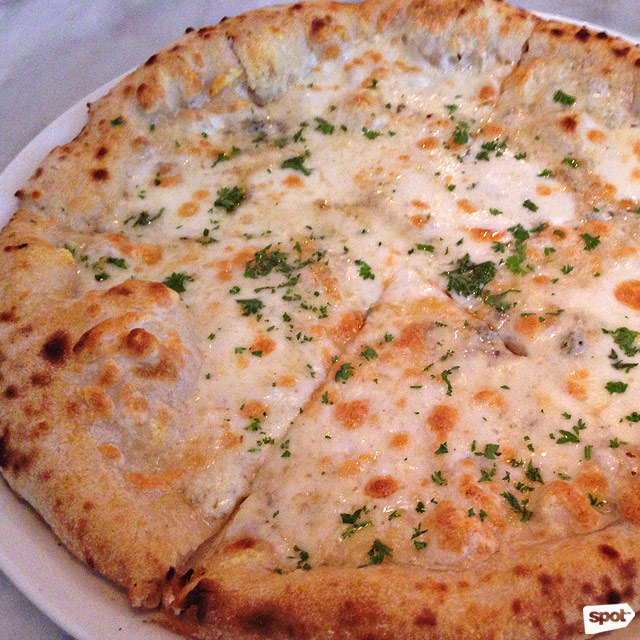 ADVERTISEMENT - CONTINUE READING BELOW
4. Motorino Pizza's Quattro Formaggi (P675)
At almost P700, Motorino's Quattro Formaggi is a splurge, but it's one that's well worth it. What'll hit you from the first bite is its intense umami flavor, a rich earthiness that might make you think of mushrooms. It doesn't have those—but what it does have is a tasty blend of fior di latte, pecorino, gorgonzola, and provolone. But even the best cheeses won't matter if the crust isn't excellent—and Motorino delivers on that with a crust that's perfectly baked with a balance of chewiness and a nice toasty char.
Motorino Pizza is at 3/F Greenbelt 3, Makati City; and Unit A, G/F Net Park Building, 5th Avenue, Bonifacio Global City.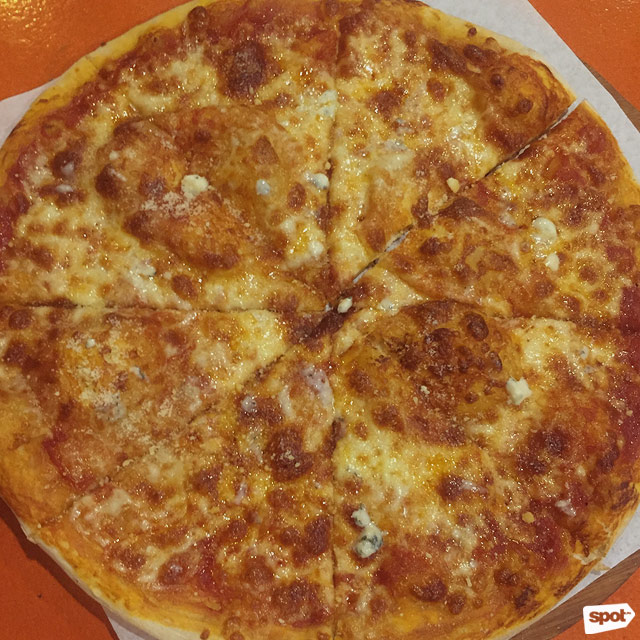 3. Four Cheese at Stephen's Brick Oven Pizza (P320)
Stephen's Brick Oven Pizza branches are known for being a little hard to find, but the best things do require some effort. You won't even mind the hunt once you have their Four Cheese, which has that perfect cheese-to-crust ratio, one never overpowering the other. This pizza has a crust that's crisp but also chewy, with sharp blue cheese and nutty fontina spicing up the classic mozzarella and parmesan. What's even more incredible is how light this is—you might end up finishing a whole pie before you know it.
ADVERTISEMENT - CONTINUE READING BELOW
Stephen's Brick Oven Pizza is at West Capitol Drive, Kapitolyo, Pasig City; 
170 Food Hub, BF Homes, Parañaque City; and Total Gas Station, Ortigas Avenue, Greenhills, San Juan City.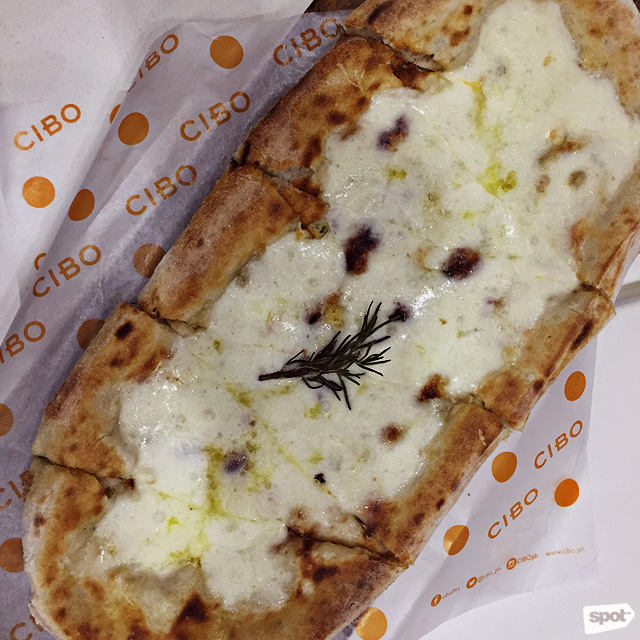 2. Cibo's Cinque Formaggi (P395)
A little Italian lesson: Cinque means "five" and formaggi means "cheese," so yes, you do get a whopping five varieties of cheese on this pizza. The result is, of course, incredibly decadent: The kind that'll give you that satisfying cheesy pull as you lift up each slice of this oval-shaped pizza. Of course, the danger of using so many types of cheese—specifically a blend of mozzarella, gorgonzola, parmesan, Gruyère, and bel paese—is that your palate could get overwhelmed by all that savory flavor. But that just isn't the case with the Cinque Formaggi. The crust helps—chewy, slightly smoky, and with a hint of saltiness that gives that kick you need to keep on munching.
ADVERTISEMENT - CONTINUE READING BELOW
See a list of Cibo branches.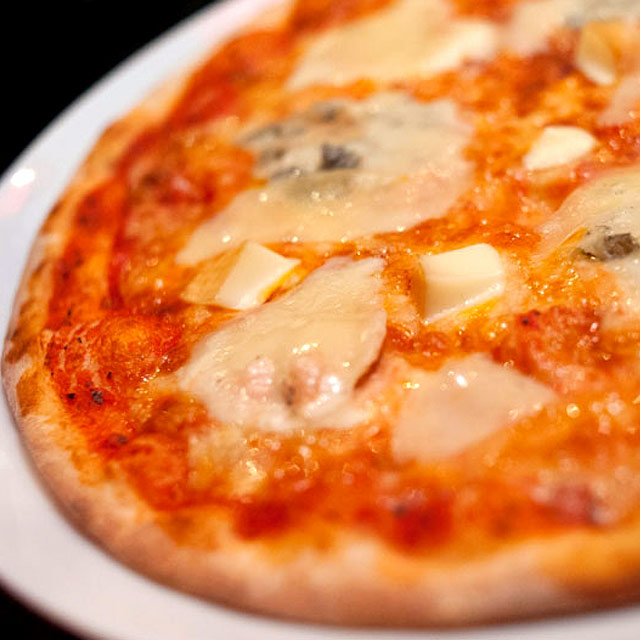 1. Peperoni Pizzeria's Quatro Formaggi (P380/nine inches, P525/12 inches, P1,150/21 inches)
You could have all kinds of checklists for what makes the best cheese pizza, but sometimes, all it takes is one bite to know you've found the one. And Peperoni Pizzeria's Quatro Formaggi is the one. Start with the crust: Thin enough so you don't just get a mouthful of dough but also sturdy enough to hold its own against more flavorful toppings. What makes this Quatro Formaggi stand out is a mild fruitiness from Taleggio cheese—not exactly sweet, but with this pleasant tang that complements the saltier gorgonzola and the creamier mozzarella. Chewy scamorza also adds a hint of sharpness—just enough flavor to make having this pizza an unforgettable experience.
See a list of Peperoni Pizzeria branches.
For other Top 10 lists, check out SPOT.ph's Top 10 Everything Food Lists 3rd Edition. Co-presented with C2 Cool and Clean, it's priced at P195, available at major bookstores.
ADVERTISEMENT - CONTINUE READING BELOW
Share this story with your friends!
---
Help us make Spot.ph better!
Take the short survey
Load More Stories