This Restaurant's Fried Chicken Steak Is the Steak You Never Knew You Wanted
Plus ribs, wings, and more.
El Heneral Ribs and Wings Co.
37-38 Mayaman Street, Teachers Village, Quezon City
Contact: 0917-880-5953
Open from 12 p.m. to 10 p.m. (Tuesday to Sunday)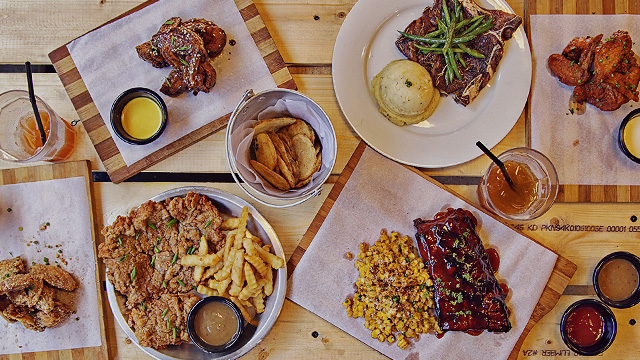 (SPOT.ph) Admit it: Drinking with friends usually results in, well, drunkenness, possibly rowdy behavior, a lot of griping about life, work, and maybe even some serious heart-to-heart conversations if the drinks are really flowing. For Chef Anthony "Ton" Marmol and his buddies, drinking sessions turn into more than just a way to unwind and unload; one session in particular also gave birth to a business idea. This group of friends all have different professional backgrounds—you'll find an engineer, a marketing executive, and a pilot in the mix—but their love for food is ultimately what led them to come up with a restaurant concept, and it's just as well that Chef Ton specializes in American cuisine.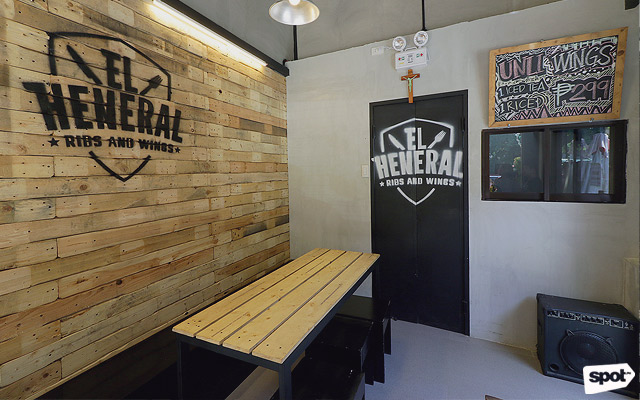 ADVERTISEMENT - CONTINUE READING BELOW
Thus, El Heneral Ribs and Wings Co. was born. They opened their doors on June 5, 2016 in Marikina, and just a couple of weeks ago, they opened their second branch along Mayaman Street in Quezon City, carving out their own little dining destination away from the crowd-rich Maginhawa Street. The restaurant occupies 20 square meters, which seats only 14 diners. But don't be disheartened if you swing by and find the place full; seats are also available outside, which are open to clients of the building's tenants. During the night, the neighboring car wash retires, allowing them to put out more tables.
CONTINUE READING BELOW
Recommended Videos
Co-owner Kyle Villa-Ignacio jokes around and says that they started the business "Para maging proud naman ang mga magulang namin sa 'min." One imagines that the pressure might be real, with their parents mostly being military generals and veterans (their pictures adorn the walls of the Marikina branch and may even show up in the Quezon City branch soon). El Heneral is a respectful salute to their parents' work, which is why the name and the names of the menu items all contain some reference to military terms.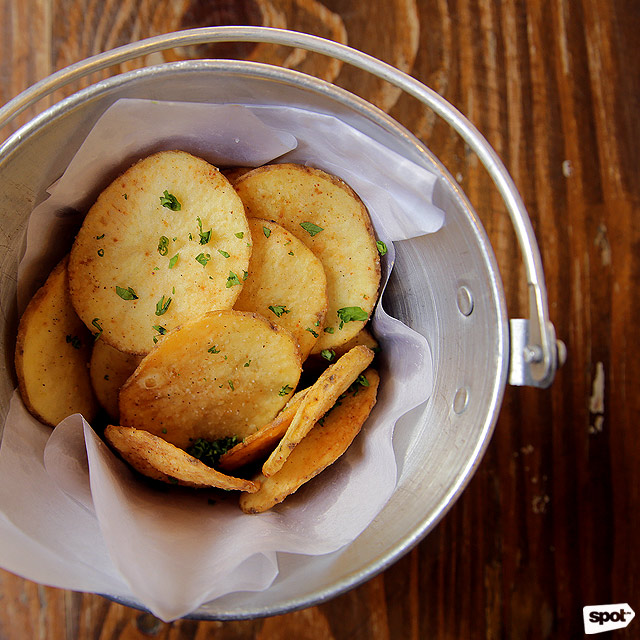 ADVERTISEMENT - CONTINUE READING BELOW
GI Mojos
If you're looking for something to munch on before your main meal, they have starters like the crunchy Cadet Onion Rings (P190). But you might also want to look out for a new item called the GI Mojos (P170), which features crisp slices of potato (Chef Ton wouldn't say how and why the mojos aren't greasy at all, smiling and shrugging like it's a trade secret) served with ketchup and signature gravy, though you can also opt for their other dips, like the Garlic Aioli (P40) and Mayo Jalapeño (P35).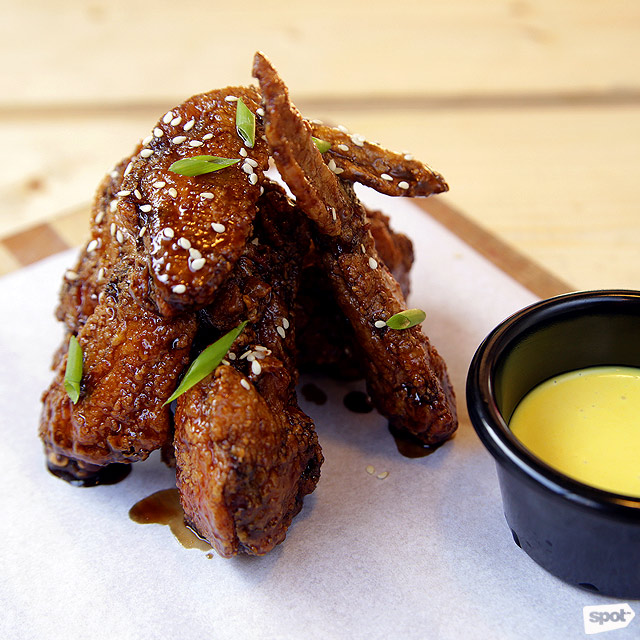 Alpha Soy Glazed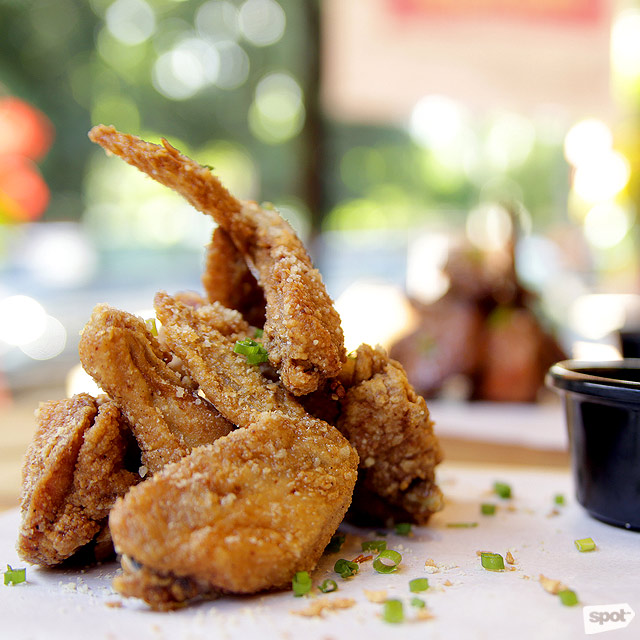 ADVERTISEMENT - CONTINUE READING BELOW
Bravo Garlic Lime Parmesan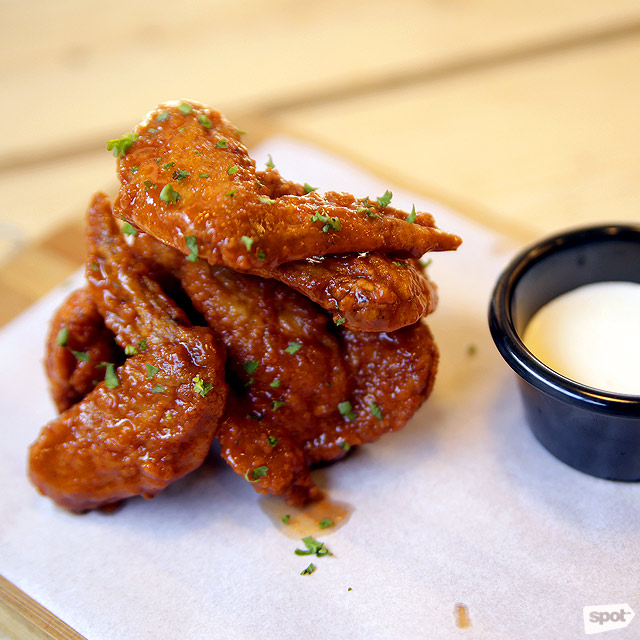 Charlie Buffalo
From four varieties of wings flavors, El Heneral now has eight kinds, each bearing a name that begins with a letter of the phonetic alphabet used by the military. Every variety has its own character, but each one features a satisfyingly crackling crisp exterior. The Alpha Soy Glazed is drenched—in a good way—in a soy sauce-based glaze and dusted with sesame seeds for a subtle dash of nutty flavor and texture. The Bravo Garlic Lime Parmesan rolls together its three key ingredients to create a bold taste that seeps through to the meat. But probably the hottest of the bunch is the Charlie Buffalo, which is your classic buffalo wings served with a rich blue cheese dip, plus you can adjust the heat level according to your preference. The Echo Cilantro Garlic is sprinkled with fresh cilantro, giving it an unusual and refreshing twist, while the Hotel Texas Rub is crusted with a homemade rub laced with cumin. It might be a little scary for those who would find the spice pungent, but for the more adventurous, it is an interesting, succulent treat. For only P168, customers can get six wings an order while P275 will give you 10.
ADVERTISEMENT - CONTINUE READING BELOW
Other flavors include the savory Foxtrot Cheesy Bacon and Golf Cheetos Jalapeño, a personal favorite of Chef Ton, which is coated with—you guessed it—Cheetos Jalapeño. He shares that a bag of Cheetos in the kitchen is in peril from him, because he might end up scarfing it down before the wings get made. If you can't get enough of their wings, you can go for their unlimited wings offer for P299 from Tuesday to Saturday, which gets you two wing flavors, a glass of iced tea, and a single serving of rice.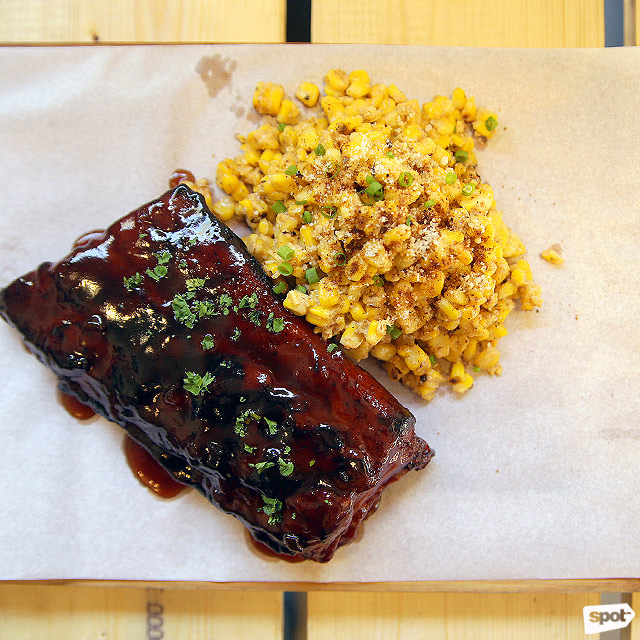 4-Star General Ribs with Mexican Corn
On the other hand, a meaty favorite is the good-to-share 4-Star General Ribs with Mexican Corn (P449). Chef Ton shares that his ribs get a thorough rubdown with spices, cooked in an oven for up to an hour to make sure the flavors settle into the pork, grilled straight after to keep it juicy, and then liberally brushed with barbecue sauce. What you get is a rack of ribs with meat that just slides off with every forkful.
ADVERTISEMENT - CONTINUE READING BELOW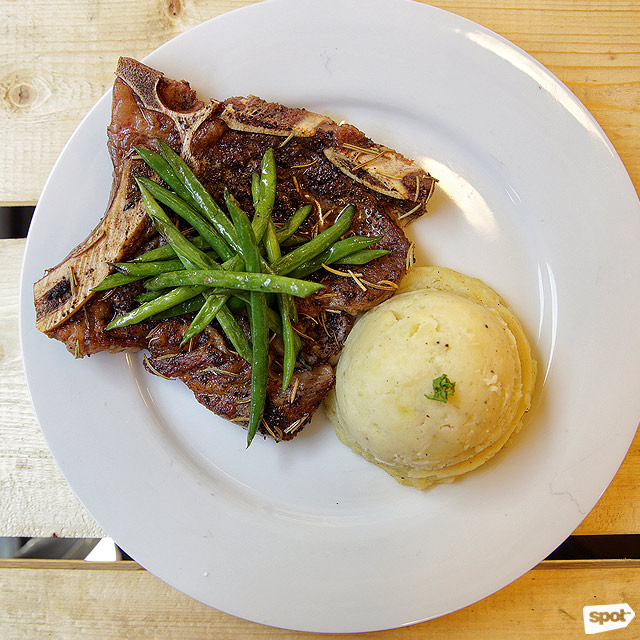 Admiral Steak
Another dish that's worth a taste is the Admiral Steak (P599/330 grams, P458/250 grams), a hefty slab grilled to perfection—and with just enough rich fat lining on the edges—served with mashed potatoes and green beans.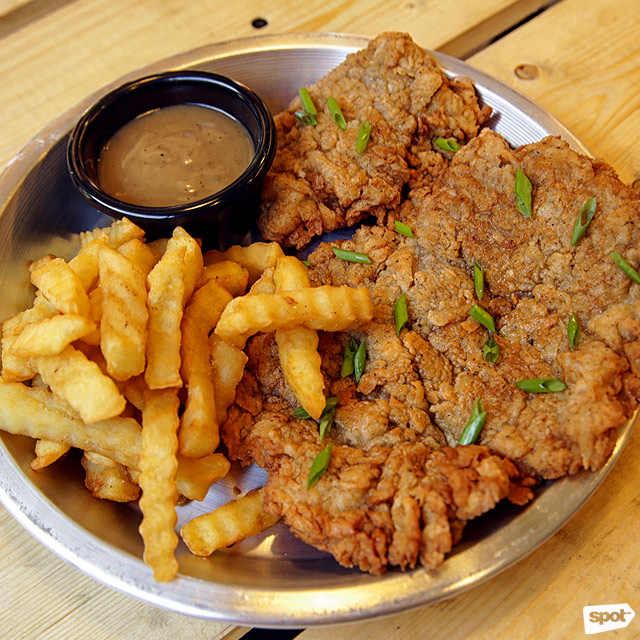 Jeff the Hero
One of their upcoming offerings is a dish called Jeff the Hero (P285), a tender, fried chicken steak served with potato wedges. This dish has a sentimental value for the El Heneral group as it's named after their friend Marine 1st Lt. John Frederick "Jeff" Savellano, who led the troop that recovered P80 million worth of cash and checks from the Maute Group in Marawi City and subsequently perished in a 14-hour firefight with the terrorist group. It's their way of honoring their friend and basketball teammate (in a basketball team aptly named The Generals) who they say was a huge eater and was even packing on some extra pounds prior to joining the Marines. Ten percent of the proceeds from every order of Jeff the Hero will be funneled to a foundation that will directly benefit the soldiers in Marawi and their families. "Busog ka na, nakatulong ka pa," says Kyle. 
ADVERTISEMENT - CONTINUE READING BELOW
Meanwhile, you can avail a 15% discount on your meal if you're part or were part of the military. All you need to do is present your military or veteran's ID to their staff. With its continuing success, a possible expansion to the South, and the promise of more good food to come, El Heneral definitely shows that even simple "usapang lasing" can turn into reality and can even become something worthwhile.
Photos by TJ Tantiangco

Share this story with your friends!
---
Help us make Spot.ph better!
Take the short survey
Load More Stories