YDG Coffee
Mandala Park, Shaw Boulevard, Mandaluyong City
Contact: 0917-550-7207
Open daily from 8 a.m. to 10 p.m.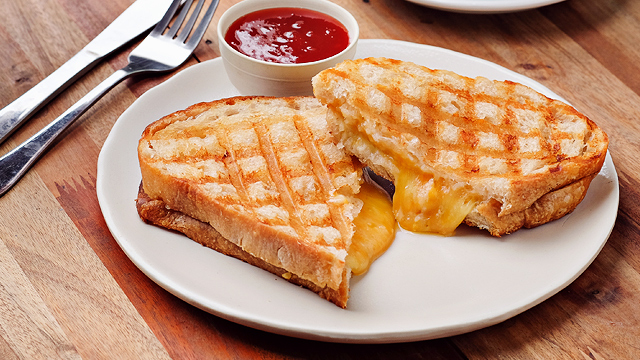 (SPOT.ph) YDG Coffee stands for "Your Daily Grind" and it lives up to its name: They grind their coffee fresh every day, while trying to be the café where you can bring your daily grind. In fact, students studying and people working on their laptops are a common sight here.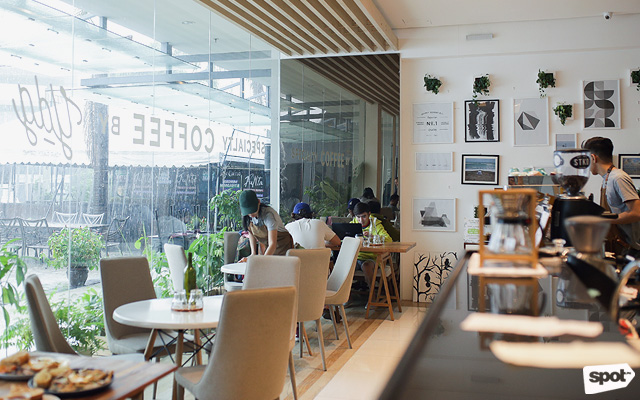 ADVERTISEMENT - CONTINUE READING BELOW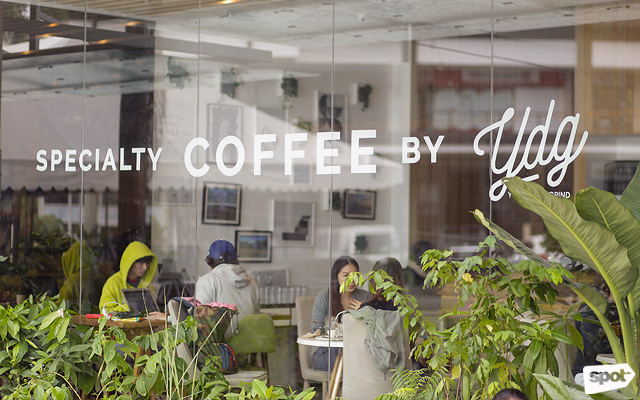 YDG Coffee wants to keep it real—from their food to their laid-back, spacious, and cheerful interiors, which invite people to relax and maybe even do some work away from their cramped office cubicles (yes, they have WiFi!). But you'll be surprised to know that this newly opened branch at Mandala Park only used to be a showroom. Co-owner Alex Falcon says, "We try not to be pretentious in terms of the look. We want it to look homey, comfortable, and bright, so it's welcoming to people who just want to work, meet, hang out, dine, or get takeout."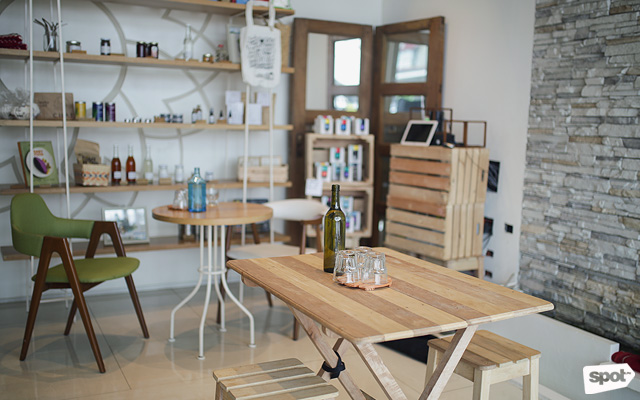 Marco Tarog quit his job in one of the country's most prestigious banks to pursue his passion for coffee. Before opening their first branch in Makati, he went to La Union to learn the ropes of coffee-making at El Union Coffee. Along with partners and co-owners Alex, Sidrick Cabatingan, and Chef Diego de Rivera, they teamed up with Plain Sight Coffee, a roasting company run by Carlos Jesena and Sean Lee, which imports coffee locally and internationally. This group of cool 20-somethings come from completely different backgrounds, but their passion for coffee united them to create a café where people can work and play.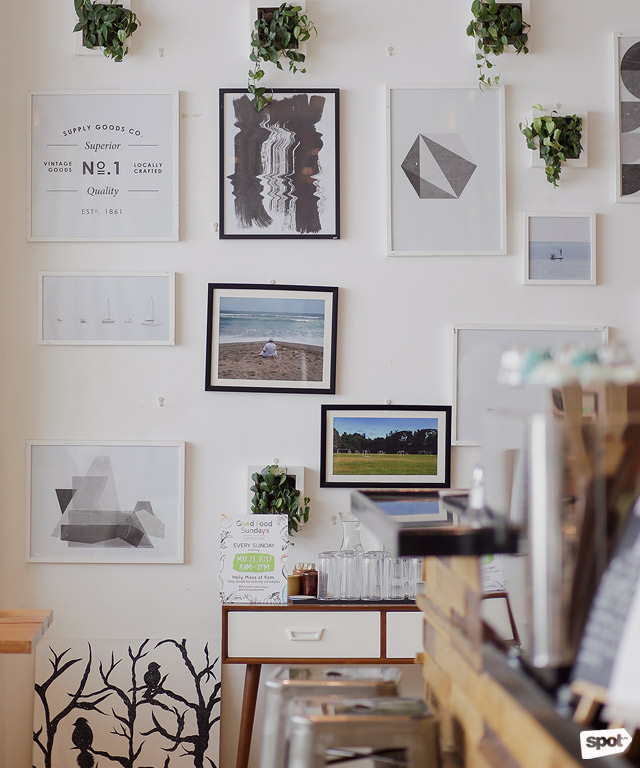 With the café's classic wooden furniture and bar counter, monochrome photographs hanging on a white wall, and natural light shining through the café's floor-to-ceiling glass windows, it's easy to see why customers love to linger. But what's even more admirable is how YDG Coffee also practices environmental sustainability in their own little way. "We try to use repurposed wood. We try to be a zero-waste location and our café is actually running on solar power. We're trying a new type of structure where everything is renewable and recycled," adds Alex.
ADVERTISEMENT - CONTINUE READING BELOW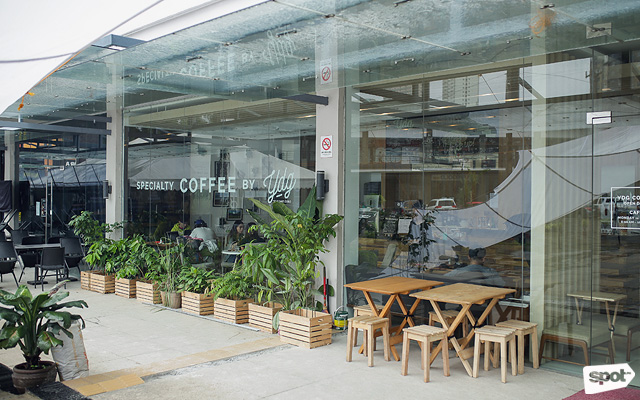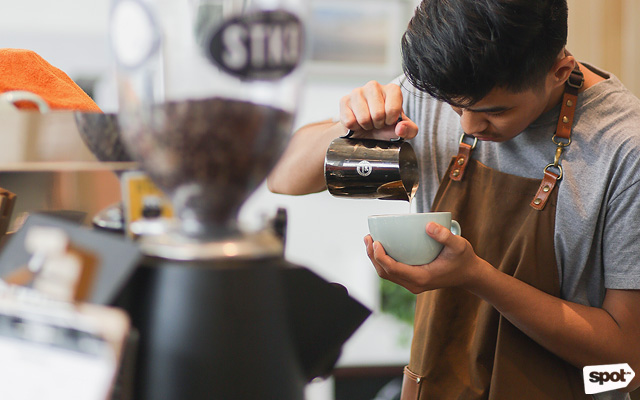 Aside from seeing the very hands-on owners taking orders and attending to guests' needs, customers can take a peek at the friendly baristas and cooks to see what they're whipping up behind the bar. According to Marco, this was all intentional.
Alex notes, "By having the baristas in front, we get to educate customers on how coffee is made or where the beans come from. At least they see what our ingredients are. They will see that everything is made fresh." With the glorious aroma of the dishes wafting through the air, curious customers are lured to check out what's cooking behind the counter.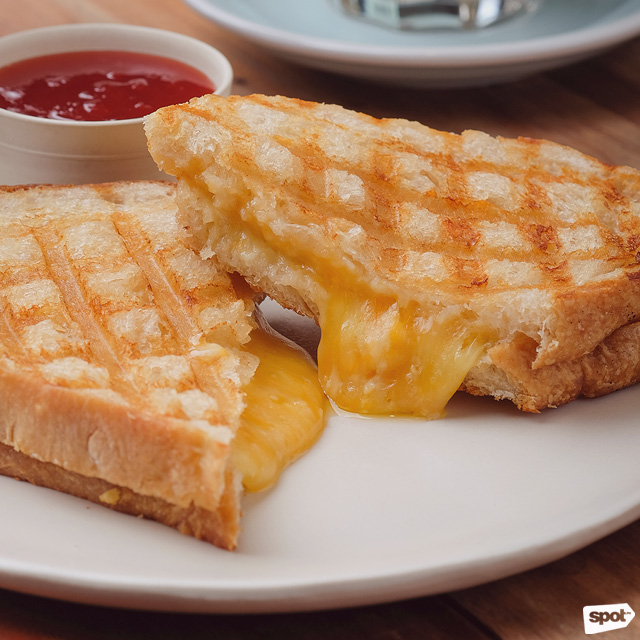 Grilled Cheese Sandwich
The Grilled Cheese Sandwich (P179) could be the best embodiment of the café: Simple, unostentatious, and surprisingly remarkable. YDG Coffee turns this classic snack into a culinary specialty with its blend of three tasty cheeses oozing out in between slices of perfectly toasted (and buttered) sourdough bread, which are golden on the outside and soft on the inside. The sourdough is made by 28 Derby, owned by Migs Santiago, who used to run the Barista Box, a coffee shop-on-wheels that served coffee inside Ateneo.
ADVERTISEMENT - CONTINUE READING BELOW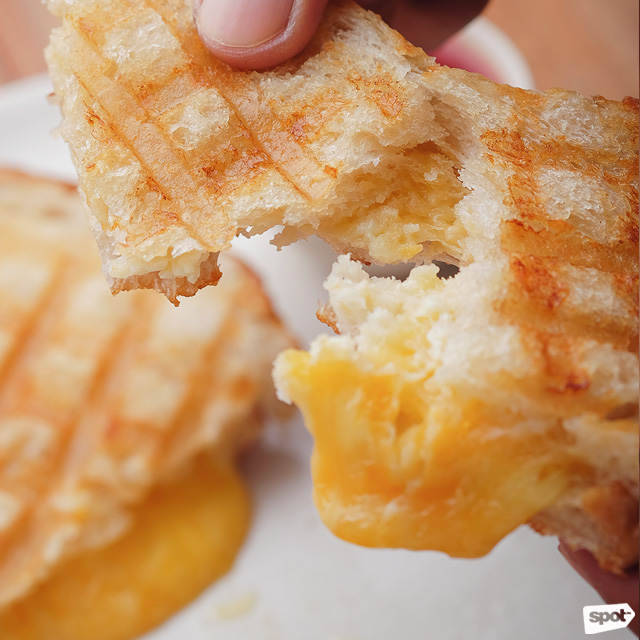 If you want to add a tinge of sweetness and a little more thrill into the dish, dip each morsel in their homemade tomato jam. Grilled cheese sandwiches are usually served with tomato soup, but Chef Diego wanted to put their own twist on it by adding honey to the jam.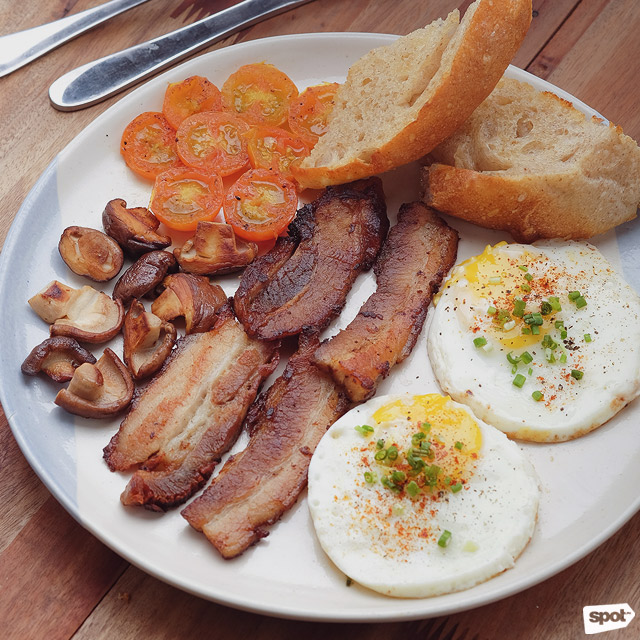 Breakfast Platter
The Breakfast Platter (P249) is a complete meal that can last you through the day. It's made up of two sunny-side-up eggs, toasted bread, juicy sautéed cherry tomatoes, pan-fried mushrooms, and generous portions of smoky, thick-cut bacon marinated in mustard and cured with coffee. If you need that extra boost, drop by between 8 a.m. and 12 p.m. to get a free cup of their handcrafted coffee.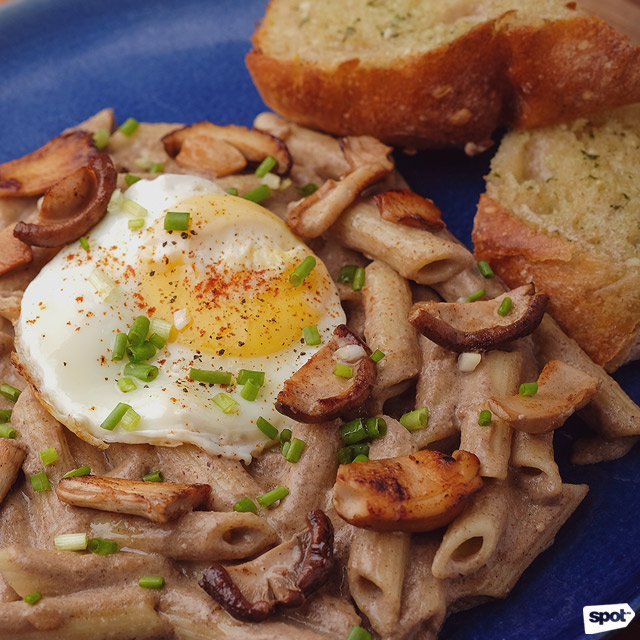 Triple Mushroom Cream
There's also the Triple Mushroom Cream (P249). This best-selling dish is made with shiitake, Portobello, and Swiss brown mushrooms stewed into a rich sauce, and mixed with penne. Finishing the dish are a drizzle of fragrant truffle oil and a perfectly cooked egg, with the crunchy sourdough making a reappearance.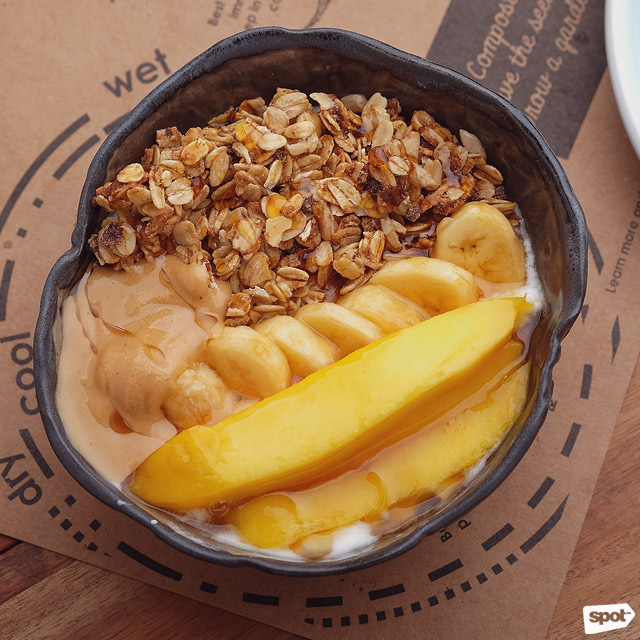 Granola Bowl
ADVERTISEMENT - CONTINUE READING BELOW
Their Granola Bowl (P100), on the other hand, is just as delicious. Made of fresh yogurt, maple granola, honey, mango, banana, and peanut butter, the dish uses all-local ingredients. This is a popular YDG Coffee item, especially since they have a lot of guests who are always looking for a good post-workout meal.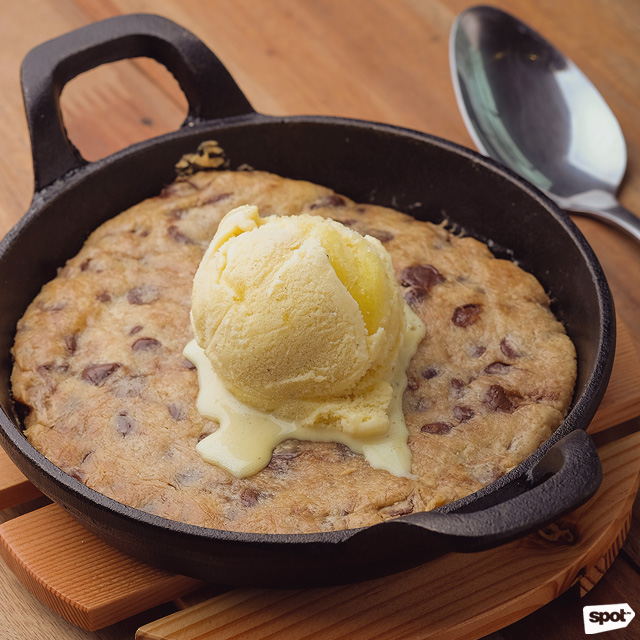 Skillet Chocolate Chip Cookie
Eating clean is great, but you can also give in to your cravings at YDG Coffee by sinking your teeth into the Skillet Chocolate Chip Cookie (P200). Inspired by El Union Coffee's Cookie Dough Skillet, this big, moist choc chip cookie is baked from scratch and served oven-fresh with a scoop of vanilla gelato on top.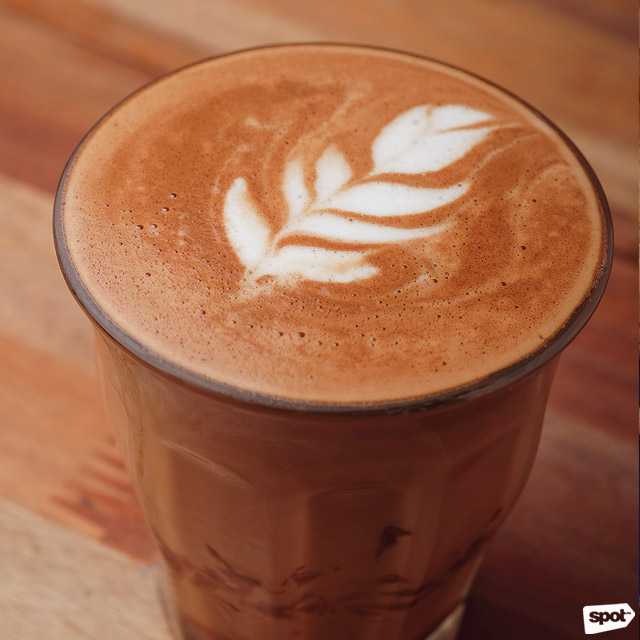 Flat White
Marco, Sid, and Alex spent countless hours learning about the craft of making coffee so you can be sure that every beverage is not only made with love, but is really good, too. Take the Flat White (P120), for instance. This classic coffee beverage boasts its strong espresso taste complemented by velvety steamed farm-fresh milk. It's best for those who enjoy the slight sweetness of milk but still yearn for a powerfully caffeinated beverage.
According to Marco, "The reason why flat white became popular with the rise of craft coffee is because you highlight the taste of the coffee flavor as opposed to having a cappuccino or a latte. So if a café offers flat white, it's basically the café saying that we have good coffee."
The Mocha Negra, the newest addition to YDG Coffee's menu, is a sinful shot of espresso combined with milk and 77% dark chocolate. It may look small, but it's exceptionally thick, creamy, and filling. One glass is enough to give you your much-needed jolt to get you moving throughout your working day. YDG Coffee gets their dark chocolate from Auro Chocolate.
ADVERTISEMENT - CONTINUE READING BELOW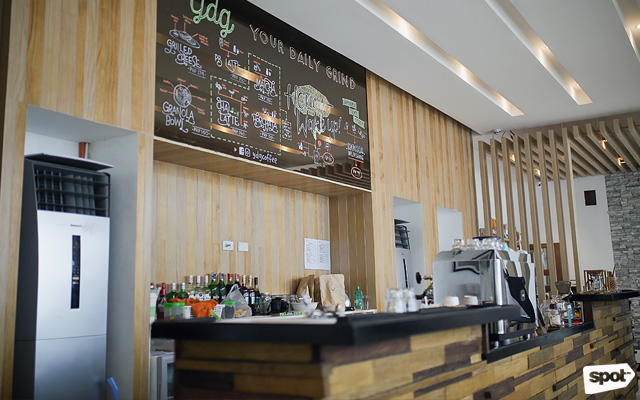 Marco says their main objective goes beyond what they serve: "We just want to be the most approachable, welcoming, open-minded, simple, and humble café [in the city]. Not to say that other cafés aren't like that, but we just want to be as relatable as we could, given our resources and what we have. We hold the baristas to a standard where they can be as friendly as they can, to not use big words when explaining coffee, and really just to simplify."
The next time you need to step out of the daily drudgery, you know that you can always take a breather at YDG Coffee.
Photos by Majoy Siason
Share this story with your friends!
---
Help us make Spot.ph better!
Take the short survey
More Videos You Can Watch
Load More Stories