Booze in Bacon and Instant Noodles on Fried Chicken: This Burger Joint Pays Tribute to #Adulting
Think: rum in your bacon and truffle in your mayo.
GILT Burger
7615 Guijo Street, Makati City
Contact: 0929-474-5804
Open from 11 a.m. to 11 p.m. (Monday to Saturday)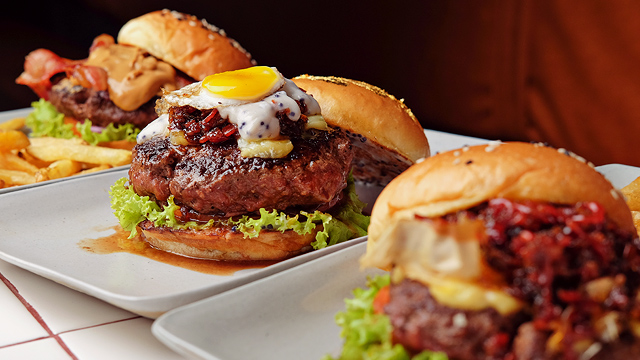 (SPOT.ph) "When you get to a certain age, life starts to feel weird," says Gian Reyes "Sometimes it feels like we're stuck between two worlds. We want to be artsy, to be underground and cool, but we also want finer things in life."
ADVERTISEMENT - CONTINUE READING BELOW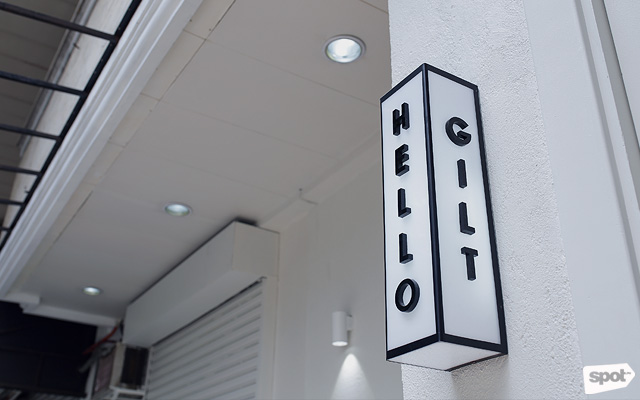 CONTINUE READING BELOW
Recommended Videos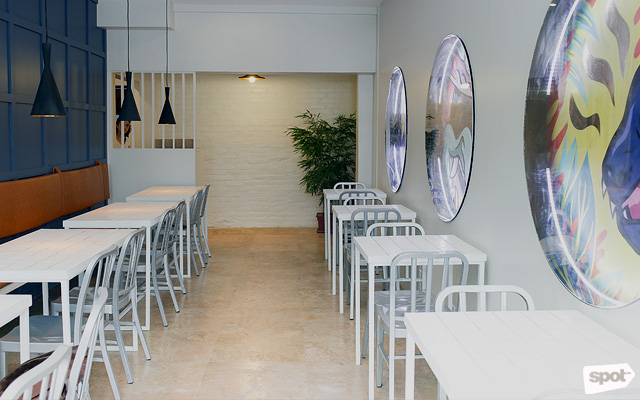 ADVERTISEMENT - CONTINUE READING BELOW
If, for some, this realization may result in a quarter-life crisis, for Gian and his business- and real-life partner Alexa Arce, the thought played a huge part in creating GILT Burger, the newest burger joint on Guijo Street. The tiny space is a bit easy to miss, but just follow the delicious waft of grilling burgers, and you'll know you're in the right place. (Or you could just look for Café Saguijo first, which is right across. Something tells us GILT could become the new after-gig hangout.)
"This restaurant is us growing up," says Alexa. "When you're young, you have all these vivid colorful experiences. Then you grow a little older, and you start to quiet down a bit and want finer things."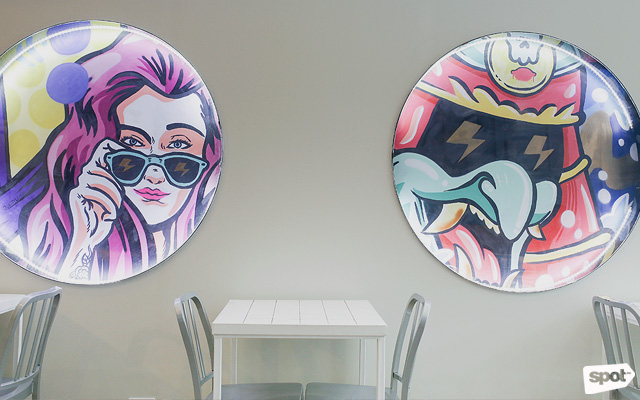 ADVERTISEMENT - CONTINUE READING BELOW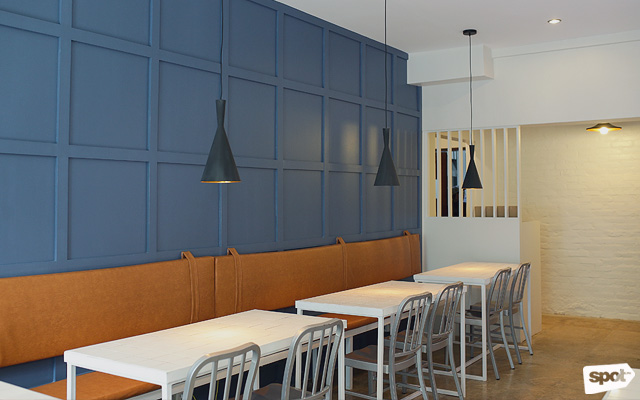 The two channel the idea into their interiors, which they designed themselves. One side will grab your attention immediately, with bright, highly saturated murals by artist Jappy Agoncillo. The other side is more subdued, with faux-leather upholstery and navy blue walls. It's a contrast that still works seamlessly together, resulting in a polished-yet-cool burger joint.
ADVERTISEMENT - CONTINUE READING BELOW
While Gian and Alexa acknowledge that they've both matured a bit, they still want things to be fun at GILT. The name "GILT," for one, was born out of Gian's love for puns. "It just has so many possibilities," he shares. "GILT's derived from gold—golden, gilded, gilt. But GILT-y pleasure was the phrase we were thinking of." Supply runs, too, got a pun-tastic new name: "GILT trips!"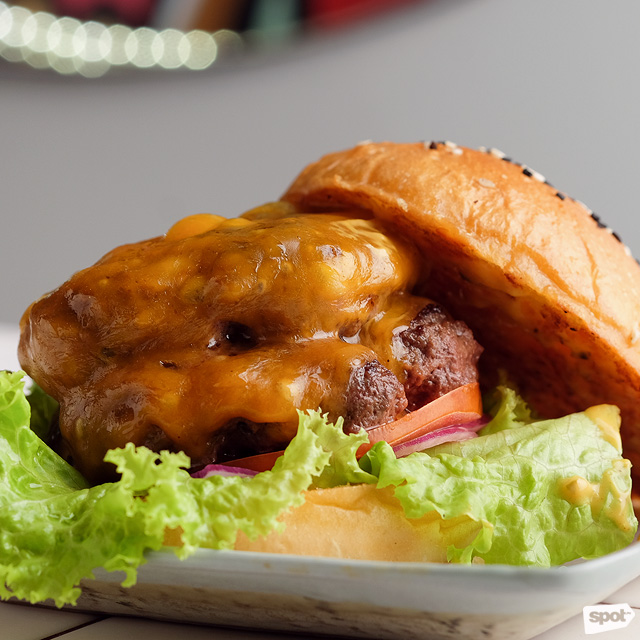 ADVERTISEMENT - CONTINUE READING BELOW
The O.G.
The fun names extend to the menu, with their signature burger named The O.G. (P322)—a juicy double Angus beef patty cheeseburger with gooey melted American cheese, lettuce, tomatoes, red onions, and a generous dousing of their signature barbecue-like "Saucy" sauce. "We think a burger place should have really fun names," says Gian. "It's just part of the vibe."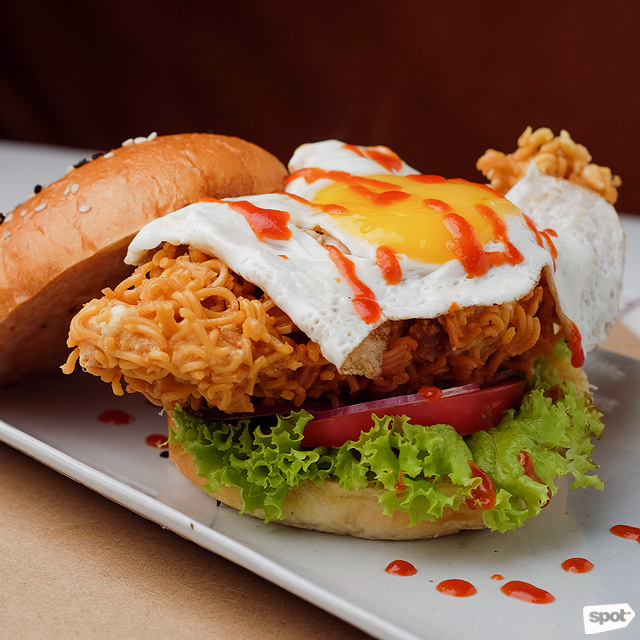 ADVERTISEMENT - CONTINUE READING BELOW
Mi Goreng
The signature cheeseburger is probably the most conventional burger you'll get at GILT. That isn't a mark against it—it's just hard to compete with more eccentric variants, like the Mi Goreng (P429), with a fried chicken fillet made crunchier by a breading made of Mi Goreng noodles, a runny sunny-side up egg, and a dash of Sriracha sauce for Asian flavor. "A lot of our burgers come from our own experiences," shares Gian. "I grew up in Australia, and there was a brief moment in my life when I moved out of our house, and I was so broke. The only way I survived was through Mi Goreng. So I really wanted to pay tribute to that experience and make something with Mi Goreng noodles."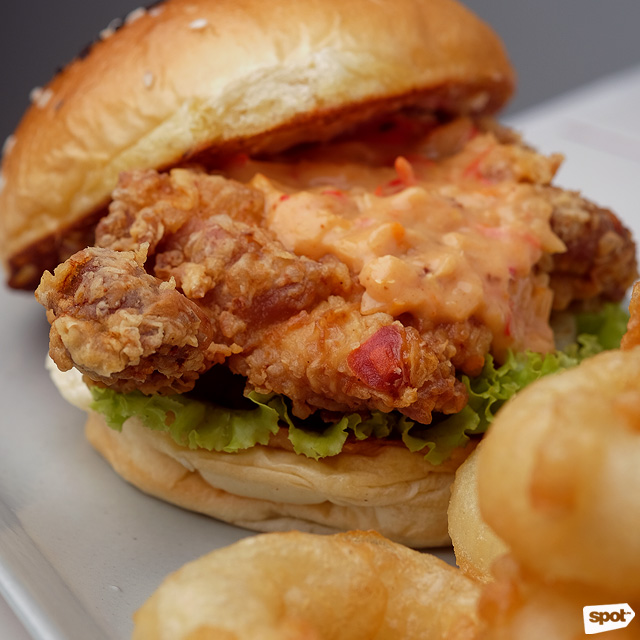 ADVERTISEMENT - CONTINUE READING BELOW
The Convict
Another burger that honors Gian's Australian roots is The Convict (P355), inspired by a burger he had at Bondi Beach in Sydney. Perfect for daredevils or anyone who enjoys fiery flavors, this fried-chicken burger packs a spicy punch with a peri-peri sauce blended with five different kinds of chili. A slice of pineapple helps to temper its piquancy.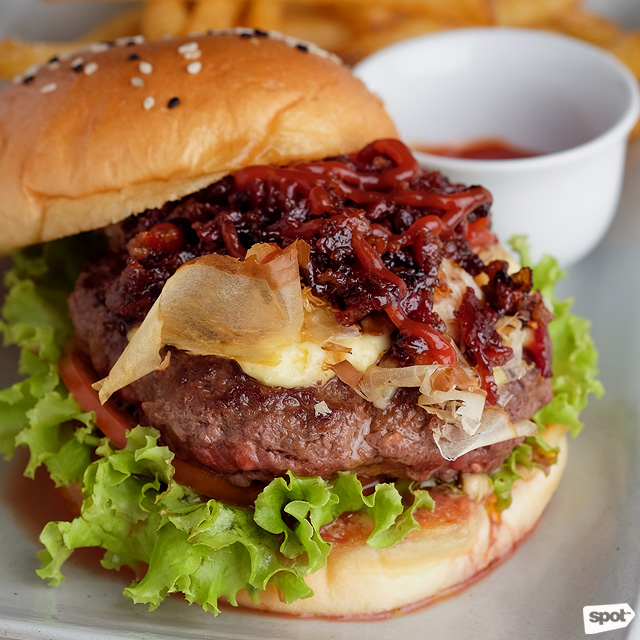 ADVERTISEMENT - CONTINUE READING BELOW
Drunken Umami
Alexa and Gian may have created all of their burgers in their own home kitchen, but they didn't let this hold back their imagination, coming up with a rum-and-bacon jam and beer-cheese for the Drunken Umami (P439), for example. It tastes like a wonderfully boozy burger without the buzz, with the potent sweetness of rum and the malty beer adding layers of flavor to the Angus beef patty.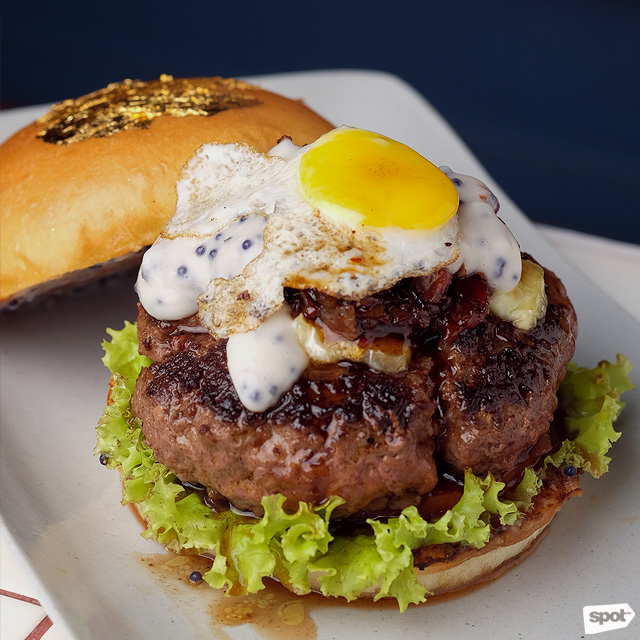 ADVERTISEMENT - CONTINUE READING BELOW
GILT Burger
It's with the GILT Burger (P888) that they really let their creativity run wild. Gian admits with a laugh that they don't plan to make money with the luxury burger. "It's more of a statement of what we can do," he shares. "And we just wanted to make something stupidly luxurious."
If you have the cash to spare, go ahead and treat yourself to this ultra-rich burger. It's a combination of the most decadent fillings Alexa and Gian could think of, but these still mesh well together. The hefty 200-gram Angus beef patty is made richer by a center of melted Colby Jack cheese, the sweet sting of red onions is made more intoxicating through being caramelized in red wine, and a runny sunny-side up quail egg binds everything together. The caviar-speckled truffle mayonnaise adds another layer of decadence, its earthy flavor subtle, but hard to miss.
ADVERTISEMENT - CONTINUE READING BELOW
The goal, ultimately, is for GILT Burger to become a neighborhood burger joint, and a staple on Guijo Street. While they use beef from New Zealand for their burgers, Alexa and Gian try to keep everything else as local as possible, forging relationships with their Guijo neighbors—they get their bread from Trigo, iced tea from Bayani Brew, and beer from Nipa Brew.
"Burgers were such a comfort food growing up," says Gian. "At GILT, we just add nicer, finer things to them." If growing up means having more burgers like GILT's, we don't think we mind one bit.
Photos by Majoy Siason
GILT Burger opens tomorrow, September 22. First 100 customers get free French fries with every burger order for the next six months.
Share this story with your friends!
---
Help us make Spot.ph better!
Take the short survey
Load More Stories