Move Over, Fire Noodle Challenge; This Insane Chili Test Is Twice as Hot
Can you take the heat?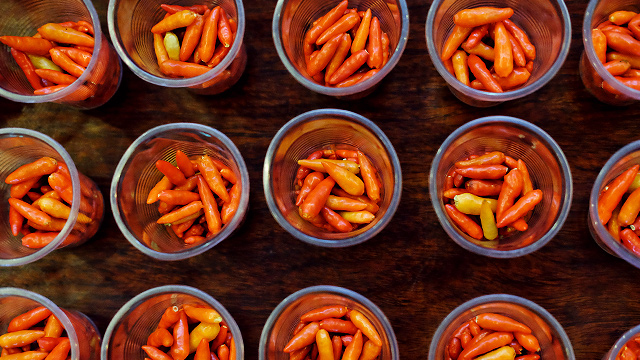 (SPOT.ph) The sun is high on a seemingly harmless Sunday afternoon at Balete Drive in New Manila. There are no strange sightings of white ladies nor of any mythical local-folklore superstar, but there has been an urban legend going around in recent years about a notorious group of daredevils who inflict pain on themselves by eating a hundred tongue-burning chili peppers in one sitting.
ADVERTISEMENT - CONTINUE READING BELOW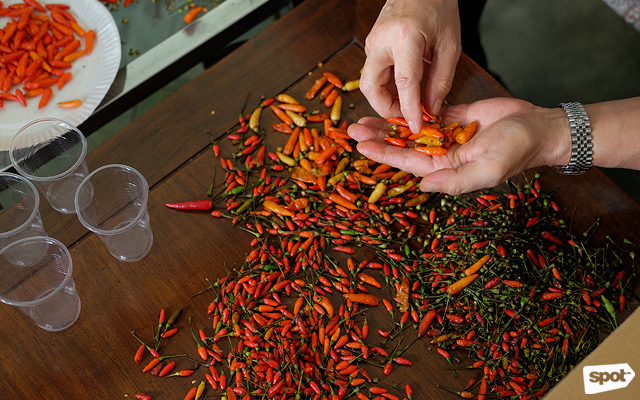 CONTINUE READING BELOW
Recommended Videos
It's judgment day for the aspiring members of Labuyo 100. The smell of sweat wafts through the torrid air as tension builds up minutes before the final test of the country's most exclusive club for chili enthusiasts. But "enthusiast" is an understatement—these are real people who'd go through pain and back for the sheer love of chili.
ADVERTISEMENT - CONTINUE READING BELOW
"This is not a contest," emphasizes Labuyo 100 founder Larry "Nixon" Cariño in his welcome speech, addressing the existing club members and prospective new ones. It's not a hotdog-eating competition where major league eaters go through the dangers of choking and vomiting to finish their food in the shortest time possible, although it comes close if you're talking about determination and testing the boundaries of your body.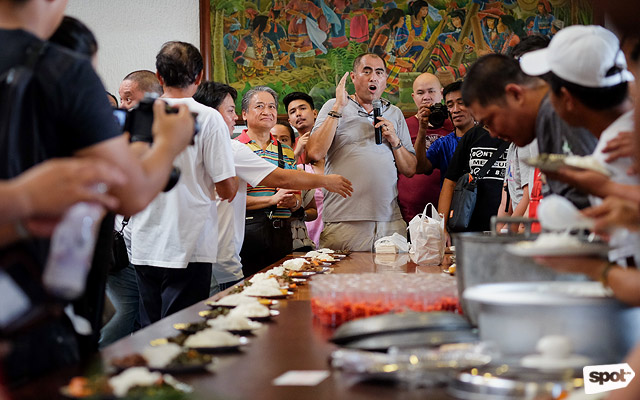 ADVERTISEMENT - CONTINUE READING BELOW
Philippine Chili Federation's Ponchit Ponce Enrile commencing Labuyo 100's chili-eating challenge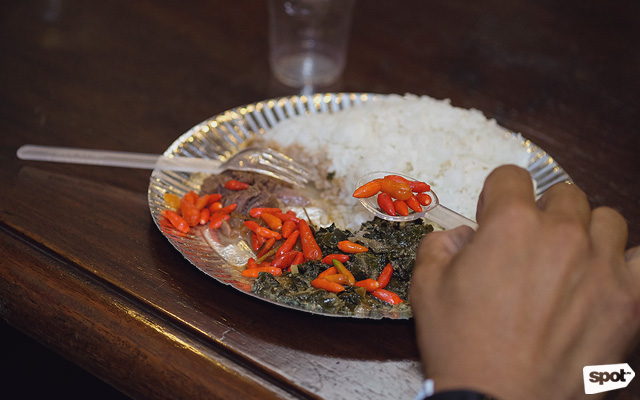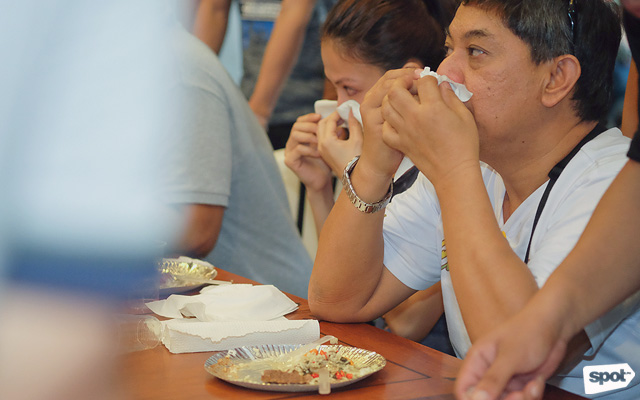 ADVERTISEMENT - CONTINUE READING BELOW
The rules are simple: Eat 100 pieces of siling labuyo with your meal. Finish your plate within the 10- to 15-minute timeframe; anything lower or more will get you disqualified. You can only drink water after 10 minutes of finishing your meal. No swallowing. Chew, chew, and chew. Feel every bit of scorching sensation in your mouth. It's okay to cry.
There are no medals. There are no awards.
So why subject yourself to scalding pain, although temporarily? Is it to recapture the feeling of being alive—that vigor of youth many can only dream of having? Beyond that much-coveted 15 minutes of fame, Nixon believes the local chili pepper also has healing properties, both for body and mind.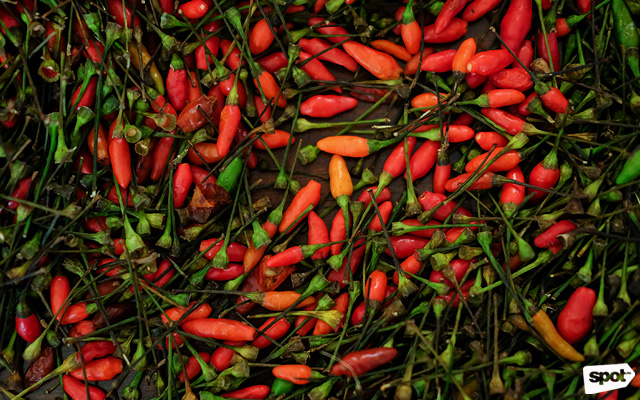 ADVERTISEMENT - CONTINUE READING BELOW
Labuyo is a native, small chili pepper (capsicum frutescens) that's a staple in most Filipino tables. This chili's name comes from the Filipino word "laboy" from "palabuy-laboy," which literally translates to "wild."
"I'm promoting siling labuyo because it's Filipino. When you hear labuyo, you know immediately its size, taste, and aroma. It's different. The labuyo is spicy, but it's not too hot like the superhots (Carolina reaper) or ghost peppers (bhut jolokia)," he explains.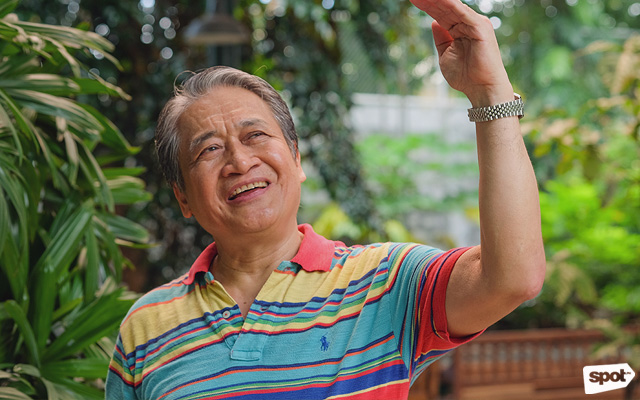 ADVERTISEMENT - CONTINUE READING BELOW
Labuyo 100 founder Larry "Nixon" Cariño 
In 2004, Nixon was diagnosed with a potentially fatal heart condition. "I was rushed to the hospital from my office on a stretcher and was brought to the emergency room. After that [incident], I started experimenting with myself as I was scared of surgery, hospitals, and medicine."
"What's the best natural medicine? I [did] my research and found out that chili is good for the heart," he shares. "My experiment was to eat chili with all my meals, from breakfast and lunch to merienda and dinner. I wanted to find out if the body has its limits when it comes to eating chili—what [amount] can you still consider good for you and what can hurt you?"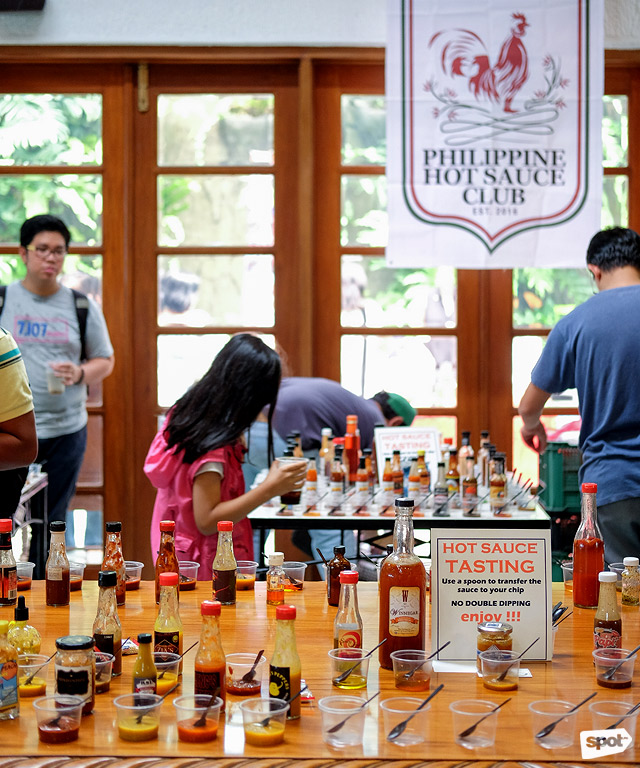 ADVERTISEMENT - CONTINUE READING BELOW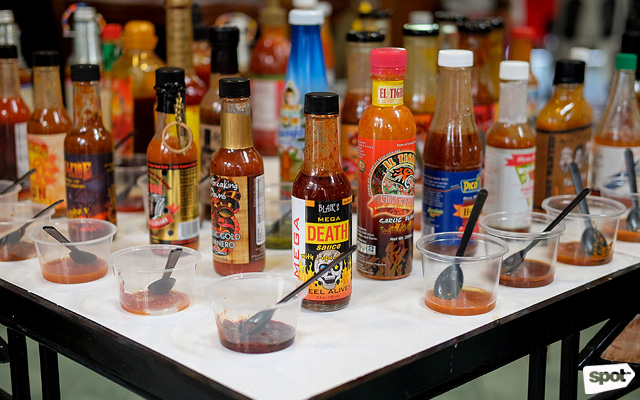 And so his life as a human test subject began. Along with his media noche, he ate 100 pieces of siling labuyo on New Year's Eve of 2007. It became a strange yearly tradition for the sake of saving his life, and every New Year, he added 50 more. Mark him out of his mind, but this lasted for five years until he reached a whopping number of 300.
ADVERTISEMENT - CONTINUE READING BELOW
"I found out that eating 300 chilis could hurt you, but still make you feel good."
For Nixon, it was a high unlike any other. Soon, he found himself persuading other people to eat chili for the good of their health. "I talked to some friends who are conducting chili festivals like Ponchit Ponce Enrile and I told him that we should try convincing people to eat 100 siling labuyo with their lunch."
Labuyo 100 started with only nine members in 2015. The club was formed under the umbrella of the Philippine Chili Federation, a group of chiliheads and chili growers welded by their passion for all things spicy.
Now on their sixth induction, Labuyo 100 is quickly growing at 73. Once you pass the test, you're entitled to a lifetime's worth of bragging rights. And apart from gaining a steady family-like support system, periodic meetings are non-demanding, too, a win-win situation if you ask us. Like many of the club's founding members, Nixon was present in all events—astoundingly, he passed every one of them without that much effort.
ADVERTISEMENT - CONTINUE READING BELOW
"The heat is the same for me [every year]. But what is really encouraging is the number of people who want to be part of the club," he says. "They want to prove that they can. There's no prize, I don't promise them anything. But I'm thinking of giving them medals."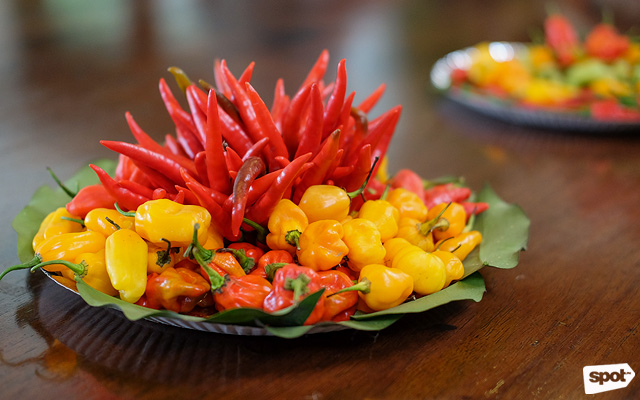 ADVERTISEMENT - CONTINUE READING BELOW
His friends call him Lakay Labuyo, where "lakay" means "old man" in Ilocano. In 2016, a video of him washing his face with chili-infused water (ala Steve-O in American reality series "Jackass") surfaced on YouTube. You'll cringe, be confused, call him mad, and even feel a tad bit sorry, but this is just another of his experimental antics, which he thinks improves his overall well-being and health. This time, it's for clearer vision. He swears by it, and says he hasn't found the need to wear glasses since he started doing it four years ago.
"I'm 65 and old age starts creeping into you. When you reach this age, you'll feel as if you've reached the peak. And then you start going down. Some try to make it as slow as possible. But with chili, maybe I'll still kick up. I think the energy has increased in me."
ADVERTISEMENT - CONTINUE READING BELOW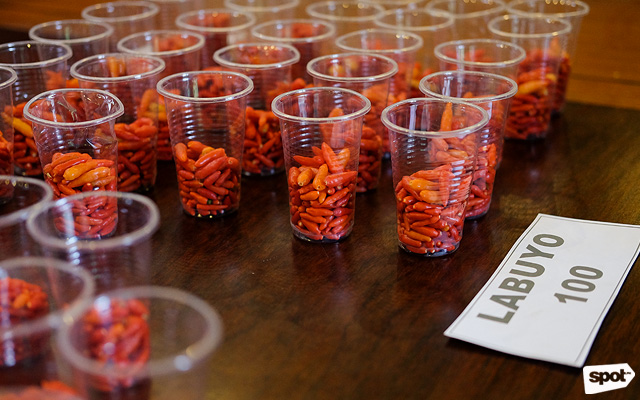 There are many ways to get through the challenge if you want to emerge victorious—while some eat each fiery piece straight, others use the back of their spoons to crush the chili and create a paste. According to them, it makes the heat more tolerable. Some bring antacids to combat their gut's adverse reaction to the chili's extreme spiciness.
ADVERTISEMENT - CONTINUE READING BELOW
"It's hot? So feel the heat. It's not being [a masochist] because you know it's good for you. And it's not really torture. There's a high, so why let it down? You go for the kick. You need to feel it. Afterwards, you don't even have to drink [water] anymore."
It's judgment day and many are on the verge of defeat. At the long table where the brave souls are seated, you'll hear groans, manic laughter, whimpers of frustration, and a lot of whining and regret (What did I get myself into?). And then the timer rings, signaling the culmination of this rather physically and mentally wearing event—six darers didn't make the cut. But there are no losers here. Their part is just as significant as those who passed the test since most of us mere spectators wouldn't even dare come close to eating 10, 20, much less 100 chilis in one go. 
ADVERTISEMENT - CONTINUE READING BELOW
Photos by Majoy Siason
Share this story with your friends!
---
Help us make Spot.ph better!
Take the short survey
Load More Stories