The Art of Chill 
Mercato Centrale, 7th Avenue, Bonifacio Global City 
Contact: 0917-842-5844
Open from 6 p.m. to 3 a.m. (Wednesday to Saturday)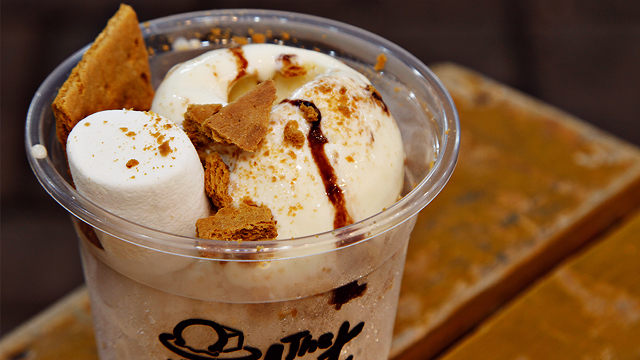 (SPOT.ph) Halo-halo is the Filipino dessert that's known worldwide. And with the shaved-ice treat held in the highest regard as a national treasure of sorts, it's understandable why some people are very protective of its heritage. Any attempts to do an updated take that even minutely strays from the O.G. formula is immediately met with criticism.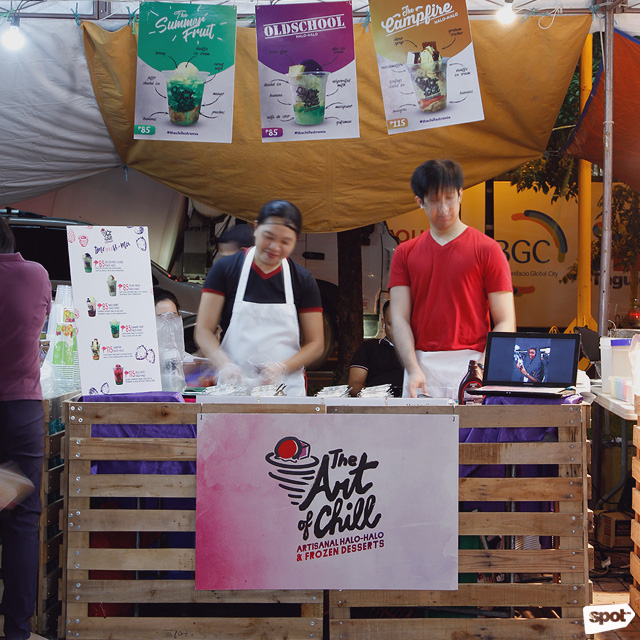 ADVERTISEMENT - CONTINUE READING BELOW
On the other hand, much like one has to swiftly stir the halo-halo's different components in order to reach its full flavor potential, you must also mix both tradition and innovation to create a culinary wonder. Manager-turned-entrepreneur Cedric Tan, a self-proclaimed foodie sans formal training, mixes it up to do just that with his first venture: The Art of Chill. The halo-halo stand features a modern twist that uses different ingredients like peaches, gelatin, cereal milk, marshmallow, berries, alcohol, and more.
"In the culinary world, there are almost no boundaries that can't be broken. People are playing around with super traditional dishes like sushi, ramen, and coming up with new ice cream flavors. Traditional methods of making food will always be there but people are always looking for something new," explains Cedric.
As a fan of the traditional halo-halo, The Art of Chill owner acknowledges and respects the shaved ice dessert's rich history. In a way, this is the ultimate expression of love for a certain kind of food—to be immersed in its inner workings, devoted to taking the dish to the next level, and invested in its success.
The Art of Chill is squeezed between rows of food stalls of Mercato Centrale. What will immediately catch your eye is the modern logo and the multi-colored concoctions displayed on the menu. Not only do these icy treats satisfy your sweet tooth but they also feed your Insta obsession by layering on trendy colors like greens and millennial pink, which feel right at home in a curated social media feed.
CONTINUE READING BELOW
Recommended Videos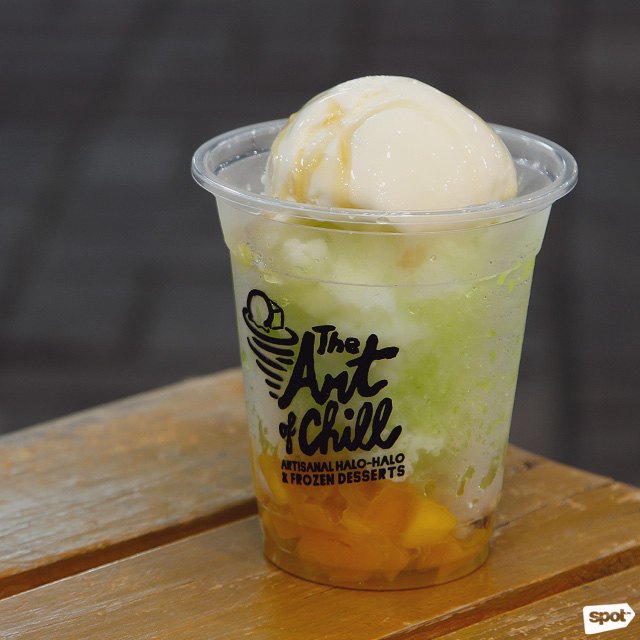 The first mix is one of their bestsellers: Summer Fruit Halo-Halo (P85). It's nothing too outrageous and features ingredients familiar to Pinoy palates, making it the perfect gateway into these unique sweets. The cup is filled with peaches, mangoes, and bananas then topped with vanilla ice cream and drizzled with honey. Now here's where it gets quirkier: The ice used is a soda-gelatin mix and the whole thing is drowning in cereal milk (minus the soggy bits). Biting into the fruit bits and jello ice provides that brief respite between the sticky, syrupy majority of the dessert drink, preventing it from becoming cloyingly sweet. The result is a simple, refreshing, surprisingly subtle halo-halo minus the starchiness of the original version.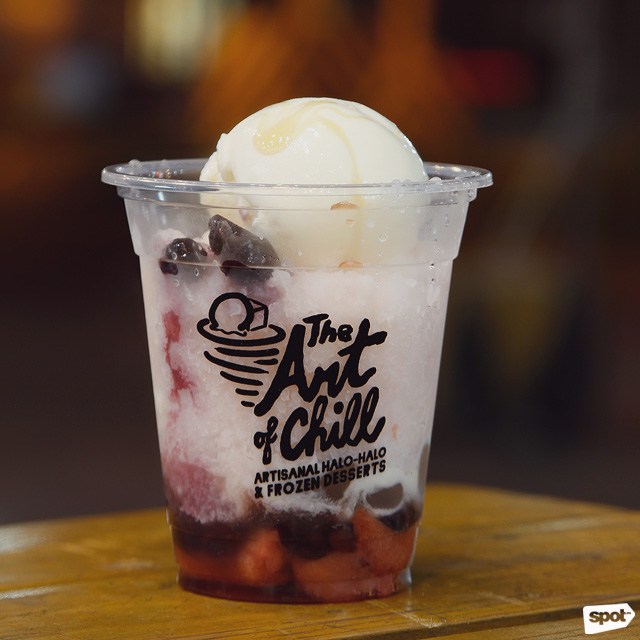 ADVERTISEMENT - CONTINUE READING BELOW
If you want something that's equal parts power shake and Pinoy scramble then Wild Berry Halo-Halo (P85) is perfect for you.
This halo-halo mix is heaven for those with a sweets fixation because you're guaranteed to be chewing on the strawberry, blueberry, kaong, and red beans for quite a while. The tart acidity of the fillings balances well with the strawberry-infused ice, vanilla ice cream, and marshmallow milk (melted mallows are steeped for 20 minutes or so). It strikes a great balance between sweet and sour—a classic Filipino flavor profile.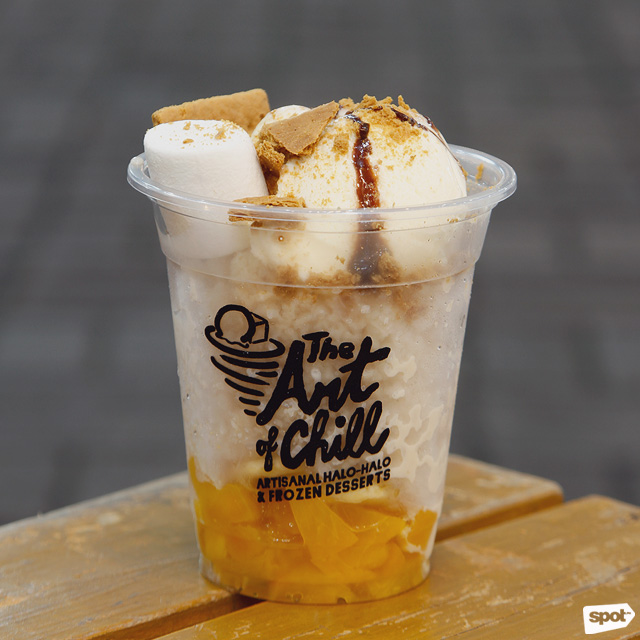 Combining both Pinoy and American comfort eats into one epic fusion is the Campfire Halo-Halo (P115). Similar to the overloaded milkshakes that are popular these days, the Campfire has a towering heap of graham crackers and ice cream drizzled with chocolate syrup. The cup also has peaches, mangoes, and bananas for the local twist. And like Wild Berry, Campfire is drenched in marshmallow milk but this time, the ice is infused with Bailey's to give it a little kick. (You can opt for regular ice for the kids.) The graham crackers are the best way to sop up all the sweet milk. The Bailey's ice provides that much-needed warmth that draws from the throat down to your tummy—it's as if you're actually feeling the heat from the licks of flame of the campfire.
ADVERTISEMENT - CONTINUE READING BELOW
There are no so-called "fillers," as each ingredient is a deliberate choice that contributes to the overall gastronomic experience.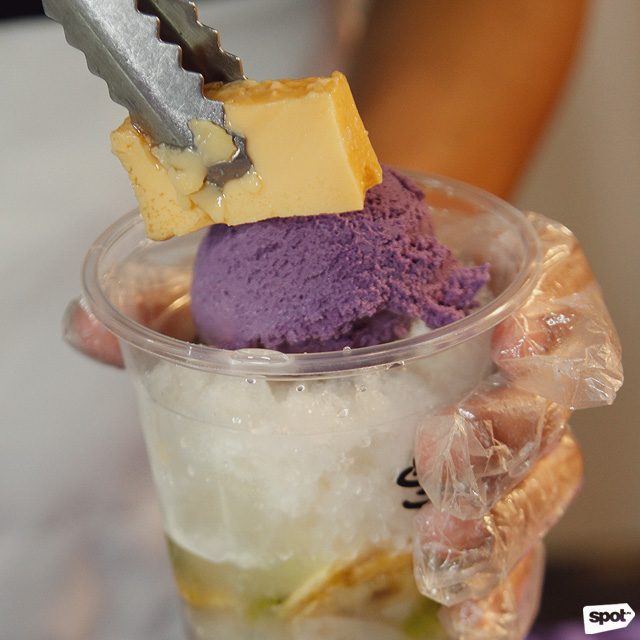 From milk steeped in flavor to alcohol-infused shaved ice, everything is flavorfully functional. If you're feeling too tito/tita and overwhelmed about the #youthculture choices, then get the Old School Classic Halo-Halo (P85), which contains the usual such as kaong, macapuno, gulaman, leche flan, and the like.
Cedric explains, "I'm a halo-halo lover and enjoy eating dessert. I don't have any formal background in culinary but then an idea struck me. Some people don't like certain ingredients like beans or chickpeas so I wanted to make different kinds of halo-halo. [I want the customers] to make halo-halo the way they wanted."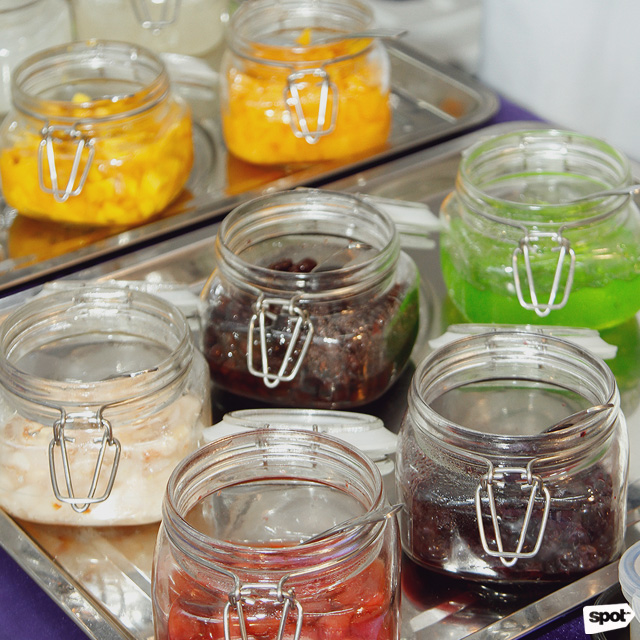 ADVERTISEMENT - CONTINUE READING BELOW
So if you're very particular about your ingredients, go for the customized option called Make Your Own Mix (P85/regular ice, P115/alcohol-infused ice) and create your desired combo.
When you get down to it, The Art of Chill is all about spreading the love of halo-halo. Introducing new spins in a familiar Filipino dessert template makes it less intimidating; even the skeptical non-halo-halo fans would take notice. Summer may have long passed (or not since global warming has made it very confusing) but there will always be an excuse to indulge in halo-halo especially when you have a hot temper that flares up. So, take a spoonful of the flavored icy treat, relax, and just chill.
Photos by Vincent Coscolluela
Share this story with your friends!
---
Help us make Spot.ph better!
Take the short survey
Load More Stories