Duck Siopao, Cinnamon Rolls, and Kesong Puti Pan De Sal: Is This the Future of the Panaderia?
Step inside Panaderia Lola Glo.
Panaderia Lola Glo
2661 Taft Avenue, Pasay City
Contact: 816-3506
Open from 6 a.m. to 6 p.m. (Monday to Saturday)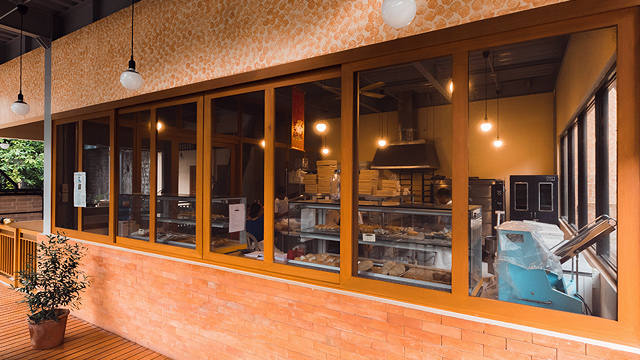 (SPOT.ph) Along the busy thoroughfare of Taft Avenue near the LRT EDSA Station in Pasay City is Panaderia Lola Glo, an elegant panaderia that makes good bread. Buttery ensaymada, banana muffins, cinnamon rolls, and pork asado buns are staples at the bakery.
ADVERTISEMENT - CONTINUE READING BELOW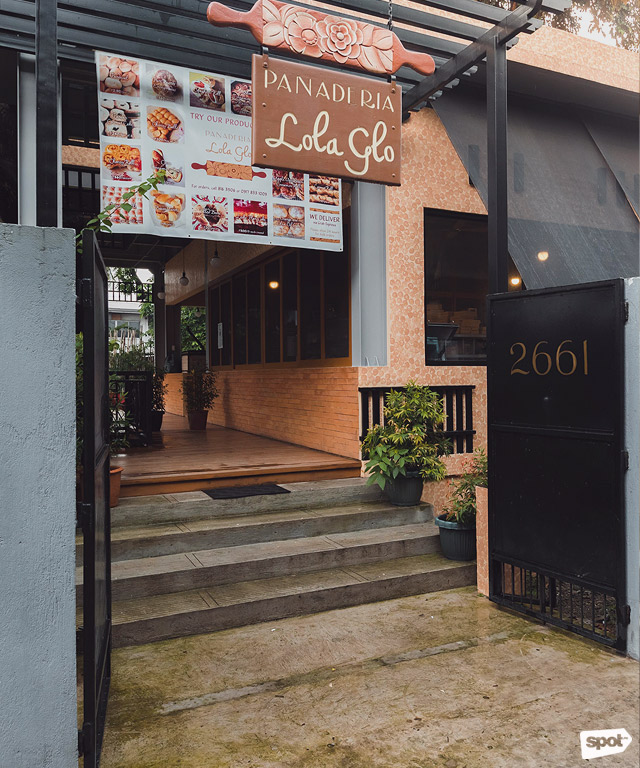 CONTINUE READING BELOW
Recommended Videos
The bakery is named after Gloria Mapua Lim (or Lola Glo to her grandchildren) whose homemade breads, cakes, cookies, and pastries were cherished by her family. "She was an excellent homecook. She always cooked for us," says her daughter Pia Lim-Castillo. At home, Lola Glo was known for her classic ensaymada, a buttery labor of love that takes almost half the day to make.
ADVERTISEMENT - CONTINUE READING BELOW
Lola Glo used to run a school canteen at the Mapua campuses in Intramuros and Doroteo Jose Street. To supply the canteen with freshly baked breads and biscuits, Lola Glo also had a small, in-house bakery at the family compound in Pasay.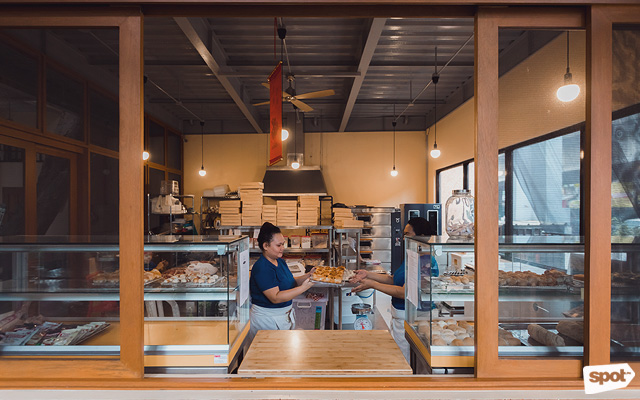 With a nod to their heritage of good food and good bread, Pia and her sisters Laida, Nieves, and Gina thought of establishing their own family-run bakery. It was officially opened to the public on August 17, 2017. The bakery is located several steps away from the historic Mapua mansion, designed by the architect Tomas Mapua (Gloria's father), founder of the Mapua Institute of Technology.
ADVERTISEMENT - CONTINUE READING BELOW
The Mapua mansion is an enduring landmark of the art-deco style popular in the 1930s. Pia's sister Gina, an architect, designed Panaderia Lola Glo's exteriors with the same theme as their ancestral house, particularly in the bakery's brick- and beige-colored walls. The sisters built the structure around a decades-old kaimito tree rather than cut it down. A scattering of trees surrounds the bakery like mango, sampalok, guyabano and narra, a rare but refreshing sight along Taft Avenue.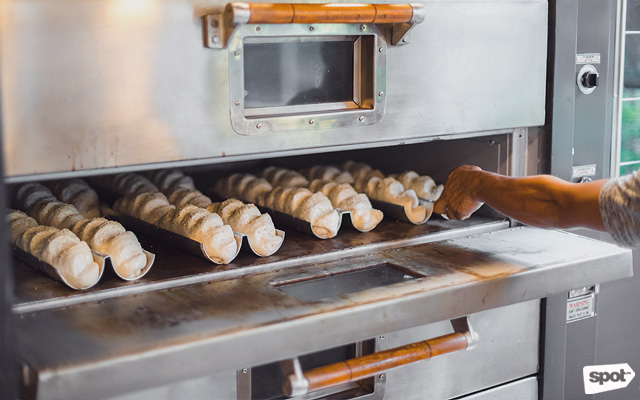 ADVERTISEMENT - CONTINUE READING BELOW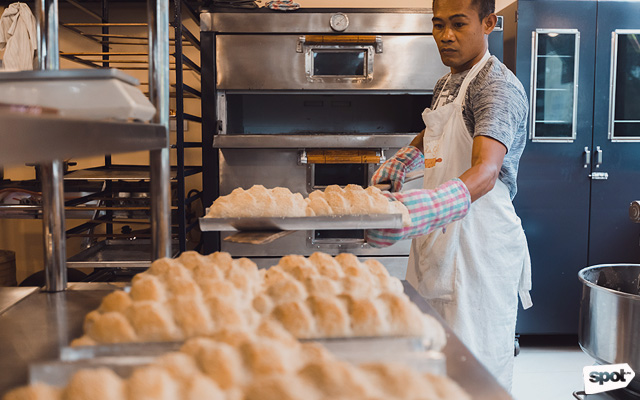 Panaderia Lola Glo's signage is a large rolling pin engraved with flowers and Lola Glo's name in beautiful script. The baking area and display counter are screened but not walled-in so the open design lets customers take a peek at what's currently being baked. The staff are courteous and know the products by heart.
ADVERTISEMENT - CONTINUE READING BELOW
While the bakery makes hot pan de sal every morning, it is not your ordinary panaderia. The bread and cake offerings are mostly family favorites, such as the Mini Cinnamon Roll (P250/round) in apple or cinnamon filling and Buttermilk Dinner Rolls (P120/10 pieces). Their Apple Cinnamon Upside Down Flowers (P10) resemble mini cinnamon rolls but made more addicting with a glaze of caramelized apples. The bakery also has updated classics like the Pan de Coco (P10) a.k.a. coconut rolls (filled with both bukayo and coco jam) and malunggay pan de sal made with finely chopped fresh (not dried) malunggay leaves.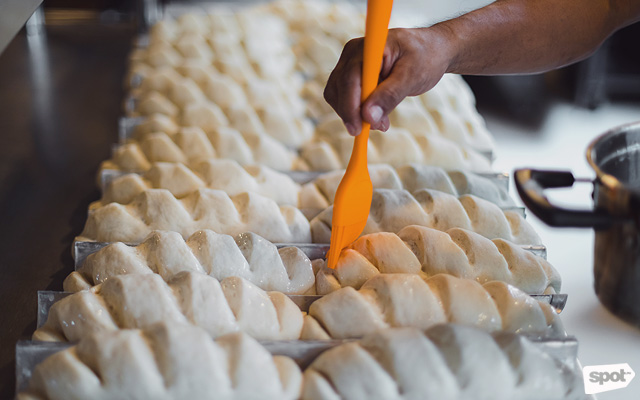 ADVERTISEMENT - CONTINUE READING BELOW
The breads are all baked fresh every day in small batches while some of the specialties are made to order as these take a little bit of time to prepare. Pia, who serves as the master baker, insists on using only quality ingredients like pure butter, fresh eggs, real vanilla extract, and spices just like her mother did. Pandan and banana leaves are newly picked from the backyard garden of the compound.
"Our idea when we opened the bakery was to provide breads for all levels of society without compromising freshness, without chemical additives," says Pia. They prefer not to use margarine, food coloring, or preservatives on any of the products.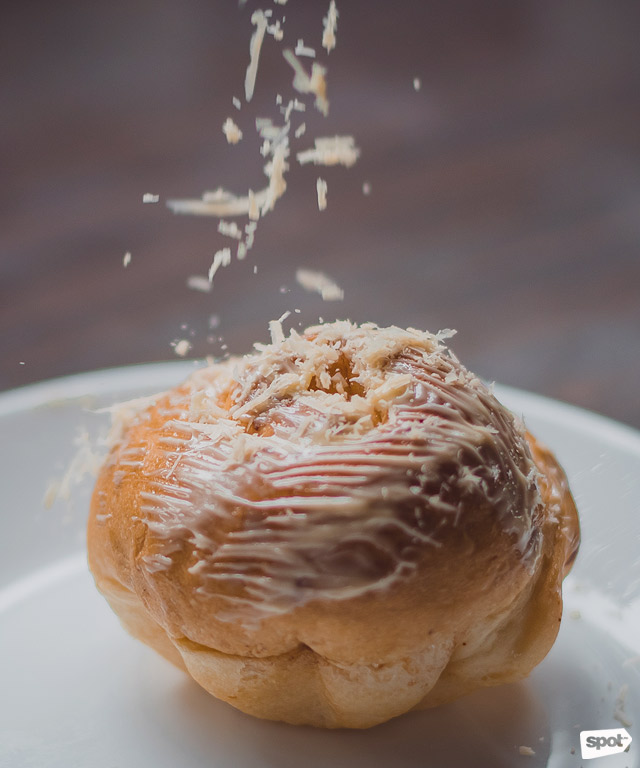 ADVERTISEMENT - CONTINUE READING BELOW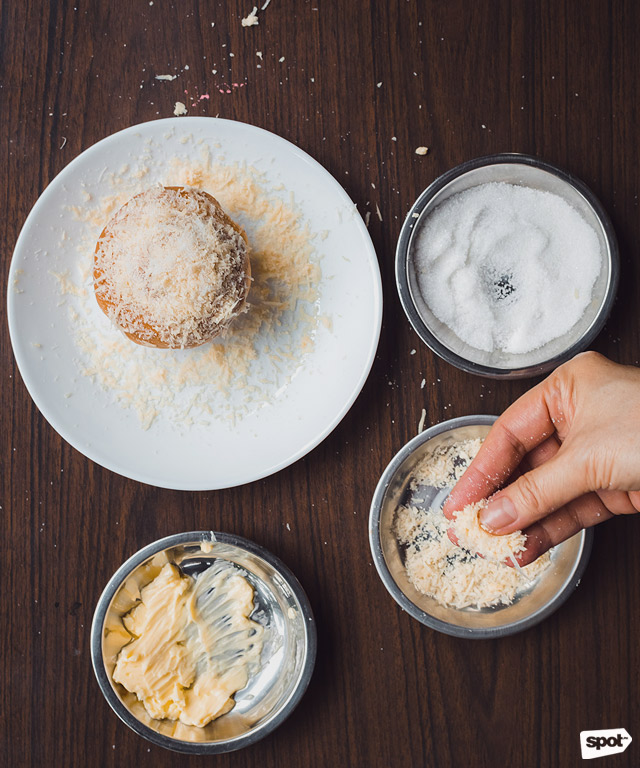 Ensaymada
Lola Glo's Ensaymada (P30/piece, P360/dozen) has a tender dough generously flavored inside and out with butter and grated quezo de bola. You can probably finish two pieces in one sitting. But don't forget to send some to your own lola.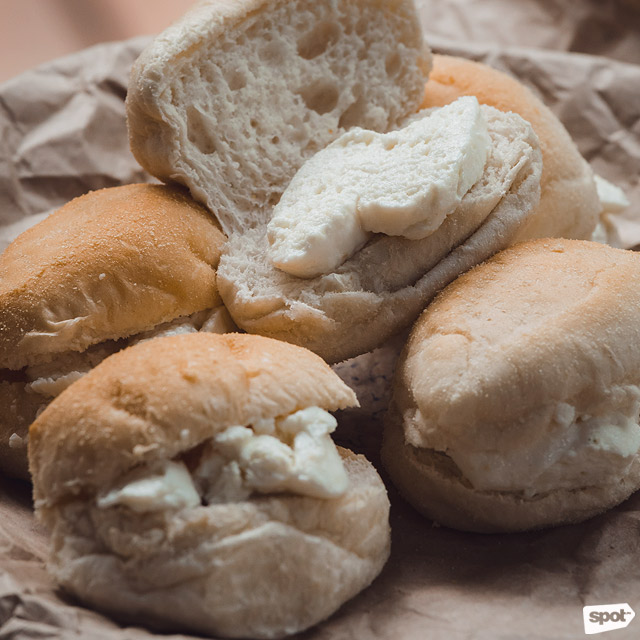 ADVERTISEMENT - CONTINUE READING BELOW
Pan De Sal with Kesong Puti
The Pan De Sal (P2.50/piece) is not the super sweet and airy variety we have today. It is filling yet tender and is perfect with kesong puti tucked in between. This palaman combination is like a perfect outfit—it can go from day (for breakfast) to night (a favorite party fare during book launches and events). The bakery sells fresh Kesong Puti (P100) from Marilao, Bulacan to go with the pan de sal (but call ahead to make sure if they are in stock).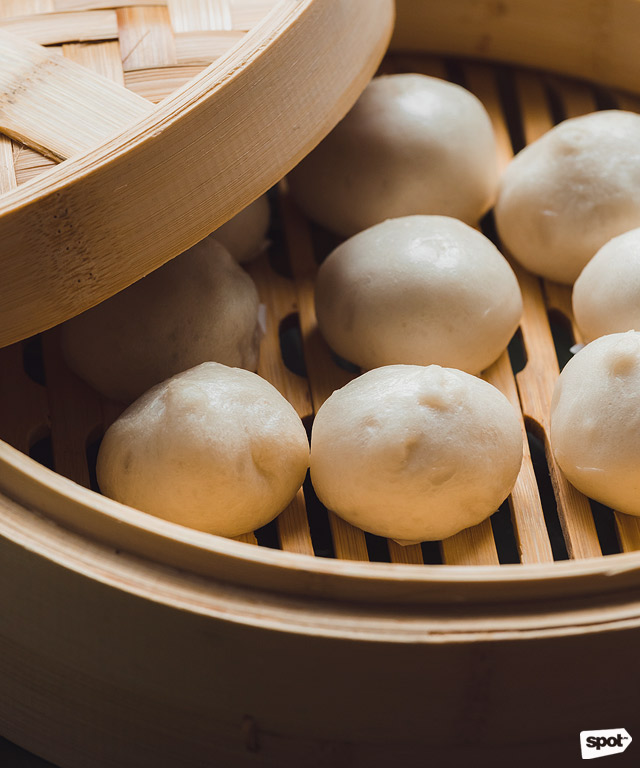 ADVERTISEMENT - CONTINUE READING BELOW
Duck Siopao
Pia's popular mini Duck Siopao (P270/20 pieces) has a soft dough and a spot-on dough-to-filling ratio. You can finish it in a couple of bites. It doesn't come with a siopao sauce because it's flavorful on its own. It's also sold frozen so you can just steam and serve it anytime.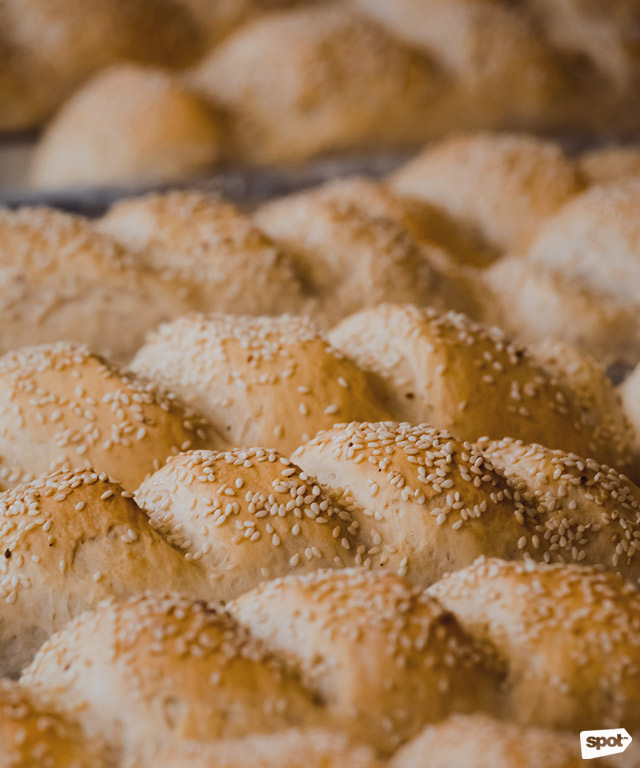 ADVERTISEMENT - CONTINUE READING BELOW
Kamote Bread
The recipe for the Kamote Bread (P40) comes from Lola Glo's son, Ernie. The kamote makes the dough tender. It is shaped like a batard and sprinkled with sesame seeds for a bit of crunch. The flavor is very subtle so you can spread it with some butter or kesong puti or use it when making a sub sandwich.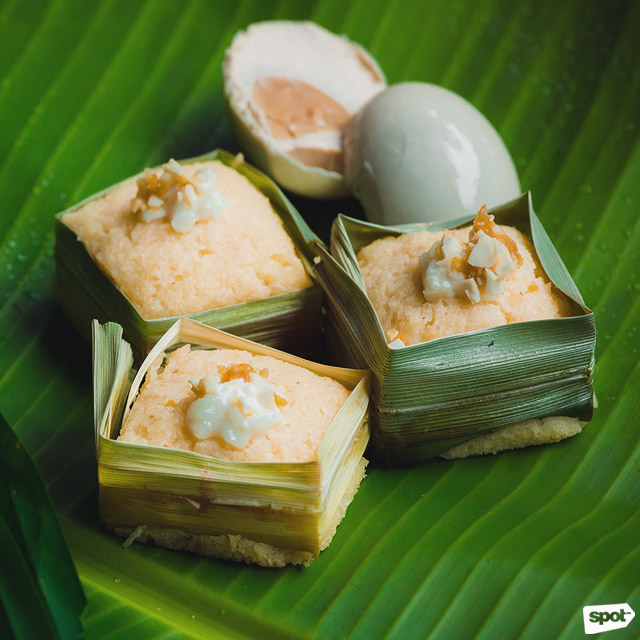 ADVERTISEMENT - CONTINUE READING BELOW
Pandan Coconut Bibingka
Pandan Coconut Bibingka (P45) turns the classic bibingka into an elegant dessert with a hint of pandan then finished with organic salted duck's egg and fresh kesong puti on top. A ribbon of pandan leaf locks in the flavor while serving as a dainty holder.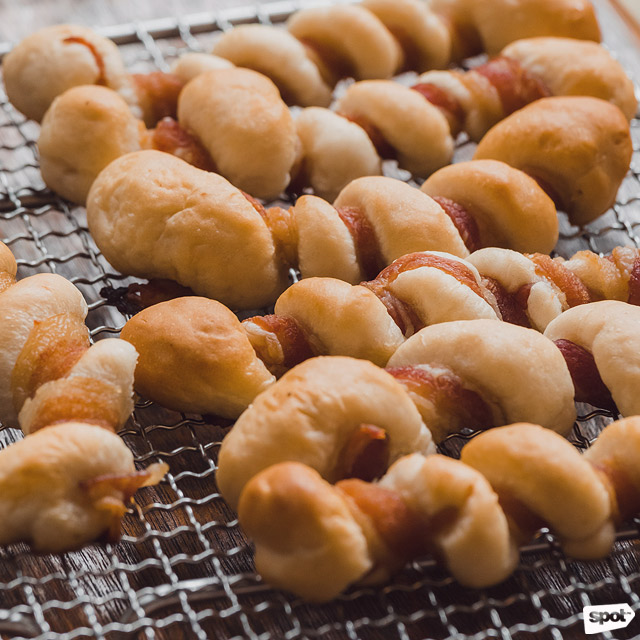 Bacon Twists
ADVERTISEMENT - CONTINUE READING BELOW
If you love bacon, get the Bacon Twists (P15). A strip of bacon wraps itself around a flavorful bread. If you prefer savory breads, Panaderia Lola Glo also has a collection of miniature buns filled with pork asado, adobo, and chicken curry.
On your next long ride home, try and save yourself from the Metro's sluggish traffic by grabbing a bag full of savory and sweet breads from this homegrown bakery. Your drive may be dreadful, but at least there's Panaderia Lola Glo to make it more bearable.
While many of the items are always available, the specialty items (like the bibingka) are best ordered ahead (via phone or e-mail at foodtravel@mac.com). Customers can also order breads in boxes to bring to parties, family gatherings, and events or simply to give as a gift.
Photos by Jilson Tiu
Share this story with your friends!
---
Help us make Spot.ph better!
Take the short survey
Load More Stories