Mandala Park Sunday Market: All the Delicious Food Finds You Have to Try
Eating healthy is as easy as Sunday morning at this weekend market.
Good Food Sundays at Mandala Park
Mandala Park, Shaw Boulevard, Mandaluyong City
Contact: 987-6969
Open from 9 a.m. to 3 p.m. (Sunday)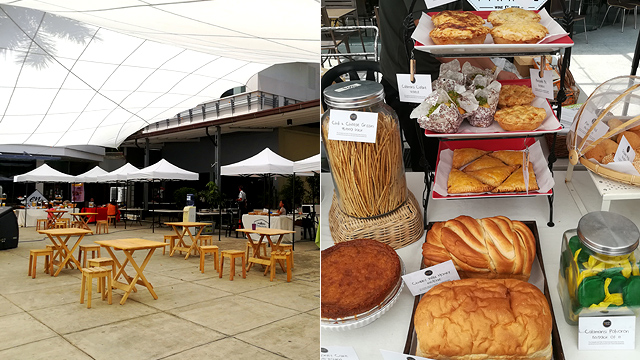 (SPOT.ph) You can look at Good Food Sundays at Mandala Park in one of two ways—it's either a haven for the diet-conscious or it's for those who need a detox and want to live a tad bit healthier, even just for a day (hey, it still counts!). Because it's filled with fresh and wholesome homegrown products and eats, Sundays at this weekend market will make you enjoy munching on your veggies.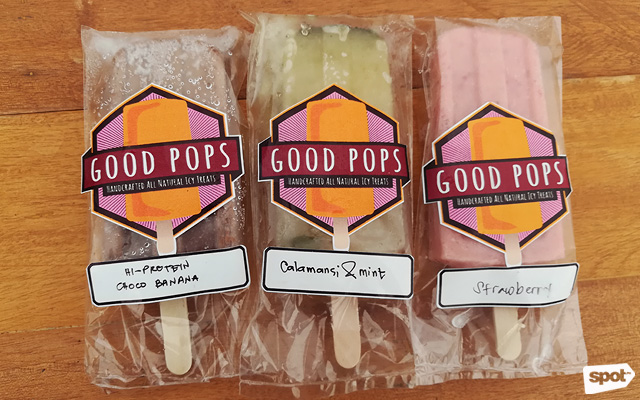 Chocolate Banana Popsicles
Keep yourself cool while indulging in Good Pops' Popsicles (P100 to P120). These paleo-friendly pops are free from gluten, grains, soy, and refined sugar, and are made with clean and wholesome ingredients. They have seven flavors—Mango & Coconut (coconut milk, fresh mangoes, and raw honey), Calamansi & Mint (calamansi, mint leaves, and raw honey), Café Latte (coconut milk, coffee, and coconut sugar), Spicy Tablea (coconut milk, tablea, coconut sugar, and cayenne pepper), Strawberry (carabao's milk, fresh strawberries, and raw honey), Vanilla (carabao's milk, bulletproof coffee, Madagascar vanilla, and raw honey), and High-Protein Choco Banana (coconut milk, raw cacao powder, fresh bananas, grass-fed whey, and coconut sugar).
For orders and inquiries, contact Good Pops at 576-6269, 0920-928-3454, or e-mail goodpopsco@gmail.com.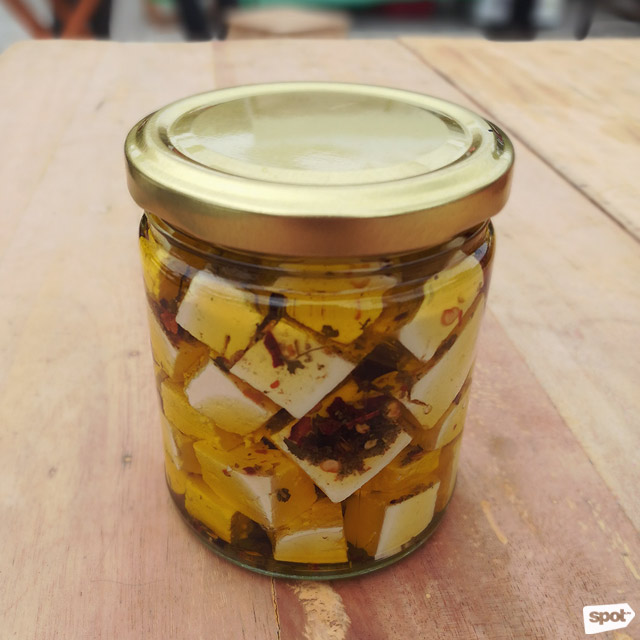 "Faux" Feta
The Soyrizo (P150) from Me and My Veg Mouth is a creative choice for carnivores who want to experiment with vegan dishes. This chorizo substitute is made of soy and dipped in oats and flax meal, then coated in delicious secret spices, carefully made by owner Mabi David. It's best eaten with hot red rice and a serving of Chana Masala (P150), which is an Indian chickpea curry made of garbanzos, tomatoes, and bold spices like cumin and coriander. For a complete, protein-packed meal, add some Tofu Feta (P250), made with organic, non-GMO soybeans. This "faux" feta is marinated in savory herbs and brine for two weeks to give it that distinct flavor and tanginess.
ADVERTISEMENT - CONTINUE READING BELOW
For orders and inquiries, contact Mabi David at 0905-573-5740 or log on to Me and My Veg Mouth's Facebook page.
Vegan Shawarma 
Been wanting to try some vegan options? Grab some Vegan Shawarma (P55) from Nanda's Vegetarian Food Products. This plant-based Middle Eastern dish is made with lettuce, tomatoes, onion, and wheat-based "beef" that's just as good as the real thing. You can also add some vegan cheese to make it creamier. Meanwhile, you won't get enough of the Vegan Barbecue (P25/piece, P90/four pieces). Their tasty and tender "pork" is actually just wheat marinated in a savory-sweet sauce—a scrumptious surprise for meat lovers. One stick is not enough.
For orders and inquiries, contact Nanda's Vegetarian Food Products at 0923-183-0311 or log on to Nanda's Vegetarian Food Products' Facebook page.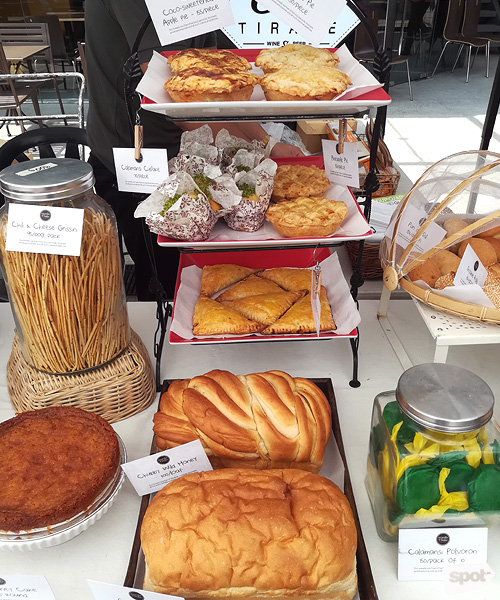 Chili Cheese Breadsticks
Cookies that are actually good for you? Yes, there is such a thing! A Manila Bake bestseller, the Muscovado Cookies (P170/12 pieces) are chewy confections made of brown sugar that will make your sweet tooth happy. These round cookies are made with unbleached flour and natural fat so you can bet that they're free from preservatives. Don't forget to grab a pack of Granola (P180/200 grams), if you want a nutrient-rich breakfast or a quick snack that'll perk up your taste buds. You can eat it like cereal by adding fresh milk or just enjoy it on its own. For something more savory and spicy, the Chili Cheese Grissini (P190/200 grams) are fun-to-eat thin breadsticks made with a quezo de bola base and chili flakes.
ADVERTISEMENT - CONTINUE READING BELOW
For orders and inquiries, contact Manila Bake at 0998-271-8109 or log on to Manila Bake's Facebook page.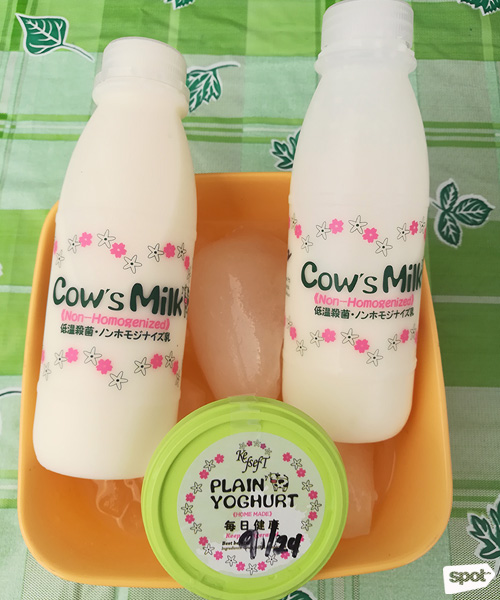 Fresh Cow's Milk
Kefseft brings their farm-fresh dairy products to the Philippines all the way from Japan. On a hot day at the food bazaar, why not take a swig of their cold Cow's Milk (P80/480 ml) that's creamy, calcium-rich, and organic? The milk was served to Japanese Prime Minister Shinzo Abe during his stay in the Philippines for the APEC meeting in 2015, so you're sure they take the quality of their products seriously. Also try their Plain Yogurt (P50/130 ml). High in probiotics, the yogurt isn't too sweet nor too tart, and is best eaten chilled!
For orders and inquiries, contact Kefseft at kefseft@gmail.com, 0946-0547-313, or 0906-758-7574.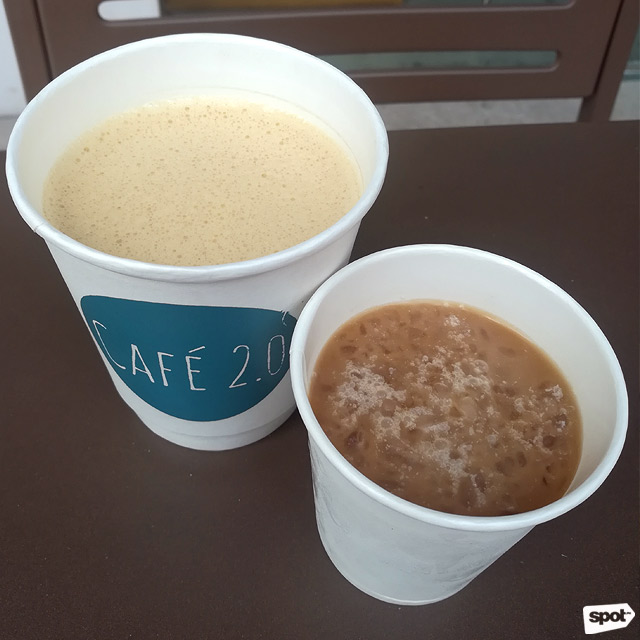 Bulletproof Coffee
Drinking Bulletproof Coffee (P175) is just as interesting as watching how it's made. Café 2.0 uses single-origin bulletproof coffee beans from Guatemala that are brewed in an Aeropress and mixed with brain octane oil, a healthy fat derivative from coconuts that are known to boost mental focus. Also infused with all-natural and homemade grass-fed butter (or butter from grass-fed cows), the result is a strong and energizing drink with a rich texture and a nutty, smooth taste. If you like your coffee cold, try the Butter Coffee (P180), which is almost the same as the hot Bulletproof Coffee, but with a sweeter flavor thanks to raw honey.
ADVERTISEMENT - CONTINUE READING BELOW
For orders and inquiries, contact Café 2.0 at 567-9633 or log on to Café 2.0's Facebook page.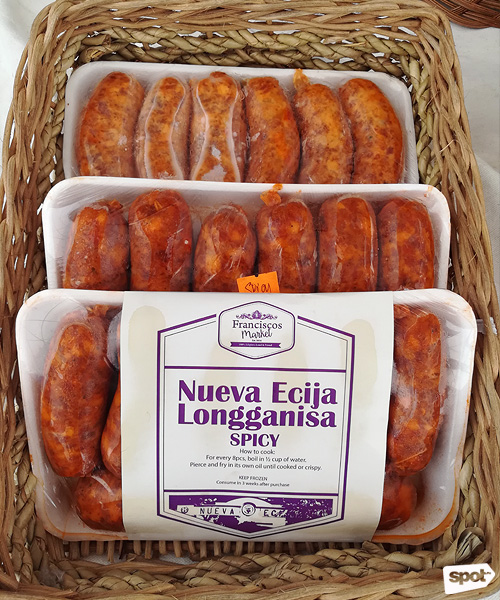 Local sausages
Their tagline is "100% Filipino, Loud and Proud." Wanting to gather various Filipino delicacies from different provinces in one place, Francisco's Market is known for their many kinds of longganisa. The Cabanatuan Longganisa (P120/four pieces, P220/eight pieces) is a tempting treat made with lean pork and comes in three flavors: Garlic, which has a salty and strong garlic flavor; Spicy, which contains small bits of bird's eye chili peppers; and Sweet, which is infused with condensed milk. They also sell the famous Vigan Longganisa (P120/four pieces, P220/eight pieces), which has zesty notes from the vinegar. Another bestseller is their Alaminos Longganisa (P120/four pieces, P220/eight pieces), which has a very robust garlic taste. You can sample these local sausages with a cup of steaming white rice and a runny sunny-side up egg for only P120.
For orders and inquiries, contact Francisco's Market at 0917-302-6788.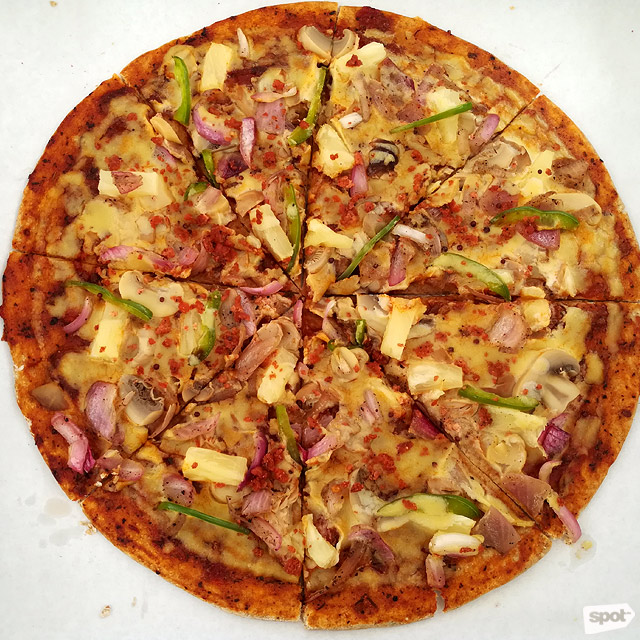 Vegan Pizza
Indulge is the first all-vegan pizzeria in the country. Now, you can give way to your pizza cravings minus the guilt (save that ultra-cheesy cheese pizza for the weekdays). If you want a little bit of everything, get a slice (or two!) of the Supreme Pizza (P450/box, P65/slice) that's topped with smoky mushrooms, button mushrooms, pineapples, bell peppers, and onions. Go ahead and indulge!
For more orders and inquiries, contact Indulge at 0917-202-6440 or log on to Indulge's Facebook page.
ADVERTISEMENT - CONTINUE READING BELOW
Photos by Nadine Smith
Load More Stories