Polilya
5658 Don Pedro Street, Poblacion, Makati City
Open from 5:30 p.m. to 2 a.m. (Monday to Friday) and 6:30 p.m. to 2 a.m. (Saturday)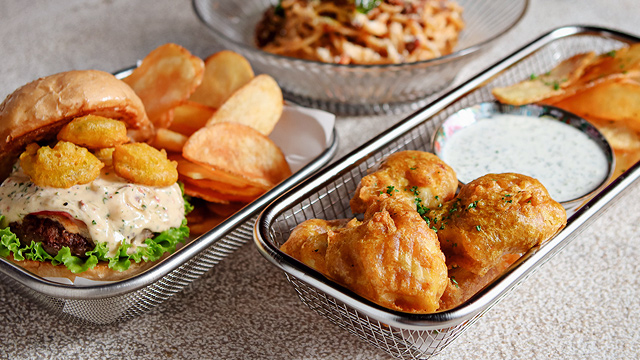 (SPOT.ph) Poblacion is so not through with us yet, and almost nothing is a better indication of that than Polilya opening their doors along Don Pedro Street.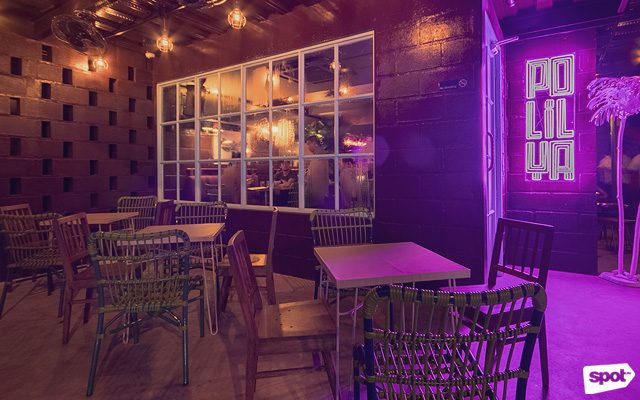 ADVERTISEMENT - CONTINUE READING BELOW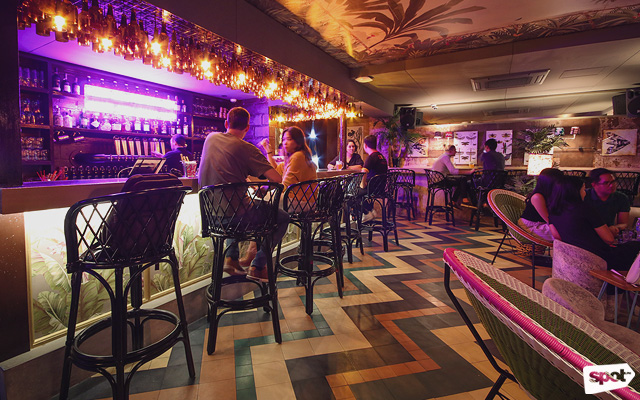 One of the first things you'll notice is the seamlessly eclectic furniture and the moody lighting. While it is very much a pub, the interiors designed by Lizzie Zobel, Junie Rodriguez, and Mia Borromeo are so well put-together: A chandelier of sample bottles graces the bar proper, tropical-inspired murals adorn the ceilings, locally sourced and manufactured seats cushion your soon-to-be-drunk behind—and oh, look, a photo of Imelda Marcos at the restrooms.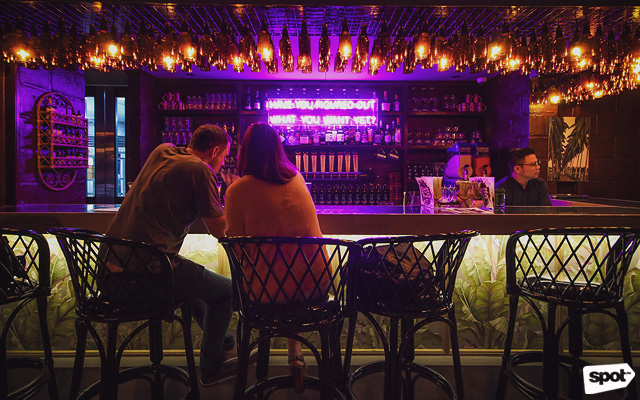 ADVERTISEMENT - CONTINUE READING BELOW
Recommended Videos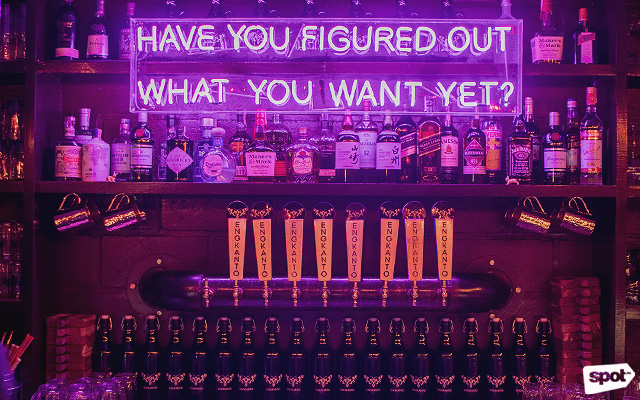 Ian Paradies, a.k.a. your new best friend and one of the minds behind Engkanto Brewery, has finally given his brainchild beer a home here—quite literally, "Bahay ng engkanto," he says, face lighting up. "It kind of feels like you're just in someone's living room. I wanted it to be that comfortable."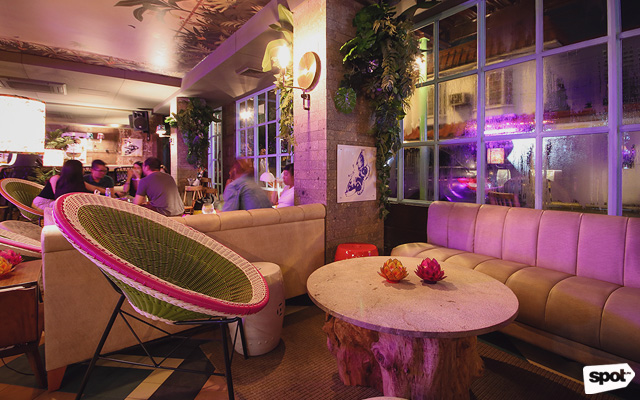 ADVERTISEMENT - CONTINUE READING BELOW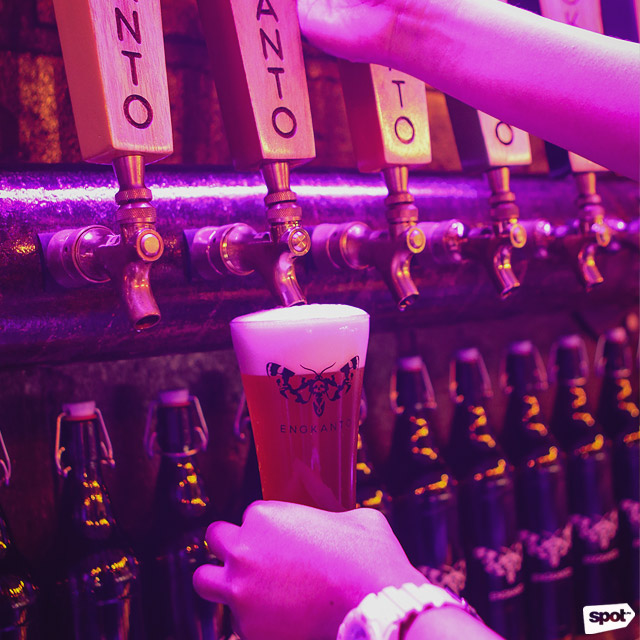 Comfortable is the polite word. In fact, if you're not careful, you could fall asleep on one of those couches. The all-too-drinkable beers certainly don't help. Some are peppery, some are light, and, shock horror, some are seasonal, so better get 'em while they're on offer. Can't decide? A couple of Four O'Clock Flights (P280) might help. The Blonde Ale (P155/12 oz) and the Double IPA (P190/12 oz) are crowd favorites for their citrusy and fruity notes.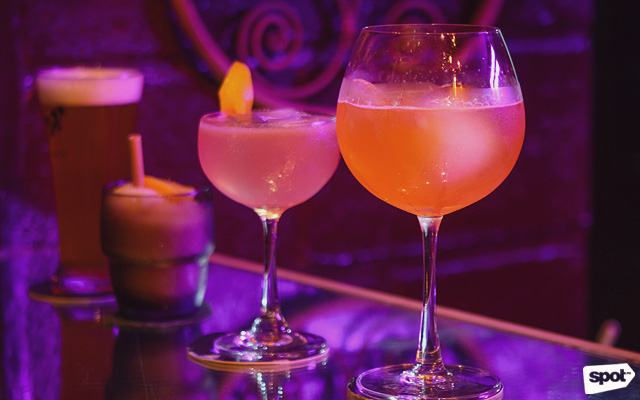 ADVERTISEMENT - CONTINUE READING BELOW
(Left to right) Double IPA, Blame It On the Heat, Sandrapolitan, Cool Bird Spritz
Feel like classing it up? The Sandrapolitan (P280) is for you. It's pink and it's delicious—thank God for cranberry-pomegranate cordial—and it may or may not make your pinky finger stick out a little. It's that fancy.
If you need to really drink but you remain adamant about your city-girl aesthetic, we suggest the Cool Bird Spritz (P290). Just as pretty, with a bit more punch to it. You'd never know that this was a beer cocktail if the menu didn't tell you so, and the same goes for the incredibly refreshing Blame It On the Heat (P145). It's all deceptively light and slushified, so we feel it's only fair to warn you that three of these could do some serious damage to your memory. You'll have a great time, of course...you just won't remember it.
Now with these drinks and those aesthetics, cynical souls would be led to believe that the food would suffer, even a little. Two words for said souls: Heck, no! Bar chow will never be the same. Polilya is on a mission to kick every Drunk Food Proprietor out of your life, from burgers and chips to curry. The only thing they're missing is a drive-thru.
"We didn't want the food to outshine the beer. The beer is the star," says Head Chef Luis de Terry, who's also from the family that owns restaurant Terry's Selection. "Instead of downplaying the food, we incorporate the flavors of the beer into it. My background is wine, and while [it sounds vastly different], the flavor principles are the same. We've given all these items an Asian twist, too."
ADVERTISEMENT - CONTINUE READING BELOW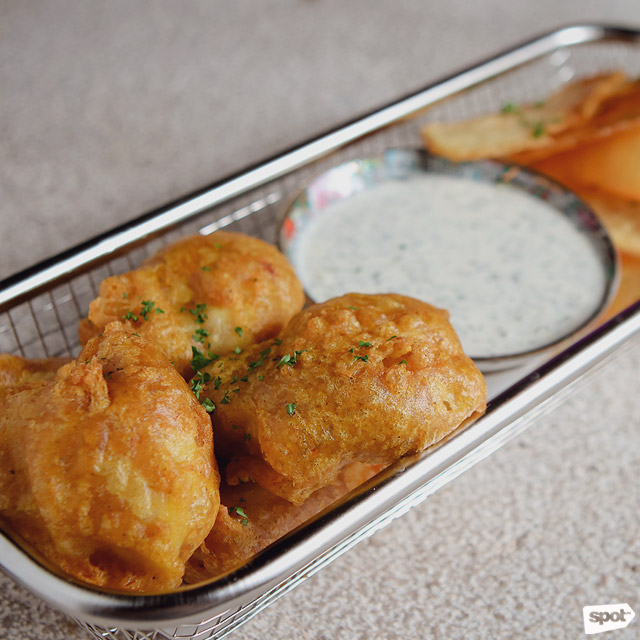 Fish & Chips
And there is no way to go easy on you, here. The Chips + Dip (P160) alone are mind-blowing. The French onion beer dip that comes with it needs to be sold in jars for you to veg out in bliss over the weekend. It's salty, creamy, just shy of rich, and absolutely phenomenal, and we didn't think we would ever use that word to describe a dip.
Somewhere in the middle of the heft spectrum lie the Fish & Chips (P325), which may sound like pretty classic pub fare, but don't let the name fool you. There's a hint of curry in the beer batter that perfectly complements the tartar sauce, prepared like a raita. It's the Eurasian fusion you never knew you needed.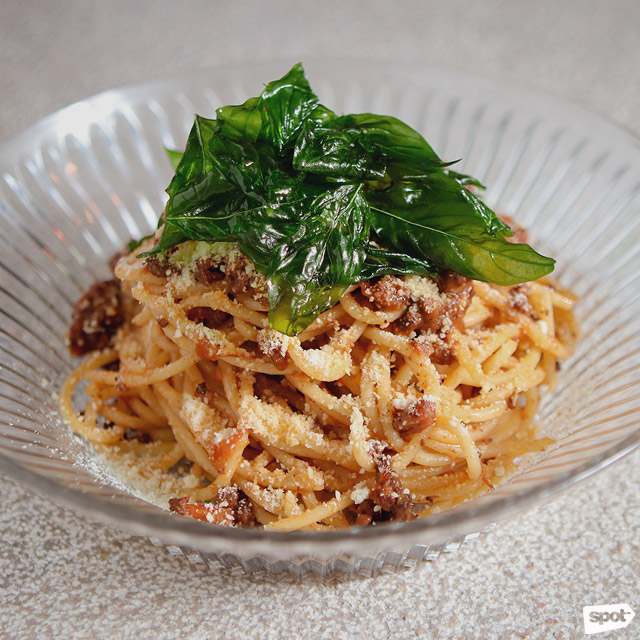 ADVERTISEMENT - CONTINUE READING BELOW
B-B-B-Bolognese
Don't you dare sleep on the B-B-B-Bolognese (P325). First of all, fried basil leaves. Secondly, bacon and beer in the sauce. Yeah, you read that right. The pasta is even that perfect al-dente texture, and just buttery enough for you to know that you probably shouldn't have the whole thing to yourself, but also to not care. Need more chunk when you're half-drunk?
But if you're looking for more bite, and arguably more bark, order everybody's favorite, the Zen Chicken Nuggets (P250). It sounds simple enough on paper: The flavors of Hainanese chicken reconfigured into a crisp-and-dip situation, but once you get it in your mouth you'll realize there's so much more to it than that. You've never had ginger sauce this fresh in your life. It's so good you might even start giving this dish a pet name. (We have. "Fry-nanese." We're sorry.)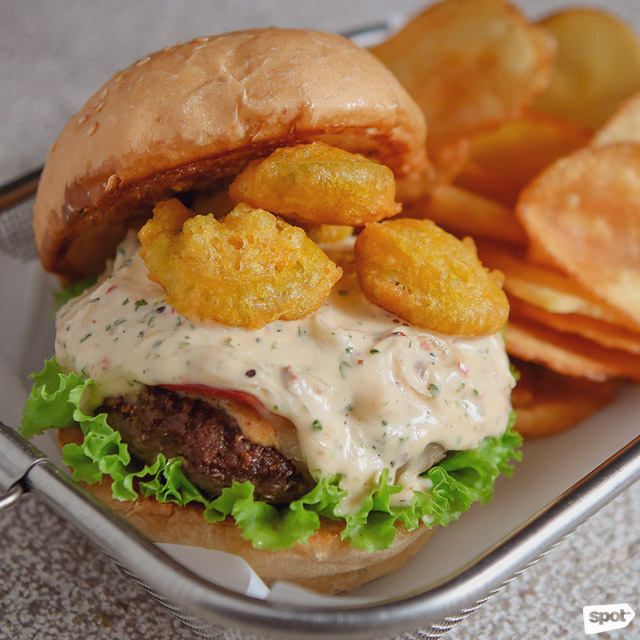 Polilya Burger
The Polilya Burger (P390) is nothing short of punch-your-cravings-in-the-face-type good. The chorizo patty doesn't wrestle your olfactory nerves into submission, but it's actually pretty subdued and just aromatic enough to tell you what it is. And don't get us started on the crispy, juicy rings of perfection on top that are the fried jalapeños.
ADVERTISEMENT - CONTINUE READING BELOW
The truth is there are only so many words we can use to tell you about Polilya, but you really have to go and experience the enchantment for yourself. Just be wary of going on a Friday night as the bar tends to get packed...unless you're okay with drinking (and eating) on your feet! 
Photos by Jericho San Miguel
Share this story with your friends!
---
Help us make Spot.ph better!
Take the short survey
Load More Stories