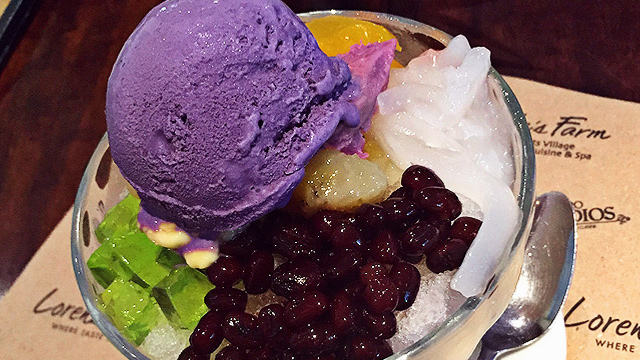 (SPOT.PH) Halo-halo has become such a staple in Philippine food culture that you'd be hard-pressed to find Filipino restaurants that don't offer their own version of the beloved dessert. Get some ice, milk, ice cream, canned fruits, and flavored jellies, and stuff them into one tall glass, and voila, you've got the classic Filipino merienda. Although the ingredients are quite simple, it's the mixing and matching to find the perfect sweet balance that makes this ice-cold treat a hit-or-miss. So whether you need some halo-halo to cool down on a hot day or just want something sweet after a hefty and savory dinner, we've ranked the best places to satisfy your cravings.
ADVERTISEMENT - CONTINUE READING BELOW
All SPOT.ph Top 10 lists are researched, paid for, tested, and selected by the writers and editors. They are discreetly conducted without any notice made to the restaurants or their owners.
Here are the best-tasting halo-halo in Manila: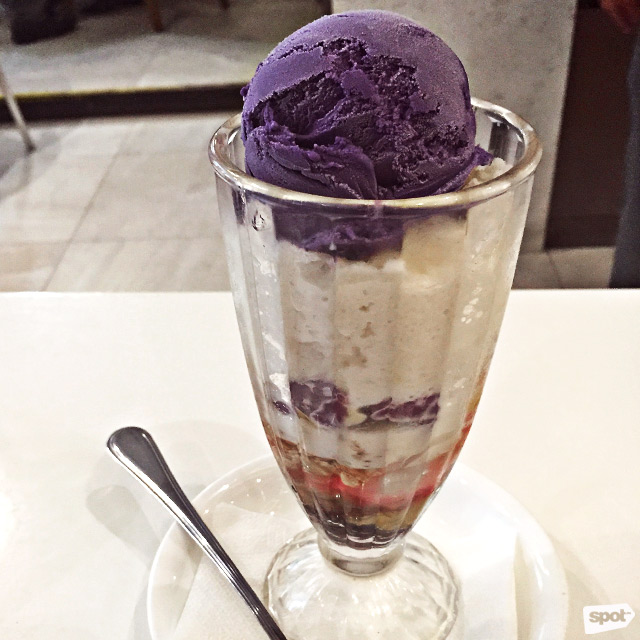 10. Café Via Mare's Halo-Halo (P112, P162/with ice cream)
This nicely proportioned treat looks the part of a perfect halo-halo. It also does a solid job of ticking all the boxes necessary for a good halo-halo—dig in and you'll find layers of jelly, ube, macapuno balls, kaong, sweet beans, and saba. Tucked under a chunk of smooth, shaved ice doused with evaporated milk, you'll find crispy corn flakes that add a welcome texture to this sweet dessert. This version would've ranked higher if the ice cream had a subtler ube flavor; that way, it wouldn't mask the overall taste of the halo-halo.
See a list of Café Via Mare branches.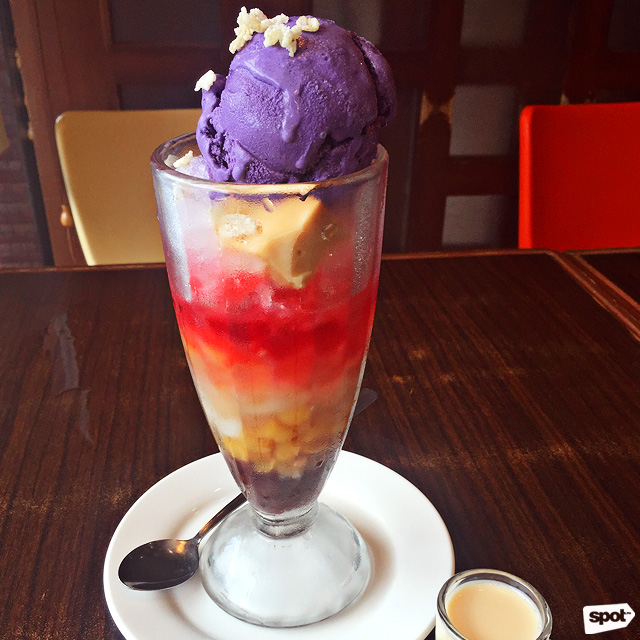 ADVERTISEMENT - CONTINUE READING BELOW
9. Aristocrat's Halo-Halo (P125/regular, P150/special)
Aristocrat's halo-halo is what you'd expect a halo-halo to look like if you assembled the ingredients yourself—no holds barred, dump as much toppings as you wish. Sprinkled with toasted pinipig, this tall glass of halo-halo is brimming with generous helpings of red jelly, macapuno, leche flan, saba, sweet beans, langka, and sweet corn. If you're looking for something that has more sangkap than ice, this halo-halo will surely satisfy. This hefty version is great for someone who wants more chew and bite rather than just shaved iced and milk. Plus, it has just the right level of sweetness, making it easy to scarf down despite its size.
See a list of Aristocrat branches.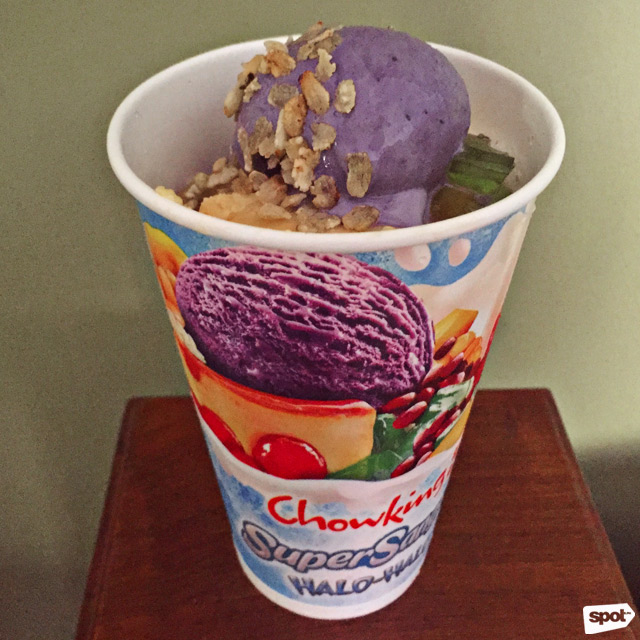 ADVERTISEMENT - CONTINUE READING BELOW
8. Chowking's Supersangkap Halo-Halo (P50 to P100)
There's no denying that Chowking's Halo-Halo is one of the heavier halo-halos on this list. You'll get full just by looking at it, where you have ingredient after ingredient crammed into one tall cup. The best part is you can have it almost anywhere as long as there's a Chowking nearby. It has your usual toppings like ube ice cream, pinipig, leche flan, saba, sweet pandan jelly, a scoop of ube, red kaong, and red beans. Although it might be quite difficult to scoop out the bottom elements while preventing spillage (but who's complaining?), this halo-halo is enjoyable with its strong milky taste and a whole lot of sweetness.
See a list of Chowking branches.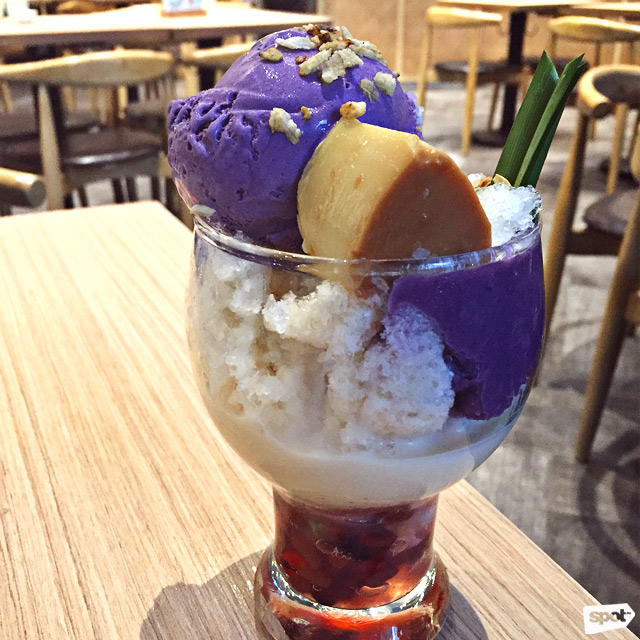 ADVERTISEMENT - CONTINUE READING BELOW
7. Manam's Namnam Halo-Halo (P165)
Served in a thick and wide goblet that's unlike any conventional halo-halo glass you've seen, Manam's version is certainly eye-catching. If cooling down is what you're after, then this is the best one for you. Their milky and smooth shaved ice and delicious ube ice cream, which both come in huge portions, are the main stars here. There's also ube jam smeared onto the sides of the glass, aside from fresh macapuno, crunchy pinipig, nata de coco, sweet munggo, saba, and a liberal scoop of tasty leche flan. There's more ice than sangkap in this version, but the flavors go together in one beautiful and harmonious mixture.
See a list of Manam branches.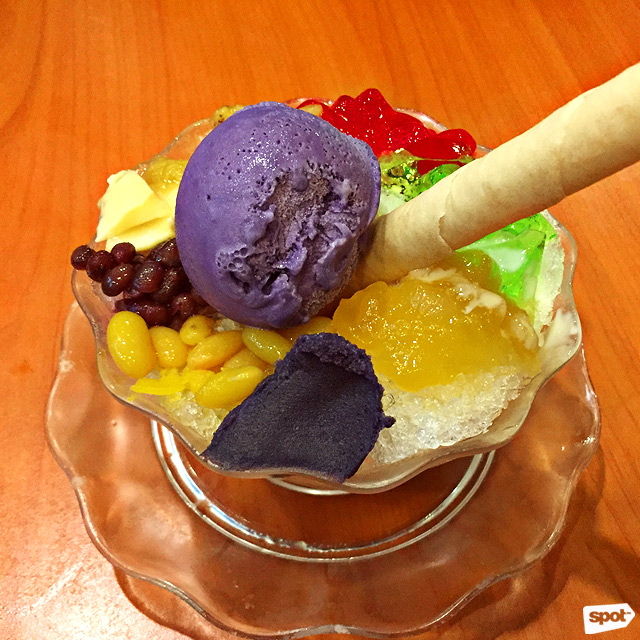 ADVERTISEMENT - CONTINUE READING BELOW
6. Mang Inasal's Pinoy Halo-Halo (P53/small, P73/regular)
With such an affordable price, it's a shock how much halo-halo you're getting with Mang Inasal's rendition. Each element is tasty on its own, with red beans, green pandan jelly, kaong, nata de coco, leche flan, saba, ube jam, and shredded jackfruit all blanketed in smooth shaved ice, creamy-sweet milk, and ube ice cream. You'll even get some flaky and buttery barquillos as topping. This makes for a delicious, accessible, and wallet-friendly option of the Filipino classic, one you'd gladly come back for whenever the craving kicks in.
See a list of Mang Inasal branches.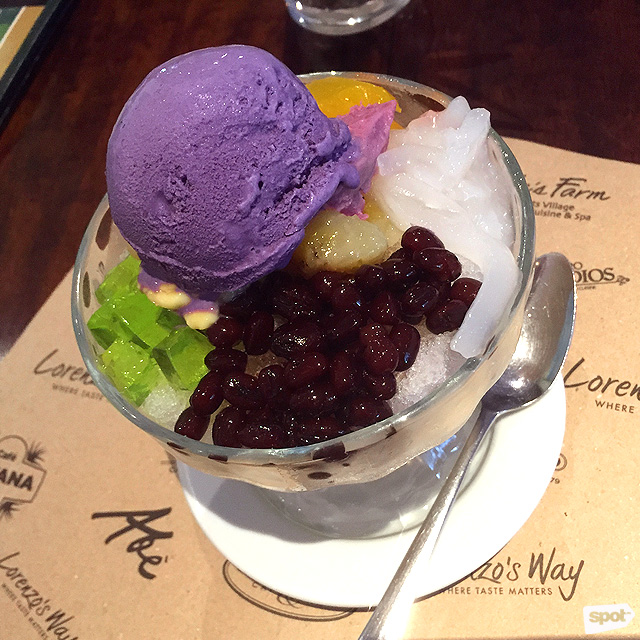 ADVERTISEMENT - CONTINUE READING BELOW
5. Abe Restaurant's Halo-Halo (P175)
Abe Restaurant plays up their halo-halo's high-quality ingredients, and it shows how much of a difference it makes with every spoonful. Served in a big goblet, their halo-halo does not scrimp on ingredients. First, you'll get an extra creamy and flavorful scoop of ube ice cream resting on a bed of sweet beans, thick saba and langka slices, macapuno, pandan jelly, and some homemade ube jam. The ingredients are great separately, but even better together. This overflowing concoction could use some finer ice, but that's forgivable once you scoop all the ingredients up for one big bite.
See a list of Abe Restaurant branches.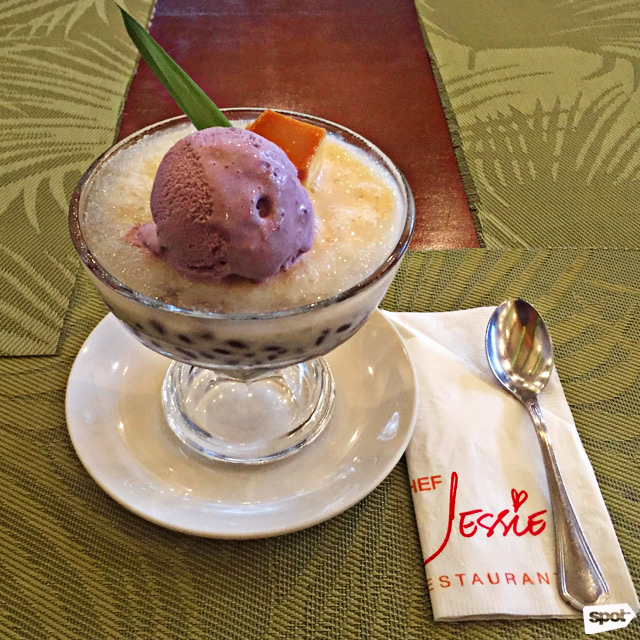 ADVERTISEMENT - CONTINUE READING BELOW
4. Chef Jessie Grill's Halo-Halo (P300)
Don't let the price tag scare you. Apart from this version being on the milky side, the spotlight should really be on their homemade ingredients. On top is a decadent scoop of ube ice cream with chunks of ube halaya. Eating that is already an experience, but then you get to their creamy leche flan, which seems to have been flavored with dayap for some zest. Mix them all together to get to the red beans, sago, langka, jelly, macapuno, sweetened kamote, kaong, and saba. The price is a tad bit higher than the others on this list, but if you're looking to splurge for some mouthwatering halo-halo, then Chef Jessie Sincioco's version is one of the finest.
Chef Jessie Grill is at G/F The Grove by Rockwell, E. Rodriguez Avenue Jr., Pasig City.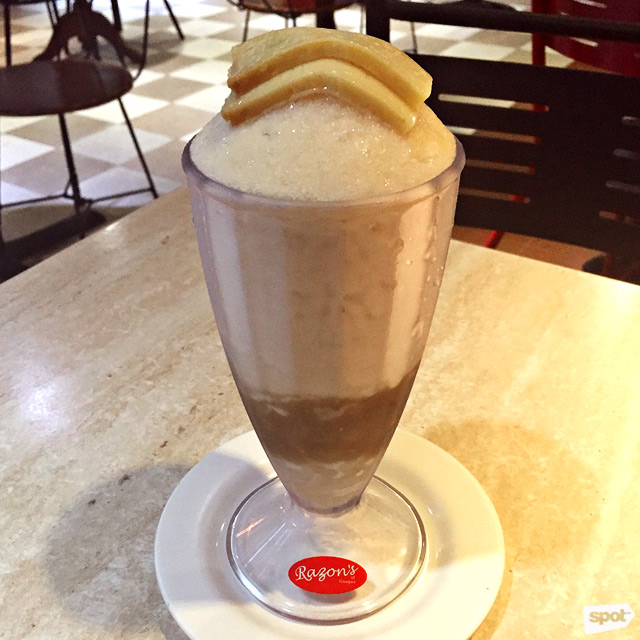 ADVERTISEMENT - CONTINUE READING BELOW
3. Halo-Halo at Razon's of Guagua (P85/junior, P110/regular)
Unlike most halo-halo versions on this list, Razon's famous halo-halo is less striking in terms of appearance—dropping all the colors and earthy flavors of beans and whatnot. Instead of over-flowing the halo-halo, it chooses specific ingredients to come up with an almost all-white version of the Filipino dessert. Containing only evaporated milk, macapuno preserves, saba, and some ultra-creamy leche flan, it's almost too delicate to eat. Their finely shaved ice is packed, making for a halo-halo that doesn't turn into soup after a few minutes. There's a strong milky taste to it but everything comes together deliciously—not too sweet, not too cloying, making it a near-perfect choice.
See a list of Razon's of Guagua branches.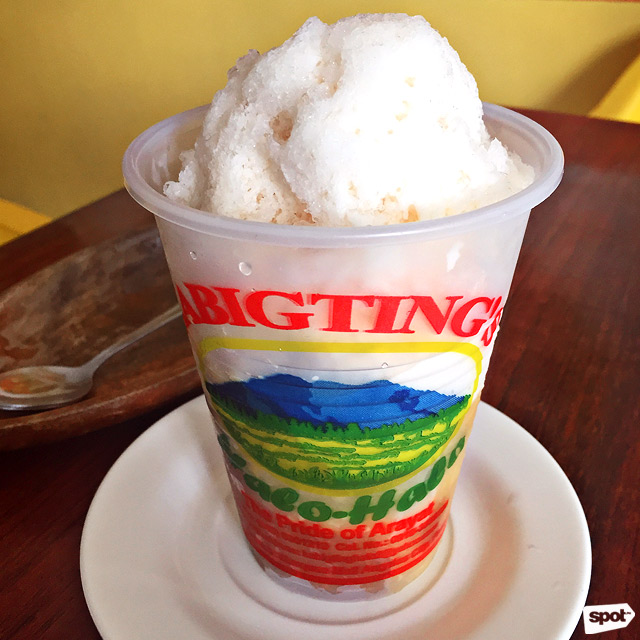 ADVERTISEMENT - CONTINUE READING BELOW
2. Halo-Halo at Kabigting's Halo Halo (P110)
If you think most halo-halo versions have too many toppings, then you should try Kabigting's version, which boasts only three main ingredients: Mashed brown kidney beans, creamed corn, and beautiful, beautiful pastillas made from carabao's milk. Served in a colorful plastic cup, this halo-halo is then doused with velvety evaporated milk that works superbly with the fine ice. When one of your ingredients is as deliciously sweet as their glob of pastillas, you only need a few ingredients. And when that's paired with more savory elements like corn and mashed beans, the cup becomes an explosion of flavors ranging the entire spectrum. Kabigting's gets away with being different, because it's that good.
Kabigting's Halo Halo has branches at 528 Banawe Avenue corner Calamba Street, Quezon City; Congressional Avenue, Muñoz, Quezon City; and 56-A Lilac Street, SSS Village, Concepcion Dos, Marikina City.
ADVERTISEMENT - CONTINUE READING BELOW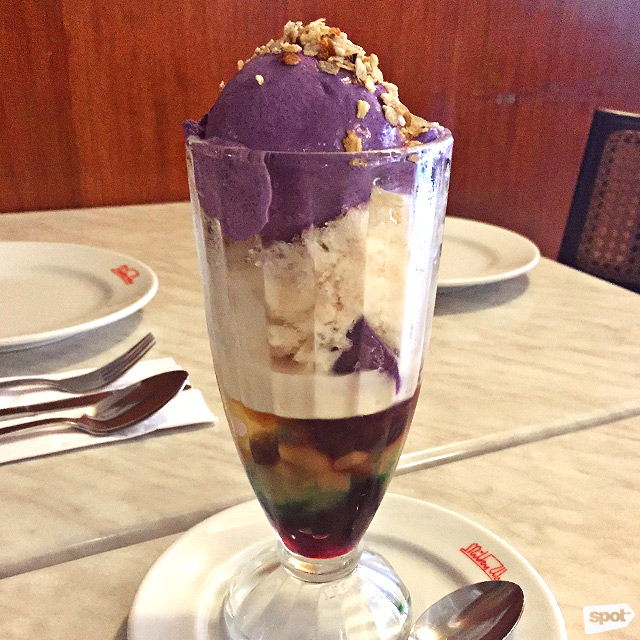 1. Milky Way Café's Milky Way Halo-Halo (P175)
Milky Way takes pride in their version of halo-halo, even calling it "the best since 1962." And we think they're right. You won't stop eating this divinely sweet version of the Pinoy dessert until you hit the bottom of their tall and slender halo-halo glass, no matter how full you are. It's perfectly proportioned and layered, with one-third ice cream, one-third ice and milk, and one-third sangkap. Their homemade ice cream (which they also sell by the tub!) is one of the smoothest and creamiest takes on ube ice cream ever. Then you have a tasty and appetizing mix of ingredients like crunchy pinipig, sweetened saba and langka, red jelly, garbanzos, and kaong. A delicate scoop of ube halaya and leche flan sit at the top of this delicious mountain of elements. This is a halo-halo that hits all the right spots, whether mixed together in one messy concoction or eaten bit by bit, one delightful spoonful at a time.
ADVERTISEMENT - CONTINUE READING BELOW
Milky Way Café is at 2/F Milkyway Building, 900 Arnaiz Avenue, Pasay Road corner Paseo de Roxas, Makati City.
Photos by Jio de Leon
For other Top 10 lists, check out SPOT.ph's Top 10 Everything Food Lists 3rd Edition. Co-presented with C2 Cool and Clean, it's priced at P195, available at major bookstores.
Share this story with your friends!
---
Help us make Spot.ph better!
Take the short survey
More Videos You Can Watch
Load More Stories