10 Spots That Shaped the Manila Bar Scene in 2017
Bottoms up!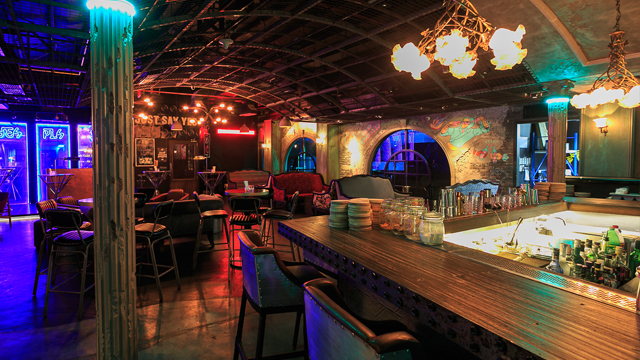 (SPOT.ph) It's not only restaurants that come and go—with all the great new things popping up around the Metro, bars have a pretty high mortality rate, too. But that didn't stop these boozy establishments from opening (nor did we stop drinking). The past year has seen the launch of many new watering holes around the city and we've rounded up some places that have stood out. Add these to your roster of must-visit drinking places before 2017 ends. 
ADVERTISEMENT - CONTINUE READING BELOW
CONTINUE READING BELOW
Recommended Videos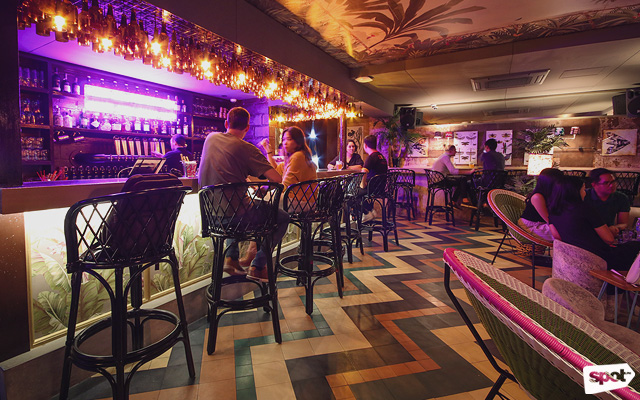 If you've got local craft beer on the brain, then Polilya is right up your alley. This little bar in Poblacion is studded with eye-catching neon lights, quirky décor, and tropical-themed furniture that make for the ideal backdrop for a relaxed night with friends. They have Engkanto beer on tap as well as out-of-the-box (not to mention affordable) cocktails that will make you sip until the last drop. Need some munchies to soak up all the alcohol? Their kitchen, helmed by Chef Luis de Terry, also serves some pretty badass beer-infused bar chow that can keep your appetite satisfied the whole evening.
ADVERTISEMENT - CONTINUE READING BELOW
Polilya is at 5658 Don Pedro Street, Poblacion, Makati City.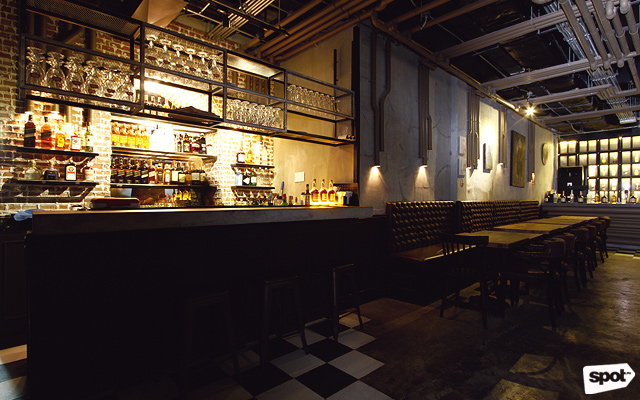 Who would've thought you'd find a hip speakeasy in wholesome Greenhills? The pub founded by the guys behind Felipe and Sons secretly sits beside a barbershop, which is why a haircut is never just a haircut here. Despite their fancy grooming services, the bar opts for a casual atmosphere, from their overall vibe down to the food. Besides their expertly concocted beverages, The Thirsty Barber is also the first to offer Stella Artois draft beer in San Juan City.
ADVERTISEMENT - CONTINUE READING BELOW
The Thirsty Barber is at G/F Promenade Mall, Wilson corner P. Guevarra Streets, Addition Hills, San Juan City.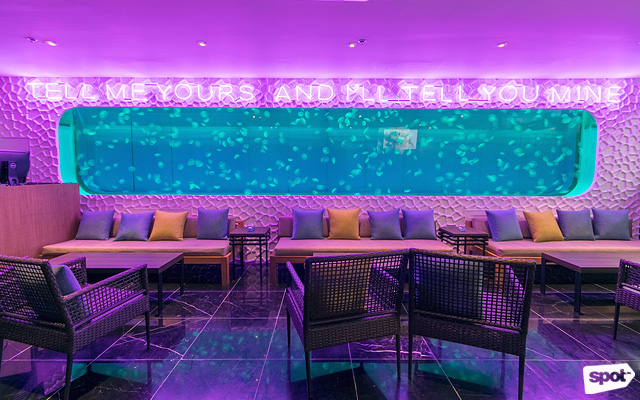 Sure, the jellyfish aquariums that dot this rooftop bar are pretty and quite hypnotizing—but that's not the only thing Antidote has up their sleeve. They've also got a mean cocktails menu curated and created by Christian Dominguez to complement the whole experience. If you've been living under a rock, Christian is popularly known as the head bartender of Mace Bar in New York, a craft bar that's included in the World's 50 Best Bars List. If that doesn't convince you to check out Antidote, we don't know what will.
ADVERTISEMENT - CONTINUE READING BELOW
Antidote is at I'M Hotel, Roof Deck, 7862 Makati Avenue corner Kalayaan Avenue, Makati City.
Batala Bar
This cozy, minimalist watering hole tucked away in one of Makati's busiest thoroughfares is all about putting the spotlight on Filipino craftsmanship and ingenuity. Batala Bar, which also doubles as a retail space and gallery, boasts a compact selection of Philippine craft beer and cocktails made with all-local ingredients. Try the Momol, a clean and zesty mojito that's mixed with fresh calamansi and mint, white rum, and soda water. The Momox (or Momol Extreme), on the other hand, doubles the Momol's recipe portions, resulting in a more potent concoction.
Batala Bar is at 830 Antonio Arnaiz Avenue, Makati City.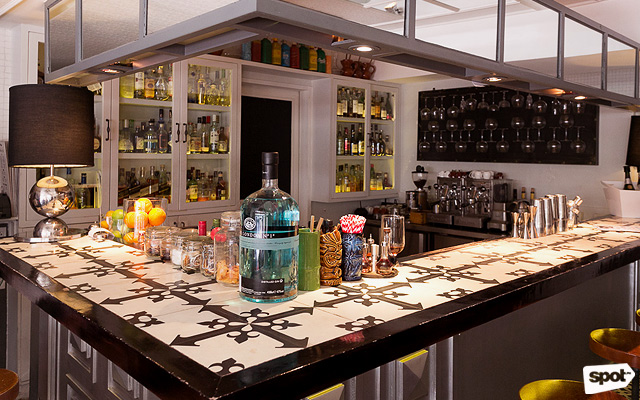 ADVERTISEMENT - CONTINUE READING BELOW
This "secret bar" in Rockwell is one you shouldn't miss. From the makers of Churreria La Lola comes La Coctelera, a hidden gem on the second floor of Rambla. Their excellent boozy drinks are crafted by head mixologist Michael Tubiera, who explains that most of the bar's cocktails are Spanish-inspired. One great example: Their Sparkling Fancy Sangria, a fizzy concoction of the usual fruity sangria made better with sparkling Lambrusco wine.
La Coctelera is at 2/F Rambla, Joya Building, Joya Drive, Rockwell, Makati City.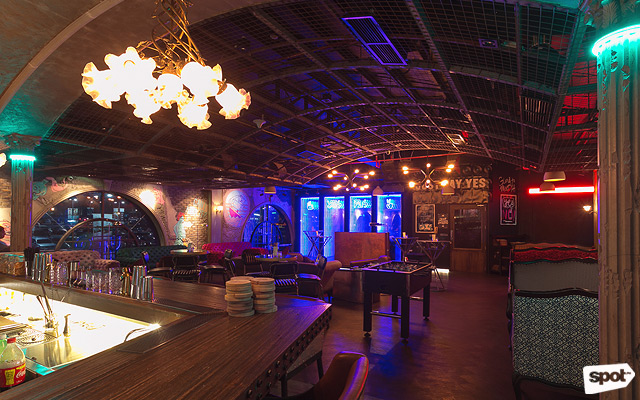 ADVERTISEMENT - CONTINUE READING BELOW
Apart from alcohol, Yes Please's menu is heavy on nostalgia—and it does a pretty swell job of bringing you back to your childhood if you ever grew up in the rebellious '90s. Take, for example, the Flying V, a reference to the Disney film The Mighty Ducks. Served in a funky parrot-shaped glass, this order-worthy libation is a refreshing blend of Mezcal and the tropical flavors of mango and melon juice. To cut through the sweetness, a drop of sour champoy a.k.a. everyone's childhood candy is added.
Yes Please is at 11th Avenue corner 38th Street, Uptown Bonifacio.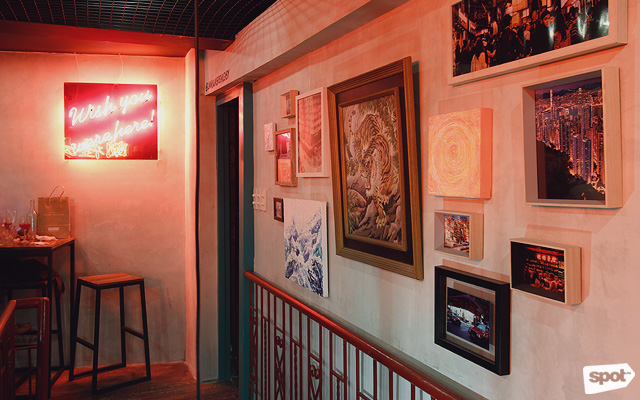 ADVERTISEMENT - CONTINUE READING BELOW
If you've ever wandered around the busy streets of Lan Kwai Fong in Hong Kong, this easy-to-miss bar in Quezon City just might make you want to party and book that flight ASAP. Meanwhile, funky murals and neon lights will be the first to greet you as you walk up their narrow staircase. Make your way to the bar area where their friendly bartenders can whip you up a drink based on your mood—don't know where to start? Their Sunny Bay Sour is a good introduction if you want a good kick to start the night.
Lan Kwai Speakeasy is at 42 Esteban Abada Street, Quezon City.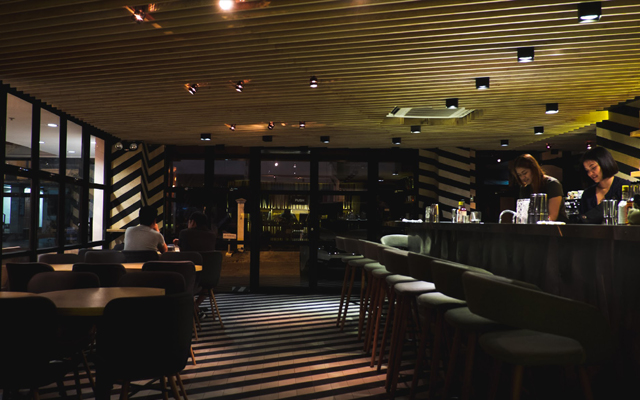 ADVERTISEMENT - CONTINUE READING BELOW
OTO
What's a bar without good music? Located in trendy Poblacion is OTO, a watering hole for audiophiles that prides itself in their sleek lounge-like interiors, high-quality audio system, and excellent cocktail bar headed by The Curator's David Ong. Ask their well-trained mixologists to make you a glass of Paloma—this potent but refreshing drink pairs well with their delicious bar chow, like the hefty Meat Platter made of corned beef, sausages, and thick-cut bacon.
OTO is at G/F 5880 Enriquez Street, Poblacion, Makati City.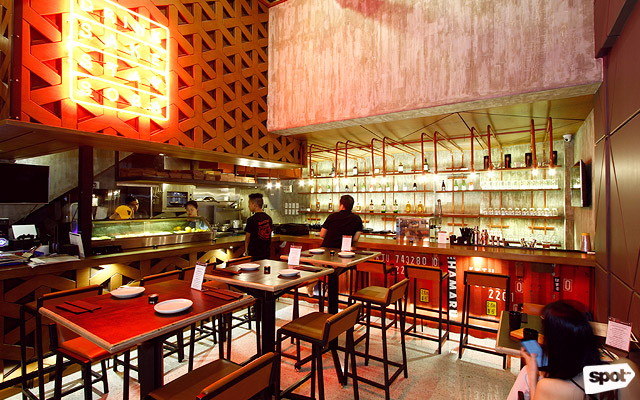 ADVERTISEMENT - CONTINUE READING BELOW
Hamaru
This isn't your typical food-park stall—Hamaru is a modern sake bar in the middle of The Food Hive in Quezon City. The izakaya's concise yet well-curated menu was created by Chef Niño Laus of Ninyo Fusion Cuisine fame, so you know you're not just getting the usual deep-fried food-park snack. Here, customers can unwind with the bar's selection of fine Japanese sake, whiskey, and beer. If you're an indecisive drinker, you can opt to get the Tanka, a five-sake tasting flight. Have some of their Oyster Motoyaki, or fresh Aklan oysters, while you're at it!
Hamaru is at 80 Visayas Avenue, Quezon City.
Dulo MNL
At the far end of Poblacion's residential area is Dulo MNL, a café-slash-art hub that transforms into a chill bar with an underground vibe at night. Besides being relatively new to the flourishing night scene of the hip district, Dulo MNL serves up some handcrafted booze that will put you in a giddy mood the whole evening. Try the Jagerita if you're feeling a bit adventurous—it's basically margarita served with Jagermeister instead of tequila.
ADVERTISEMENT - CONTINUE READING BELOW
Dulo MNL is at 4992 P. Guanzon Street, Poblacion, Makati City.
Are you sure you want to delete this list?

Load More Stories