Best of Manila: 50 Great Restaurants of 2017
Our list of the most noteworthy food destinations of 2017.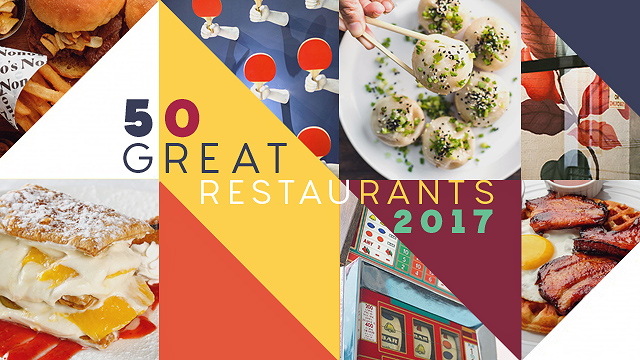 (SPOT.ph) If there's one thing worth highlighting from the past few years, it has to be the Metro's ever-dynamic food scene. We saw the rise of a lot of homegrown eateries in 2017 that went back to basics, whether they're located in quiet little neighborhoods or set amid the hurry and scurry of the city. Restaurants that focused on comfort classics were king—from luxe and indulgent, to familiar with a twist—while a few international franchises also made their mark. We've listed down this year's most striking dining destinations. Which ones have you tried?
Restaurants are listed alphabetically. This list has been limited to restaurants that opened between November 2016 and November 2017.
See our previous lists:
Best of Manila: 50 Great Restaurants of 2016
Best of Manila: 100 Great Restaurants of 2015
Best of Manila: 50 Great Restaurants of 2014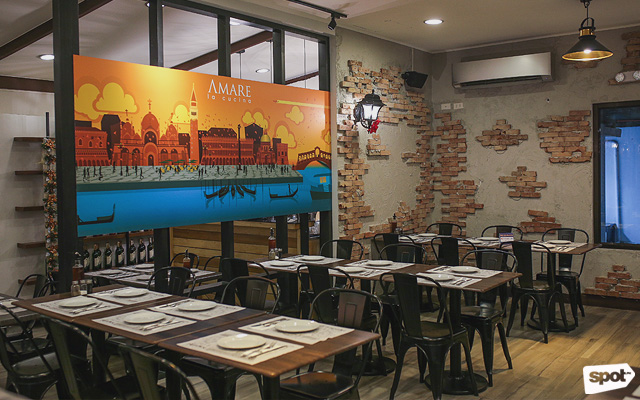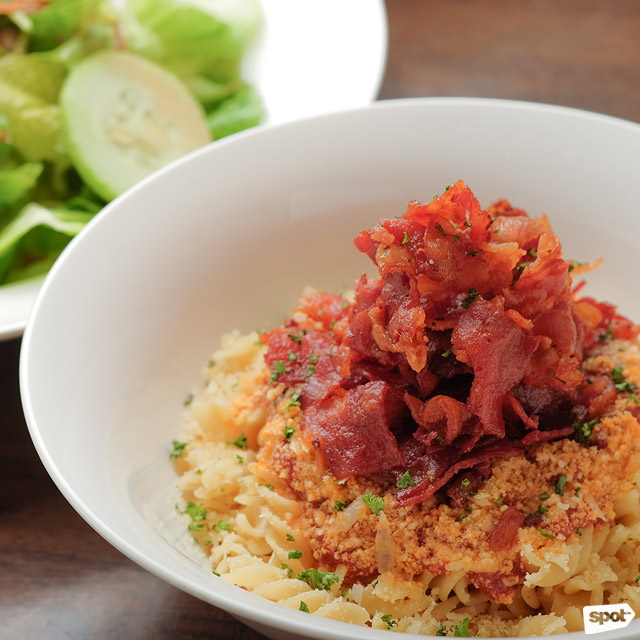 Amare La Cucina
91 East Capitol Drive, Kapitolyo, Pasig City
Contact: 0929-823-7313
Amare La Cucina runs on the principle that less is more without actually feeling like less. Leaning towards traditional Italian food, Amare combines a family-friendly air with a penchant for maximizing every ingredient. For first-timers, their Al Arrabiatta is a winner despite its simplicity, which Italian cooking is really known for. Plus, did we mention the chock-full of crispy, golden bacon atop its al dente fusilli?
Must-tries: Al Arrabiatta, Pizza Con Prosciutto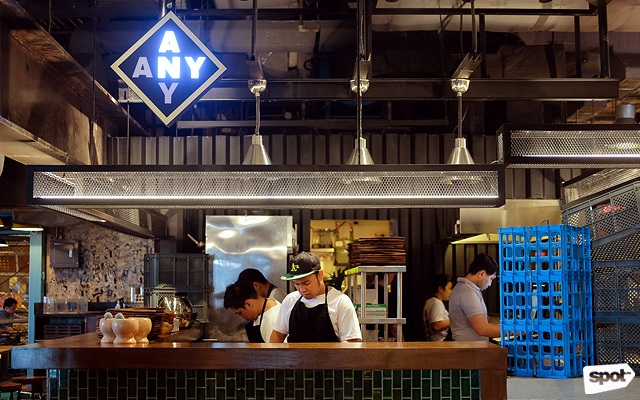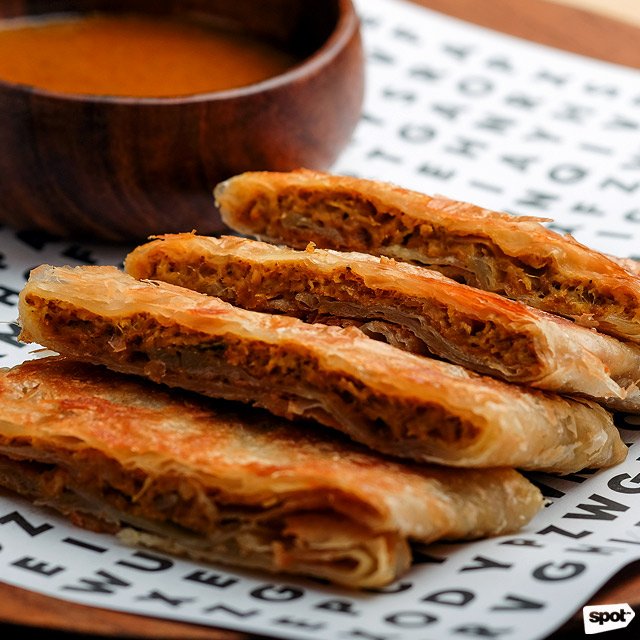 Any Any
Hole in the Wall, 4/F Century City Mall, Kalayaan Avenue, Makati City
Contact: 801-1230
Chef Nicco Santos of Hey Handsome and Your Local does it again—this time, on a smaller scale. Think Singaporean hawker joint minus the shabby and dingy feel. Any Any at Hole in the Wall offers some of the best Southeast Asian street fare in the Metro. Here, Chef Nicco goes back to basics. His straightforward, one-page menu is divided into two major parts: Roti Prata and Nasi Lemak, each coming in very satisfying and tasty variations.
ADVERTISEMENT - CONTINUE READING BELOW
Must-tries: Cheese Roti Prata, Beef Nasi Lemak
Read more about Any Any.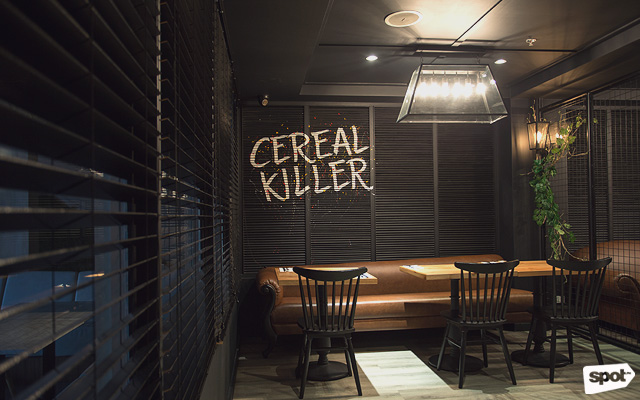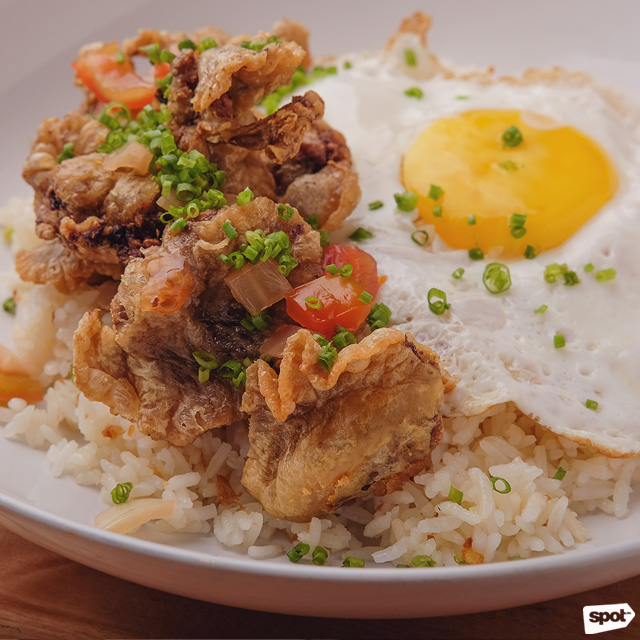 B.A.D. Late Night Breakfast Bar
The Palace Complex, 11th Avenue, Uptown Bonifacio
Contact: 0917-550-9999
More like a gritty dive bar than homey brunch nook, B.A.D. redefines what an "all-day breakfast place" should be. After all, you're already having breakfast past morning hours, so why not break the rules further? The Chillaxilog, with thick chunks of chicharon bulaklak, a fried egg, and a chili-and-tomato-relish is so unforgettable you'll want to have it more times than your doctor would probably think wise.
Must-tries: Chillaxilog, Bacon & Cheddar Waffle, B.A.D. Arroz Caldo
Read more about B.A.D. Late Night Breakfast Bar.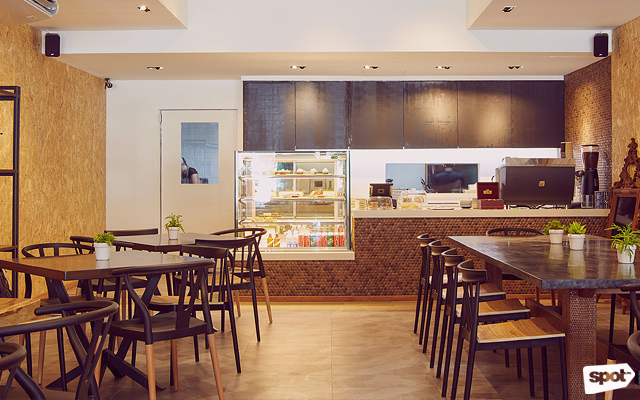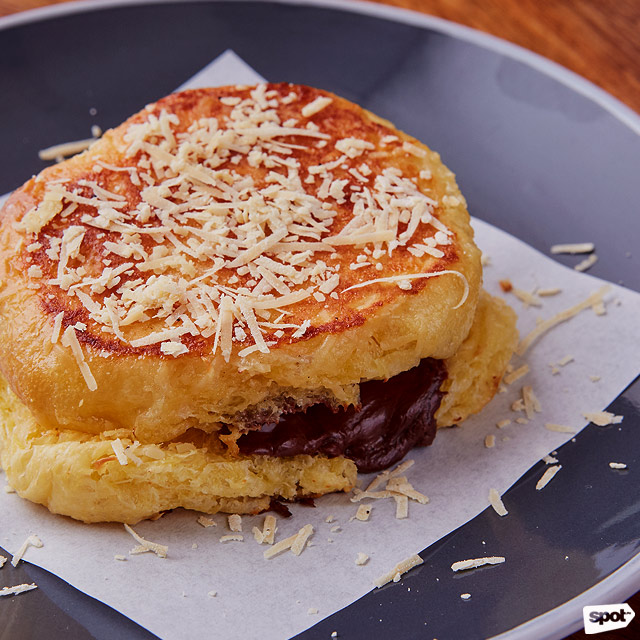 Bakere Café
Three Brixton Building, 3 Brixton Street, Kapitolyo, Pasig City
Home-baked goods are easy to come by, but the consistency in freshness and flavor that's hard to find. Those are two things you're always sure to get at Bakere. Eleanor Galang a.k.a. "Baker E" used to sell her pastries and fluffy ensaymadas from her house, but when her son RJ noticed that more and more people were placing orders, they finally decided to set up shop in Kapitolyo. The homey vibe of the café complements the warm feeling you would get with just a bite of their pastries. But aside from the baked goodies, they also serve filling plates of pasta and sandwiches that will leave you more than satisfied.
ADVERTISEMENT - CONTINUE READING BELOW
Must-tries: Ensaymada, Cheese Cupcake, BXU
Read more about Bakere Café.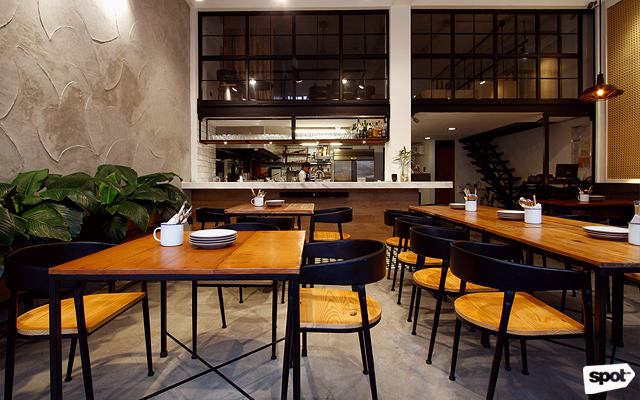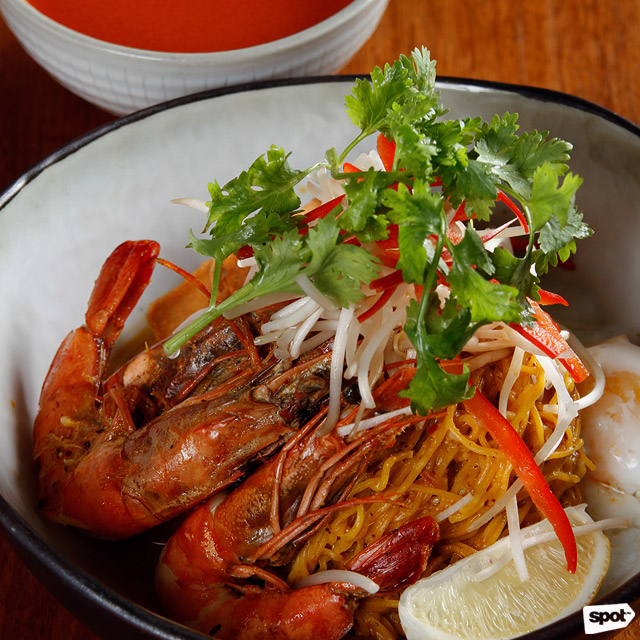 Balestier
14 Nicanor Roxas Street, Barangay San Roque, Marikina City
Contact: 794-6199
Created by young couple Mandy Diaz de Rivera and Chef Mikee Rodriguez, Balestier in Marikina combines the modern, chill vibe of urban Singapore and the homey flavors of the city-state's street food at affordable price points. Their Laksa Tsukemen is an easy favorite, giving diners a bowl of laksa broth with ramen noodles on the side, tsukemen-style.
Must-tries: Cereal Prawns, Laksa Tsukemen, Hainanese Chicken
Read more about Balestier.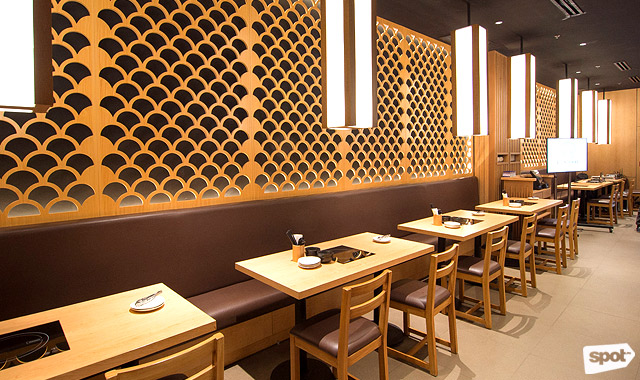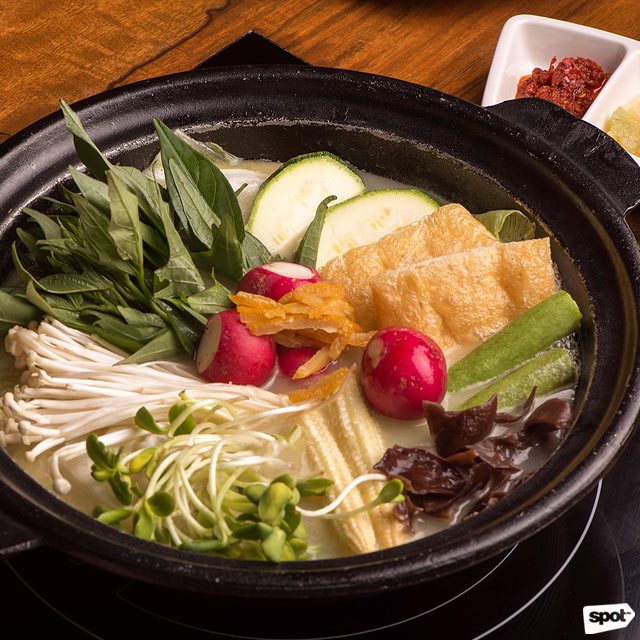 Bijin Nabe By Tsukada Nojo
2/F S Maison at the Conrad, Mall of Asia Complex, Pasay City
Contact: 809-1268
This Japanese restaurant's bijin nabe or "beauty hotpot" could be the tastiest beauty secret ever. Like any beauty routine, having this hotpot requires a bit of ceremony, from melting the collagen of the highly-prized Jidori chicken into a broth, to mixing in the chicken balls, prawns, and fresh vegetables, but the process adds to the luxurious experience. Plus, the intoxicating richness of the broth, the fork-tender chicken, and fresh mildly sweet vegetables are more than enough rewards for your patience.
Must-tries: Bijin Nabe, Chicken Nanban
Read more about Bijin Nabe By Tsukada Nojo.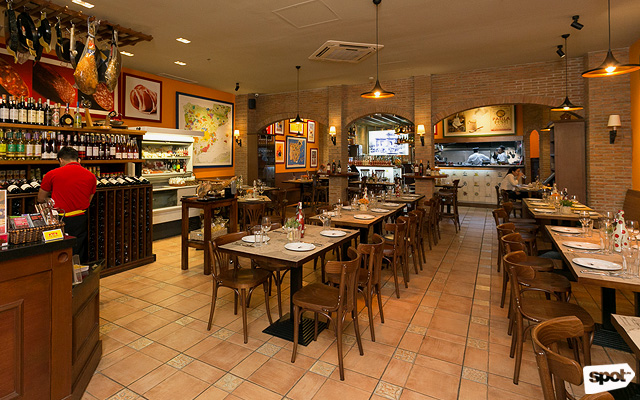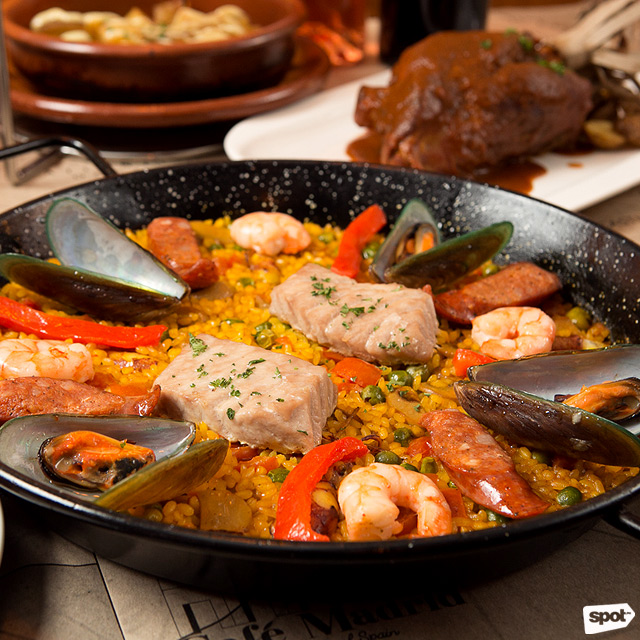 Bistro Madrid
G/F Estancia Mall, Capitol Commons, Pasig City
Contact: 470-1675
A traditional Spanish restaurant isn't one without Spain's banner dishes like paella, jamon, fabada, and some fine Spanish wine. Bistro Madrid, helmed by Chef Juan Carlos de Terry, reacquaints you with the basics of Spanish cuisine by serving no-frills dishes from across the country's regions. Come with an empty stomach and order the Bistro Madrid Gran Paella that's good for three to four hungry diners. It's a dish you shouldn't miss, with its perfectly seasoned Bahia rice cooked in a deep saffron-stock broth and topped with chorizo, vegetables, and locally sourced seafood. Delicioso!
ADVERTISEMENT - CONTINUE READING BELOW
Must-tries: Lamb Shank in Chilindron Sauce, Bistro Madrid Gran Paella, Jamon Ibérico
Read more about Bistro Madrid.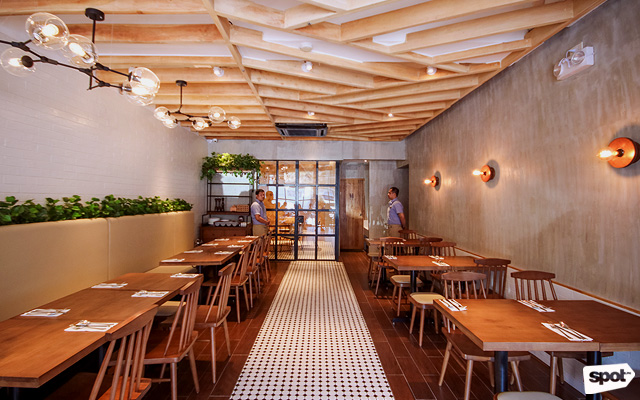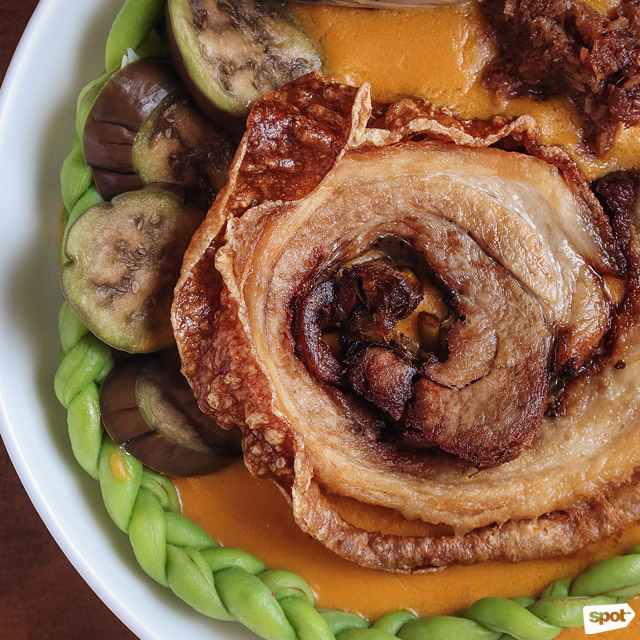 Bistro United
D-Strip Building, 20 United Street, Kapitolyo, Pasig City
Contact: 706-1668
Chef Mia Capay of Bistro United wants to change how people feel and think about Filipino food. We'd have to give it to her—the chef doesn't want to change the flavors of her dishes, but rather enhance each ingredient to let it shine. Their Porchetta Kare-Kare, for one, is a scene-stealer, with a chunky slab of pork in the middle of burnt-orange and green hues from the kare-kare's rich peanut-based sauce and crisp veggies. Kapitolyo folks are lucky to have this restaurant in their neighborhood.
Must-tries: Porchetta Kare-Kare, Tilapia Ice Cream, Crispy Ribs with Bone Marrow Rice
Read more about Bistro United.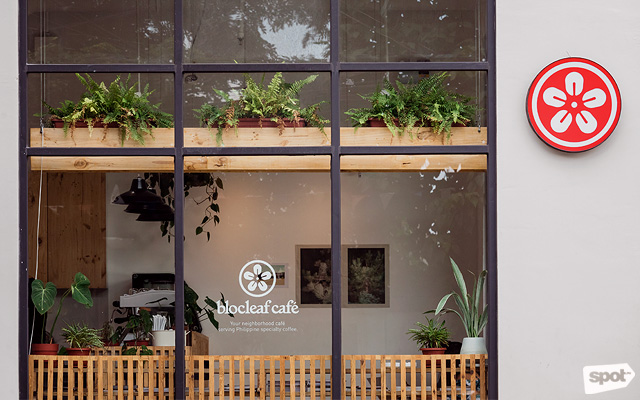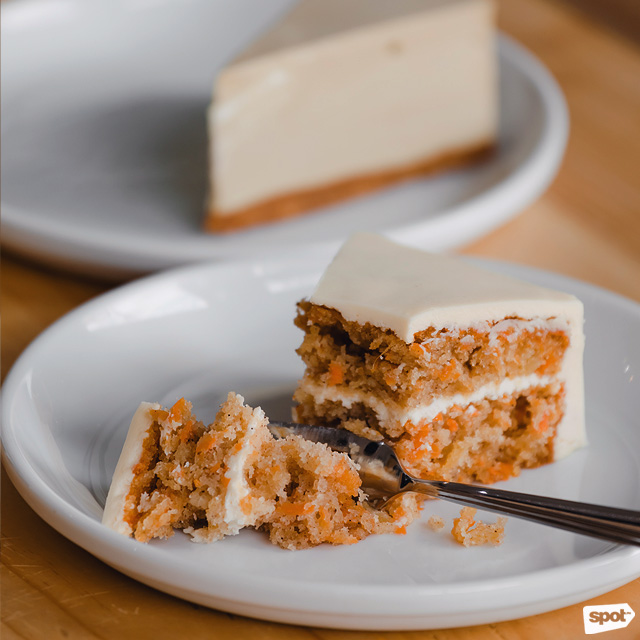 Blocleaf Café
1850 M. H. Del Pilar Street, Malate, Manila
Blocleaf's quiet, peaceful ambience makes you feel as if you have the quaint little café to yourself. They source their beans locally from Kalsada Coffee and they whip up the perfect sandwiches, pasta, and cakes to match. With a great coffee blend in a cup, a savory meal to munch on, and a sweet dessert finish, you'll soon be making this white-walled café and its brightly lit interiors your new coffice.
Must-tries: Latte, Longganisa Pasta, Avocado Cheesecake
Read more about Blocleaf Café.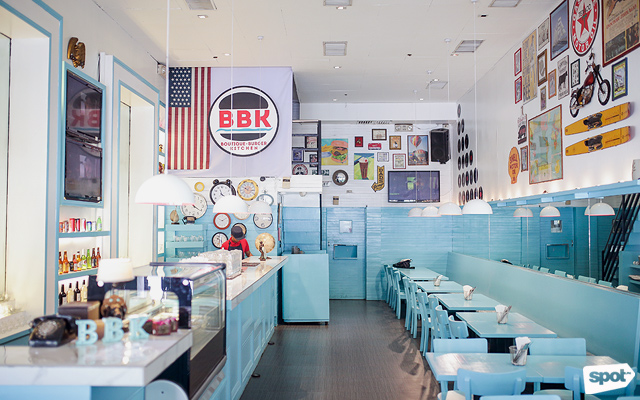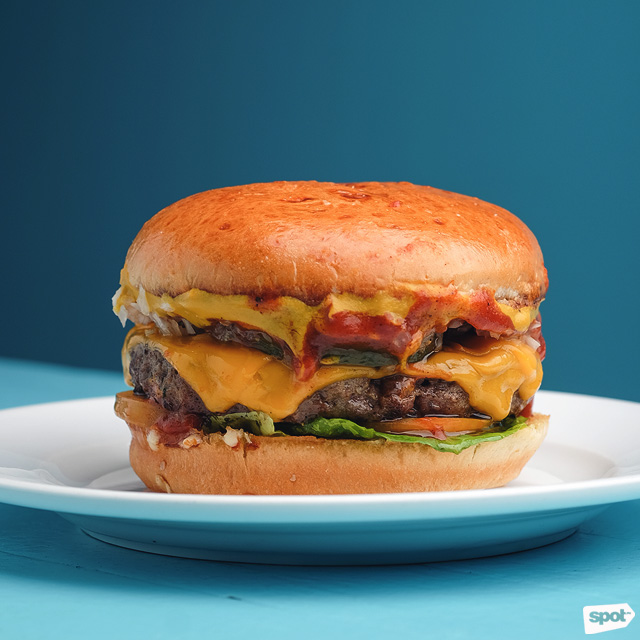 Boutique Burger Kitchen
G/F The Fort Strip, 26th Street, Bonifacio Global City
Contact: 0917-893-4913, 964-2050

ADVERTISEMENT - CONTINUE READING BELOW
A great patty could make or break a burger so it's no surprise that Chef Carlos Miguel poured his attention into creating the best beef patty in his quest for better burgers. The result is a flavorful blend of Black Angus from Nevada, Wagyu from Idaho, and Kitayama Wagyu from Cagayan de Oro. Add sweet and fluffy Hokkaido milk buns, the freshest toppings, and homemade sauces, and you'll wonder why you ever settled for a burger that's anything less than this.
Must-tries: Classic Cheeseburger, French Flair, Gourmet Burger Steak
Read more about Boutique Burger Kitchen.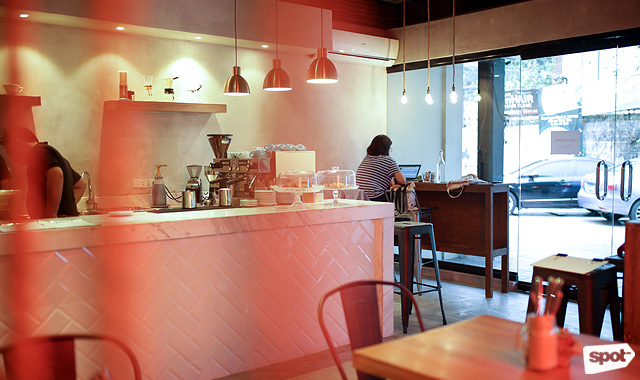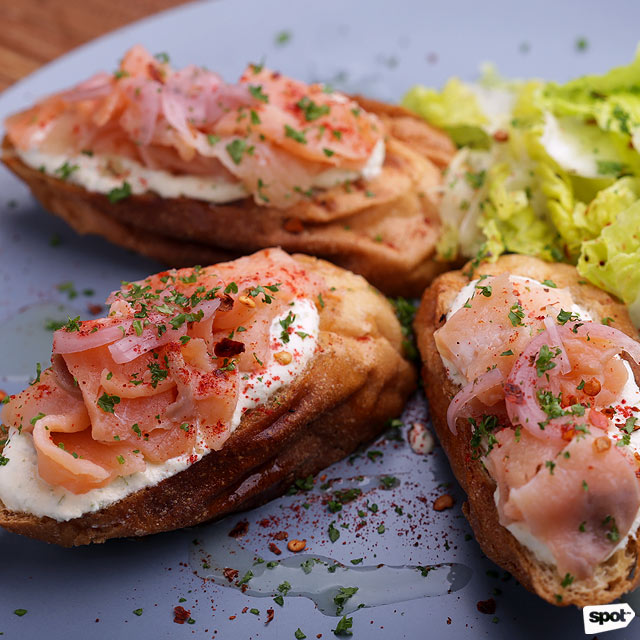 Common Folk
79 Katipunan Avenue, White Plains, Quezon City
Contact: 277-6357
With "No bad days" written in bright, neon pink lights on the wall, you know only good things can happen at this quiet little nook hidden along White Plains. Take a sip of their not-too-sweet Café Latte while catching up on work to give you an extra energy boost. If you want something a bit sweet and warm, order their Milk + Cookies combo. Or you can also fill up with their snacks like the Salmon to Love, a witty take on crunchy toast topped with smoked salmon.
Must-tries: Café Latte, Milk + Cookies, Salmon to Love
Read more about Common Folk.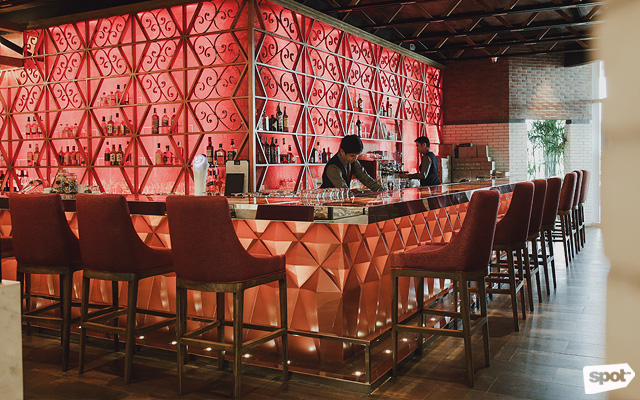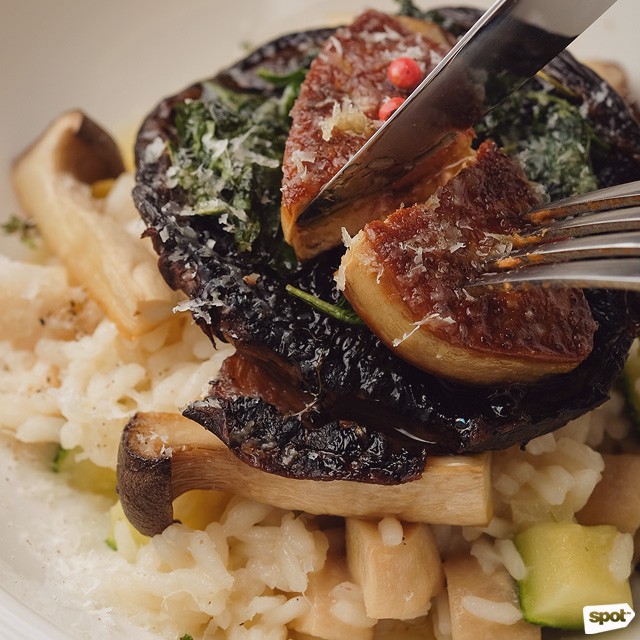 Epilogue
G/F S Maison at Conrad Manila, SM Mall of Asia Complex, Pasay City
If the bright-red geometric patterns on the walls of Epilogue look familiar, it's because it was designed by the same person behind Kill Bill's famous Gonpachi. The interiors perfectly complement the Japanese-slash-European menu. It was put together by four Japanese chefs who have trained around the world to perfect their respective specialties, whether it be pastries, pasta and pizza, steak, or bread. Foie gras adds a rich and velvety taste to the Maestro, a tenderloin that's already mouthwatering on its own. You'll also wish their Wagyu pizza, topped with Sriracha and creamy mozzarella, will never run out of slices. You'll have a great dining experience no matter what you end up ordering because you know you're only choosing from the best.
ADVERTISEMENT - CONTINUE READING BELOW
Must-tries: Foie's Gold, Wagyu Pizza, Dulce de Leche Cheesecake
Read more about Epilogue.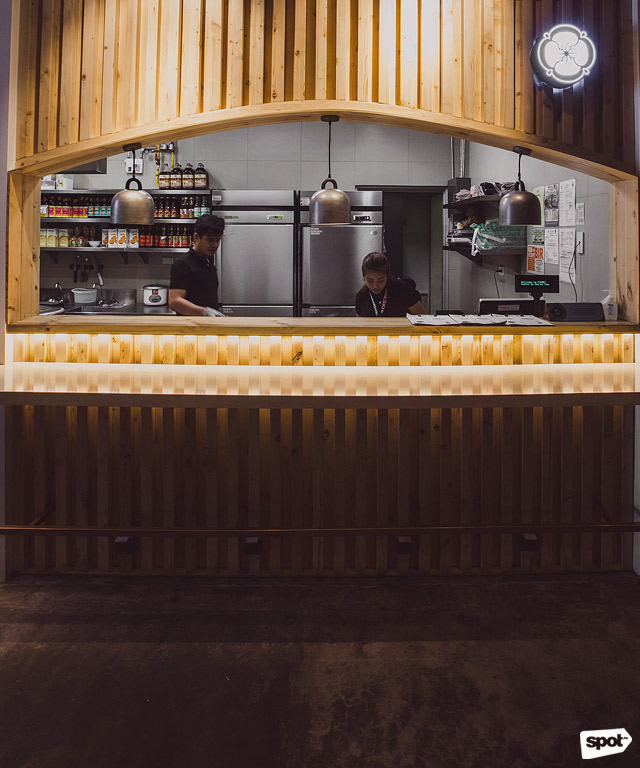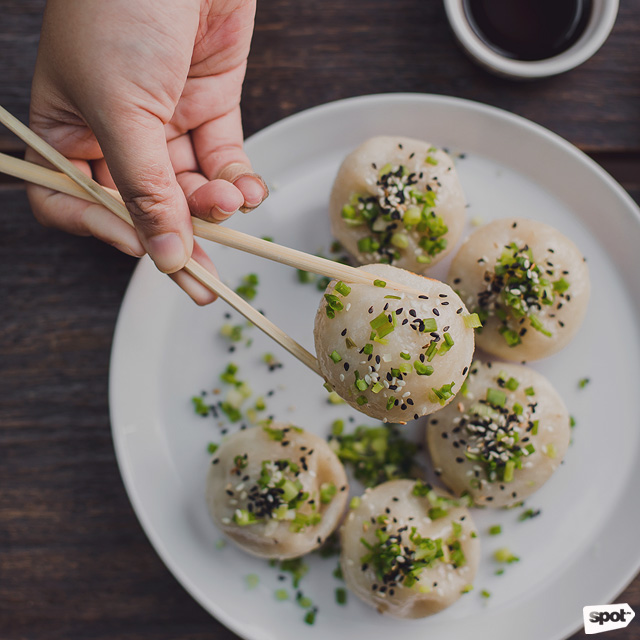 Famry
Hole in the Wall, 4/F Century City Mall, Kalayaan Avenue, Makati City
Contact: 801-1230
Famry is proof that great things do come in small packages—or in this case, in small food stalls. The street market-inspired stall at Century City Mall's Hole in the Wall keeps their menu compact, with only four dishes in total, and while each one isn't overly fancy, you get the impression that a great deal of care was put into constructing each and every item. It's a fact that doesn't get any more apparent than in the rice bowls: The Minced Pork Rice packs a medley of textures and flavors in a bowl that'll cost you less than what you'll expect, with the distinct sweet-spicy flavor of five-spiced minced pork contrasting perfectly with the crunchy tang of the pickled vegetables, and rich soft-boiled egg. Don't miss the Bunplings, too—as their bun-shaped sign proudly declares, they are "fresh, hot, plump," and most importantly, satisfyingly delicious.
Must-tries: Bunplings A.K.A. Shenjianbao, Minced Pork Rice, Spicy Dumplings
Read more about Famry.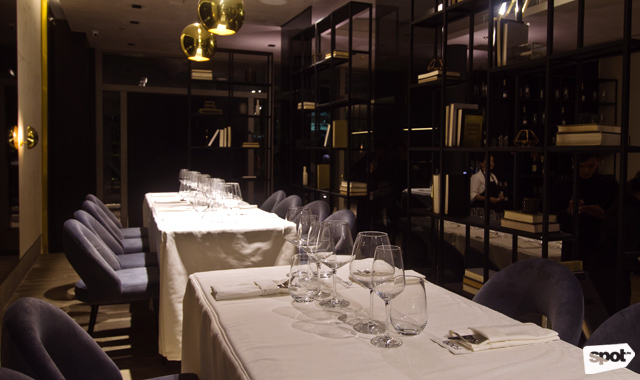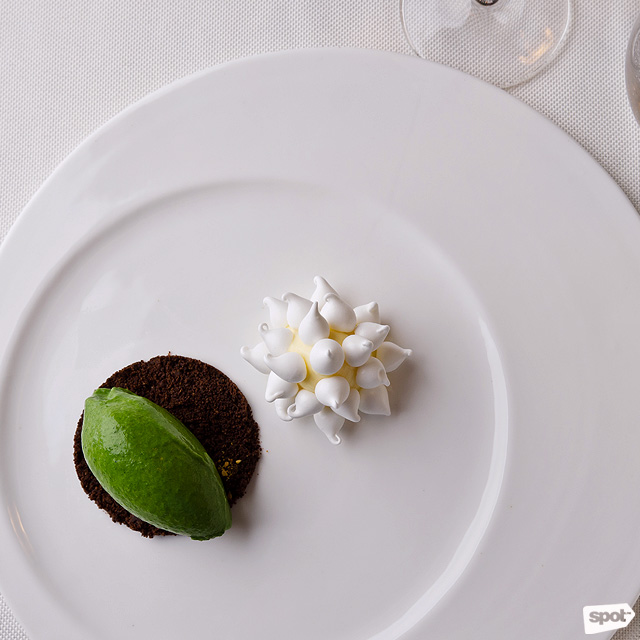 FOO'D
G/F Shangri-La at the Fort, Bonifacio Global City
Contact: 0917-711-4469
Chef Davide Oldani burst into the local food scene with something that seemed almost mythical: A fine-dining course that costs less than a thousand pesos. But that's exactly what he did at FOO'D, with a three-course dinner going for P800. The price gets even more impressive when you finally sample Chef Davide's creations. The Cipolla Caramellata, his signature starter, covers the full spectrum of flavor and textures in a single bite, with a sticky-sweet caramelized onion tart, and 24-month aged Grana Padano prepared two ways: As a gelato and as hot cream. With Chef Davide's precise attention to detail and the way ingredients play off each other, his dishes can only be described as art.
ADVERTISEMENT - CONTINUE READING BELOW
Must-tries: Cipolla Caramellata, Veal "All'Olio", Lemon Curd
Read more about FOO'D.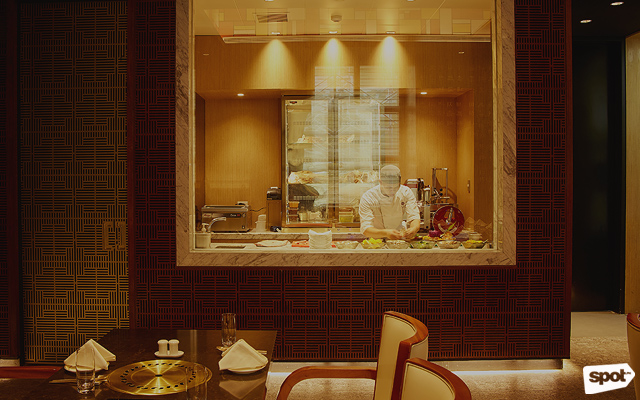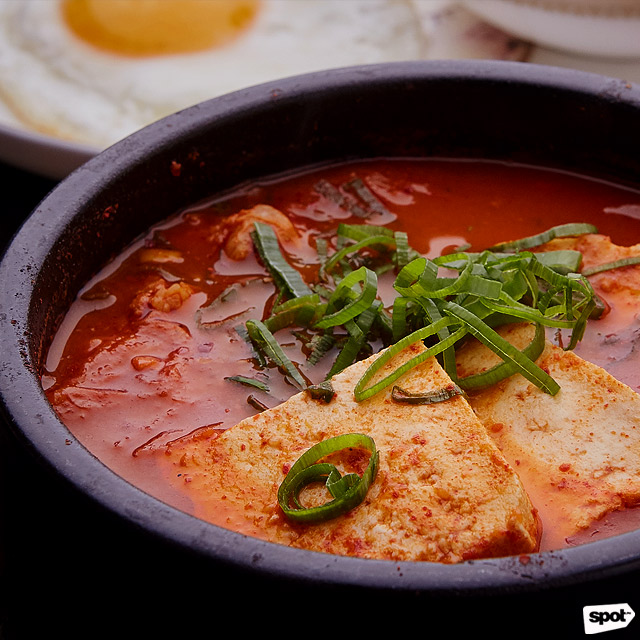 Goryeo Korean Dining
Restaurant Promenade, U/GF Okada Manila, New Seaside Drive, Parañaque City
Contact: 555-5799
This Okada restaurant steps it up a notch by serving premium cuts of beef like a tender prime rib or brisket amid luxe interiors and impeccable service. Besides their mouthwatering Korean barbecue, Chef Hojin Lee whips up a sublime kimchi jjigae that stays true to its traditional Korean recipe.
Must-tries: Dwaejigogi Kimchi Jjigae, Haem Pajeon
Read more about Goryeo Korean Dining.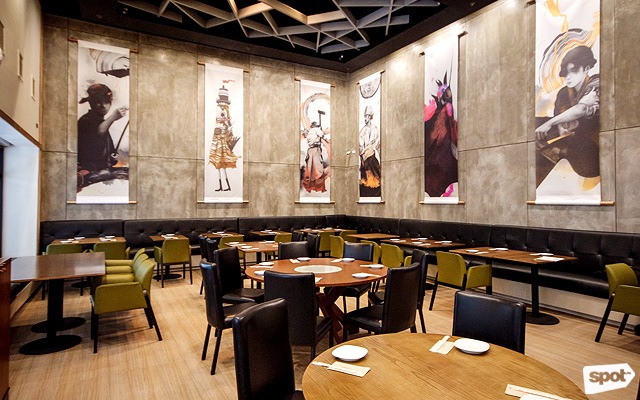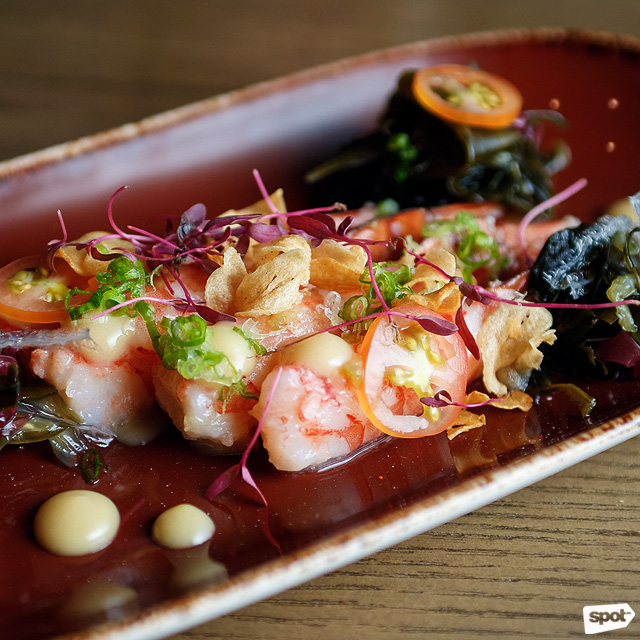 Hibana
G/F The Grand Midori, Bolaños Street, Makati City
Contact: 519-1088
This Japanese restaurant in Legazpi Village first made waves because of their soy-sauce ice cream, and while the buzz is very much warranted, it's not the only thing Hibana has going for it. Chef Mark Tan works with only the freshest seafood from Japan, adding his creative, if slightly eccentric, touch to Japanese classics like sushi, tempura, karaage, and more. It's best to order seafood here: Just from the name, you can be sure the Chilled Miso Butter-Poached Prawns will make mouths water, while their Hamachi Kama or yellowtail fish collar is grilled to succulent perfection.
Must-tries: Chilled Miso Butter-Poached Prawns, Hamachi Kama, Soy Sauce Ice Cream
Read more about Hibana.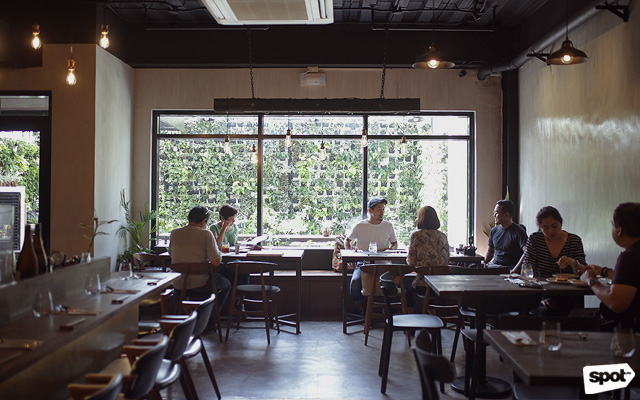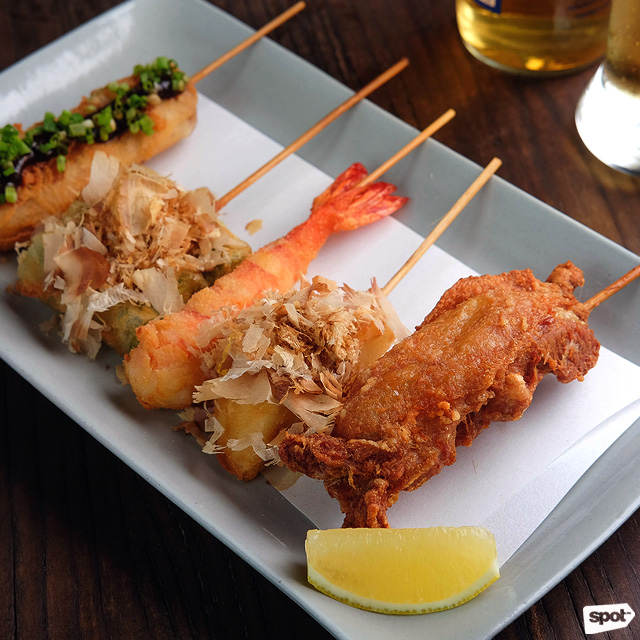 IKOMAI & TOCHI
G/F ACI Group Building, 147 H.V. Dela Costa Street, Salcedo Village, Makati City
Contact: 816-4588
If you're a weekend-market fan, you might have come across IKOMAI & TOCHI on one of your trips to Salcedo Market.  Inspired by Japanese street food, this elegant little restaurant in Makati City serves dishes based on Chef Hide Saeki's heirloom recipes. A bestseller is the Moriawase, an assorted kushikatsu set that includes their perfectly crisp and succulent chicken karaage, which first gained popularity at the Saturday bazaar.
ADVERTISEMENT - CONTINUE READING BELOW
Must-tries: Tuna Poke, Moriawase, Ikomai Taco
Read more about IKOMAI & TOCHI.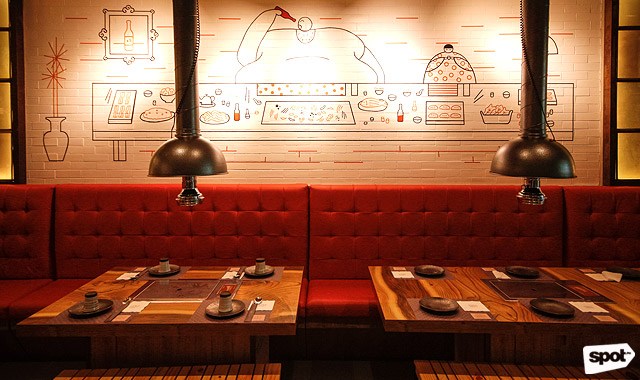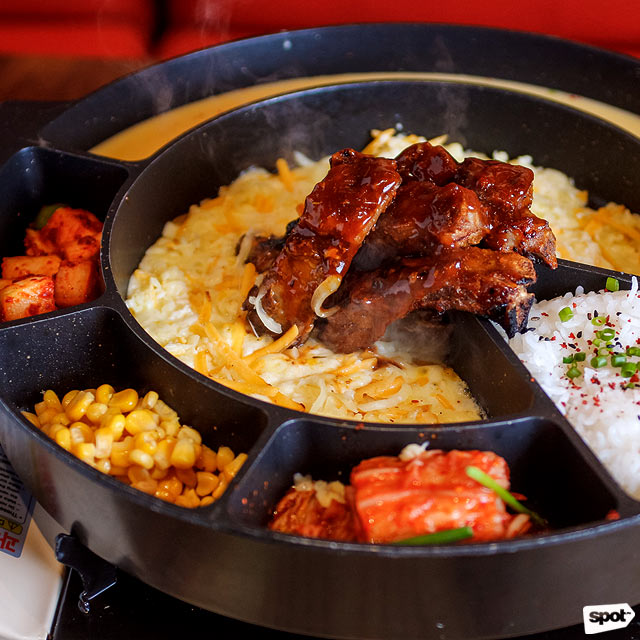 Jin Joo Korean Grill
5/F SM Aura Premier, C5 Road corner 26th Street, Bonifacio Global City
It's been hard to keep up with the Korean barbecue joints popping up around town, but Jin Joo is a definite standout. You'll spend a good hour or two just mixing and matching all the options on their varied menu. They have eight flavors of marinades for your samgyeopsal, and if that's not enough to get you grilling, then maybe their flaming hot and incredibly cheesy dishes will.
Must-tries: Jin Joo's 8 Flavours, Fire Chicken with Cheese
Read more about Jin Joo Korean Grill.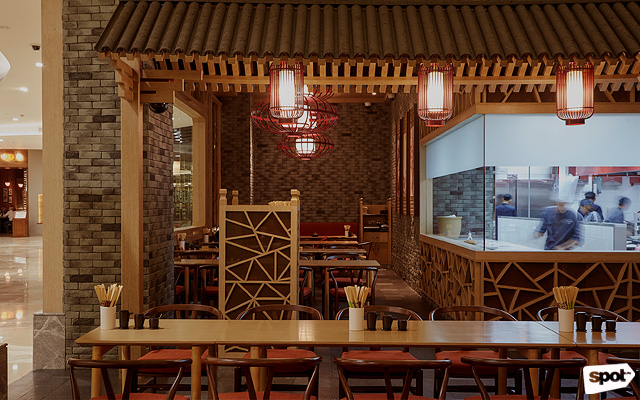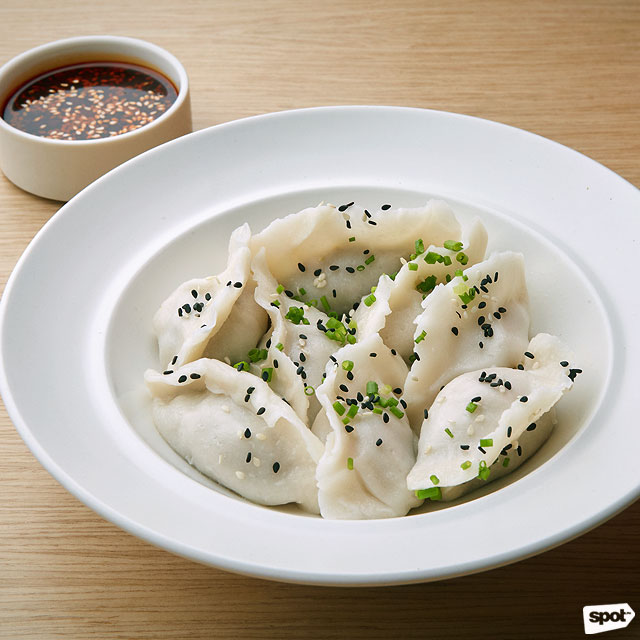 Jing Ting
UG/F City of Dreams Manila, ASEAN Avenue corner Roxas Boulevard, Parañaque City
Contact: 800-8080
The interiors of this picturesque restaurant at City of Dreams are inspired by the hutongs or narrow alleyways of Beijing, which is why it comes as no surprise that their food is a reflection of the dishes that abound in mainland China. Jing Ting's noodles are made fresh daily by Chef Yang Chen Fei. At the far end of the diner is the kitchen where you'll see him work his magic—but what will thrill you more is the food. Sample their Shanxi Noodles with Minced Pork and Eggplant, or al dente noodles blanketed in a savory meat sauce.
Must-tries: Mushroom Pork Dumplings, Shanxi Noodles with Minced Pork and Eggplant
ADVERTISEMENT - CONTINUE READING BELOW
Read more about Jing Ting.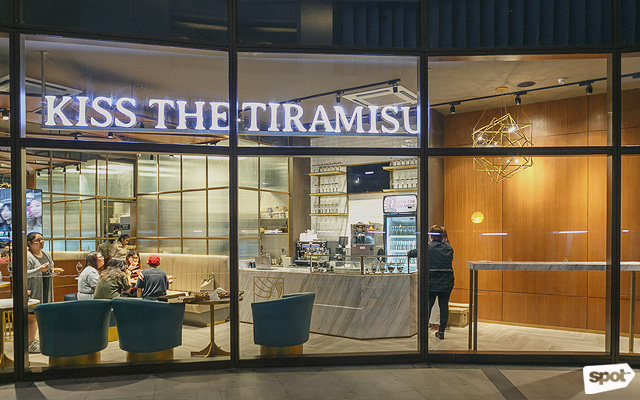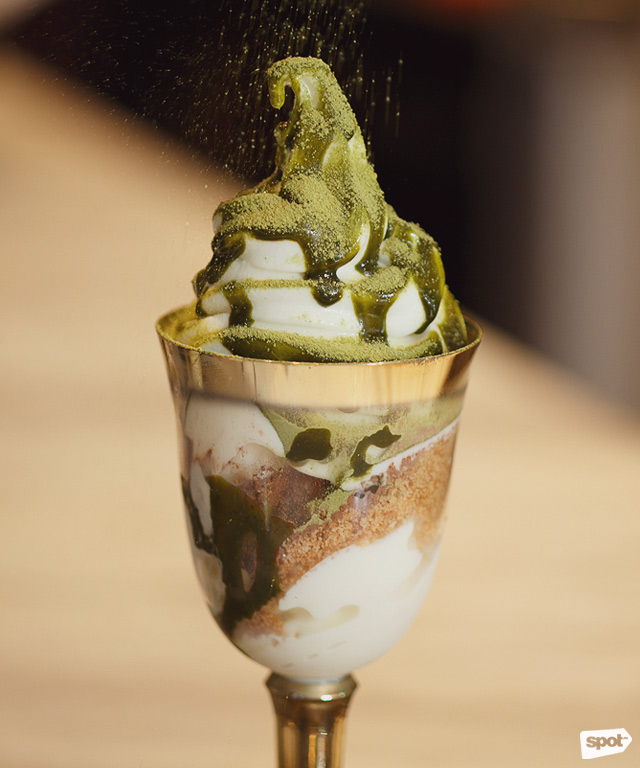 Kiss the Tiramisu
Three Central, Valero Street, Makati City
Contact: 0917-111-5477

Opening in Hongade in 2015, this dessert café continues to draw crowds in Seoul, a fact you'll cease to be surprised about once you have a spoonful of their signature Original Tiramisu soft-serve. Kiss the Tiramisu reinvents the classic cake into a cold treat, with vanilla soft-serve made purely with milk, plus all the elements that make a tiramisu what it is: Chocolate and mocha cookie crumble, coffee sauce, and dark chocolate shavings. But what elevates this dessert is a generous dollop of mascarpone cheese, making the soft-serve richer and creamier, and adding a pinch of saltiness that gives the sweet elements extra oomph.
Must-tries: Original Tiramisu, Matcha
Read more about Kiss the Tiramisu.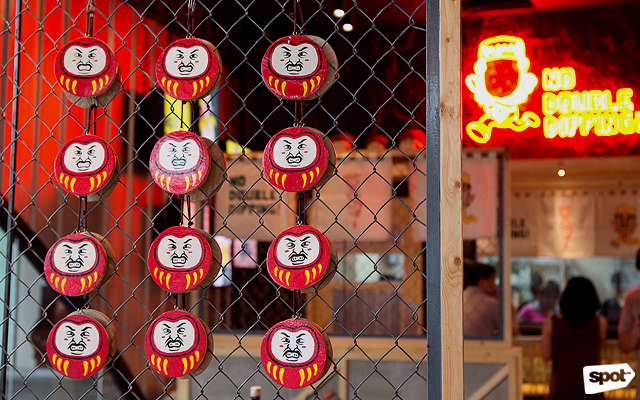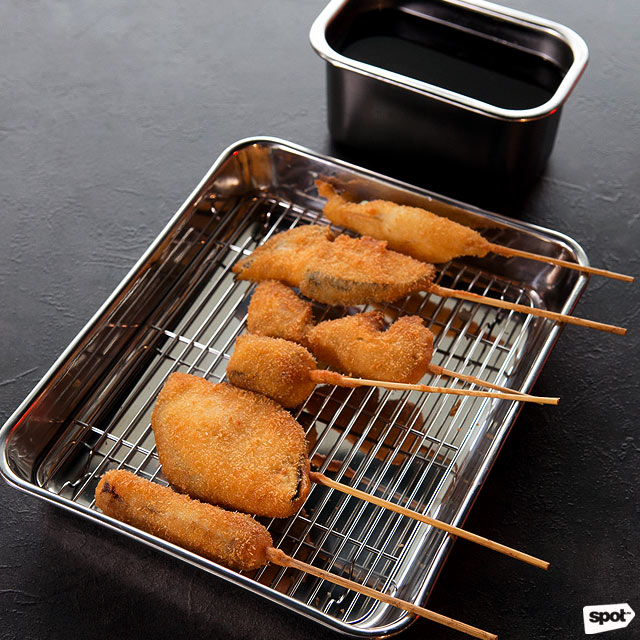 Kushikatsu Daruma
2/F Uptown Mall, Uptown Bonifacio
Contact: 946-7374
Walk down the streets of Dotombori and you just might stumble upon a cool diner with a mascot wearing a mischievous smirk on its face. Thanks to the Tasteless Group, you don't have to go all the way to Osaka to try Kushikatsu Daruma's golden, deep-fried delights. From chicken fillet and veggies to a decadent foie gras, even the pickiest eater wouldn't run out of choices because this vibrant restaurant has over 40 kushikatsu variants to choose from. The kushikatsus are served with their tangy signature sauce but just keep in mind: No double dipping!
Must-tries: Beef, Asohos, Foie Gras
ADVERTISEMENT - CONTINUE READING BELOW
Read more about Kushikatsu Daruma.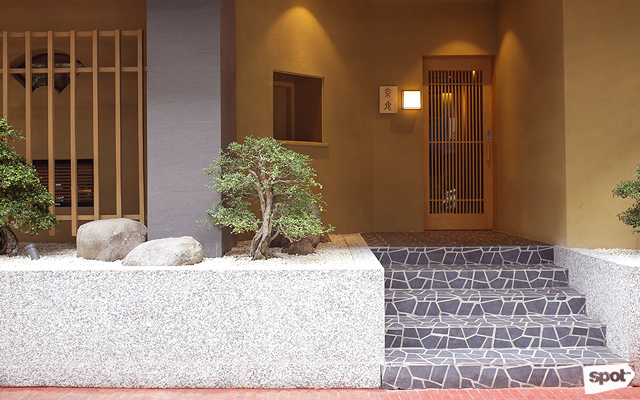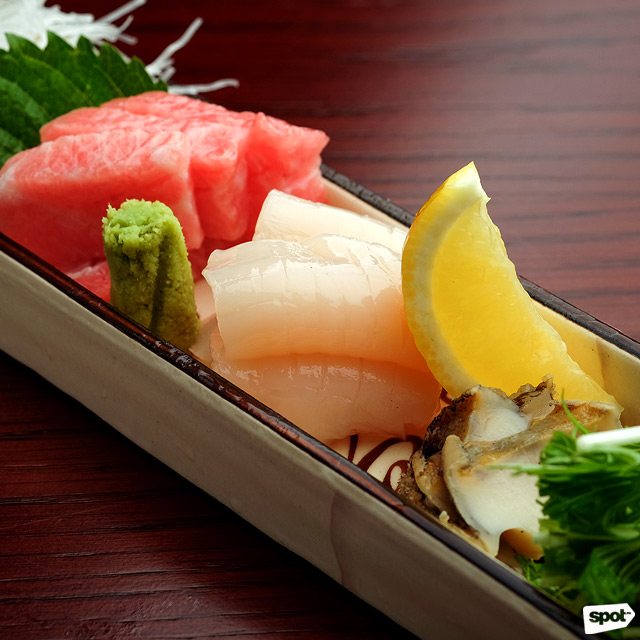 Kyo-to Kaiseki Restaurant
G/F 199 C. Palanca Street, Legazpi Village, Makati City
Contact: 805-7743
You don't come across a lot of kaiseki restaurants in the Metro, which automatically makes Kyo-to special. But it isn't just that—the culinary prowess of Chef Ryohei Kawamoto should also be lauded. The Japanese chef ensures that the food that goes on every plate is top-notch, from freshness and quality down to presentation. The beauty of Kyo-to is that every visit gives you a brand new experience as its five- to seven-course meals heavily depend on the ingredients they have on hand. A word of advice: The best seats are at the counter.
Read more about Kyo-to Kaiseki Restaurant.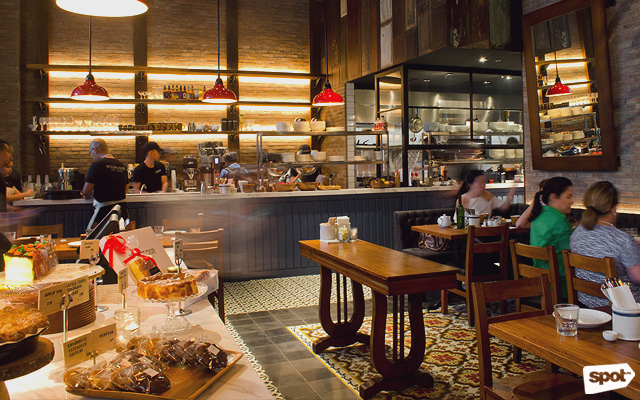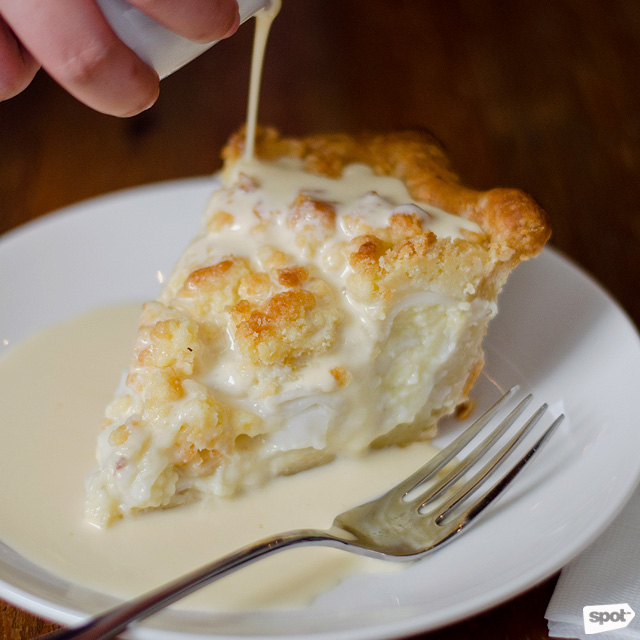 Little Flour
G/F World Plaza, 4th Avenue corner 31st Street, Bonifacio Global City
Contact: 777-7383

Wildflour's younger sibling is already becoming a star in its own right. Standouts on their menu are the sumptuous Filipino-inspired rice bowls, based on the ones served at L.A.-based Sari Sari Store (also owned by Wildflower's Walter Manzke and Margarita Lorenzana-Manzke). Their velvety Cassava Cake is also well on its way to sharing cult-favorite status with Wildflour's Coconut Pie.
Must-tries: Sisig Rice Bowl, Blueberry Pancakes, Cassava Cake
Read more about Little Flour.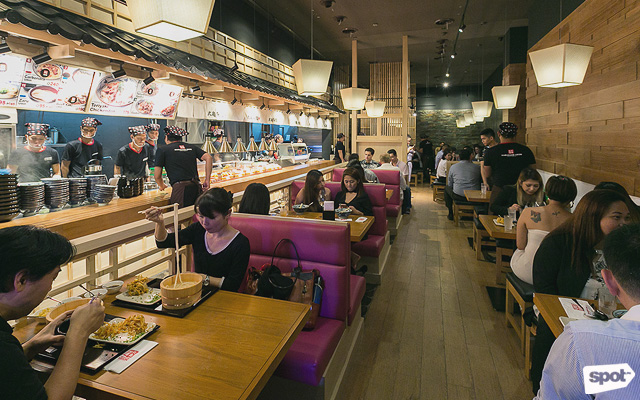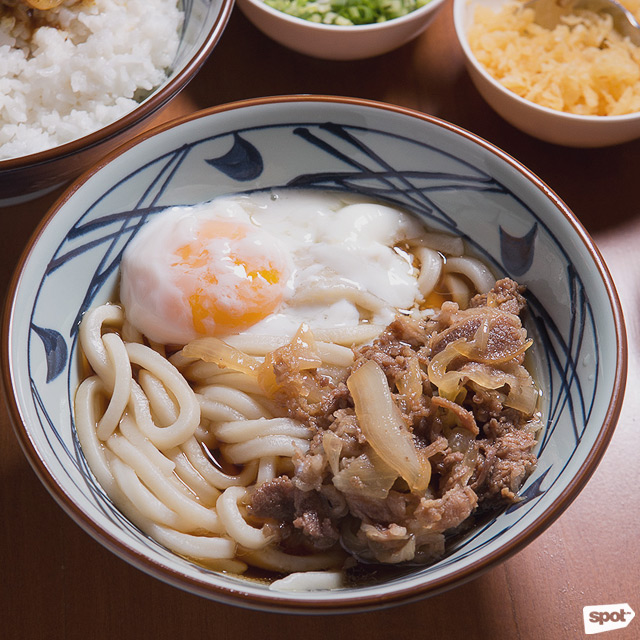 Marugame Udon
B7 Bonifacio High Street, Bonifacio Global City
We'll always love ramen but it's high time we put the spotlight on a different kind of Japanese noodle: The udon. Marugame Udon (known as Marugame Seimen in Japan) is a master of the dish, getting the firm-yet-chewy texture of perfectly hand-stretched wheat flour noodles down pat. The noodles shine even when soaked in the beefy broth of their signature Beef Ontama Bukkake Udon, retaining a delightful chewiness. Marugame Udon doesn't just stop at serving you perfectly cooked noodles either, letting you in on the full Japanese udon shop experience with a self-service counter and your choice from golden-fried skewers to pair with your bowl.
ADVERTISEMENT - CONTINUE READING BELOW
Must-tries: Beef Ontama Bukkake Udon, Curry Udon, Gyudon Rice
Read more about Marugame Udon.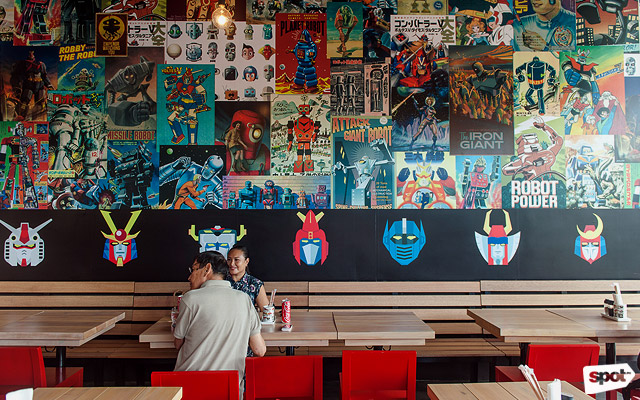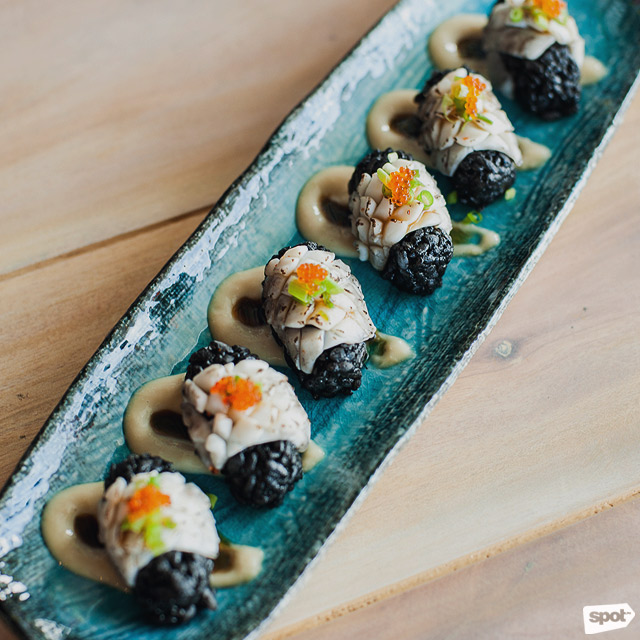 Mr. Roboto
G/F Alabang Town Center Corporate Center, Muntinlupa City
Contact: 817-5604

Set against a backdrop of the robots that filled your childhood (and Bender from Futurama), Mr. Roboto serves up sushi plates that are a mouthful with how sizable they are. You'll be amazed at how they seamlessly put together squid ink with sushi rice and how their choice of sauces—like tuna and teriyaki sauce—make a lip-smacking, savory taste. Head chef Danni Ramos received training from the famed Le Cordon Bleu in San Francisco but she and manager David Mendoza are determined to give Japanese food a refreshing new twist with their own take on known favorites.
Must-tries: Nori Nachos, Mr. Roboto Maki, Steak and Uni Nigiri
Read more about Mr. Roboto.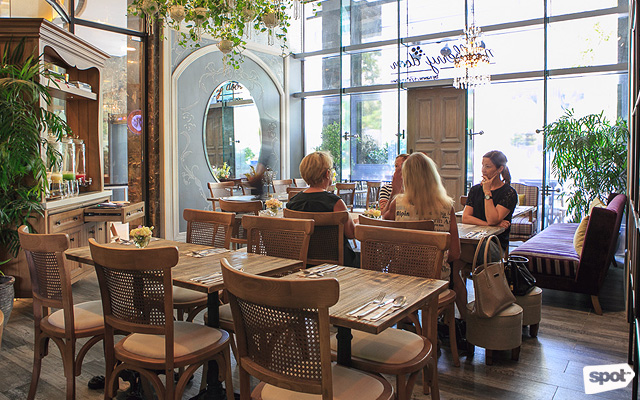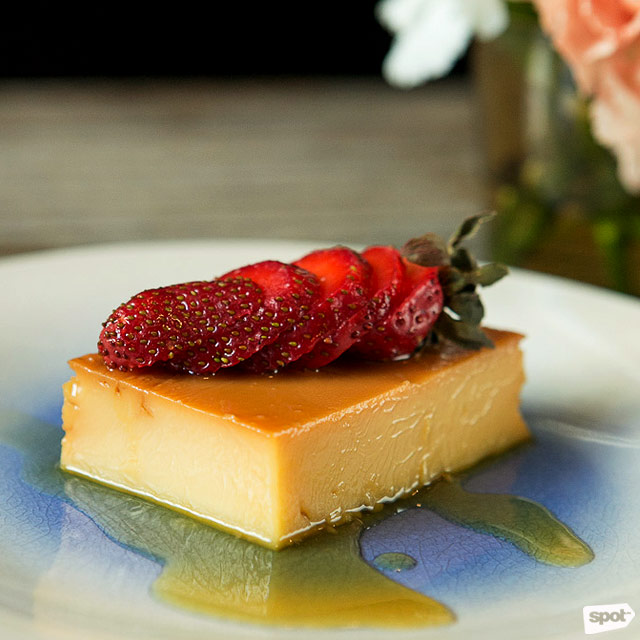 Mulberry Door by nawwTy's Kitchen
G/F 8 Forbes Town Center, Burgos Circle
Contact: 810-5427
This is one of the prettiest garden-themed restaurants in the city. Opened by Trish Panlilio of The Gourmand Market, Mulberry Door boasts a menu that'll make your brunch dates brighter with their dressed-up classic dishes. "This is luxe comfort food," says Trish's son and co-owner, Matteo Panlilio. Don't leave without trying the Matteo's Lamb Burger with Homemade Taro Chips, which boasts a juicy lamb patty topped with Emmental and blue cheese in between toasted croissant buns.
Must-tries: Flan by nawwTy's Kitchen, Matteo's Lamb Burger with Homemade Taro Chips
ADVERTISEMENT - CONTINUE READING BELOW
Read more about Mulberry Door by nawwTy's Kitchen.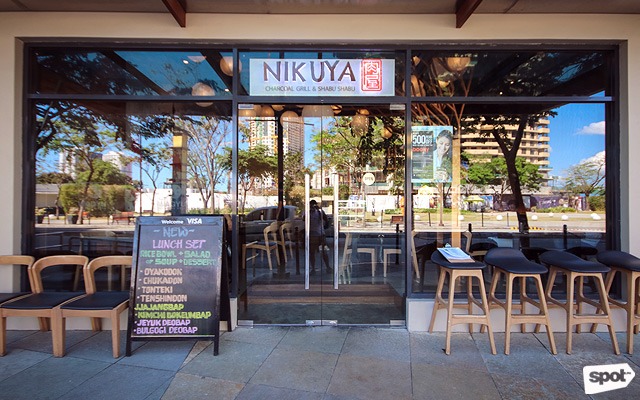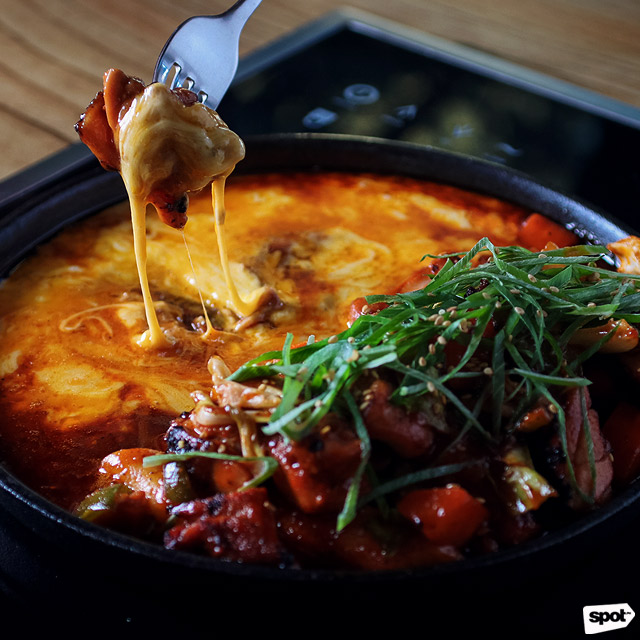 Nikuya
G/F Estancia Mall, Capitol Commons, Pasig City
Contact: 0927-144-2881
If you're always torn between wanting Japanese and Korean food, Nikuya at Estancia Mall is a godsend as it melds everything you love about both cuisines. K-barbecue? Check. Donburi? They have it. Owner Grace Lee says she was inspired by her travels to Tokyo, where she would try a lot of Japanese-Korean fusion restaurants. You don't have to go far as you're sure to get the best of both worlds at Nikuya.
Must-tries: Yukwhe, Karubi Charcoal Grill
Read more about Nikuya.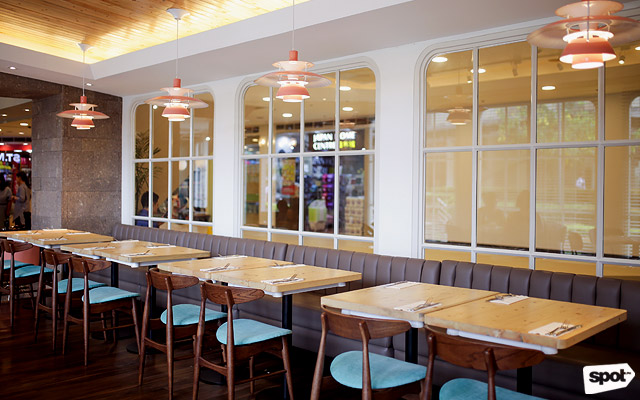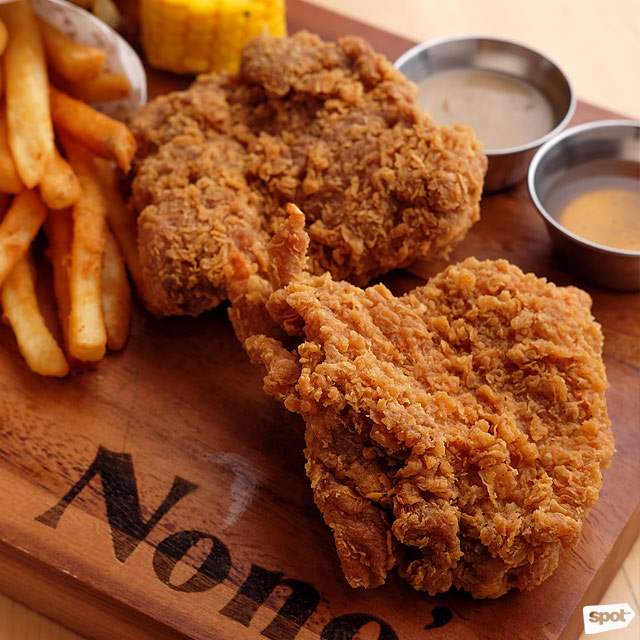 Nono's
G/F UP Town Center, Diliman, Quezon City
Contact: 958-5713
Chef Baba Ibazeta-Benedicto makes dining at Nono's a feast of comfort food. It's definitely the place to go to if you're looking for a taste of home and they even added an all-day breakfast selection to cater to your cravings. No Filipino menu is complete without fried chicken and the boneless Nono's Homestyle Fried Chicken is a crisp and juicy must-try. And of course, a visit to Nono's isn't complete without trying one of their delightful dessert options and their famous Nono's Chocolate Oblivion takes the cake.
Must-tries: Mac n' Cheese, Nono's Homestyle Fried Chicken, and Nono's Chocolate Oblivion
Read more about Nono's.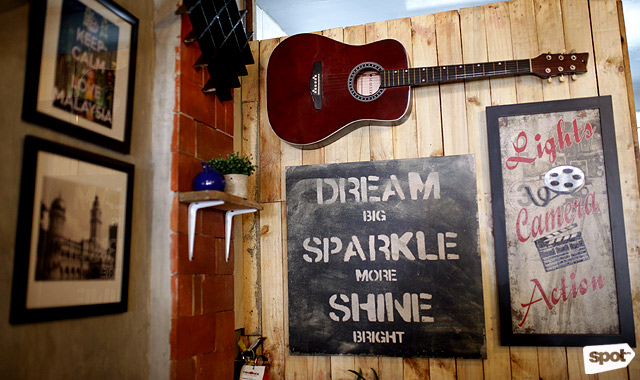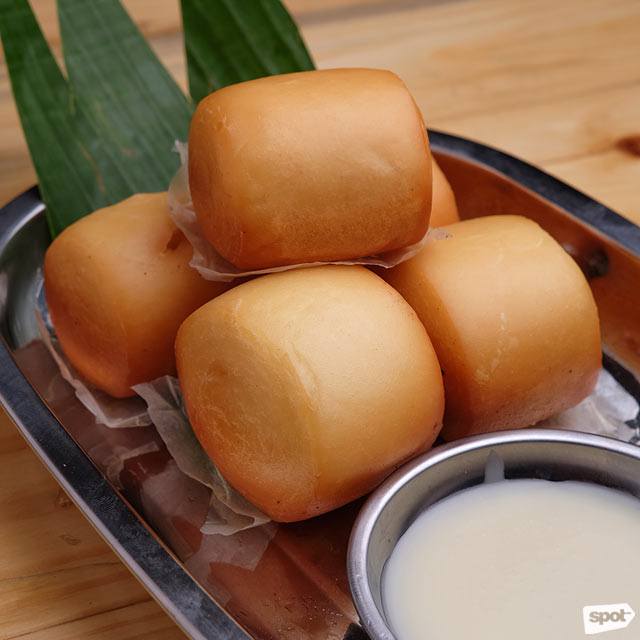 Pappa Ram
45 J.P. Rizal Street, Kalumpang, Marikina City
Contact: 738-4771

ADVERTISEMENT - CONTINUE READING BELOW
Malaysian food isn't that mainstream yet, and you might be surprised to find that one of the best ones serving the cuisine is an open-air eatery in Marikina. With an open kitchen and a hawker stall-like counter, PappaRam has a simple, unpretentious appearance that belies the excellence of their Malaysian menu. Chef Ramzu Nasri goes all out in making sure every dish that comes out of his kitchen tastes as if it was prepared in his childhood home, using spices and ingredients he has shipped from Malaysia. The results are tasty and incredibly homey, like meals your grandma would cook for you—if she were Malaysian, that is.
Must-tries: Nasi Goreng USA, Sambal Prawns, Crispy Man Tao With Condensed Milk
Read more about PappaRam.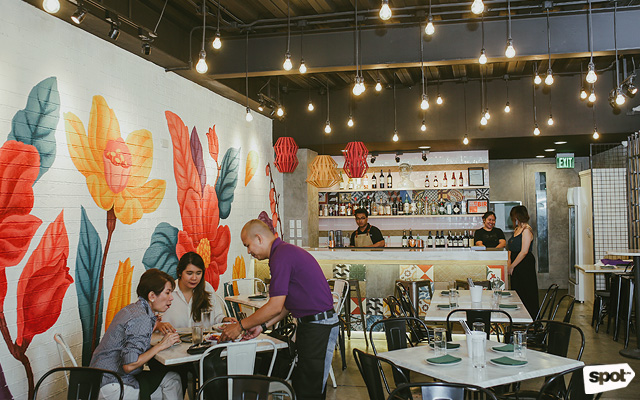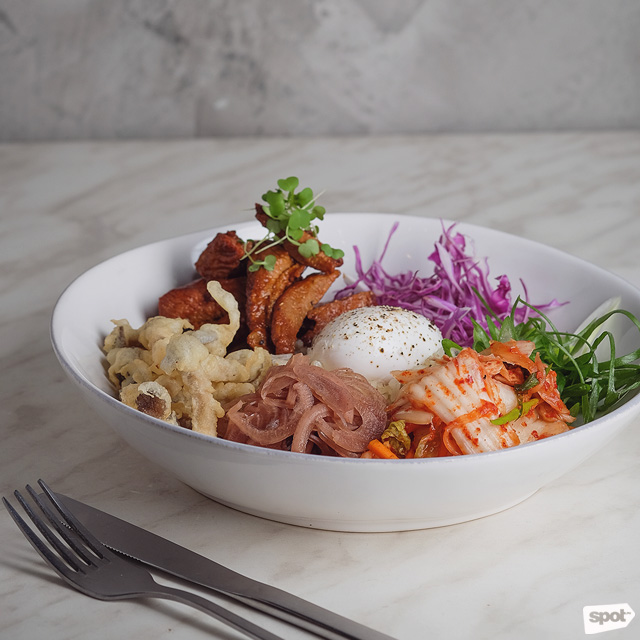 Persephone – A Seasonal Kitchen
120 Jupiter Street, Barangay Bel-Air, Makati City
Contact: 0917-554-3825
Seasonal menus may sound absurd given that the Philippines has only two seasons (besides, most of the country's produce is available year-round). But Persephone is a "seasonal kitchen" in that it constantly updates its menu, promising you something new with every visit. Their colorful dishes are as eye-catching as their floral murals; take, for example, the Tapsilog. Although it sounds deceptively simple, a bowl of it almost looks like a local bibimbap with garlic-confit rice, spicy steak strips, kimchi, and pickled vegetables.
Must-tries: Fishballs, Inadobong Atay Udon, Tapsilog
Read more about Persephone – A Seasonal Kitchen.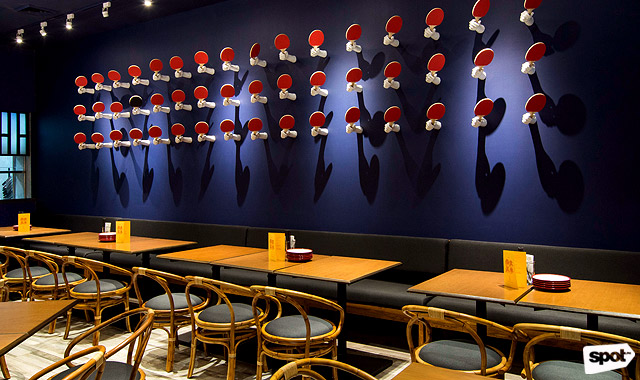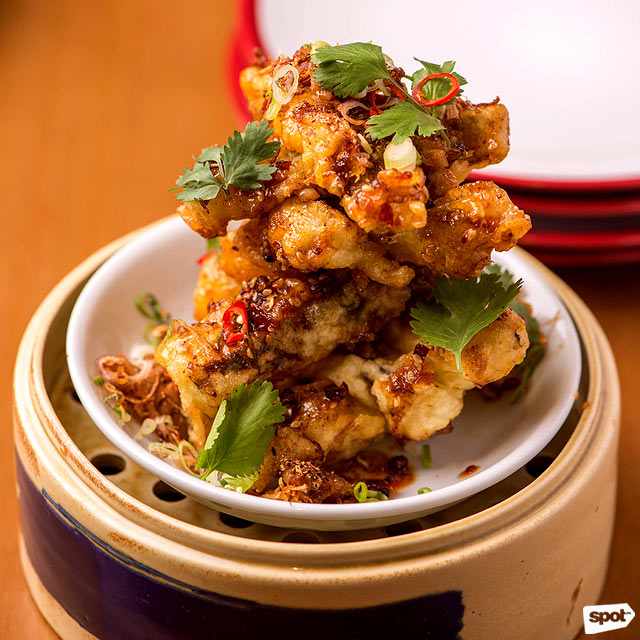 Ping Pong Diplomacy
3/F SM Aura Premier, Bonifacio Global City
Contact: 960-4271

ADVERTISEMENT - CONTINUE READING BELOW
Conspicuously lacking any bright-red walls or golden dragon décor, Ping Pong Diplomacy lets you know from the get-go that they aren't your typical Chinese restaurant. Their Mapo Tofu isn't the usual chunks of tofu swimming in a fiery red sauce, but velvety soya custard that covers the bottom of the pot; Taiwanese chicken chops are reinvented as the Ping Pong Wings. At a time when "authenticity" continues to be a buzzword in the restaurant landscape, Ping Pong Diplomacy makes a strong case against it, with an unorthodox-yet-delicious menu that'll have you wishing more restaurants took risks like this.
Must-tries: Crispy Eggplant With Fragrant Sauce, Mapo Tofu, 5-Spice Steak And Eggs
Read more about Ping Pong Diplomacy.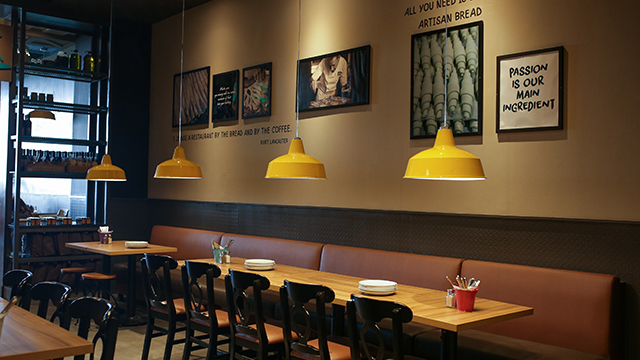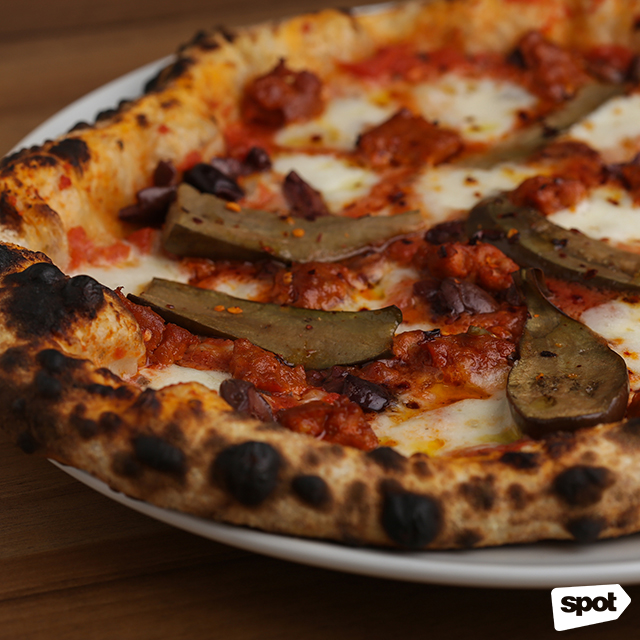 Plank Sourdough Pizza
1/F S Maison at the Conrad, Mall of Asia Complex, Pasay City"
Contact: 809-2340
Hidden inside sibling restaurant Baker & Cook (which also carries delicious bread and pastries—including an incredibly moist carrot cake), Plank Sourdough Pizza undoubtedly serves one of the best pizzas in the Metro. The magic all starts in the sourdough crust—unsurprising, since this is the brainchild of celebrity Kiwi baker Dean Brettschneider. Set for 48 hours then hand-pulled upon order, the crust is then baked in a custom-made oven only for two and a half minutes. It's all the time needed for a crust that's soft and chewy, with a subtle smokiness and tartness that gives each pizza character.
Must-tries: Pizza Number 2, Pizza Number 3
Read more about Plank Sourdough Pizza.
ADVERTISEMENT - CONTINUE READING BELOW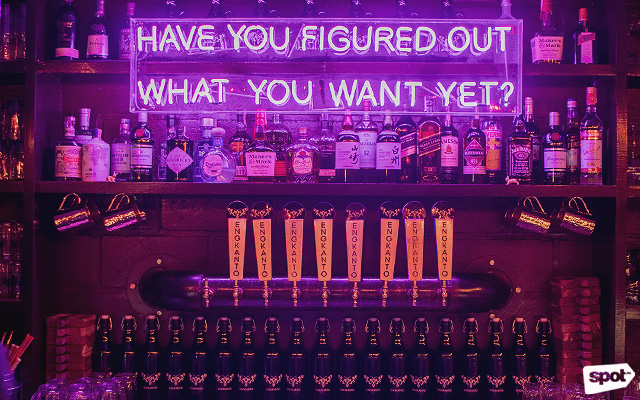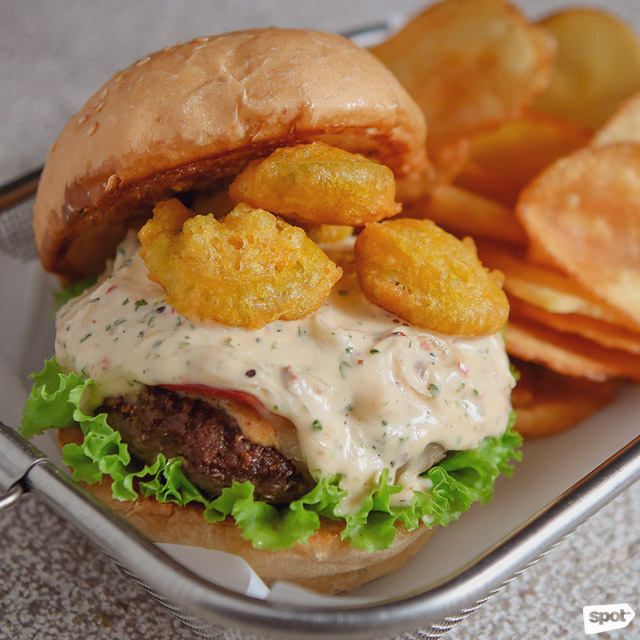 Polilya
5658 Don Pedro Street, Poblacion, Makati City
Contact: 0998-998-2017

Poblacion continues to be a rising food-and-drink destination, and Polilya is a worthy addition to the hub. The brainchild of Ian Paradies also serves as the house of his Engkanto Brewery craft beer and he pulls out all the stops to make his bahay ng engkanto extraordinary on all fronts, from the neon lights and eccentric décor, to the excellent beer and beer-based cocktails. The bar chow, too, by Chef Luis de Terry, will leave a strong impression on you and your palate, with hard-hitting flavors you'll remember long after your hangover fades.
Must-tries: Four O'Clock Flights, Blame It On The Heat, Zen Chicken Nuggets
Read more about Polilya.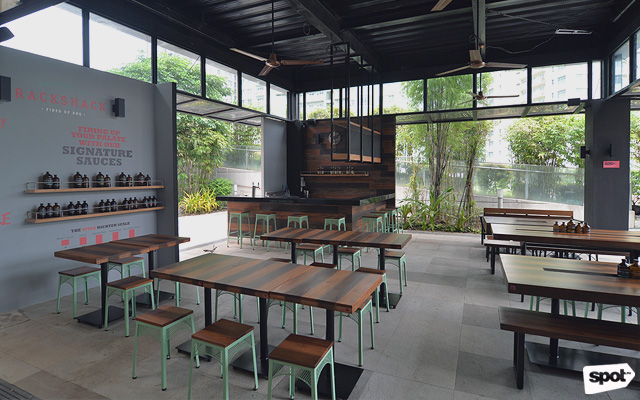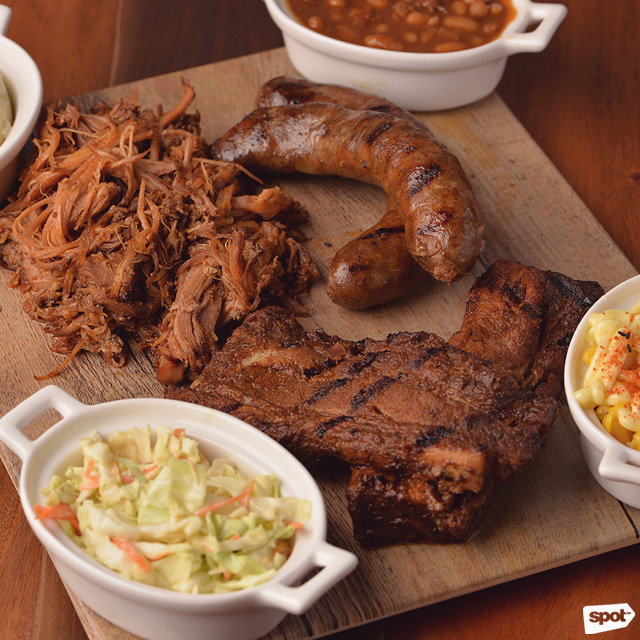 Rackshack
5/F SM Aura Premier, Bonifacio Global City
Contact: 541-4766
We all grew up falling in love with RACKS' fall-off-the-bone ribs and now it's time to give its cool, younger sibling a chance, too. Their wide, teal and orange-colored space is the perfect place to gather your friends for a get-together because they also have a foosball table and some card games like "Cards Against Humanity" to liven up the night. While RACKS' Mother sauce will forever be the OG of barbecue condiments, Rackshack ups their sauce game with four new flavors: Hoisin, Carolina Gold, Kansas Style, and Spicy Mother.
Must-tries: Groupie Platter, Crack Fried Chicken
Read more about Rackshack.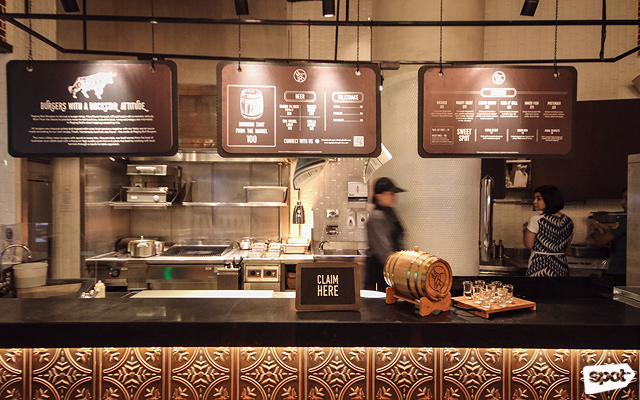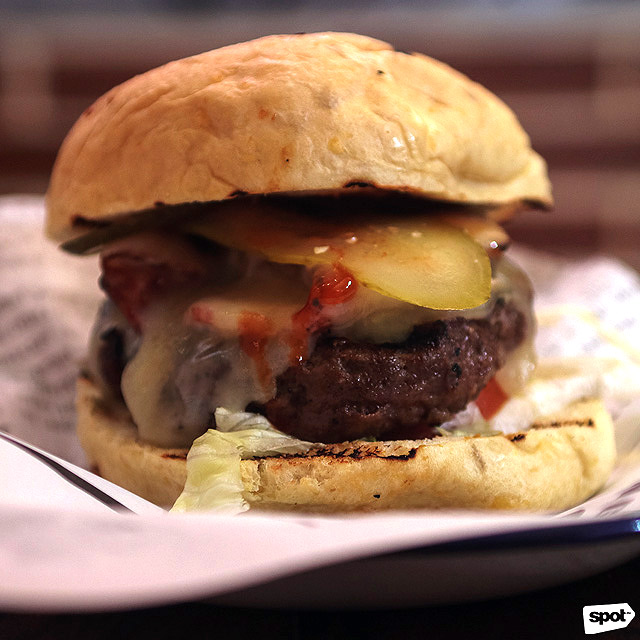 ADVERTISEMENT - CONTINUE READING BELOW
Raging Bull Burgers
G/F Shangri-La at The Fort, 30th Street, Bonifacio Global City
If fancy dining is to Raging Bull Chophouse and Bar, then casual, laid-back meals are to Raging Bull Burgers—the former's younger (and more badass) brother. Where the Chophouse and Bar has intricate and luxurious interiors, Raging Bull Burgers has hip street art and murals on its walls. But the difference only comes in the packaging, not in the product, as Raging Bull Burgers still serves high-quality meat sourced all the way from Australia and the U.S. Chef Nathan Griffin knows and understands that not everyone has time for a sit-down, full-course meal with steak, but that won't stop him from grilling up some mean and lean burger patties that anyone can have on the go.
Must-tries: Raging Wagyu, Mighty Beast, Usual Suspects
Read more about Raging Bull Burgers.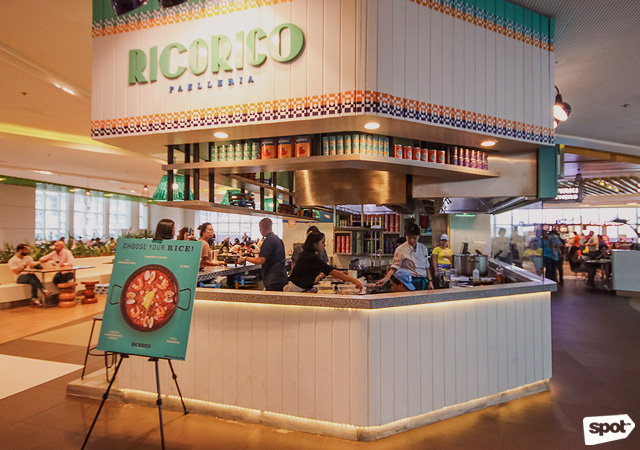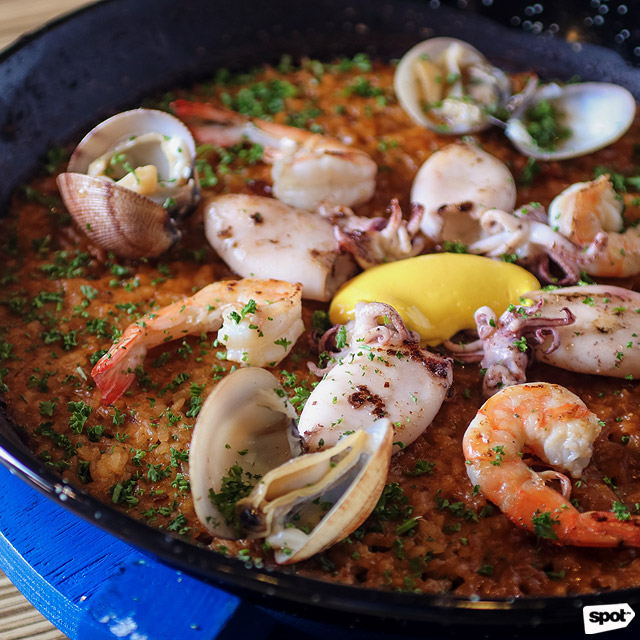 Rico Rico
Food on Four, 4/F SM Aura Premier, C5 Road corner 26th Street, Bonifacio Global City
Contact: 809-2105
Whenever you go to a food court, you're probably already resigned to the thought that you'll be ordering either fast food or something that will just be heated again to make it seem fresh. Well, Rico Rico is here to change that. The same people behind Churreria La Lola and Tomatito are bringing you delicious Spanish food without breaking the bank. You'll be more than satisfied with their huge servings of classic Spanish favorites like paella and croquetas.
ADVERTISEMENT - CONTINUE READING BELOW
Must-tries: Carne Paella, Negra 2.0, Chorizo Croquetas
Read more about Rico Rico.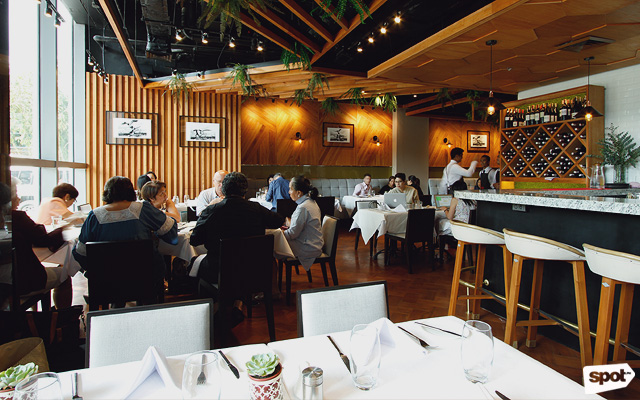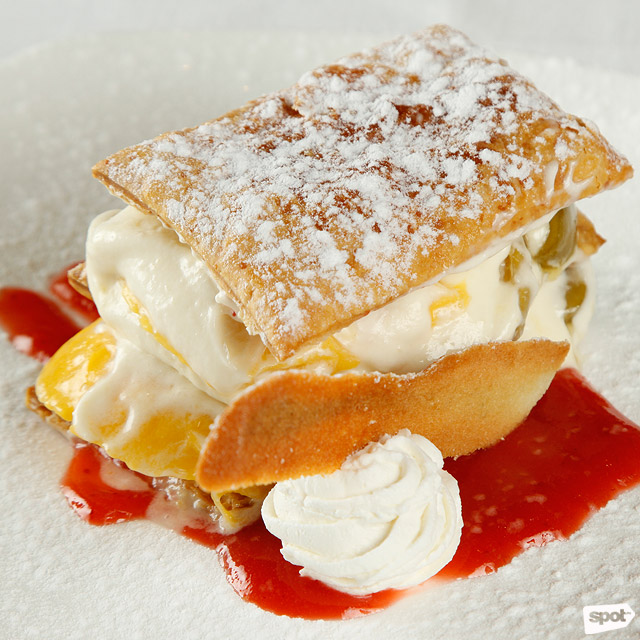 Sagana
G/F Net One Center, 3rd Avenue corner 26th Street, Bonifacio Global City
Contact: 815-8801
Admit it: The sound of French cuisine makes you feel slightly apprehensive. Chef Marc Aubry proves that French food doesn't have to be snooty through his latest brainchild, Sagana, where he introduces the flavors of France in a casual, homey setting. Besides serving up classic French dishes and desserts, Chef Marc incorporates all-local and fresh ingredients into his recipes. This is one restaurant you won't easily forget.
Must-tries: Clam Marinière, Mille-Feuille 
Read more about Sagana.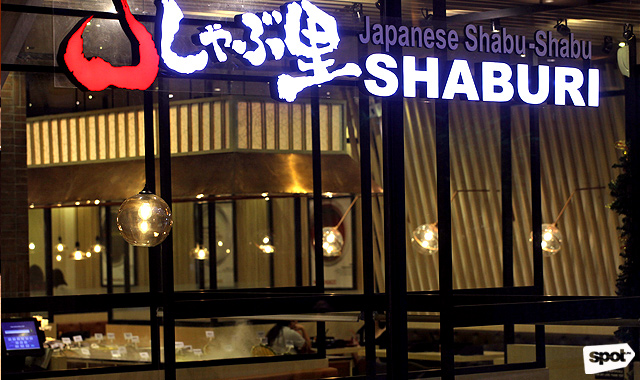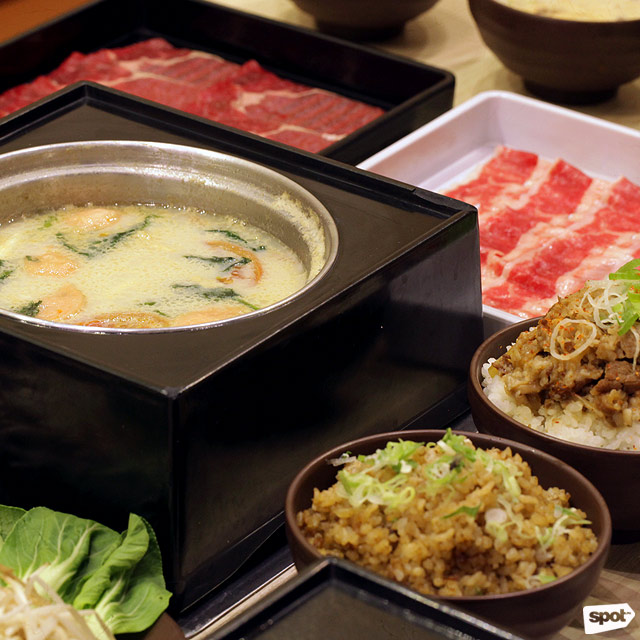 Shaburi Japanese Shabu-Shabu
4/F Uptown Mall, Uptown Bonifacio
Contact: 978-2481, 805-2932, 0917-708-3930
There's something about being able to cook your own food at a restaurant that makes the dining experience extra satisfying. Shaburi takes it up a notch with their unlimited meat plates and a wide selection of broths, sauces, and appetizers. While you're sure to be full from the huge hotpot serving, try to leave some space for the other rice and sushi options that are just as good.
Must-tries: Wagyu Rice, Hot Miso, Special Wagyu
Read more about Shaburi Japanese Shabu-Shabu.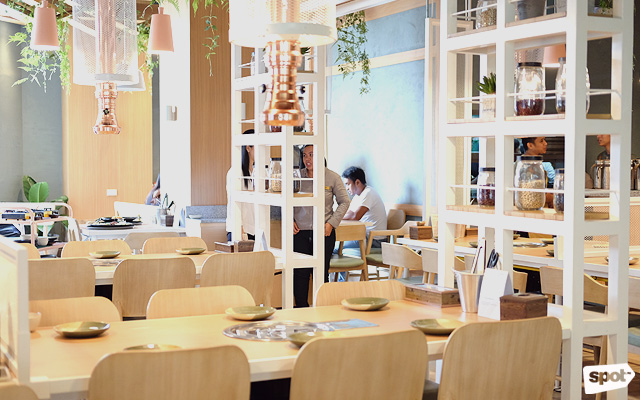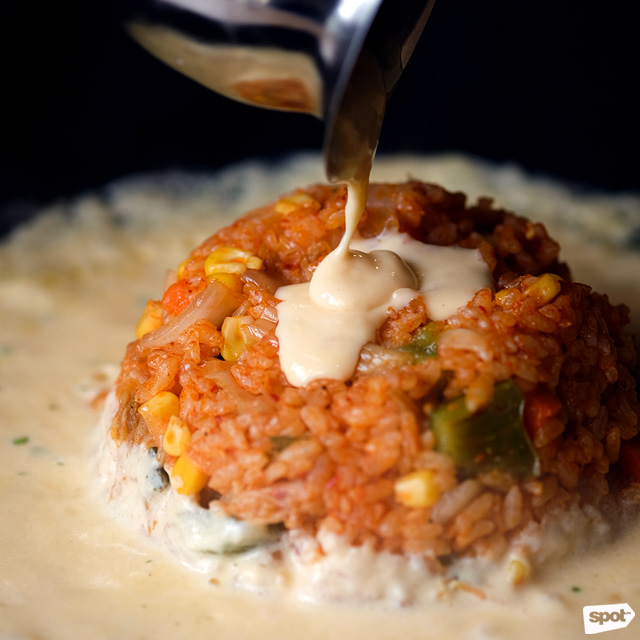 Sibyullee
G/F Ayala Malls The 30th, 30 Meralco Avenue, Pasig City
Contact: 958-6986
Korean barbecue fanatics are in for a treat at Sibyullee, Sariwon's hipper, younger sibling. This cheerful and bright nook at Ayala Malls The 30th was created to remind you of Myeongdong and Itaewon's vibrant street-food scene. Make sure to try their Galbi Cheese BBQ, a comforting dish made of sweet barbecue-glazed beef short ribs, served with their signature gooey, creamy, and piping hot melted cheese.
ADVERTISEMENT - CONTINUE READING BELOW
Must-tries: Galbi Cheese BBQ, Volcano Kimchi Fried Rice
Read more about Sibyullee.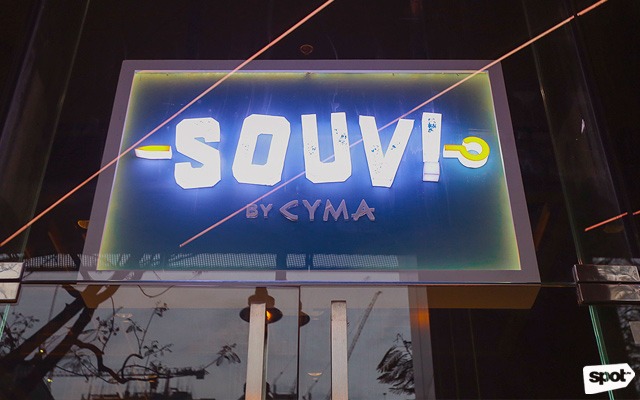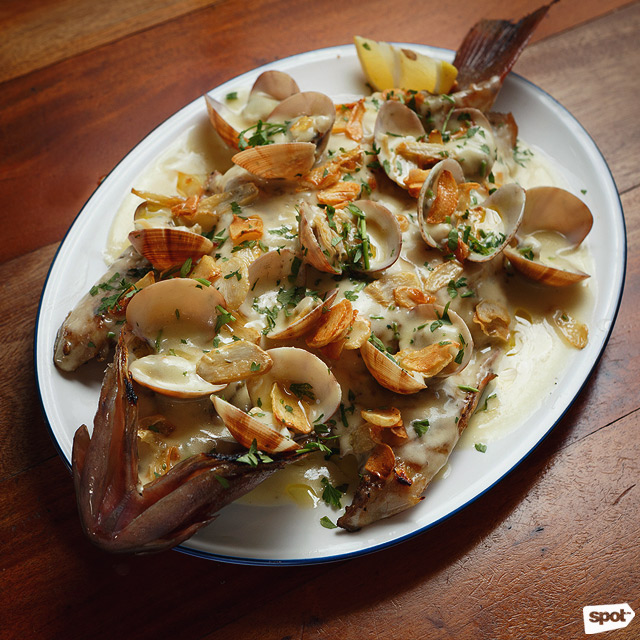 SOUV by Cyma
G/F Net Park Building, 5th Avenue, Bonifacio Global City
Contact: 0949-481-9621
"Souv" comes from the word "souvlaki," or skewered grilled meat. The restaurant is run by Chef Robby Goco, who's known for tried-and-tested homegrown restaurants like Cyma and Green Pastures. SOUV by Cyma champions no-frills Greek food in huge, group-friendly portions. Unlike the restaurant's predecessor, Cyma, this new BGC eatery veers away from being a traditional Mediterranean restaurant, using unconventional ingredients like kale, quinoa, and bulgur. Go for the Tirokefterri dip, a light appetizer that fuses creamed feta with roasted bell peppers, best eaten with their homemade pita.
Must-tries: Lamb Salad, Meat Platter, Tirokefterri, Greek Yogurt in EVOO & Sea Salt
Read more about SOUV by Cyma.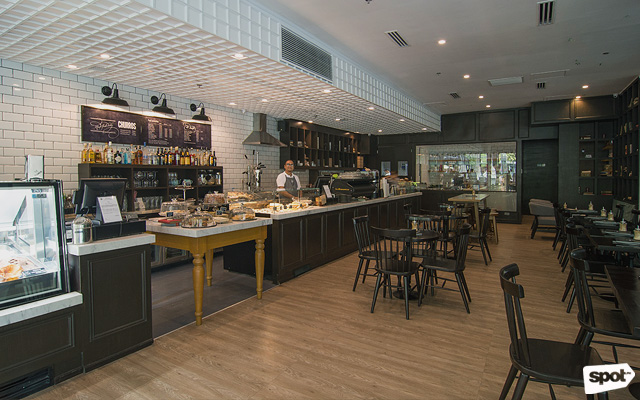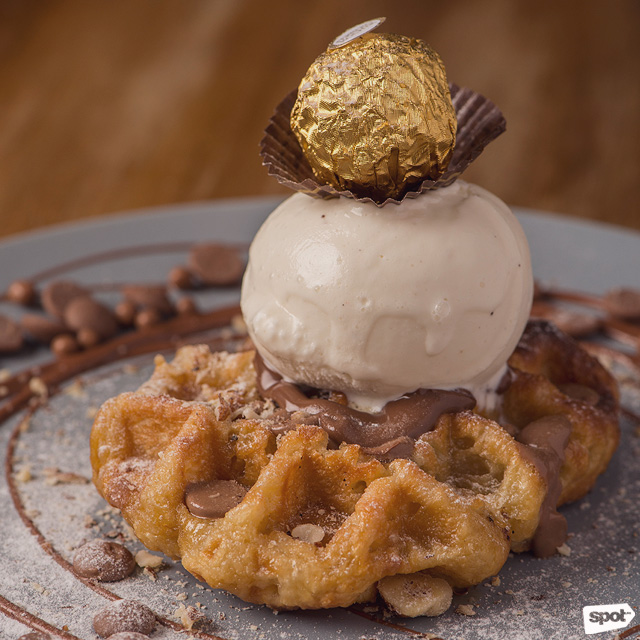 St. Louis House of Fine Ice Cream & Dessert
Unit C3-104 Bonifacio High Street, Bonifacio Global City
Don't be fooled by the name because St. Louis is more than just sweets. You could easily spend the whole day here with their hearty breakfast fare and savory crepes. But that doesn't mean that desserts aren't the star; it'll be difficult to steal the spotlight from their thick and rich ice cream, indulgent waffles and vanilla-and-cinnamon-spiced churros.
Must-tries: Leg Ham Baked Eggs; Chicken, Mushrooms, Spinach, And Cheese Crepe; Churros
Read more about St. Louis House of Fine Ice Cream & Dessert.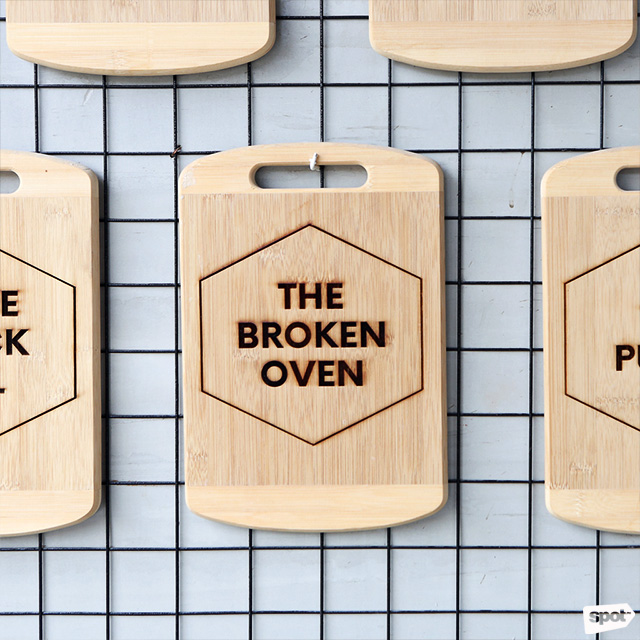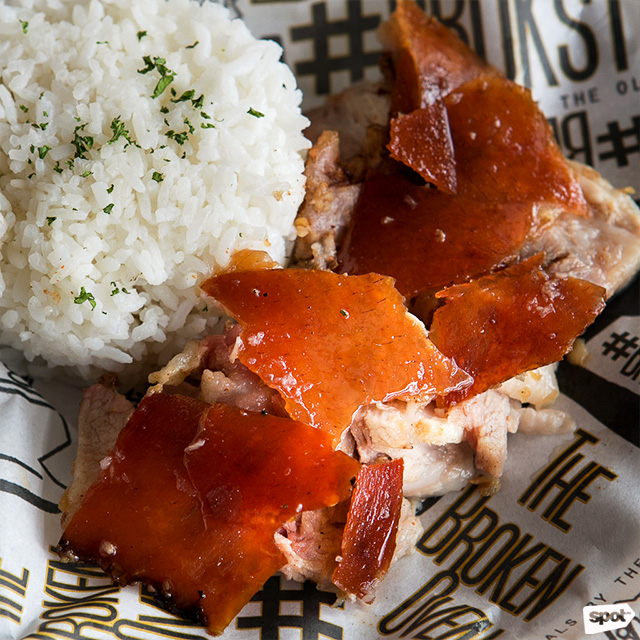 ADVERTISEMENT - CONTINUE READING BELOW
The Broken Oven
Industrie Food Loft, City Golf Complex, Doña Julia Vargas Avenue, Pasig City
Contact: 0917-816-2726
This stall at City Golf's Industrie Food Loft offers Filipino favorites with quirky interpretations—like putting sisig inside a rice ball. The premise of the unassuming food stall is simple, but with the budget-friendly prices and the mouthwatering options, you'll say goodbye to your diet in no time.
Must-tries: Slow Roasted Pork Belly with Rice, PB+C Sandwich, Sisig Kaninballs
Read more about The Broken Oven.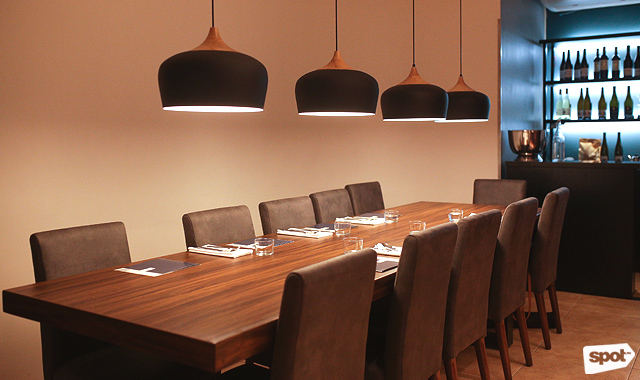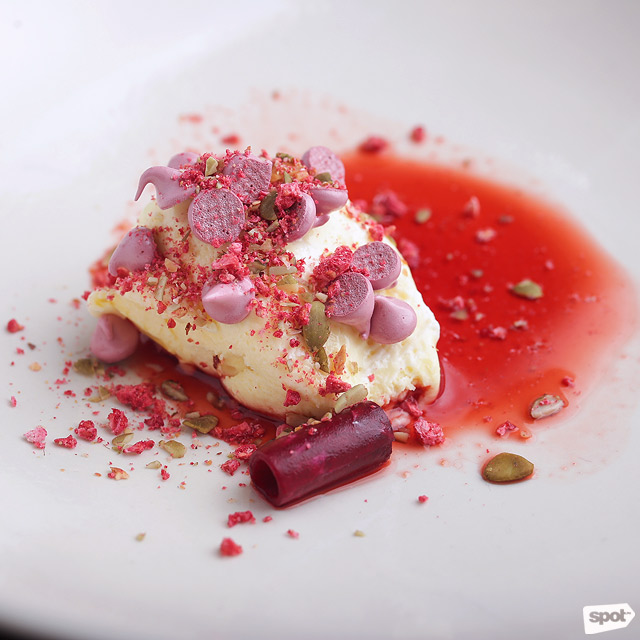 The Test Kitchen
9780 B&C Kamagong Street, San Antonio Village, Makati City
Contact: 403-5953, 0917-304-1570
With years of experience as The Bistro Group's executive chef, Chef Josh Boutwood has finally found the perfect opportunity to flex his culinary muscles at a place he can call his own. The Test Kitchen is his playground, allowing him to whip up practically anything he wants—think of it as a reflection of Chef Josh's spontaneous and fun character. The restaurant's six- to eight-course tasting menu changes depending on the season and availability of ingredients. Walk-ins aren't recommended as the restaurant only opens upon request, so have your seats reserved before trying this charming 20-seater restaurant.
Read more about The Test Kitchen.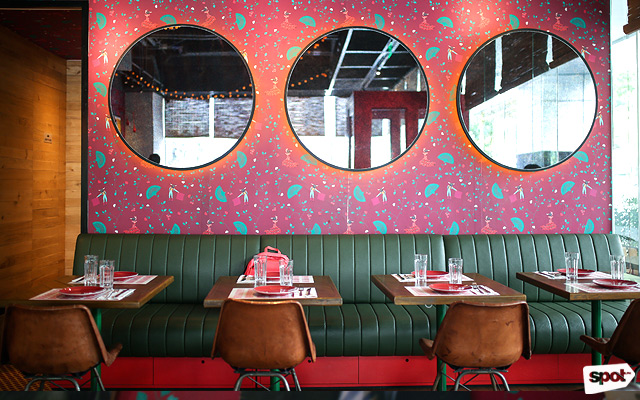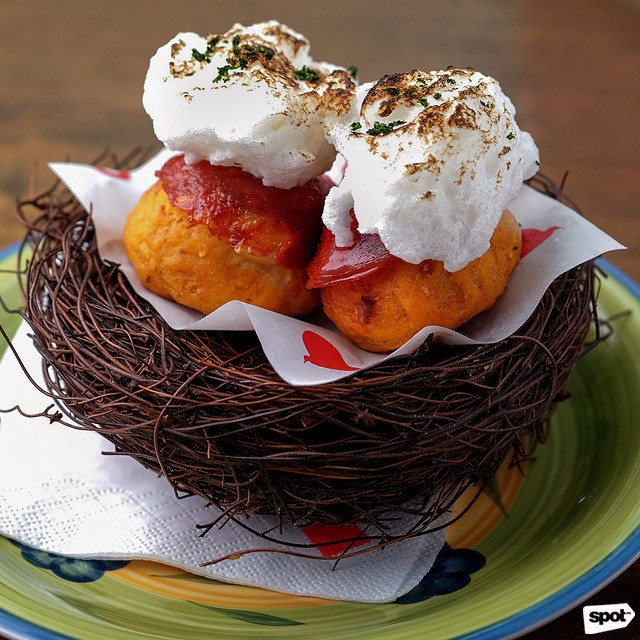 Tomatito
30th Street corner 11th Avenue, Bonifacio Global City
Contact: 805-7840, 0915-588-4803

Opening in the last stretch of 2016, Tomatito closed the previous year with a bang. The Shanghai-based tapas bar plays with the intersection of Spanish and Filipino flavors to create fun and imaginative bites that also ooze alluring sexiness. Their signature Pulpo ala Tomatito is a certified stunner with mini skewers of octopus, baby potatoes, Iberian ham, and smoked paprika arranged on a ceramic octopus tentacle-shaped plate, each stick covering a broad spectrum of textures and flavors, from sweet to smoky and simply lip-smacking good.
ADVERTISEMENT - CONTINUE READING BELOW
Must-tries: Chicharron y Salmon, Bombas de Jamon, Pulpo ala Tomatito
Read more about Tomatito.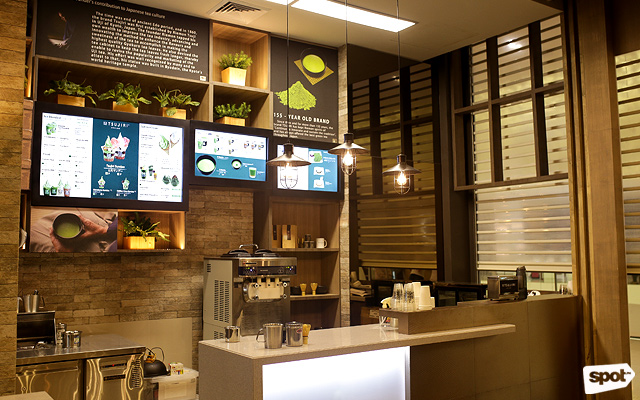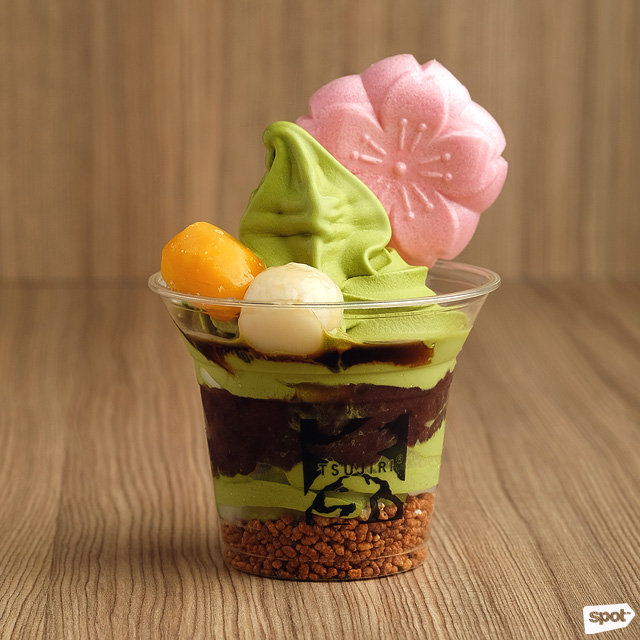 Tsujiri
Level 2, S Maison at the Conrad, SM Mall of Asia Complex, Pasay City
Contact: 816-4037

Not all matcha is created equally, a fact that Tsujiri is happy to drive home. With 15 decades of matcha expertise under their belt, this Japanese chain is more than qualified. Real high-grade matcha, unlike regular green tea, is earthy and slightly bitter, but also produces a pleasantly sweet aftertaste. It's a flavor profile you can best appreciate in Tsujiri's O-Matcha, a drink which goes down smoothly even without sugar or cream. But, if there's anything this matcha haven has become famous for this 2017, it's their Tsujiri Sundae, with picture-perfect layers of matcha soft-serve, red bean, mochi, chestnuts, toasted rice, and a pale pink cherry blossom rice cracker that also adds a hint of citrus that balances out this truly decadent dessert.
Must-tries: O-Matcha, Tsujiri Sundae, Yuzu Citron Ice Blended
Read more about Tsujiri.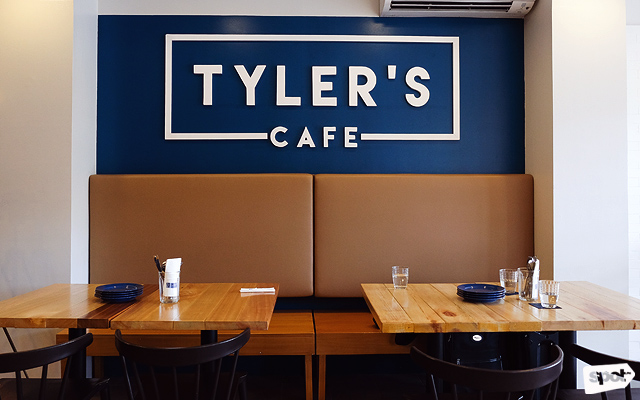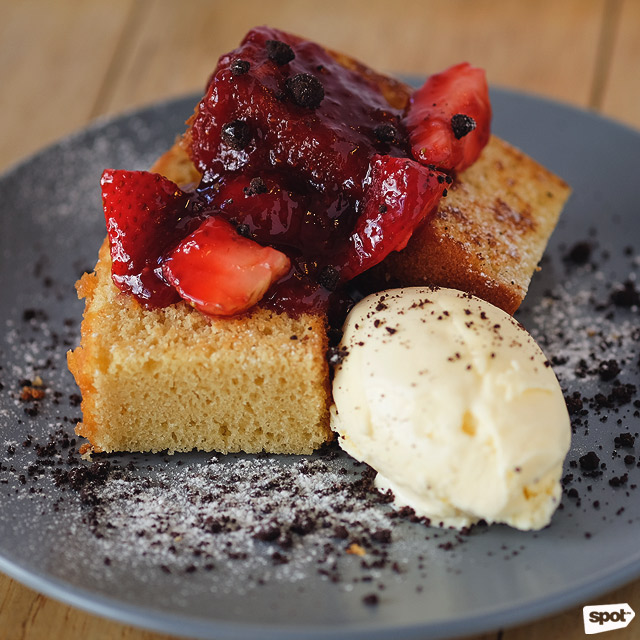 Tyler's Café
317 Katipunan Avenue, Quezon City
Contact: 225-7462
Katipunan has been blessed with a lot of coffee places fit for the busy bee who's always on the go. But Tyler's Café is one of the few that will actually want you to stay with their sweet French Toast Brulee that come with slices of bananas and pineapples under a generous serving of whipped cream and syrup. For something savory, order their drool-worthy Brisket and Eggs, which is a tender beef brisket that comes with garlic rice that's cooked in beef fat.
ADVERTISEMENT - CONTINUE READING BELOW
Must-tries: French Toast Brulee, Brisket and Eggs, Strawberry
Read more about Tyler's Café.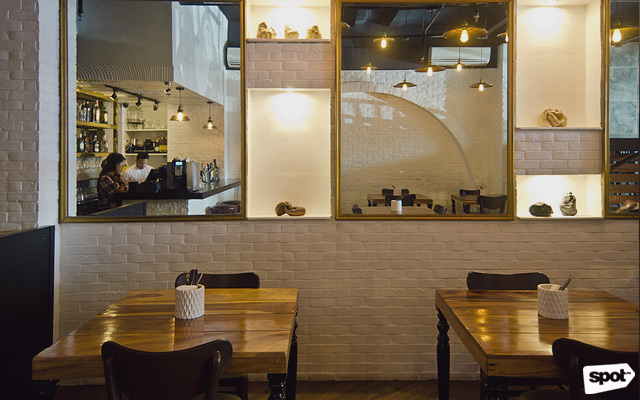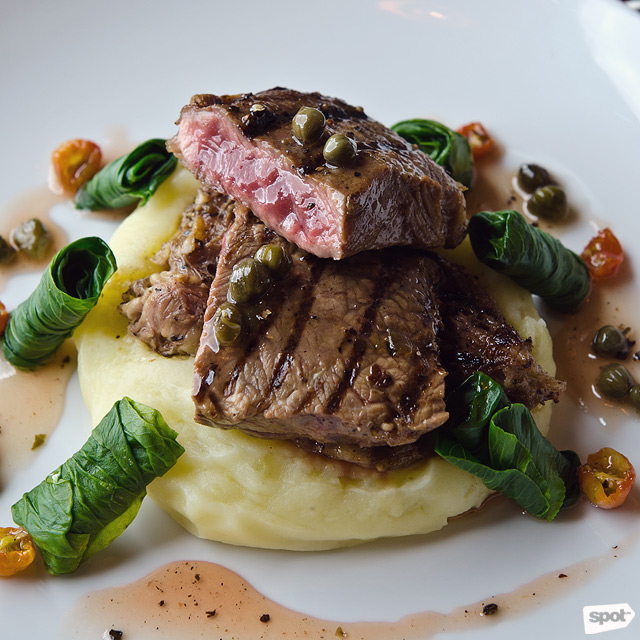 Whitebrass
20 Jupiter Street, Bel-Air, Makati City
Contact: 776-4482
Classy but homey is the theme at Whitebrass, from the minimalist décor to the Milan-inspired menu. They prove that sophisticated Italian food doesn't have to be intimidating while also going wild with their imagination, producing gems like the little flavor pockets that are the Chicken Skin-Wrapped Roasted Bell Peppers. Richness, too, seems to be the refrain that runs through all the dishes, with Chef Rip David lavishing his risottos and pizzas with fresh truffles, cheeses, and more. Flavors are unapologetically indulgent—this is the restaurant you go to for the ultimate treat-yourself day.
Must-tries: Chicken Skin-Wrapped Roasted Bell Peppers, Risotto Parme-Tartuffo, Steak Palermo
Read more about Whitebrass.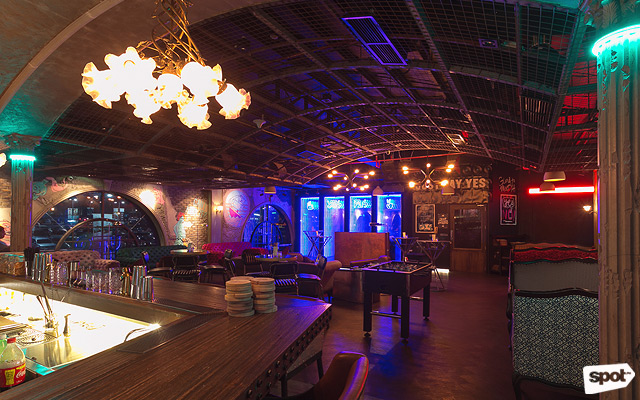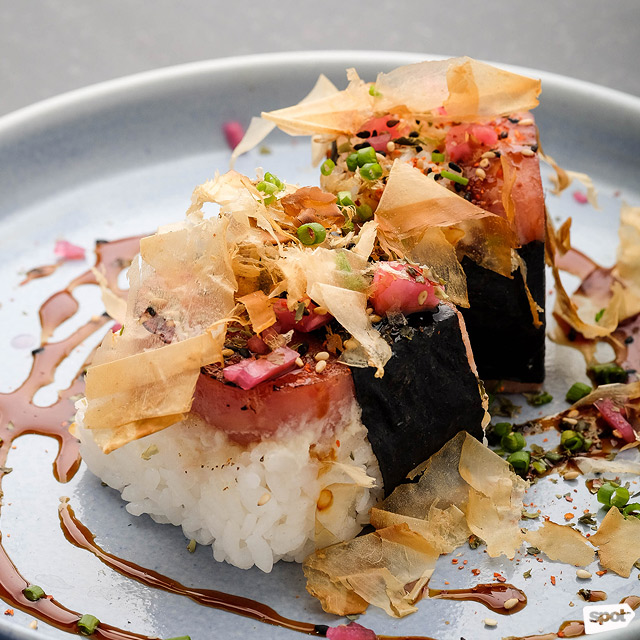 Yes Please
11th Avenue corner 38th Street, Uptown Bonifacio
Contact: 0917-140-7777
Stepping inside this neon-lit, funky mural-laden bar at The Palace Complex will give you major throwback vibes. Their '90s-themed music is set to give you that New York dive-bar feel, while their well-curated drinks menu and tasty bar chow will make you say "yes, please!" Yes Please is that bar where you can just sit back and enjoy the night. Best part? Dancing isn't a requirement.
Must-tries: Caramelized Spam Musubi, Squid a la Pobre
Read more about Yes Please.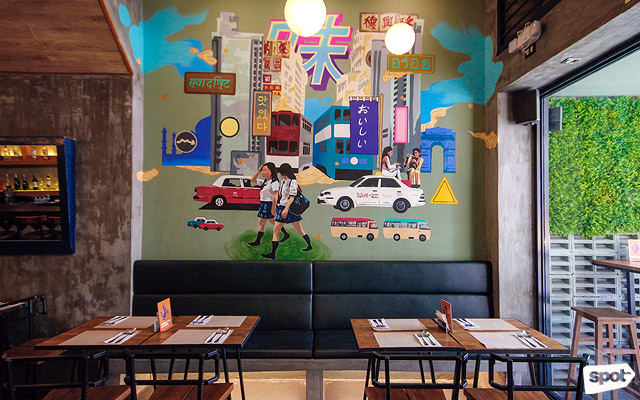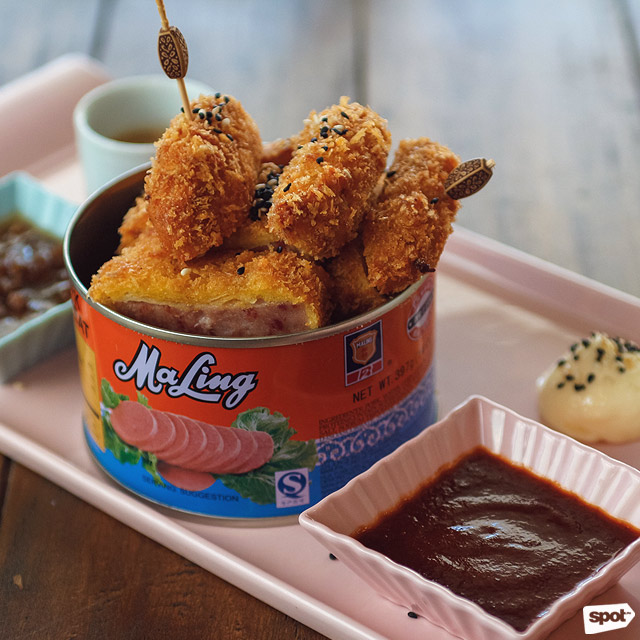 Yuan Bistro
Unit 4 Victoria Brixton Plaza, 1 Brixton Street, Kapitolyo, Pasig City
Contact: 0917-576-0822
ADVERTISEMENT - CONTINUE READING BELOW
Ready your appetite (and your cameras!) for a delightful experience with Asian cuisine. Yuan doesn't limit itself to the usual Japanese, Chinese, and Korean food because you can have a taste of South and Southeast Asia as well. Chef Kel Zaguirre makes the brightly colored joint a delicious playground full of contrasting flavors that actually work.
Must-tries: X.O. Tonkatsu MaLing Fries, Ribeye with Wasabi Chimichurri, Matcha Dream
Read more about Yuan Asian Bistro.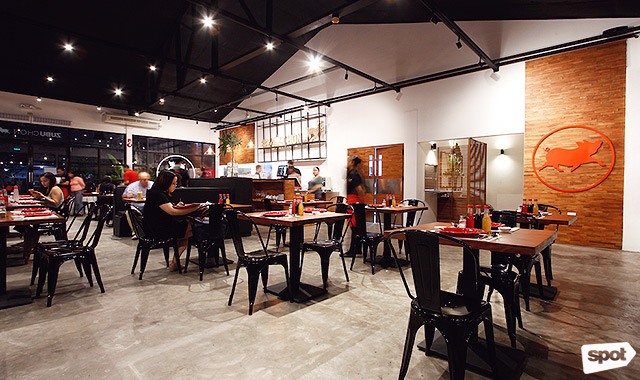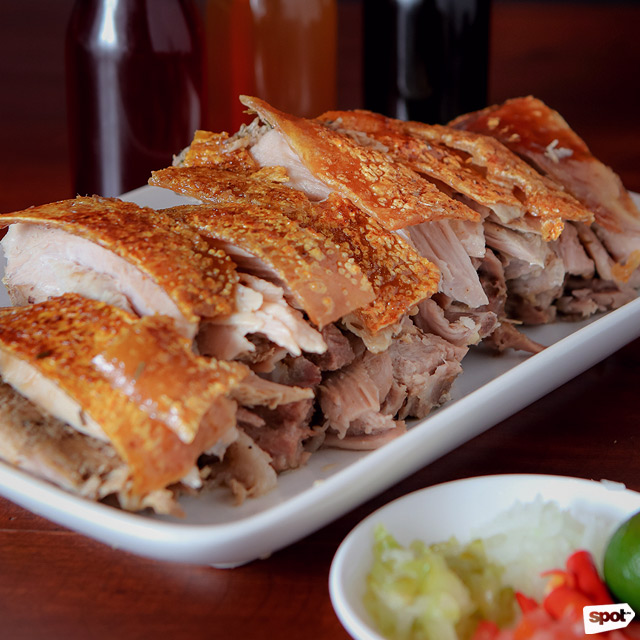 Zubuchon
Talisay Street, San Antonio Village, Makati City
Contact: 800-5706, 809-0149
It was emotional. We couldn't contain our excitement when news broke that Zubuchon was finally, finally opening in Manila. Now on their second Luzon branch (with a third one in the works), both restaurants provide the same dining experience as their Visayan counterparts. In fact, they even transport ingredients straight from Cebu to get the lechon as close to the original taste as possible. Their chili-oil infused lechon is one you shouldn't miss—not only is it succulent and perfectly seasoned, but it gives a kick that other roasted pigs (at least the ones in Manila) can't offer.
Must-tries: Zubuchon Spicy Lechon, Crab and Aligue Fried Rice
Read more about Zubuchon.
Load More Stories