New Restaurant Alert: Sample a Different Kind of Italian at Whitebrass in Makati
Drinks up, and pinkies out-this is Italian inspiration made accessible.
Whitebrass
20 Jupiter Street, Bel-Air, Makati City
Contact: 776-4482
Open from 10 a.m. to 12 a.m. (Monday to Thursday), 10 a.m. to 3 a.m. (Friday), and 3 p.m. to 12 a.m. (Saturday)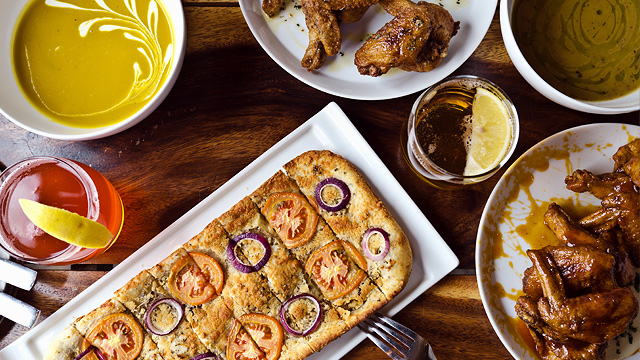 (SPOT.ph) Move over, rose gold, Whitebrass is making its mark before your time is even up. Jupiter Street is no stranger to new establishments, but this just might be the one that shakes things up around this sleepy street.
ADVERTISEMENT - CONTINUE READING BELOW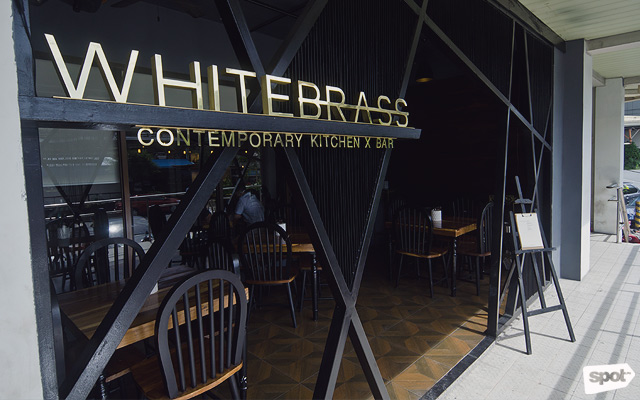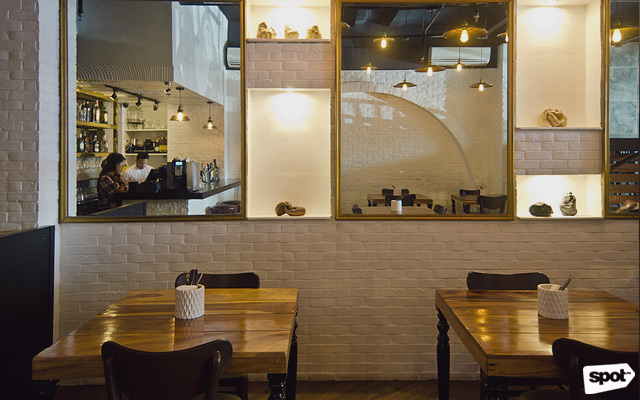 ADVERTISEMENT - CONTINUE READING BELOW
Not that that's their intention. "We were just inspired by the food in the [Milano-Lombardi region]," says General Manager Kate So, "and we decided to take the décor in a different direction." What she means is immediately evident: Minimalism is the Thing of the Decade, but it takes a skilled eye to make it one's own. In this case, the place feels just comfortable enough to not be intimidating your first time there, yet doesn't have that Everybody's Already Been Here feel—which is, in our books, pretty perfect. We don't know how Jana Juani, one of the minds behind the entire concept, managed it, but they all seem to have it down pat.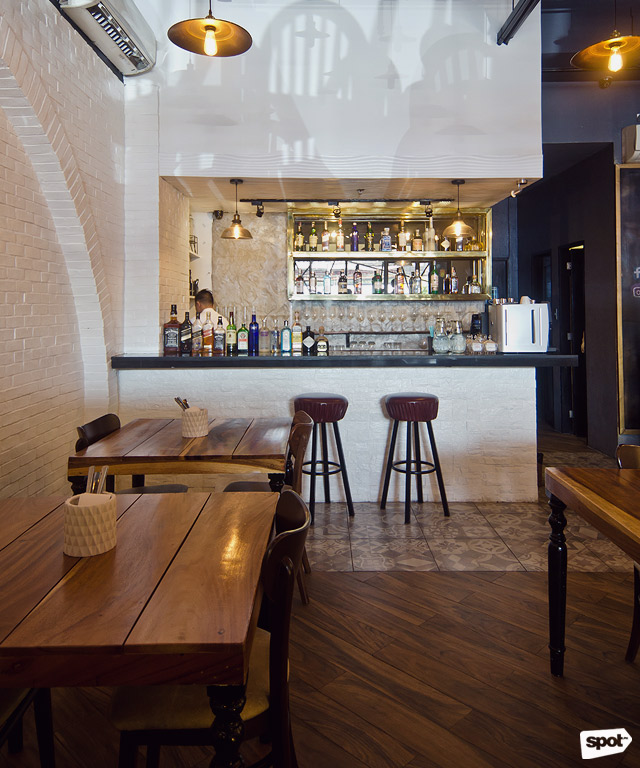 ADVERTISEMENT - CONTINUE READING BELOW
The thing to say right about now would be "We'll start you off easy," except that this entire menu seems to have a theme other than inspiration from Milan, and it's that you could read the description of any item, even have Chef Rip David explain them all to you, but you'd never be ready for what he's actually done with those ingredients. He's got a noble philosophy: "If we can make it here, then we will make it here."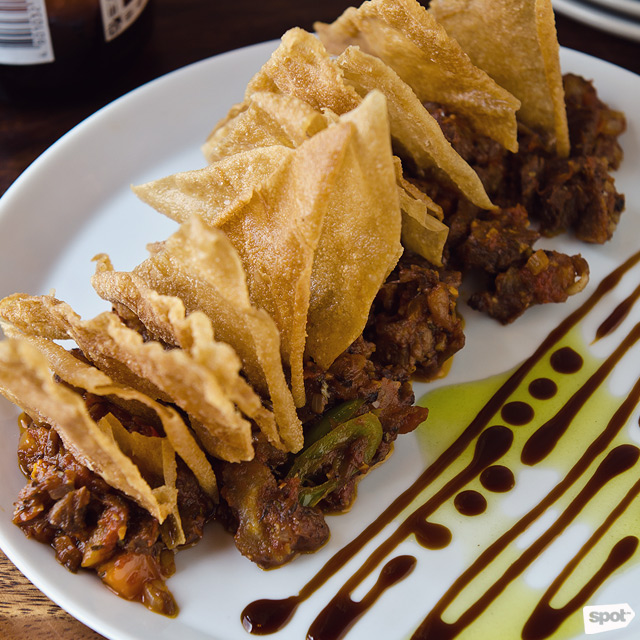 ADVERTISEMENT - CONTINUE READING BELOW
Carne Piccante and Wonton Chips
So we'll dive right in with the Carne Piccante and Wonton Chips (P300), the description of which will differ depending on who you're talking to. If it's your friend who is essentially a human vacuum cleaner, you can just say they're basically Asian nachos. If it's your friend who you suspect was bottle-fed on Chardonnay and doesn't repeat outfits, you say that this is party in the front, and chillin' in the back. The spiciness of the beef hits you before the tenderness does, but it's mostly heat and very little pain. There's a tang to it that is mellowed out by the crunch of the fried wonton, and it's just begging to be paired with a beer.
The Chicken Skin-Wrapped Roasted Bell Peppers (P300) look like little coin pouches—intentionally—and will end up being your favorite if you're not careful. Think salty crispiness around soft, sweet peppers, up against the slight edge of pico de gallo. You don't stand a chance. And this is just the bar chow!
ADVERTISEMENT - CONTINUE READING BELOW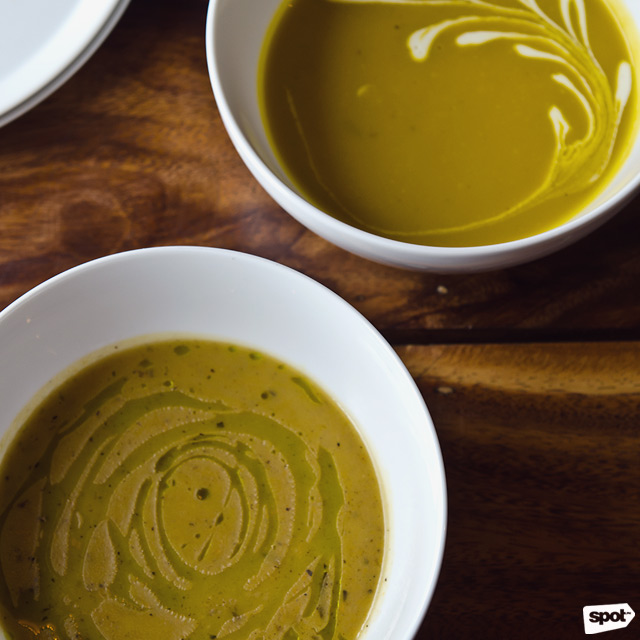 (Top to bottom) Pumpkin Amaretto Soup, Potato Truffle Soup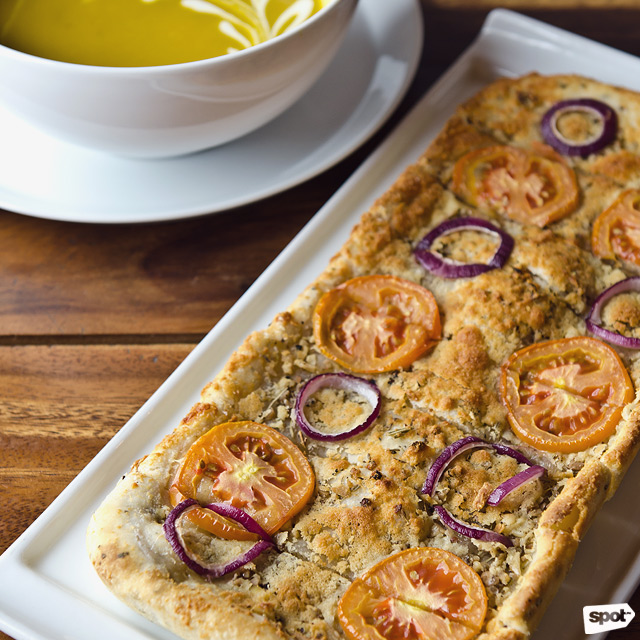 ADVERTISEMENT - CONTINUE READING BELOW
Focc
This is where it gets a little tricky. We wouldn't recommend these soups if you're coming to Whitebrass on your own. Both the Potato Truffle Soup (P200) and the Pumpkin Amaretto Soup (P180) are almost filthily rich, and seem to have been made with those moments of luxury-seeking in mind. At that price point? We'll take it. They both go really well with the scandalously named Focc (P280), as in focaccia, made crunchier than you'd expect, and topped with tomatoes, garlic, onion, and parmesan, as if you needed more convincing.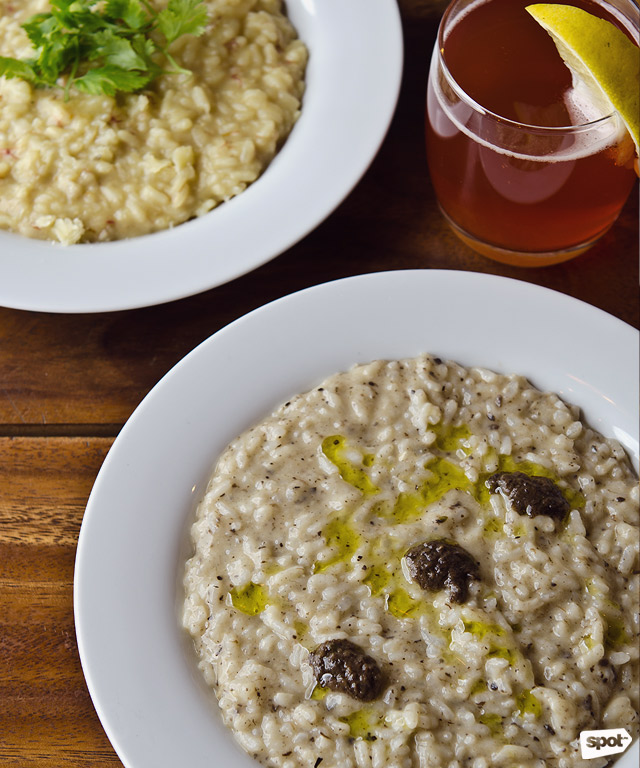 ADVERTISEMENT - CONTINUE READING BELOW
(Top to bottom) Risotto Kasubha, Risotto Parme-Tartufo
Along that same vein of incomprehensible richness, the Risotto Parme-Tartuffo (P360) is definitely meant to be shared. It's a testament to the power of truffles, really, their aromatic glory in this dish bordering on obscene—certainly unsuitable for the faint of heart. For something closer to home, the Risotto Kasubha (P330) is a plate of almost pure umami, and could quite possibly be the restaurant's core mission in one item: Italian made accessible, just short of fusion food; unpretentious, understated, and delightfully off-center.
Staying true to the menu's running theme, the Quattro Formaggi (P350) doesn't look anything like it sounds. Aside from the dairy-based boy band of parmesan, mozzarella, cheddar, and blue cheese, it's been made "more visually appealing," according to Chef Rip, by topping it off with a little tomato sauce to turn it pink. No one is complaining; this is one of the most comforting plates we've ever seen or eaten.
ADVERTISEMENT - CONTINUE READING BELOW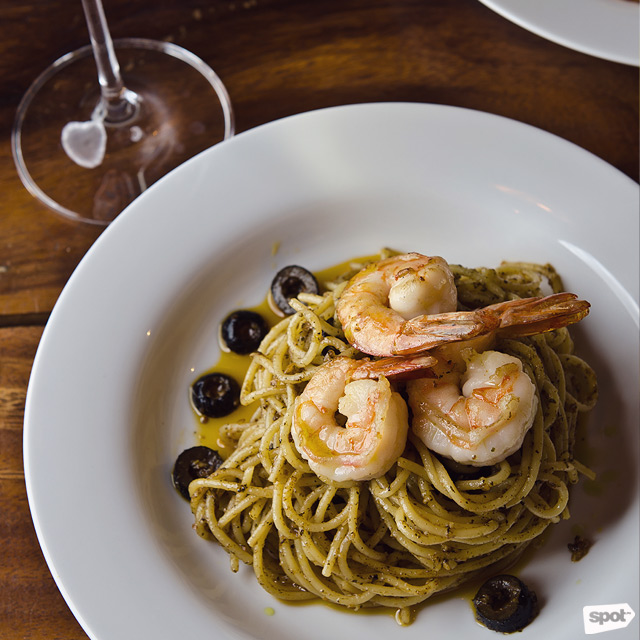 Shrimp and Olives
If you're a sucker for subtler flavors in pasta, though, the Shrimp and Olives (P275) is the thing for you. It doesn't rely on the olives for seasoning, as one might expect. The saltiness could almost be described as well-rounded, perfect with the occasional bite of sweet shrimp. This is the plate you can and likely will order just for yourself!
ADVERTISEMENT - CONTINUE READING BELOW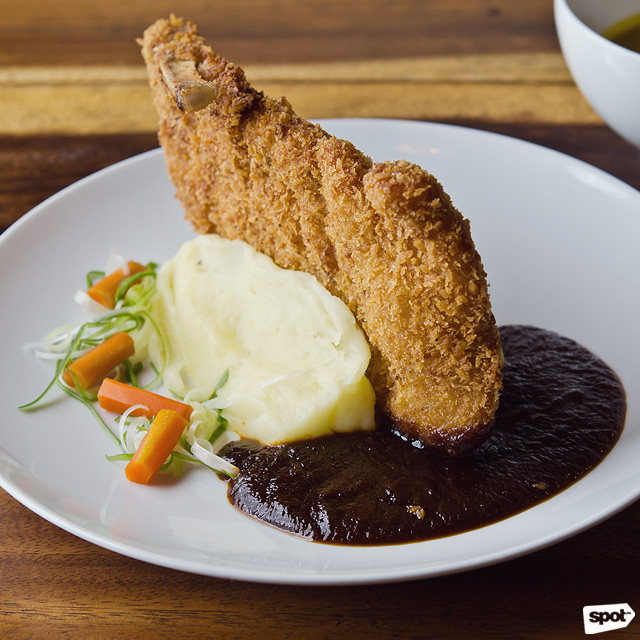 Cotoletta Limone
The Cotoletta Limone (P375) is a thing of true Milanese artistry, in the sense that the breading on this slab of porcine tenderness is perfection. "A symphony of crackle," to quote Pixar. And that's just the breading. When David said they made the barbecue sauce, boy, did they ever make it. Smoked tomatoes give it a bite that would otherwise be lost in sweetness, smoky aftertastes, or both in most bottled sauces.
ADVERTISEMENT - CONTINUE READING BELOW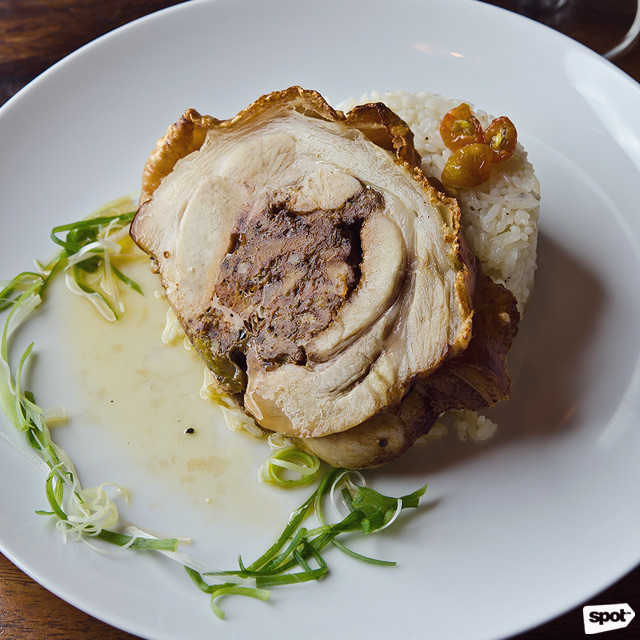 Porchetta
Speaking of a symphony of crackle—that Porchetta (P400), though. What we already know of the classic porchetta is tempting enough, but throw in the homemade sausage stuffing, the natural juices enhanced with lemon, seeping its merry way into some glorious garlic rice? Two words, concise if crude: Hot damn.
ADVERTISEMENT - CONTINUE READING BELOW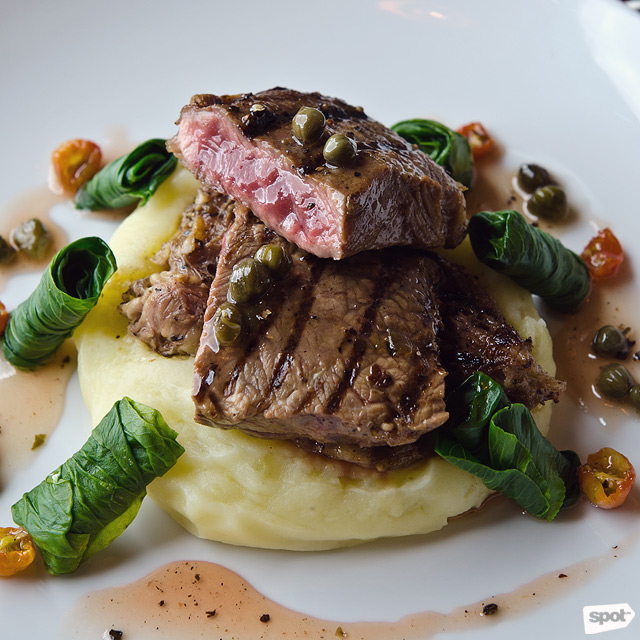 Steak Palermo
And don't even get started on the Steak Palermo (P700). Do not order this until the person you're dining with has actually made a commitment to you, because moaning might ensue. Slices of rib-eye with candied cherry tomatoes provide a kind of savory sweetness one doesn't often find, but then it's cut through with that caper vinaigrette and foiled together by the mashed potatoes. There is no way this isn't rated R somewhere. We're guessing Chechnya.
ADVERTISEMENT - CONTINUE READING BELOW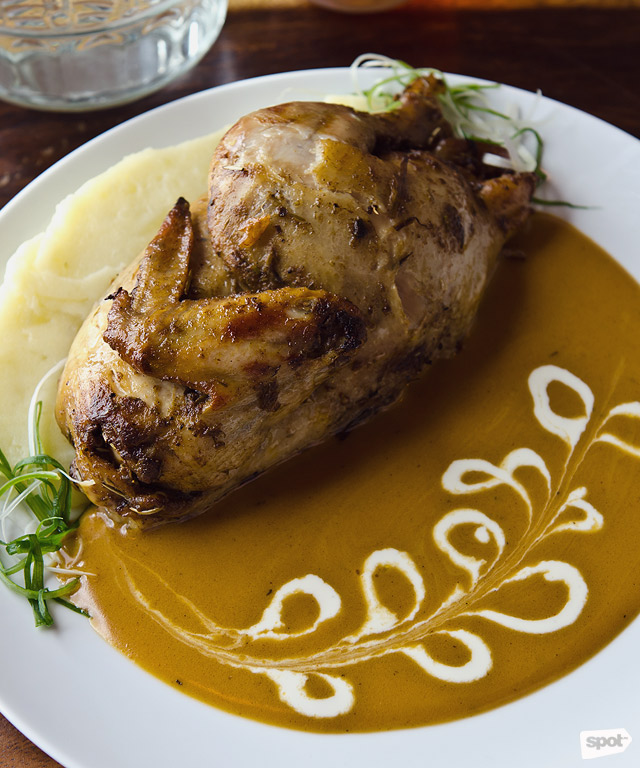 Lemon-Roast Chicken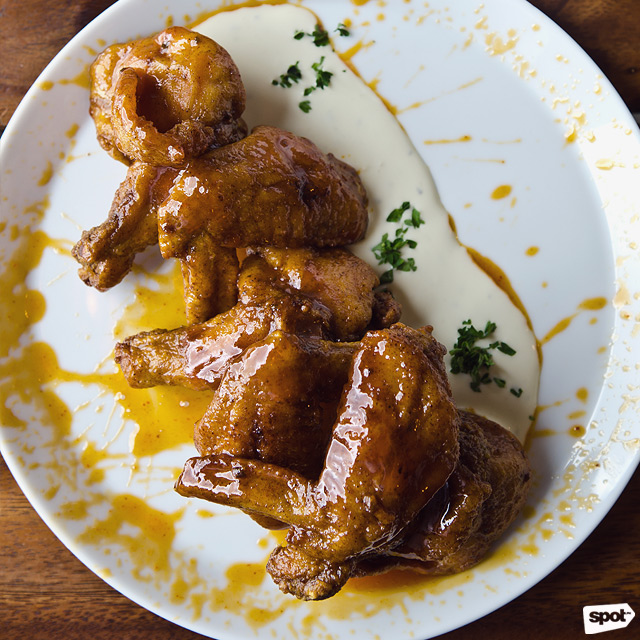 ADVERTISEMENT - CONTINUE READING BELOW
Piccante Wings
Then there's this almost insulting selection of chicken dishes—insulting in that you would have to be a very decisive or in-control person to be able to pick one. The Lemon-Roast Chicken (P400) is so deceptively simple when described; they're pretty classic flavors, after all. But it's the softness—not tenderness, softness—of the meat that makes it difficult to remember your own name. Although the Piccante Wings (P350) might yet call to you, what with the cayenne hit and the blue cheese sauce just asking to be licked off your fingers. Feeling more mellow? The Basil Limone Wings (P350) are fresh, tangy, and are sure to be at least one person's favorite in a group.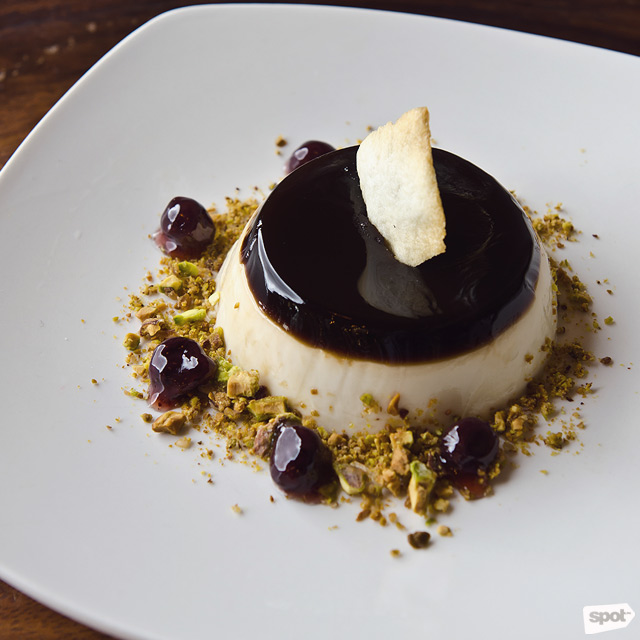 ADVERTISEMENT - CONTINUE READING BELOW
Two-Toned Panna Cotta
This has been quite a journey already, but hang on just a little longer, because in Whitebrass resides the work of the dessert genius that is Casey So. Even dessert-haters will be converted, and each of the three available are good for different occasions. The Two-Toned Panna Cotta (P190) could actually be a palate cleanser with how subtle and fresh it is; you'll never call vanilla plain again, not against the coffee jelly on top. It's nothing short of gorgeous, and we would recommend it for first to third dates.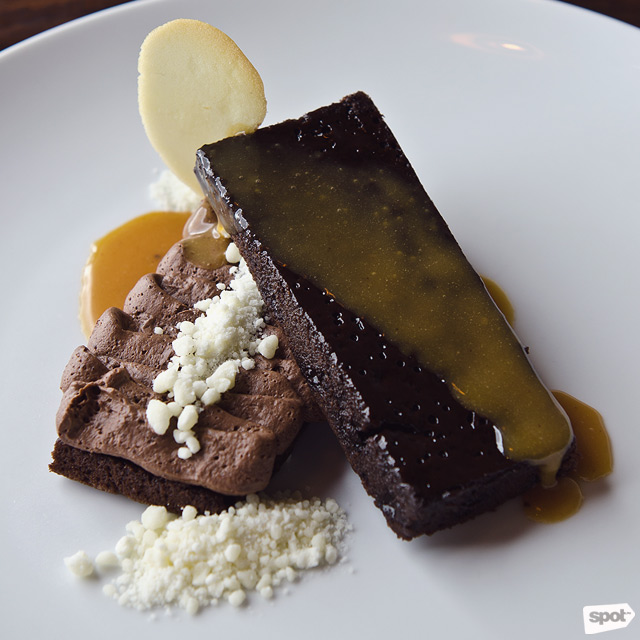 ADVERTISEMENT - CONTINUE READING BELOW
Trio Chocolat
The Trio Chocolat (P200) is what we like to call an Apology Plate. The toothsome brownie, further softened with mousse yet heightened with white chocolate soil is the dessert version of Boyz II Men's Down on Bended Knee sans melodrama, with possible instant gratification. Thank us later.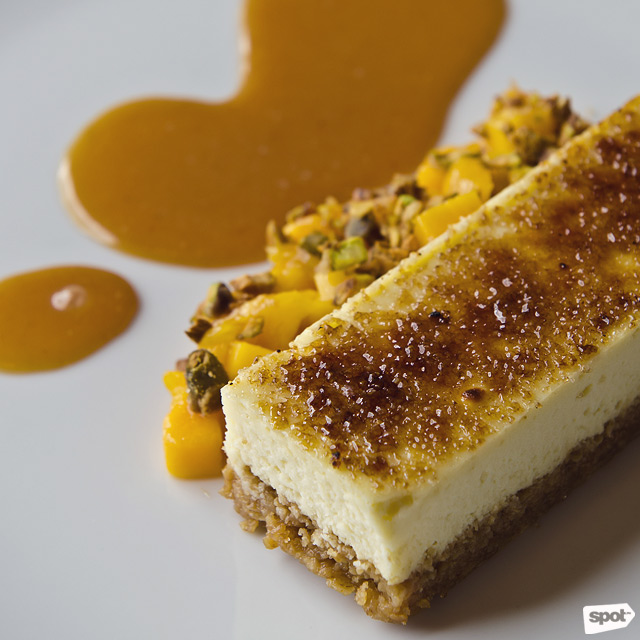 Granola Crusted Cheesecake Brûlée
ADVERTISEMENT - CONTINUE READING BELOW
Finally, fellas, the Big One—the one you want to order when you've got the ring, when her dad has said all right, when her mother has cried tears of joy in the living room, when her siblings have stopped threatening to manually carve out your kidneys with rusty teaspoons—the Granola Crusted Cheesecake Brûlée (P210). That's right. Cheesecake. Brûlée. It's light, but with a bite to it, and the cheesecake is the star rather than the bed for every other flavor. Crack at that sugar glass, scoop up the mango, and pop the question. Alternatively, you could eat this by yourself. It's just as good.
More than a hideaway for the Titos of Bel-Air, Whitebrass has all the potential to transcend Next Big Thing status, and stand far sturdier than its namesake alloy.
Photos by Kai Huang
Recommended Videos
Load More Stories