Baguio's Famous Brick-Oven Pizza Has Made Its Way to Manila
When the moon hits your eye, like a big pizza pie, that's...you get it.
Amare La Cucina
91 East Capitol Drive, Kapitolyo, Pasig City
Contact: 0929-823-7313
Open daily from 10 a.m. to 11 p.m.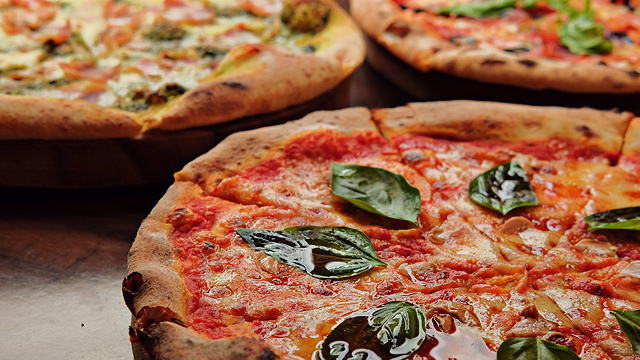 (SPOT.ph) Kapitolyo is just one of those few foodie-friendly districts that hasn't died, maintaining a delicate balance between keeping the classics and somehow always having something new, too. Not that the people in Amare La Cucina see any need for new-fangled fusions or tricks—you might even say they're pretty traditional.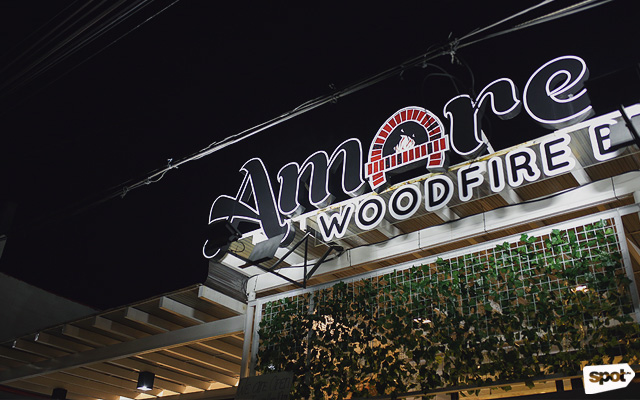 ADVERTISEMENT - CONTINUE READING BELOW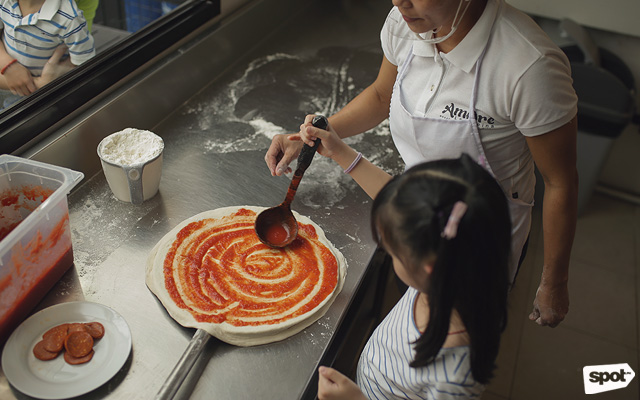 CONTINUE READING BELOW
Recommended Videos
Kids will enjoy making their own pizza!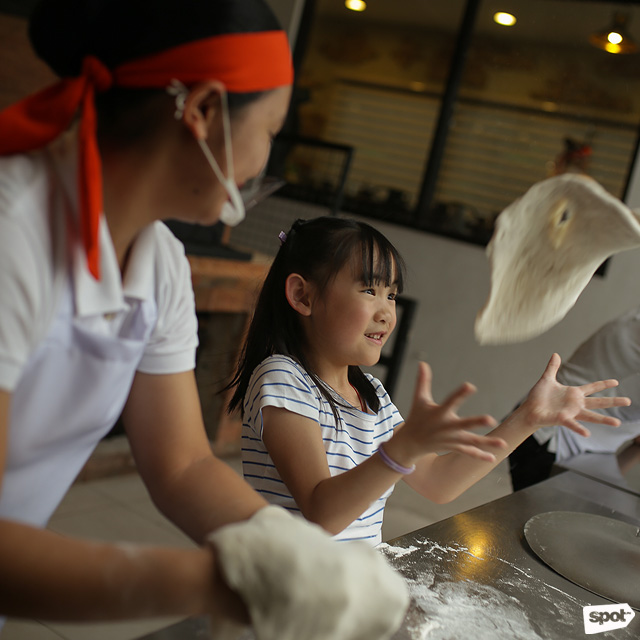 Amare started off as a family business in Baguio—Edmark Bustos' clan, to be precise—and has since remained an altogether family-friendly place. Part of its appeal is the optional make-your-own-pizza experience, which takes you from flour to furnace if you're up for it. Partner Fatima Pilares encourages it: "It's kind of fun to watch kids pick all the toppings they want."
ADVERTISEMENT - CONTINUE READING BELOW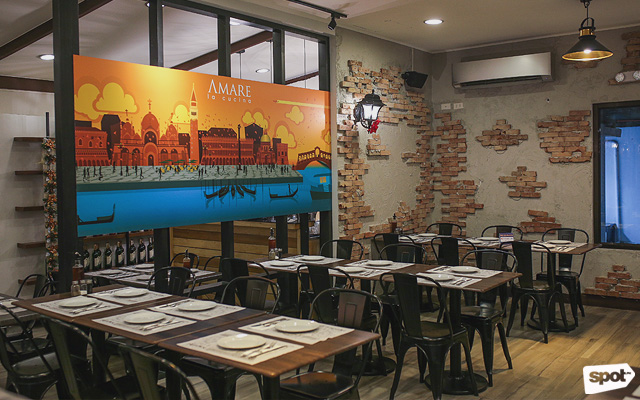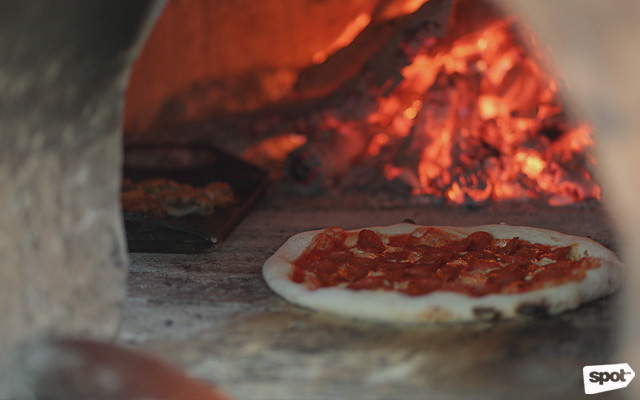 The overall package presents a side of Italian cuisine that isn't always talked about. These days, we love nothing more than piling on flavors and trendy ingredients, but the real stuff doesn't rely on any of that. Ed says, "There's really not much to it. Three, four, maybe five good ingredients, throw them in, and let them do their thing. [Let them meld]." Think of the classic pasta dishes; there's hardly anything there, and yet they're dishes loved the world over. That, plus the element of the whole family getting involved in the kitchen, is very Italian.
ADVERTISEMENT - CONTINUE READING BELOW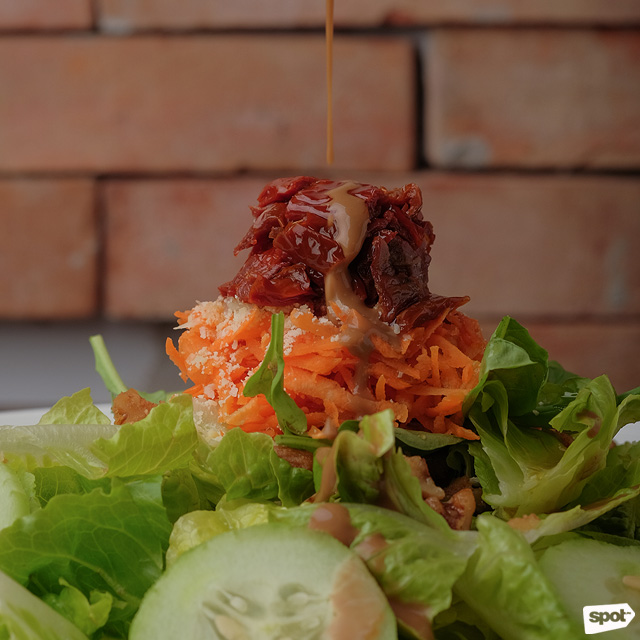 Marianne's Special
Some of the menu items are a little more personal to Ed, though. Marianne's Special (P335) is one such item: "I named it after my favorite sister," he laughs. You're all welcome to guess how many sisters he has. Regardless of sentiment, this salad is nothing short of an excellent starter. It kind of wakes up your taste buds, priming them for whatever you're going to try next. The caramelized nuts, sun-dried tomatoes, and crisp greens might already sound like plenty, but the vinaigrette—with a twist—is what really sets them all off. Good luck trying to get all that in one forkful with your dignity intact.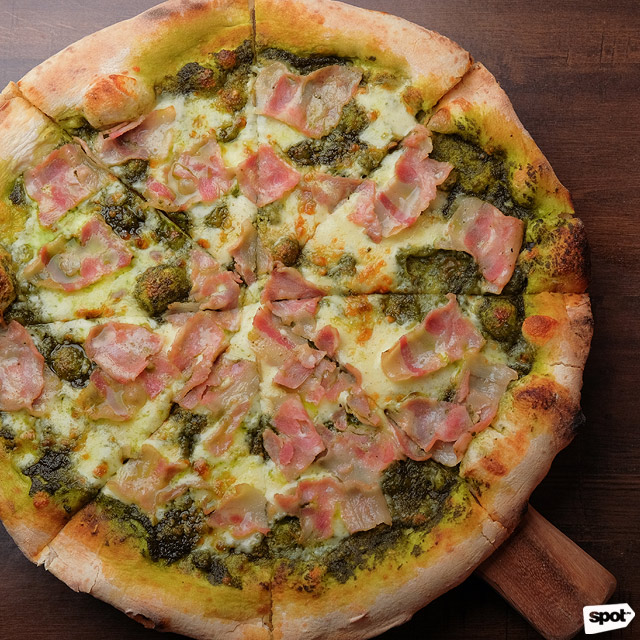 ADVERTISEMENT - CONTINUE READING BELOW
Alvin's Pizza
Speaking of favorite siblings, he couldn't very well leave his brother out, could he? Alvin's Pizza (P450) has a pesto base, generous slices of bacon, a smattering of mozzarella, and just enough Parmigiano to give it a softer saline hit. This pizza requires no narrative and no exaggeration, given that it's kind of unbelievable in and of itself; if pesto pizzas have been underwhelming for you in the past, this is the one they were all trying to be, but fell short trying.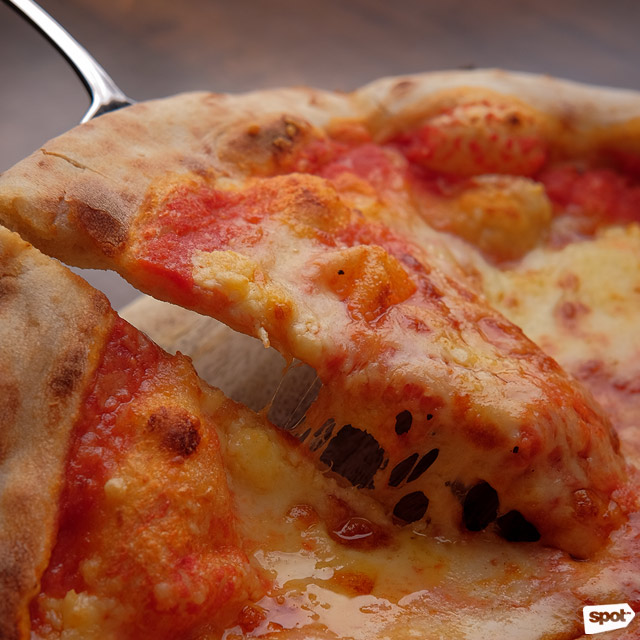 Tre Formaggi
The Tre Formaggi (P440) sounds pretty safe. And arguably, on paper, it is. Boasting three kinds of cheese, it's pretty simple. But this is the one that makes you really appreciate the quality of the crust—thin, crunchy in all the right spots, but the toppings stay fresh. It's one of those dishes that's just greater than the sum of its parts. That's definitely the running theme here.
ADVERTISEMENT - CONTINUE READING BELOW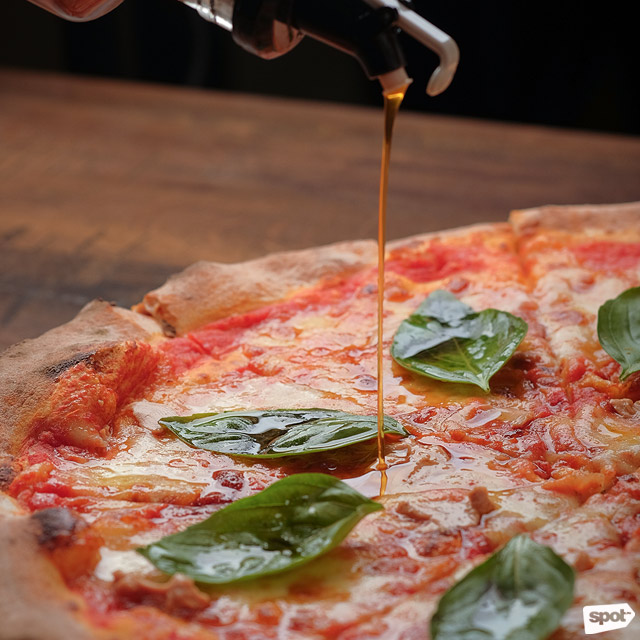 Foie Gras Pizza
For something fancier, but not overwhelming, the Foie Gras Pizza (P595) doesn't require you to pronounce it correctly or, say, have a trust fund to be able to enjoy it. The scent of truffle oil is barely there, coaxed out by the fresh basil leaves, so it's not underwhelming either. In which case, we think you'll just be whelmed; it's from Europe. (50 points if you can name the movie in the comments!)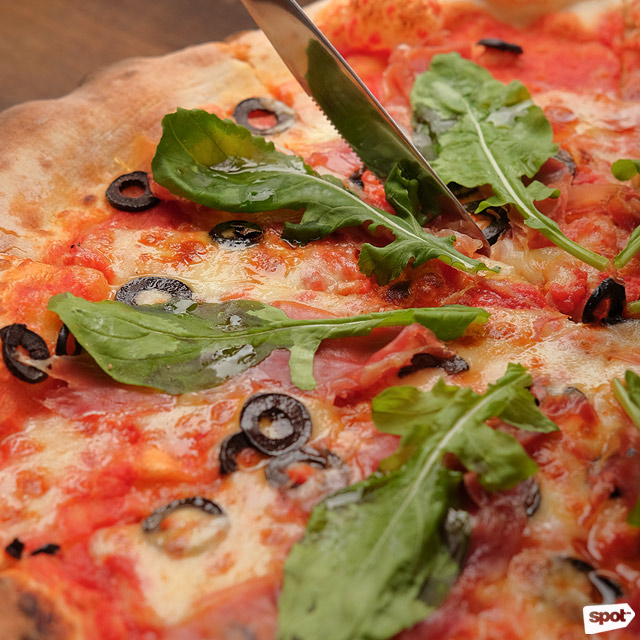 ADVERTISEMENT - CONTINUE READING BELOW
Pizza Con Prosciutto
But the Pizza Con Prosciutto (P540) is sure to be a favorite. This is true of all the other pizzas, too, but there's really no going wrong with this one. Ribbons of prosciutto and arugula leaves make a patchwork blanket of color and flavor that might make picky eaters change their ways.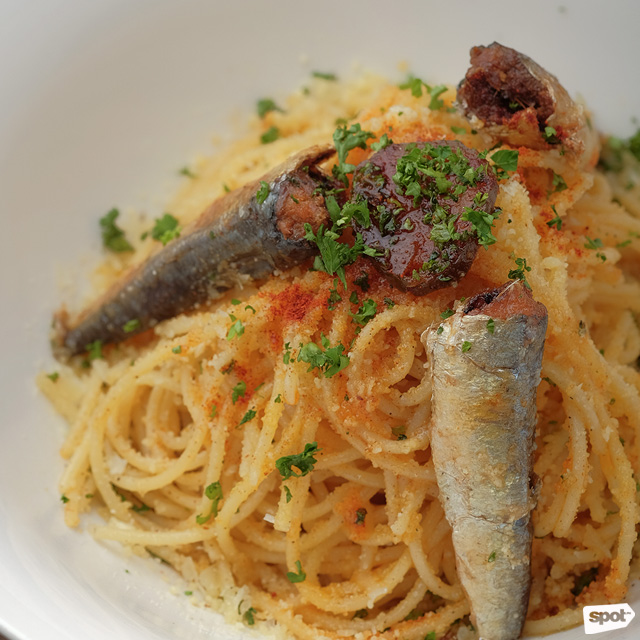 Al a Sardines
Would it really be an Italian restaurant without pasta? In any case, Amare is prepared to meet your carb cravings. Al a Sardines (P265) is hard to explain without giving the mental image of a larder full of cans, but trust us, the chunky fillets against the crumbly Parmigiano make for a subtle, salty-briny contrast that compels you to hide the bowl from everyone else at the table.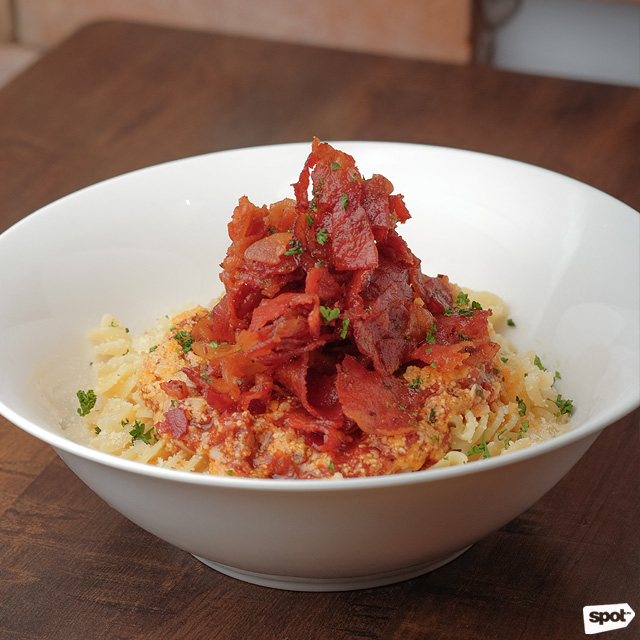 ADVERTISEMENT - CONTINUE READING BELOW
Al Arrabiatta
But if you're looking for more punch, the Al Arrabiatta (P285) is another example of a dish that becomes something more when the ingredients are all assembled. Arrabiatta is Italian for "angry," referring to spiciness, but also to how you'll feel for not having more of this stuff in your life. The first thing you'll notice is the very generous tiles of bacon on top. Need we say more?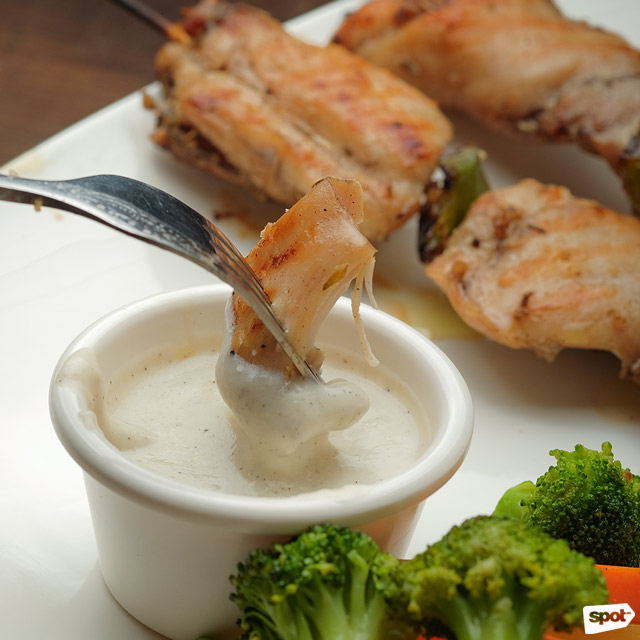 Chicken Skewers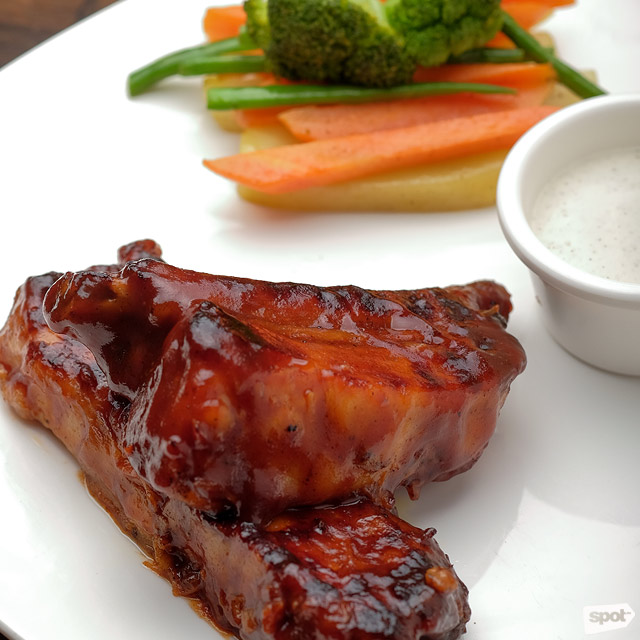 ADVERTISEMENT - CONTINUE READING BELOW
Wood Fired Ribs with Veggies
There's more to this place than pasta and pizza, though; order yourself some Chicken Skewers (P185) and marvel at what chicken thigh fillets can really be. The garlicky sauce that comes with it really pushes it over the top. That same sauce does wonders for the Wood Fired Ribs with Veggies (P345), which on their own are sweet, smoky, and sticky already. But that sauce balances it all out, highlighting the tenderness of the pork.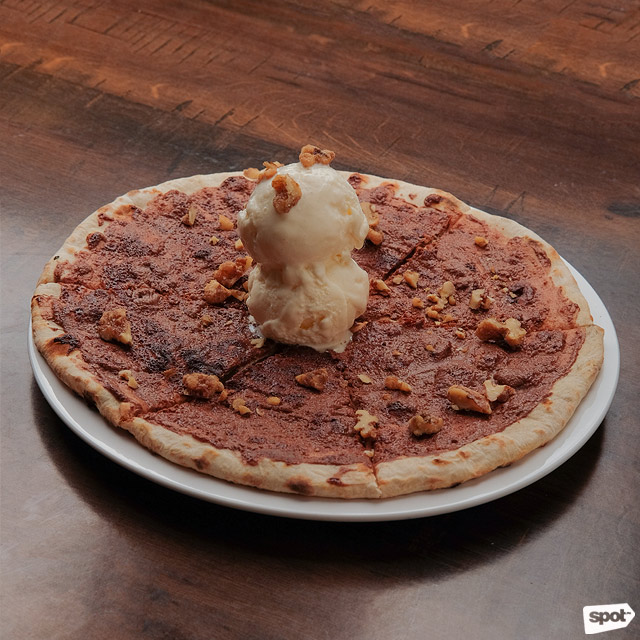 Nutella Pizza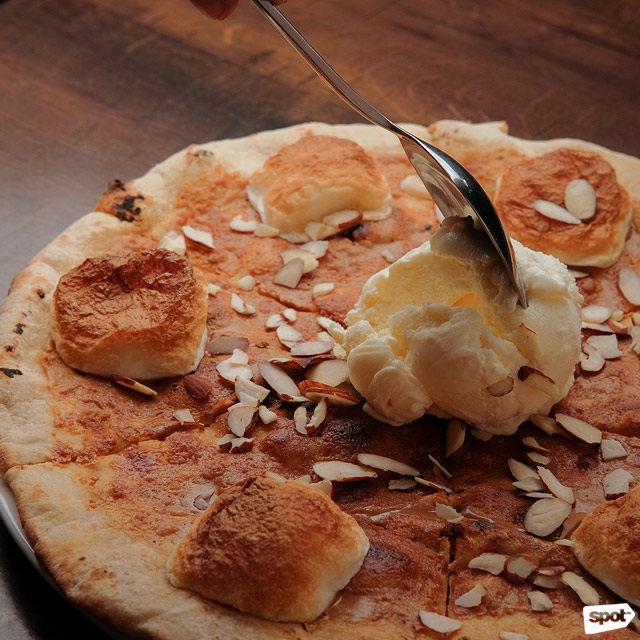 ADVERTISEMENT - CONTINUE READING BELOW
Roasted Mallow Speculoos Pizza
Now, depending on who you are, this next bit is either going to sound so done or super strange: Dessert pizza. It's a thing. It's here. And it is not to be knocked until it has been tried. Between the Nutella Pizza (P260) and the Roasted Mallow Speculoos Pizza (P280), it's pretty hard to choose. It's really down to a matter of taste. But for both, the spreads are thinned out so they're not in your face, literally or figuratively—and the roasted marshmallows of the latter are kind of to die for.
We almost want to tell you not to come to Amare so that there's room for us, but that would be selfish and awful. It's too good to not tell y'all about it. If you're looking for the real deal, or as close as you can get in Metro Manila, this is where you need to be.
Photos by Majoy Siason
Share this story with your friends!
---
Help us make Spot.ph better!
Take the short survey
Load More Stories