Fancy a Spicy Challenge? Take It On at This Modern Szechuan Restaurant
Can you handle the heat?
Templó Modern Szechuan Fusion
55 Dapitan corner D. Tuazon, Santa Mesa Heights, Quezon City
Contact: 244-7640
Open daily from 11 a.m to 10 p.m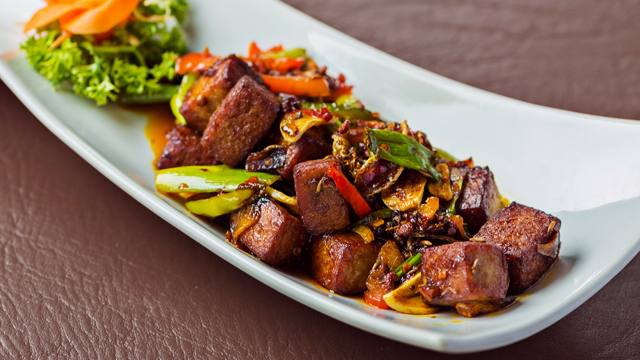 (SPOT.ph) Not many can say with confidence that they can handle spicy food well. But some daredevils seek it out, looking for that thrill only a hot and fiery dish can provide. If you're one such person, or would just like to give your taste buds an exciting ride, you might just find what you're looking for at Templó Modern Szechuan Fusion, a hole-in-the-wall tucked in Banawe, Quezon City.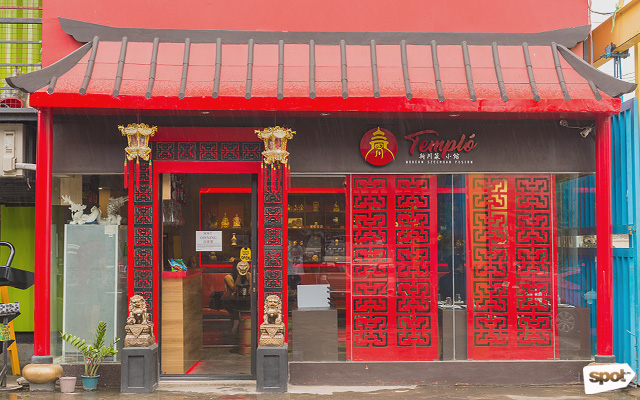 ADVERTISEMENT - CONTINUE READING BELOW
Located inside a compound made up of a car wash, a car parts store, and a massage parlor, Templó at first glance may seem like a Buddhist temple with its red-and-gold façade guarded by lion statues. But owner Joyce Esteban says the design choice was intentional.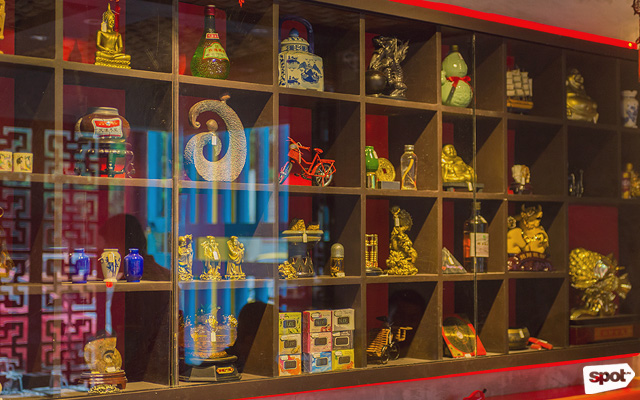 "We were inspired by the temples in Sichuan province, which is actually home to many of the first temples in China," she says. "So we made a lot of use of red and gold because those are the typical colors used in Chinese temples."
Fancy façade aside, the focal point of the restaurant is its display wall. It contains various Chinese artifacts, knickknacks, and pantry items, which Joyce says are actually all for sale. There's even a container of dried abalone up for grabs, going for nearly P30,000.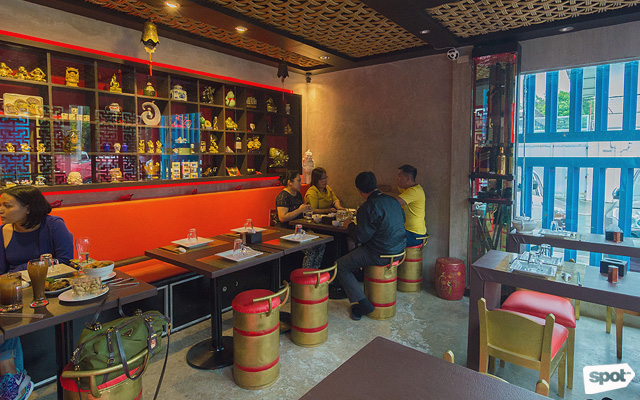 ADVERTISEMENT - CONTINUE READING BELOW
Opening up a Chinese restaurant in a place already saturated with similar places may seem like a risk, but Joyce says they wanted to offer something unique to the area. She quickly describes their cuisine as "fusion."
"We offer typical dishes like yang chow, dim sum but we also wanted to introduce people to Szechuan cuisine," Joyce explains. Known for their bold and piquant flavors, Szechuan cuisine usually uses a mix of garlic, chili peppers, and their signature spice, the Sichuan pepper. Templó's menu is a mix of classic Chinese fare and Szechuan specialties, and it's safe to say you might want to have a glass or two of cold milk on hand.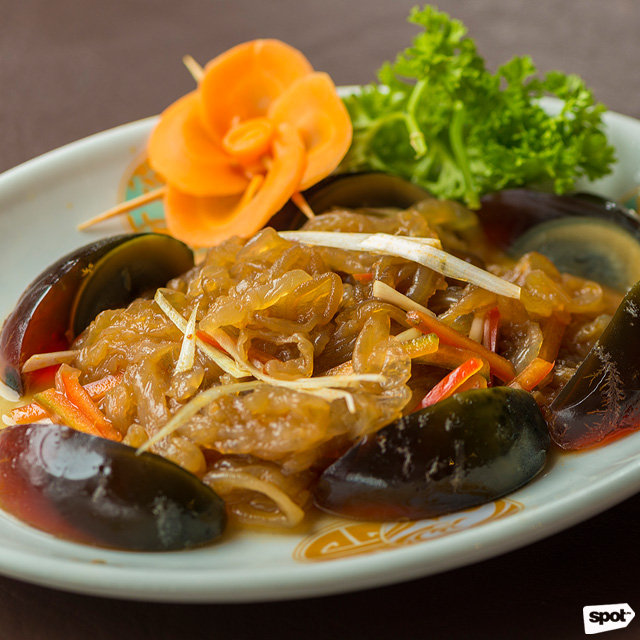 Seaweed with Century Egg
You can still find familiar Chinese favorites at Templó like Seaweed with Century Egg (P225). But with Szechuan cuisine known for its use of peppercorns and chili oil, don't be surprised to find that this simple dim sum dish comes with a spicy kick. The century egg, however, balances out the heat of the seaweed.
ADVERTISEMENT - CONTINUE READING BELOW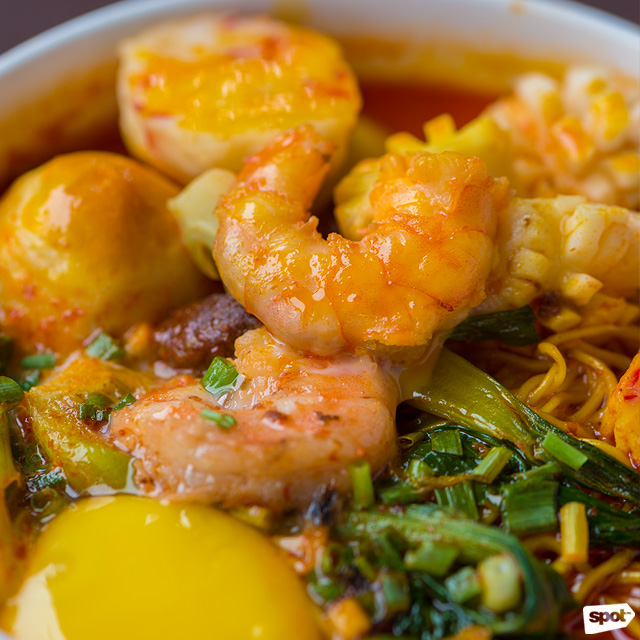 Seafood Laksa Soup
Also on the menu is the Seafood Laksa Soup (P298). The classic Singaporean noodle soup is made with chili oil to give it a perfect amount of heat with a distinct Szechuan twist. It's topped with generous helpings of shrimp and squid, plus an egg yolk, which—when mixed in—results in a hearty and creamy broth.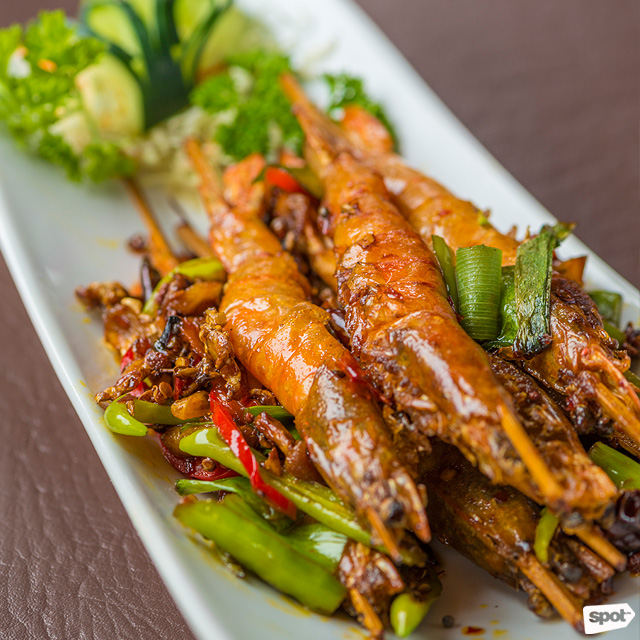 ADVERTISEMENT - CONTINUE READING BELOW
Szechuan Crispy Shrimp
But the real stars of the menu are the Szechuan classics. There's the Szechuan Crispy Shrimp (P368) where the shrimps are fried until crispy and then stir-fried with ginger, garlic, onion leeks, and, of course, Szechuan peppercorns. The result is extremely crispy and spicy shrimp that can be eaten from head to tail, without needing to peel off the skin.  And why would you want to anyway, considering all that delicious flavor is trapped on the shrimp's surface?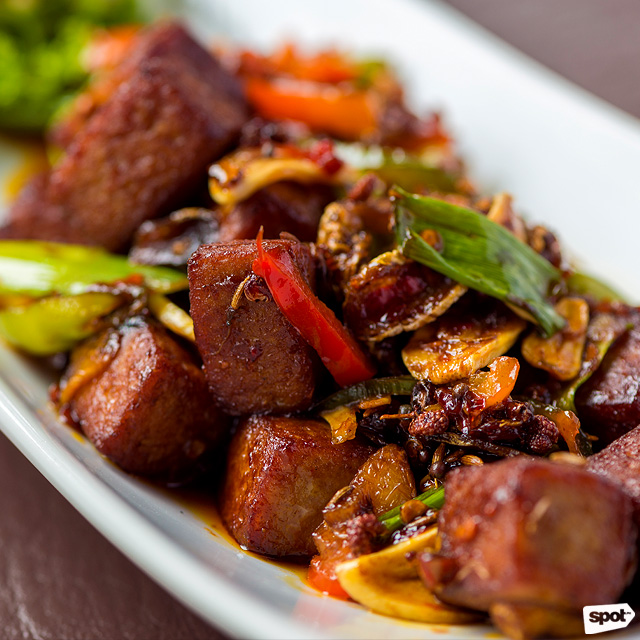 Szechuan Saikoro Beef Sausage
If you're more of a carnivore, consider chowing down on the Szechuan Saikoro Beef Sausage (P438). The Wagyu beef cubes are also tossed in a wok with garlic, peppercorns, and chili oil. The beef is melt-in-your-mouth tender and hits you with that punchy Szechuan spice.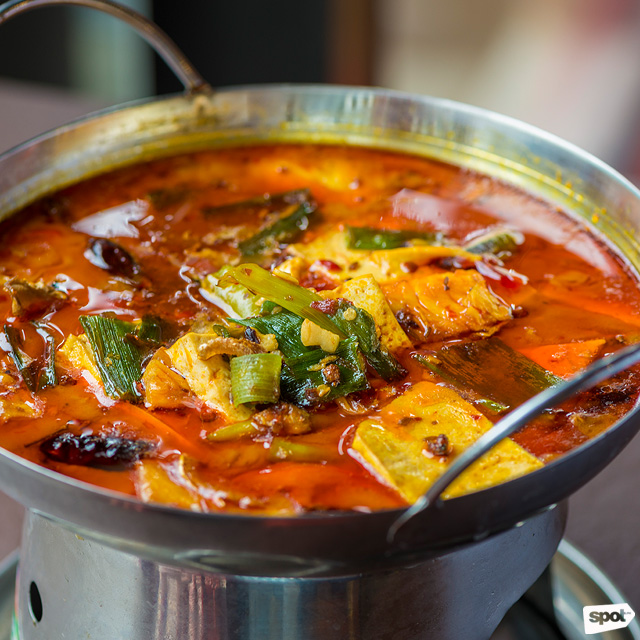 ADVERTISEMENT - CONTINUE READING BELOW
Halibut Chong Qing Style
A crowd favorite, meanwhile, is the Halibut Chong Qing Style (P485). The hearty fish soup first coats your taste buds with a warm and mild broth, thanks to its use of familiar flavors like green peppers, garlic, and ginger, but then it finishes you off with a peppery explosion. Incredibly, the halibut retains it flakiness, despite stewing in the broth for hours.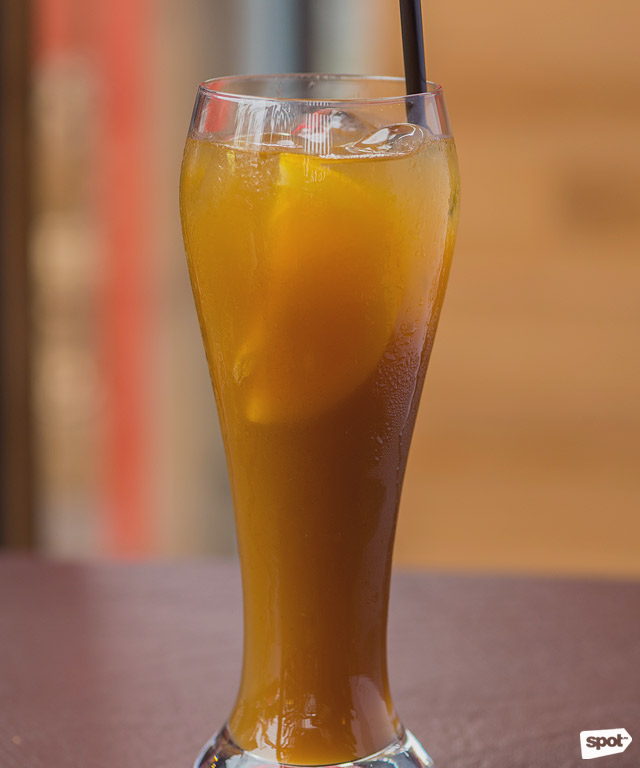 Tamarind Iced Tea
If you find yourself sweating due to all the spicy food, you can wash it down with any of Templó's house blend drinks, like the Tamarind Iced Tea (P98). It's a balance of sweet and sour that pairs well with any of their hot dishes.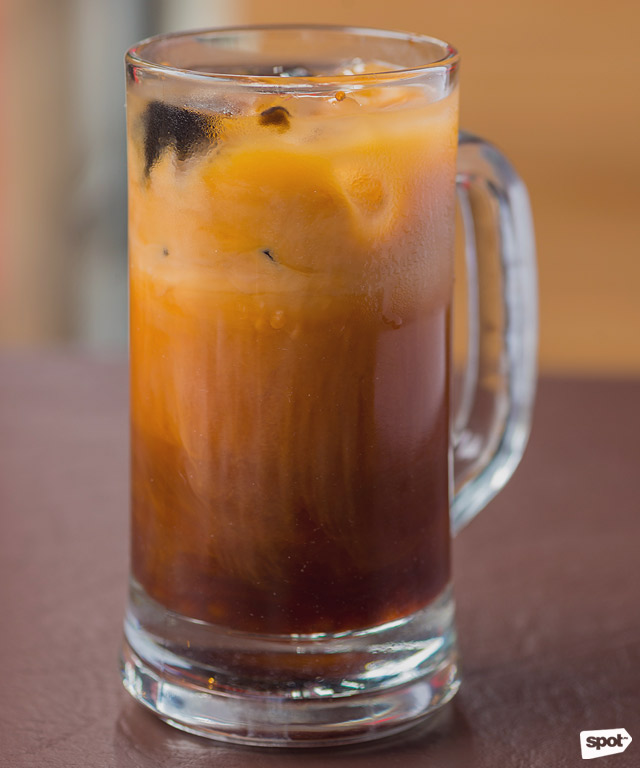 ADVERTISEMENT - CONTINUE READING BELOW
Templó Signature Milk Tea
Another bestseller is the Templó Signature Milk Tea (P115). It's made up of red tea imported straight from Thailand, milk, and has sinkers of gulaman, aiyu jelly, and boba. The sweet and creamy drink really cools your tongue down.
Those who love heat and spice can easily find a new home at Templó. But even if you're not looking for spicy food, you might just find your new favorite here.
Photos by Hans Fausto
Load More Stories