This Super Vibrant Mexican Restaurant Is Worth the Road Trip to Marikina
Hunchos is "nacho" ordinary Mexican resto!
Hunchos
18 Lilac Street corner Appaloosa Street, Rancho 4 West, Concepcion Dos, Marikina City
Contact: 876-9412
Open daily from 11 a.m. to 2:30 p.m. and 5:30 p.m. to 10 p.m. (Sunday to Wednesday), and 11 a.m. to 2:30 p.m. and 5:30 p.m. to 11 p.m. (Thursday to Saturday)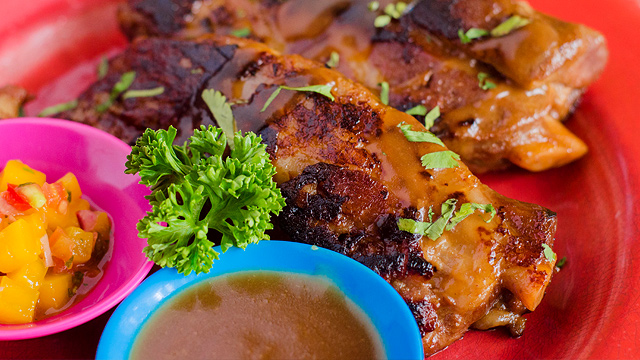 (SPOT.ph) Charming eateries may populate Marikina's food hub Lilac Street, but Hunchos still stands out despite its unassuming exterior. With bright red doors and colorful décor, the Mexican restaurant beckons to you with a promise of tasty Latin American-inspired fare and a fun time.
ADVERTISEMENT - CONTINUE READING BELOW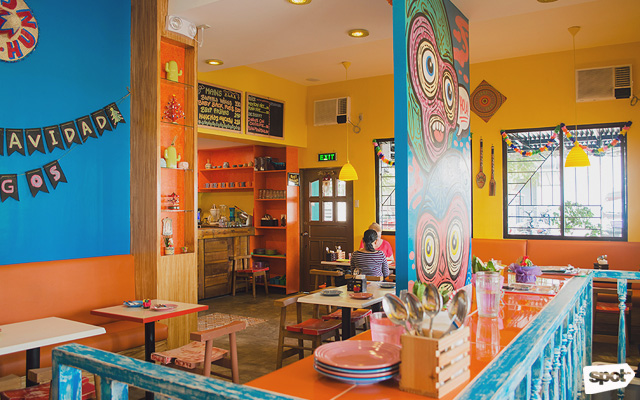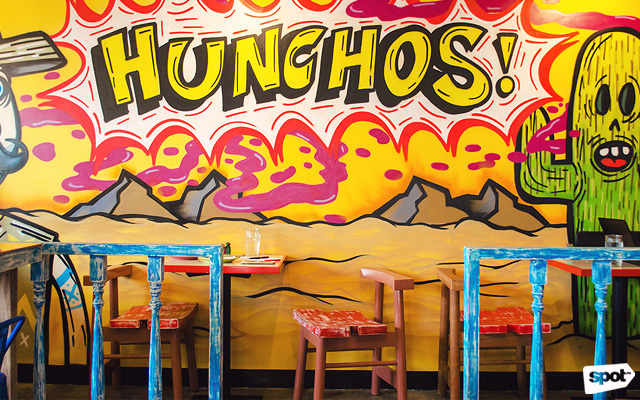 ADVERTISEMENT - CONTINUE READING BELOW
While waiting for your craving to be satisfied, sombreros and maracas can be borrowed as props for selfies. The large modern murals, created by Distort Monsters, add to the electric mood—not to mention, it's IG-worthy, too.
Owners Nigel Llona and Enzo Encisa want people who visit Hunchos to be immersed in Mexican culture. They want to keep it 100% pure, honest, and authentic—the very definition of "Hunchos." Because the cuisine is closely tied to celebrations, the simple interiors with warm colors, accents of cool blues, and charming ornaments are all festive and inviting—it's easy to feel right at home.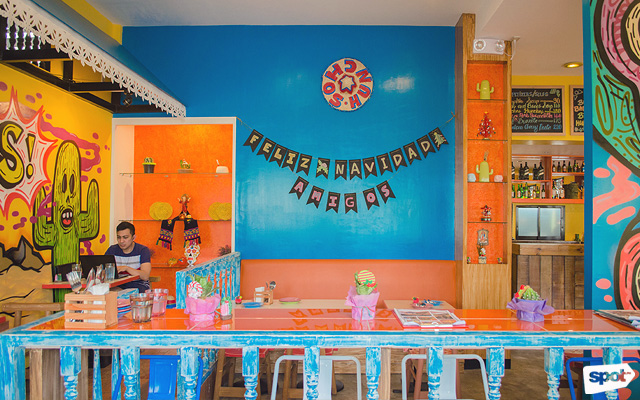 ADVERTISEMENT - CONTINUE READING BELOW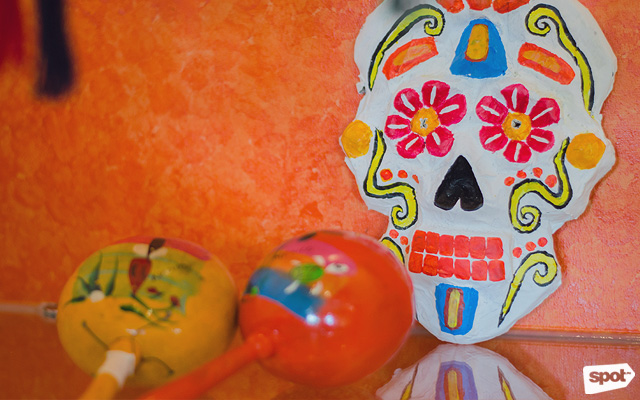 Restaurant management is actually a family affair, as Nigel and Enzo are cousins from a family of successful restaurateurs—the same family that brought us one of the most popular Japanese restaurants in Manila, Omakase. When the previous tenant closed shop, the two jumped at the chance to venture into Mexican cuisine because there are no similar establishments in the area.
ADVERTISEMENT - CONTINUE READING BELOW
The meals at Huncho, like Mexican dishes prepared for parties, are meant to be shared with a friend or two. Whether you are there to grab a few drinks with friends after work or to enjoy lunch with the entire family on a Sunday, there's a little something for everyone.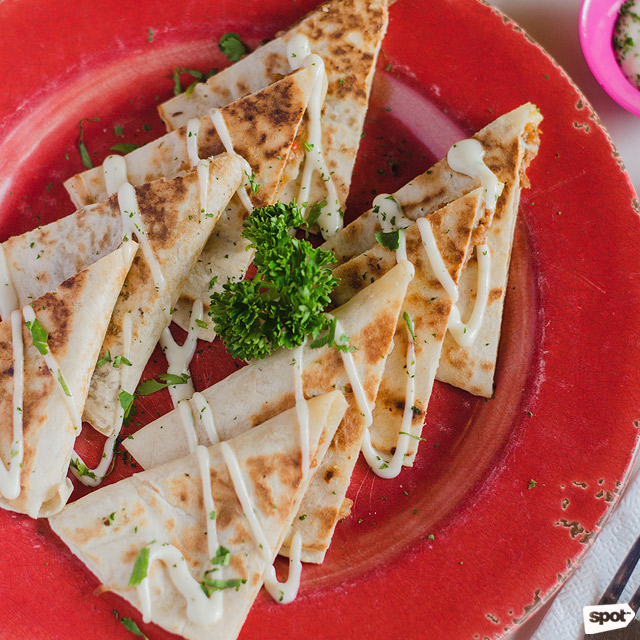 ADVERTISEMENT - CONTINUE READING BELOW
Cheese Pork Quesadilla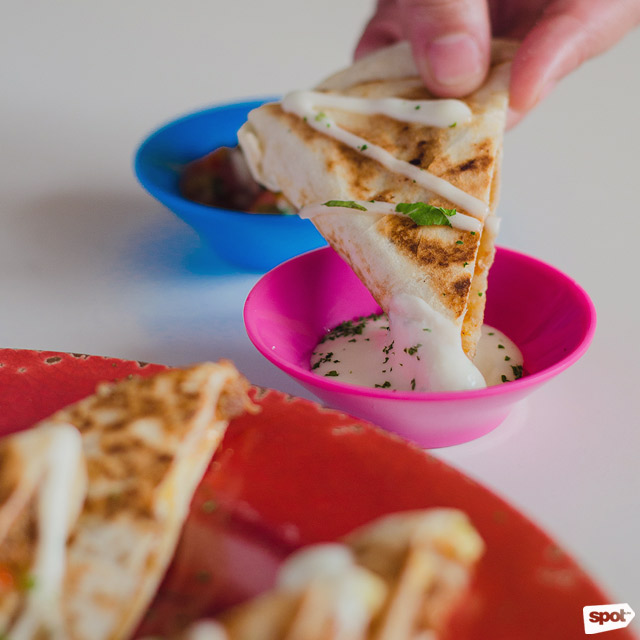 A crowd favorite is the Cheese Pork Quesadilla (P160), eight slices of gooey cheese goodness filled to the brim with bits of tender pork. There's a burst of flavor when it's dipped in the tangy sour cream sauce which they also use for a lot of their dishes. It's sinful, but also so unapologetically comforting.
ADVERTISEMENT - CONTINUE READING BELOW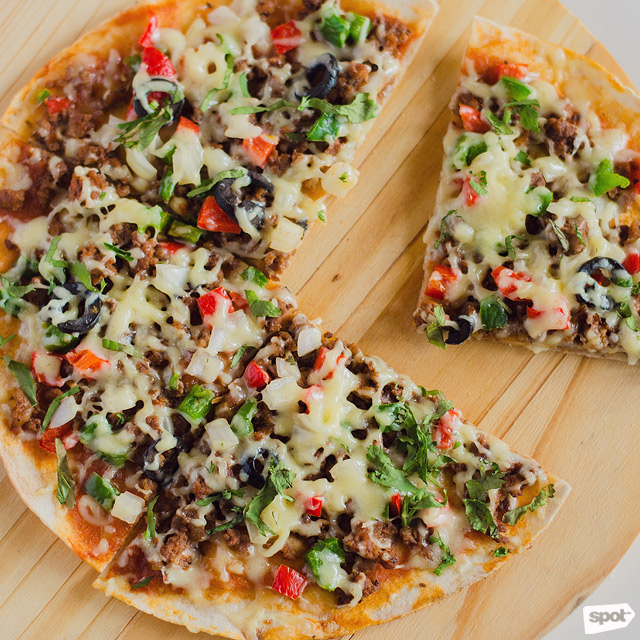 Tortizza
With a lightly toasted tortilla drizzled with a slightly sweet marinara sauce and topped with melted cheese and salsa, the 10-inch Tortizza (P190) tastes like the baby of a pizza and nachos—the perfect light meal.
"Mexican cuisine is very similar to Filipino cuisine because of the use of spices," says Enzo. "This makes it easier to tweak it for the Filipino palate," which is a bit on the sweet side.
ADVERTISEMENT - CONTINUE READING BELOW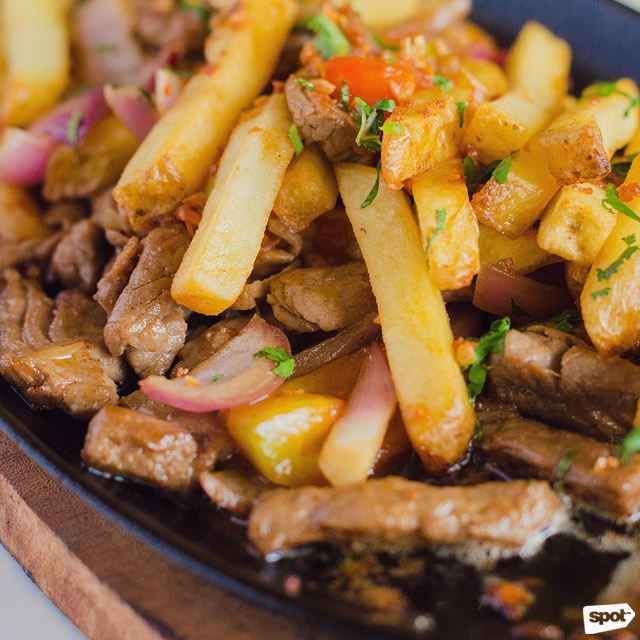 Lomo Saltado
Though primarily Mexican, Hunchos also offers dishes with South-American influences, such as the Lomo Saltado (P260). Once you get a whiff of the smell of garlic, onion, and cilantro from the Peruvian stir-fried pork loin served on the sizzling plate with fries and tomatoes, you won't be able to resist diving in.
ADVERTISEMENT - CONTINUE READING BELOW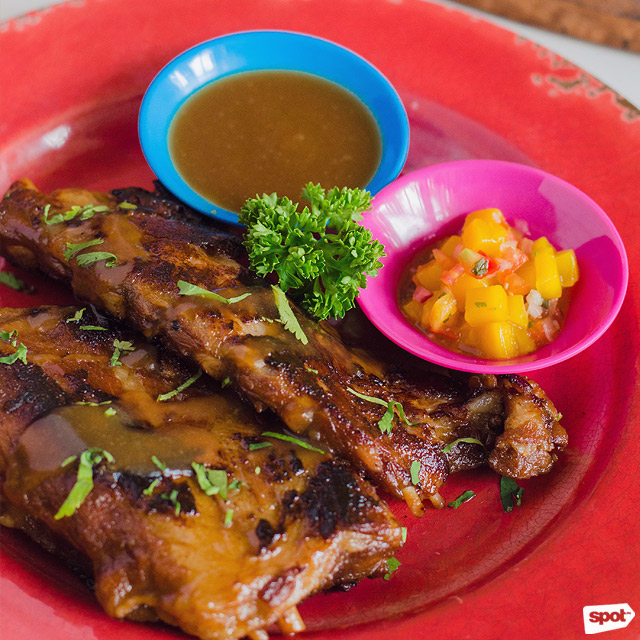 Baby Back Ribs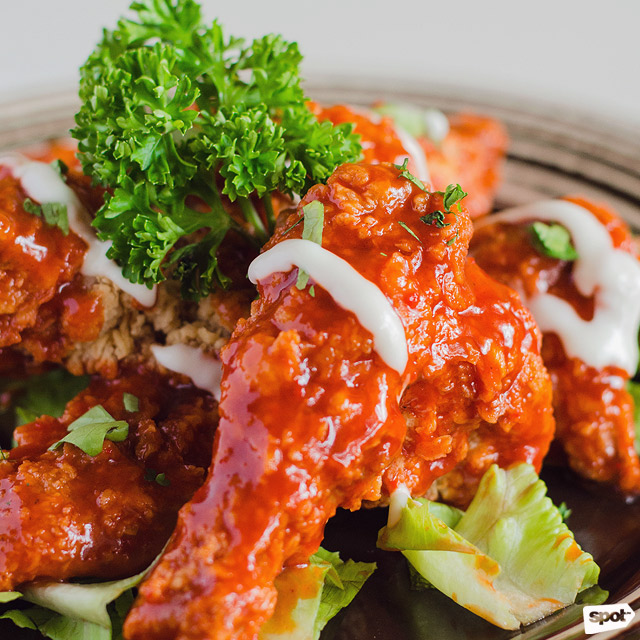 ADVERTISEMENT - CONTINUE READING BELOW
Buffalo Wings
Hunchos even has your non-Mexican food cravings covered. The Baby Back Ribs (P320) comes with a fresh ripe mango salsa, which adds depth of flavor to the already smoky slabs that just fall off the bone. They also have Buffalo Wings (P190), six large pieces of chicken coated in buffalo dressing that is more on the sweet side, and goes well with their sour cream sauce.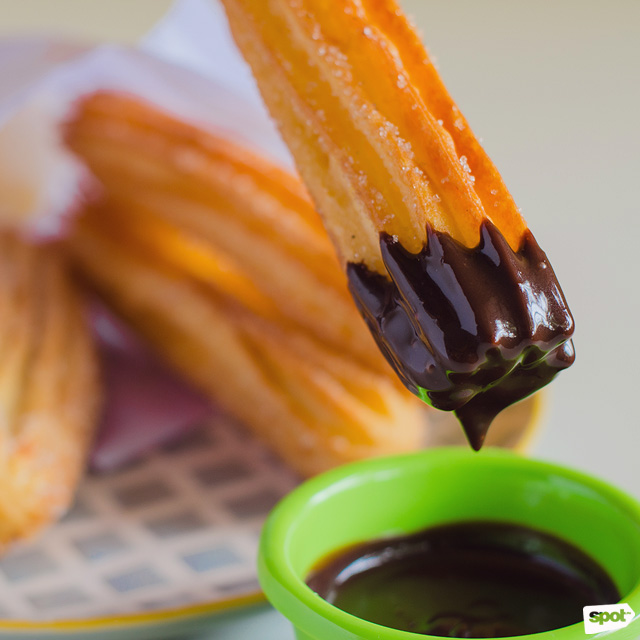 ADVERTISEMENT - CONTINUE READING BELOW
Churros Con Chocolate
Their homemade desserts are great options to top off your meal. We suggest getting the Churros Con Chocolate (P80), five huge pieces of crunchy yet airy churros that are lightly dusted with sugar and complemented with a chocolate dip that is not overly sweet.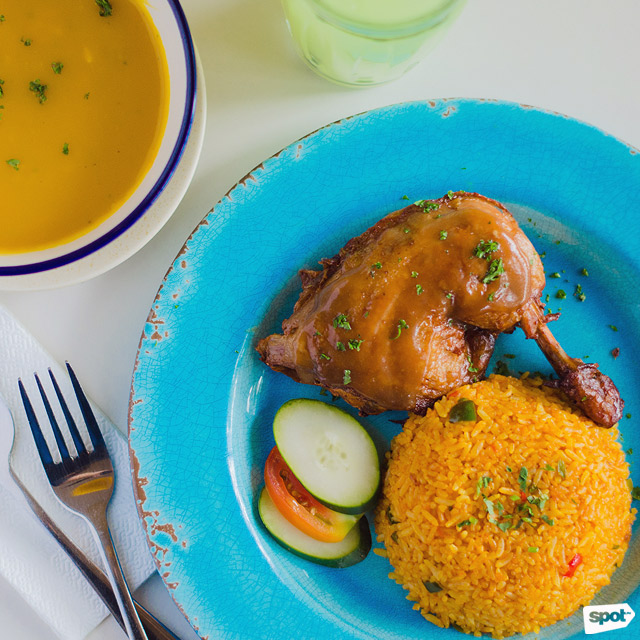 Option 2
If you happen to be in the area for lunch, they have a lunch set promo with generous servings that are worth every peso. There are four sets to choose from, ranging from P180 to P210. Option 2 (P190), in particular, comes with a big portion of Hunchos chicken, a cup of Mexican rice, a bowl of delightfully sweet pumpkin soup, and the most refreshing cucumber lemonade.
ADVERTISEMENT - CONTINUE READING BELOW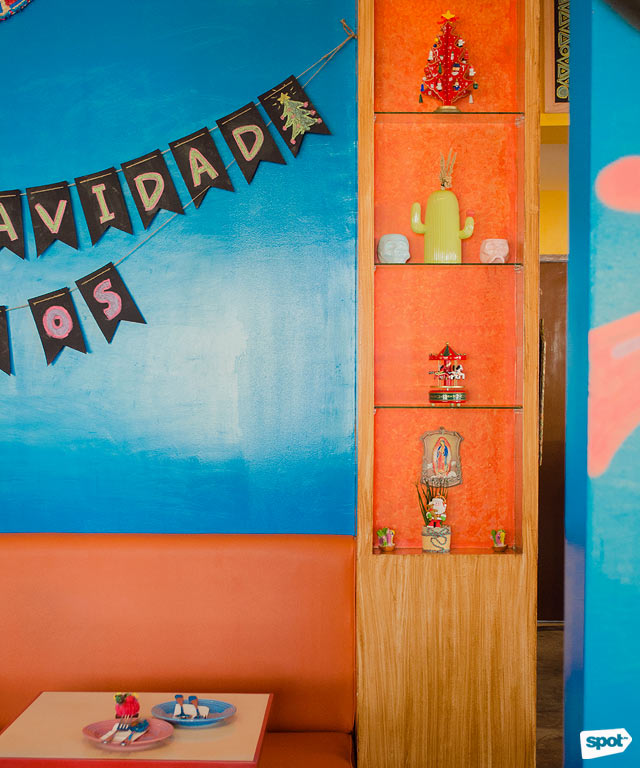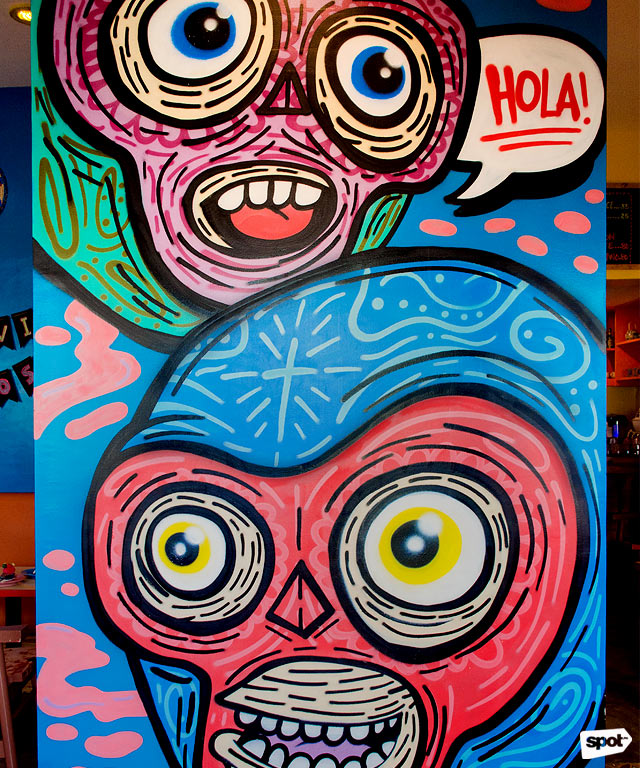 ADVERTISEMENT - CONTINUE READING BELOW
Hunchos will soon extend their operating hours until past midnight, and they also plan to offer classic Mexican libations like tequila and margaritas. If you're always looking for new places that'll take your mind off your humdrum cubicle life with buzzy drinks, great grub, and a cool and casual vibe, Hunchos is another great option.
Photos by Marikit Singson
Recommended Videos
Load More Stories