One of Manila's Most Promising Bakeries Is Hiding in a QC Subdivision
28 Derby defies expectations.
28 Derby
28 Derby Street, White Plains, Quezon City
Contact: 0917-892-6447
By appointment only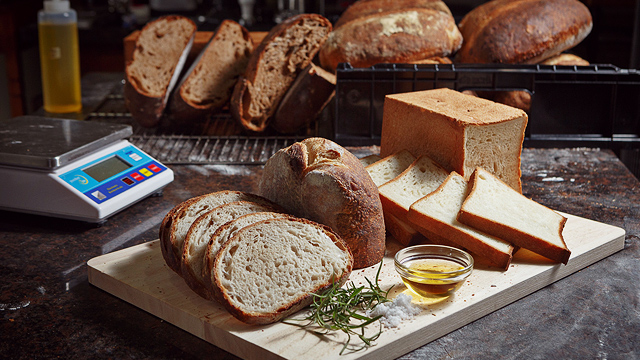 (SPOT.ph) Even if you've already seen their double-tap worthy bread photos on Instagram, or have spotted them at weekend markets, 28 Derby still manages to defy expectations. For one, if you're expecting a storefront and signage or even a glass case with freshly baked bread and cakes on full display, you're in for a bit of a surprise. 28 Derby is actually a townhouse that sits on—where else—28 Derby Street inside White Plains Subdivision. You will do a double-take, but the smell of bread wafting outside, even up to the gates, lets you know you've come to the right place.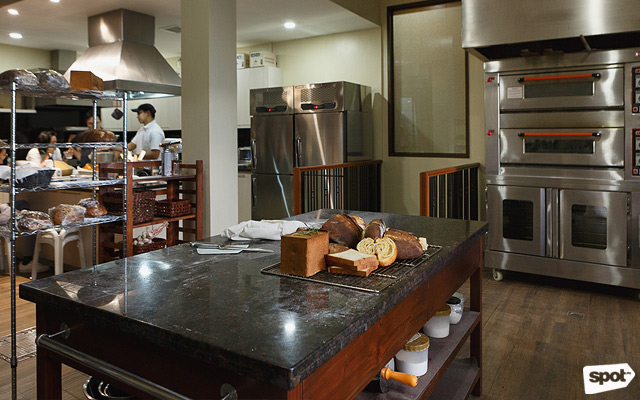 ADVERTISEMENT - CONTINUE READING BELOW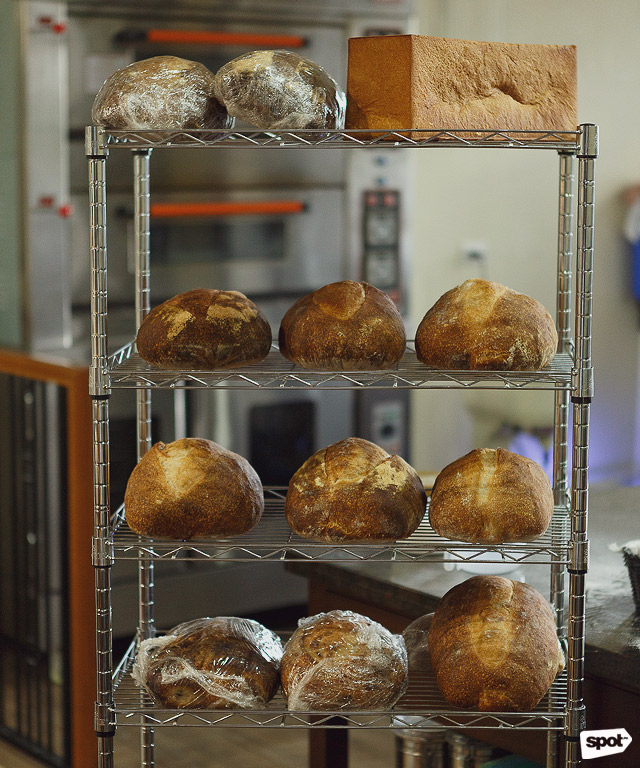 CONTINUE READING BELOW
Recommended Videos
It may all seem a bit eccentric, but owner Miguel Santiago has always been anything but conventional. His first stint in the food scene was Barista Box, a food truck parked inside Ateneo de Manila University that served third-wave coffee to students and faculty. "That was really my first foray into my own F&B business," says Miguel. "But eventually we had to make some grown-up decisions. We moved away from that and decided we needed to expand."
Opportunity struck when Miguel's grandmother decided to move houses, leaving the townhouse at 28 Derby Street vacant. "My grandmother still lives next door but we've acquired this house," says Miguel. "My mom's a fashion designer and she has worked at 30 Derby [Street] all these years, but she wanted to expand so she needed a new place. And she didn't have much use for the kitchen here, and I'm just baking at home. So I set up here, brought in a convection oven, and tailored the space to what I needed."
ADVERTISEMENT - CONTINUE READING BELOW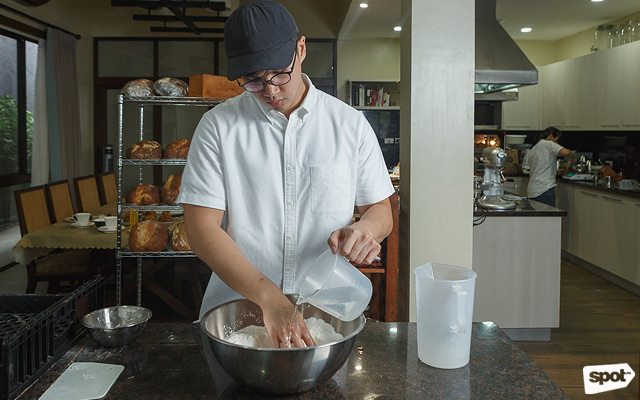 Miguel Santiago
Even before setting up at 28 Derby, Miguel has always been baking; he counts bread as one of his other passions, aside from coffee. But his previous workspace made it almost impossible to expand the way he wanted to. "I've been making good bread at home, and I had a few small clients," Miguel shares. "My first client ever was YDG Coffee and they understood that I couldn't do big orders. It would take an hour per loaf. So if I had an order for 10, I'd spend the whole day in the kitchen and fall asleep."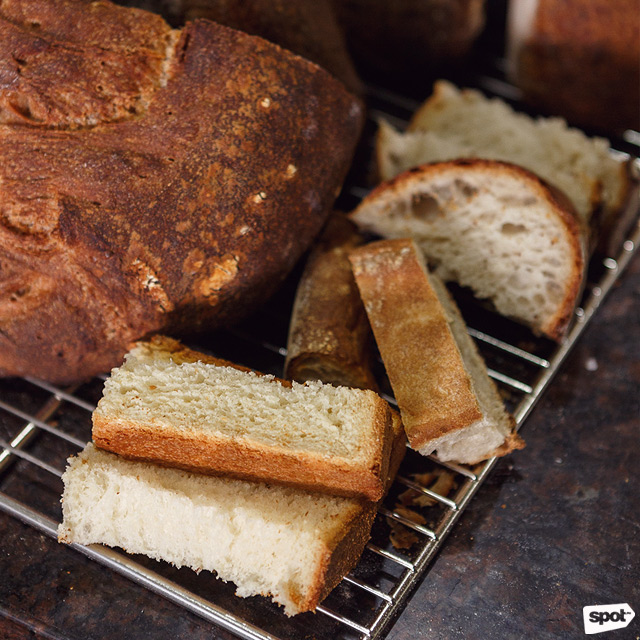 ADVERTISEMENT - CONTINUE READING BELOW
With a bigger kitchen and several ovens, Miguel and his team, who used to run Barista Box with him, have the freedom to not only meet bigger orders but also to experiment. On the day of our visit, Miguel was busy perfecting his square brioche loaf and some matcha croissants. With a young team bustling around to an '80s playlist while friends drop by occasionally, the energy in the kitchen is light and playful. But make no mistake: They take their bread seriously.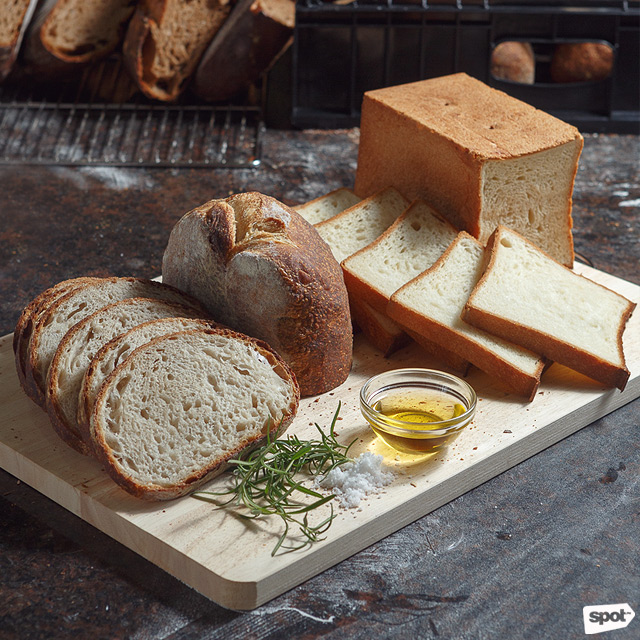 From left to right: Blonde Country Loaf, Brioche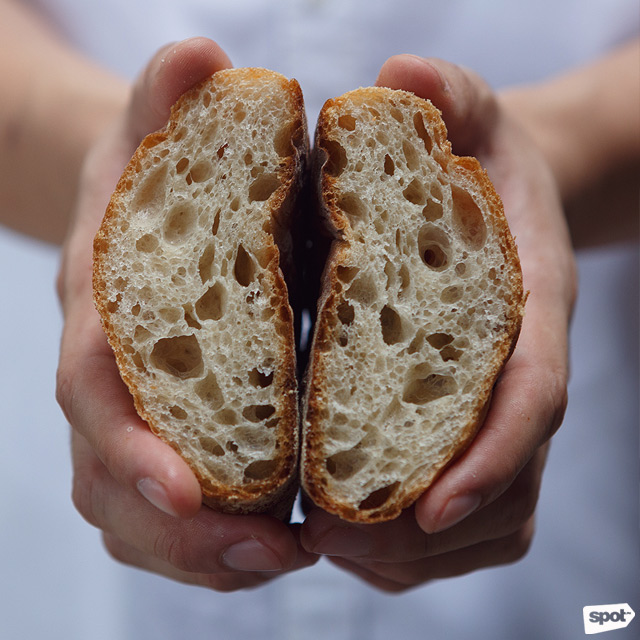 ADVERTISEMENT - CONTINUE READING BELOW
Ciabatta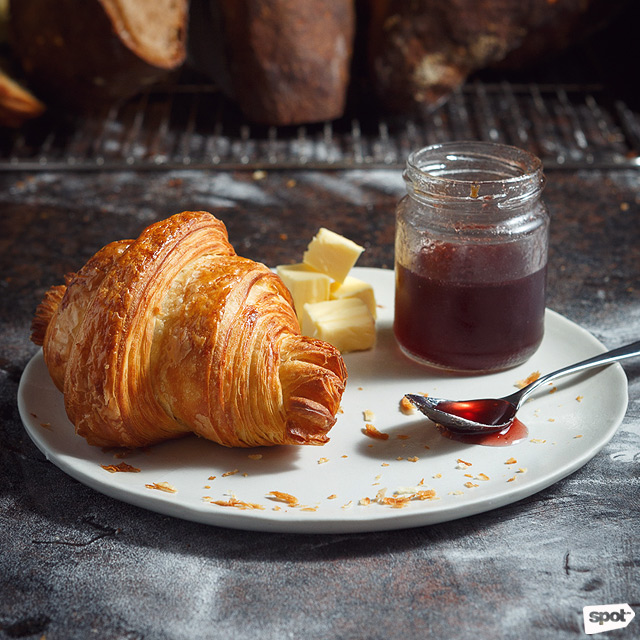 With a subtle butteriness, the Croissant (P75/piece, P650/dozen, for orders of three boxes and above) is the perfect base for fruit jam
Right now, 28 Derby has a short menu of basic European bread, like their Blonde Country Loaf (P150/loaf, P100/loaf for orders of five and above), sourdough bread with a perfectly crisp crust and a delightfully chewy center. Their Brioche (P250/loaf, P200/loaf for orders of three and above) is wonderfully pillow-soft and buttery even on its own. They're also in the process of perfecting their Ciabatta (P20/bun)—though if their current version, golden-brown instead of the usual pale-white, and with a flawless crisp crust and soft center, isn't perfect yet, we can't wait to taste what is.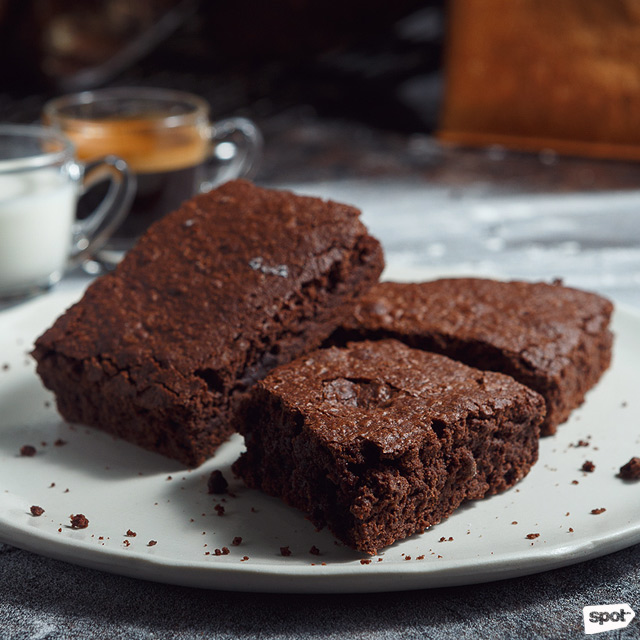 ADVERTISEMENT - CONTINUE READING BELOW
Brownies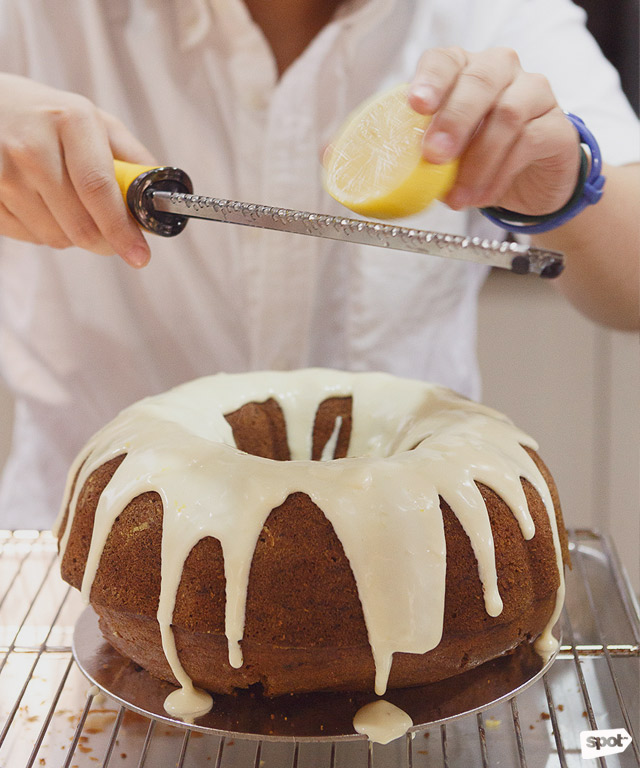 28 Derby also makes made-to-order pastries, like this Carrot Cake
Aside from the bread, 28 Derby also offers pastries by Nikki Vesagas. Her Brownies (P50/piece, P400/per dozen, P350/dozen for orders of three or more boxes) are thick blocks of rich fudgy chocolate goodness, with a crisp crust for a bit of contrast. You'll want a glass of cold milk with a plate of these.
Miguel is also working on the café aspect of 28 Derby, which will cater primarily to White Plains residents. They've already got the coffee down pat, with their Barista Box machine finding a new home in the workspace. They also make custom bread for restaurateurs and café owners: They currently supply YDG Coffee and Satchmi, among others. But Miguel admits they have to draw the line at gluten-free bread: "It can get really expensive."
Opening their own café in another spot is also a dream they're working on. But for now, Miguel is perfectly happy in the space he's carved out at 28 Derby. "We really like what we're doing," he shares. "What we do is hard heavy work, but it's fun to do. And it smells good here every day." Lucky for us, we also gain a new go-to for excellent brioche and ciabatta.
ADVERTISEMENT - CONTINUE READING BELOW
Photos by Ian Santos
Share this story with your friends!
---
Help us make Spot.ph better!
Take the short survey
Load More Stories