James & Daughters Reinvents Your Favorite Dishes From All Over the World
Each dish is prepared with love.
James & Daughters by Le Jardin
G/F The Westin Residences Manila Sonata, 21st Drive, Bonifacio Global City
Open daily from 11 a.m. to 3 p.m. and 6 p.m. to 11 p.m.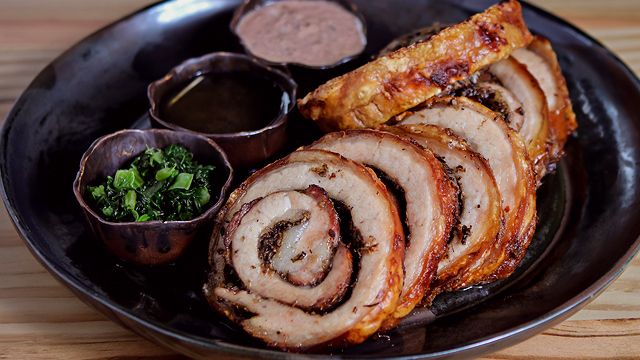 (SPOT.ph) No matter where you're from or where you've traveled, there's always that special dish that makes you nostalgic. There are dishes that do more than just fill your stomachs; they also play on your senses and remind you of good memories. This is exactly what Chef Jonas Ng had in mind when he launched his newest dining concept, James & Daughters.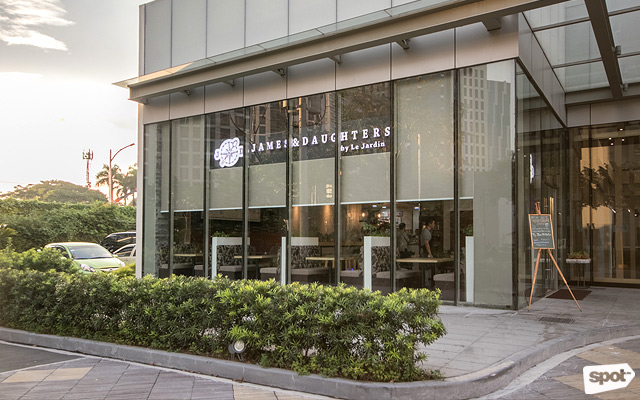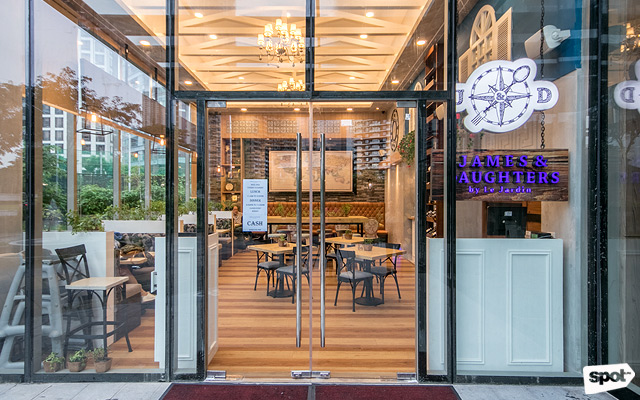 Chef Jonas' family bonds over traveling and discovering the best food around the world. Now they're bringing home those flavors that gave them a warm, fuzzy feeling through their new restaurant (which is, by the way, evident in their choice of logo—a food compass). "These are all our favorite food but my own version using local ingredients. I really wanted a place that's just relaxed and homey. And just like home, it's a place of laughter and good food" shares the chef.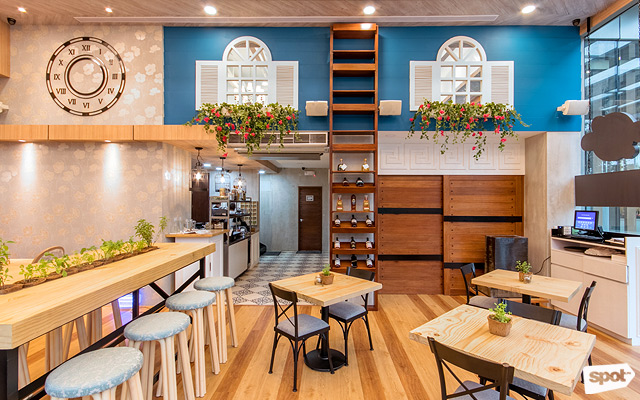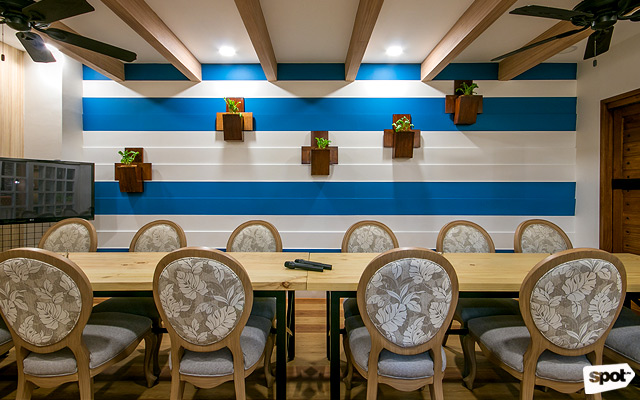 The interiors are bright and welcoming, with natural light dominating the space. There are also different pots of fresh herbs which complement the restaurant's refreshing color palette. The wood accents and white window boxes overflowing with flowers and ivy are reminiscent of your favorite outdoor retreat. As if these elements aren't enough to give you major wanderlust, there's also a big world map hanging on the wall.
ADVERTISEMENT - CONTINUE READING BELOW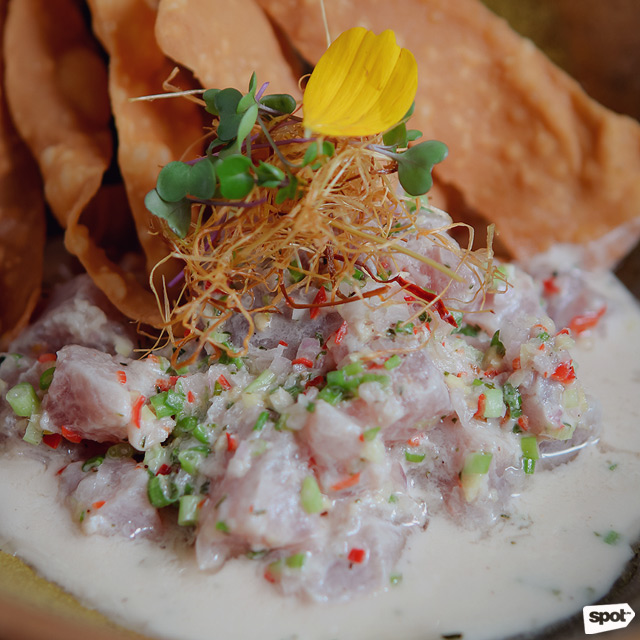 Tuna Kilawin
Each dish will awaken your taste buds to the cuisines of the world. Start with their Tuna Kilawin (P420) which uses yellowfin tuna from General Santos. It's light, refreshing, and addicting, with fresh chunks of tuna marinated in local coconut vinegar, fish sauce, and creamy coconut milk. It's topped with crisp aromatics, coconut sugar, and red chilies, and served with crunchy wheat chips.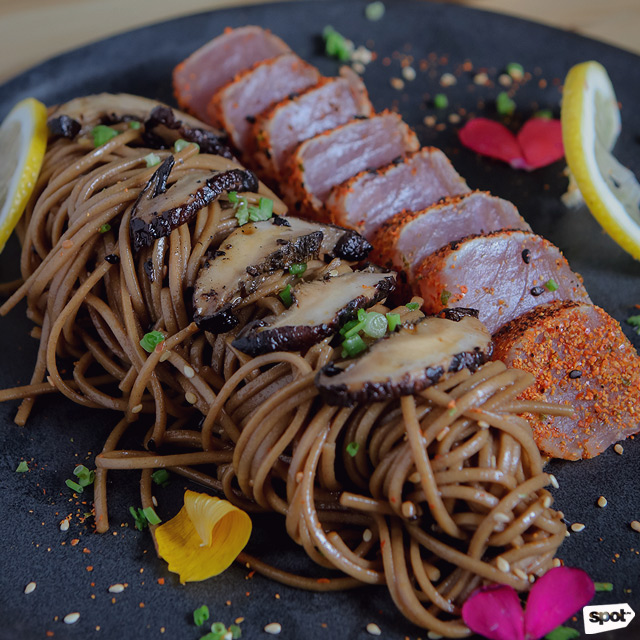 Seared Togarashi Tuna
The elegantly-plated Seared Togarashi Tuna (P495) pays homage to one of Chef Jonas' culinary mentors when he worked in Vancouver, Chef Tina Fineza. It has fresh yellowfin tuna tataki seasoned with flavorful Japanese seven-spice and served with cold sesame soba noodles, grilled shiitake mushroom, and ponzu sauce. With its blend of tangy flavors, it's the perfect starter especially on a hot day.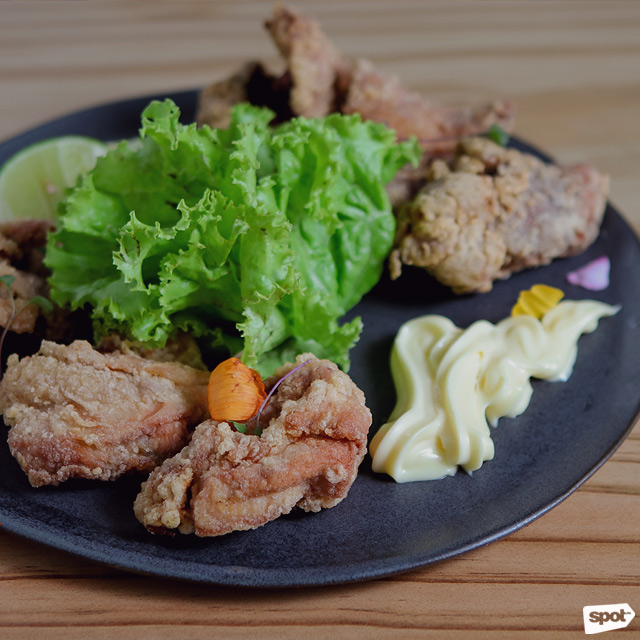 Duo of Mom's Fried Chicken and Tori Karaage
The Duo of Mom's Fried Chicken and Tori Karaage (P475) combines two favorites on a plate. Chef Jonas replicated his mom's simple yet delicious fish sauce-marinated fried chicken and crunchy, Japanese-style fried chicken from the family's Japanese restaurant. The unique flavors will make it hard for you to choose so we get why Chef Jonas decided to combine them on one plate.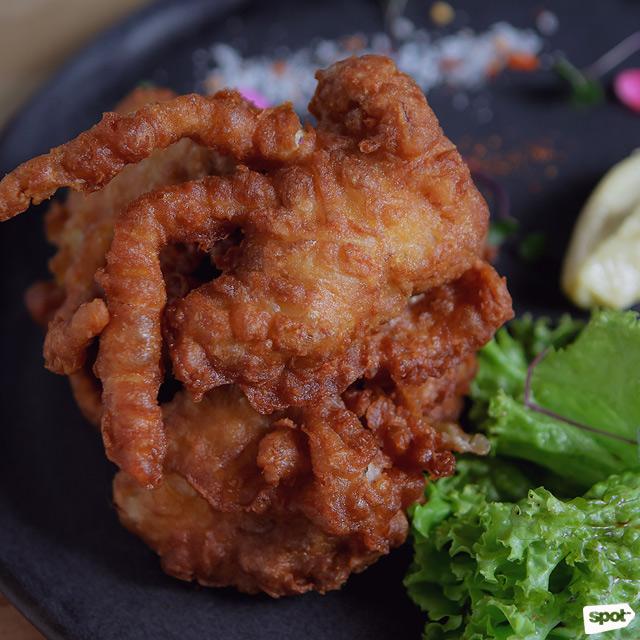 Softshell Crab Tempura
If you're looking for another fried option, try their Softshell Crab Tempura (P475). The fresh flavor of local softshell crab is seasoned with lime, pepper, and sea salt, and further enhanced by a simple aioli dip. You'll love the taste as well as the texture of its crisp breading.
ADVERTISEMENT - CONTINUE READING BELOW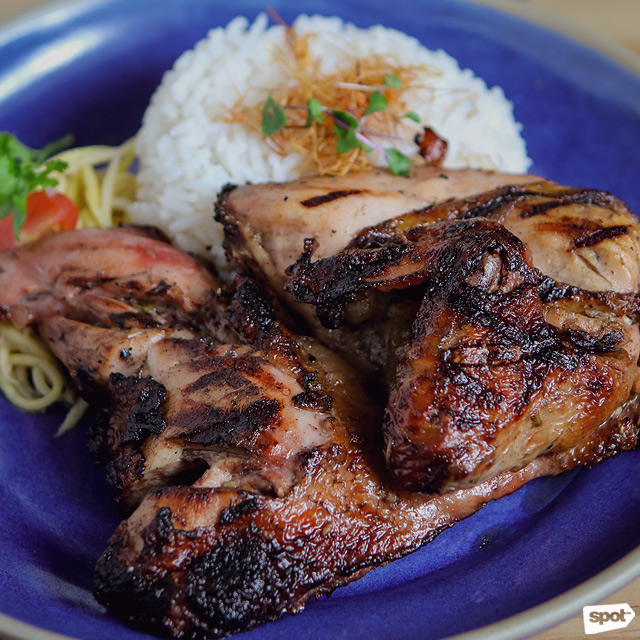 BBQ Lemongrass Free-Range Chicken with Rice
Taking you straight to the streets of Bangkok is their BBQ Lemongrass Free-Range Chicken with Rice (P520). It's a half-portion of chicken, marinated and grilled on charcoal, and served with pandan coconut milk rice and sour green mango salad. The meat is juicy and the slightly smoky hints go well with everything.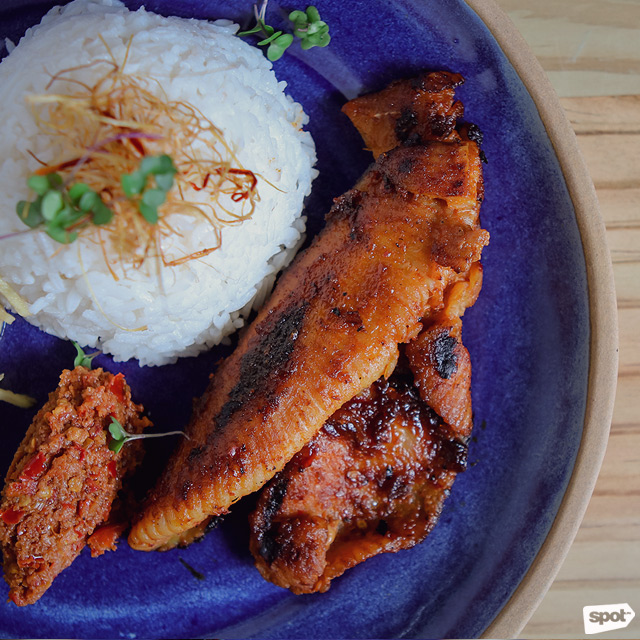 BBQ Stingray with Laksa Rice
If you're craving a taste of Kuala Lumpur, order their BBQ Stingray with Laksa Rice (P575), with tender, char-grilled stingray wing wrapped in banana leaf and served with laksa rice, spicy house sambal sauce, and green mango salad.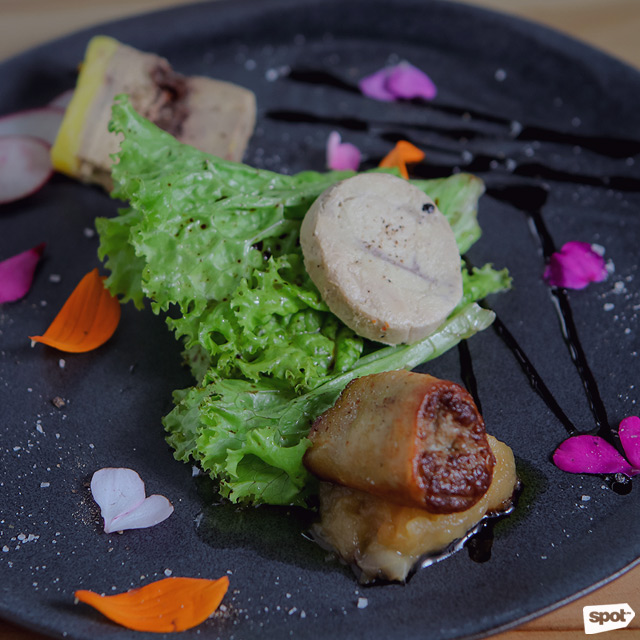 Plate of Foie Gras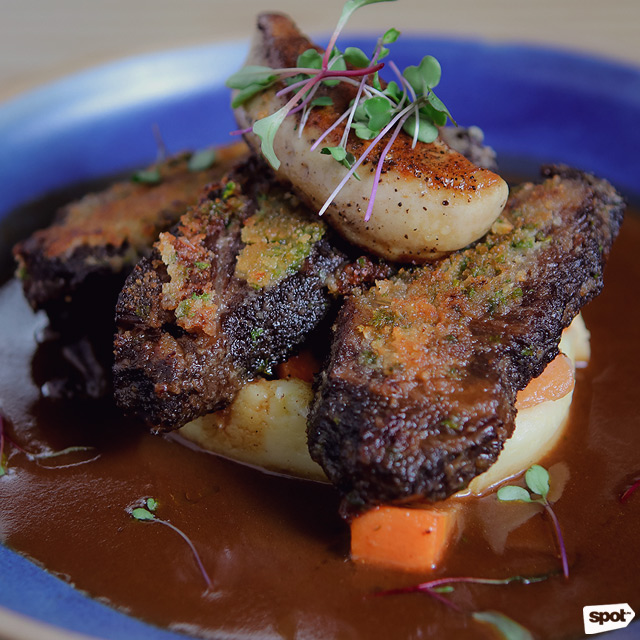 Beef Cheeks with Foie Gras
For a smooth, decadent disk of rich and buttery foie gras, order the Plate of Foie Gras (P800) which is Chef Gils Brault's foie gras three ways: Terrine, torchon, and spring roll, served with a delicate serving of apple compote and greens with balsamic reduction. You can also order a Le Jardin classic, Beef Cheeks with Foie Gras (P850) with red wine cinnamon-braised beef cheeks topped with seared foie gras.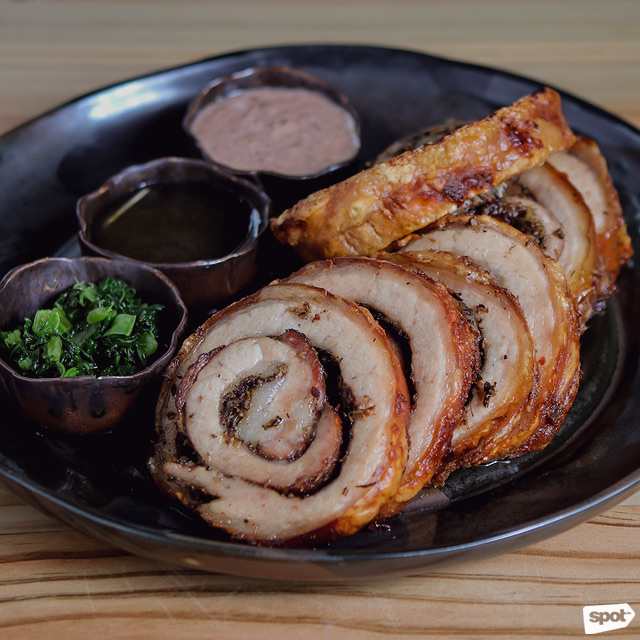 Pugon Oven Roasted Crispy Skin
Another item on their menu that you shouldn't miss is their Pugon Oven Roasted Crispy Skin Pork Belly (P1,800). Imagine a slab of brick-oven, charcoal-roasted pork belly stuffed with flavorful aromatics—it's simply lip-smacking delicious. Dunk it into the piquant Bicol express dip or have it with the fermented fresh mustard leaves and you'll find yourself in heaven.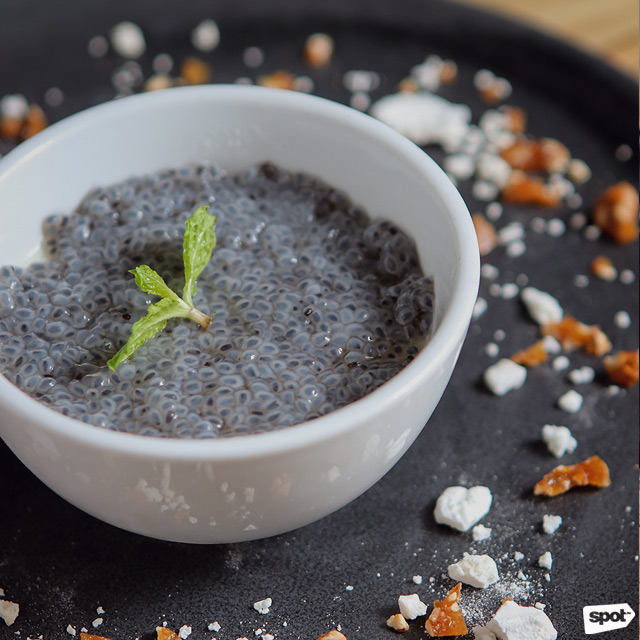 Ginger Milk Pudding
ADVERTISEMENT - CONTINUE READING BELOW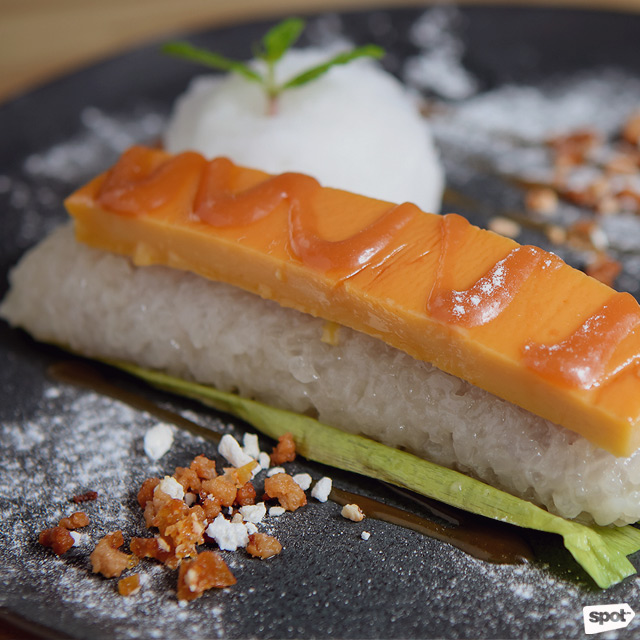 Suman a La Hasset
It'd be tempting to try all the desserts but for something light to cleanse your palate, get the Ginger Milk Pudding (P100) with light and airy steamed milk pudding with ginger, topped with basil seeds. Their Suman a La Hasset (P200) is also a good choice. It's Chef Jonas' ode to "Sweets Master" Chef Hasset Go's favorite Filipino desserts. It has steamed rice, vanilla custard, purple yam, coconut glaze, and coconut sorbet.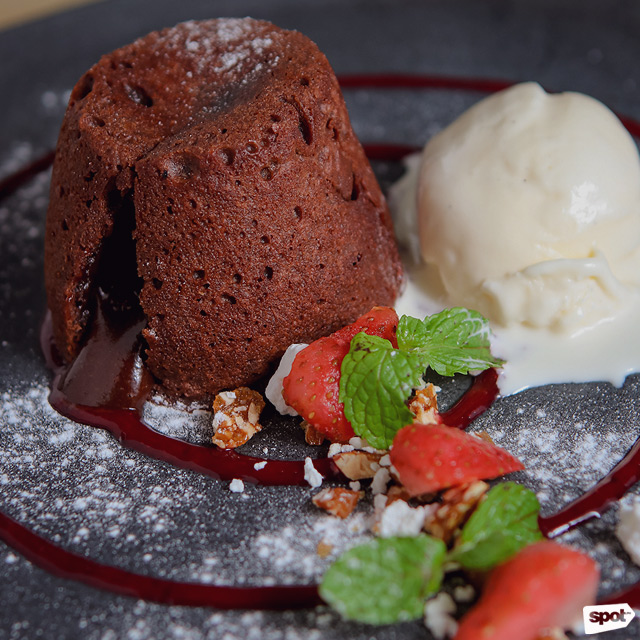 Fondant Au Chocolat with Vanilla Ice Cream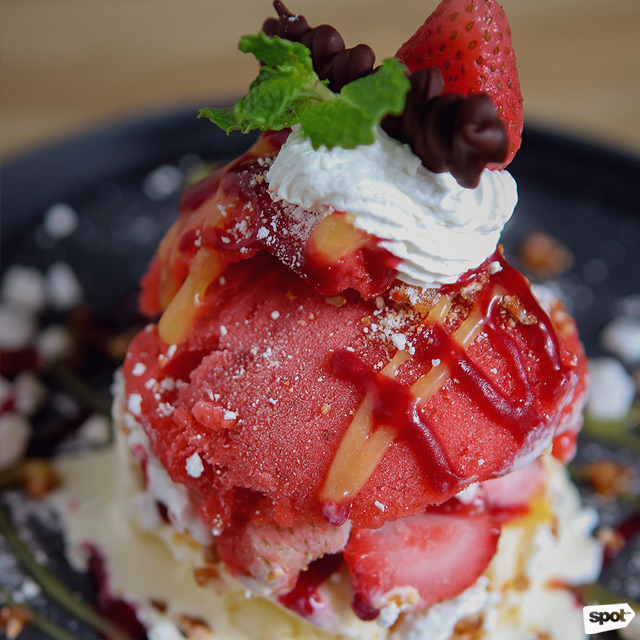 Dessert Gils
For those with a sweet tooth, try the Fondant Au Chocolat with Vanilla Ice Cream (P250) with hot Belgian chocolate cake served with their very own vanilla ice cream. But if you're looking for a new favorite dessert, their Dessert Gils (P250) won't disappoint, with a berry sorbet, vanilla ice cream, crumbled nougatine, meringue, and raspberry and mango coulis.
The stories behind each dish in James & Daughters add more meaning to every flavor they offer. If you want to be reminded of all your travels and look back fondly on your adventures over comforting hearty fare, this is the place to be.
Photos by Jericho San Miguel
Load More Stories