Top 10 Blueberry Cheesecakes in Manila
All "berry" good!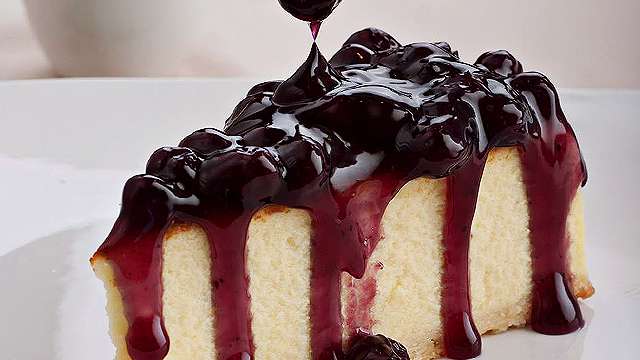 (SPOT.ph) While the more out-of-the-box variants of cheesecake have their own merits, sometimes all you crave is an honest-to-goodness classic—like an excellent blueberry cheesecake. When done right, a blueberry cheesecake is the perfect treat; a cheesecake base that is rich but not dense, blueberry topping that is sweet but still with a distinct tang, a crust that adds its own crunch and sugary flavor without overpowering the rest of the cake, and impeccable balance among all three. For the next time you crave a slice or two, we round up the best blueberry cheesecakes in the Metro.
All SPOT.ph Top 10 lists are researched, paid for, tested, and selected by the writers and editors. They are discreetly conducted without any notice made to the restaurants or their owners.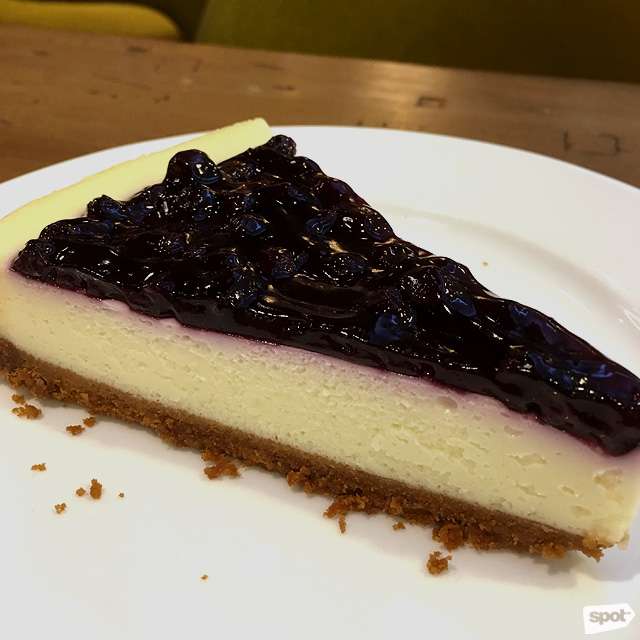 ADVERTISEMENT - CONTINUE READING BELOW
10. Costa Coffee's Blueberry Cheesecake (P150/slice)
With its understated sweetness, Costa Coffee's Blueberry Cheesecake is the perfect partner to their line of specialty drinks. A thin graham crust adds crunch to their smooth, almost melt-in-your-mouth cheese base—though those looking for a sharper flavor may find this base a little too mild for their taste. It complements the subtle sweet notes of the blueberries though, with a pop of tartness every now and then to give your palate a welcome break.
See a list of Costa Coffee branches.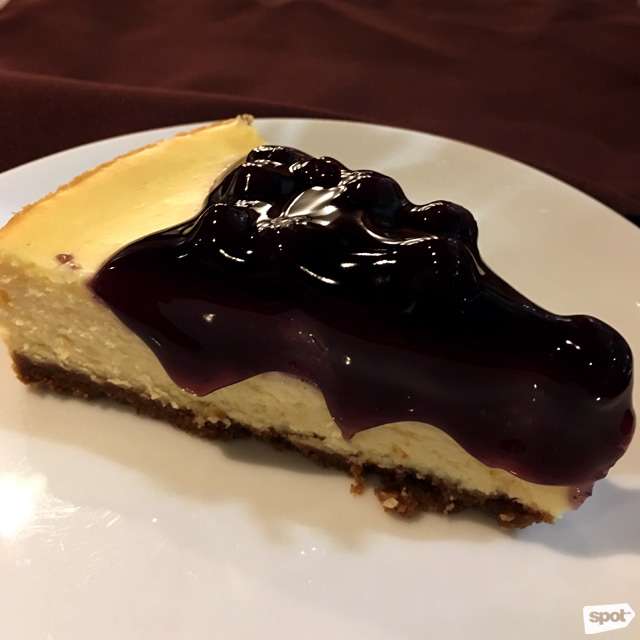 9. The Chocolate Kiss Café's Blueberry Cheesecake (P140/slice, P290/four-inch cake, P670/six-inch cake, P1,250/nine-inch cake)
The Chocolate Kiss Café is known for their superb cake selection, and their Blueberry Cheesecake is no exception. While it doesn't stand quite that high, a slice of this cake flaunts the perfect ratio of crust-to-cheese-base-to-blueberry, so it never gets too rich for your palate until the last bite. The slightly salty cheese base makes a great foil to the plump and tart berries sitting on top. It melts wonderfully on your tongue, too, which complements the bite from the topping of real blueberries.
ADVERTISEMENT - CONTINUE READING BELOW
See a list of The Chocolate Kiss Café's branches.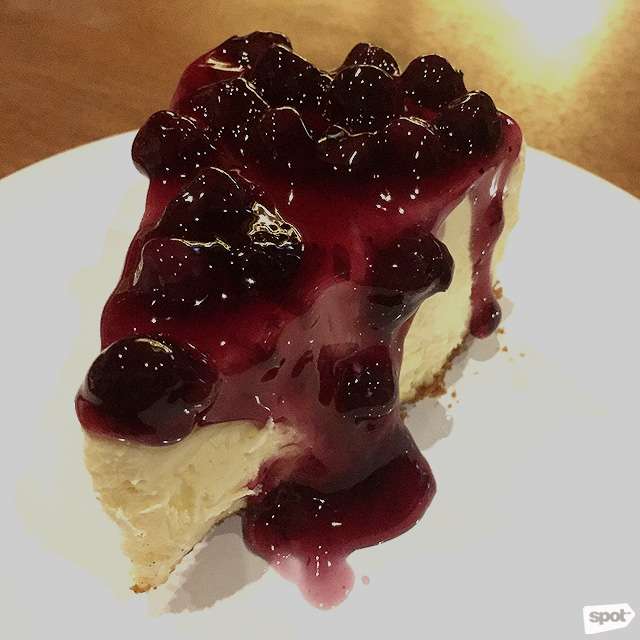 8. Blueberry Cheesecake (P190/slice) from Pablo's Pub and Restaurant
Ordering dessert may not be on the top of your mind when visiting a pub, but it should be at Pablo's. Their Blueberry Cheesecake is the most overloaded with blueberries on this list, perfect if you prefer more of the fruity topping. The mild and almost airy cheesecake meshes well with the zesty berries, and the crust has a note of saltiness to balance out the overall sweetness. You'll come for drinks and stay for this treat.
Pablo's Pub and Restaurant is at The Forum, 7th Avenue Corner Federacion Drive, Bonifacio Global City.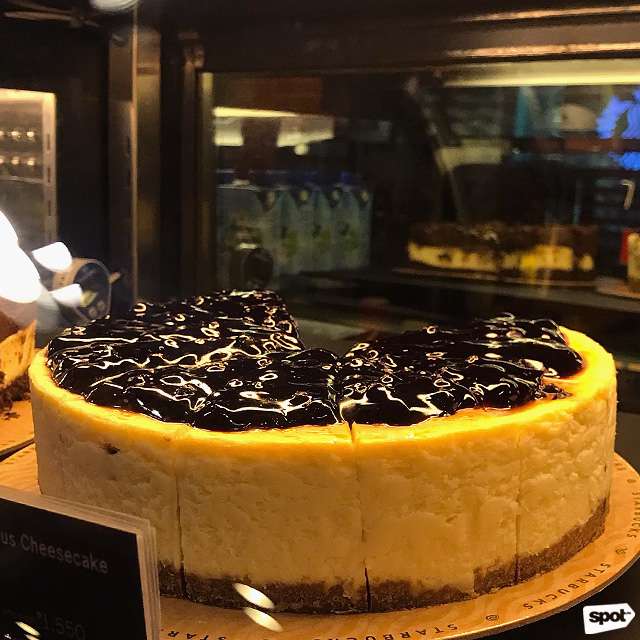 ADVERTISEMENT - CONTINUE READING BELOW
7. Starbucks' Blueberry-licious Cheesecake (P135/slice)
On your next Starbucks run, skip the Frappuccino and get your sugar fix from a slice of their Blueberry-licious Cheesecake instead. True to its name, this cake has a luscious and delicious cheese base: Melt-in-your-mouth smooth, with sharp notes that blend well with the tart juicy berries. The juicy berries have a satisfying bite to them, too, leaving no question that you're getting the real deal.
See a list of Starbucks branches.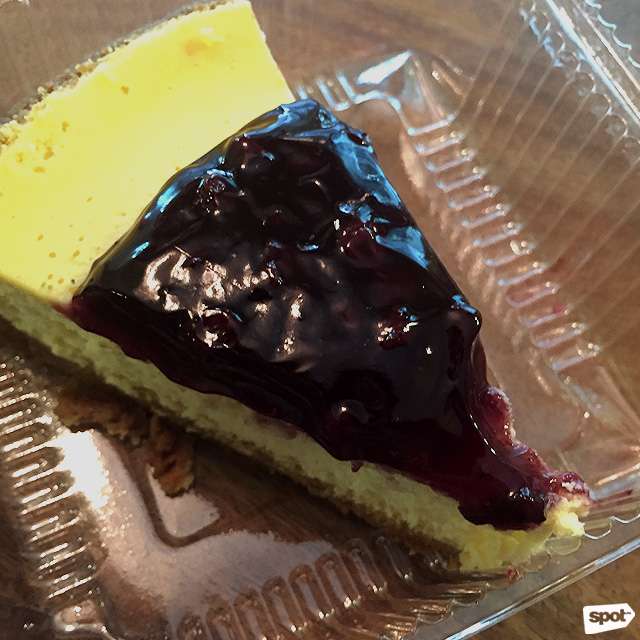 6. Banapple's Blueberry Cheesecake (P140/slice, P1,295/whole)
Got a sweet tooth? You'll love Banapple's decadent take on this classic cheesecake. Every element of their cheesecake is sweeter than average: A fruity, jam-like blueberry topping, a sweet custard-like cheese base, and a crunchy graham crust. But it all comes together in a cake that's surprisingly light and not at all overwhelming for your palate—you'll finish this, crumbs and all, especially if you prefer your desserts on the sugary side.
ADVERTISEMENT - CONTINUE READING BELOW
See a list of Banapple branches.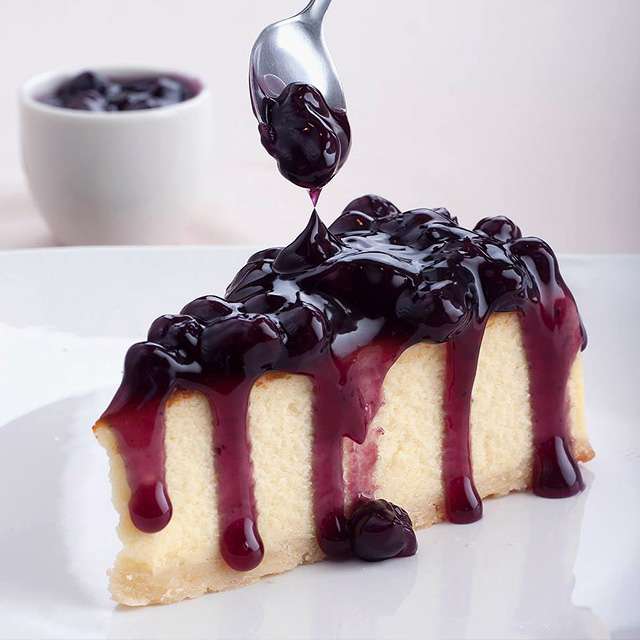 5. Coffee Bean and Tea Leaf's Blueberry Cheesecake (P145/slice, P1,450/whole)
From the first bite, Coffee Bean and Tea Leaf's Blueberry Cheesecake bombards your palate with richness. The cheesecake base is thick and creamy, but a generous helping of the sweet blueberry topping balances it out, so you never tire of it until the last forkful. The graham crust adds crunch more than flavor, so this cake doesn't tip over to saccharine territory. The best part is with all the CBTL branches all over the Metro, you can have this treat anytime you want!
See a list of Coffee Bean and Tea Leaf branches.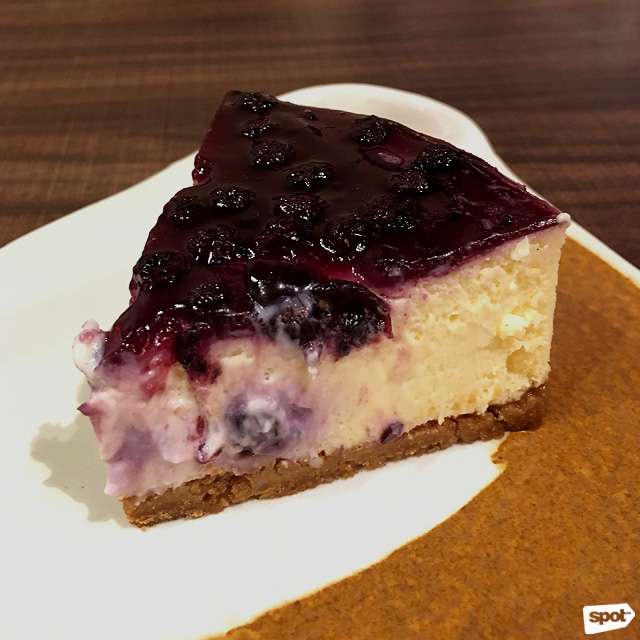 ADVERTISEMENT - CONTINUE READING BELOW
4. Baker & Cook's Blueberry Cheesecake (P165/slice)
With its petite size, a slice of Baker & Cook's Blueberry Cheesecake is a great way to cap a hearty brunch at this all-day breakfast nook. Plus, the flavors of this cheesecake makes up for its size with big flavors. The innate fruitiness of the cheesecake base complements the zesty blueberries, which aren't just heaped on top but also embedded within. The graham crust also has a distinct crunch and sugariness—this cake has the sweetest crust of this bunch!
See a list of Baker & Cook branches.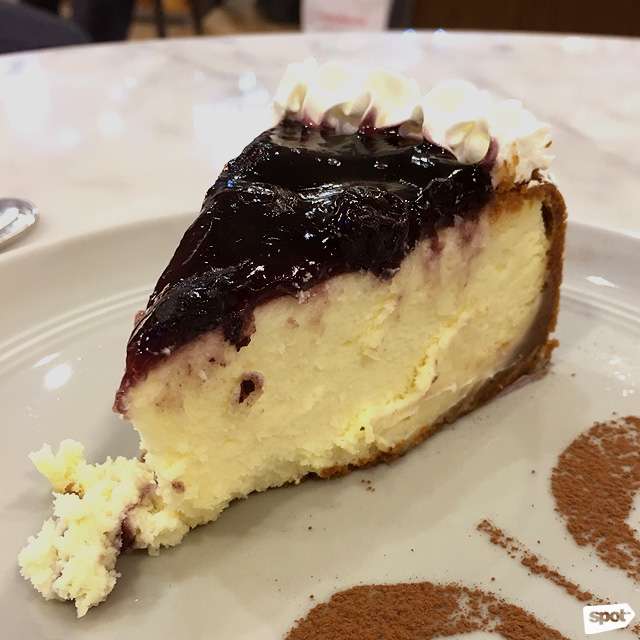 3. Blueberry Cheesecake at Nono's (P135/slice)
It's difficult to leave room for dessert at Nono's with their generous servings, but any fan of their sister pastry shop Classic Confections knows that this is a must. A slice of their Blueberry Cheesecake is big enough to be shared between two, but the light melt-in-your-mouth cheesecake makes this easy to finish. Big juicy blueberries add a satisfying bite and their zesty flavor complements the sharp and fruity cheese base—which is so tasty, you'll lick your fork clean.
ADVERTISEMENT - CONTINUE READING BELOW
See a list of Nono's branches.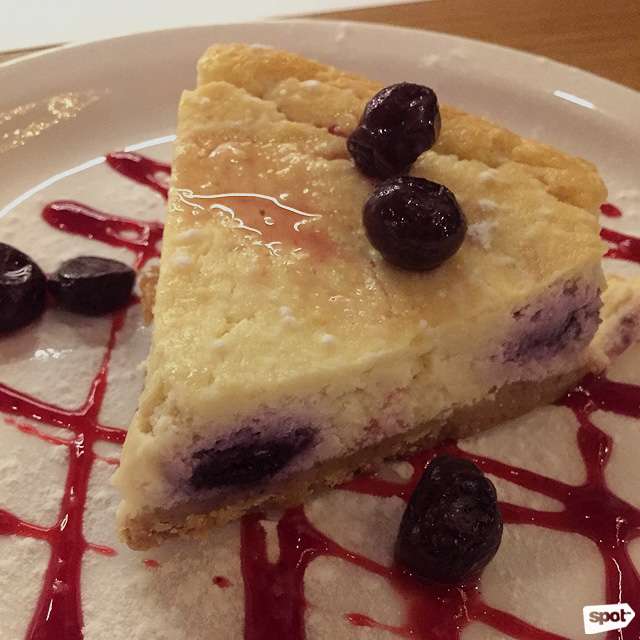 2. Kitchen 1B's Blueberry White Chocolate Cheesecake (P290/slice)
From the moment Kitchen 1B's Blueberry White Chocolate Cheesecake arrives on the table, you know immediately that it's not your average blueberry cheesecake. For one, the blueberries aren't piled high as the topping, but rather embedded within the cheesecake, so you get a burst of juicy zesty fruit in each forkful. The ricotta gives the cheesecake itself a subtle nuttiness, and white chocolate provides sweetness and a rich creamy flavor—not exactly airy but pleasantly smooth. Kitchen 1B also trades the usual graham crust for crushed digestive cookies—the result is a crust with a smoother crumb, with a flavorful sweet-salty taste that almost steals the show. This cake may not be what you expect, but it's also one you can't help but crave again, minutes after your plate's been cleared.
ADVERTISEMENT - CONTINUE READING BELOW
Kitchen 1B is at G/F KL Tower, Gamboa Street, Legazpi Village, Makati City.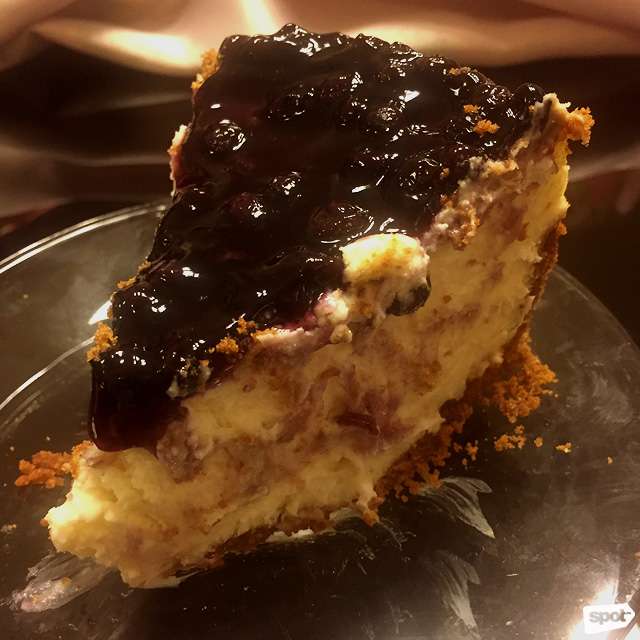 1. Purple Oven's Blueberry Cheesecake (P1,100/whole)
If we opened a dictionary to look up blueberry cheesecake, we wouldn't be surprised if we were to find Purple Oven's rendition. Their take is as no-frills as it can get, staying true to what made blueberry cheesecake a classic: A graham crust with just the right amount of sweetness, supporting the other cheesecake elements instead of overpowering as a good base should; a cheesecake middle that is almost cloud-like in its airiness, with a subtle sharp edge; and juicy berries that achieve the perfect balance of sweet and tangy, with a satisfying bite to them. This cake is worth all the calories.
See a list of Purple Oven branches.
Load More Stories