Pompom's Fried Chicken Poutine Is the Ultimate Feel-Good Food
This new fries place is here for your deep-fried fix.
PomPoms
G/F, Pedro Gil Wing, Robinsons Manila, Pedro Gil Street, Ermita, Manila
Open daily from 10 a.m. to 10 p.m.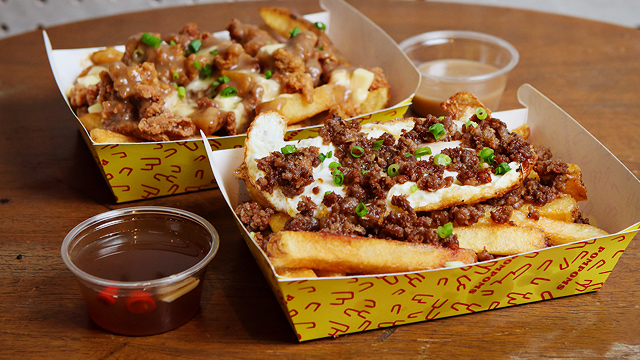 (SPOT.ph) Barely a month since they opened in January 2018, PomPoms is already making waves in the Pedro Gil wing of Robinsons Manila. With a bright, almost-retro French vibe and a menu full of possibilities, there's basically no reason not to come pay them a visit.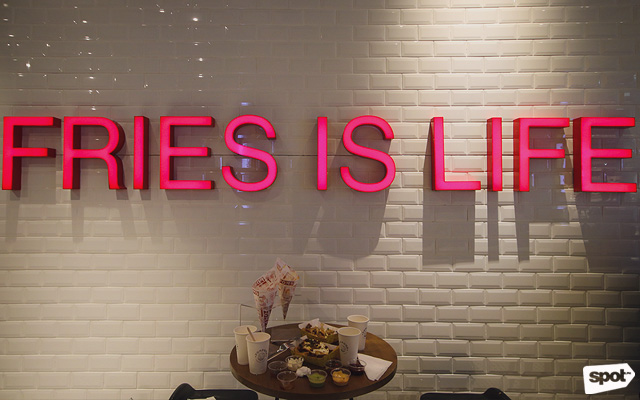 ADVERTISEMENT - CONTINUE READING BELOW
"We just kind of woke up one day and decided we were going to do fries," says Carmela Villegas-Agosta, whose pastry prowess has already had people talking in the past. Her husband, Julien Agosta—and no, the pun is not lost on us—was more than on-board with the idea. If anything, he's thrown himself into the project the way a city slicker cannonballs into the ocean.
"I turned 30 a couple of years ago," he says with a laugh, "and this seemed like the right project. And I wanted to do right [by the Philippines], so everything is local. I am practically the only foreign element!" He means it, too; Carmela even insisted on adding Classic Vanilla soft-serve (P49) as dessert, or for doing as the locals do: eat it with the fries. It's some of the best soft-serve we've ever had, too, so there's that.
CONTINUE READING BELOW
Recommended Videos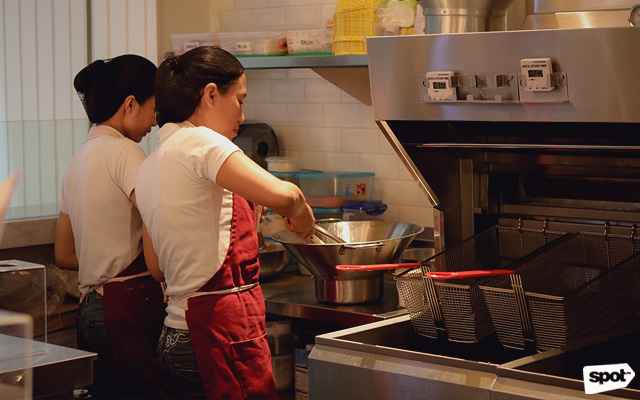 ADVERTISEMENT - CONTINUE READING BELOW
The overall process isn't quite farm-to-fry yet, but that's definitely where they're headed. Sustainability and responsible entrepreneurship is where it's at for this couple and their associates. But does the menu live up to expectations?
The short answer is no. The long answer is, "It planted some mines in Expectation Valley and blew nearly every acre of it to smithereens." Buckle up.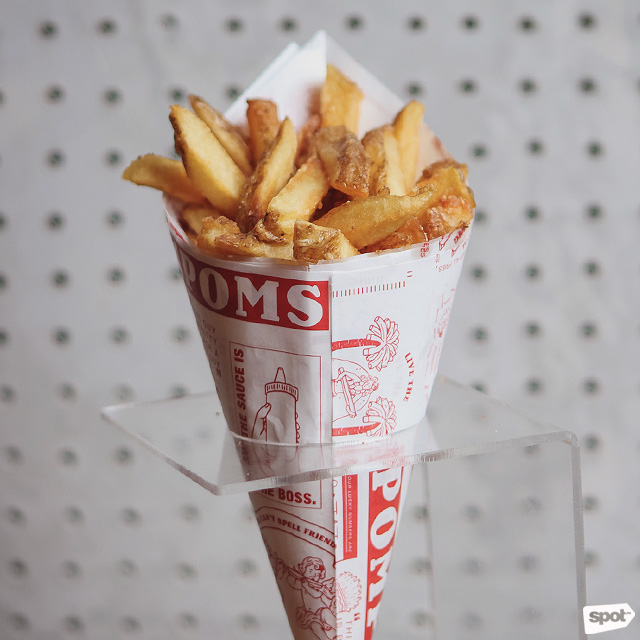 We'll start with the cones—yes, cones—and their annoyingly adorable names. Smallin' (P99) is for when you still think you can lie to yourself; Tallin' (P129) is when self-acceptance reigns in your soul. But Ballin' (P169) is the box you're going to cry into after an exam you're not entirely confident about. Don't tell us we're the only ones who did that.
The fries are so good—and they ought to be, given the in-house washing, steaming, initial frying, freezing, and frying once again upon order—that you could honestly walk out of here with plain ol' ketchup and feel satisfied. However, given the dire state of the world at the moment, you need to get your pleasures when and where you can, and upgrading at this joint is just the thing to do.
ADVERTISEMENT - CONTINUE READING BELOW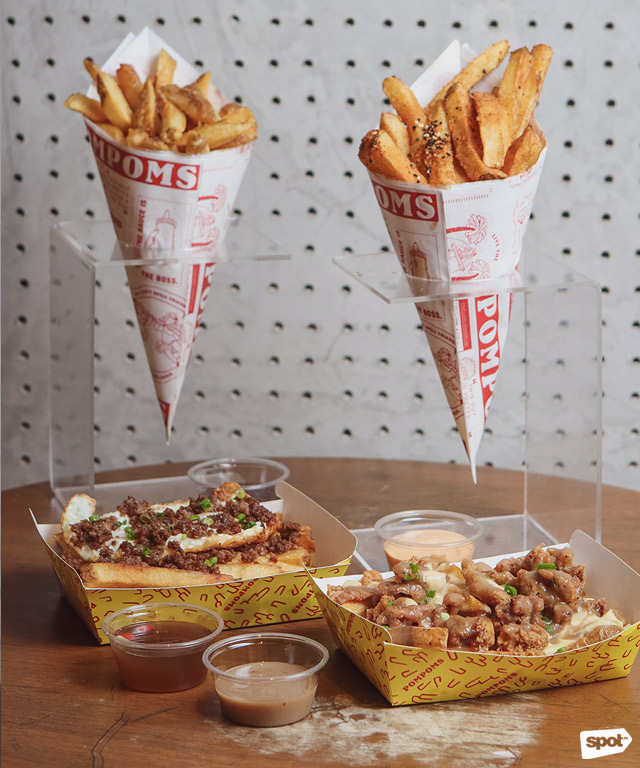 The sauces are messed up in the best possible way. Sure, you've got your standard BBQ, Signature Mayo, Ketchup, and Gravy, and you can't go wrong with any of these. But then you got names like K-Pop, Green Velvet, Pom-Pinakurat, Garlic Aioli, and Samurai for the other sauces, and naturally you're going to be at least a little curious.
Just to give you an idea, K-Pop is essentially an Asian barbecue sauce, the likes of which you've previously only had on chicken wings; Green Velvet can count as half a serving of veggies, albeit a little too good to be good for you; and the Samurai has a Sriracha base and tomatoey kick nobody can refuse. We recommend trying two sauces (add P25) at a time so you can experiment—wink, wink. Then there's the Four Cheese sauce (add P40) for when the tears just need some extra mopping up. At least, that's our excuse.
ADVERTISEMENT - CONTINUE READING BELOW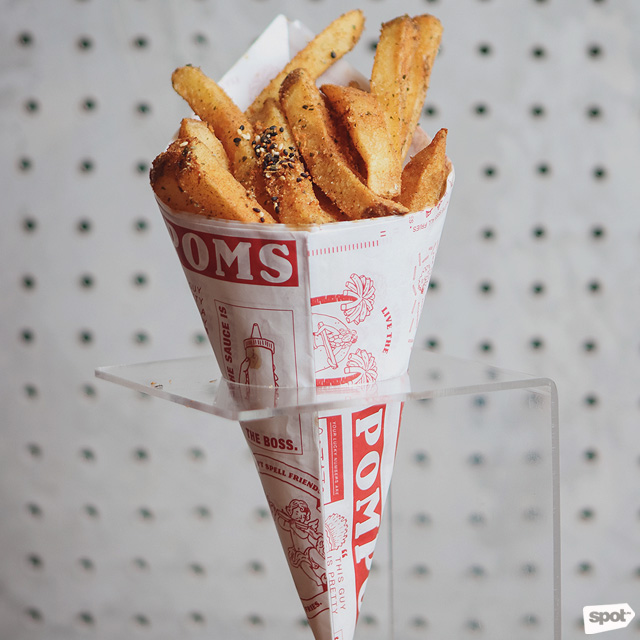 Furikake Seaweed
Now, these choices aren't to be made lightly. For with great Powder Power (P10 each) comes great responsibility. Again, you've got your standard flavors, and they all reflect the running theme of PomPoms, which we'd say is simple food done almost aggressively well. But they've also got Furikake Seaweed Powder for days when you're feeling especially fancy, and take it from us: #NoRegrets.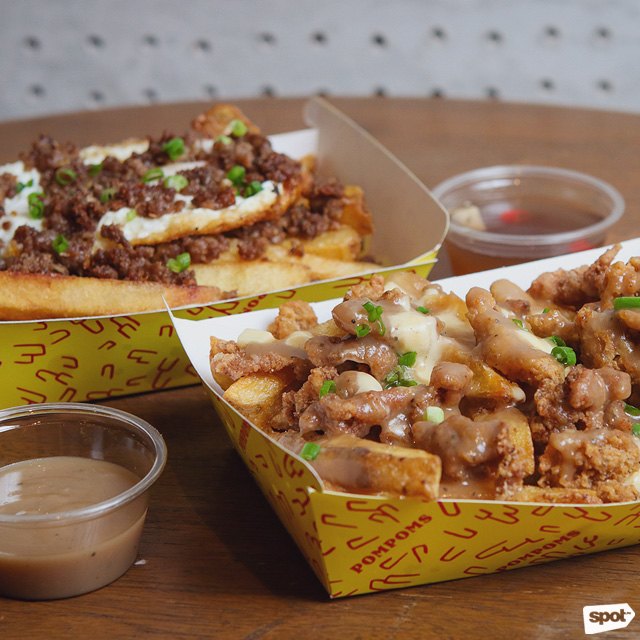 Front to back: Fried Chicken Poutine, Longsi Fries
ADVERTISEMENT - CONTINUE READING BELOW
We're looking forward to the expansion of the Top of the Tops part of the menu, which currently boasts three variations of the best thing ever—a messy box of fries with any amalgamation of stuff all over it. If you're feeling particularly patriotic, the Longsi Fries (P179) is for you. It's only one of our classic breakfasts held aloft by a bed of French fries—fried egg and all. It needs no preamble; just get it in your mouth immediately.
They also have what could be called the King of Comfort Food—yes, we know it's only January, but we'll take that bet because it's just that good—the Fried Chicken Poutine (P199). It's crispy, it's salty, it's dripping with gravy and melting cheese, come on! There is nothing wrong with this. It is only a box of rightness. That's the only way to talk about it while there are children around. This is a family show, people.
PomPoms falls into so many categories without ever getting messy about it. It's comfort food, movie food, a general snack, breakfast if you're brave enough, and dessert even. Just so nobody gets in trouble with your doctors, we'll warn you ourselves: It is not recommended that you come here every day. Well, you could. But you'd probably die from happiness.
Photos by Jericho San Miguel
Share this story with your friends!
---
Help us make Spot.ph better!
Take the short survey
Load More Stories