PizzaExpress
G/F Uptown Mall, Uptown Bonifacio
Open daily from 11 a.m. to 10 p.m.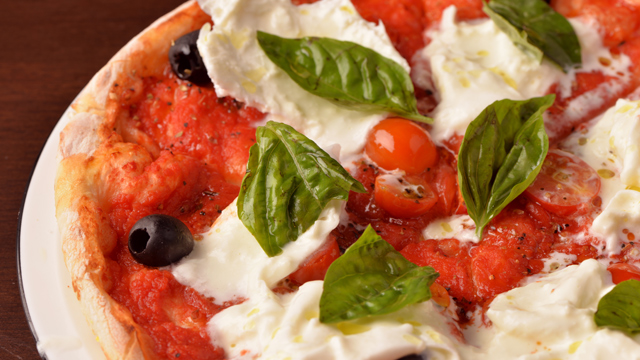 (SPOT.ph) "Comfort food" is a term that's been so overused that no one can seem to agree on what it really means. But there are certain dishes you can count on to bring you comfort no matter what. Like pizza. Whether gourmet and loaded with the most expensive toppings or cold from the fridge, a slice (or two) never disappoints, especially when the craving for carbs and cheese hits.
ADVERTISEMENT - CONTINUE READING BELOW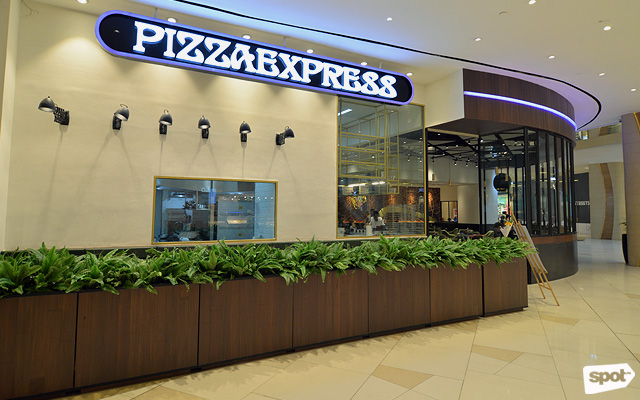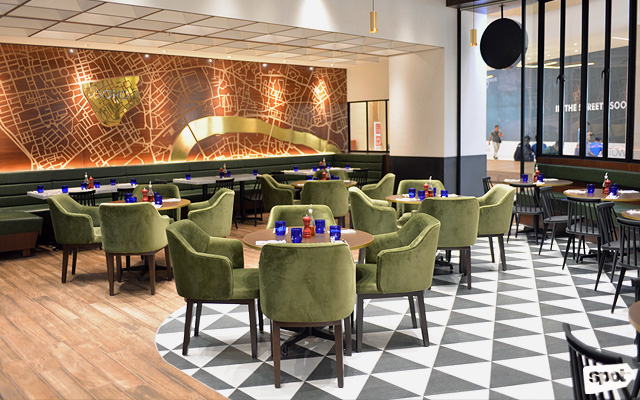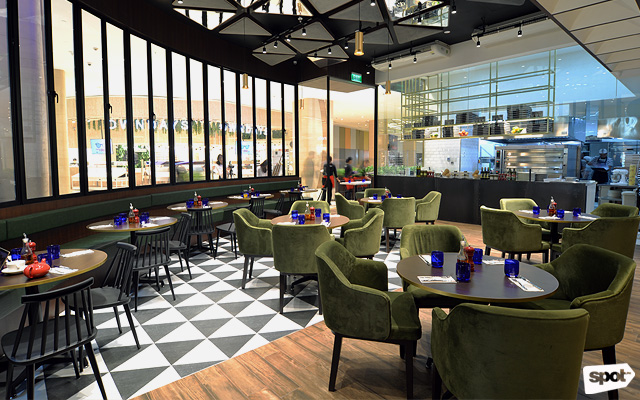 Even so, not all pizza is created equally. When you reduce this filling snack down to its bare essentials, it all really boils down to how good the crust is—once you get the base right, half the battle is won.
It's a concept PizzaExpress understands perfectly well—in fact, they're confident enough to serve just their dough as a starter, and rightfully so. The Baked Dough Balls (P195) are round balls of pillowy, soft dough that's just on the right side of chewy, with a subtle smokiness from being baked. You'd be perfectly alright with a little pat of the garlic butter before popping these in your mouth, but the pesto Genovese (lip-smackingly salty and just the right amount of nutty), and the pesto Rosso (the perfect balance of sweet and tangy) are addicting, too. These dough balls are the perfect teaser of what's to come.
ADVERTISEMENT - CONTINUE READING BELOW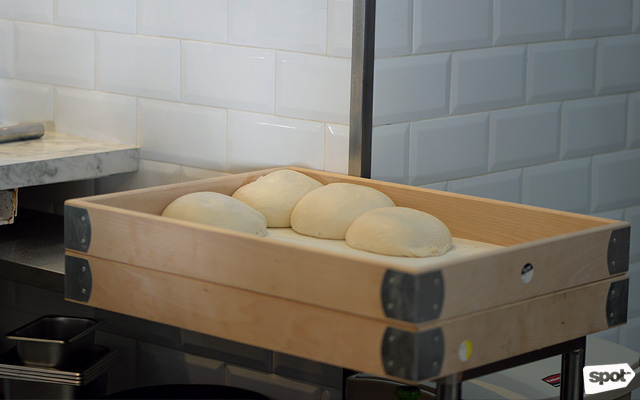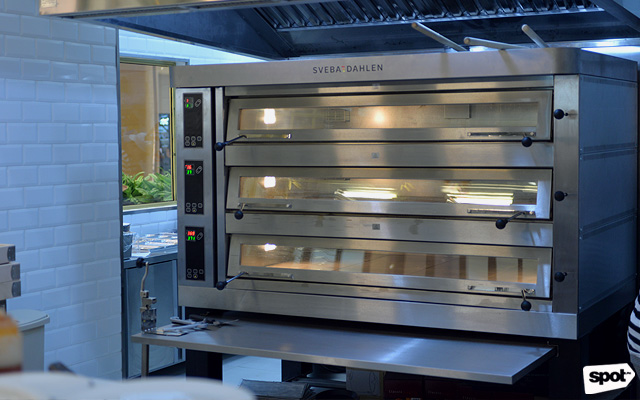 ADVERTISEMENT - CONTINUE READING BELOW
It should be no surprise that PizzaExpress knows their pizza. Way before opening their first Philippine branch at Greenbelt (remember that?), the chain had been serving their pies since 1965, with Peter Boizot opening the first PizzaExpress on Wardour Street in Soho, London—roots the new Philippine branch at Uptown Bonifacio honors with a minimalist rendition of the map of London on an accent wall, with Soho at its center. Since then, PizzaExpress has opened more than 470 branches in London, and over 100 all over the world.
Yes, some might remember the first short-lived PizzaExpress at Greenbelt 3 around 15 years ago. While this first Philippine outpost was forced to close shop early due to unforeseen circumstances, PizzaExpress is ready to prove that the second time's the charm, this time with restaurant group Tasteless at the helm. The group is also known for bringing fun foodie concepts like Bad Bird, Le Petit Soufflé, and Ping Pong Diplomacy to life. "I wanted to open PizzaExpress here because I was attracted by their consistently good food," says Tasteless founder Charlie Paw. "It's simple food but with quality ingredients."
ADVERTISEMENT - CONTINUE READING BELOW
What's impressive about PizzaExpress is their commitment to sourcing locally, save for a few ingredients like the tomato sauce exclusively made in Italy for the chain, and some of the cheeses. "Their chef from [the United Kingdom] came and stayed here for two weeks just to try all the local suppliers," Charlie shares. "The ones we have now are those who passed his standards."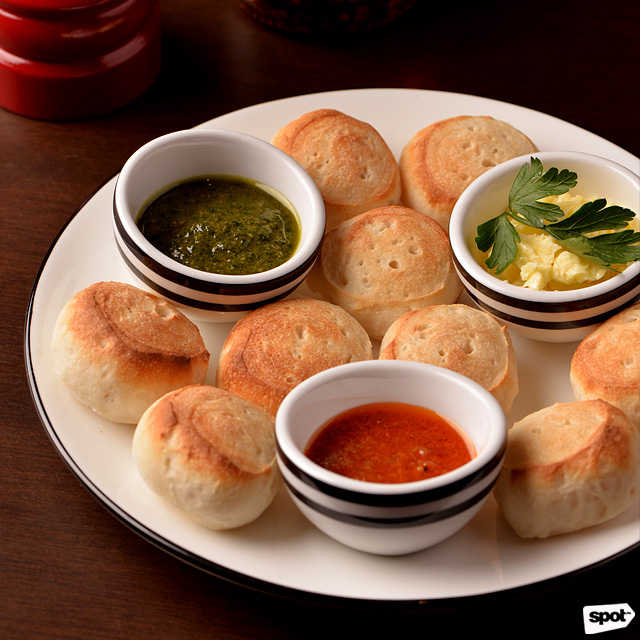 ADVERTISEMENT - CONTINUE READING BELOW
Baked Dough Balls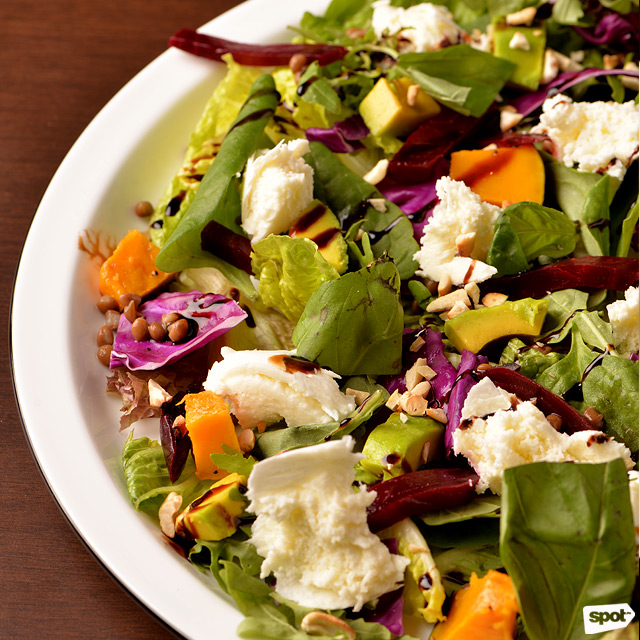 Leggera Superfood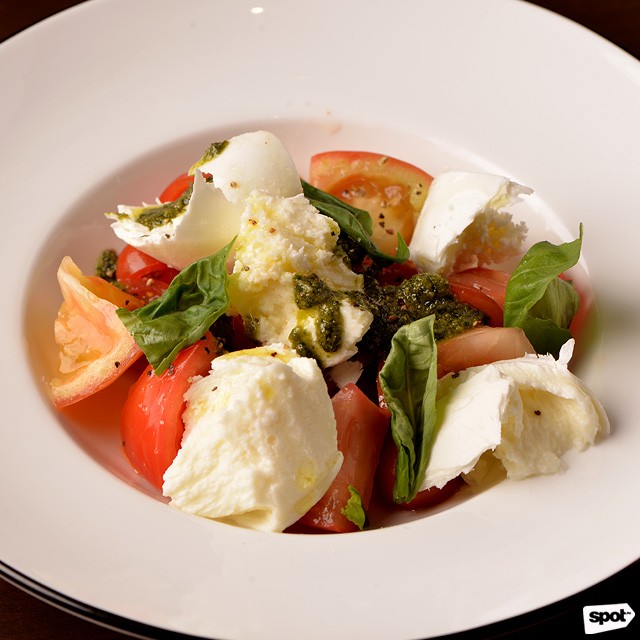 ADVERTISEMENT - CONTINUE READING BELOW
Another fresh starter is the Mozarella Tomato Salad (P275)
Fresh vegetables make all the difference in the simple-looking Leggera Superfood (P390), which comes in a plate as large as a whole pizza. The vibrant salad is full of all the good stuff: From roasted pumpkins, beets, green beans, and baby spinach to pine nuts, lentils, and mixed greens. Chunks of avocado give the light salad, which is only drizzled with balsamic glaze as dressing, a layer of creamy richness, and chunks of fresh mozzarella add subtle savory notes to each forkful.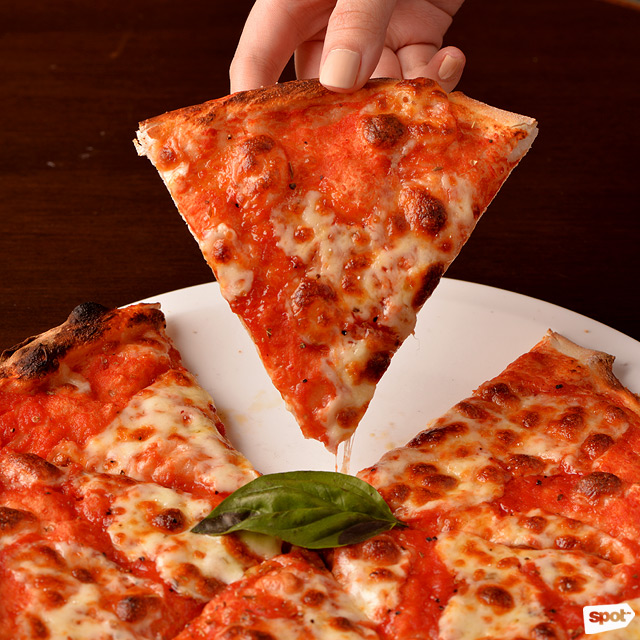 ADVERTISEMENT - CONTINUE READING BELOW
Margherita
It's tempting to fill up on the deceptively light but ultimately filling salad, but you come to PizzaExpress for the pizza. The no-frills Margherita (P350) lets the crust shine; this pizza comes in the "thicker" classic pizza crust. While thinner than a deep-dish pizza, this crust is still hefty, though you would hardly notice, especially with how enjoyably chewy it is. Lightly salted, it amps up the flavor of the tangy tomato sauce and mozzarella.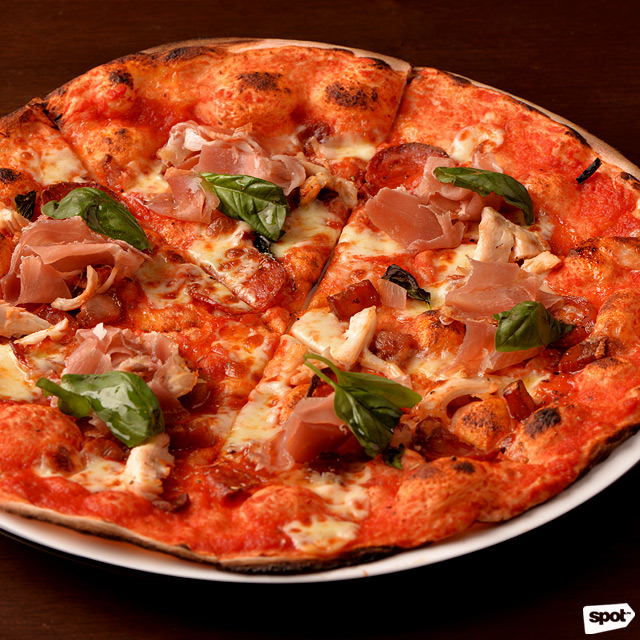 ADVERTISEMENT - CONTINUE READING BELOW
Le Rose
But if you're more of a thin-crust person, the Romana Pizza variants should be right up your alley. It's safe to say that Le Rose (P470) is unlike any all-meat pizza you've tried before, especially with the distinctive smoky smell of freshly fried pancetta wafting from your pie. Aside from pancetta, this pizza comes loaded with prosciutto, peppery Calabrese sausage all PizzaExpress branches source from a small sausage shop in Germany, and incredibly tasty grilled chicken chunks. What you'll love most about Le Rose is how it doesn't settle heavily in your belly even though it's loaded with different kinds of protein—it's filling, but you won't feel sluggish after a few slices.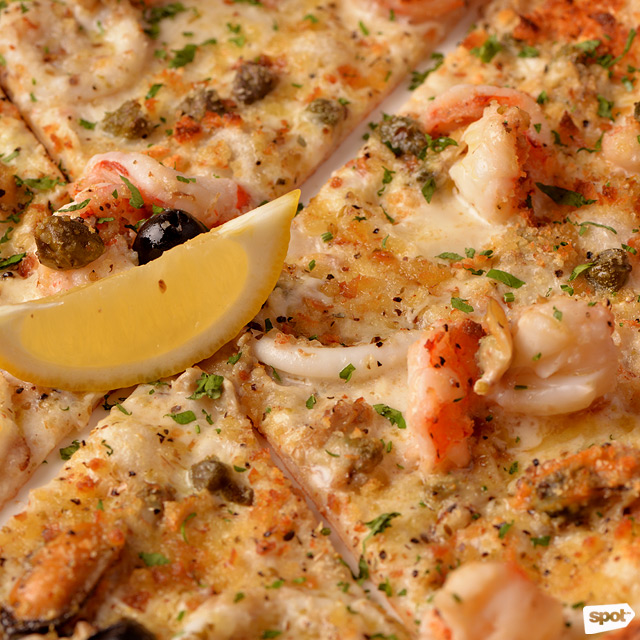 ADVERTISEMENT - CONTINUE READING BELOW
Liguria
Still, if you prefer something even lighter, opt for the Liguria (P430), or PizzaExpress' seafood pizza. Light doesn't mean lacking in flavor—in fact, the Liguria is full of it, from the fresh prawns, mussels, squid, and clams, giving each slice a distinct tasty brininess, with a béchamel sauce to balance out the flavors. Capers and olives add an extra zing to round it all out.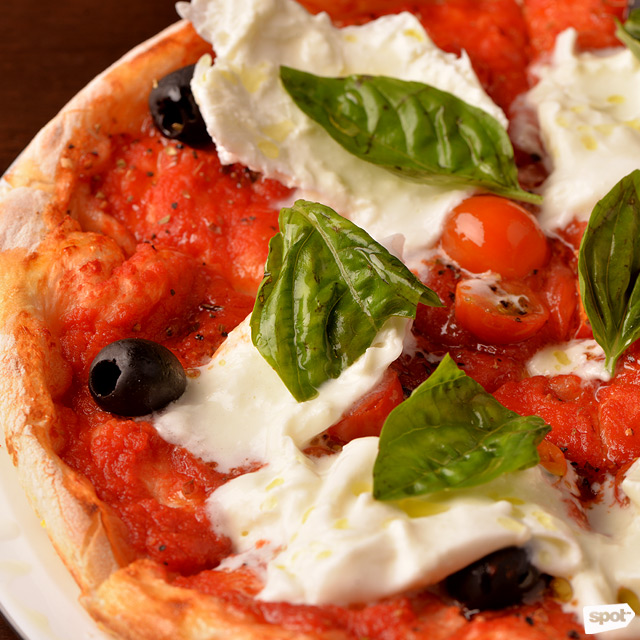 ADVERTISEMENT - CONTINUE READING BELOW
Lava
If you really want to treat yourself, go for the Lava (P695). It looks simple, though the sight of huge chunks of burrata cheese on top of a tomato sauce-covered crust is enough to elicit admiration around the table. Then you get a slice in your mouth and take in the beautiful contrast of warm crust and the cooler burrata melting against it, with plump cherry tomatoes bursting in your mouth with its sweet-tangy flavor. You could be having pizza somewhere else, but your mind won't be able to help but drift back to this sensory experience.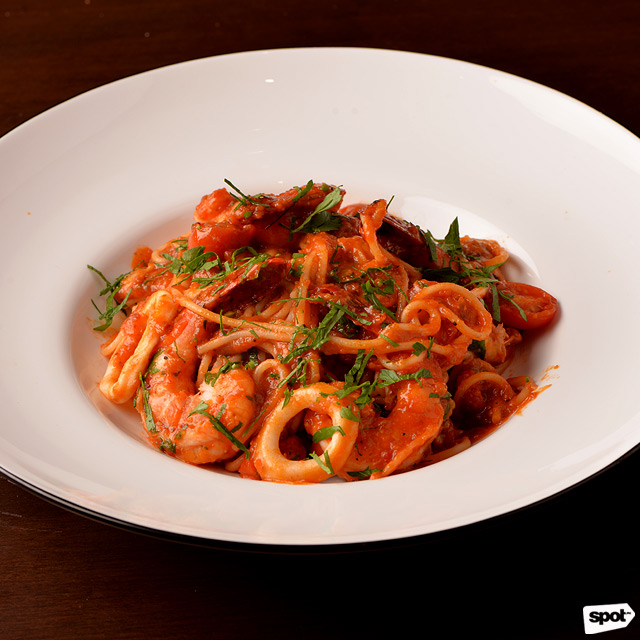 ADVERTISEMENT - CONTINUE READING BELOW
Spaghetti Frutti di Mare
Aside from pizza, PizzaExpress also whips up pasta dishes that aren't far behind in terms of tastiness. The Spaghetti Frutti di Mare (P395) may be loaded with fresh prawns, clams, mussels, and squid, but the spaghetti coated in the Pomodoro sauce, with just the right amount of heat, is more than enough to be addicting.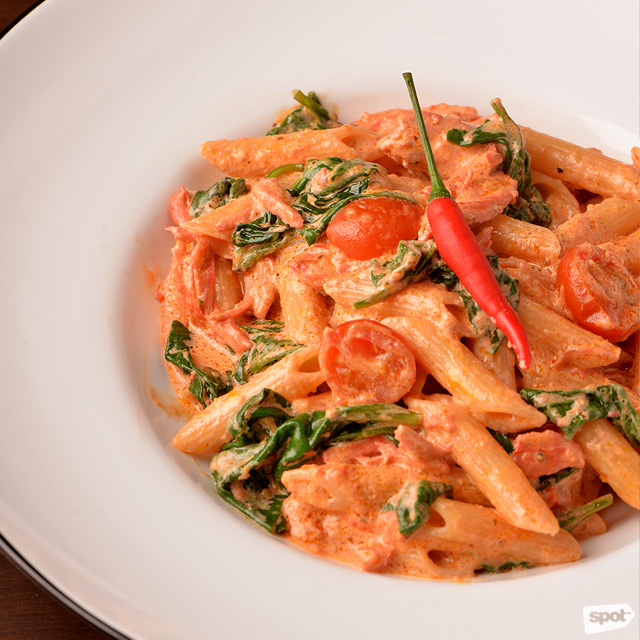 ADVERTISEMENT - CONTINUE READING BELOW
Penne Pollo Picante
The tasty chicken chunks in Le Rose make a comeback in the Penne Pollo Picante (P340), this time tossed in a cheesy cream-based sauce with al-dente penne pasta, cherry tomatoes, and baby spinach. While this dish is only spicy enough for the heat to linger on your tongue, you can amp up the spiciness with the accompanying fresh chili.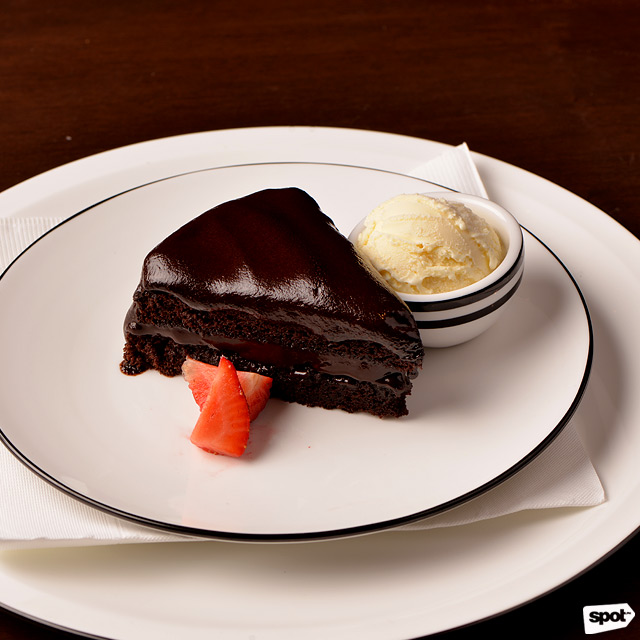 ADVERTISEMENT - CONTINUE READING BELOW
The Chocolate Fudge Cake (P260) combines a comfortingly warm chocolate cake and a scoop of vanilla gelato.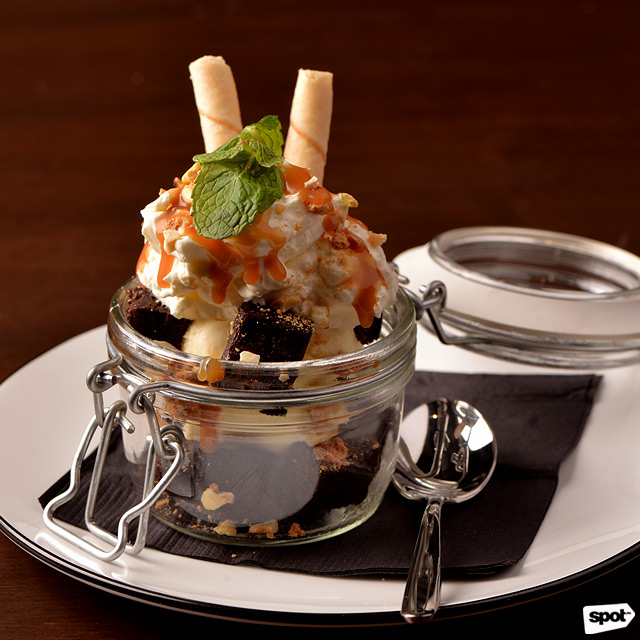 End your meal with the ultimate indulgence: Big Bad Brownie (P260) with brownie chunks, vanilla gelato, cream, crushed Italian biscotti, pistachio, and caramel sauce.
While it's difficult for pizza to disappoint, PizzaExpress proves that you don't need fancy over-the-top gimmicks to create impressive pizza: All you need is an excellent crust and toppings of the best quality. Plus, they plan on opening a delivery hotline soon, so you can have their pizza and pasta any time the cravings hit. Now, who wouldn't find comfort in that?
ADVERTISEMENT - CONTINUE READING BELOW
Photos by Hans Fausto
PizzaExpress opens on January 31, Wednesday.
Share this story with your friends!
---
Help us make Spot.ph better!
Take the short survey
More Videos You Can Watch
Load More Stories