These Deep-Fried Rice Balls Are Putting Your Go-To Mall Snack to Shame
We bet you haven't had lechon croquetas before.
OY! CROQUETA
South Arcade, SM Mall of Asia, Pasay City
Open daily from 10 a.m. to 10 p.m.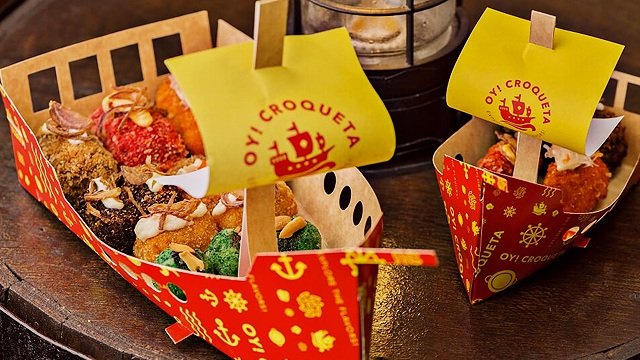 (SPOT.ph) In recent days, there have been sightings of an out-of-place galleon ship sitting on the pavement at SM Mall of Asia. OY! CROQUETA is one of the latest food kiosks in the area and it grabs your attention besides looking quirky and fun, much like the hot croquetas they offer.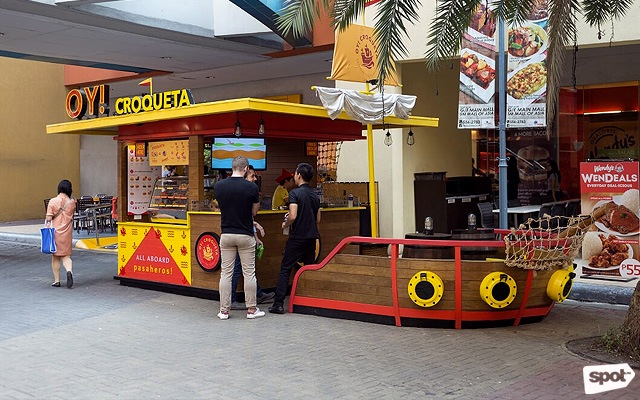 ADVERTISEMENT - CONTINUE READING BELOW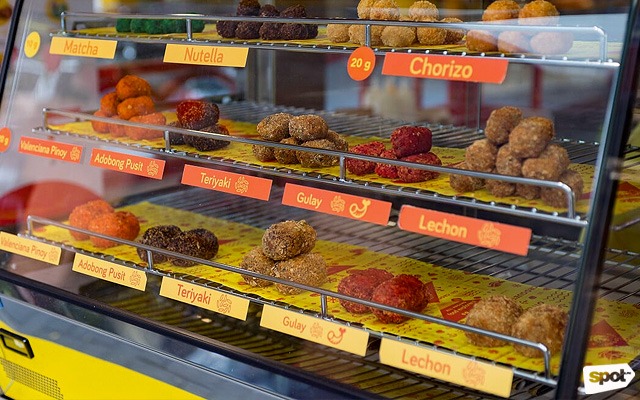 CONTINUE READING BELOW
Recommended Videos
It all started with three adventurous Spanish amigos whose wanderlust led them to the Philippines. Soon, Jonas Pons, Julen Aierdi, and Xavi Rovira set up the country's first-ever food stall to introduce the Spanish croqueta, which, as Jonas says, "every abuela in Spain cooks."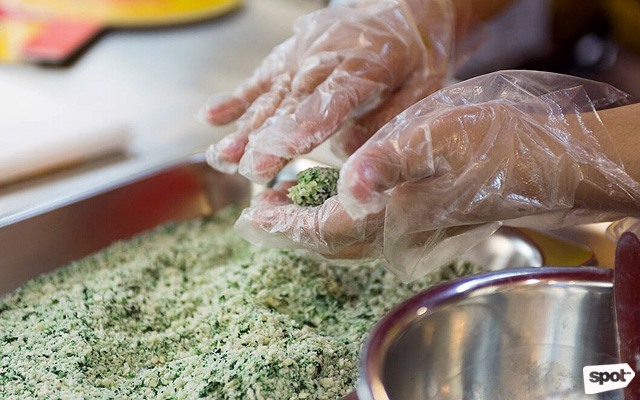 ADVERTISEMENT - CONTINUE READING BELOW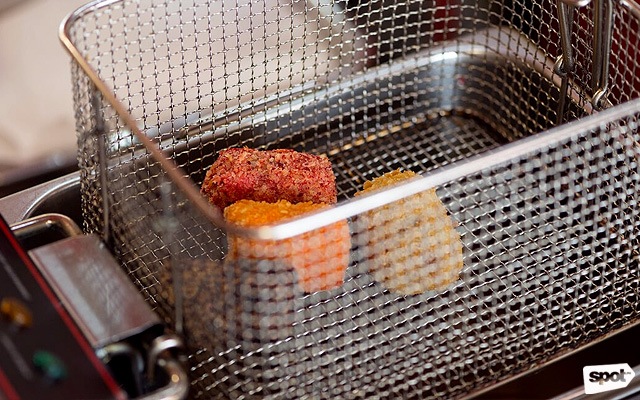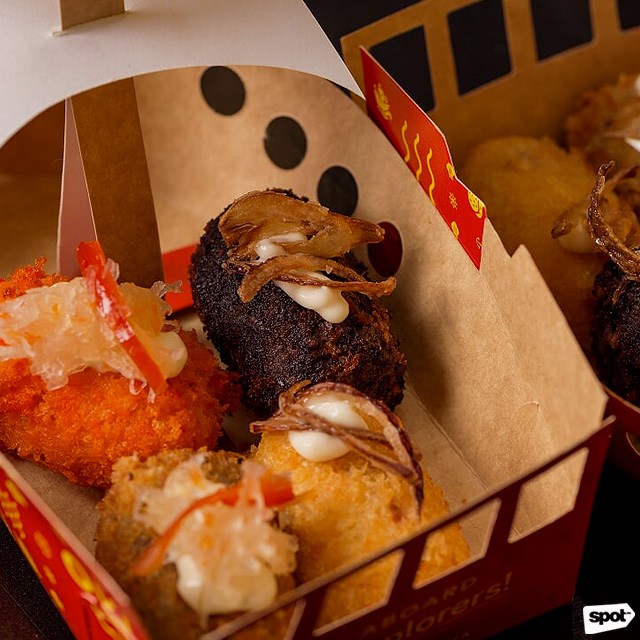 (Clockwise) Valenciana Pinoy, Adobong Pusit, Chorizo, Lechon
It is only apt that the stall looks and feels like a fun playhouse ship because eating here is much like going on an exciting gastronomic journey. First, they offer the classic Chorizo Croqueta (P45/two pieces). "Of course, we have to offer them the original!" Jonas exclaims. And the deep-fried fritters are packed with creamy béchamel and hints of mildly spiced chorizo bits.
ADVERTISEMENT - CONTINUE READING BELOW
They make sure that every croqueta is handmade, and freshly fried before being served. "It's a lot of love," Xavi says. And it shows, as even these bite-sized snacks are served via folded paper boats or mini cardboard galleons.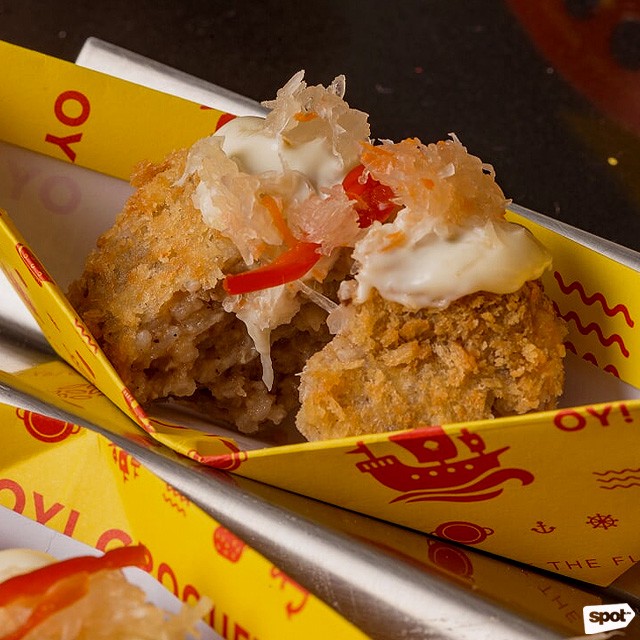 Lechon Croqueta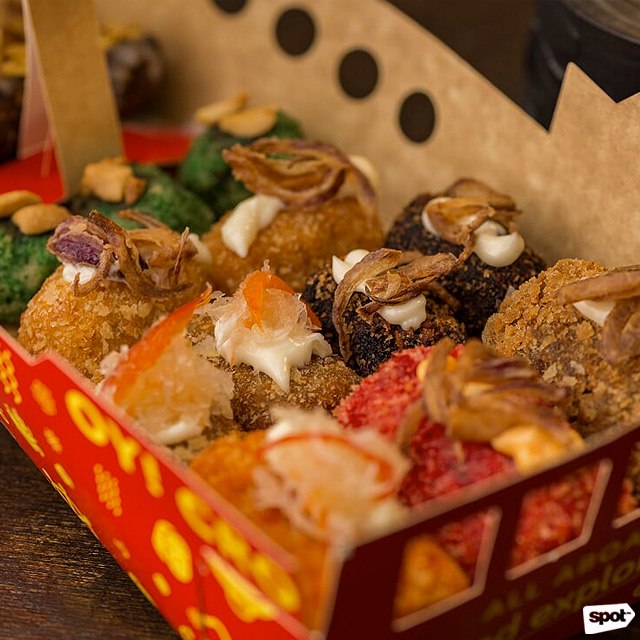 Meanwhile, Xavi notes, "Filipinos like a certain bite and chew to their food." To achieve this, they replaced the béchamel filling with rice and flavored it according to local taste—they named it the Paella Croqueta (P45/two pieces), a crunchy, golden-brown ball of rice. Inspired by the quintessential Spanish paella, it has three Pinoy-themed variants: Valenciana Pinoy, Adobong Pusit, Gulay, and the best-selling Lechon.
ADVERTISEMENT - CONTINUE READING BELOW
Once you break through its crackling crust, the savory aroma of a fiesta explodes from the filling. It's only once you dig in that you'll appreciate the subtle fusion of cuisines, foreign but at the same time reminiscent of Filipino home cooking. The belly-bursting journey doesn't end there—their Teriyaki croqueta is laced with that distinctive sweet and tangy Japanese flavor you look for when the craving kicks in.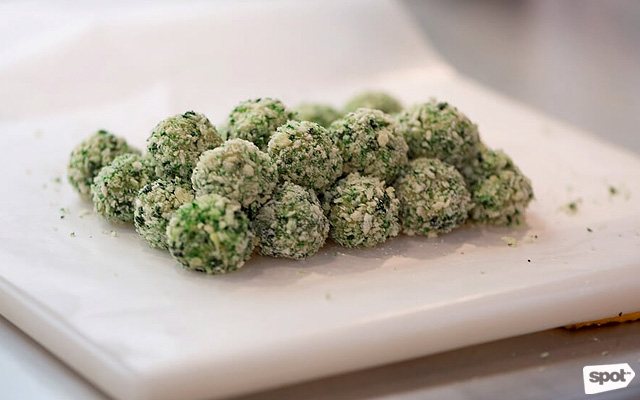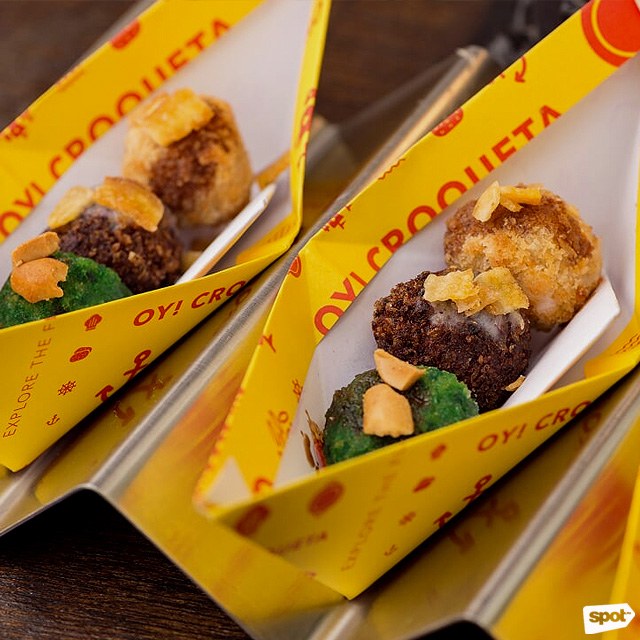 (Left to right) Matcha, Nutella, Peanut Butter
ADVERTISEMENT - CONTINUE READING BELOW
The vessel goes full steam ahead with their creative confections. Their sweet croquetas, each filled with Peanut Butter (P30/three pieces), Matcha (P30/three pieces), or Nutella (P30/three pieces) shouldn't be missed as these unique, little versions of the deep-fried treat are sure to delight any dessert lover.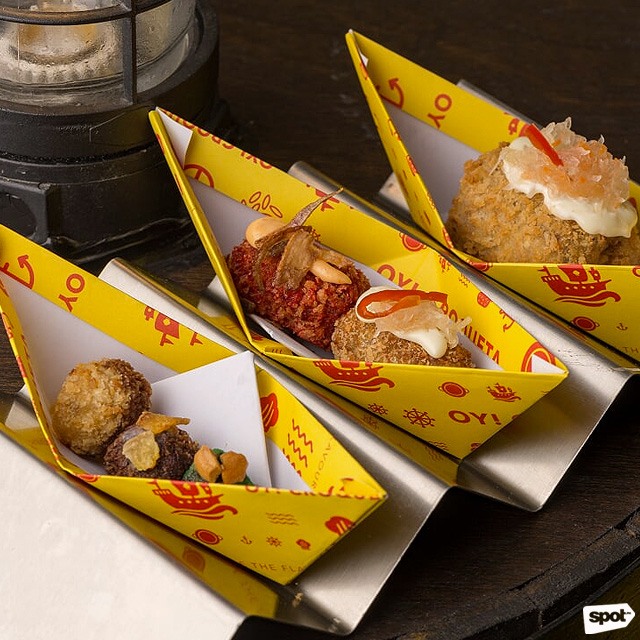 (Left to right) Poppers, Croquetas, Croqueton
They offer their Spanish-Filipino dishes in a variety of sizes ranging from the tiny Poppers (P30/three pieces) to the sizeable Croquetas (P45/two pieces), and finally, the giant Croqueton (P55/piece). "We've studied how people eat, and we sized our croquetas just right so customers are full and happy," Xavi says.
"Food should be good. We all know that. But what not everyone knows is that good food also should be affordable," is Jonas' belief. These are all already gratifying by themselves but we suggest you try out their combos, which are really worth your buck: You can mix and match and have the Single Meal (P123), which includes one Croqueton, two Croquetas, three Poppers, all for yourself, or the Barkada Meal (P369), with three Croquetons, six Croquetas, and nine Poppers, if you're with a group (or if you're really, really hungry). 
ADVERTISEMENT - CONTINUE READING BELOW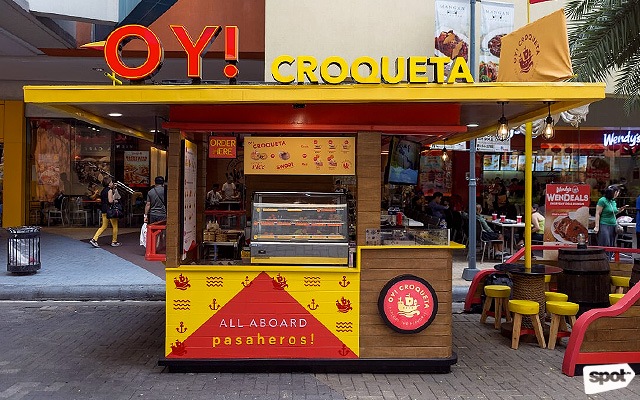 Xavi, Julen, and Jonas want to share their enthusiasm for food and travel with every Filipino. "It's different, but it's good, we want everyone to try it," Julen says, and take his word for it. Soon, OY! CROQUETA's maiden galleon will turn into a fleet, serving warm and satisfying croquetas all over the Metro. Keep your eyes peeled because you'll never know where the next ship will dock next.
Photos by Hans Fausto
Share this story with your friends!
---
Help us make Spot.ph better!
Take the short survey
Load More Stories