10 Most Romantic Restaurants in Manila (2018 Edition)
Sweep her off her feet with good food in a stylish, intimate, but not-too-stiff setting.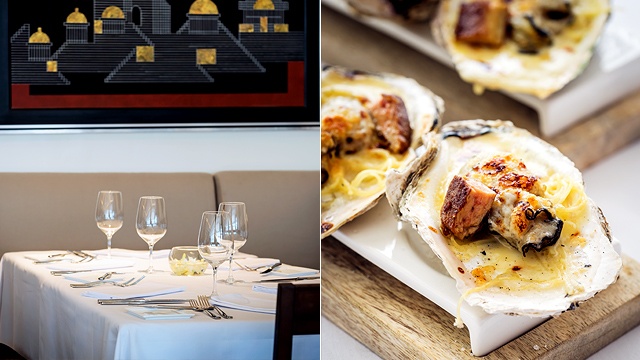 (SPOT.ph) Feeling the butterflies from the thought of planning that crucial first date? Or are you ready to pop The Question? For these monumental dates, the pressure to get everything perfect, from ambience to food, can sometimes be a little too much. So we're taking the guesswork out of one of the most important elements when it comes to setting up a memorable evening—the food.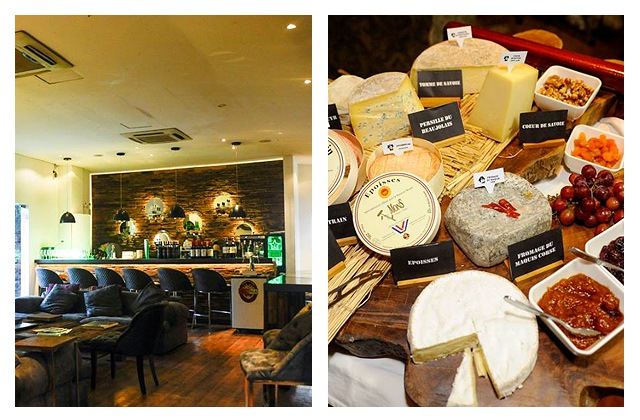 ADVERTISEMENT - CONTINUE READING BELOW
Caviar Restaurant and Champagne Bar
A milestone anniversary is the perfect excuse to dress fancy and dine at Caviar Restaurant and Champagne Bar. Wood-heavy, understated interiors add an air of elegance to this restaurant, and will make you and your S.O. feel extra glamorous, too.
Perfect for: Anniversaries
The food: Caviar Restaurant has several menus depending on what time you drop by, from a Sunday brunch menu to a dinner ala carte menu. Most of the dishes are European-inspired starters like the Escargot Bourguignon or vineyard snails cooked in Grana Padano and garlic-herb butter, and Prawn Bisque with prawns poached in truffle oil. They also offer a wide range of steaks from a Prime Grade Ribeye Steak to wagyu, and lamb chops. Of course, don't forget to order from their more-than-ample caviar menu. 
CONTINUE READING BELOW
Recommended Videos
Be prepared to spend: Around P2,000 to P3,000 per head
Caviar Restaurant and Champagne Bar is at Westgate Center, Filinvest, Muntinlupa City.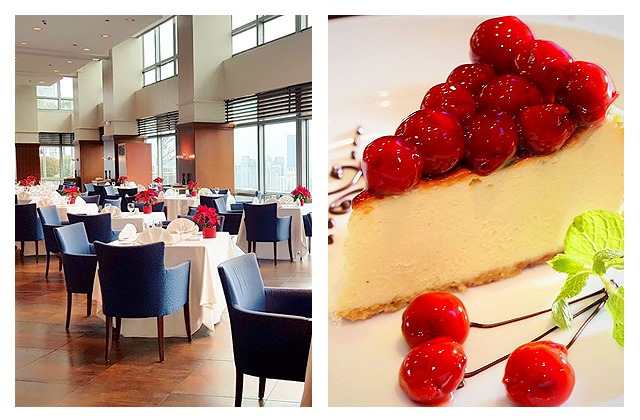 ADVERTISEMENT - CONTINUE READING BELOW
Top of the Citi by Chef Jessie
Situated at the 34th floor of the Citibank Tower, Top of the Citi boasts a stunning 360-dregree view of the Metro, making any date here feel extra special. The view is even more fantastic at night, with the city lights and night sky on full display. The simple-yet-tasteful table setting, complete with a freshly cut rose, also adds to the romantic ambience. You can even ask them to customize your table setting for you and your date.  
Perfect for: Celebratory dinner dates
The food: Chef Jessie Sincioco's menu is filled with dishes that look effortlessly elegant, and, of course, don't pull any punches in terms of flavor. Start off with the Seared Tuna Salad, which will make you want to eat greens more often with seared tuna and mixed greens tossed in a wasabi vinaigrette with roasted garlic, peanuts, and sesame seeds plus nori sheets for added crunch. Chef Jessie takes sea bass to the next level with her Pan Fried Sea Bass With Goose Liver, with the fresh fish topped with a generous helping of savory foie gras. On special occasions like Valentine's Day, they also offer special set menus with wine and dessert.
Be prepared to spend: Around P1,000 to P2,000 per head
Top of the Citi by Chef Jessie is at 34/F Citibank Tower, 8741 Valero Street, Salcedo Village, Makati City.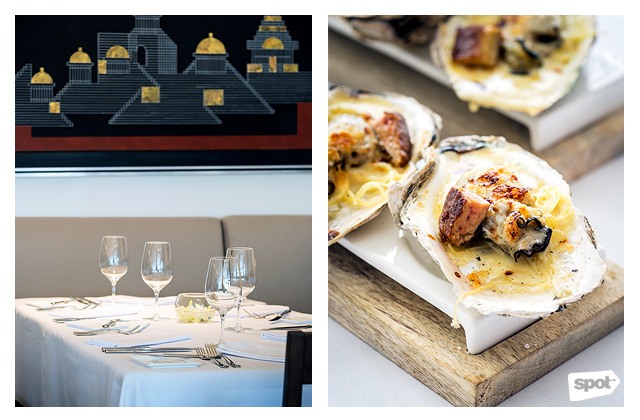 ADVERTISEMENT - CONTINUE READING BELOW
With their sleek, understated space, it's no surprise that Bistro Manuel is top-of-mind when it comes to the most romantic restaurants in Manila. It's the place to bring your date when you want to impress, not just with their beautiful interiors but with your taste in good food, too.
Perfect for: Dating to impress
The food: If the way to someone's heart is through their stomach, then the food by Chef Ariel Manuel of Lolo Dad's fame will have anyone swooning.  Duck and foie gras take center stage at Bistro Manuel in straightforward yet indulgent dishes. A must-try is Lolo Dad's Café Baked Oysters with Foie Gras, with oysters that come draped in Parmesan cheese and finished off with cubes of foie gras. The All About Duck features a flawlessly pan-fried foie gras with a balsamic reduction to balance out the richness, plus a poached duck egg, and a duck rillette that pairs well with the house-made bread.
Be prepared to spend: Around P900 to P1,500 per head
Bistro Manuel is at 2/F Six Axis Center, 4347 B. Valdez Street, Poblacion, Makati City.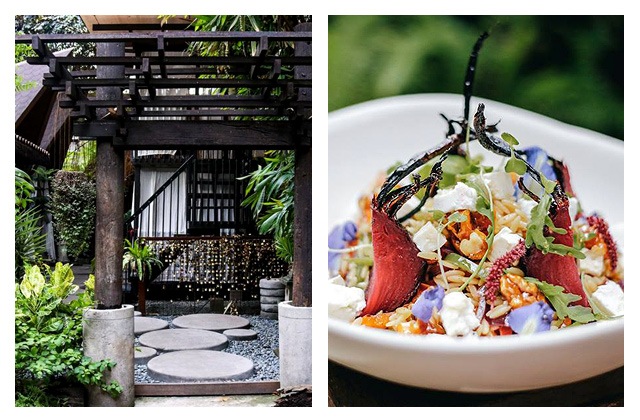 ADVERTISEMENT - CONTINUE READING BELOW
Ninyo Fusion Cuisine and Wine Lounge
This easy-to-miss restaurant in Quezon City has probably witnessed more wedding proposals than most other places north of the Metro. Thanks to its very romantic vibe—think private cabanas with flowy white drapes, sophisticated wooden furniture, soft lights, and a candle-lit dinner to set the mood—Ninyo will make you want to bring your beau here even on the most ordinary days.
Perfect for: An intimate rendezvous
The food: European-Asian cuisine done right—they offer five- to six-course degustation menus that include a hearty entrée and an entremet (or sorbet course) to cleanse the palate. Their honey-marinated Grilled Salmon with Miso and Wasabi Mashed Potatoes have been getting raves, both on social media and word-of-mouth, so that's one thing to look forward to. 
Be prepared to spend: Around P1,500 to P2,500 per head.
Ninyo Fusion Cuisine and Wine Lounge is at 66 Esteban Abada Street, Loyola Heights, Quezon City.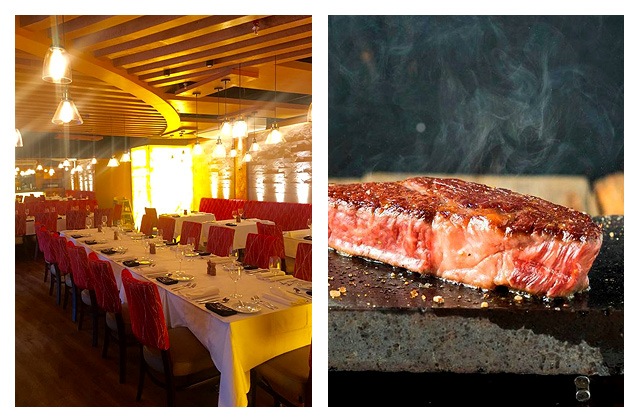 ADVERTISEMENT - CONTINUE READING BELOW
House of Wagyu Stone Grill (Shangri-La Plaza)
If you're trying to woo back your S.O. after a particularly nasty argument, break down their walls with the ultimate bribe: A steak dinner at House of Wagyu. They use A5 Grade 11 Japanese Wagyu, and your steak also comes still sizzling on a stone grill, so you get to control how your steak is cooked. Their newest branch at Shangri-La Plaza boasts particularly dreamy interiors, with dramatic lighting to set the mood for a romantic night. 
Perfect for: A post-fight reconciliatory meal
The food: A must-order is the Rib-Eye Grade 8. The cut is only seasoned with salt to highlight the generous marbling of fat, which melts in your mouth in all its delicious savory flavor. It's impossible to feel angry at each other when all you can think about is this rib-eye's buttery richness. An order will automatically get you a salad and a soup, too. 
Be prepared to spend: Around P2,500 to P6,500 per head
House of Wagyu Stone Grill is at Shangri-La Plaza, Ortigas, Mandaluyong City.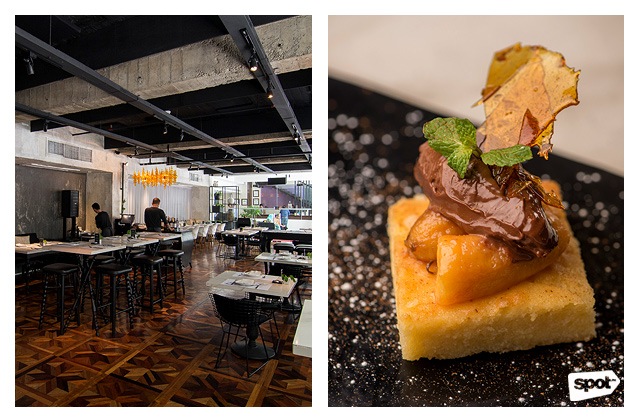 ADVERTISEMENT - CONTINUE READING BELOW
With sleek black-and-white interiors, golden chandeliers, and an industrial aesthetic, Pablo is one of the best-looking restaurants in the Metro. The food, too, comes gorgeously plated and photoshoot-ready. The menu is seasonal, changing depending on what's fresh and available, but you can be sure that anything that comes out of the kitchen is incredibly innovative and tasty, too.
Perfect for: A chill, after-work night out with your S.O.
The food: Pablo Bistro's semi-formal atmosphere is reflected in their European-themed dishes, which aren't too fancy, but are also refined enough to impress you and your date. Their Seared Yellowfin Tuna looks and tastes every bit delicious, while their Foie Mi-Cuit & Caramelized Apples make for an interesting and memorable starter.
Be prepared to spend: P1,200 to P2,000 per head
Pablo Bistro is at The Picasso Boutique Serviced Residences, 119 L.P. Leviste Street, Salcedo Village, Makati City.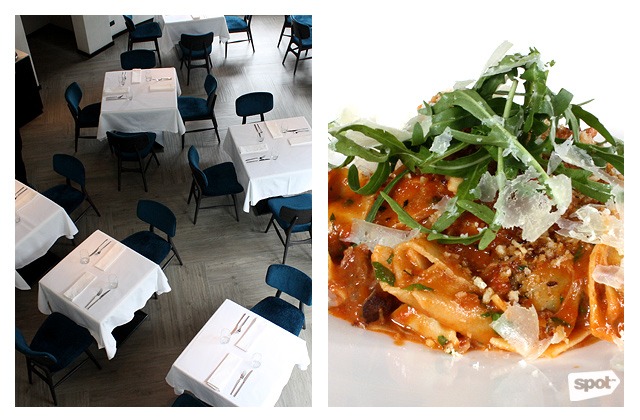 ADVERTISEMENT - CONTINUE READING BELOW
Nestled in Ayala Triangle Gardens, Blackbird is a peaceful sanctuary in the middle of Makati's busy central business district. With high ceilings, sleek Art Deco-inspired furniture, and a stylish grand staircase as centerpiece, the restaurant is known to cater to all sorts of occasions, especially dreamy dates and wedding proposals. At night, their al-fresco dining space lights up into a beautiful and intimate garden backdrop, perfect for whether you're just on your first date or your nth anniversary.
Perfect for: Setting the mood
The food: You can't go wrong with Blackbird's juicy, rosemary-and-pepper-crusted Lamb Cutlets that are grilled to perfection and served with creamy potato gratin and a spicy chorizo piperade. They also have a good selection of dessert wines to end the night on a sweet note.
Be prepared to spend: P2,000 to P3,500 per head.
Blackbird is at Nielson Tower, Ayala Triangle Gardens, Makati City.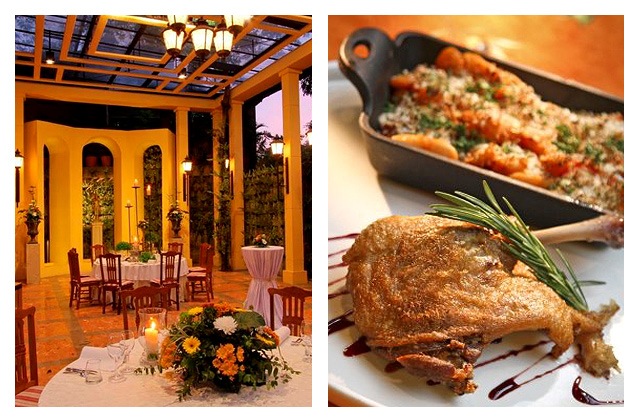 ADVERTISEMENT - CONTINUE READING BELOW
Lemuria Gourmet Restaurant
When it comes to creating the ideal setting for a romantic night out, you can be sure that garden-themed restaurants will always be on the list. At this charming and hidden destination in New Manila (it's located inside a residential village, FYI), expect excellent French-Mediterranean cuisine and fine wine to take center stage. Couples can also request to be seated in the more quiet corners of the villa-turned-restaurant, like the balconies, which they converted into little open-air rooms with a view.
Perfect for: Surprise dates and proposals
The food: Although you can order ala carte, we think their nine-course degustation is still the way to go. Their European-inspired dishes aren't only impressive, but it makes for good conversation starters, too, when you're feeling all fidgety before going down on one knee!
Be prepared to spend: P1,800 to P3,000 per head.
Lemuria Gourmet Restaurant is at 5 Julieta Circle, Horseshoe Village, New Manila, Quezon City.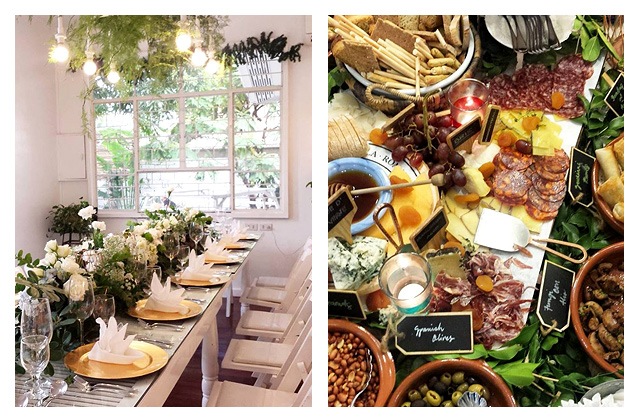 ADVERTISEMENT - CONTINUE READING BELOW
It's easy to fall in love with Pio's Kitchen—and we're not just talking about their sublime paella. The restaurant is the brainchild of Chef Chin Gallegos, whose fondness for food has led her to recreate her family's ancestral home into a sought-after private-dining spot in Quezon City. The rustic-looking house looks every bit picturesque; in fact, big groups can rent out the entire place to hold intimate gatherings. In spite of that, smaller crowds are also welcome as long as you book in advance. Their set menus change seasonally so you can always expect something new the next time you visit.
Perfect for: Double dates and casual weekend trysts
The food: We'll say it once and we'll say it again—the paella is to die for. Besides that, go for their Soft-Shell Crab Salad, which features a deep-fried, soft-shell crabs paired with crisp greens, ripe mangoes, and a tangy balsamic vinegrette. 
Be prepared to spend: P3,000 to P4,000 per head.
Pio's Kitchen is at 96 Scout Reyes corner Scout Fuentebella, Laging Handa, Quezon City.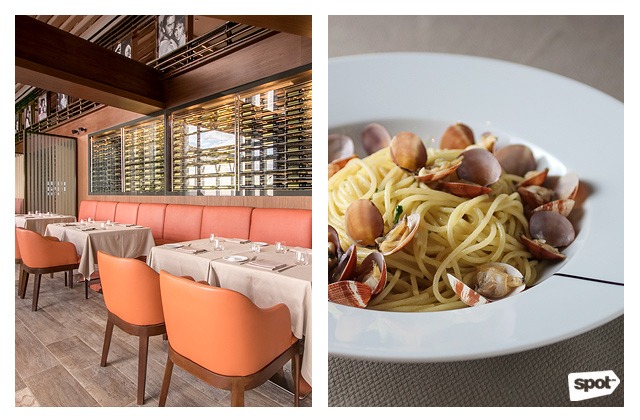 ADVERTISEMENT - CONTINUE READING BELOW
This restaurant from Milan is located at the top floor of Knightsbridge Residences, and the glass walls make it certain that you and your date don't miss the dazzling sunset and the view of the Makati skyline. Though the space is grand, ample natural light and framed black-and-white portraits Italian celebrities add a homey vibe to the fine dining resto—you and your date will feel comfortable with each other in no time. 
Perfect for: First dates and getting-to-know-yous
The food: Classic Italian is the name of the game here at Paper Moon. You can get a full traditional Italian dinner with pizza is made fresh and baked at the brick oven flown in from North Milan, plus classic Italian antipasti and pasta that use 40-year-old recipes from the first Paper Moon in Milan. The Prosciutto e Melone is a great starter, with prosciutto shaped into an exquisite flower and placed atop slices of cantaloupe, with the saline of the Italian ham pairing well with the juicy sweet fruit.
Be prepared to spend: Around P1,250 to P3,000 per head
Paper Moon is at Knightsbridge Residences, Century City, Makati City.
Share this story with your friends!
---
Help us make Spot.ph better!
Take the short survey
Load More Stories