All the Different Kinds of Ensaymada in the Philippines
There's more than one kind of this Filipino sweet bread.
It's the ubiquitous Filipino sweet bread enjoyed all year round as merienda after school or as a special treat during Christmas Noche Buena. It's available everywhere, too, from the humble panaderia in a street corner to specialty bakeshops inside malls. It's the ensaymada, a traditional coiled bread made with flour, yeast, sugar, salt, eggs, and the occasional milk and butter. The usually towering golden tops are then slathered with delicate butter, sprinkled with grainy sugar, and finished with grated salty cheese.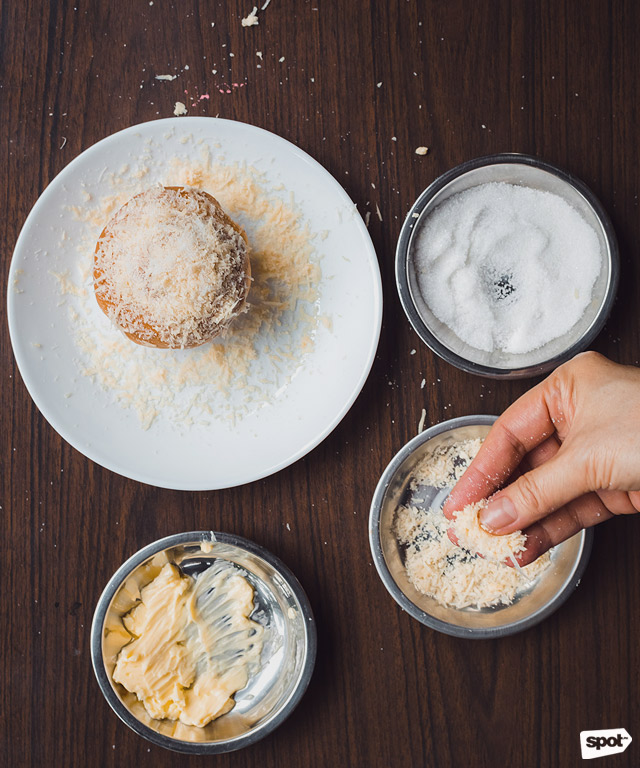 ADVERTISEMENT - CONTINUE READING BELOW
Throughout the Philippine archipelago, one will find as many variations of the ensaymada as there are multiple versions of adobo and pancit. The key ingredients may be similar for all, but their quantities vary from one baker to another. Their procedures, kneading, baking time, and toppings all result to a diverse set of ensaymadas. Some are bready while others are cakey; some dense and structured while others are ultra-soft and fluffy; some have yellow stretchy interior while others have a pale crumbly one. Historically, the ensaymada, which arrived in the Philippines from Majorca, Spain during the colonial period, was flat, flaky, and laden with lard.
CONTINUE READING BELOW
Recommended Videos
This evolved through time as the beloved bread reached different provinces, bakeries, and homes. Today, there's a type of ensaymada made to please all varieties of discerning palates. We take a look at some available in the market: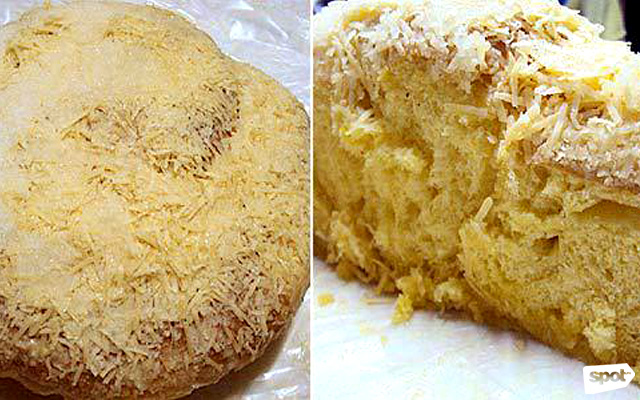 ADVERTISEMENT - CONTINUE READING BELOW
Spanish-style 
Heavily inspired by how the yeast bun is traditionally made in Spain, this type of ensaymada is bready and dense. Each bun is heavy on its own even without the toppings. Inside, the crumbs are tender but compact. Pastelleria Mallorca's version is puffy and loaded with about half a pound of butter, making it an absolute delight. They use the same heirloom recipe passed on through generations hailing from Pampanga.
Pastelleria Mallorca is at 18 Scout Fuentebella Street, Barangay Laging Handa, Quezon City. For inquiries, contact 373-2789.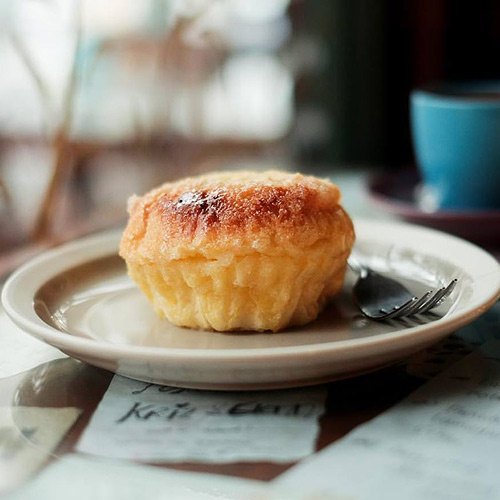 ADVERTISEMENT - CONTINUE READING BELOW
Super softy
Another modern variation of the ensaymada that sprouted in recent years is one that's ultra soft and much likened to an enriched brioche bun. This version has a smooth, pale crust, while the interior is light and airy. These are usually offered by homebakers but an outstanding option that's readily available in the market is Mary Grace Café's. Their ensaymada has an almost chewy dough and a very generous sprinkling of queso de bola on top.
See a list of Mary Grace Café branches.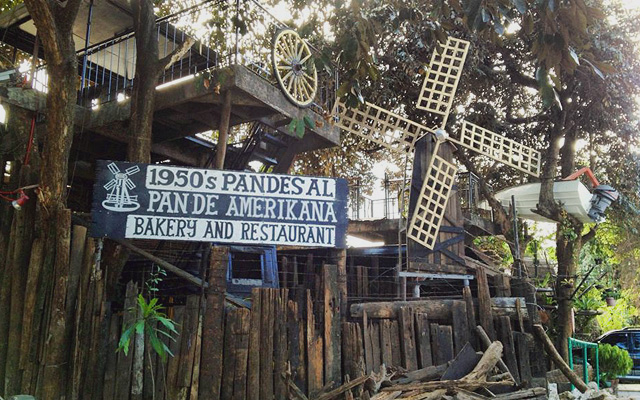 ADVERTISEMENT - CONTINUE READING BELOW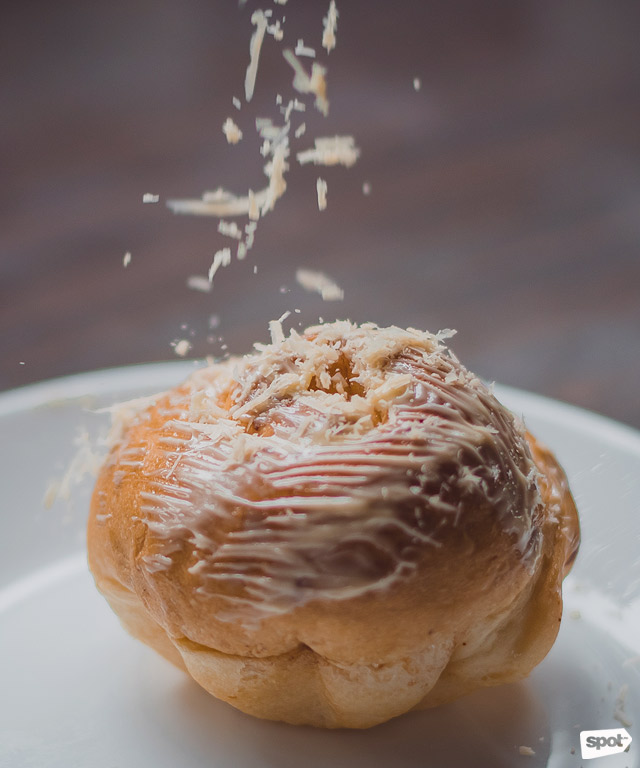 Ensaymada from Panaderia Lola Glo
Childhood classic
Many Filipinos grew up eating ensaymada from the corner panaderia. It's coiled and has a distinct swirl, but not as puffed as the other versions. This is one is dense and compact, and is very much akin to bread. The usual topping is a slight slather of margarine and a generous sprinkling of granulated sugar. Pan de Amerikana's version is mega-sized and has rugged edges. Theirs is also soft and airy, despite using wheat flour for their base.
ADVERTISEMENT - CONTINUE READING BELOW
Pan de Amerikana is at 92 Gen. Ordonez Avenue, Concepcion II, Marikina. For inquiries, contact 475-2398.
Fun-filled
One of the more modern variations of the ensaymada is a bun filled or stuffed with a variety of flavors. The most usual flavors are ube, caramel, and chocolate. But Baby Pat Breads and Pastries infuses their soft and tender bun with more modern flavors including Nutella, Speculoos, Peanut Butter ChocNut, and Salted Caramel. They also offer savory options, including Chinese ham, longganisa, and bacon. Each box of Baby Pat ensaymadas is a treasure trove of colorful gems (each flavor gets its own color-coded wrapping) meant to enjoy the traditional bread with modern sensibilities.
Baby Pat Breads and Pastries is at 124 Stockton Corner Palo Alto, Laguna Bel-Air Subdivision, Santa Rosa, Laguna. For inquiries, contact 0917-790-1127.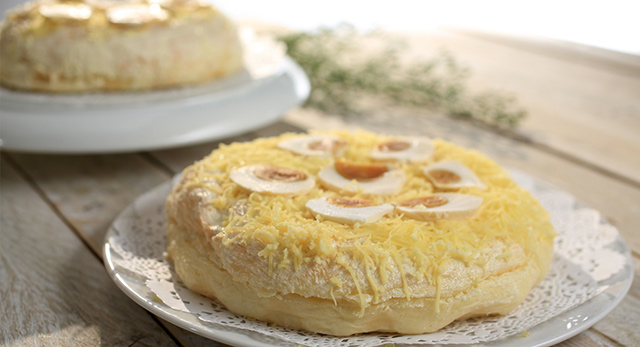 ADVERTISEMENT - CONTINUE READING BELOW
Aristocrat's version of the Bulacan ensaymada
Bulacan's Best
A close cousin to the Pampanga version, Bulacan's ensaymada separates itself from the rest by their choice of topping. It is here that adding Chinese ham on top of each bun became popular. Aside from the salty sliced pork, salted-egg rounds and cheddar cheese are also added to create that distinct sweet-salty balance. The Ensaymada Malolos of Eurobake, Bulacan is compact and structured and generously loaded with toppings. Theirs uses the same recipe since 1945.
Eurobake is at MacArthur Highway, Malolos, Bulacan. For inquiries, contact 0917-533-8250 or (044) 690-2588.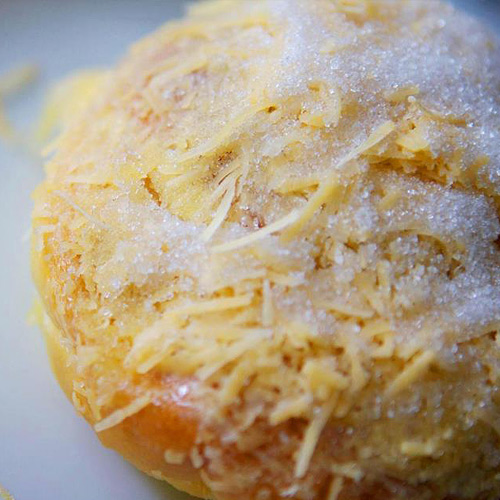 ADVERTISEMENT - CONTINUE READING BELOW
Proudly from Pampanga
Anything made in Pampanga is rich and luscious in taste, and their version of ensaymada is no different. Also called cemada in the province, the ensaymada features flaky layers and tender crumbs, and is a cross between bready and fluffy. Homemade Treasures makes their 1930's original ensaymada with choice ingredients, resulting to a golden-yellow interior. What makes it even more special is the butter found inside and on top, and the generous cheese sprinkled over each bun.
Homemade Treasures is at 184 Manibaug, Libutad, Porac, Pampanga. For inquiries, contact 0928-507-0928 or (045) 323-4149.
This story originally appeared on Yummy.ph. Minor edits have been made by the Spot.ph editors.
Share this story with your friends!
---
Help us make Spot.ph better!
Take the short survey
Load More Stories