How Tigre y Oliva Is Building a Global Name Using All-Local Ingredients
The local brand is gaining momentum with their novel approach to chocolate.
<>
(SPOT.ph) A Pinoy childhood is practically synonymous to anticipating ginormous bags of chocolate in all colors, shapes, and sizes—a staple in any balikbayan box. It was one of those always-reliable pasalubong options whenever someone came home from abroad; in a country so obsessed with sweets, you just knew your gift would end up in someone's treasured snack stash.
But chocolate is universal; loved by people young and old the world over. And in the Philippines, it's now as common a sight in megastores as it is in the corner sari-sari store.
Given the quality of cacao produced locally, it was only a matter of time before more homegrown brands started stepping into the limelight.
You'll see some of the more popular pioneering Filipino brands, like Malagos and Theo & Philo, going head to head with European or American confections at groceries. And while that in itself is worthy of celebration, there's now another player in the local chocolate game that's generating buzz for their fresh approach to this versatile, well-loved treat.
ADVERTISEMENT - CONTINUE READING BELOW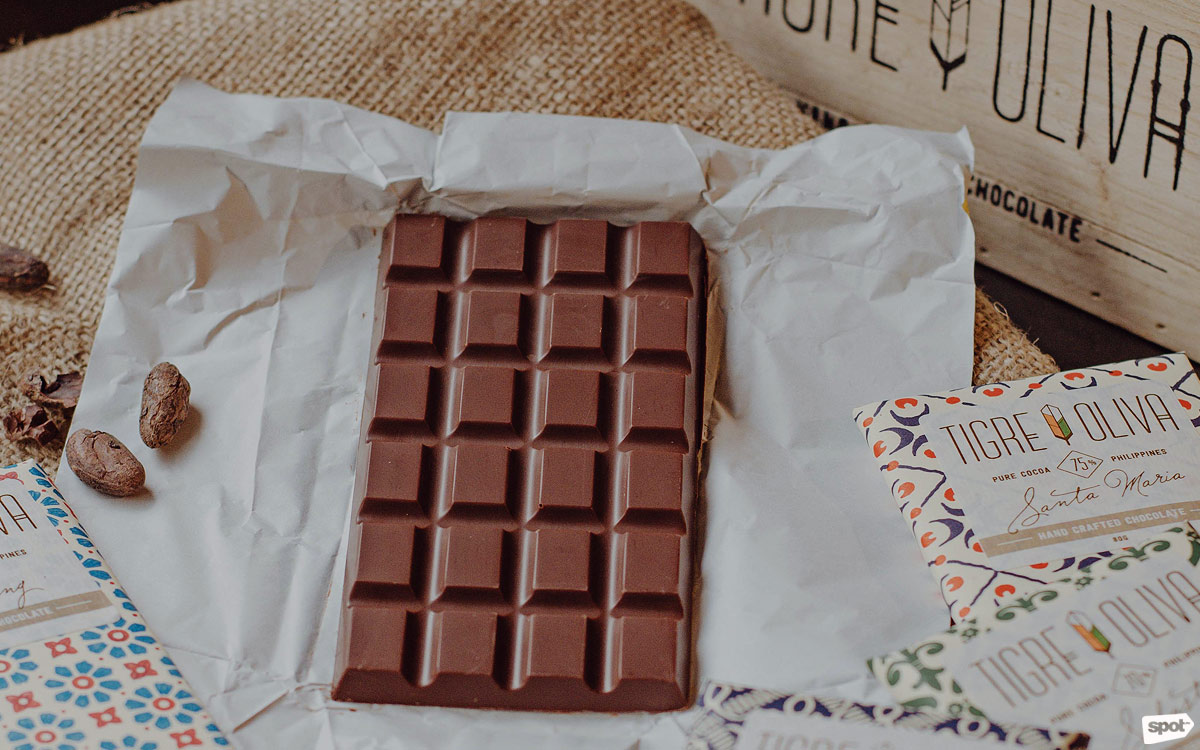 Tigre y Oliva is the first and only Filipino chocolate company to focus on the specific taste profiles of cacao depending on origin—think of it as wine, whose flavor is greatly determined by factors such as terroir (geography and climate) and grape variety. This is the brand's nuanced approach to local chocolate, shedding light on the fact that cacao beans sourced from different areas all have unique and varying tastes and aromas.
It all started with photographer-turned-chocolatier Simone Mastrota. In 2015, the founder of Tigre y Oliva moved to the Philippines from the U.S. to pursue a passion project, which was to make simple, good, no-frills chocolate. "To make good chocolate, you need good ingredients, and the main ingredient is cacao. There's pretty good cacao in the Philippines," he says.
ADVERTISEMENT - CONTINUE READING BELOW
He then met Robbie Crisostomo, who helped him learn the ropes of the bean-to-bar business. Since then, they've been going back and forth to Davao to source high-quality cacao beans. "Rob is an expert in cacao so I found the right person. We decided to be partners; me as a chocolate maker, and Rob with his local connections and experience in cacao farming," says Simone.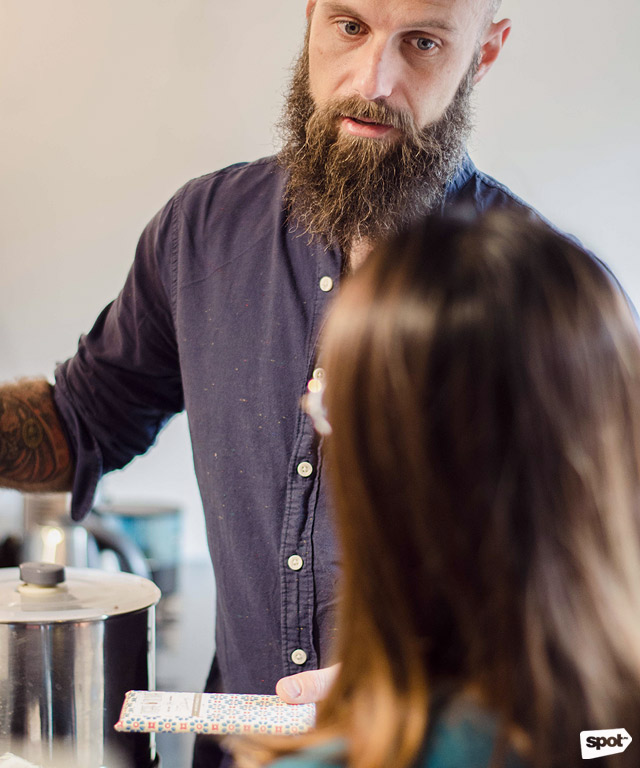 ADVERTISEMENT - CONTINUE READING BELOW
Named after Simone's two daughters, Tiger Lily and Olive, Tigre y Oliva was launched in 2017. He shares: "I'm Italian so I put an Italian version of the name." Although the brand is still in its infancy, Robbie says that soon, they will be bringing the brand to Hong Kong and the U.S. Capturing interest is practically a sure thing, given the brand's eye-catching packaging. The Florentine paper, as they call it, comes straight from Simone's hometown in Italy.
Tigre y Oliva currently has three single-origin varieties: Talandang, Santa Maria, and Subasta. Each kind represents the little community in Davao where they harvest the cacao beans. You might confuse one for another since a chocolate bar is a chocolate bar, but each one actually has a distinctive mix of scent and flavor.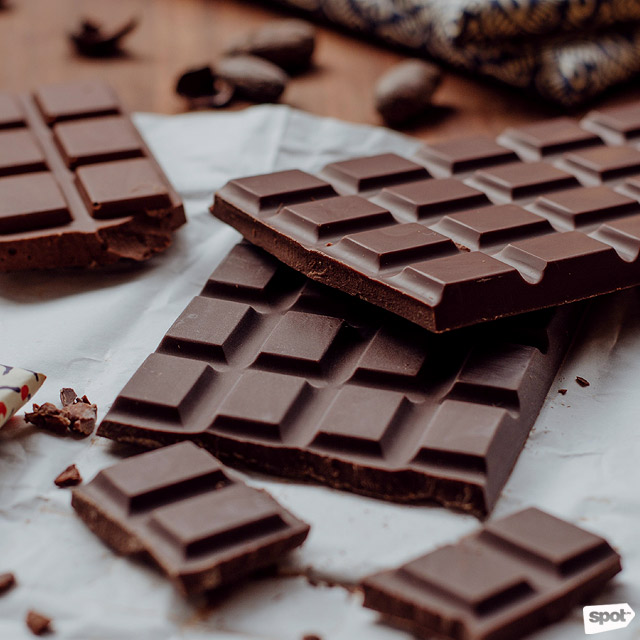 ADVERTISEMENT - CONTINUE READING BELOW
If you want something fruity and well-balanced, grab a bar of Santa Maria, which also has spicy hints of cinnamon and pink pepper. The Talandang, on the other hand, is for people who prefer their chocolate on the slightly sweet and tart side as it has notes of ripe fruit and raisins. Meanwhile, adventurous chocolate fans would love the Subasta, which has a well-rounded nutty flavor followed by an earthy mushroom note, as well as impressions of green tea and dry red wine.
Simone explains, "A few couple of hundred kilometers makes completely different flavors. Variety, sun exposure... [Chocolate is] completely like wine. That's our approach [to] chocolate—we want to show the flavor and uniqueness of the cacao from each place."
Although cacao can potentially grow anywhere in the Philippines, Simone, Robbie, and their partners decided to start in Davao for its more established tradition of cacao farming. Cacao is mostly cultivated in tropical areas, which is one reason why cacao is imported from South America, Africa, and Asia.
ADVERTISEMENT - CONTINUE READING BELOW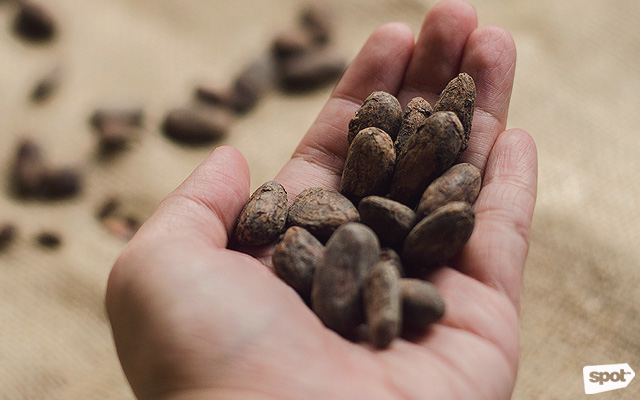 "It makes a lot of sense to make your chocolate in the place where you're growing the cacao," Robbie adds. "It's a trend that's hopefully going to get bigger and bigger all over the world."
If you look closer, Tigre y Oliva's chocolates are mainly made up of only two elements: Organic cacao and raw sugar. Their cacao is roasted lightly, allowing the beans to better keep their original flavors. "When you look at the ingredients of any commercial chocolate, the cacao isn't even the first ingredient. Most of it is sugar, butter, vanilla, and a lot of preservatives," Simone says.
ADVERTISEMENT - CONTINUE READING BELOW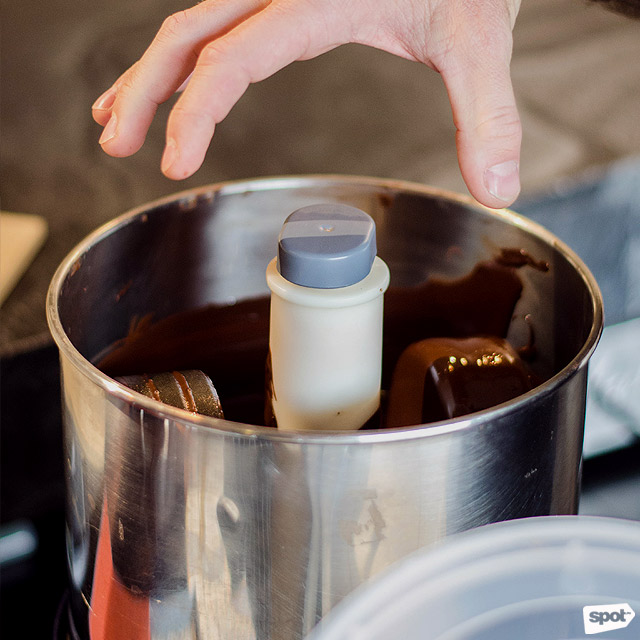 Their chocolate is composed of 70% to 75% organic cacao. "We think it's a good percentage of cacao. It's not too aggressive and it's still kind of sweet," adds Simone. "Cacao is a superfood. If you eat four bars in one sitting, you still have less sugar than if you drink a can of soda. We make chocolate that we can feed our children and not feel guilty."
ADVERTISEMENT - CONTINUE READING BELOW
They recently made a fourth kind that's infused with local coffee nibs. In fact, the coffee beans are roasted from El Union Coffee in La Union, which Simone shares are his neighbors in the surf town.
Now, Simone regularly flies to his home country to expand the business' horizons and improve his craft and technique. "There's a long chocolate history in Europe and I want to get as much knowledge as possible to make the brand better," he says.
Their goal to create a global brand using all-local ingredients doesn't seem too far-off; Tigre y Oliva makes about 1,000 to 2,000 chocolate bars each month. "We're trying to grow organically from a small production in La Union. Now, we have a little lab in Makati and hopefully the lab is going to get bigger next month."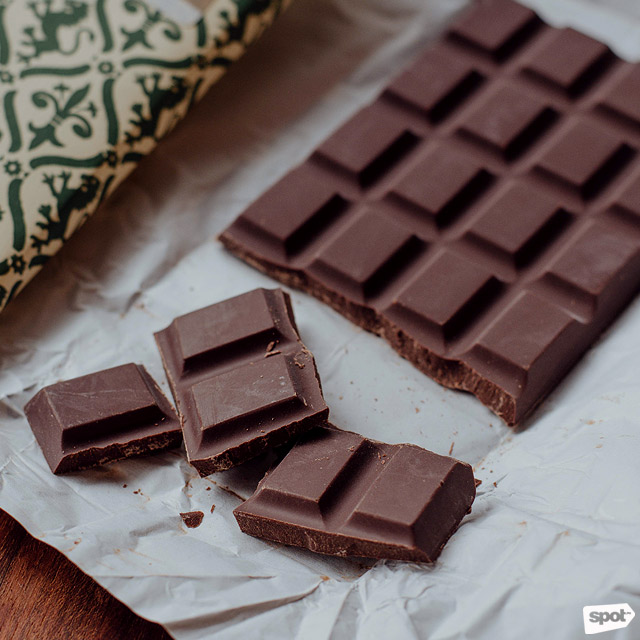 ADVERTISEMENT - CONTINUE READING BELOW
Cacao has been a part of Filipino culture for centuries, having been first brought here during the Galleon Trade. "For people in the Philippines, cacao was always seen as a backyard crop where your grandmother would have a tree in the back. In the province, they would each have a cacao tree but never really a large plantation, except for maybe in the '50s where Americans planters started planting it in Davao or Mindanao," shares Robbie.
"Cacao farming died down in the '80s and '90s for several reasons like pest and disease, commodity price crashes, and a multitude of other factors. But 10 years ago, there was a resurgence of interest. So the industry's been slightly growing again." The dream is that as the local cacao industry grows, so too would the appreciation for the hard work that goes into producing handcrafted chocolate.
ADVERTISEMENT - CONTINUE READING BELOW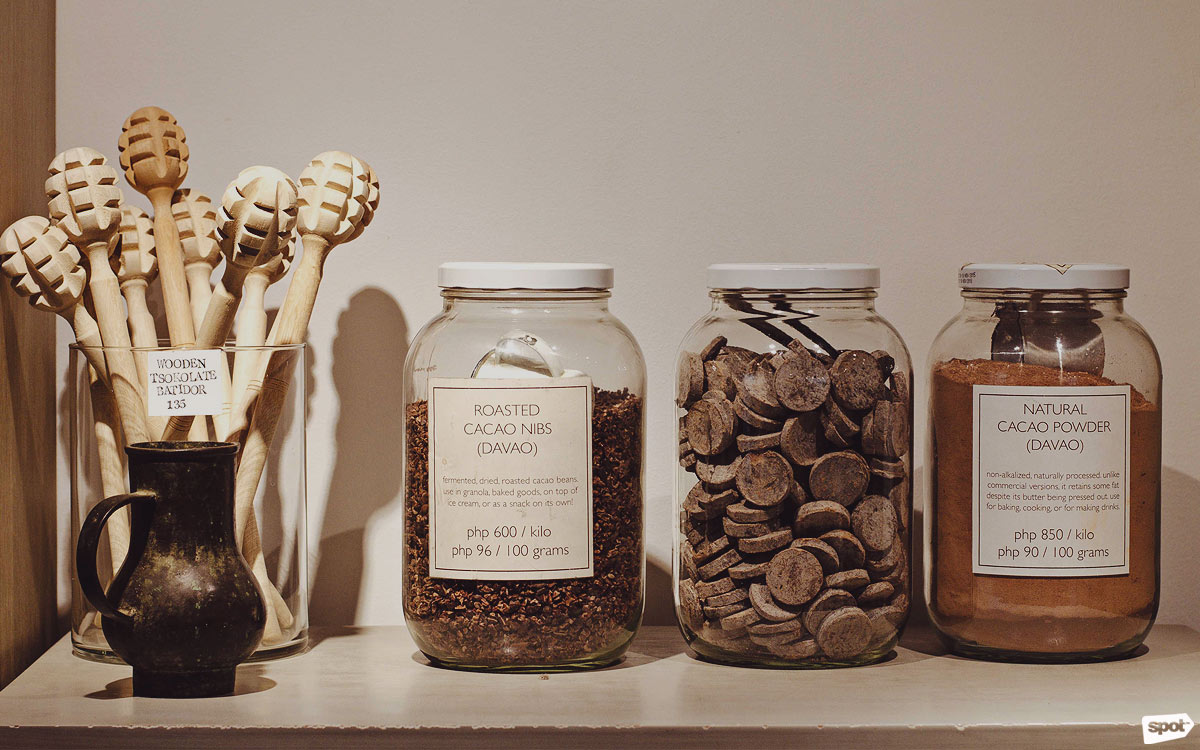 On this particular day, roasted cacao beans and crushed chocolate are lined up on the counter for an impromptu taste-test in Tigre y Oliva's makeshift Makati lab. On one side of the room, Simone demonstrates how to make chocolate with a mini stone grinder. As the aromas of chocolate waft into the air, Robbie asks, how far can you push quality and craftsmanship? Is it until chocolate becomes a culture, like coffee and wine? Well, no one knows for sure, but perhaps it's when you know that good chocolate is the kind you can finally find right at home.
Photos by Marikit Singson
For more information, log on to Tigre y Oliva's Facebook page.
ADVERTISEMENT - CONTINUE READING BELOW