The Podium's New Food Hall Is the Answer to Your Lunchtime Indecisiveness
Say goodbye to the age-old question: "San tayo kakain?
The Corner Market
2/F The Podium, 12 ADB Avenue, Ortigas, Mandaluyong City
Open from 11 a.m. to 10 p.m. (Monday to Thursday) and 10 a.m. to 10 p.m. (Friday to Sunday)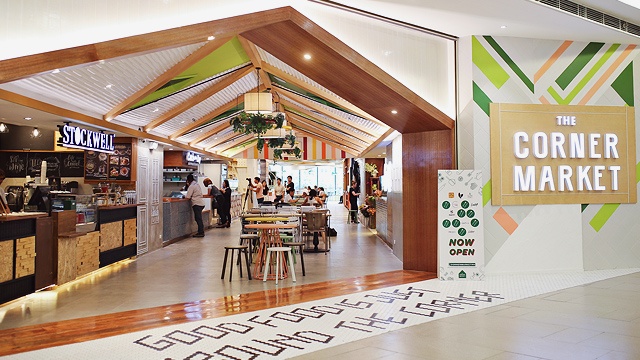 (SPOT.ph) The Podium just underwent a facelift, and together with the sleek interiors and new shops comes a food hall that'll make dining in the Ortigas area more exciting. The Corner Market is currently on soft opening but it's already as busy as ever—looks like the office crowd, and many more, have embraced the concept with open arms.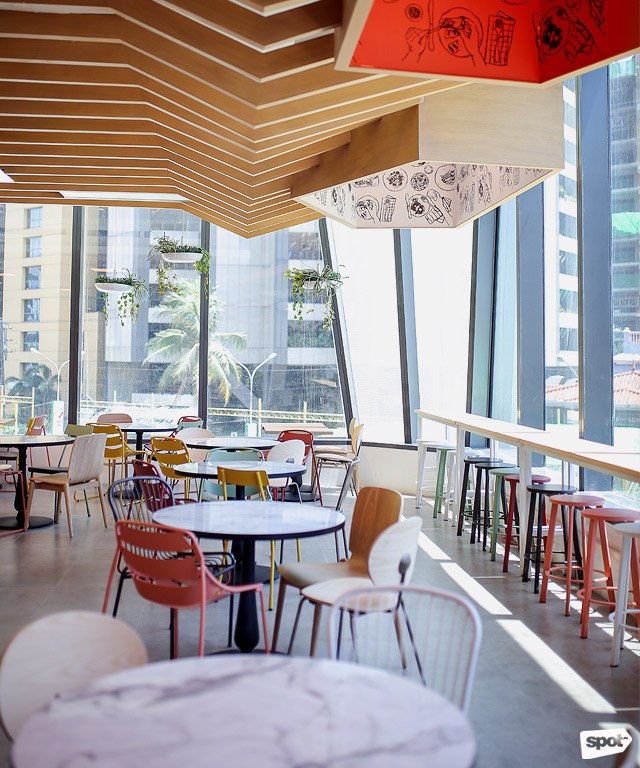 ADVERTISEMENT - CONTINUE READING BELOW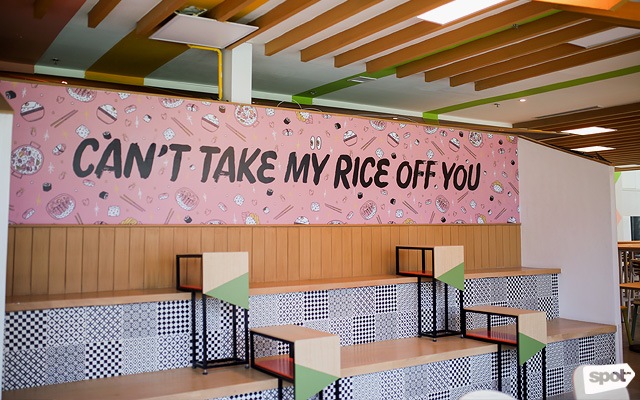 It isn't hard to see why one will feel attracted to the sun-lit area. Designed by architect Denise De Castro and DDC Architectural Studios, the food hall is easy on the eyes, with a pastel-yellow color scheme and light wood fixtures. Come by right before noon, and grab a seat by the floor-to-ceiling windows with the generous sunlight streaming in and a good view of the bustling neighborhood. Open and inviting, The Corner Market easily stands out from, well, its corner of the mall.
"We'd always wanted to put together a farmer's market," shares Linfred Yap, whose Relish Group is behind The Corner Market. "Whenever I go abroad, I visit places like this—Queen Victoria, Boqueria, Mercado de San Miguel. They're very local sorts of places, and what's nice about them is they allow you to taste different styles of cooking. So that's what I wanted, but in a mall setting. It's air-conditioned, comfortable, and aesthetically pleasing. It's like a leveled up weekend market."
CONTINUE READING BELOW
Recommended Videos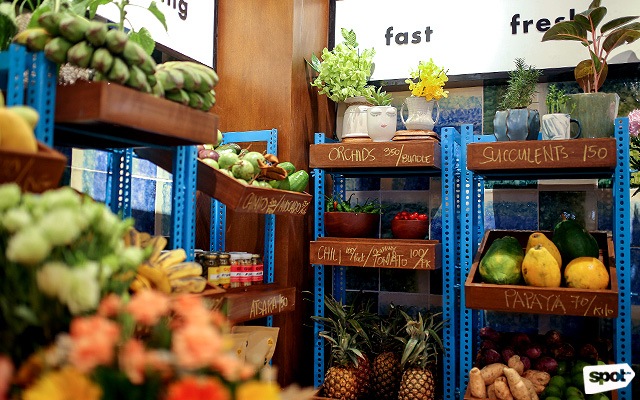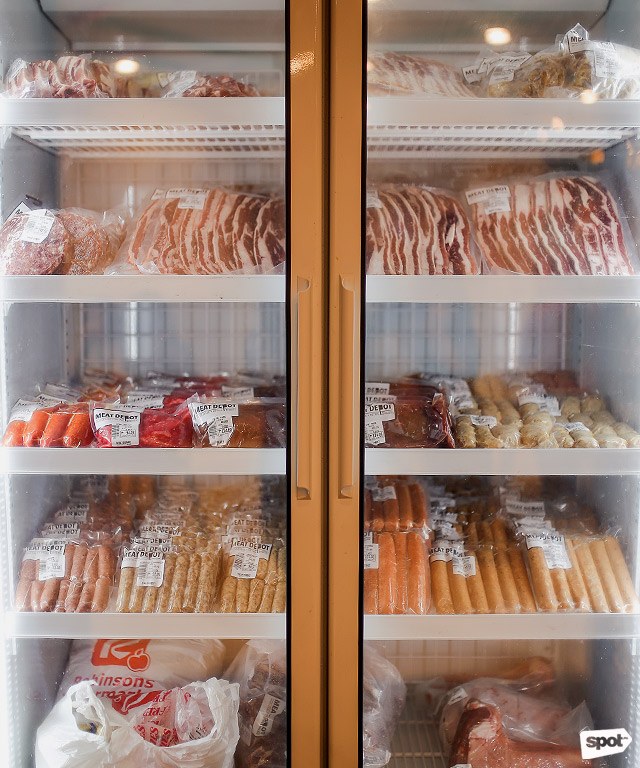 Choose pork or beef to be cooked on the spot at The Meat Depot
A farmer's market means fresh produce, and The Corner Market has that a-plenty, care of The Meat Depot, Fresh Catch by Cold Storage, and Gusto. The rest of the tenants are a good mix of underrated eateries and long-time favorites. "Our merchants are a little bit of everything," says Linfred. "We also like to think of ourselves as an incubator for small businesses. We help them with branding and design, and maybe one day, they can put up their own mall space, too."
ADVERTISEMENT - CONTINUE READING BELOW
The Corner Market has 17 tenants in total, so you can conceivably eat here every day and never get bored. Almost all of them will be open by March 22, Thursday, except for Pizza Morena and Sari Salo.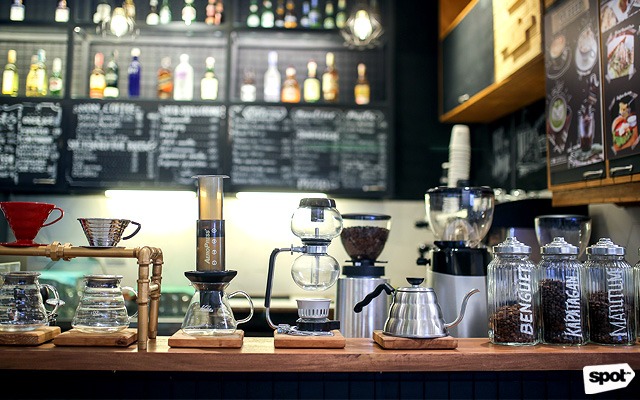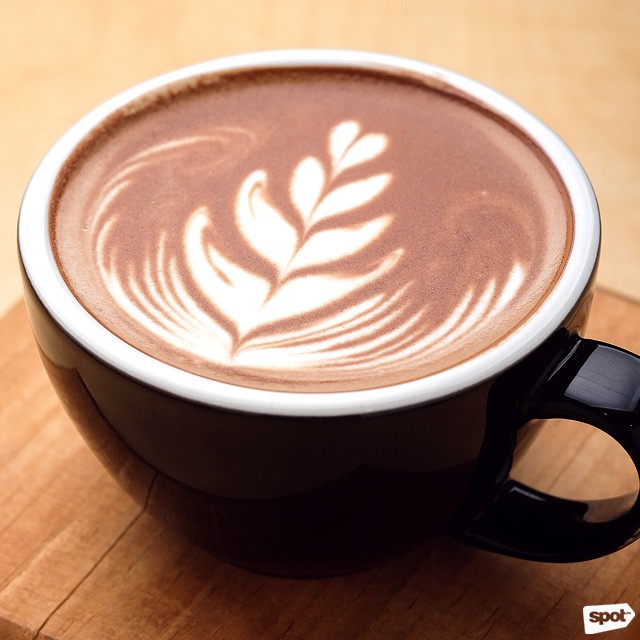 Mocha
This cozy hideaway along Tomas Morato in Quezon City finds another home at The Corner Market. Owner Sherwin Choy shares that this outpost can be considered "an express version" of the café, though they carry the same menu as their full-scale branch. Which means, you can have your beans prepared using any of their alternative brewing techniques, or you can also opt for a classic Mocha (P120/hot, P130/over ice), with sweet chocolatey notes. They also offer hearty meals, like the Chicken Cordon Bleu (P220), practically oozing with cheese.
ADVERTISEMENT - CONTINUE READING BELOW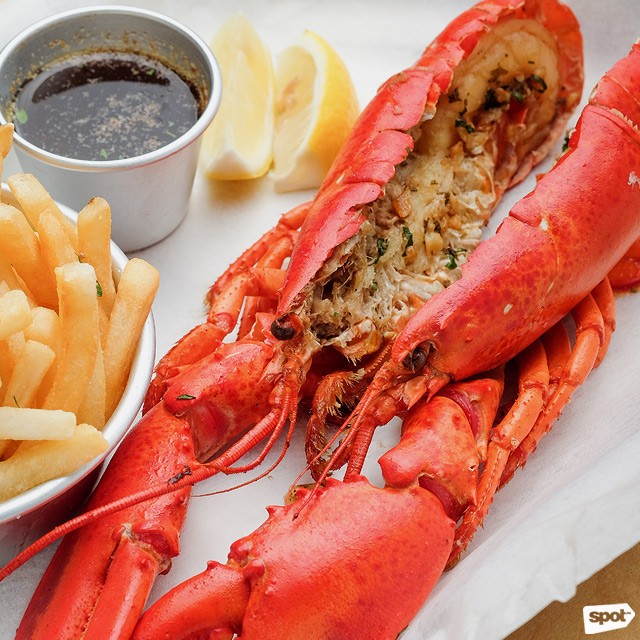 Maine Lobster
Fresh Catch by Cold Storage
How about Maine lobster for lunch? No, you don't need to head to a fine-dining restaurant for fresh lobster, and other seafood—you can have your fix at The Podium, instead! Fresh Catch by Cold Storage carries a fine array of seafood, like Maine lobster, a whole yellowfin tuna, scallops, and more. Plus, for a fixed cooking fee of P120, you can have your seafood cooked on the spot, whichever way you want.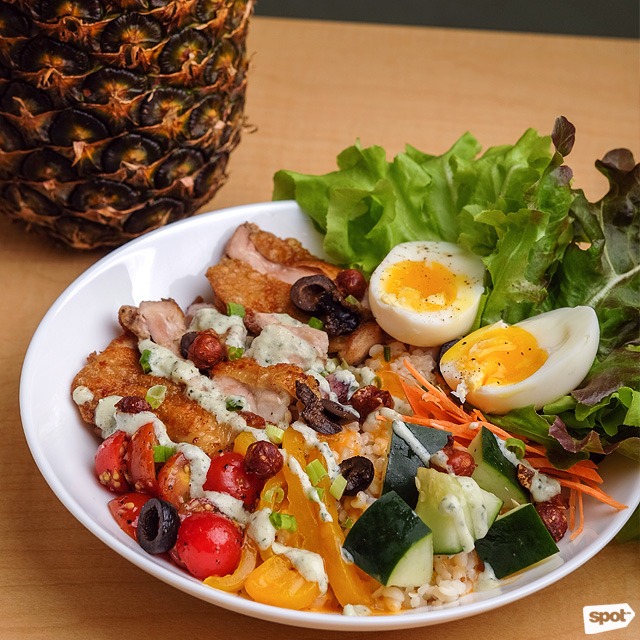 ADVERTISEMENT - CONTINUE READING BELOW
Lemon Yogurt Bowl with Chicken and Adlai
Gusto!
Right by the entrance of The Corner Market is an area that's literally in full bloom with fresh flowers. This is Gusto's corner, the food hall's resident salad bar. All the produce comes either from El Dorado Farms, an all-organic farm and local farmer partners. The shelves of produce, which owner and managing partner Pia Ojeda calls "their open pantry," is full of seasonal fruits and vegetables that they use in their salads and bowls, like the Lemon Yogurt Bowl (P250), a wonderfully tangy bowl of tomatoes, olives, cucumbers, spiced chickpeas, roasted peppers, greens, and your choice of grain and protein. The chicken works particularly well with the citrus of this bowl's sauce, and Pia recommends getting the adlai, a gluten-free grain grown in Mindanao that tastes just like, if not better, than white rice.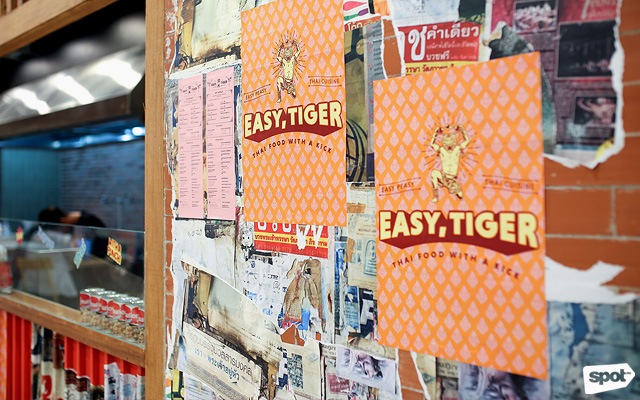 ADVERTISEMENT - CONTINUE READING BELOW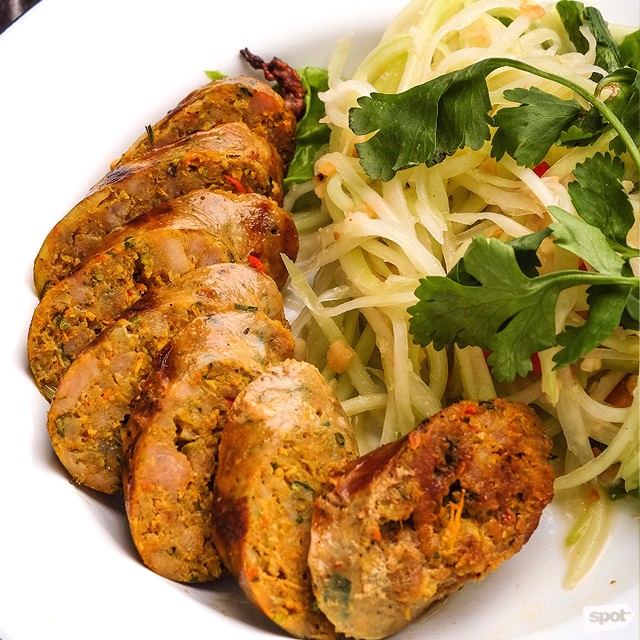 Grilled Thai Sausage
Easy, Tiger
From the owners of Jatujak Thai Resto and Tamarind comes Easy, Tiger, which you can consider the cooler younger sibling of the two Thai restaurants. Branding by Serious Studios gives Easy, Tiger a rugged, rough-around-the-edges look, and the food is not only tasty but easy on the pocket, too. Owner Al Purugganan shares that he wants to introduce Filipinos to lesser-known Thai dishes, like the Grilled Thai Sausage (P160), full of peppery goodness, and the Sate Bacon Belly (P180), with the familiar curry-like flavors in a more succulent form. The best part is the prices include Tom Yum broth, Green Papaya Salad, and steamed rice, which you can upgrade to bagoong rice for an additional P15.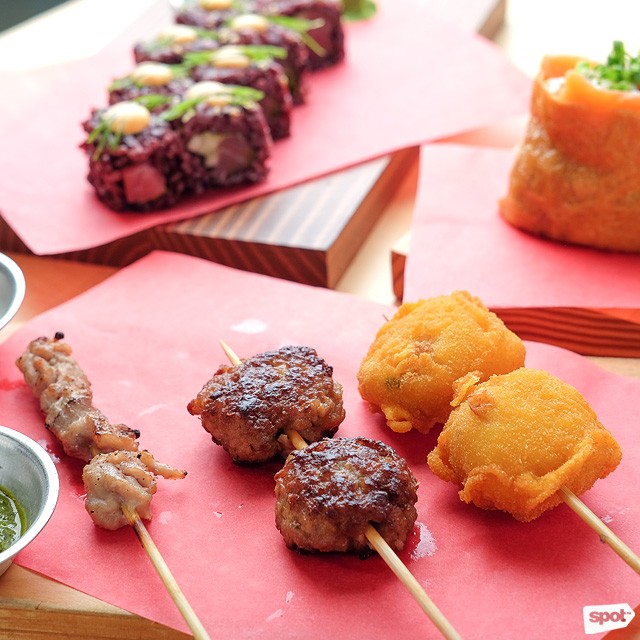 ADVERTISEMENT - CONTINUE READING BELOW
Kushikatsu and Kushiyaki
Inari by Hamaru
If you're one of those who miss Hamaru at The Food Hive, you'll be glad to know they have an off-shoot of the Japanese restaurant at The Corner Market. At Inari by Hamaru, their focus is on the Inari Sushi, made by stuffing sushi rice in deep-fried tofu pockets, a traditional offering to Inari, the Shinto god of fertility, agriculture, and foxes. At Inari by Hamaru, they stuff tofu pockets with black sushi rice and an assortment of toppings—the Salmon Submarine (P195) has buttery slivers of salmon plus a light Japanese mayonnaise and fresh finely-chopped onions. They also offer Kushiyaki (grilled skewers) and Kushikatsu (fried skewers). The Liver Pate Kushikatsu (P25/stick) is surprisingly wonderful, with the smooth texture of the savory pate going well with the crunch of the breading.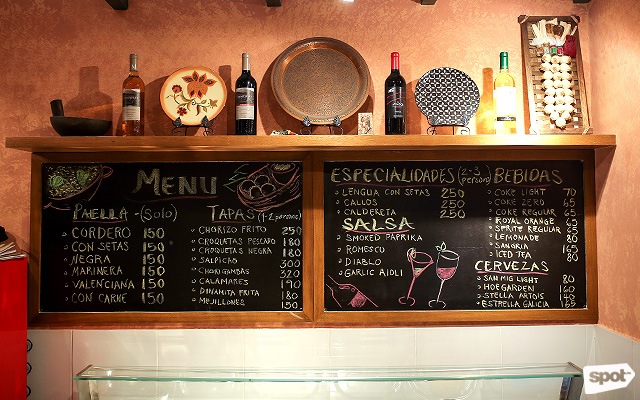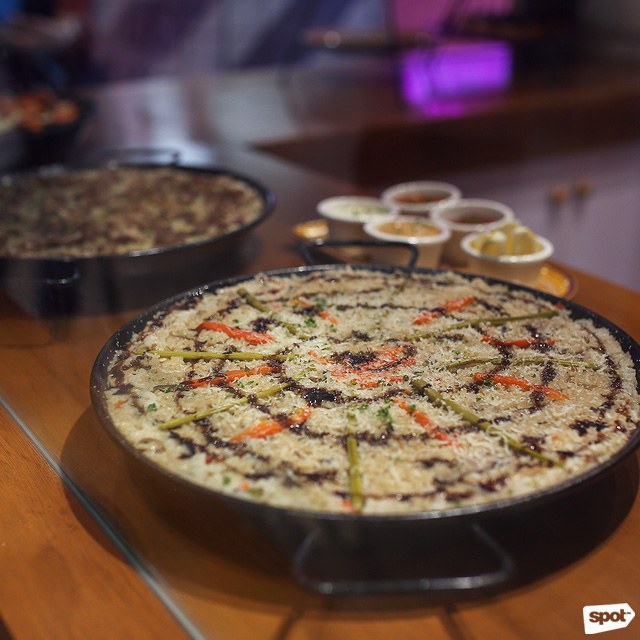 ADVERTISEMENT - CONTINUE READING BELOW
Cordero
Barcelon de Calderon
The perfect stress reliever at the end (or even in the middle) of a particularly stressful day at work is a glass of sangria and some tapas, and on that note, trust Barcelon de Calderon to deliver. This outpost of Spanish restaurant Calderon is all about quick-service, but with food at the same high quality they've always been known for. Paella here comes in single-servings, and in miniature cast-iron pans, too. While the classic Valenciana (P150) will always be a favorite, watch for their seasonal paella variants, like the Cordero (P150) with lamb and a fresh pesto sauce. Tapas in individual servings are also available; don't forget to pair with a glass of sangria (P165).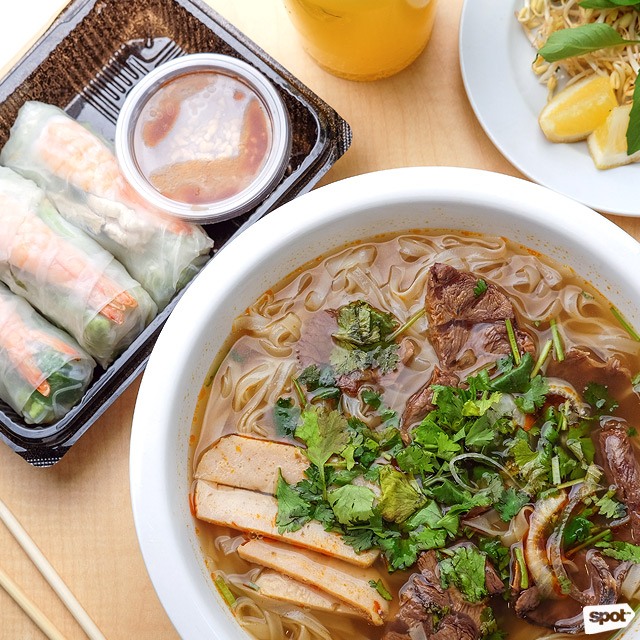 Pho Bo Kho and Goi Cuon
Looks like you don't have to get lost in Marikina City anymore to have some of this neighborhood joint's homey Vietnamese fare. Ca Phe Saigon offers the same menu of classic favorites cooked up by Vietnamese owner Mary Rose Bonifacio. The Goi Cuon (P220) are fresh and filling, and can be had in handy take-out containers for those busy work lunches. If you have time to sit down, have a hearty bowl of their Pho Bo Kho (P200/regular, P320/special), with beef bones simmered into a broth with seven different kinds of herbs for a full-bodied meaty flavor. The best part about Ca Phe's first outpost is how they've managed to keep their small-town charm—they even have an indoor vertical garden where you can cut fresh basil to go with your pho.
ADVERTISEMENT - CONTINUE READING BELOW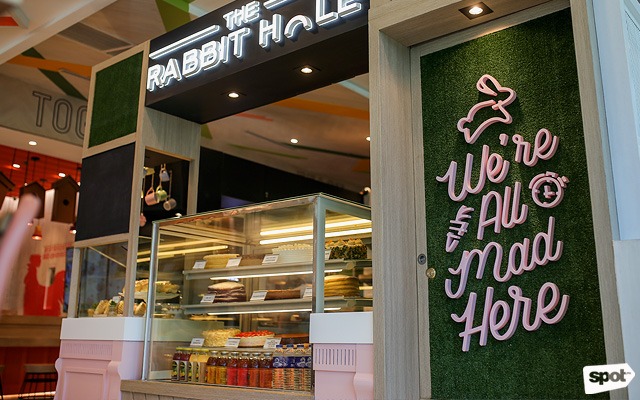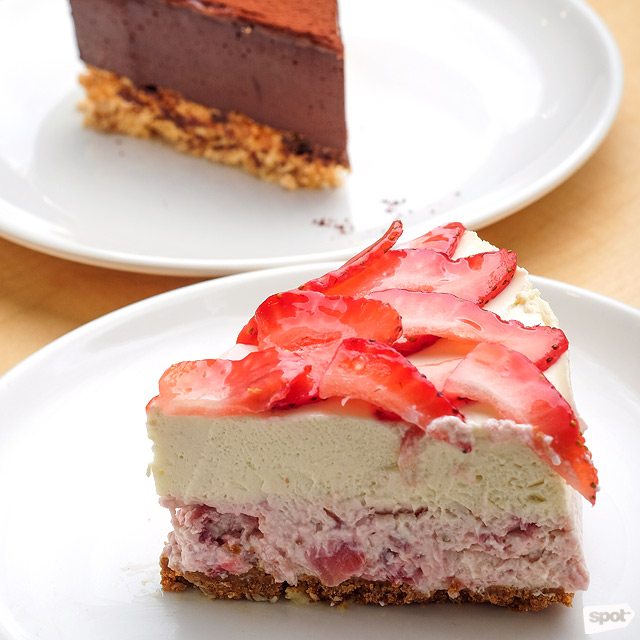 Strawberry Cheesecake
The Rabbit Hole
This charming café from San Antonio, Makati City pares down their menu to just their cakes for The Corner Market, but they're enough to win your heart. Their Brazo de Mercedes (P70/slice) is tall and airy like a cloud, with generous layers of caramel and custard, the crunch of crushed hard caramel on top to offset all the softness. They also carry Keto diet-friendly cakes, though you don't need to be on a diet to have their Strawberry Cheesecake (P1,500/whole), with lots of fresh strawberries and a pudding-like strawberry cheesecake layer that's full of fruity sweetness.
ADVERTISEMENT - CONTINUE READING BELOW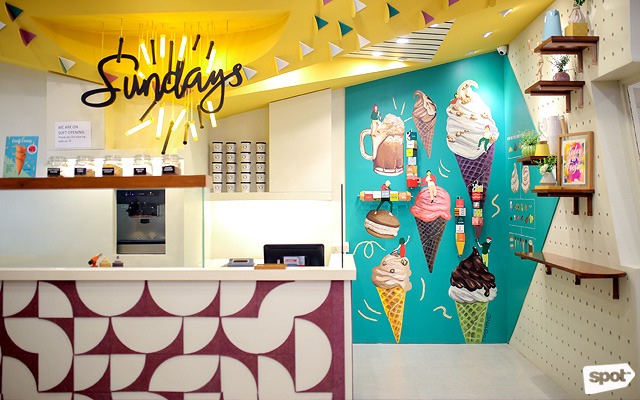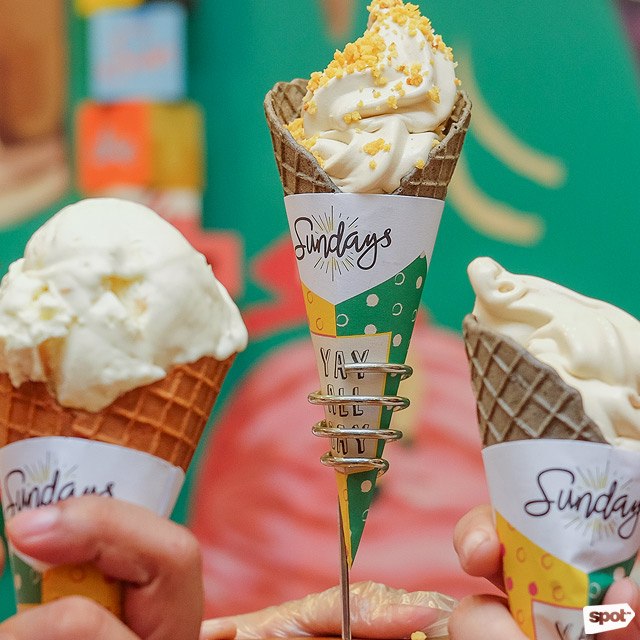 Soft-Serve Ice Cream
Sundays by Merry Moo
With an eye-catching pastel mural and interactive art, Sundays by Merry Moo is already looking to be the new Instagram favorite. But there's something more important to check out here: Flavored waffle cones (add P25)! Owner Kelvin Ngo shares that they roll their waffle cones, which come in six flavors, by hand. The cone flavors are just as fun and eccentric as their ice cream: Caramel, Black Sesame, Coconut, Green Tea, Sweet Corn, and Ube. Also not to be missed are their newest cool addition: Soft-Serve Ice Cream (P105). Currently, it only comes in butter polvoron, which tastes like a sweeter, richer, vanilla.
ADVERTISEMENT - CONTINUE READING BELOW
Photos by Majoy Siason
Share this story with your friends!
---
Help us make Spot.ph better!
Take the short survey
Load More Stories