You Should Know About This Taco Shop's Very Cheesy Multi-Colored Nachos
A taste of Peru and Argentina awaits at Yuca.
Yuca
G/F Venice Grand Canal Mall, McKinley Hill, Taguig City
Open from 11 a.m. to 11 p.m. (Monday to Thursday) and 10 a.m. to 11 p.m. (Friday to Sunday)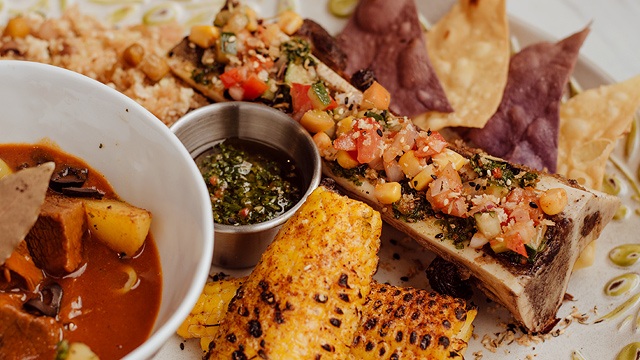 (SPOT.ph) It's a feast for the eyes—colorful tortillas with mounds of chili con carne, rows of sliced beef over silky mashed potatoes, paella negra sprinkled with all sorts of spices. Dips and sidings surround the big plates, further spicing up the mouth-watering sight on the table. Sometimes, the food's lively colors are enough to whet one's appetite, as these South American dishes at Yuca show.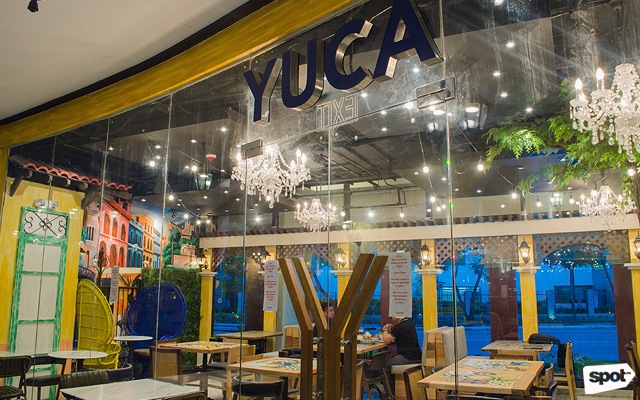 ADVERTISEMENT - CONTINUE READING BELOW
The food tastes as good as they look. Yuca distinguishes itself with a more extensive and traditional menu compared to other Latin restaurants. "We noticed that cuisines without borders are the trend for most restos recently," says marketing head Cyrus Cruz. "They just focus on the different tastes and techniques from a certain region. That's what we're doing here at Yuca." The focus is on Peruvian and Argentinian cuisine, a tricky endeavor considering the wealth of influences that defined the regions' culinary scenes.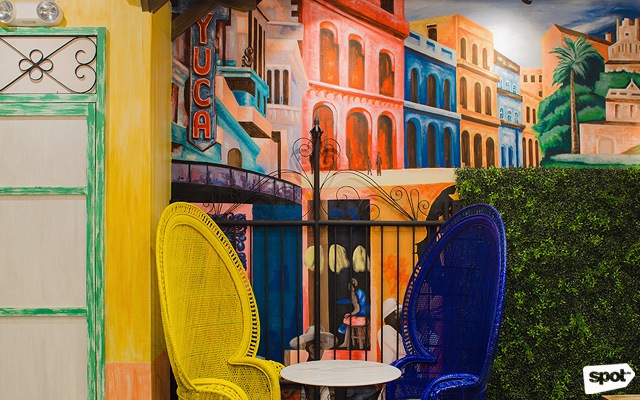 Nevertheless, the recipes made by Chef RJ Ungco capture the spirit of South American cuisine while tailoring them to the Filipino palate, with most of the ingredients made in-house to assure their freshness and quality.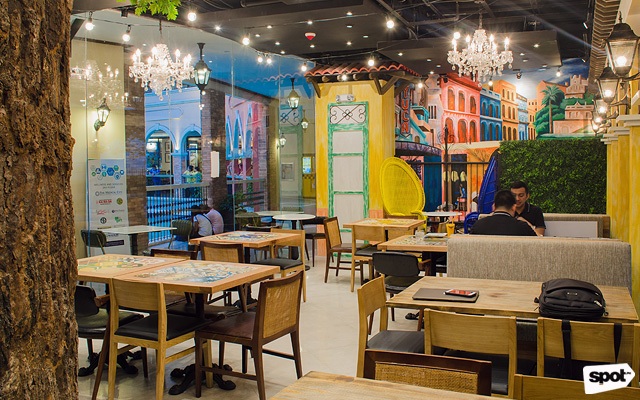 CONTINUE READING BELOW
Recommended Videos
"Yuca" basically means "cassava." It was chosen because the restaurant uses the root crop as base for most of the menu items. "We wanted to veer into something more unique that still retains the flavorful Latin American palate," says Cyrus. The soft tacos and the churrascaria or grilled meats are the surefire attractions, with the latter offering a choice of lamb, beef, or sausages for diners.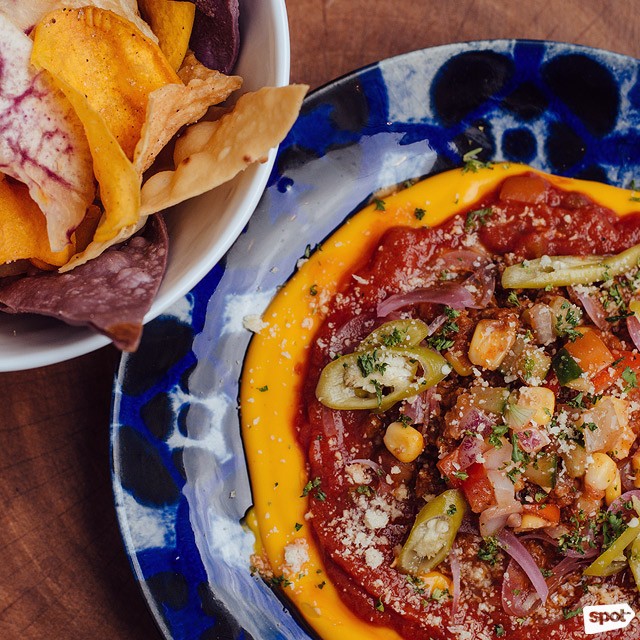 Tio Romy's Nachos
But before diving into the main courses, sampling the Tio Romy's Nachos (P250) is a good place to start. Its presentation separates it from your usual nacho fare, as the sauce—a thick spread of cheese and marinara sprinkled with pulled beef, onion confit, pickled jalapeños and corn salsa—is served separately from the chips. This allows the chips, which uses a mix of potato, purple yam, cassava, and squash, to retain their crispiness and encourage you to reach for more.
ADVERTISEMENT - CONTINUE READING BELOW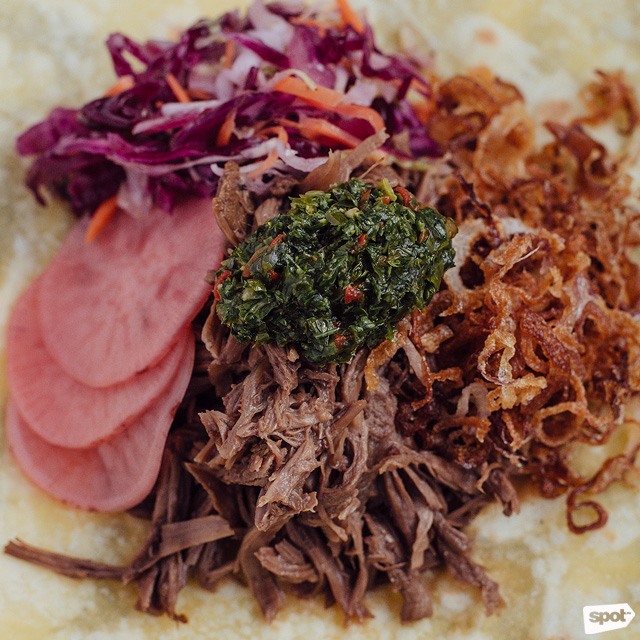 El Bigote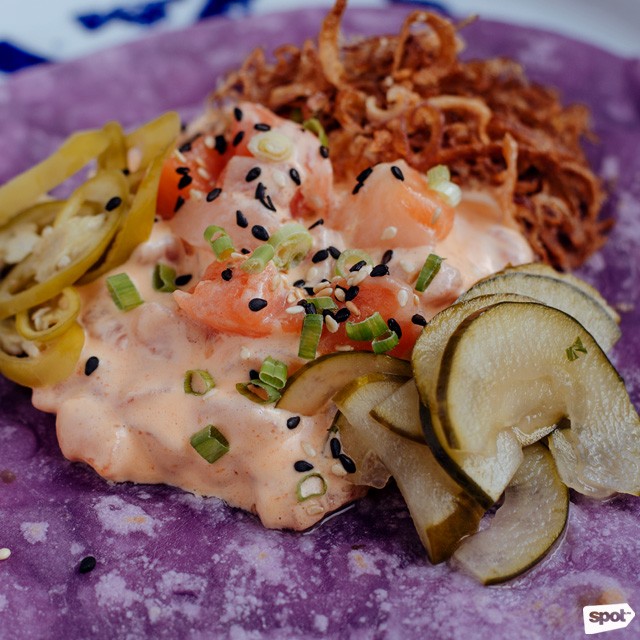 Pink Taco
Yuca offers three kinds of soft tacos with a twist: The Pink Taco (P185) dazzles with its appearance alone, flaunting a purple yam tortilla to wrap the chunks of fish and side veggies. The chewiness of the tortilla contrasts well with the soft pink salmon that's served with cucumber slices, chopped chili, and fried onions to provide some crunch in between. Meanwhile, the El Bigote (P179) got its name from beef barbacoa, with savory pulled-beef pieces waiting to be wrapped in a flour tortilla.
ADVERTISEMENT - CONTINUE READING BELOW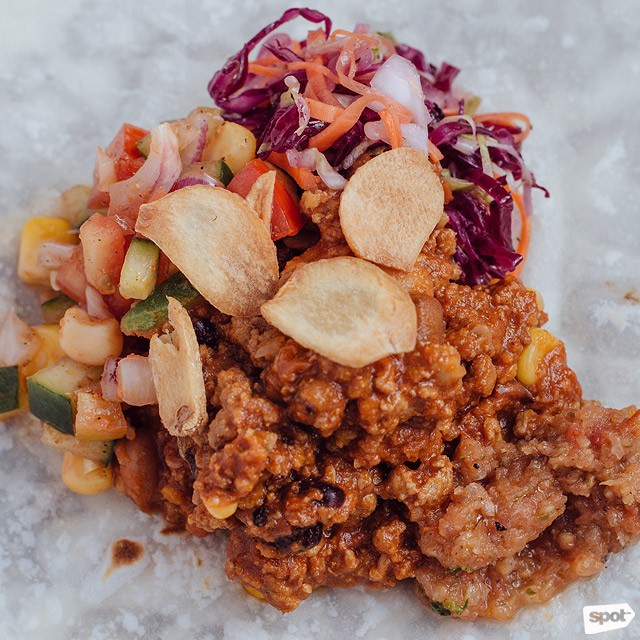 Chili Con Taco
The Chili Con Taco (P99) sees your favorite chili con carne paired with corn salsa, Yuca's signature slaw, salsa verde inside a green scallion tortilla. Diners are advised to mix the fillings before folding over the tortilla to let the flavors meld.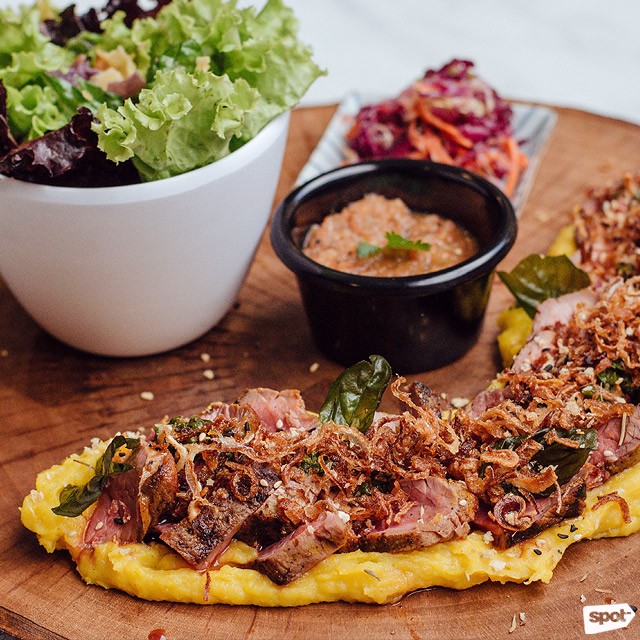 Bistec El Yuca
Those looking for their fix of churrascaria should try the Bistec El Yuca (P667), a generous serving of grilled beef loins resting on a bed of mashed sweet potatoes. The meat is tender, and the sprinkled chimichurri helps tone down the beefy flavor. The way the meat's red and brown hues contrast with the mashed patatas is appetizing, and the greens freshen up the whole plate. 
ADVERTISEMENT - CONTINUE READING BELOW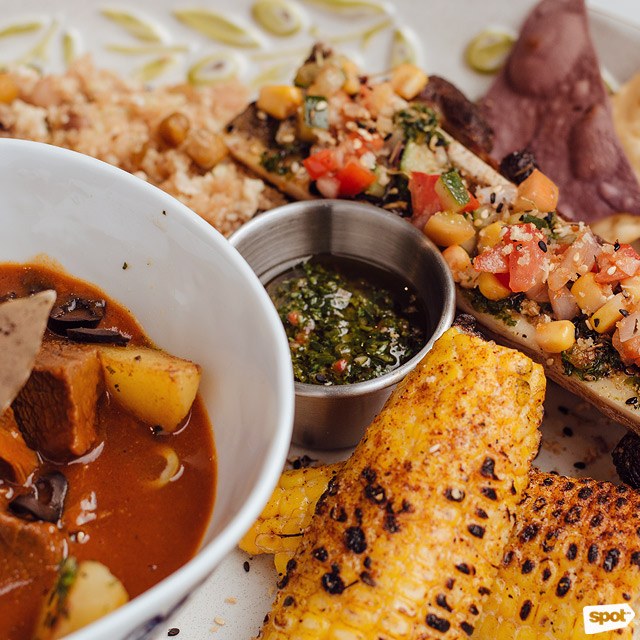 Yuca Beef Stew
Another must-try is the Yuca Beef Stew (P620). The plating, as is the case with most of Yuca's dishes, is a joy to behold. Chips and roasted corn flank the bone marrow, which is seasoned with chopped tomatoes and corn kernels. The stew is thick as much as the braised beef is soft, with just the right amount of sweetness teasing the tongue with every spoonful.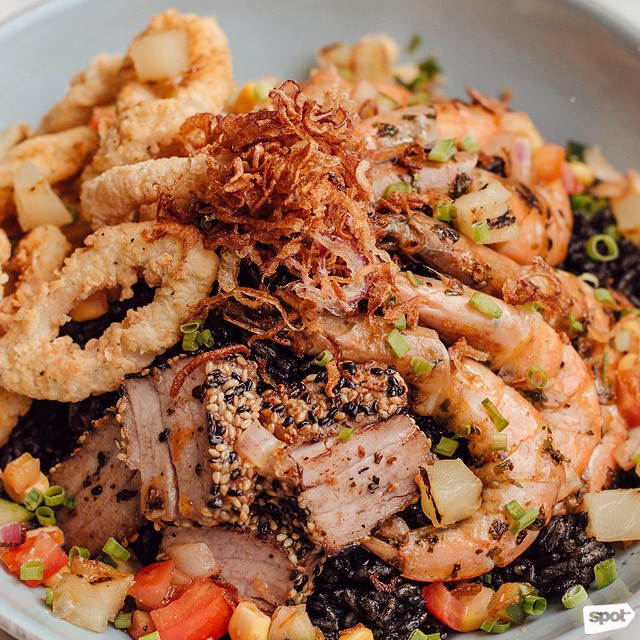 Arroz Con Mariscos
ADVERTISEMENT - CONTINUE READING BELOW
The Arroz Con Mariscos (P395) is Yuca's take on the paella negra. Sautéed shrimps, crispy calamari, and tuna tataki lie on a bed of squid-ink rice, while corn salsa, grilled pineapples, chopped scallions, and crispy onions liven up the taste and presentation of the dish.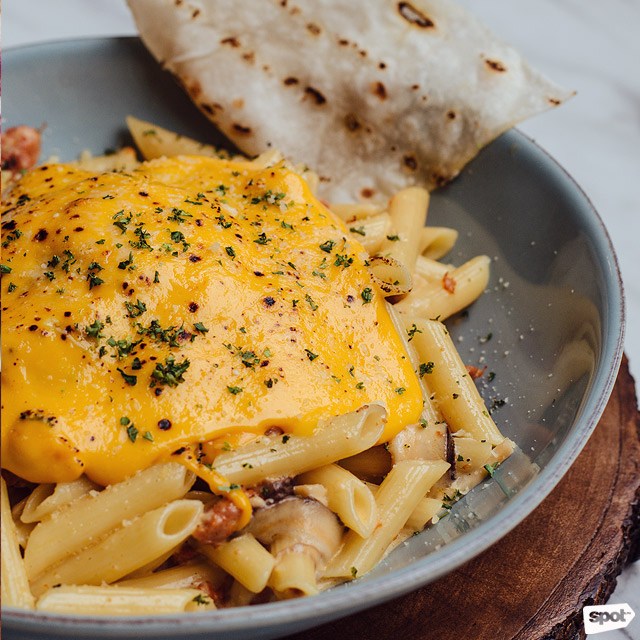 Baked Zitti and Chorizo Cream Cheese
Seemingly out-of-place in the menu is the Baked Zitti and Chorizo Cream Cheese (P385), a dish you'd expect more from an Italian restaurant. A cream-cheese blanket is smothered over a plateful of penne, with bits of chorizo and chicken providing the Latin American twist it needs. You can wrap some of the penne in a tortilla, if only to experience eating this dish in a different way!
The festive appeal of Yuca's dishes spreads to the interiors as well, so diners are immersed in a colorful environment that enhances the experience. Only adding to the joyful atmosphere is the wide selection of drinks and spirits that diners can enjoy, from craft beer to native drinks from Central America. After the whirlwind of flavors of Yuca's dishes, a cold drink is perfect to wash them down so you could try more dishes off the menu—something we're sure you're going to do again and again.
ADVERTISEMENT - CONTINUE READING BELOW
Photos by Marikit Singson
Share this story with your friends!
---
Help us make Spot.ph better!
Take the short survey
Load More Stories