Sneak Peek: What Should You Order at the New Kam's Roast in Manila?
Hint: Lots of roast pork!
Kam's Roast
3/F SM Mega Fashion Hall, Ortigas, Mandaluyong City.
Open daily from 10 a.m. to 10 p.m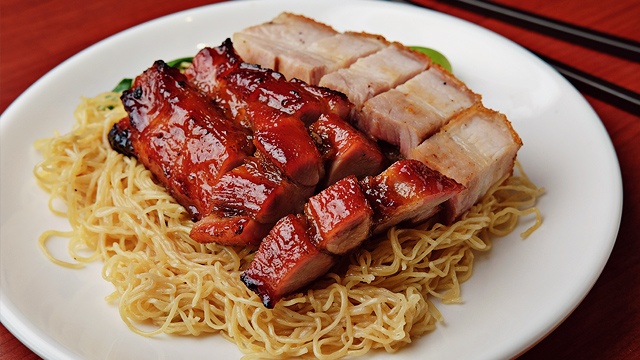 (SPOT.ph) A window display of Chinese-style roasts is a usual sight on the streets of Hong Kong or even Binondo—not so much inside a mall. But Kam's Roast is going to change all that, with their beautiful spectacle of succulent meats at SM Megamall.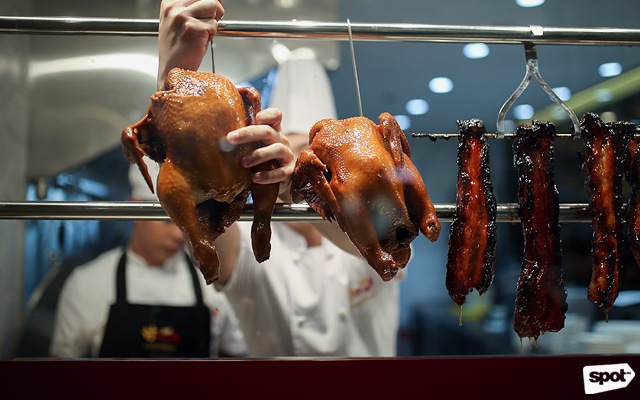 ADVERTISEMENT - CONTINUE READING BELOW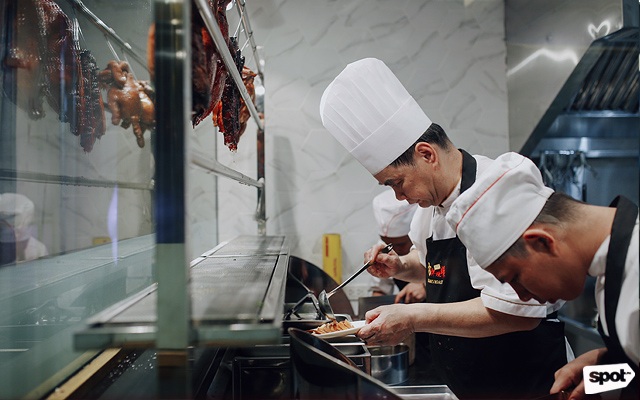 CONTINUE READING BELOW
Recommended Videos
This window is the only hawker stall-like element to this Cantonese restaurant. FOODee restaurant group president Eric Dee, who brought Kam's Roast to Manila, shares that they had to convince the owners to let them upscale the space. "Kam's in Hong Kong is very small. It's a mom-and-pop type of operation and it's about 50 seats but [in a square space]. And very tight," says Eric. "[In Manila], this type of meal at these price points are not everyday things. They would prefer to sit down, have full service, great ambience...so it took us a little bit of time to uplift the design because this is totally different from both outlets."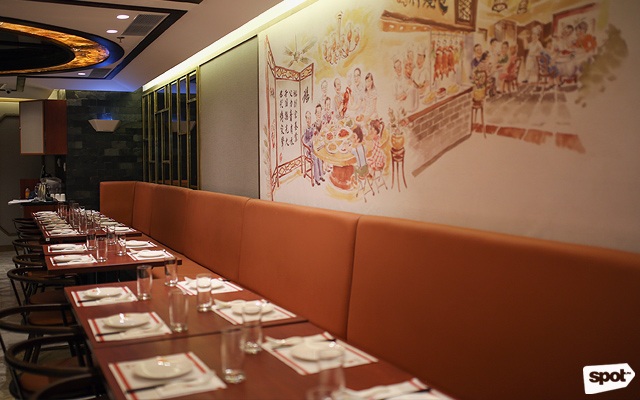 ADVERTISEMENT - CONTINUE READING BELOW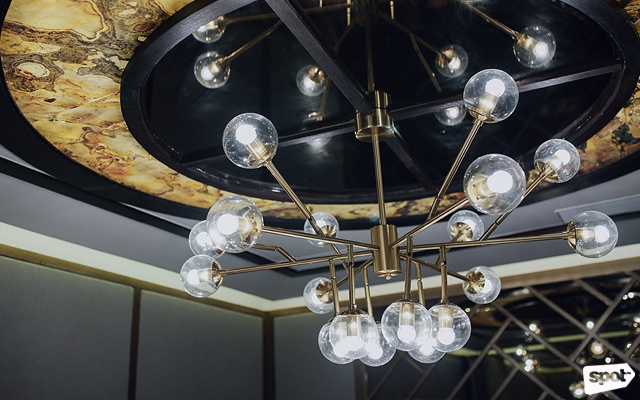 The first Manila branch is not only more spacious—able to sit around 70 people—it feels a little more luxe, too. Those familiar with fine Chinese restaurants will recognize some of the elements: Marble tiles, tables with lazy susans, brass fixtures, and lots of mirrors. While this Kam's Roast is leagues apart from its Hong-Kong counterpart, it brings some of the city's vibe with it to Manila.
The new Kam's Roast is part of a long, often tumultuous history that spans decades. In 1942, Yung Kee Restaurant opened and became a massive hit for their roast goose, going on to earn a Michelin star and become an institution in Hong Kong. However, when an inheritance dispute tore the family apart, Hardy Kam, grandson of Yung Kee patriarch Kam Shui Fai, decided to venture on his own, opening Kam's Roast in 2014.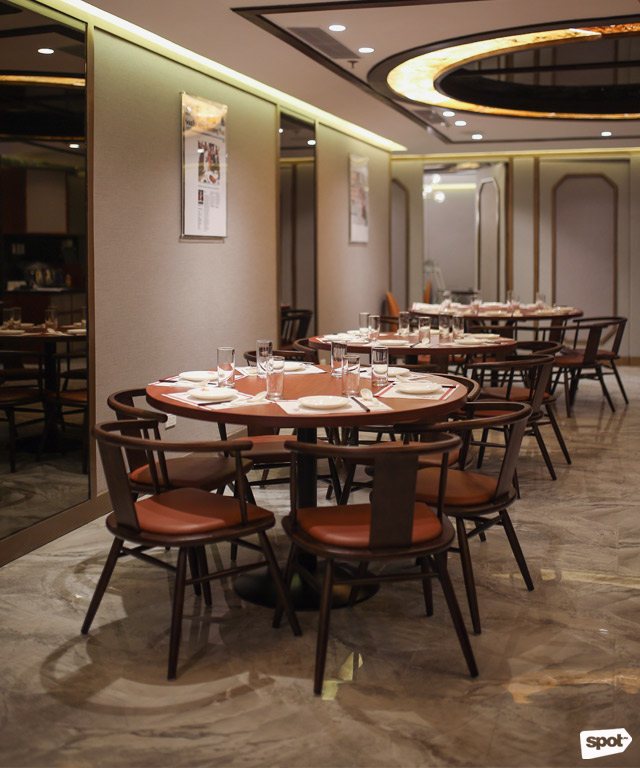 ADVERTISEMENT - CONTINUE READING BELOW
Not that he has turned back on the family legacy: A portrait of the Kam family hangs on an accent wall in every Kam's Roast including Manila. Though it's safe to say that he has successfully moved away from Yung Kee's shadow—within four months of operation, Kam's Roast Goose in Hong Kong earned its first Michelin star.
Kam's Roast in Manila is the first international franchise of the brand, though the restaurant has branches in Hong Kong and Singapore. This meant a lot of pressure for the FOODee group, though Eric thinks that being a franchise has its advantages. "I always say, if I don't need my franchisees, I would have opened it myself. But we actually need the franchisee to have an understanding of the locality."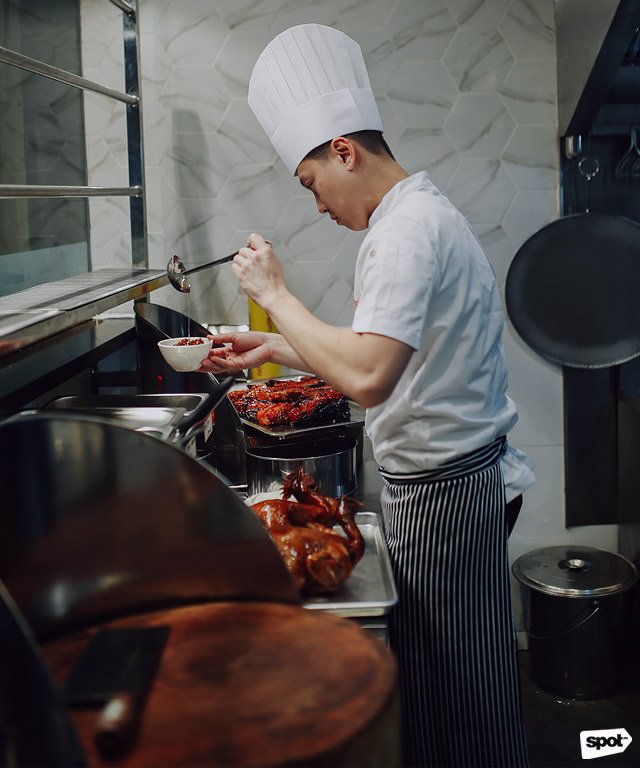 One of these localized tweaks is using pig and poultry that's locally raised. Eric shares that they use Cherry Ducks, typically used for Peking duck, and also have a certain specification for their chickens that's bigger than the usual. Though they import breeds for their poultry, they use local pigs at this branch. "Ever since we brought our products to Singapore and Hong Kong for testing, we found out out that we have very superior pork," says Eric. "According to the chefs who tested our product, we have the best pork dishes in the region." The pigs, chickens, and ducks are then roasted and dried on-site, which can be quite the tedious process. It takes two days for the ducks to be ready for service, for one.
ADVERTISEMENT - CONTINUE READING BELOW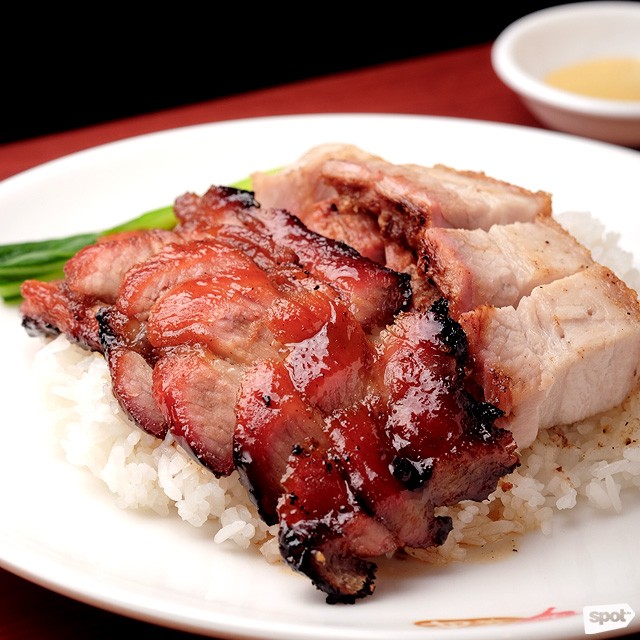 Toro Char Siu and Roast Pork on top of rice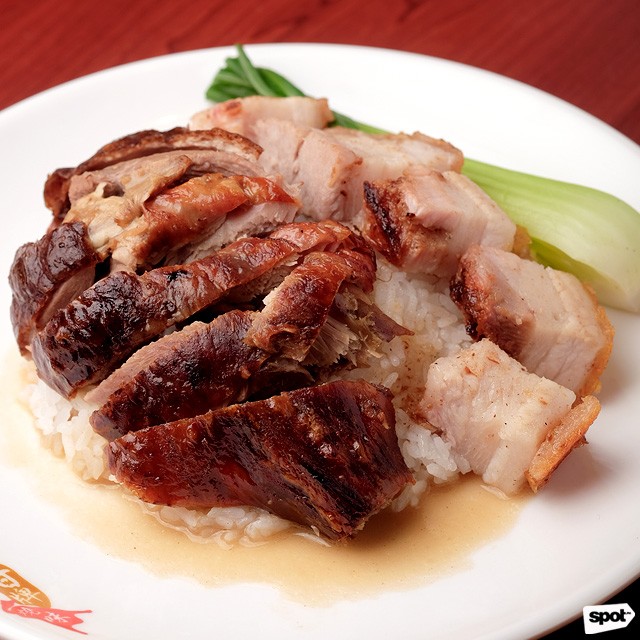 Roast Duck and Roast Pork on top of rice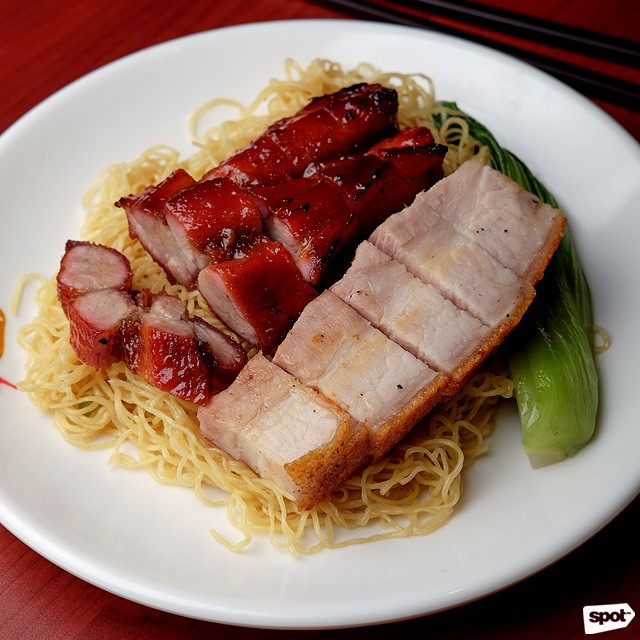 ADVERTISEMENT - CONTINUE READING BELOW
Regular Cha Siu and Crispy Pork on top of noodles
Another is an emphasis on Toppings. "Sila [in Hong Kong] for merienda, isang buong duck or isang buong toro cha siu with kanin. Lunch nila, P5,000. I was like 'What? How is that even possible?'" says Eric. "So they were like 'Why do you want to push for rice toppings?' I was like 'Here in Manila, everyone will order rice toppings." For the rice toppings, you can order roast pork, roast duck, soy chicken, or a mix of two kinds of protein on top of rice or noodles. With hefty servings, it's the perfect treat, especially if you're dining solo.
But if you're up for a feast with family or friends, Kam's Roast can more than deliver. The appetizers, whether it's the crunchy and refreshing Marinated Cucumber With Vinegar and Garlic, the Poached Seasonal Vegetables that are cooked to just the right crispness, or the velvety soft Marinated Tofu, are the perfect light teasers to the bolder flavors up ahead. Also, if you're typically turned off by the distinct flavor of Century Egg, the rich egg is served with pickled ginger here, with a sharp tang to mellow it down.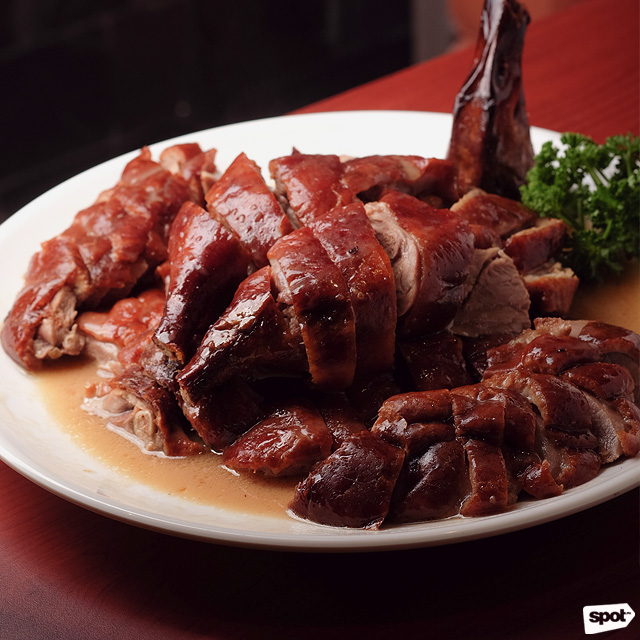 ADVERTISEMENT - CONTINUE READING BELOW
Roast Duck
Once your palate's refreshed enough, it's time for the main event. The Roast Duck isn't your typical Peking duck with the crispy skin and fat that feels like an oncoming heart attack. Instead, the duck meat is tender, with skin that's on the juicy side but still succulent. Be sure to drizzle the accompanying plum sauce on top for a sweet contrast to the duck's salty bite.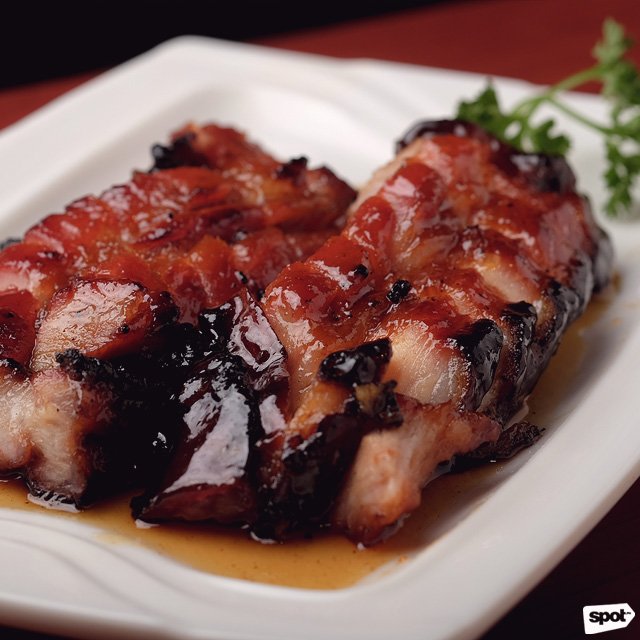 Left: Regular Char Siu, Right: Toro Char Siu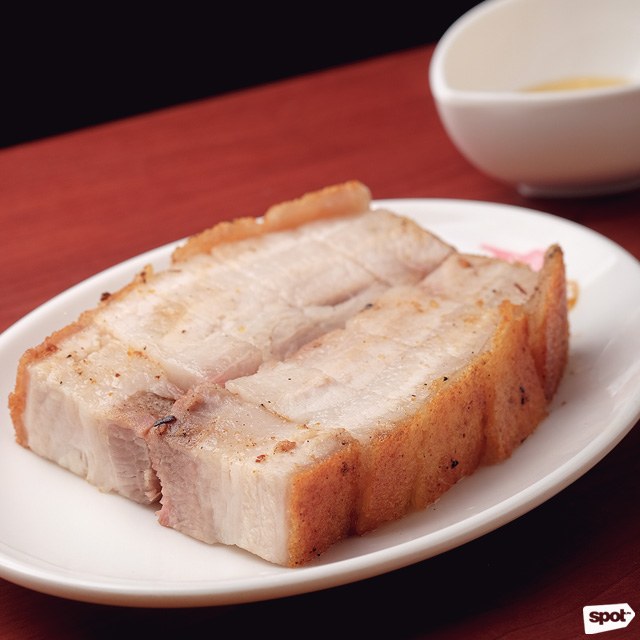 ADVERTISEMENT - CONTINUE READING BELOW
Roast Pork
At Kam's Roast, you can choose between three kinds of roast pork. The Regular Char Siu is already generously marbled with fat to be lip-smacking, but if you want extra richer slices, have the Toro Char Siu with thicker slivers of the good stuff, and a stronger smoky flavor that goes well with rice. The Roast Pork, however, is the ultimate indulgence, with thick-cut pork that's roasted until the skin is golden-brown and crispy. If your palate starts feeling overwhelmed with the richness of the thick slabs of fat within each chunk, add a dash of their homemade mustard, and its wasabi-like spicy kick will take care of it soon enough.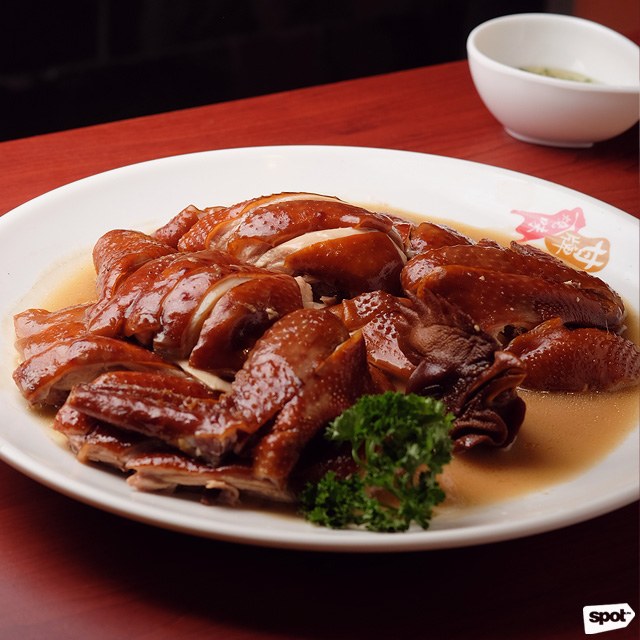 Soy Chicken
The Soy Chicken is as close to authentic Chinese-style as it can get, with the natural mild sweetness of the chicken shining through the light soy sauce it's cooked in. The ginger sauce served on the side provides most of the punch: Salty, spicy, and satisfyingly gingery.
ADVERTISEMENT - CONTINUE READING BELOW
Chinese-style roast meat look pretty simple, especially when served on a plate without any frills. But a bite of excellent roast duck or pork, with all its succulent smoky-sweet flavor, lets you know that much work goes into each piece. It's no wonder that they're such a hit in Hong Kong and Singapore—they're indulgence packaged in a homey comforting meal. With Kam's Roast bringing in the same menu and techniques from their flagship, it looks like they're well on their way to making a big splash in Manila, too.
Photos by Majoy Siason
*Kam's Roast will open on May 15. Prices to follow.
Share this story with your friends!
---
Help us make Spot.ph better!
Take the short survey
Load More Stories