Gallery by Chele
5/F CLIPP Center, 11th Street corner 39th Street, Bonifacio Global City
Contact: 218-3895
Open daily from 5 p.m. to 10 p.m.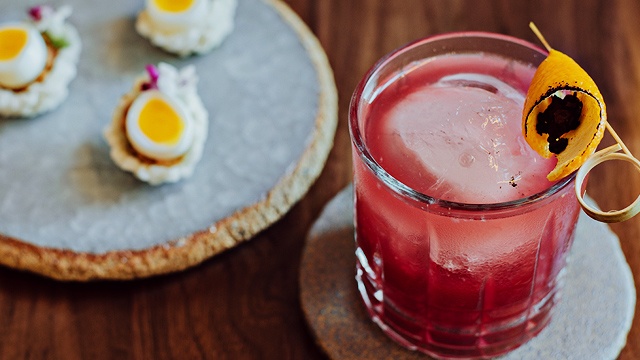 (SPOT.ph) When VASK Tapas Room and its fine-dining counterpart Gallery VASK shut their doors for renovations early in 2018, it was under the impression that they wouldn't be rebranding with a whole new concept soon. After all, it'd be foolish to tinker with a formula that landed them on Asia's 50 Best Restaurants list for two straight years.
ADVERTISEMENT - CONTINUE READING BELOW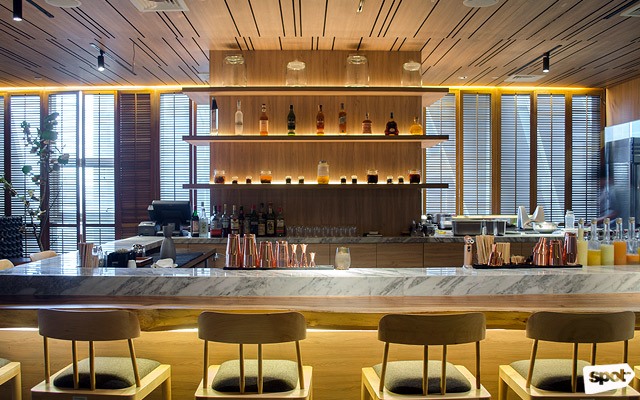 The unveiling of their newly refurbished space will surely surprise many people. The restaurant will simply be called Gallery by Chele, the ambience more casual and relaxed, and the cuisine no longer Spanish but "modern with local ingredients." These appear to be major changes, but having Chef Luis "Chele" Gonzalez in the equation is assurance that this new restaurant should surpass the high bar set by its predecessors.
ADVERTISEMENT - CONTINUE READING BELOW
Recommended Videos
The idea for Chef Chele's new restaurant is to combine the characters of the previous concepts—the sophisticated leanings of Gallery VASK, and the relaxed vibe of the tapas room—in a space that wouldn't intimidate diners. "We want to be approachable and accessible," says Chele. "We want to offer a good and fun experience since Filipinos enjoy dining out."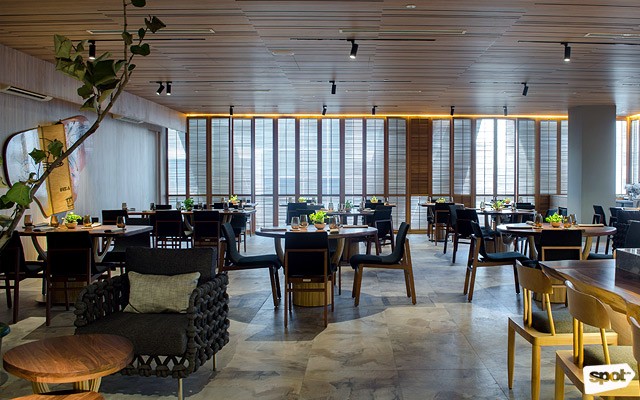 ADVERTISEMENT - CONTINUE READING BELOW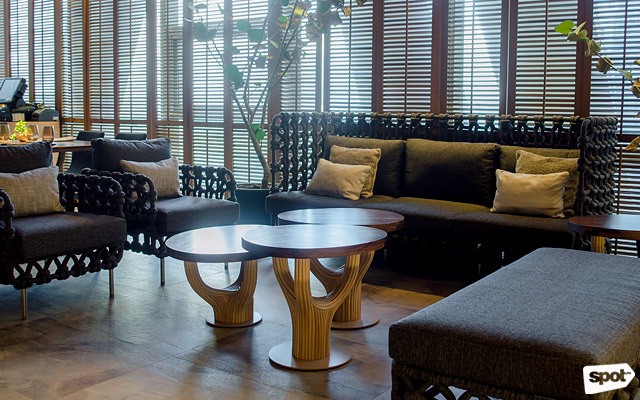 Having a cocktail bar is one way to promote a laid-back environment. One-third of the restaurant space is dedicated to the open bar where bartenders and mixologists can whip up refreshments in full view of diners. The bar itself is quite a sight—beneath the marble countertop is an acacia rail with rough-hewn edges for an organic look. In fact, the "natural" theme extends to the rest of the interiors—custom-made tables and chairs by Kenneth Cobonpue mimic the form of trees, while wood accents and rough textures abound.
ADVERTISEMENT - CONTINUE READING BELOW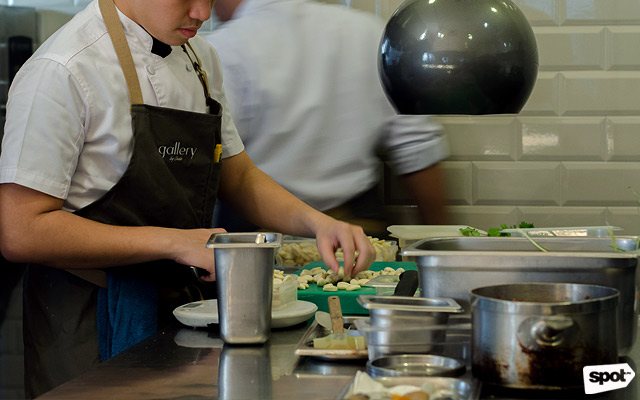 The interiors are intended to reflect the restaurant's organic approach to its food. Since moving to the Philippines seven years ago, Chef Chele's fascination with local ingredients and spices has grown, and he has tailored most of his recipes around them. Gallery's menu is a continuation of his advocacy, in that most of the dishes are inspired by local recipes, simplified into palatable bites. "Good modern cuisine is usually based on traditional dishes. What we did was use modern, innovative techniques to come up with unique twists on local flavors," he says. "We always strive to do the highest level of cuisine with the humblest of ingredients."
ADVERTISEMENT - CONTINUE READING BELOW
The menu presents a plethora of options for diners. Three-course and five-course meals are offered, but one can order à la carte as well. Or you can order old favorites from the VASK menu, with some new degustation offerings, which you can pair with Gallery's fresh array of cocktails.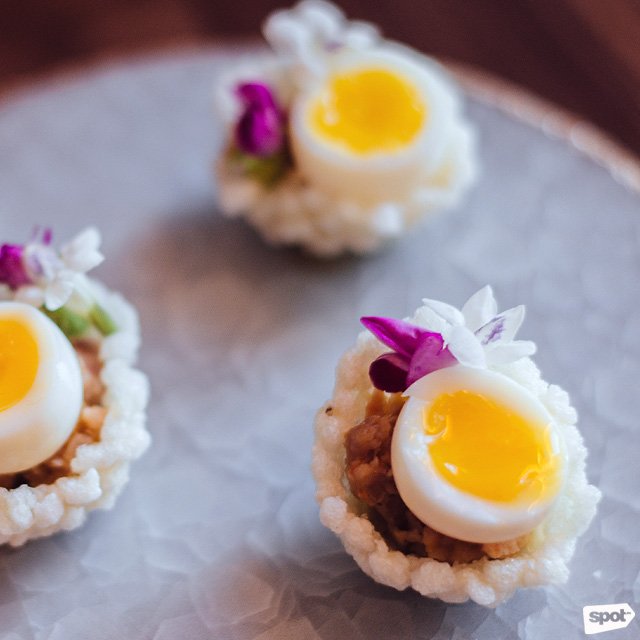 Breakfast Bites
ADVERTISEMENT - CONTINUE READING BELOW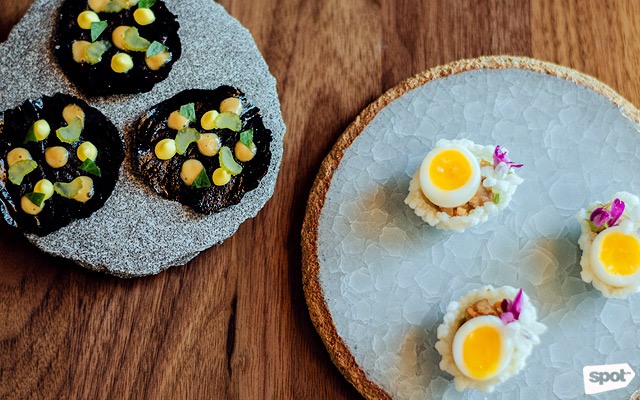 Black Crisps, Breakfast Bites
An example would be Chef Chele's take on the typical Filipino breakfast—the Breakfast Bites are sized down to small pieces that you can easily pop in your mouth. Longganisa, quail egg, and a pinch of atchara make up each little morsel. The egg yolk melts on your tongue, coating and softening the crunchy portions. It's a familiar taste rendered in a unique and presentable manner. The Black Crisps, meanwhile, serve up a more unique flavor with uni, corn, and celery pastes.
ADVERTISEMENT - CONTINUE READING BELOW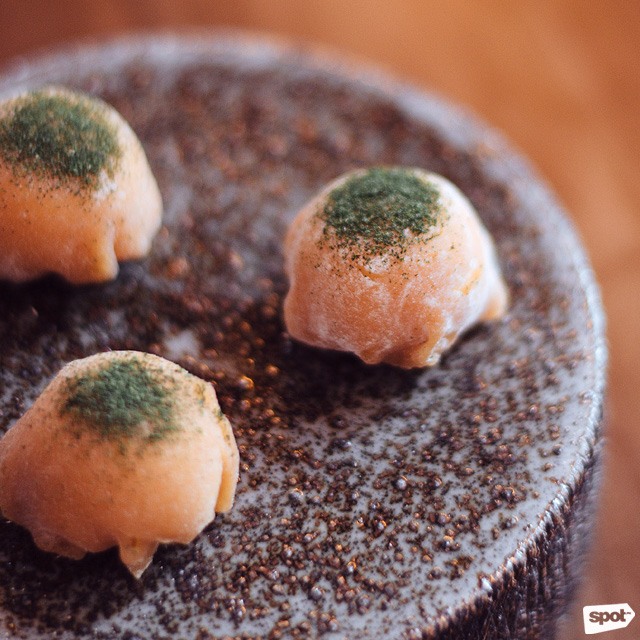 Tomato Mochi
The Tomato Mochi is another snack you can munch on while enjoying some cocktails. Within each piece is a thick helping of cheese, making this a cross between a mochi and a burrata.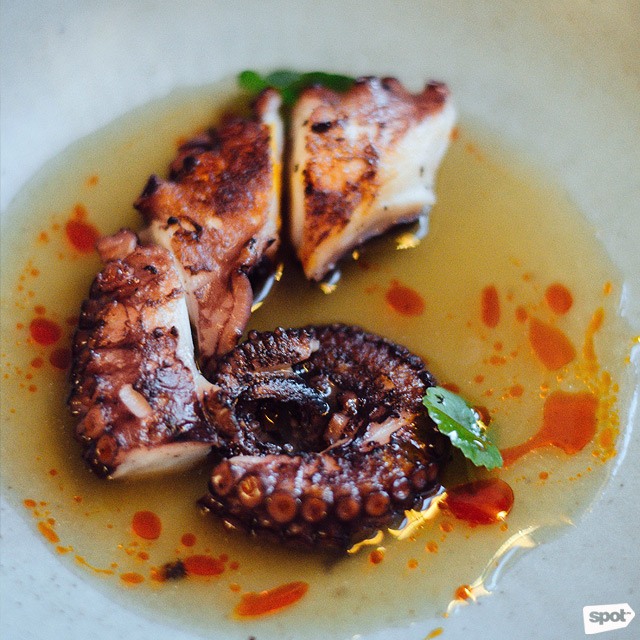 Pulpo Inasal
ADVERTISEMENT - CONTINUE READING BELOW
The Pulpo Inasal sees Chef Chele experimenting with octopus by cooking it inasal-style. The octopus cutlets are tender and slightly charred, with just the right hint of saltiness. What elevates this dish is the soup, which isn't too thick and laden with just enough annatto extract to coat the octopus.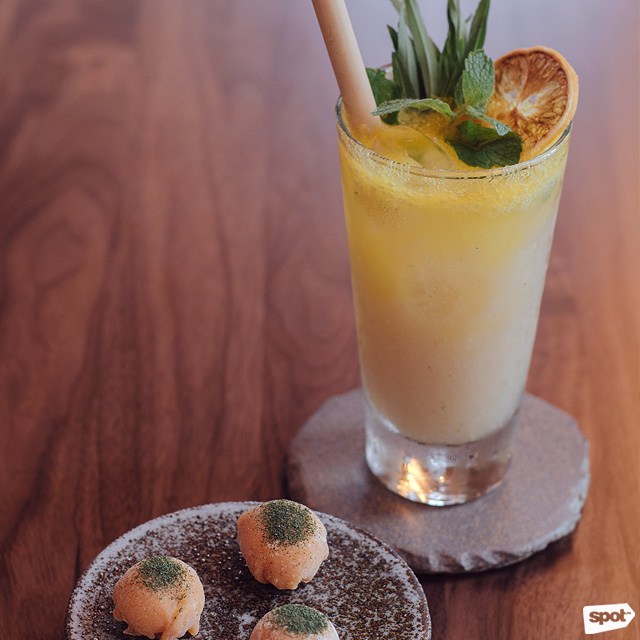 Gallery Mojito
ADVERTISEMENT - CONTINUE READING BELOW
Local and organic ingredients aren't just used for the food. With that said, Gallery's cocktails are crafted with this philosophy, as all their drinks are made up mostly of homemade mixes. The Gallery Mojito balances its alcohol mixture (Bacardi and Manille liqueur) with guava purée, making for a sour-sweet drink you'd expect to be served in a tropical island. Tossing some torched tarragon leaves into the cocktail adds more freshness with each sip.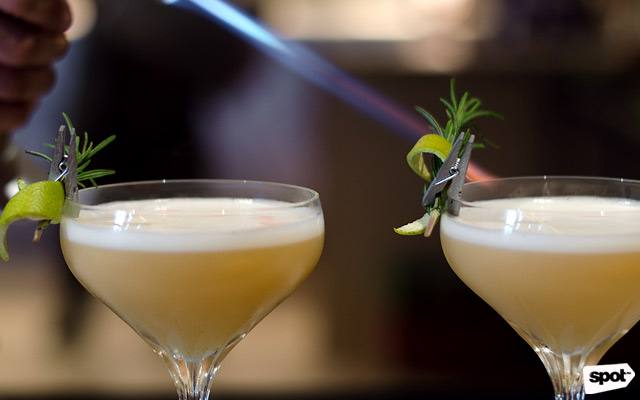 Whiskey Sour
ADVERTISEMENT - CONTINUE READING BELOW
Their version of the Whiskey Sour will be your new favorite, as you're seduced by the smell of torched rosemary the minute it's served. The cocktail is thick and bubbly, and its trio of liqueurs (green tea kefir, pomelo, and celery) are infused with an herbal aftertaste that helps erase the guilt of drinking something that tastes so sinful.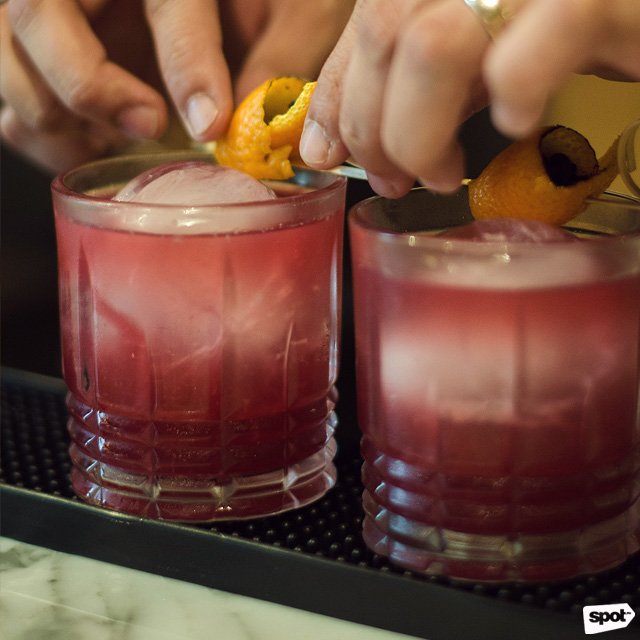 ADVERTISEMENT - CONTINUE READING BELOW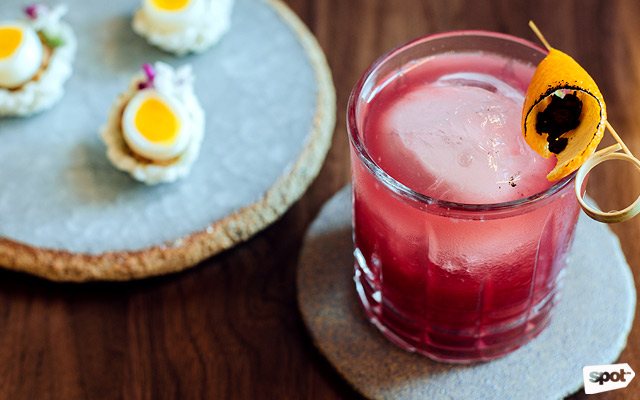 Spin It Forward
Those craving a stronger drink should try Spin It Forward, Gallery's version of dark rum with cacao liqueur, cinnamon syrup, sweet vermouth, and lemon juice. Each sip packs a slight kick, though the aroma of burnt orange should lull you into lifting the glass to your lips again and again.
ADVERTISEMENT - CONTINUE READING BELOW
These three cocktails are just a sampling of what Gallery can offer diners, as collaborations with other mixologists are planned for the future. The bar opens as early as 5 p.m., so people can watch the sunset through the shutters with a fine cocktail in hand. As for the restaurant, guests can come in starting 6:30 p.m. and enjoy the bar until late.
"Our food isn't fancy at all—it's just real, honest food, presented in a unique and creative way," says Chef Chele. "The important thing is to have people come here and have a good time. That's the soul of what we want to do here." At Gallery, it might be safe to say you'll come for the bites, and stay for the cocktails.
Photos by Marikit Singson
*Gallery by Chele is now accepting reservations and will open on May 22, 2018. Prices to follow.
Share this story with your friends!
---
Help us make Spot.ph better!
Take the short survey
Load More Stories