10 Tasty Lunch Options Under P300 in Bonifacio Global City
No need to burn your paycheck for a great meal.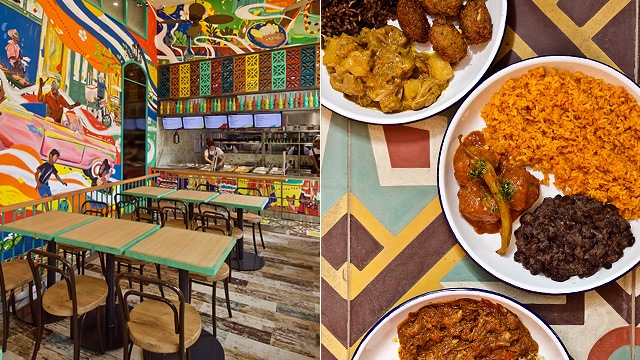 (SPOT.ph) Bonifacio Global City has a reputation for restaurants that aren't exactly budget-friendly, which means if you work in the busy hub, you might just have to bring lunch to work every day if you want to save a few bucks. While there's nothing wrong with that, if you do want to eat out, you can without going over budget—you just have to know where to look. We make things easier by mapping out where you should head for your next lunch, without burning through your paycheck.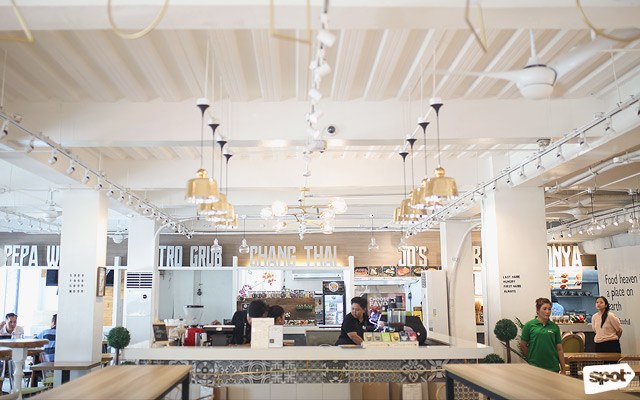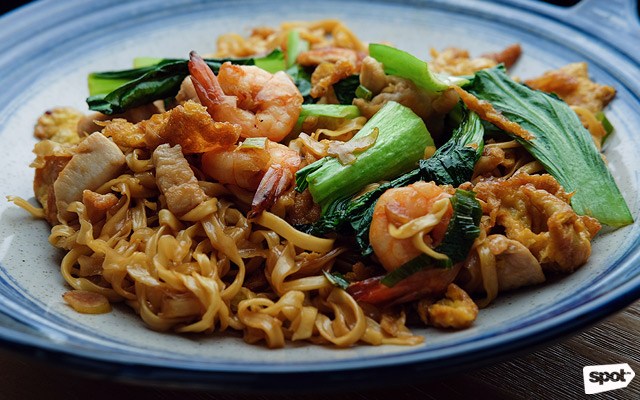 If you think BGC is lacking in affordable food options, a visit to Eden Food Hall should change your mind. The food hall offers everything from hearty lugaw and crispy pata to Thai and Indonesian cuisine that are as authentic as they can get. Plus, they're open 24 hours from Monday to Saturday, so you can fill up any time hunger strikes.
Must-tries: Catfish With Mango Salad (P120/half, P200/whole) and Bagoong Rice With Pork (P165) from Chang Thai, Katsudon (P140) from JD's Takoyaki, Nasi Goreng (P160) and Beef Rendang (P185) from Bakmi Nyonya
Eden Food Hall is at 32nd & 5th Building, 5th Avenue corner 32nd Street, Bonifacio Global City.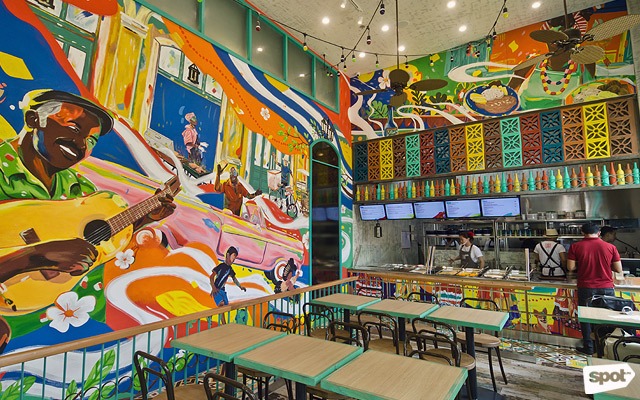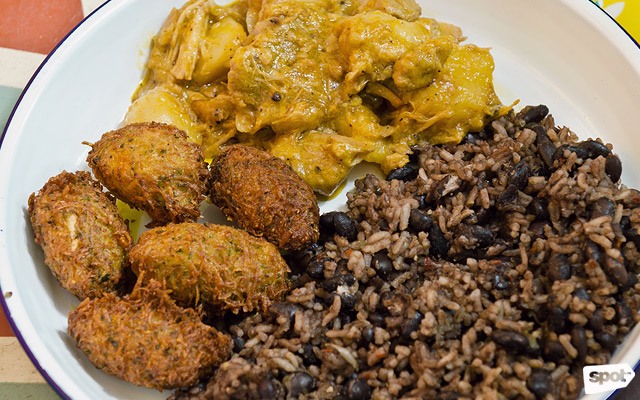 With a bright yellow façade and colorful murals that have most likely made it on your Instagram feed, Cuba Libre is hard to miss. But they're more than just their double-tap worthy interiors. If your knowledge of Cuban food is limited to cubanos and arroz ala cubana, this resto is a great gateway to the rest of the cuisine. For less than P300, you can fill up your plate with your choice from seven different mains, four kinds of rice, and three kinds of sides, all of which are based off the menu of traditional Cuban eateries. Don't know where to start? The Masitas De Puerco En Adobo is like our own adobo but Cuban-style, with a distinct citrusy tang from sour orange. Pair this with Arroz Blanco (white oregano rice) and Maduros Fritos (fried ripe plantains).
ADVERTISEMENT - CONTINUE READING BELOW
Must-tries: Masitas De Puerco En Adobo (P245/with rice and side), Ropa Vieja (P275/with rice and side), Albondigas Criollas (P220/with rice and side)
Cuba Libre is at G/F Serendra, Bonifacio Global City.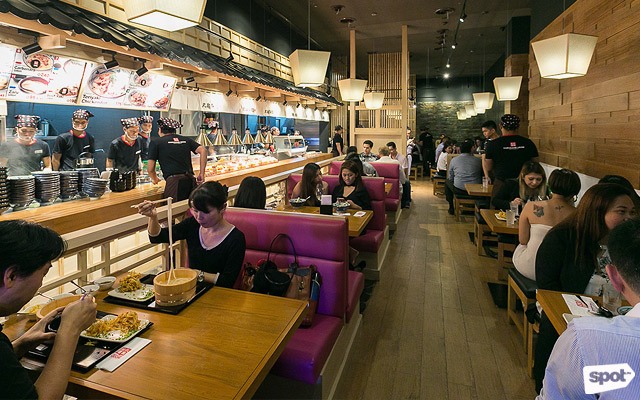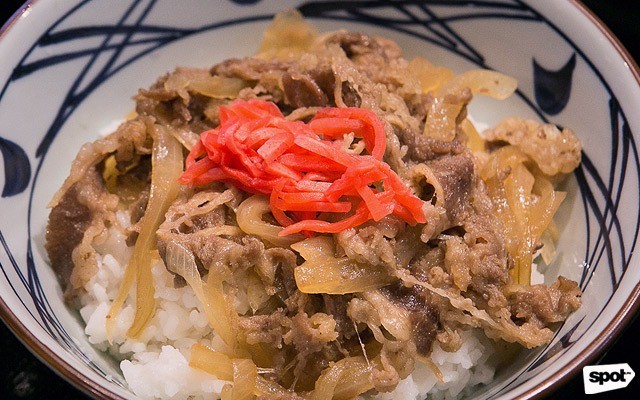 Dining at Marugame Udon will feel like having a meal at one of Tokyo's lowkey eateries, with their billowing banners and cafeteria-style counter. Whether you're tired of ramen or just want to try something new, Marugame Udon should fit the bill nicely with their affordable and sumptuous udon. Their signature, the Beef Ontama Bukkake Udon, can be had hot or cold: A hot bowl will get you the chewy wheat udon noodles swimming in a thick and beefy broth, with a heap of gyudon or beef strips that are made savorier by a sauce of sweet onions, soy sauce, and dashi. A bowl may not look like much but it'll fill you up—though you may want to leave space for their fried sides, like Chicken Karaage or Ebi Ten, their version of ebi tempura.
Must-tries: Beef Ontama Bukkake Udon (P210/regular, P260/large), Curry Udon (P170/regular, P220/large), Chicken Karaage (P60)
Marugame Udon is at B7 Bonifacio High Street, Bonifacio Global City.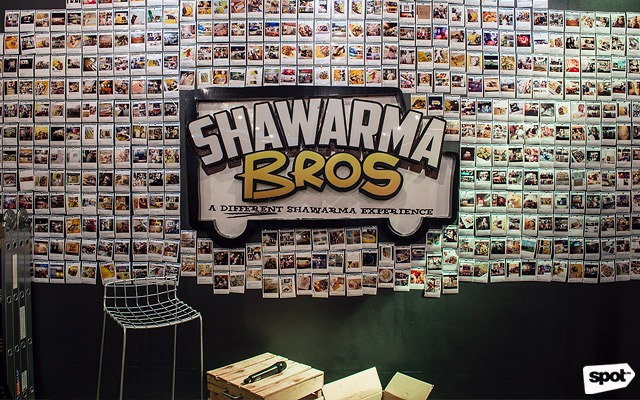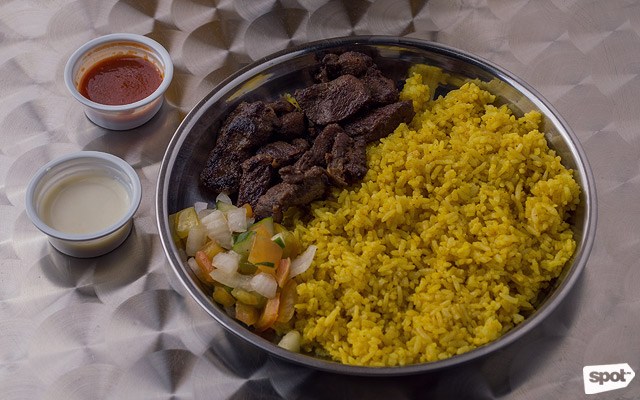 For a quick, filling, and tasty meal, you can't go wrong with shawarma rice bowls, and Shawarma Bros has that hankering covered in BGC. They pack their bowls with fluffy biryani rice, fresh vegetables, tender meat, and a mix of their signature tangy white and spicy red sauces for a carb-and-protein combo you can't go wrong with. The Bro's Beef Shawarma Rice Meal is a safe bet, but if you want to treat yourself further, have the Lamb Steak Rice Meal. The greasy-savory combo is a great pair with beer especially after work—though if you decide to have one in the middle of the day, we'd be the last ones to judge.
ADVERTISEMENT - CONTINUE READING BELOW
Must-tries: Beef Shawarma Rice (P169), Momma's Chicken Shawarma Rice (P159), Lamb Steak Rice Meal (P219)
Shawarma Bros is at 2/F BGC Stopover Pavilion, Rizal Drive corner 31st Street, Bonifacio Global City.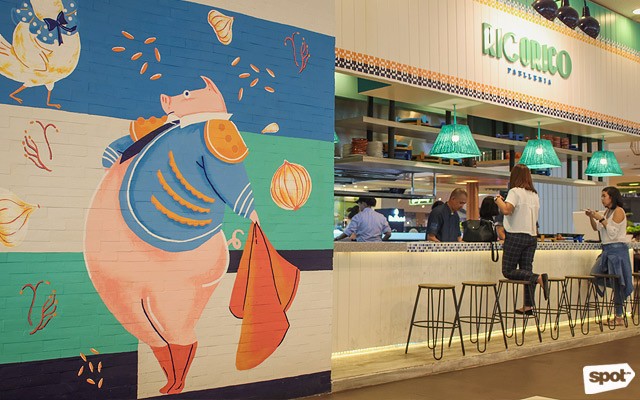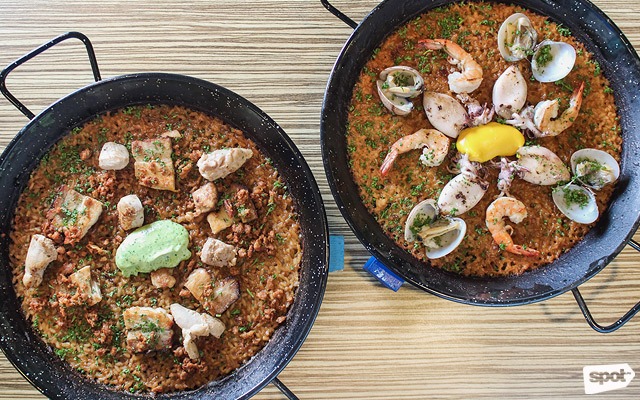 Paella always seems like it's luxe food you only have on special occasions, but if you want to treat yourself, you can actually get an entire pan of paella for yourself at Rico Rico—and it won't cost you much, either. This eye-catching food-court stall offers six paella bases and four kinds of aioli, plus you can opt to add more toppings like egg, chorizo, and salpicao. The Carne is a must-try for meat lovers, with smoky rice that pairs well with the sweet-glazed pork chunks, with generous slivers of fat to make each bite richer. If you prefer seafood, the briny flavor of the squid in the Negra 2.0 should tide you over, with juicy chicken chunks and red bell pepper adding a refreshing contrast.
Must-tries: Carne (P290/solo), Cubana Rice (P195/solo), Negra 2.0 (P265/solo)
Rico Rico is at Food on Four, 4/F SM Aura Premier, C5 Road corner 26th Street, Bonifacio Global City.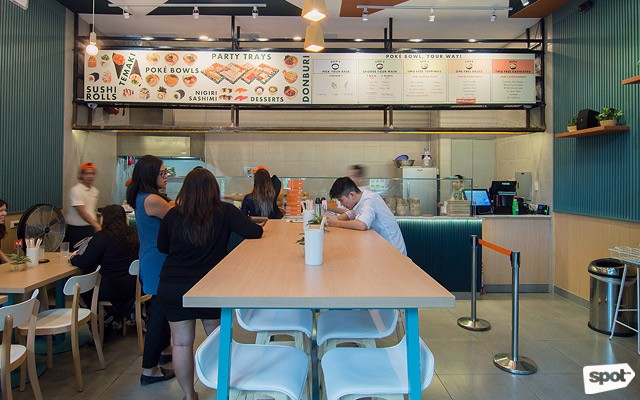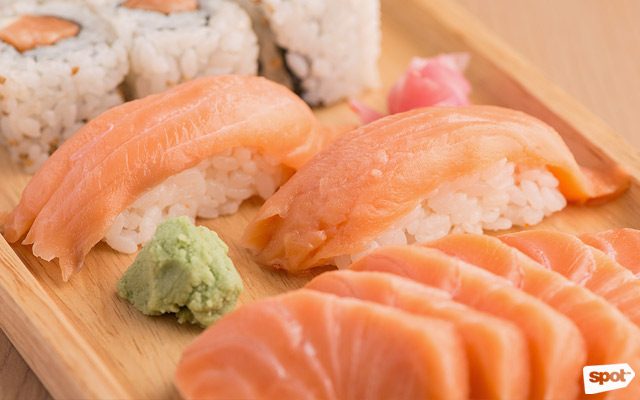 Though Sushi Nori also has a stall at SM Aura, their bigger standalone store at W City Center is worth a visit, especially if you need a cozy place where you can chill while enjoying some sushi and temaki (or sushi hand rolls). This branch also carries their bestsellers, like the Sushi Dreams, which looks like your usual salmon sushi roll until you hit the rich cream-cheese center. Exclusive to this branch are the Bento Boxes, which you can get from the open chiller and pay for at the special express lane—perfect if you only have a few precious minutes to spare for lunch. A box will get you a mix of classic rolls and sashimi—like the Classic Mix with California Maki, Tamago Sashimi, and Salmon Sashimi—covering all bases.
ADVERTISEMENT - CONTINUE READING BELOW
Must-tries: Sushi Dreams (P249/sushi, P169/temaki), Classic Mix (P269), Tuna Overload (P299)
Sushi Nori is at G/F W City Center, 7th Avenue, Bonifacio Global City.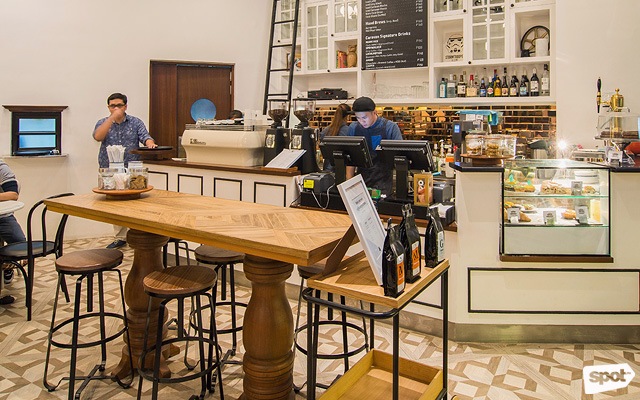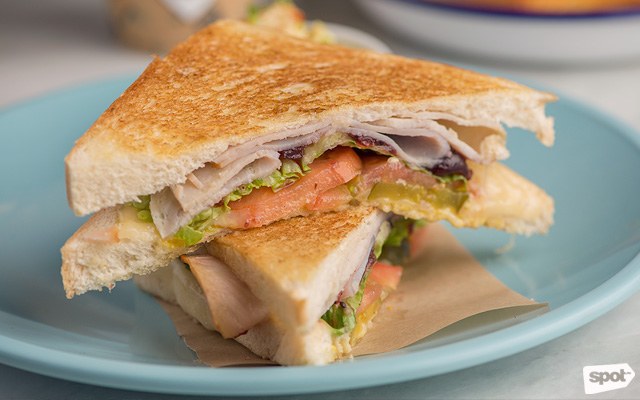 Caravan Black pretty much has whatever you might be craving, whether it's a good and strong brew to get you through the rest of the day to grab-and-go sandwiches, and even all-day breakfast. The Buttermilk Pancakes are more than worth your buck, with a stack of four hefty and fluffy pancakes smothered in a tangy blackberry reduction and sweet maple syrup, and topped with edible petals and a thick slab of butter. Need something more savory? The tomato-based Penne Rose with a generous serving of bacon bits should do the trick. If you need something easier to take with you to your desk, have the Gooey Cheesy Melt, made more vibrant by guava jelly.
Must-tries: Buttermilk Pancakes (P250), Gooey Cheese Melt (P275), Penne Rose (P285)
Caravan Black is at G/F Net Park, 5th Avenue, Bonifacio Global City.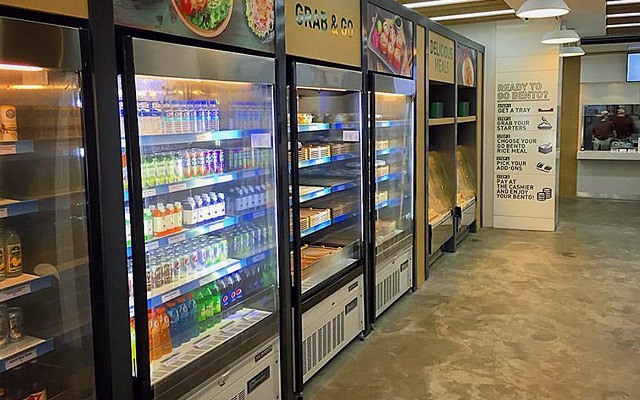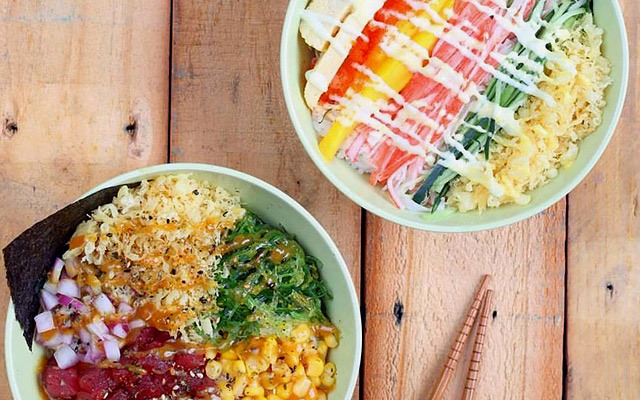 Go Bento
Any BGC office worker in a pinch knows they can rely on Go Bento for satisfying meals that won't burn a hole in their pocket. They offer almost every kind of Japanese dish, from bento meals like Pork Katsu Curry Bento, which is more than satisfying with pork katsu covered in a fragrant curry sauce plus rice, cabbage drizzled with sesame dressing, and miso soup to ramen, sushi, and sandwiches. Don't forget to have their matcha soft-serve before you leave!
ADVERTISEMENT - CONTINUE READING BELOW
Must-tries: Pork Katsu Curry Bento (P185), Tempura Bento (P185), Pork Tonkotsu Ramen (P185)
Go Bento is at 9th Avenue, Bonifacio Global City.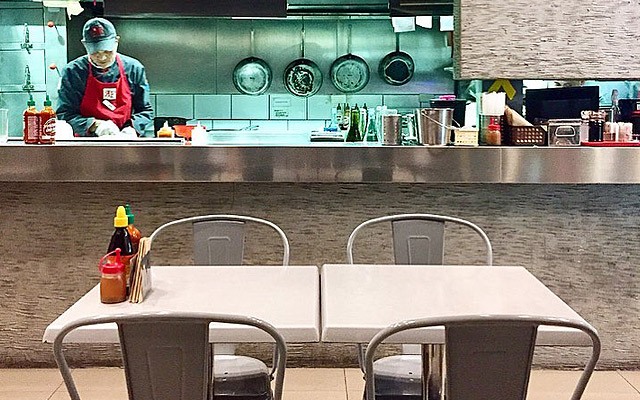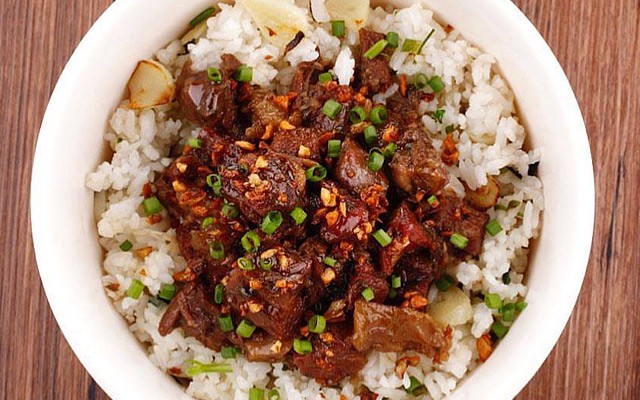 Though this eatery has become a go-to for partygoers looking for a quick hangover cure, Recovery Food's hearty Filipino rice bowls make for great lunch meals on a budget, too. Their take on tapsilog, the Tapa de Morning, is a crowd favorite for good reason, with slightly sweet, tender beef strips on top of your choice between equally fluffy brown or white rice plus scrambled or fried egg. Add some of the lip-smacking sinamak vinegar, and this becomes comfort in a bowl.
Must-tries: Tapa de Morning (P180/regular, P260/Full Recovery), SST (P180/regular, P280/Full Recovery), Lecheng Kawali (P195/regular, P285/Full Recovery)
Recovery Food is at G/F Crossroads Building, 32nd Street Corner 8th Avenue, Bonifacio Global City.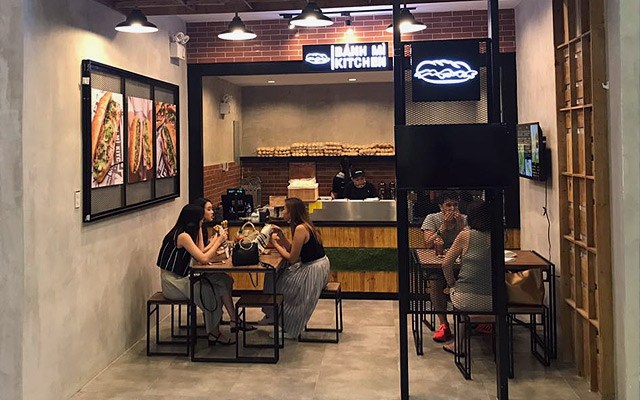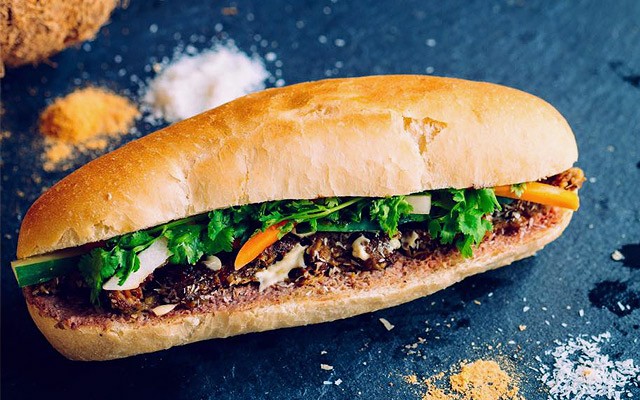 With banh mi that's not only filling and conveniently handy but also easy on the pocket, Banh Mi Kitchen should become a mainstay on your roster of lunch options. There's nothing basic about their Classic, with bread that has the perfect balance of chewy and crunchy down pat, plus generous servings of the usual fixins, like pickled vegetables and Vietnamese ham, all blending seamlessly together for a fresh yet filling meal. They've also got sandwiches for those looking for something a little offbeat, too, like the Kani Bonito, which feels more refreshing on the palate with kani replacing ham, or the Beef Rendang with smoky beef and rich coconut milk for a sandwich packed with punchy flavors.
ADVERTISEMENT - CONTINUE READING BELOW
Must-tries: Classic (P99/small, P149/large), Kani Bonito (P129/small, P189/large), Beef Rendang (P129/small, P189/large)
Banh Mi Kitchen is at G/F BGC Stopover Pavilion, Rizal Drive corner 31st Street, Bonifacio Global City.
Load More Stories