Crinkles Showdown: ADB Crinkles vs. Margarita Crinkles
In the mood for something chocolate-y?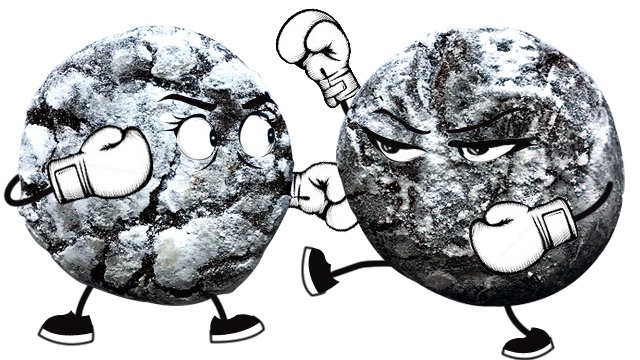 (SPOT.ph) Like most treasures, getting your hands on the cult-favorite crinkles made in-house at the Asian Development Bank requires a lot of legwork—For one, you need to have an appointment before you can step inside. And we're not even talking about their airport-like security yet. So when Chef Margarita Forés of Cibo fame announced through an Instagram post that she would be making her own version of the cookie, it seemed like the Asian Development Bank (ADB) Crinkles had found a worthy contender. After all, the Margarita Crinkles are relatively easier to get, that's if you don't mind ordering two days ahead. But the question we've all been dying to know the answer to is: Can the new Margarita Crinkle serve as substitute to ADB's famous confection?
The short answer is: No. And it's not because one is better than the other. Both have their own merits, and it all depends on what you're looking for in a good crinkle. Let's break these down for you.
ADVERTISEMENT - CONTINUE READING BELOW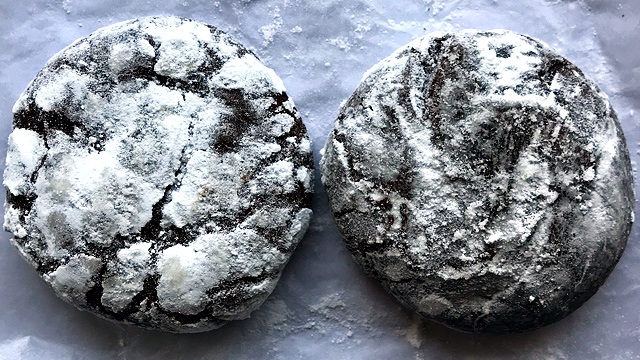 (Left) Margarita Crinkle, (Right) ADB Crinkle
CONTINUE READING BELOW
Recommended Videos
Accessibility
As mentioned, getting your hands on the ADB Crinkles requires a lot of effort—and connections. If you don't know anyone who works in the bank, or basically someone who can get the pastries from the office cafeteria for you, you'll need to have an appointment registered in their system, a photo ID taken on the spot, and a scan through a maze of X-Ray machines. It's almost as daunting as going through airport security, but anyone who's had these chocolate crinkles swear it's damn worth it.
The Margarita Crinkles, on the other hand, are relatively easier to get. You can order by contacting Chef Margarita's catering service, Cibo di Marghi, at 729-0030. Crinkles should be ordered at least two days in advance, and payments can be done in cash or through bank deposit. You'll then receive confirmation that the pastries are ready for pick-up at Grace Park in Rockwell.
ADVERTISEMENT - CONTINUE READING BELOW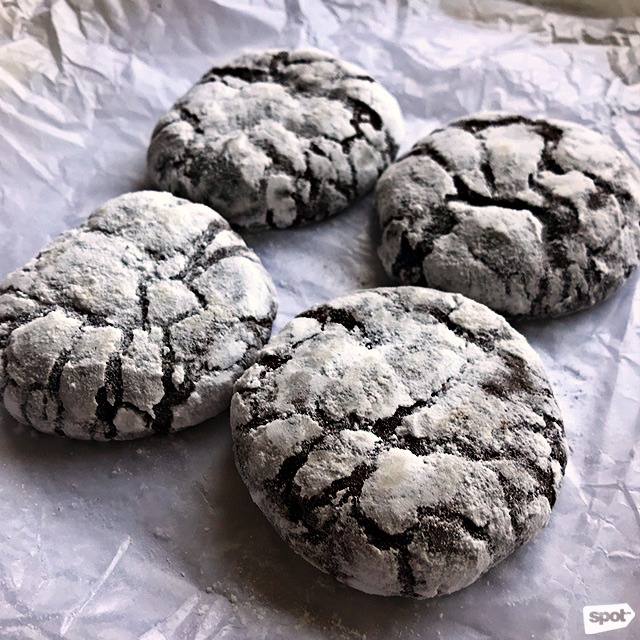 Margarita Crinkles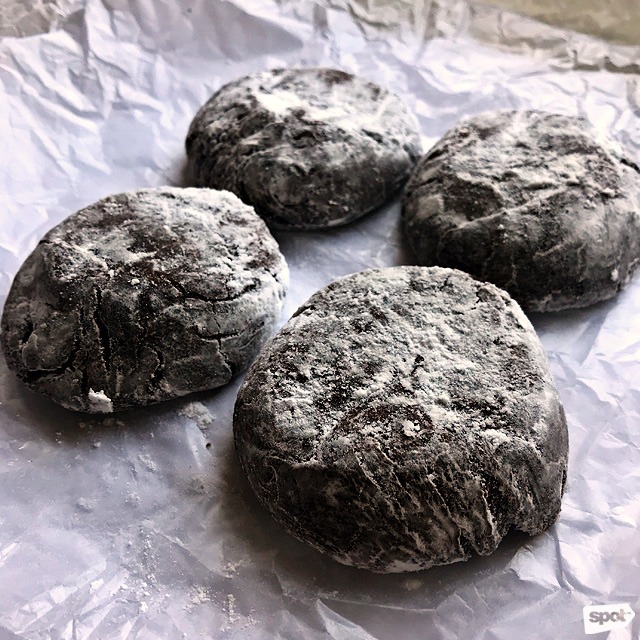 ADB Crinkles
Looks and Taste
Both crinkles are heftier than average, and are almost the width of your palm. The Margarita Crinkles look more refined, with almost uniform cracks and a generous dusting of powdered sugar, while the ADB Crinkles are rougher around the edges, which lend them a homemade charm.
ADVERTISEMENT - CONTINUE READING BELOW
You immediately get a whiff of chocolate from the Margarita Crinkles, which tells you that this is full of the good stuff. These pastries are gooey and indulgently dense—it's impossible to feel guilt-free while munching on these. If you love lots of powdered sugar on your crinkles, these are the ones for you. They're chocolatey, yes, but also sugary, so they're perfect for people with a sweet tooth.
If the Margarita Crinkles are dense like a gooey brownie, the ADB Crinkles resemble a half-baked cookie with a moist, melt-in-your-mouth texture. Here, the chocolate is more prominent, with an almost malty texture to them. The sweetness resembles that of a dark-chocolate bar, and the texture—crisp on the outside, incredibly moist on the inside—will remind you of a chocolate lava cake. A fine dusting of confectioner's sugar adds just the right touch of sugary sweetness.
Price
The Margarita Crinkles go for P60 per piece (or P720 for a box of dozen), while the ADB Crinkles go for P16 per piece, with a limit of 20 crinkles per person, per day.
Final Thoughts
While often compared to each other, the ADB Crinkles and Margarita Crinkles have significant differences between them—though it's all in the details. It all depends on what you want, and when you need it. The Margarita Crinkles may be pricier, but they are easier to get. The ADB Crinkles, on the other hand, are relatively more affordable, but getting them regularly is almost next to impossible. Still, if you get a chance, both crinkles are well worth all the effort—and wouldn't it be fun figuring out which you like best, again and again?
ADVERTISEMENT - CONTINUE READING BELOW
To order the Margarita Crinkles, contact 729-0030.
The Asian Development Bank is at 6 ADB Avenue, Mandaluyong City.
Share this story with your friends!
---
Help us make Spot.ph better!
Take the short survey
Load More Stories