From Crispy Pata to Tempura, The Gourmet Republic Has Everything You Could Possibly Crave
All under one roof!
The Gourmet Republic
G/F LPL Manor, 116 Leviste Street, Salcedo Village, Makati City
Open from 10 a.m. to 10 p.m. (Monday to Friday) and 10 a.m. to 9 p.m. (Saturday)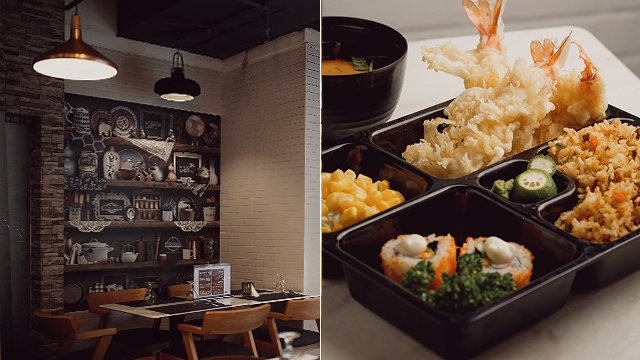 (SPOT.ph) Though tucked in a place smaller than what you'd expect from a typical food hall, The Gourmet Republic boasts an incredibly varied menu. It's not often that you find a place where you can order crispy pata and kare-kare to go with tempura and California maki, or you can pair poke bowls and barbecue ribs with hot tsokolate.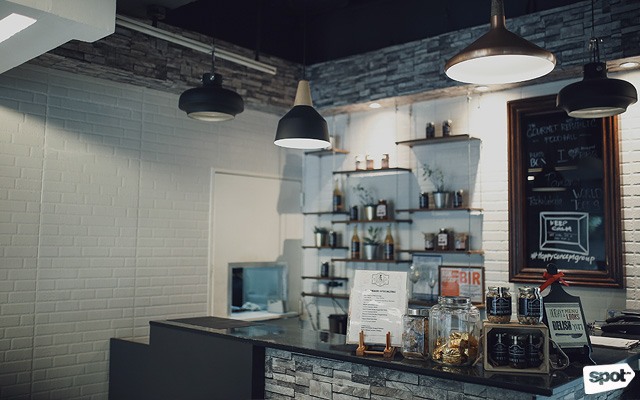 ADVERTISEMENT - CONTINUE READING BELOW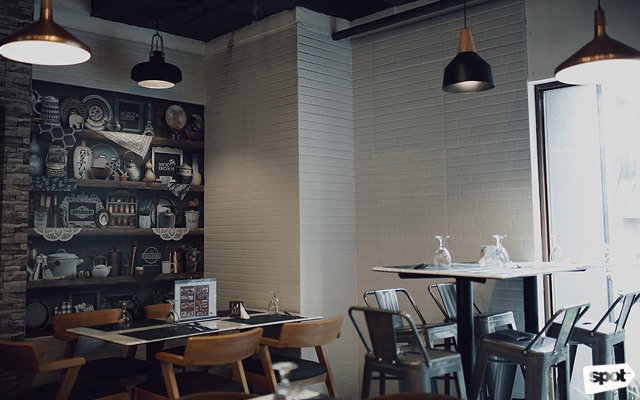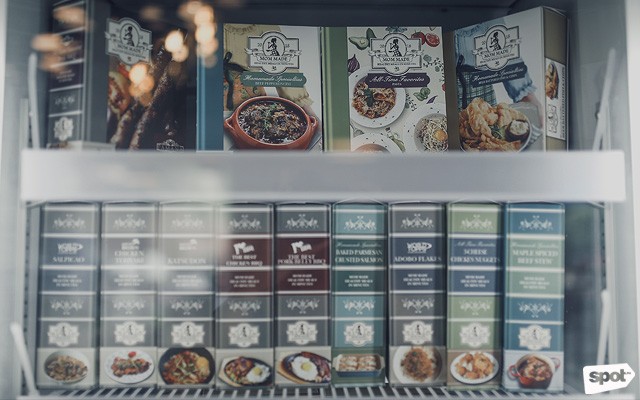 You can also buy frozen meals from Happy's Mom Made line
You'll also be surprised to learn that, unlike in other food halls, all five concepts are owned by restaurateur and chef Happy Ongpauco-Tiu under The Happy Concept Group. "This all started because people were requesting that we bring in Tsokolateria here," shares chief operating officer Grace Bermejo. "Tsokolateria only has branches in Baguio and Tagaytay. And the owners decided, why don't we just bring together all the brands in one place?"
CONTINUE READING BELOW
Recommended Videos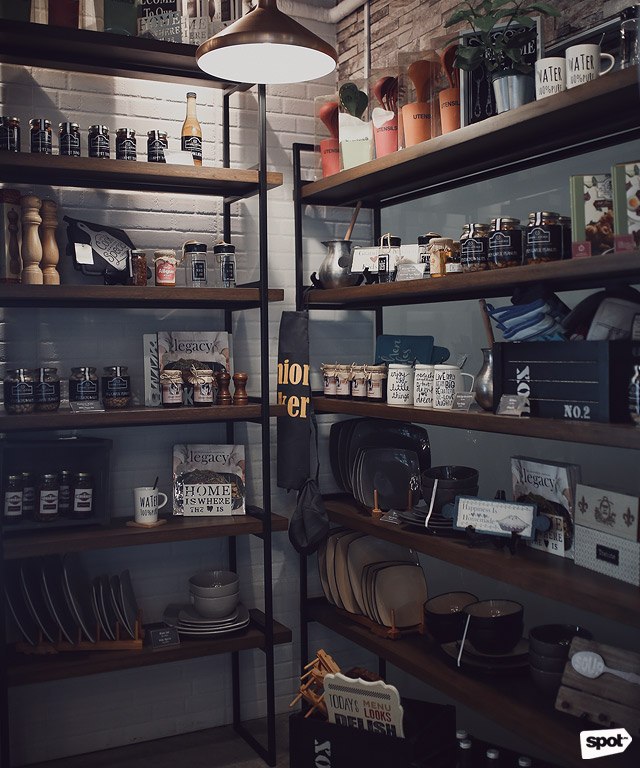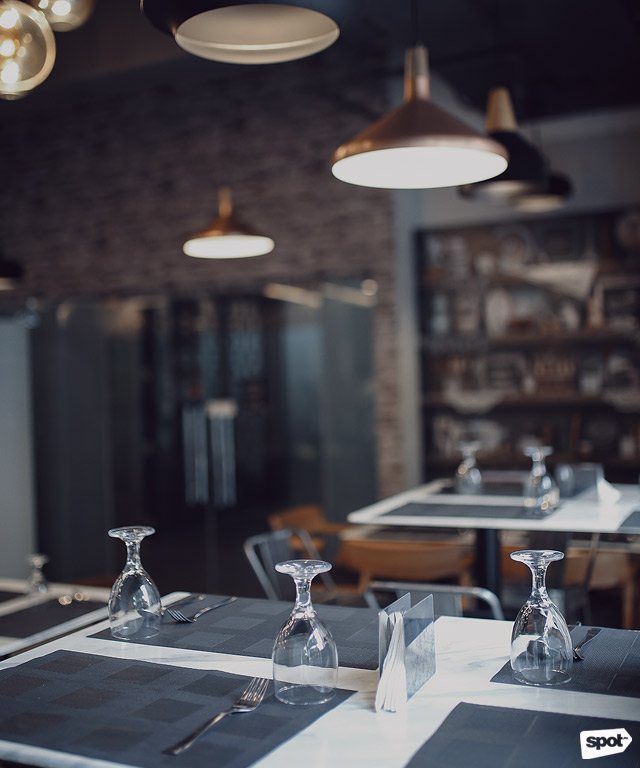 Aside from Tsokolateria, The Gourmet Republic also brings together Filipino restaurant Pamana, I Luv Backyard BBQ from Boracay, rice toppings place World Topps, and Japanese fast-casual joint Bento Box in a understatedly classy black-and-white themed space. Though small, the place is cozy, especially if you manage to get a window seat that overlooks the quieter side of Salcedo Village. Cheeky food-themed quotes and mottos adorn the walls, making the place feel all the more relaxing—you'll want to take your sweet time here, and with the abundant choices you might end up doing just that.
ADVERTISEMENT - CONTINUE READING BELOW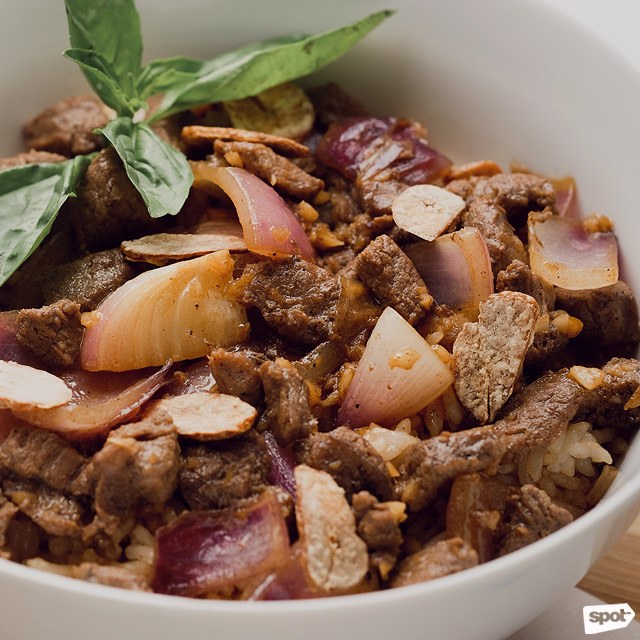 Spanish Salpicao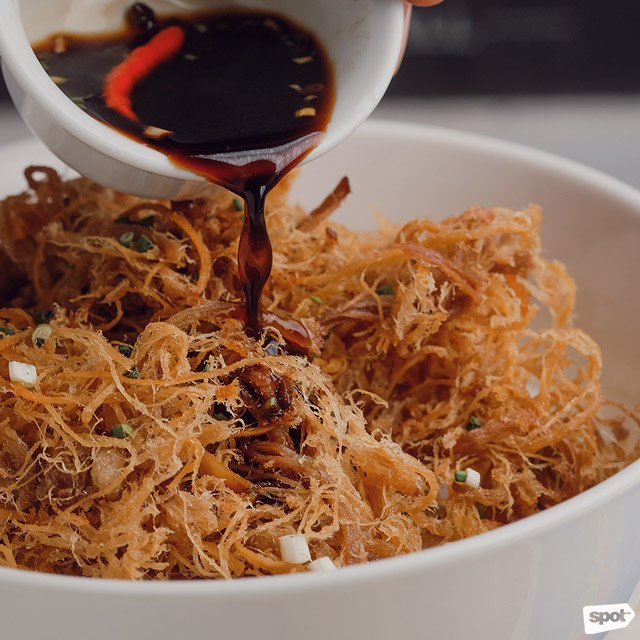 Manila's Adobo Flakes
World Topps
This reliable lunch option especially for those who wanted a filling and tasty meal on a budget was missed when they had to close down their branches, but now they're back with all your Filipino and international favorites. The Manila's Adobo Flakes (P225) are a crowd-favorite for good reason: Think crunchy pan-fried adobo flakes with that distinct salty-sour tang and garlicky flavor on top of fluffy white or brown rice. The Spanish Salpicao (P285/beef, P245/bangus) also doesn't hold back with the crispy garlic flakes enhancing its already garlicky flavor. If you get the beef variant, you'll be rewarded with juicy chunks in a rich savory gravy that seeps through the rice. If you're in the mood for something light and refreshing, have the Hawaiian Poke (P350), colorful and fresh with vegetables, nori sheets, and your choice between equally tender salmon or tuna.
ADVERTISEMENT - CONTINUE READING BELOW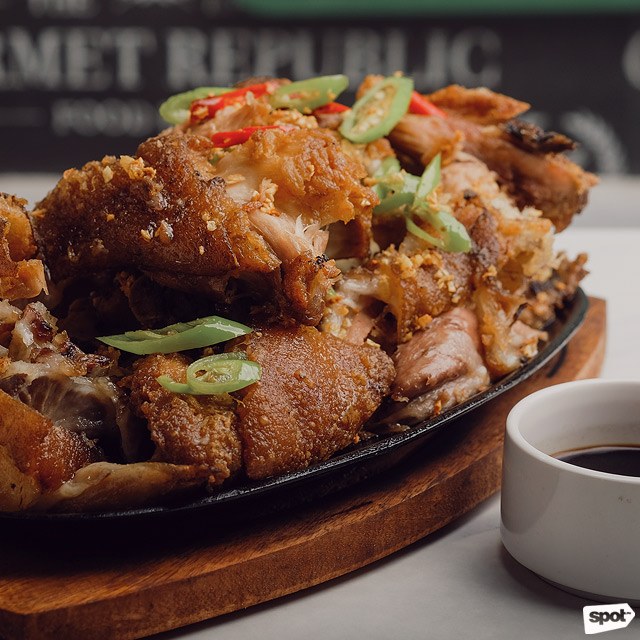 Barrio Fiesta Crispy Pata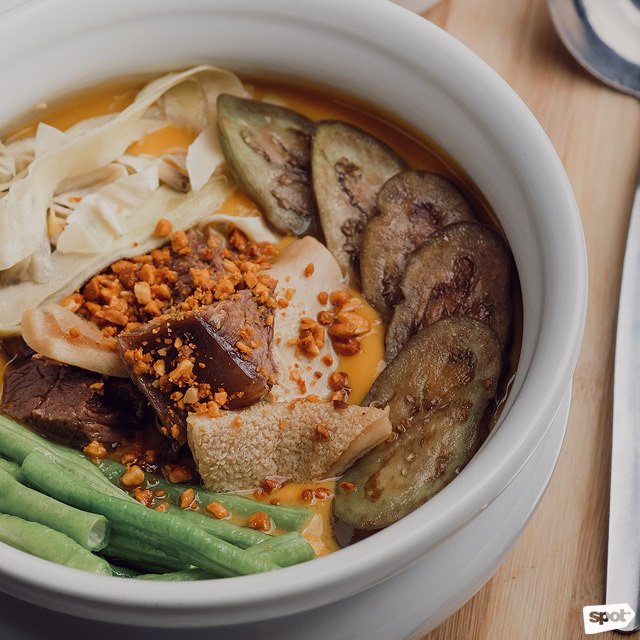 Barrio Fiesta Kare Kare
Pamana
With the Ongpaucos' background in Filipino cuisine—they are, after all, the family behind Barrio Fiesta—it's no wonder that Pamana and their take on quintessential fiesta fare are such a hit. The famous Barrio Fiesta Crispy Pata (P660) is here—Happy serves Pamana's version on a sizzling iron plate to keep the fried knuckles crispy and sticky-rich with all the glistening good stuff. It doesn't get more classic than pairing this with the Barrio Fiesta Kare Kare (P380/Original, P185/Gulay, P530/Seafood), with vegetables cooked just to the perfect crisp freshness and a thick, rich, and nutty sauce that begs for an extra serving of rice.
ADVERTISEMENT - CONTINUE READING BELOW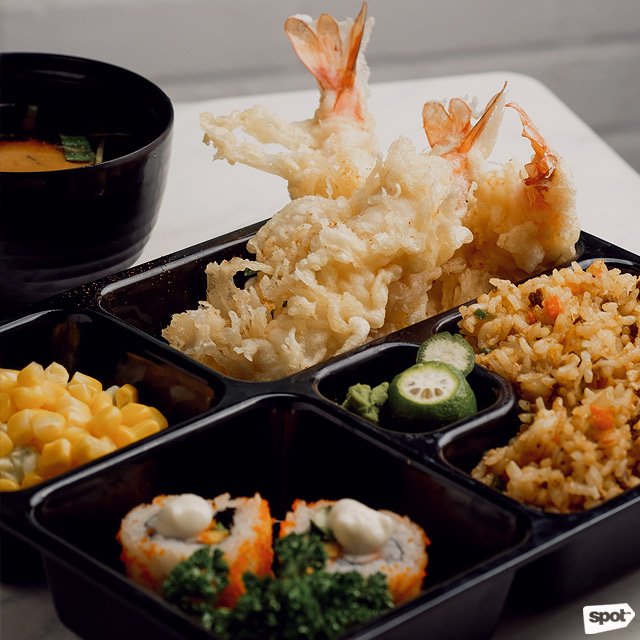 Mixed Tempura Bento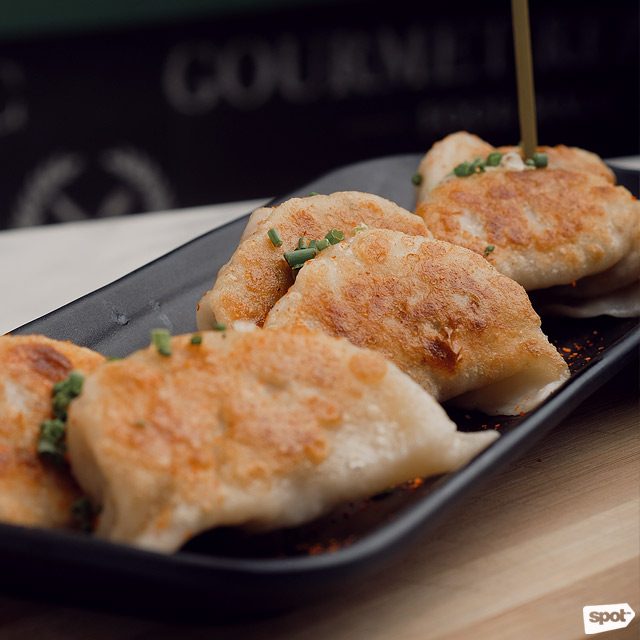 Gyoza
Bento Box
With Tempura Cheese Sticks (P120) and the soon-to-launch Wasabi Fries on the menu, it's safe to assume that Bento Box isn't authentic Japanese fare. But it doesn't really matter when the cheese sticks are addictingly crunchy-on-the-outside and gooey-on-the-inside with a wasabi mayonnaise dip that gives it just the right spicy kick, or the Gyoza (P210) is one of the plumpest you'll see in the Metro, with a tasty, slightly herby, pork mix. The Bento Boxes are an easy and budget-friendly way to get all your favorites in one set: The Mixed Tempura Bento (P295) will get you ebi and vegetable tempura, Miso soup, and white or brown rice (add P65 for Japanese fried rice), with the option to throw in some California Maki (add P65).
ADVERTISEMENT - CONTINUE READING BELOW
Baby Back Ribs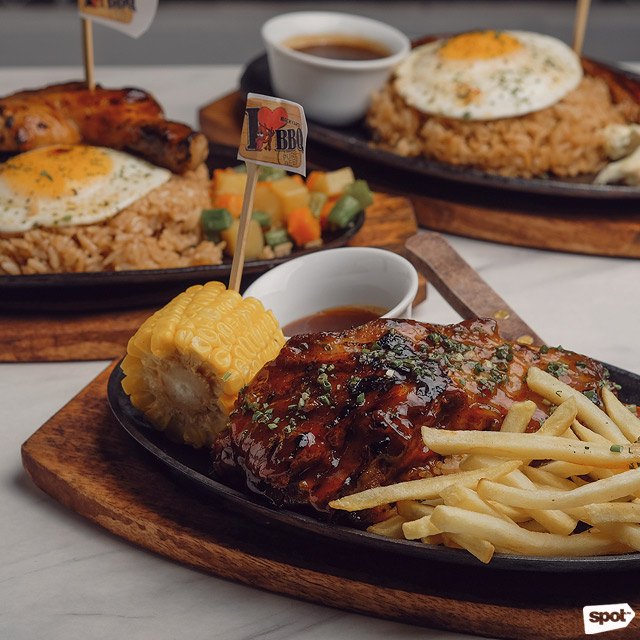 I Luv Backyard BBQ
Laidback and no-fuss to eat, barbecue and beaches fit nicely together, which makes it no surprise that I Luv Backyard BBQ is a hit at Boracay's D Mall. With their first Manila branch at The Gourmet Republic, you don't have to hop on a flight to the island anymore to have their Baby Back Ribs (P400). With a lip-smacking sweet-salty glaze and generous layers of succulence, these ribs, which cuts like butter, are hard to resist—especially when paired with the Java rice. Chicken barbecue lovers should not miss The Best Chicken BBQ (P300), which rightfully deserves its name, especially when you drizzle on the thick peanut sauce.
ADVERTISEMENT - CONTINUE READING BELOW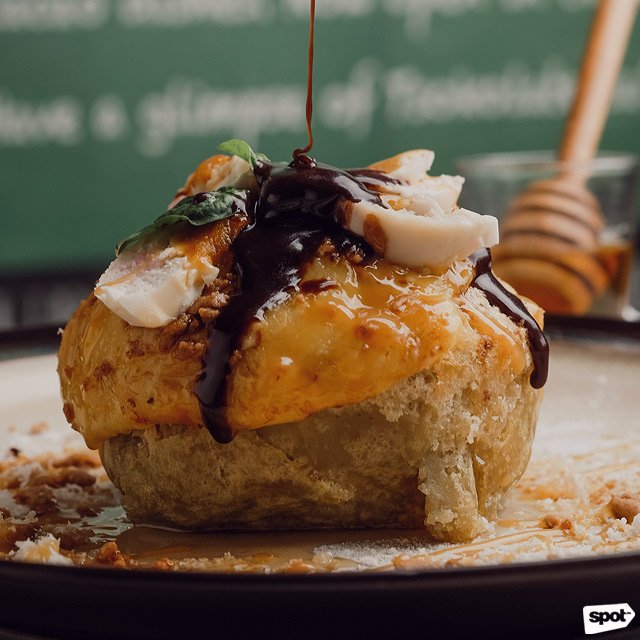 Bibingka At Itlog Na Maalat Souffle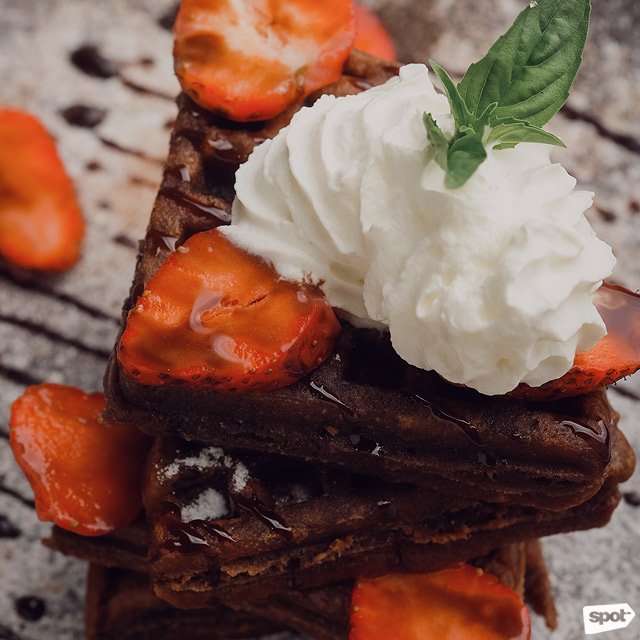 Catch the seasonal Strawberry Overload Waffle (P295) while it's still on the menu!
Tsokolateria
You could say The Gourmet Republic started with Tsokolateria, or rather its patrons, who wanted a taste of their rich hot chocolate in the Metro. Take sip of their Tsokolate Ah/Eh (P160/good for two) and you understand why: Each cup of dark chocolate has that creamy, soothing note to it reminiscent of a warm hug. For a touch of sweetness, have the Tsoko Mallows (P220) which will get you a pitcher of tsokolate and a cup full of chocolate powder-covered marshmallows. If you like theatrics, have the Tsokolate Disk (P250)—hot chocolate melts the chocolate-caramel disc so it falls into your cup, giving your drink a layer of indulgence. Don't forget to pair your beverage with Bibingka At Itlog Na Maalat Souffle (P265), buttery to the point of turning this into a guilty pleasure and with copious drizzles of honey and dark chocolate sauce—though the bites of salted egg keeps this from heading into saccharine territory.
ADVERTISEMENT - CONTINUE READING BELOW
The Gourmet Republic chose a quiet side of Makati, away from the busier crowds. It may seem a little odd for a food hall, but it fits The Gourmet Republic's cozy atmosphere. Plus, it helps that they offer a mix of everything you could possibly crave—you'll end up seeking them out again and again.
Photos by Majoy Siason
Share this story with your friends!
---
Help us make Spot.ph better!
Take the short survey
Load More Stories