This Laid-Back Japanese Joint Is Your New After-Work Hangout in QC
Cozy vibes and tasty bites.
Nomiya Izakaya
36 Scout Tobias Street, Quezon City
Contact: 954-7055
Open from 12 p.m. to 2:30 p.m. and 6 p.m. to 10:30 p.m. (Tuesday to Thursday and Sunday), and 12 p.m. to 2:30 p.m. and 6 p.m. to 12 a.m. (Friday to Saturday)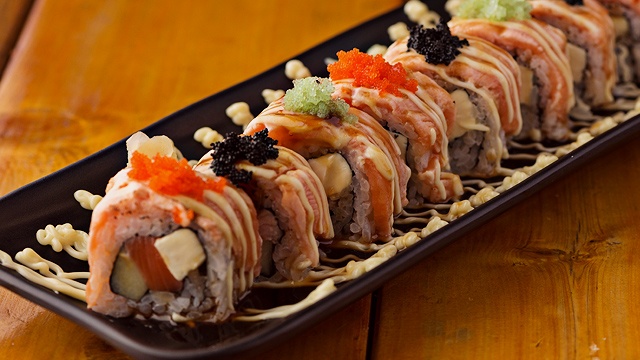 (SPOT.ph) There used to be a time when you would look forward to Friday and Saturday nights, because it meant getting away from college or work and partying the night away. But time flies and life happens, and suddenly loud music and sugary-sweet cocktails just don't seem that fun anymore. It may be a sign that you're getting older, but you suddenly find yourself craving chill watering holes where you can actually sit down and relax without having to scream to be heard over EDM beats and bass drops.
ADVERTISEMENT - CONTINUE READING BELOW
CONTINUE READING BELOW
Recommended Videos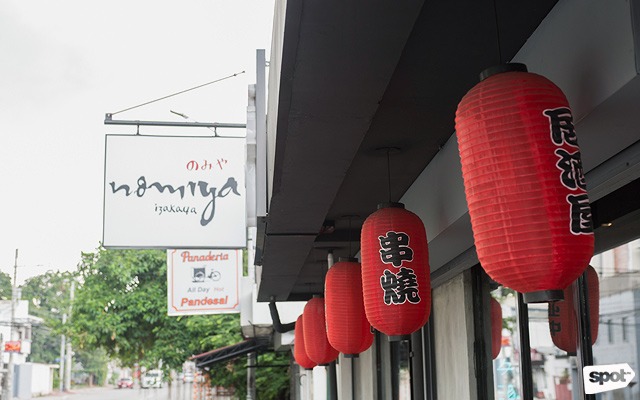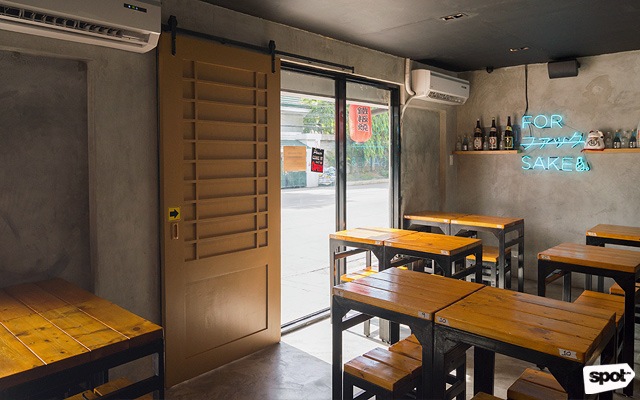 ADVERTISEMENT - CONTINUE READING BELOW
It's the same dilemma faced by JM Tangsoc and his friends. "When we were younger, gusto namin ng magulo, but as we got older parang ayaw na namin ng ganung vibe," he shares. "Gusto na namin mas quiet, but we'd always end up at coffee shops. So I said, gawa tayo ng place kung saan pwede tayong tumambay na di magulo, di maingay."
So, Nomiya Izakaya was born. JM was inspired by the izakaya or casual drinking spots usually found near train stations in Japan, where one can drink and eat in a laid-back environment, a vibe Nomiya successfully channels. The space is pretty tight, but it adds to the coziness, and the minimal décor adds to the relaxed atmosphere. This is the place where you can kick back and let loose, whether you're looking smart in your after-work outfit or straddling the fine line between casual and pambahay garb.
ADVERTISEMENT - CONTINUE READING BELOW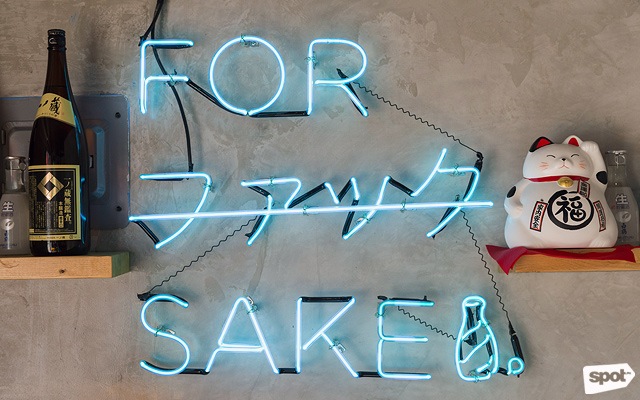 An izakaya usually serves yakitori to go with sake or beer, which was also JM's plan for Nomiya, but he eventually decided to add more dishes to the menu. "We really wanted to open a traditional izakaya," says JM. "But we thought sayang naman if we served appetizers only. What if somebody comes in and wants to eat lunch or dinner? So we started adding more items."
ADVERTISEMENT - CONTINUE READING BELOW
JM makes a conscious effort to move away from the usuals like tempura or ramen. "Japanese food is pretty much a staple here," he explains. "But people have a lot of misconceptions. When you say 'Japanese food,' usually you mean tempura, ramen, or chicken teriyaki, which, for me, is sayang because there's a lot more to Japanese food than just those."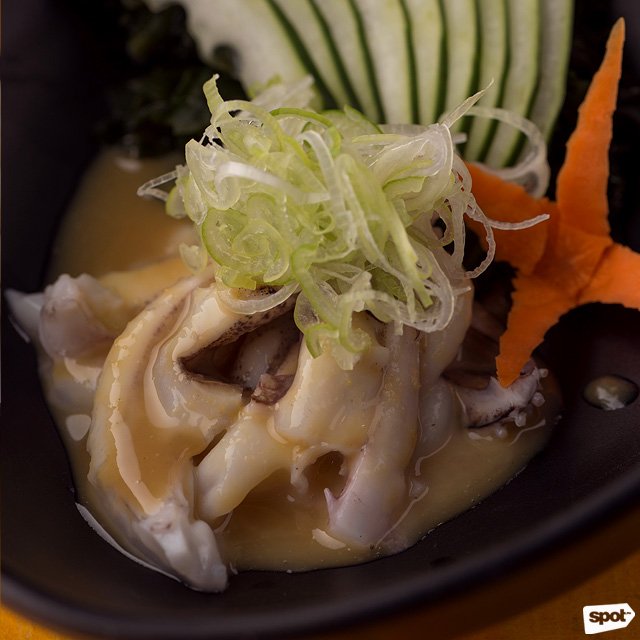 ADVERTISEMENT - CONTINUE READING BELOW
Ika Nuta
He admits with a laugh that he has a penchant for "the weird stuff," like the Ika Nuta (P220). Almost like a salad, the raw squid is tender and tastes clean, with the mix of sweetened miso sauce and wakame adding a bright citrusy flavor. Fresh and tangy, this prepares your palate for what's to come.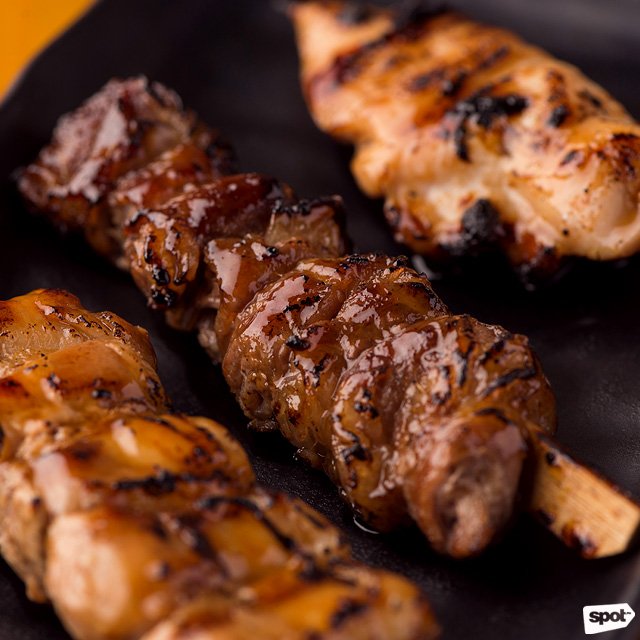 ADVERTISEMENT - CONTINUE READING BELOW
Yakitori
Of course, with yakitori being an izakaya staple, it's available here in Chicken (P45), Beef (P65) or Pork (P45)—an order has a minimum of two skewers. Yakitori is traditionally chicken, which has a distinct smokiness to it that lets you know it spent ample time on the grill even though the juiciness of the morsels almost convinces you otherwise. The Pork—pork-belly strips that the kitchen rolled into cubes—are also incredibly succulent though the Beef is a scene-stealer if only for how amazingly butter-soft it is.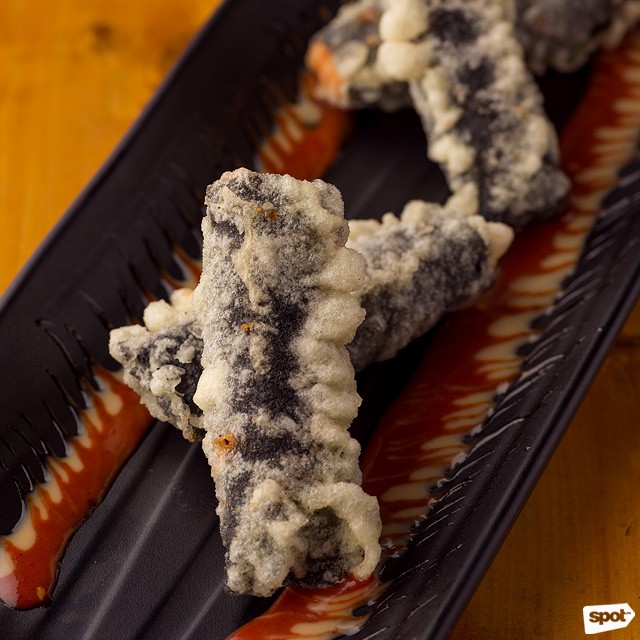 ADVERTISEMENT - CONTINUE READING BELOW
Spicy Salmon Nori Fries
Nomiya Izakaya also carries other more unconventional but no less tasty bites. The Spicy Salmon Nori Fries (P120) are way thicker than how you'd expect fries to be, but no one's complaining. The nori is made extra crispier through deep frying, which makes it a great contrast against the velvety fresh salmon packed with enjoyable spiciness.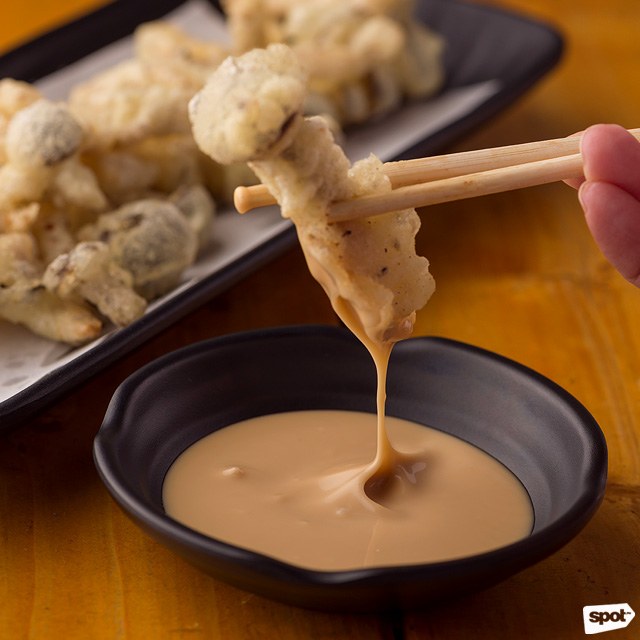 ADVERTISEMENT - CONTINUE READING BELOW
Magic Mushrooms
The Magic Mushrooms (P140) or deep-fried shimeji mushrooms are comparably milder on the palate, but are surprisingly addicting. It helps that the umami-rich poppers come with a lip-smacking sesame dressing.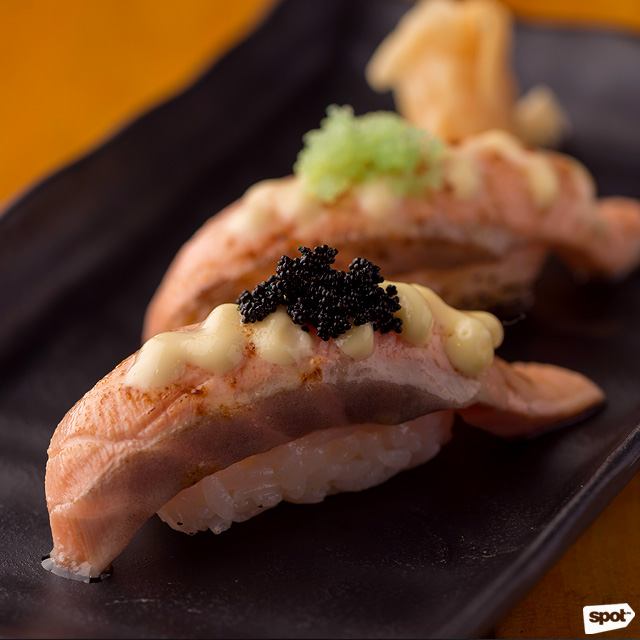 Salmon Aburi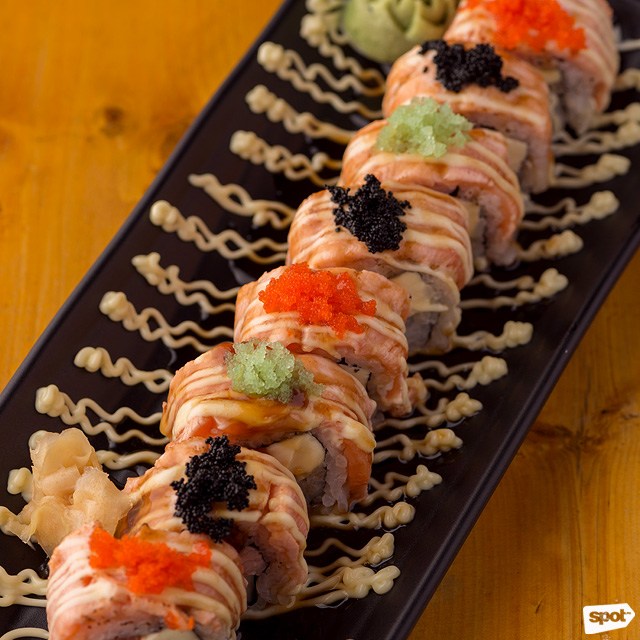 ADVERTISEMENT - CONTINUE READING BELOW
Salmon Aburi Maki
For something a bit heavier but still easy to eat, you can rely on their pretty sizeable sushi selection. There's the Salmon Aburi (P150), no other frills aside from the torched aburi sauce and ebiko to highlight the freshness of the velvety salmon. But JM also gives the nigiri an upgrade and turns it into the Salmon Aburi Maki (P340), stuffing the torched salmon together with cream cheese, fresh cucumbers, sushi rice in a roll. Salmon and cream cheese will always be a winning combination, and this sushi isn't any different.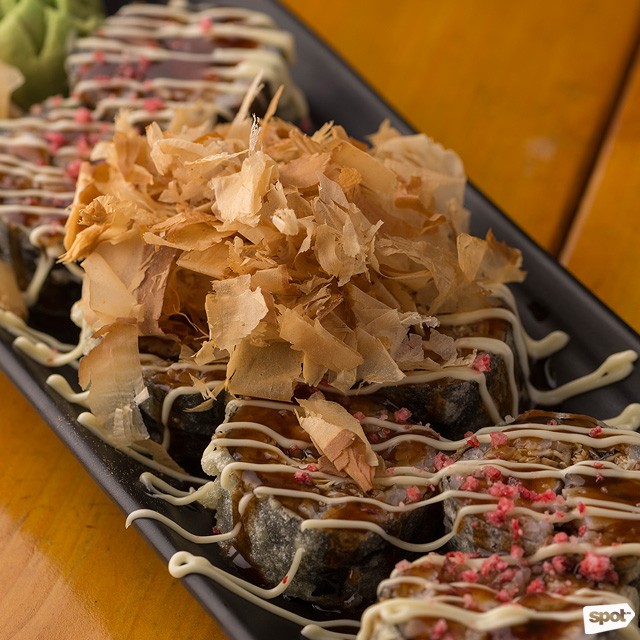 ADVERTISEMENT - CONTINUE READING BELOW
Nomiya Izakaya unleashes their creativity on their sushi of the week, like this Takoyaki Maki (P310) stuffed with squid and takoyaki sauce
Though still on soft opening, Nomiya Izakaya now has its fair share of regulars including someone JM describes as "a Japanese guy who comes here often at around 10 or 10:30 p.m."
"He'd bring his own tonic water," adds JM. "And then he'll order sake and mix his own drinks. It's as if he just came from work in Japan. And that's exactly what we want our restaurant to be." With a chill, relaxed vibe and tasty Japanese bites you can have with sake or Japanese beer, Nomiya is shaping up to be an after-work favorite. Looks like you won't be going out clubbing any time soon.
Photos by Hans Fausto
Load More Stories