You'll Never Hate on Crust Again With Half Saints' Puff Pizza
If you thought pizza couldn't get any better, think again.
Half Saints
62 Sergeant Esguerra Avenue, Diliman, Quezon City
Open from 12 p.m. to 10 p.m. (Tuesday to Thursday, and Sunday) and 12 p.m. to 12 a.m. (Friday to Saturday)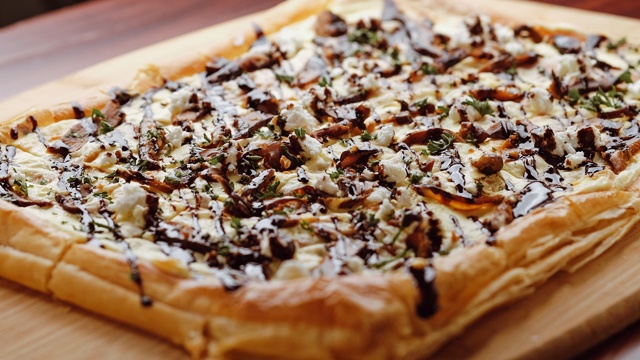 (SPOT.ph) With only a no-frills logo to announce its presence, Half Saints is not one for flashiness. Their interiors, designed by One/Zero Design Collective, are just as stylishly minimalist as the coffee shops of Tokyo they're inspired by, featuring light-wood decor, austere concrete walls, and a selection of magazines, art and cook books on display. What'll immediately draw your attention, though, is an intricate art installation of interwoven ropes that spans the ceiling, designed to resemble waves. "It's to celebrate our femininity," shares Christine Roque who owns the restaurant with an all-woman team (Christine, Trina Roque, Tricia Roque, Tanya Mesina, and Joanna Arciaga), "We wanted the design to be delicate and fluid."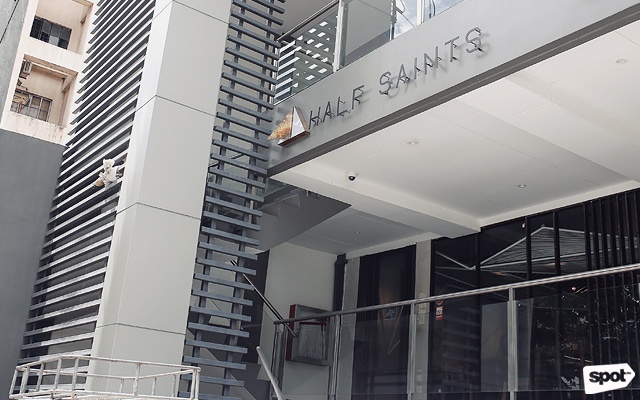 ADVERTISEMENT - CONTINUE READING BELOW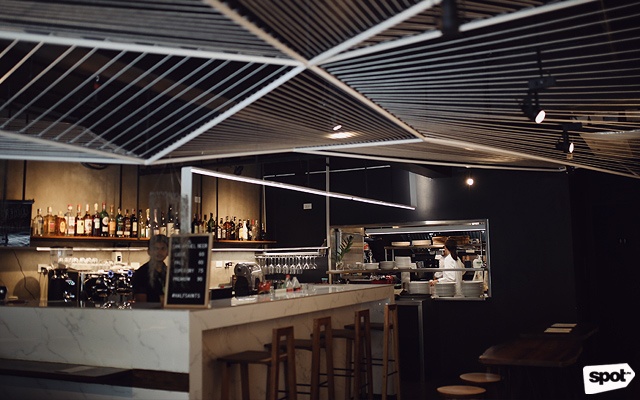 CONTINUE READING BELOW
Recommended Videos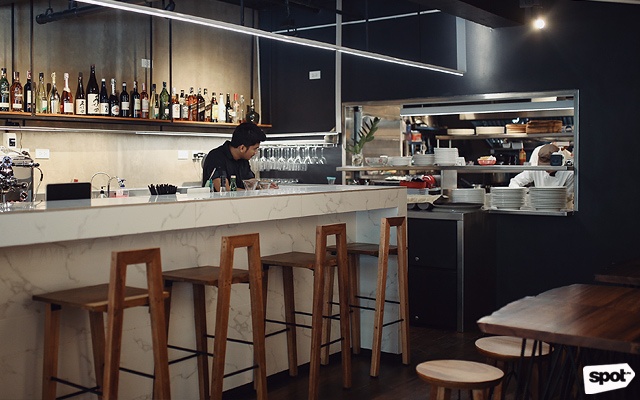 The same amount of reflection was given to the menu, which was inspired by Christine's travels. "We've been conceptualizing Half Saints since 2017," she shares; the restaurant opened in February 2018. "A lot of work went behind this, from the design to what food we're gonna serve. But we knew from the very start that we wanted to be authentic to ourselves."
ADVERTISEMENT - CONTINUE READING BELOW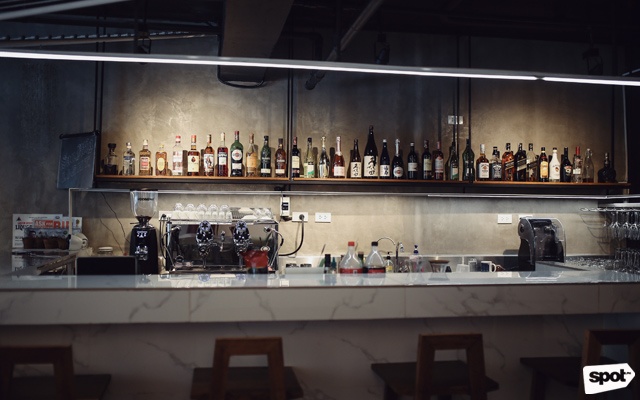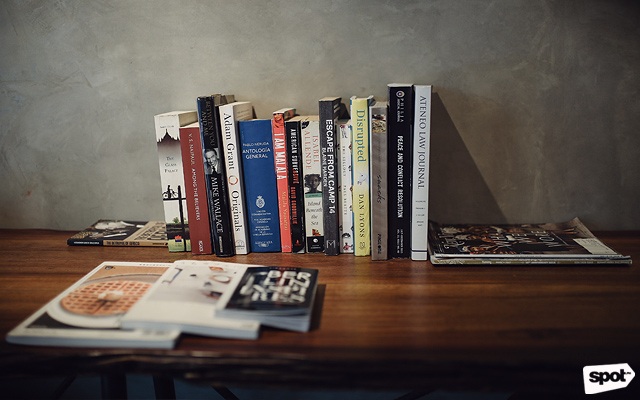 This meant going back to her rich personal history, which includes studying for a Masters degree at a university in Costa Rica, traveling as a journalist, and bringing Change.org to the Philippines. "Travel changes you," Christine points out. "When you live in another country, that helps you grow as a person."
ADVERTISEMENT - CONTINUE READING BELOW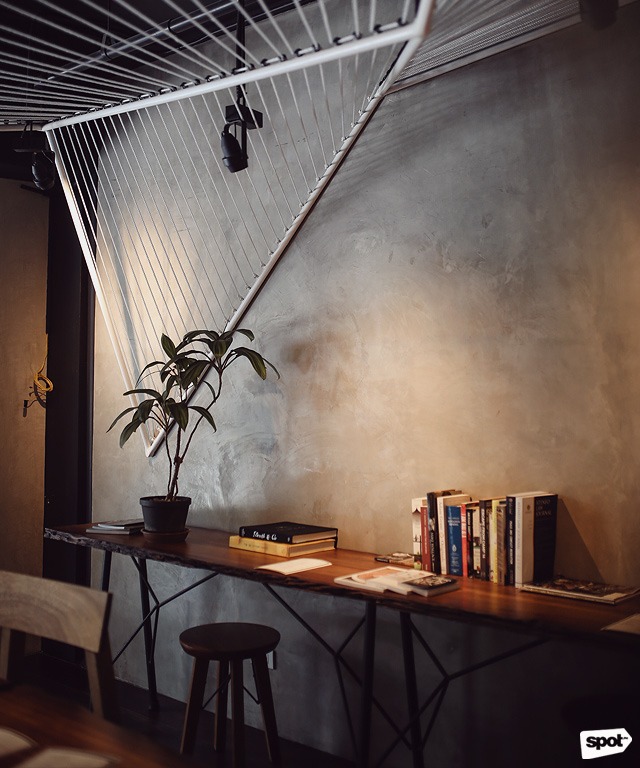 Travel, too, allowed Christine to better appreciate her Filipino roots, something that is reflected on Half Saints' menu. "Although we have multi-cultural inspirations, our food still celebrates Filipino flavors," Christine adds.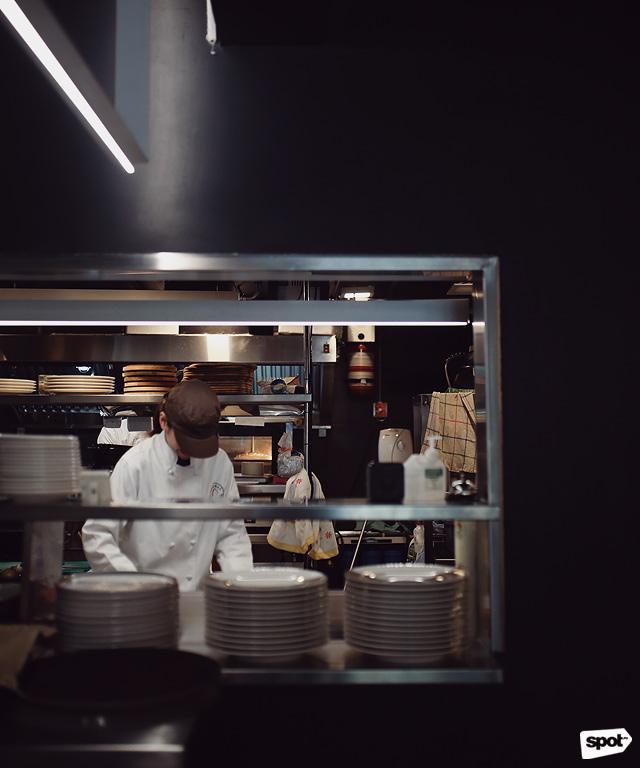 This doesn't get more obvious than with Half Saints' love affair with chicharrón—not the pork cracklings munched straight from the bag, but golden-brown deep-fried pork belly that resembles bagnet. "This chicharrón is their own version of bagnet in Camiling, Tarlac, which is where my mom's from," she explains. "Whenever we have chicharrón at home, it's like a celebration."
ADVERTISEMENT - CONTINUE READING BELOW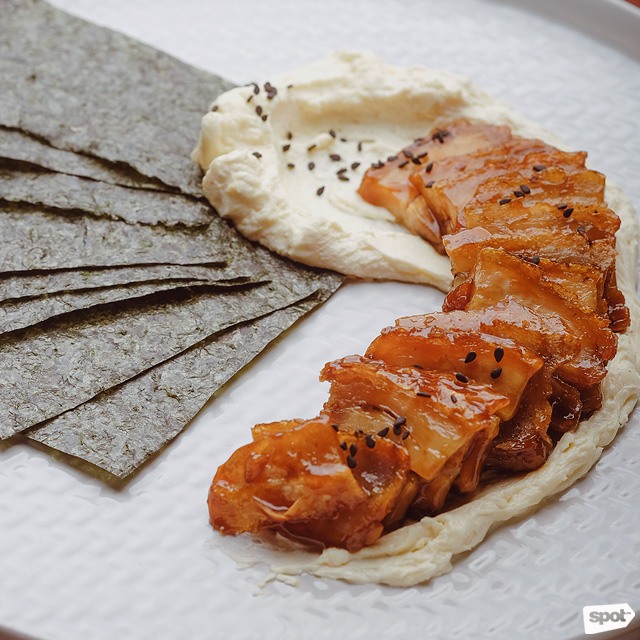 Chicharron Teriyaki
The chicharrón makes an appearance in two dishes. If you're in the mood for quick tasty bites, go for Chicharron Teriyaki (P295), which Christine describes as a "Tokyo meets Tarlac dish." With nori strips artfully placed to fan out, and a generous smear of cream cheese made to resemble a brush stroke upon which golden slices of chicharon are laid out, this is a plate that begs to be taken photos of. Take a piece of nori, add a generous layer of cream cheese, a piece (or two, if you're feeling indulgent) of chicharron, then pop it all in one bite to better appreciate what can only be described as a sensory explosion. The thin crisp nori immediately gives way to the succulence of the pork, and the cream cheese is the richness that binds everything together. It'll be difficult to stop munching on this.
ADVERTISEMENT - CONTINUE READING BELOW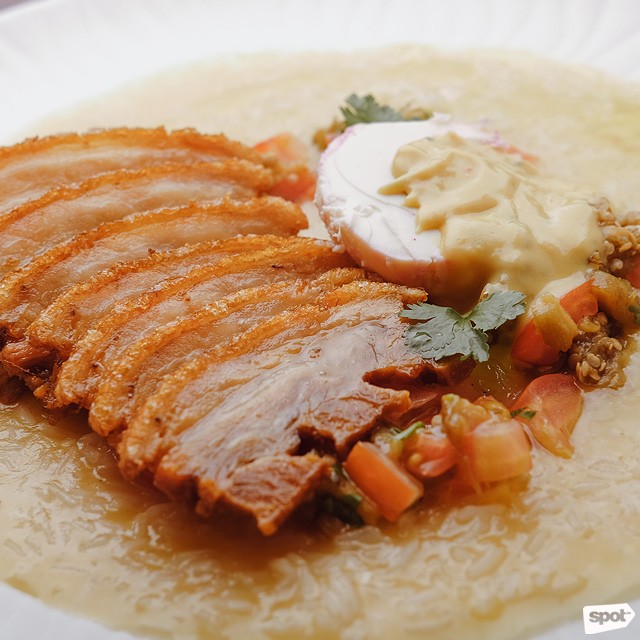 Camiling's Chicharron
The Chicharron Teriyaki is like a firework—not only because it explodes in a brilliant array of textures and flavors in your mouth, but also because it's likely to disappear in an instant, especially if you're sharing. But if you're in the mood to linger with a bowl of comfort, the Camiling's Chicharron (P495) is the better option. Christine's take on the traditional combo of chicharrón, a salad of salted egg, eggplants and tomatoes, and rice, has roasted eggplants and tomatoes as base, topped with creamy risotto, lots of crispy pork, and a rich salted-egg cream sauce that adds that extra oomph to the entire dish. The resulting dish is comforting in its familiarity, but also feels new enough to be memorable.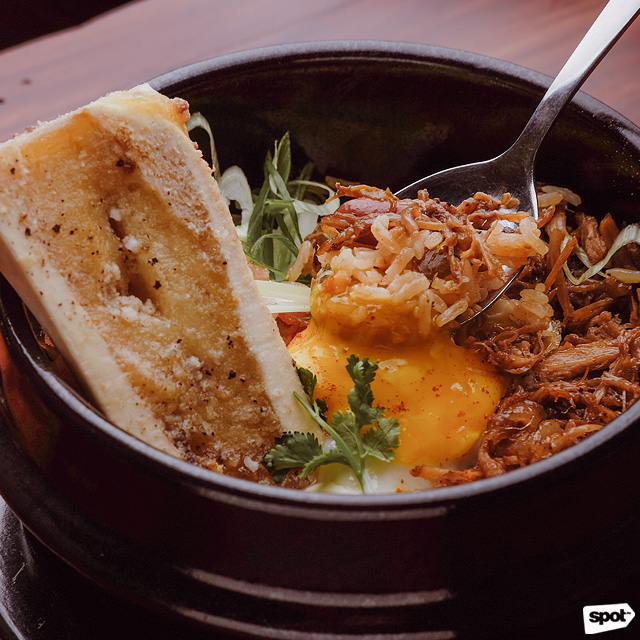 ADVERTISEMENT - CONTINUE READING BELOW
Gallo Pinto x RBM
Half Saint's menu has lots of South American influences from Christine's stay in Costa Rica. The Gallo Pinto x RBM (P495) is her version of the traditional Costa Rican breakfast bowl. The mix of dirty rice and beans is topped with shredded beef that has a sweet tang from being braised pares-style, plus fried egg, green onions, and bacon. But what takes this to the next level is the roasted bone marrow, served in the bone. Add a bit of it to every spoonful to fully appreciate the butter-like richness it adds, or you can mix it all up to get those surprise good bits as you go through your bowl.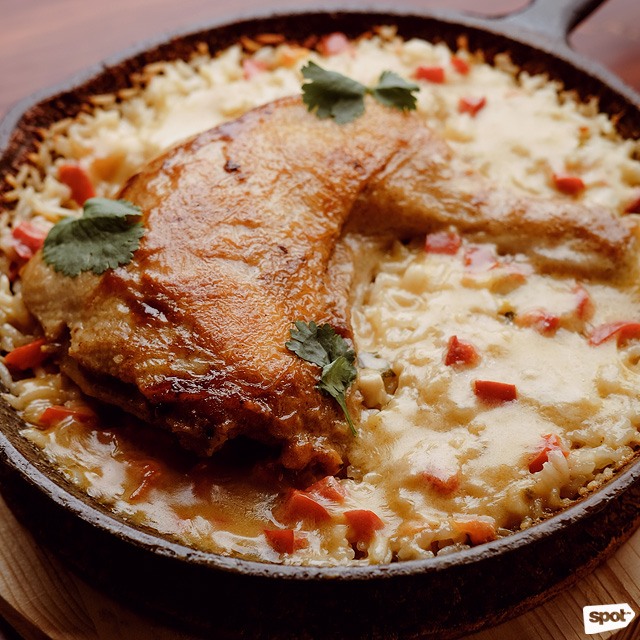 Arroz Con Pollo
The Arroz Con Pollo (P395) is a classic Puerto Rican dish; at Half Saints, the rice and chicken for this pot dish are braised in coconut milk to give them that distinct, mildly sweet, coconut-y flavor which is then balanced out by the spices of the sofrito, a mix of garlic, tomatoes, pimiento, and cilantro. The chicken, too, gains extra tenderness, easily giving way to the slice of a fork.
ADVERTISEMENT - CONTINUE READING BELOW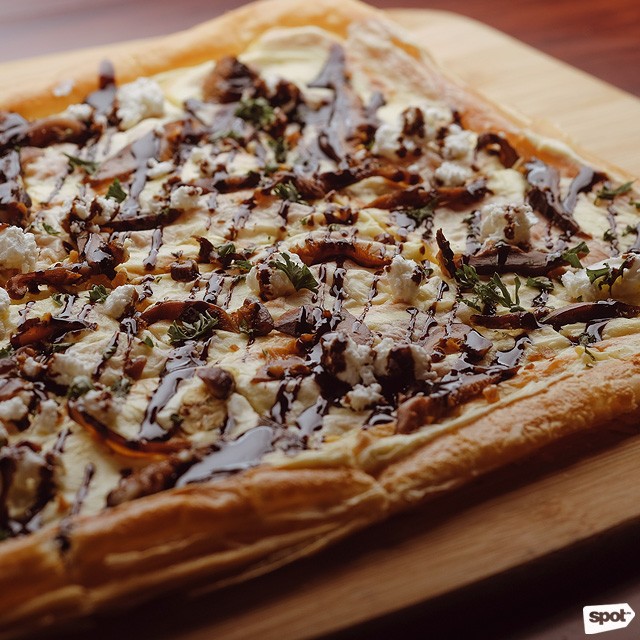 Shiitake, Goat Cheese, and Balsamic Vinegar Puff Pizza
No visit to Half Saints is complete without having one of their puff pizzas—we daresay that this could become the restaurant's defining dish. Puff pastry as pizza crust is a revelation, and we're almost mad we didn't think of it first. It's buttery, flaky, and feels thinner than the thinnest pizza crust, which solves the problem for crust haters and introduces something new for everyone to enjoy. The Shiitake, Goat Cheese, and Balsamic Vinegar (P495) only serves to highlight everything beautiful about the puff crust: The goat cheese adding a creamy layer that emphasizes the butter-like softness of the pastry, the shiitake mushrooms for bite, and a drizzle of balsamic vinegar for a tanginess that rounds out all the flavors. It's a pizza you're bound to think of long after the last slice.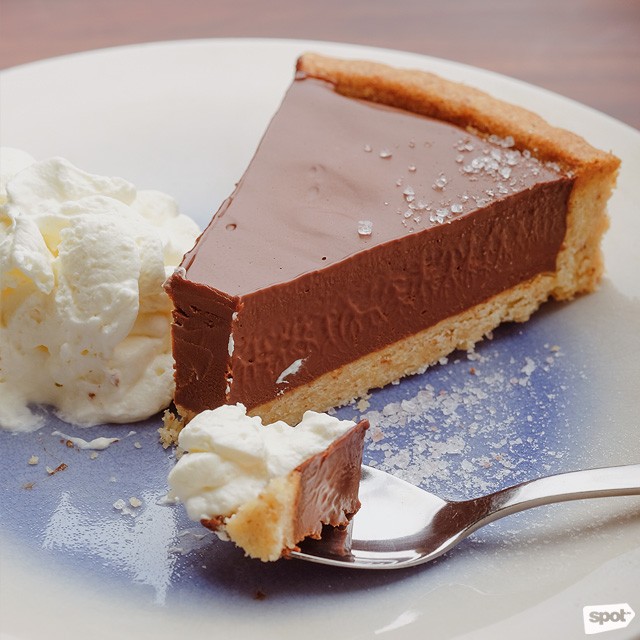 ADVERTISEMENT - CONTINUE READING BELOW
The 64% Dark Chocolate Tart (P220) is an understatedly elegant dessert that highlights Davao chocolate sourced directly from farmer co-ops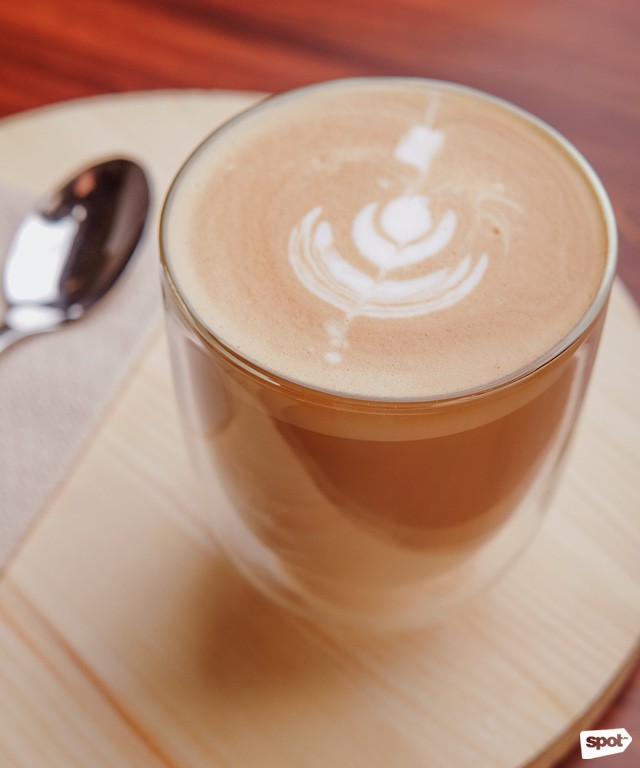 Half Saints uses single-origin beans from Atok and Mt. Apo for their coffee, like this Latte (P140)
With Half Saints' gorgeously understated space and a menu full of winners, they're already excellent in anyone's books. But, their advocacy will impress you further: "We knew from the very start that Half Saints had to reflect us and tell our stories through our food, but at the same time we also wanted be a restaurant with a purpose," shares Christine. "We want to support local food, and farmer co-ops as much as we can. We choose our suppliers very carefully. Alam namin kung saan nanggagaling ang pagkain namin."
With a mish-mash of cultures celebrated on their menu, Half Saints is a restaurant that cannot be boxed into a single label. But if we were to describe the restaurant, it would be as one with a lot of heart. They say dishes created from the heart are some of the best; perhaps the same can be said for restaurants.
ADVERTISEMENT - CONTINUE READING BELOW
Photos by Majoy Siason
Share this story with your friends!
---
Help us make Spot.ph better!
Take the short survey
Load More Stories